Cooking doesn't have to be a chore any more. Not if you make your kitchen work harder to save your time and effort. And how do you do this? Our experts say that the easiet way is to hand pick the modular kitchen accessories you install!
If you are wondering what kitchen accessories you must have in your kitchen, this list should give you something to start with.
Modular kitchen accessory #1: Drawer systems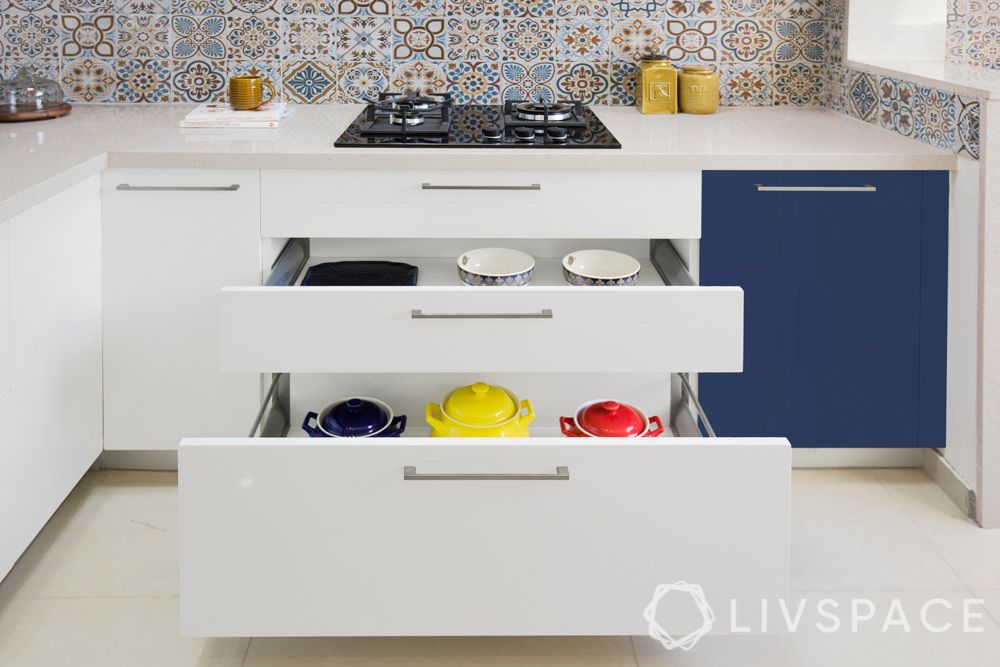 Prices starting at: ₹10,037
If most of your storage items are set to go under your counter, then drawer systems are go-to modular kitchen accessories. These drawers trump cabinets for bottom cabinets for ease of use and optimum usage of space.
The Tandem box drawer systems from Blum offer shallow as well as deep storage space. They come with sturdy metal sides which open out to their entire length so that all items are fully visible. These drawers, even when loaded to their maximum capacity, ensure the items inside are not fully displaced when closed suddenly.
Modular kitchen accessory #2: Tall units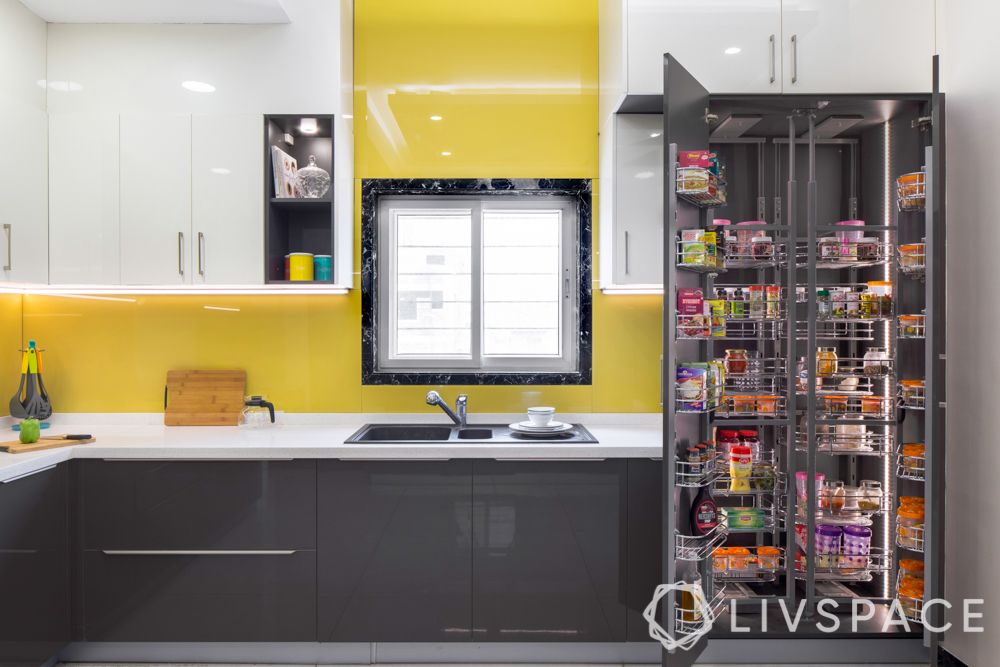 Prices starting at: ₹11,540
Tall units are an integral part of kitchen design. This is especially true in cases where one needs to store huge amounts of groceries with long shelf lives. Moreover, these versatile modular kitchen accessories utilise vertical spaces and function like a pantry.
These units when closed look like a part of the kitchen's wall, giving the space a clean look. At the same time, they house diverse items from oil and seasonings to wine and munchies and more in differently sized drawers and shelves. Additionally, the hideaway kitchen storage provides a cool, dry place which helps preserve delicate items and protects them from heat, sunlight and moisture.

Modular kitchen accessory #3: Pull-outs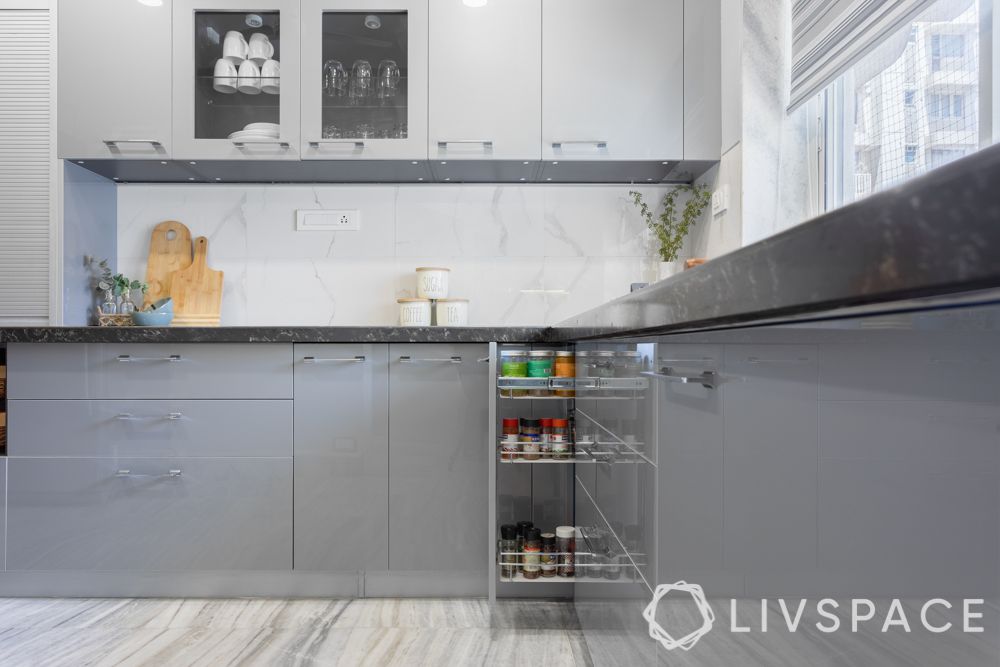 Prices starting at: ₹6,547
Pull-outs make the best use of narrow spaces in the kitchen. Usually installed near the dishwasher or towards either end of the kitchen, these modular kitchen accessories are designed with narrow shelves. In fact, this make items easy to spot and access.
Pull outs are available in multiple widths and ranges and can be used to keep canned foods, condiments, bottles, jars, cleaning agents, etc. In fact, they can even work as a mini pantry in a busy kitchen where guests can help themselves.
Modular kitchen accessory #4: Cutlery trays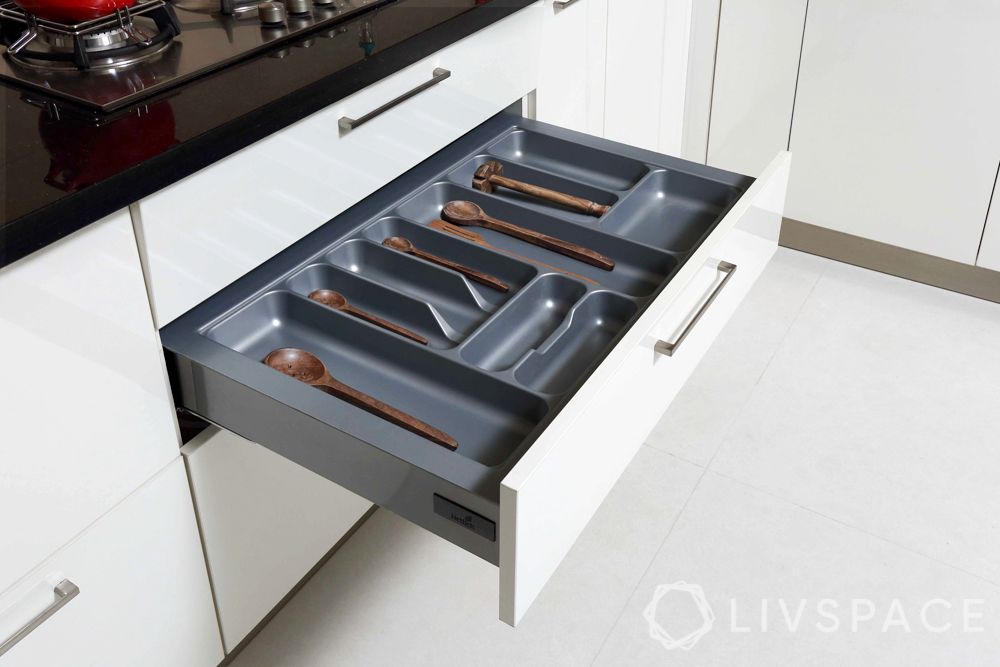 Prices starting at: ₹8,950
With compartments to hold everything from spoons, forks, knives, rolling pins and more in an organised manner, cutlery trays are versatile. This is a great way to do away with clutter and is especially handy when whipping meals in a hurry. Furthermore, cutlery inserts are usually available in a variety of finishes to suit your preferences including metal, wood and PVC.
Modular kitchen accessory #5: Corner solutions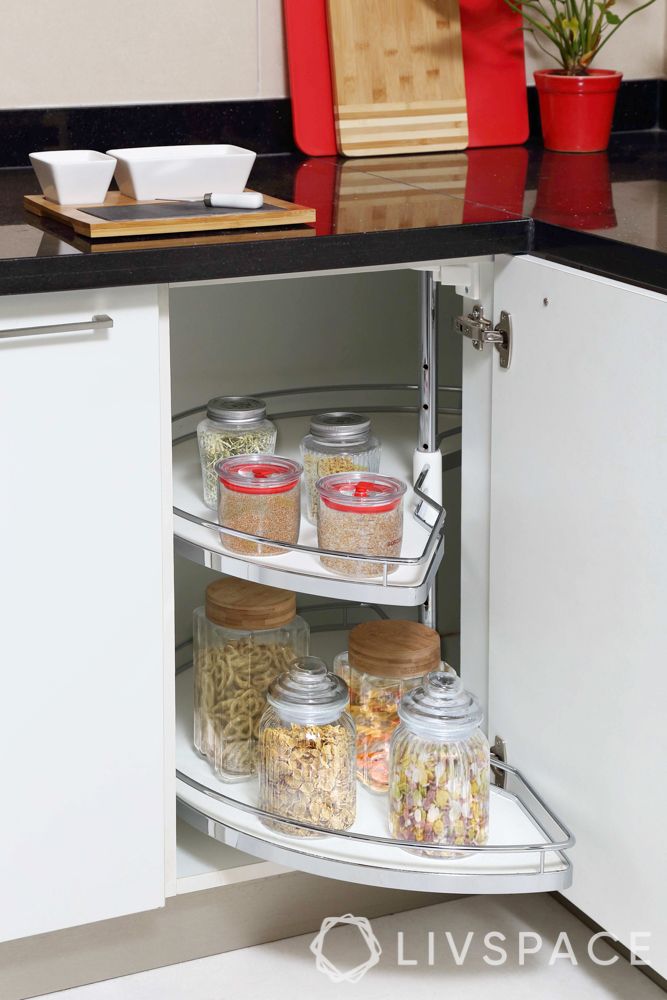 Prices starting at: ₹10,464
Corner spaces in kitchens typically go unused because they are hard to reach. However, you can access the most redundant corners with savvy solutions such as the LeMans corner. It features kidney-shaped pull out shelves that rotate beyond the standard 90 degrees so that they fully retract into the back. Additionally, you can find other corner units (deep, diagonal drawers) that make good use of the corner space. These solutions include Dee tray, Magic corner and more. These clever, easy-access modular kitchen accessories are a great addition to Indian kitchens, especially those small in size. You can install them in both upper and lower cabinets based on how you like to organise.
PRO Tip: Wicker Baskets
Prices starting at: ₹14,830
In a kitchen that is not fully modular, you will keep a basket or tray to keep a daily stock of vegetables. Moreover, in a modular kitchen, this function is fulfilled by wicker baskets set into the modular framework. These baskets are durable and easy to clean. Plus, like everything else in your kitchen, the veggies too are seamlessly concealed.
These charming modular kitchen accessories will take care of all your clutter, and will introduce efficiency into your kitchen.
To get your kitchen custom designed with these accessories, book your consultation with Livspace today.
Send in your comments and suggestions to editor@livspace.com