A functional and pretty kitchen is what we all need but its purpose varies from person to person. Depending on your needs, Your kitchen could be the most expensive aspect of your home interiors. But that was before modular kitchens became popular. The latter comprises standardised units or 'modules' available in a fixed price range. This way you know your modular kitchen price before investing in one.
What is the Cost of a Modular Kitchen?
Most websites indicate expensive package prices without divulging details of every module. Contrary to popular belief, the overall modular kitchen price can be pocket-friendly once we understand our personal priorities.
While the cost of a basic modular kitchen typically starts from ₹1 lakh, it will inch upwards based on the factors given below.
#1: Determine the Size of Your Kitchen
The size and layout (U, L, straight, parallel, with island) of your kitchen directly affects the modular kitchen price. A large kitchen can accommodate more modules, ergo more expensive.
It also depends on how you use your kitchen. For example, a full-time baker would ideally make optimum use of modules in an average-sized kitchen. Similarly, a frequent traveller who doesn't spend a lot of time cooking can opt for bare essential modules in a sprawling kitchen.
Choose from our wide range which includes tall units, cabinets and more.
#2: Select the Right Cabinet Material and Finish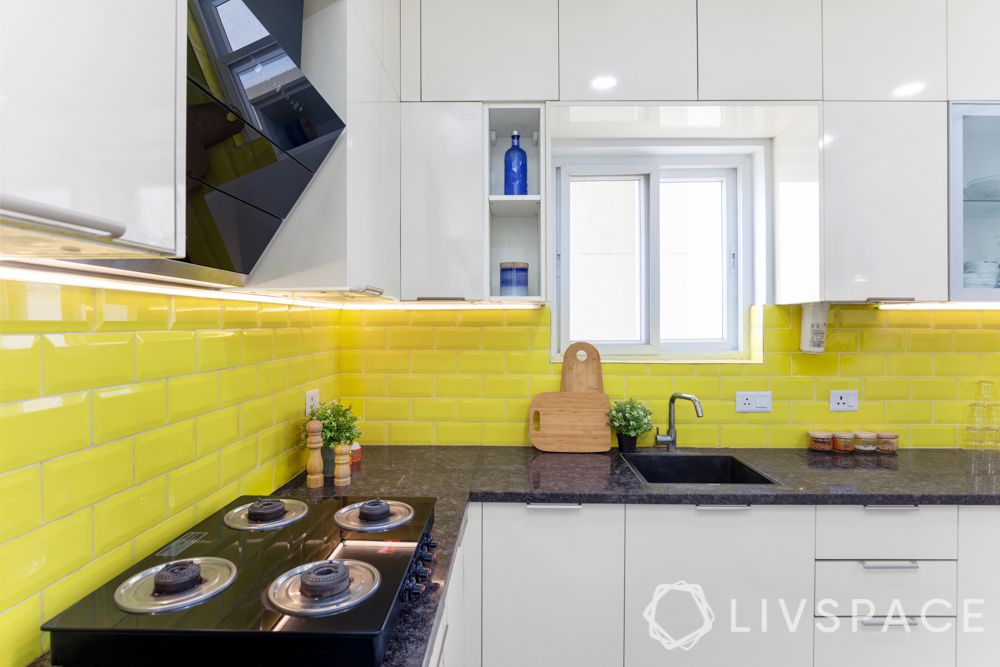 There are several cabinet finish options available in the market like acrylic, polymer, membrane foil and laminate. Out of these, acrylic and laminate are most preferred among buyers.
Acrylic is the most expensive as it is scratch-resistant and delivers a glossy look. This is followed by a poly UV finish.
Laminates are ideal for those on a budget. Hi-gloss laminate finishes are slightly more expensive than matt ones. However, the latter needs constant care and tends to have a muted and sober look. Check out our more detailed comparison of Acrylic vs Laminate Finish for Kitchens to help you pick.
Your modular kitchen price will be affected by both the interior as well as exterior finishes you choose for your cabinet. More details here.
Similarly, keep heat and humidity in mind when choosing materials for cabinets.
#3: Accessorise Your Kitchen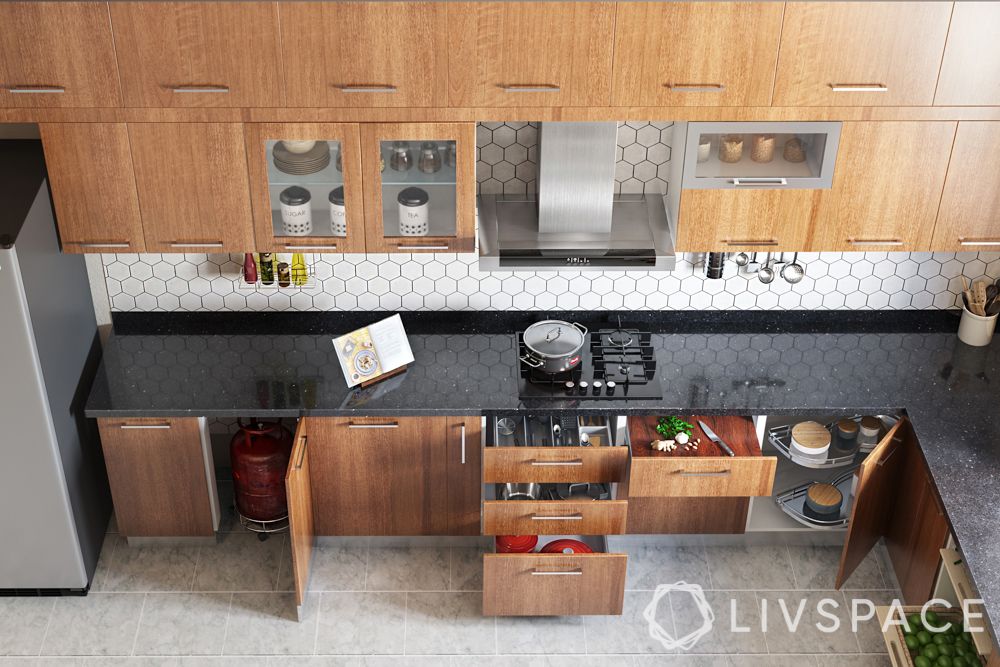 Based on utility, one must select accessories that complement a kitchen design. Not using them frequently will be a waste of money.
For example, if you love your crockery, plate holders are the best way to ensure that they never break. If you have a large family, a double bin holder is a godsend. Here is a list of 5 Modular Kitchen Accessories to Make Life Simple.
Pick exactly what you need from our diverse range of accessories to keep your modular kitchen price under check.
#4: What About the Countertop and Backsplash Material?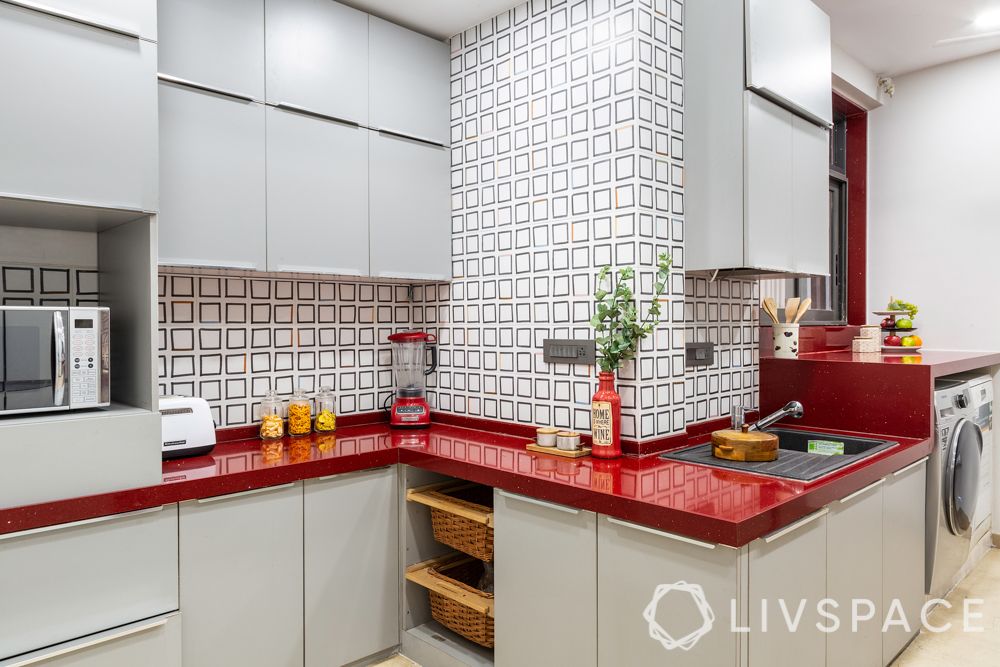 Corian, quartz and polished granites are the favourites for countertops due to their natural, high-end finish. Quartz is the most expensive but each material is available in a varied price range depending upon the quality.
The same can be said for backsplash. Buyers are opting for eye-catching materials like glass, metals or even stone so it becomes the focal point of their kitchens. Ceramic tiles are the most popular in the market right now.
#5: Opt for Built-In Appliances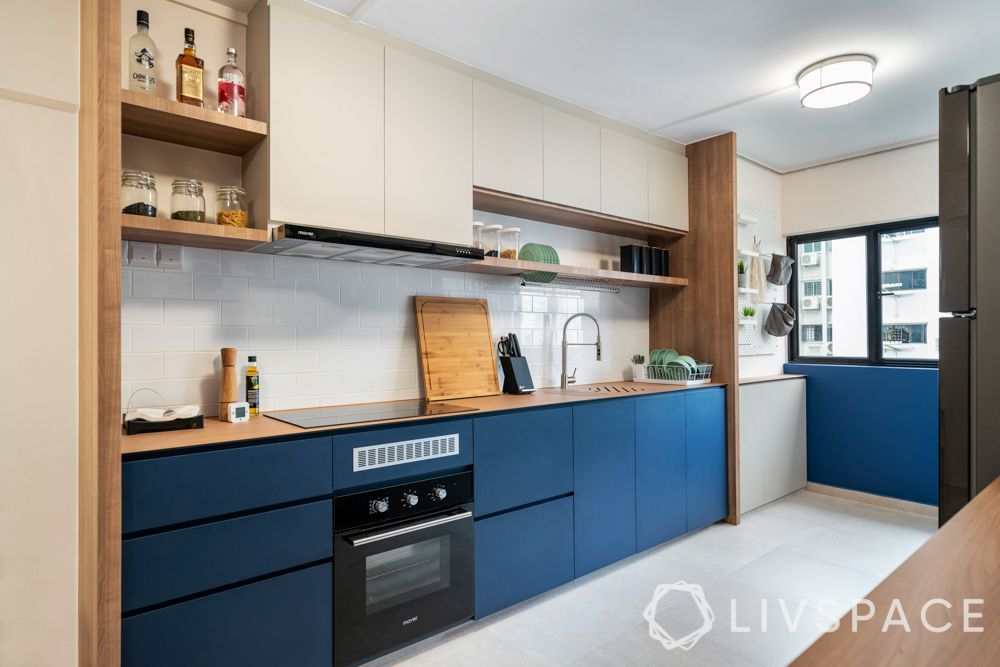 Like accessories, you should get the appliances that will be frequently used to avoid unnecessary splurging. Built-in appliances such as oven, dishwasher are usually more expensive than their conventional counterparts as they are comfortable to use and seamless in design.
Invest thoughtfully in our range of appliances so your modular kitchen price fits your budget.
Check out kitchen design ideas:
How Can Livspace Help You?
Armed with this knowledge, you can now easily prioritise your needs and create the kitchen you have always wanted!
If you are ready to invest in a modular kitchen? Consider Livspace. With safety as our top priority, our expert designers will deliver quality interiors on time. Book a consultation now and get the kitchen that you always dreamt of.
For more information and inspiration, check out:
How to Get a Low Budget Modular Kitchen With Livspace
​​25+ Kitchen Designs That Will Inspire You (With Amazing Pictures)
Send in your comments and suggestions— editor@livspace.com