When kitchen remodelling is concerned, cabinet handles are often at the very bottom of the list. However, the kitchen cabinet handle design can make or break the look of the kitchen. It's important not just to pick the right style but also the right colour that matches your overall look without scrimping on practicality. From trendy profile handles for kitchens to basic steel cabinet handles, here are 5 types of kitchen handles for cabinets you can explore:
#1: Pull-Out Handles for Functional Modular Kitchen Handles' Designs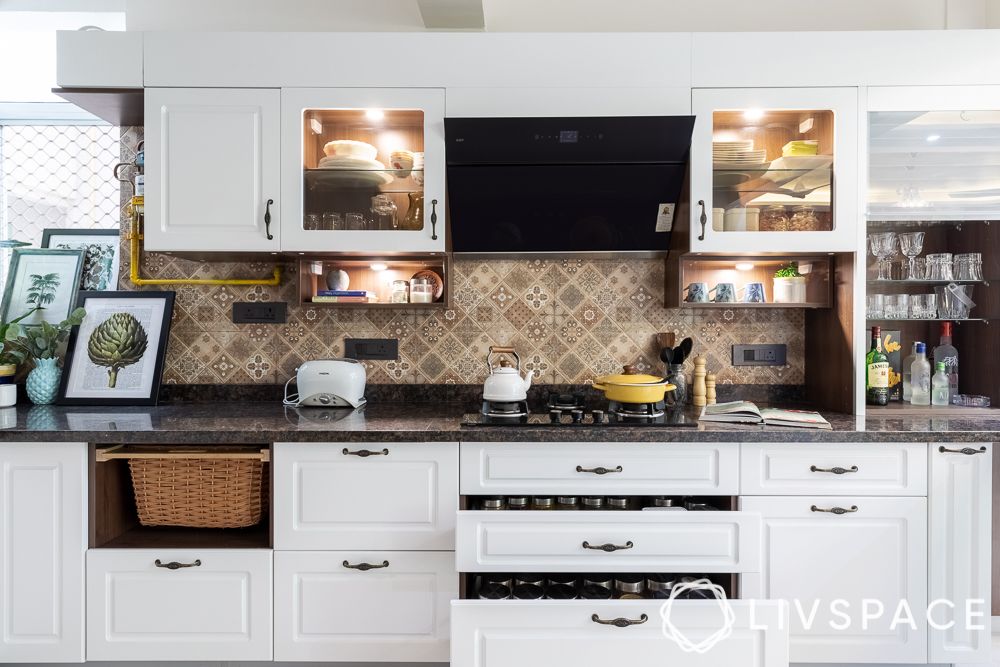 Pull-out handles do what they say on the tin. If you are looking for modern kitchen handles, this is the perfect option for you. They can be as straightforward or as ornate as you like them to be. Unpretentious variants are basic stainless steel kitchen handle designs while the more decorative ones can be sleek if they are meant for a modern kitchen or heavy and ornate if they are for a more lavish and traditional space. The pros of these cabinet handles are that they're easy to use and fit in with almost any style of kitchen cabinetry. However, they're not a great pick for vintage-style kitchens. Also the point to keep in mind is their positioning, as ill-placed handles may hamper their practicality.
Price range: ₹450 onwards
#2: Explore Classic Knobs for Kitchen Handle Designs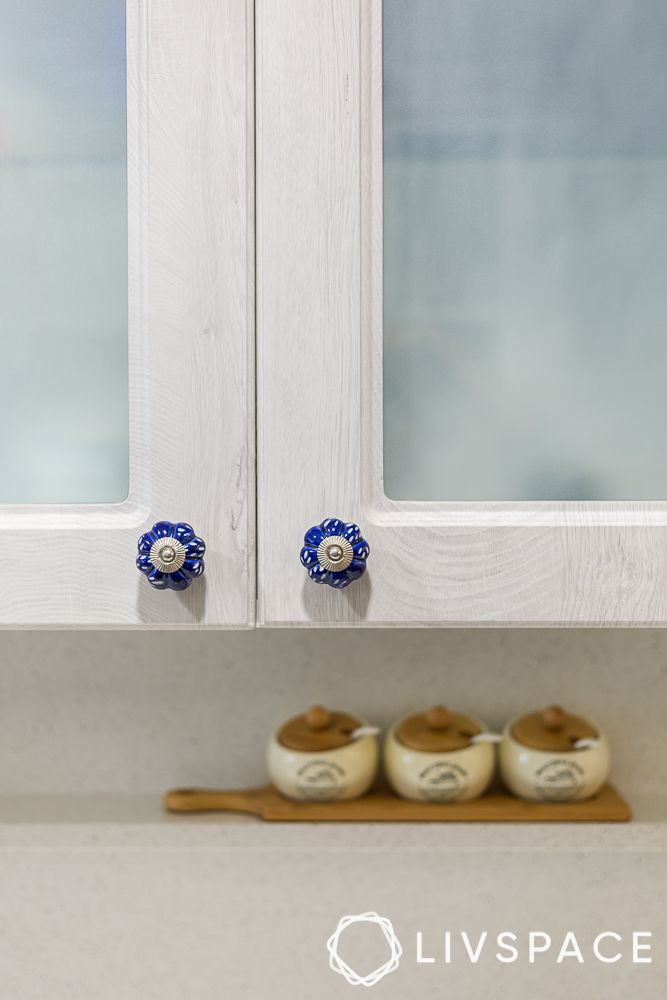 Knobs are smaller, round kitchen cabinet handles that are usually fixed on the opening edge of a cabinet door. Unlike J profile handle kitchen designs, knobs are a win for vintage kitchens as they channel an old-school vibe. Modern-day knobs come in metal, wood, ceramic and other materials, making them a versatile option. Since each knob involves a single attachment point, you only have to drill a single hole. The downside to this is that if the drill hole or the screw comes loose, the knob will fall right off. Knobs are less practical than pull-out kitchen cabinet handles because of the limited surface area, especially when opening doors in haste.
Price range: ₹399 onwards
#3: Edge for Profile Handles for Kitchen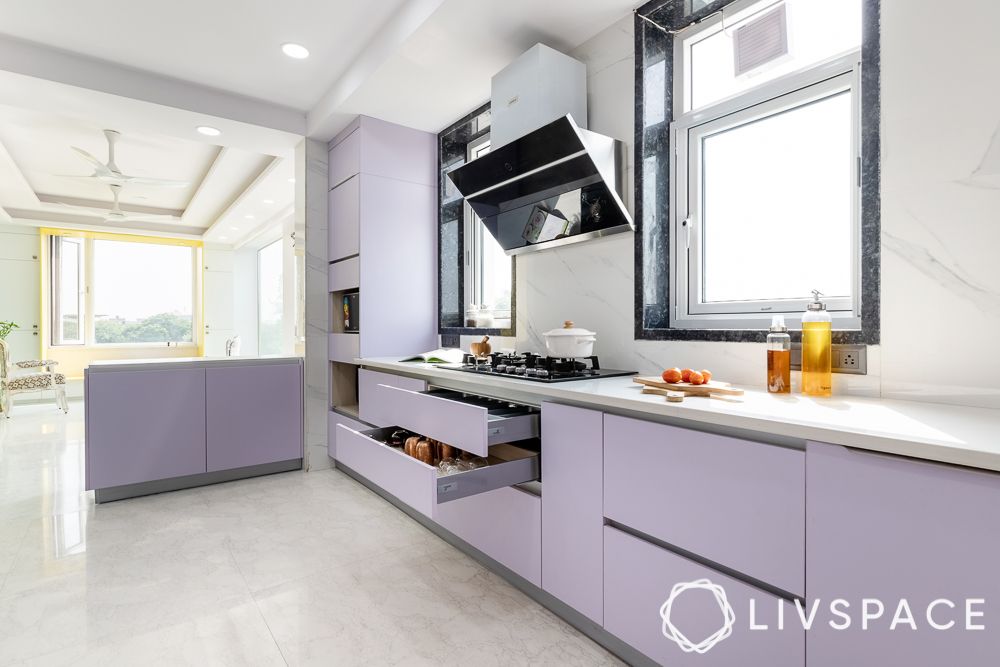 Also known as J profile handle kitchen, edge profile handles for kitchens sit along the vertical or horizontal edge of the cabinet door. The main benefit of this modular kitchen handles designs, especially for use in small kitchens, is the handleless illusion it provides. This reduces clutter on the surface of the cabinets while still being functional. The drawback of this style is that it only looks good in modern or simply designed kitchens. Despite the edge that juts out, a profile handle for modular kitchens provides even lesser surface area when compared to knobs and pull-outs.
Price range: ₹900 onwards
#4: Consider Traditional Steel Kitchen Cabinet Handles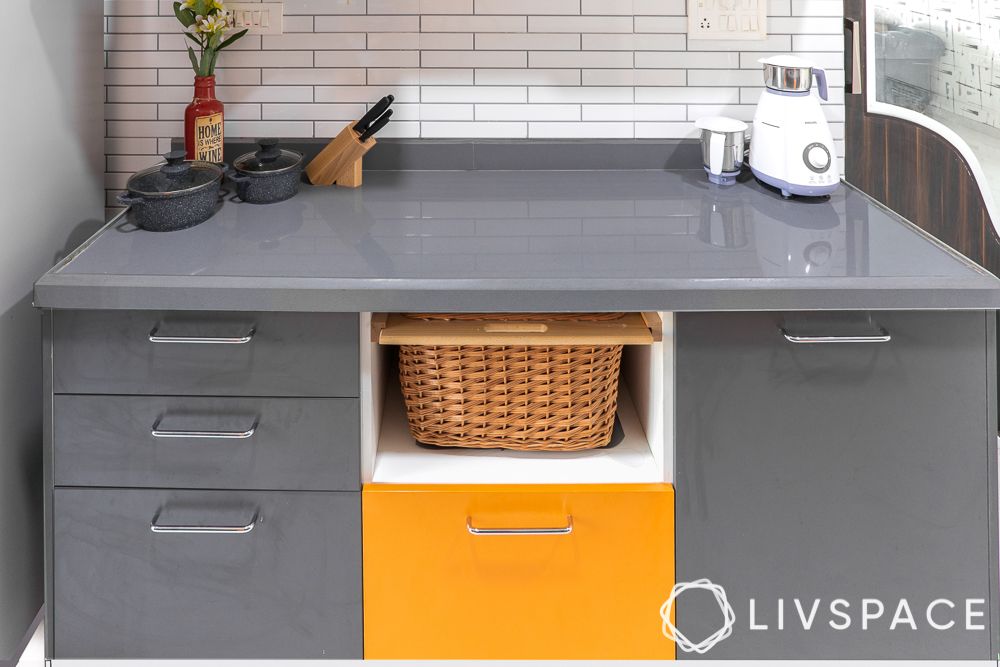 If you'd rather go back to the basics, then stainless steel handles are the way to go. They're low maintenance, water-resistant and easy to wipe down in case of a spill. The only negative is that they're not fancy and therefore don't bring more to the table than what they're practically used for.
Price range: ₹300 onwards
#5: Stylish or Custom Modern Kitchen Handles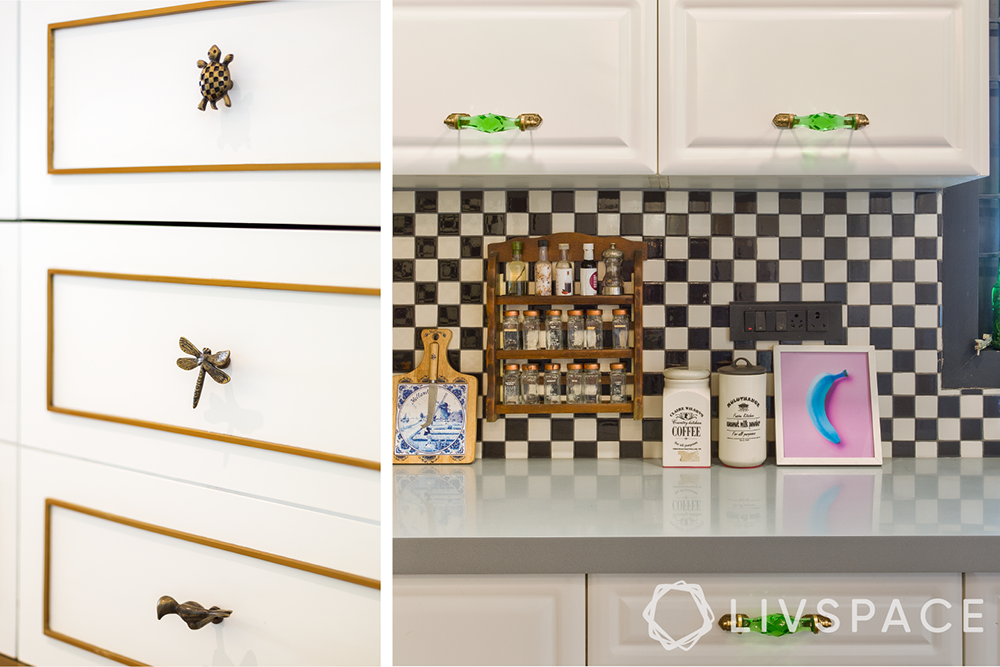 If quirky is your calling, then opt for customised handles like these. Not only do they look stylish, but they also give your kitchen cabinets a unique character. From curated ones to cute animal-shaped ones, the market is flooded with options. Take your pick!
Price range: Can vary based on design and material
To finish off your kitchen cabinetry with a bang and keep things functional in the kitchen, taking a little time to choose the right types of handle will turn out to be a good idea.
If you are looking for different varieties to look at when it comes to kitchen handles, you can select from any of the above, keeping in mind your kitchen aesthetics and your budget. So, go ahead and give your kitchen cabinets a revamp with a stunning kitchen handle design!
Want to look at another striking feature that can transform your kitchen? Then Pick from 6 Gorgeous Backsplash Options.
How Can Livspace Help You?
We hope you found our ideas useful! If you want beautiful interiors for your home, then look no further. Book an online consultation with Livspace today. Have any thoughts or suggestions you'd like to share with us? We'd love to hear you out. Write to us at editor@livspace.com.