Is your home starting to look boring and dull? Want some small budget big makeover ideas to make your home a little more exciting and welcoming? After all, you don't have to burn a hole in your pocket to get a home that warrants the envy of your neighbours. You just need to know the right place to shop and a list of decor items you wish to buy for your house. And before you know it, you will have an amazing house makeover that is fit to be flaunted!
Let's look at some of these savvy home makeover ideas that we have put together for you by brands we have worked with. These living room makeover ideas are low budget and will lighten your wallet by not more than ₹5,000 at a time.
#1: Bright Cushions for a Quick House Makeover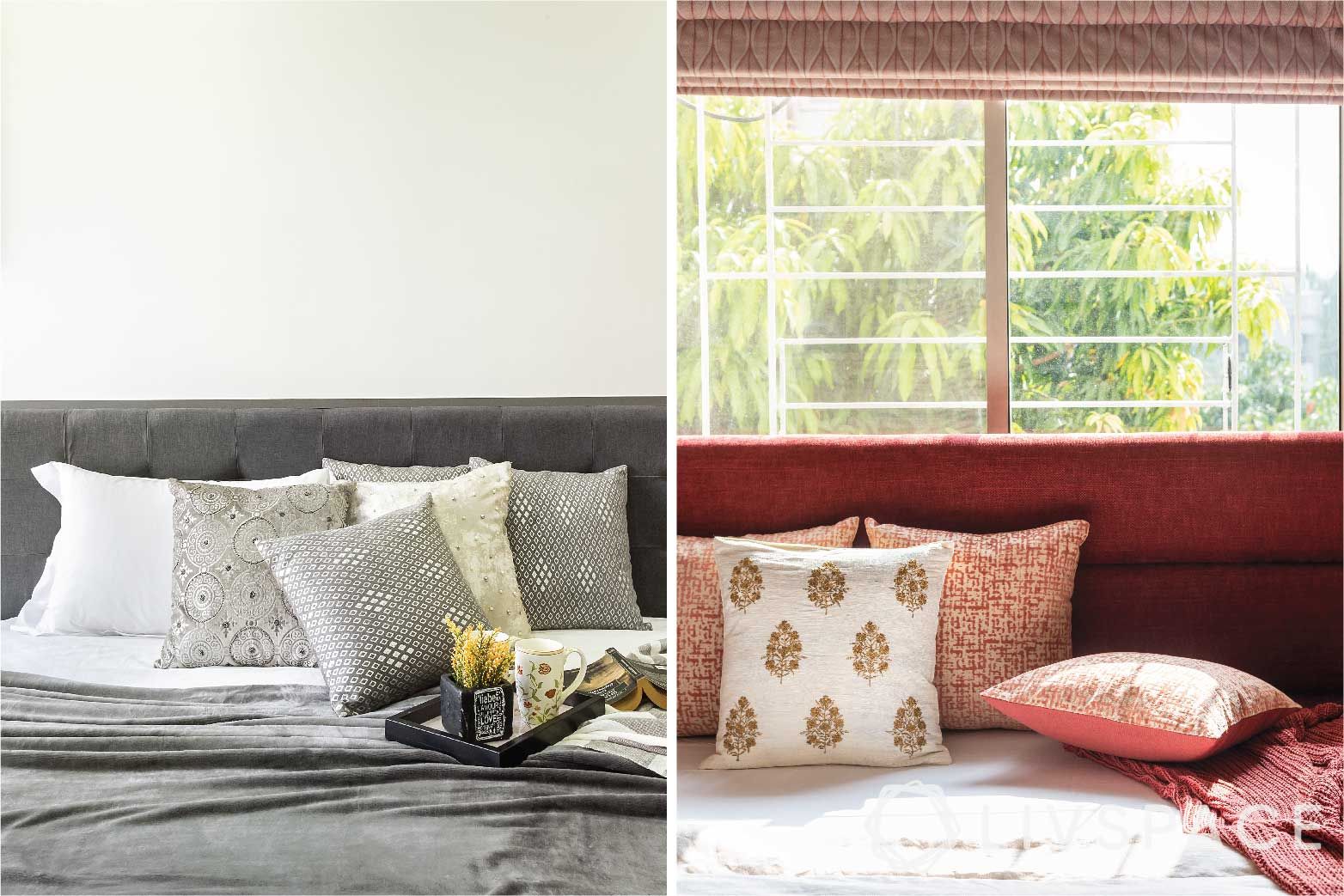 One of the quickest small budget big makeover ideas is to throw in some inexpensive pillows and oversized cushions in your drawing area, and the bedroom. Use some vibrant cushion covers for your living room makeover. You can even give your old sarees or patterned bedsheets (better if they have frayed edges) to your local tailor to stitch you some customised cushions. Looking for some zingy stuff? Check out brands like Pluchi and House This India for some fun designs!
Market price of a pillow/cushion: ₹150-175
Market price of a cushion cover with an oomph factor: ₹400 and above
#2: Change Soft Furnishings for a Clever House Makeover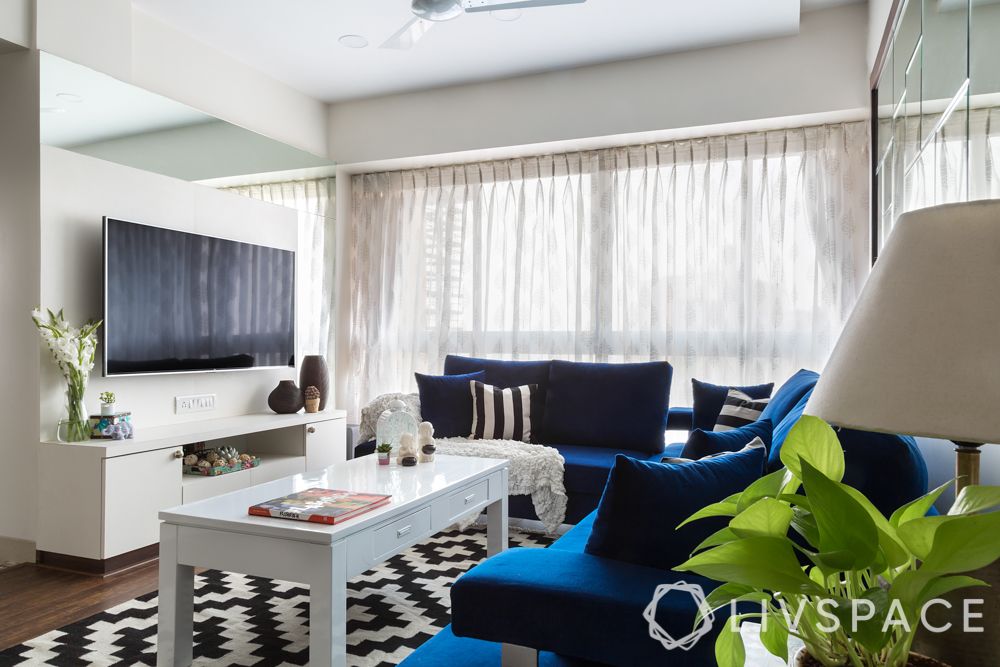 If your room has a pristine white theme, then add on a splash of colour with some soft furnishings. For instance, put a sheer curtain just behind the bed or mix and match some coloured sheers with the curtains in your room. If the room has enough colour already, then add white sheer to the curtains, thus helping you create a breather from the chaos. This is a lovely small budget big makeover idea.
A geometric-patterned rug is another way to carry out an interesting makeover of your house in low budget. Scout your local market or find yourself some amazing deals on gorgeous bedspreads or throws that eliminate the 'meh' factor in the room. If you like, you can find some lovely rugs at Obsessions for your small budget big makeover plans.
Price of a cotton and woven bedspread: ₹900 onwards
#3: A Quirky Mirror for a Winsome Low Budget Home Makeover in India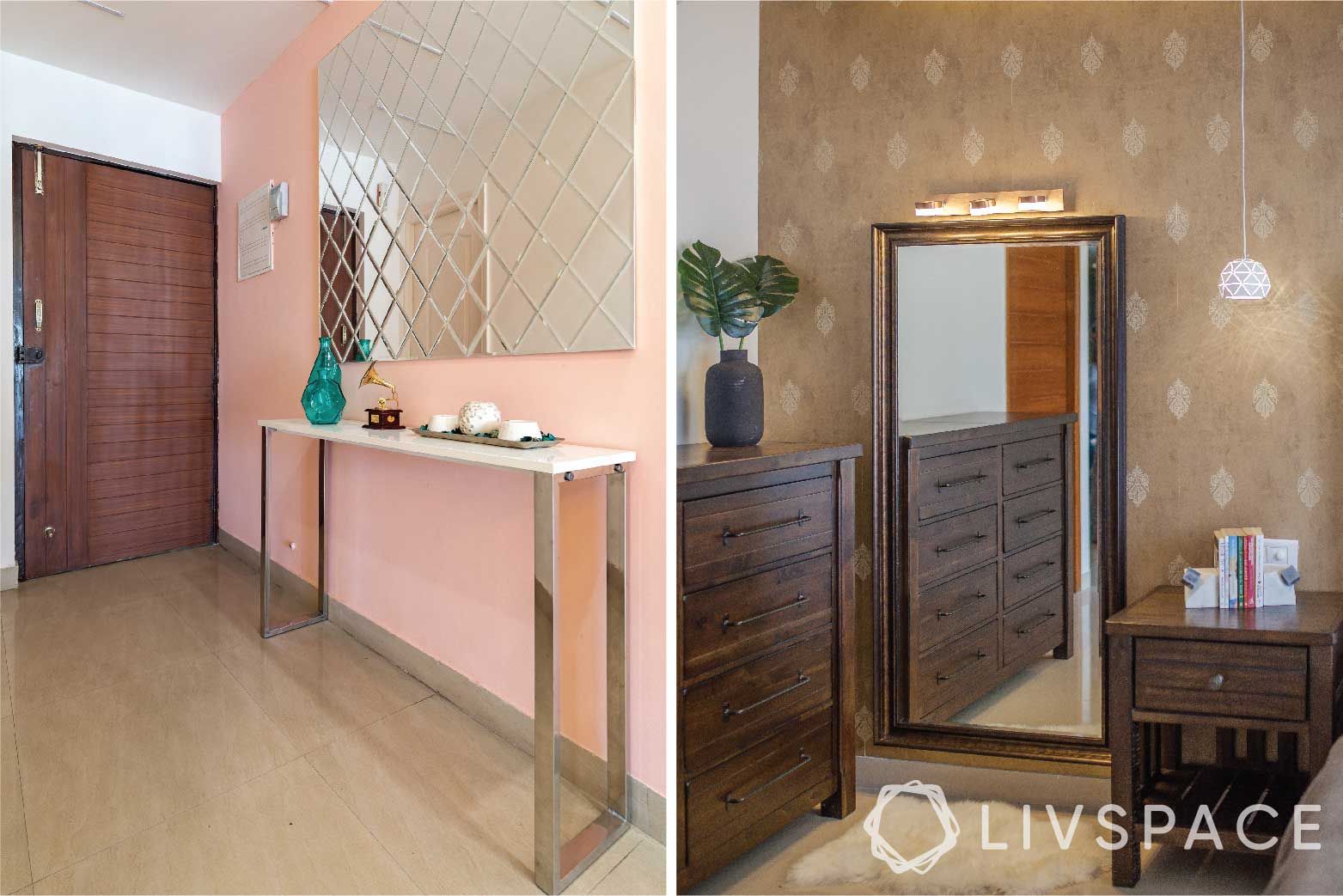 Add a mirror to the dining area or to your foyer, and it will instantly uplift the decor while adding some depth to your room. And you don't even need to hang it on a wall; simply standing it up on the floor will do the trick for a small budget, big makeover. Refer to these home remodelling ideas on a budget on how to decorate with mirrors. You can check out brands like Montage and Mirrorwala for mirrors on a budget!
Price of a decorative mirror: ₹1,000 onwards
Also Read: Step Up Your Dining Room Within Budget
#4: A Table Runner for Lazy Small Budget Big Makeover Plans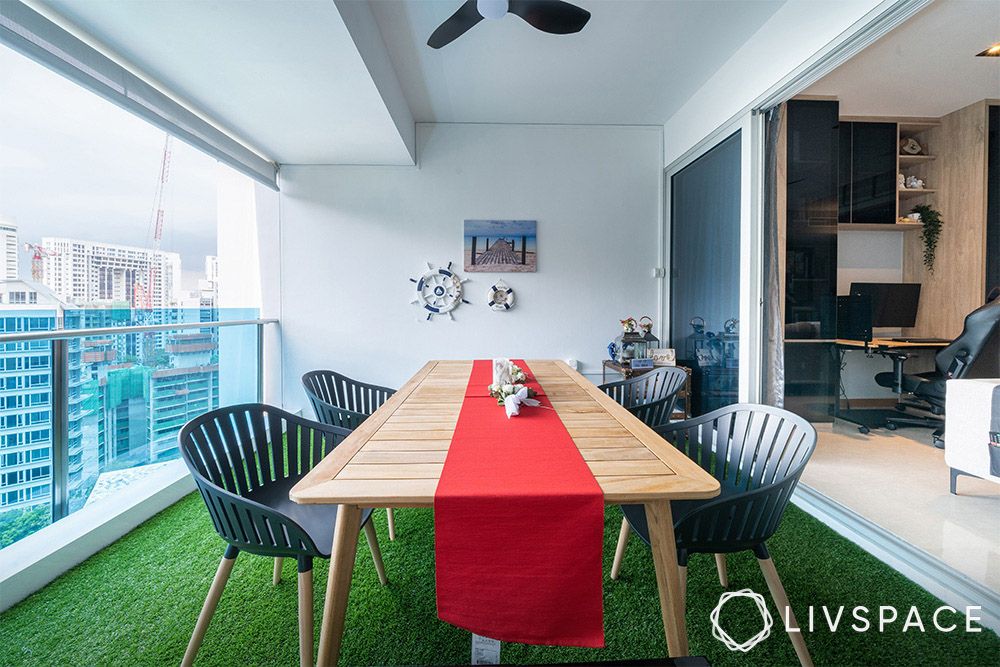 A plain and boring dining table or even a rectangular low coffee table can be enhanced by placing a table runner across it.
Here's a tip for a low-budget home makeover in India: use your old zardosi dupatta lying at the back of the cupboard as a runner by getting it cut and sewed to size. Not only does it save you money, but it adds an ethnic touch to the room, making it the ideal small budget big makeover tip. In case your room sports a more modern and contemporary look, you can go for a simple runner but in brighter hues.
Price of table runner: Between ₹400-600.
#5: Candles and candleholders As Home Renovation Ideas on a Budget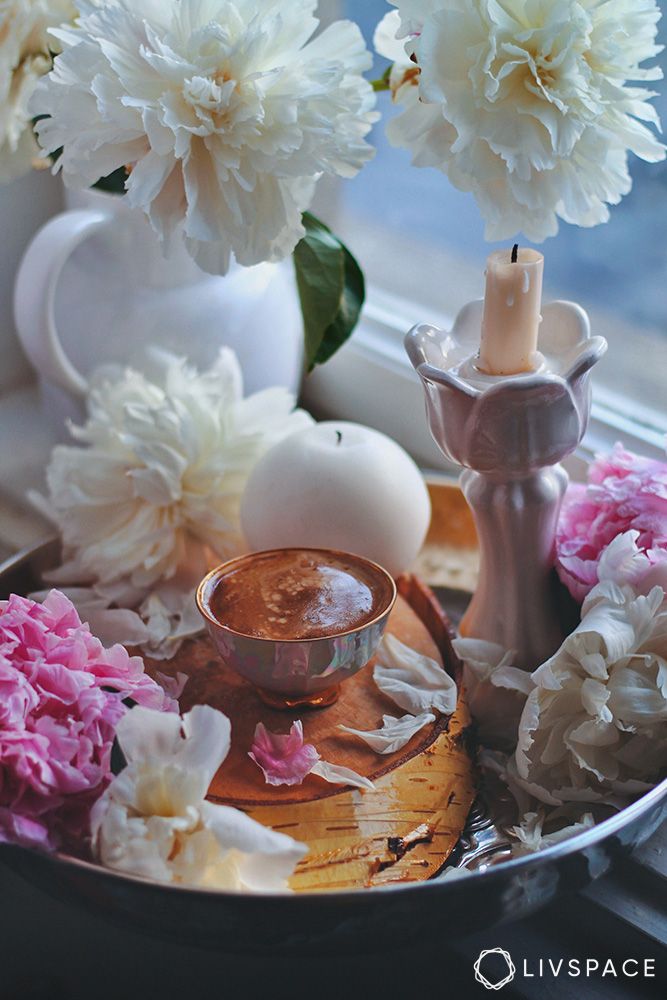 Candles, candleholders, flowers and a large vase add a sense of drama to the room, in addition to filling it with exotics scents. You can find them at every other decor store in every city.
Price of scented candles: Around ₹350 for a set of 3-4 candles
#6: Small Budget Big Makeover With Picture Frames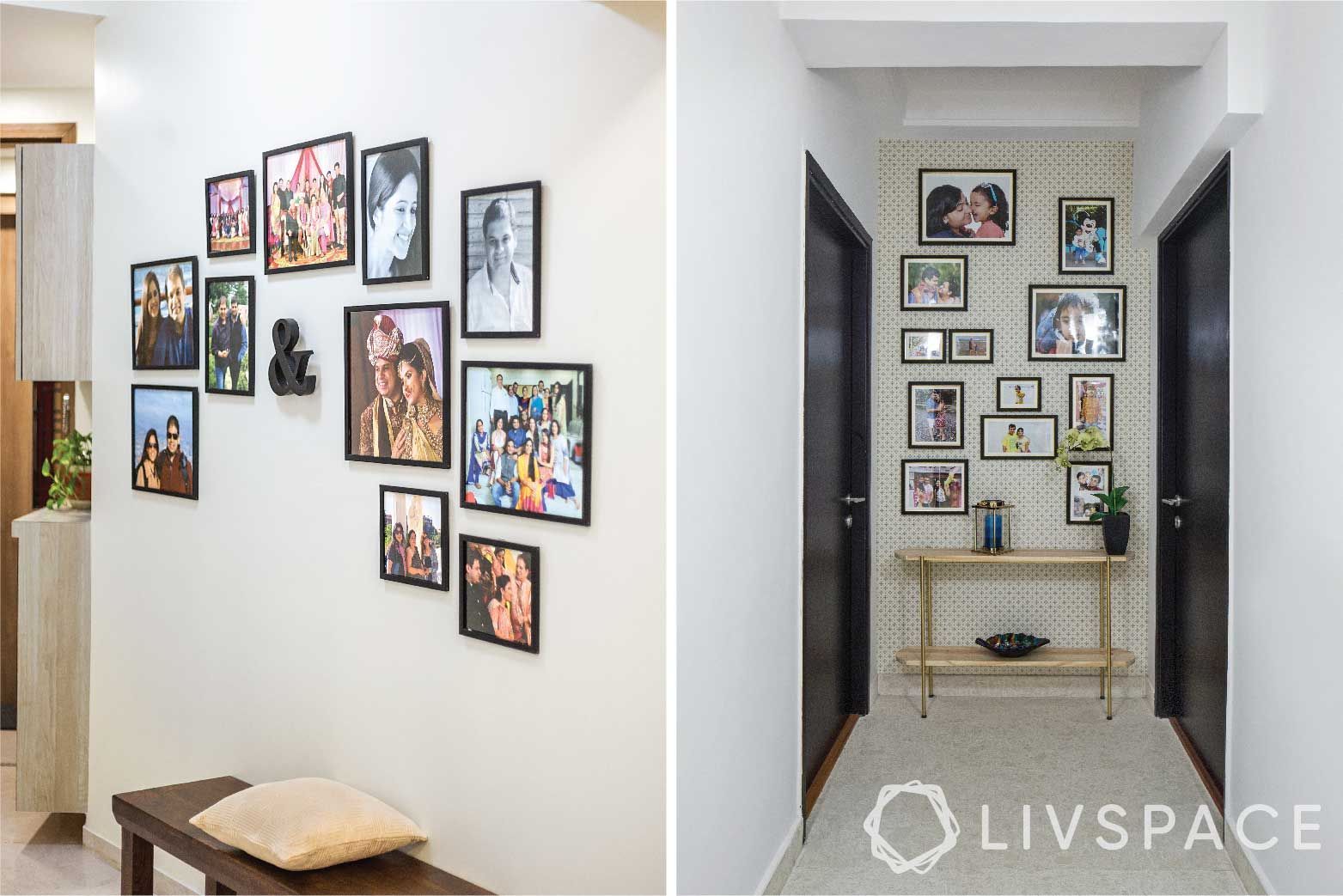 Make a collage of matching frames with your precious memories and transform a boring wall into a trip down the memory lane. Some quirky frames can be bought at Art Street for a steal, to give your walls a small budget big makeover.
Price of one frame: ₹800- 900 for a set of 12 frames
#7: Plants and Terrariums for Decking Up Tables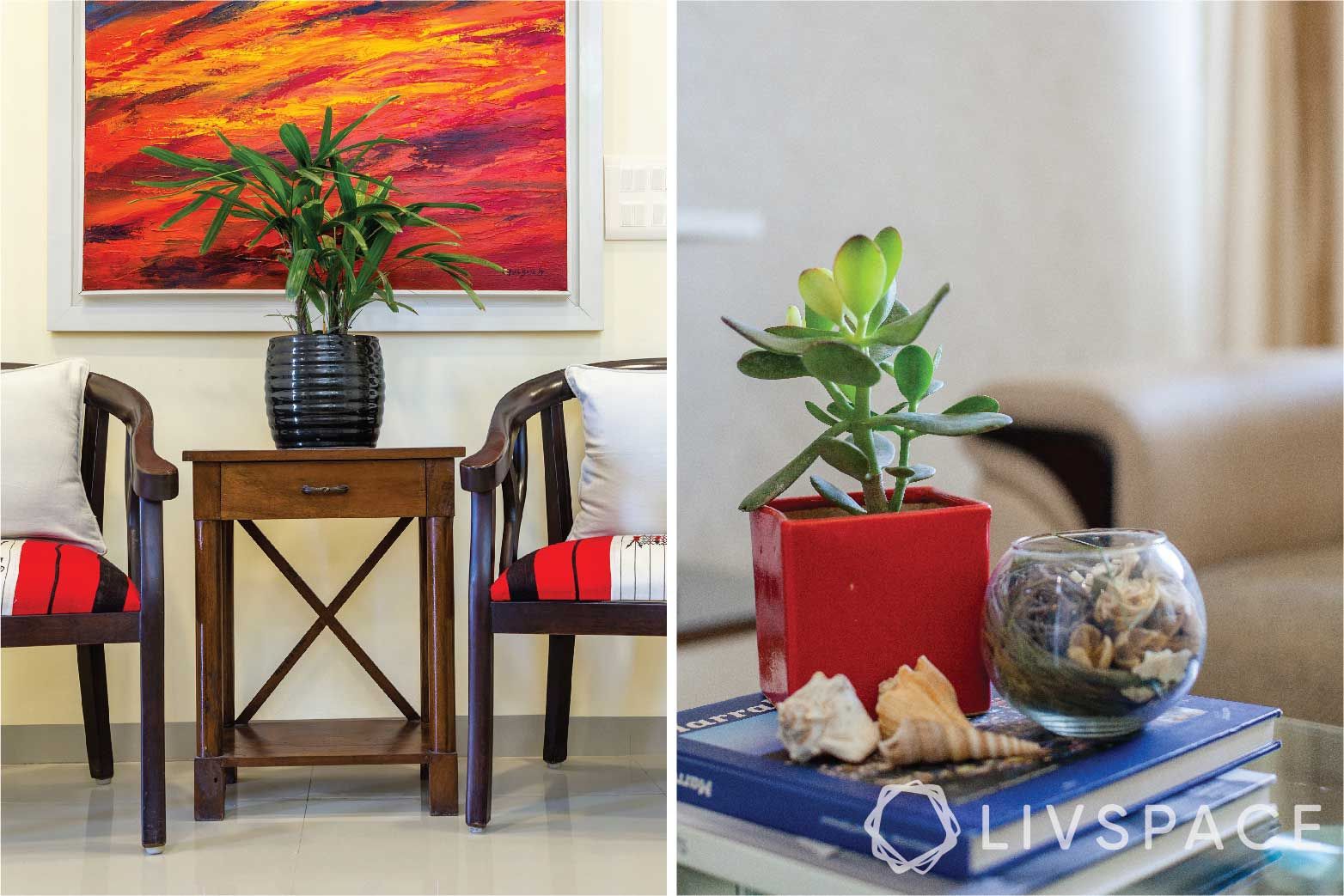 Who doesn't love greens? Especially when you can have a hobbit-sized garden right inside the house, why not? Terrariums and fairy gardens are the trending decor accessory for houses today, not only for the chic look they add to the room, but also for their air-purifying qualities. Visit Nurturing Green, one of our favourite brands, for live plants and succulents! You can also visit the neighbourhood nursery and pick up some simple plants for your home at throwaway prices!
Price of one terrarium: Between ₹500-1,000
#8: Artwork and Wall Hangings From Flea Markets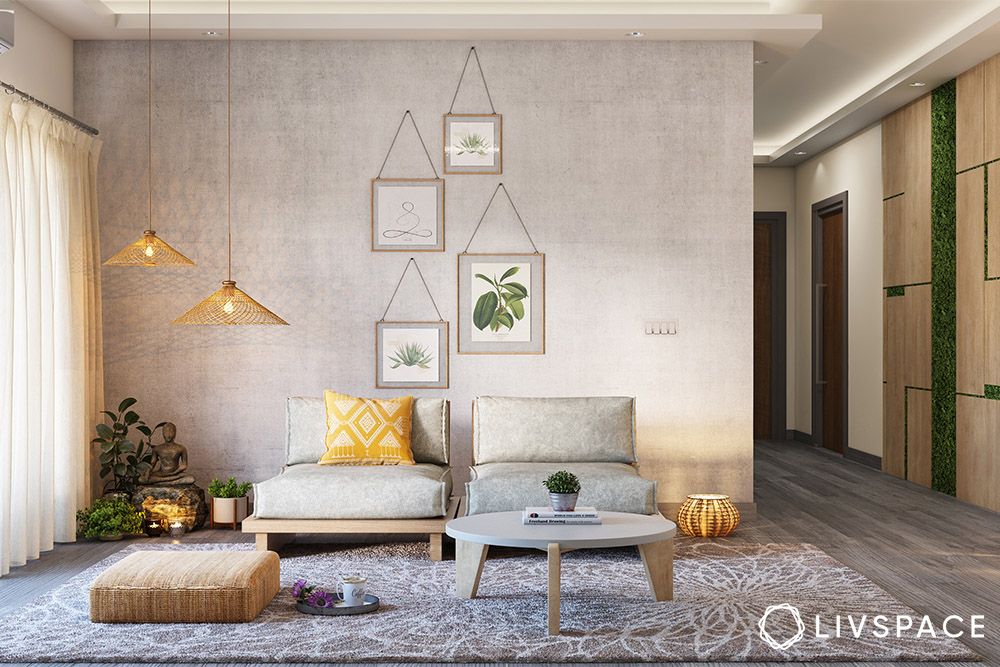 Adding an artwork or a wall hanging gives character to the room. We aren't asking you to go in for an MF Hussain or a Raja Ravi Verma for your small budget big makeover plans, as the purse string is a little tight for this one. You can always go in for almost inexpensive canvases in abstract prints to jazz up your home. Digital split paintings by Art Street are a viable option if you are working with a budget and want some good options. Or you can also explore flea markets in your city to support local artists. Decals by Wall Art are another option to help you do up your walls! If you're looking for economical wallpaper, check out Marshalls.
Price of one abstract canvas: Starting at ₹400
You can also opt for economical wall paint to jazz up your space. Check out these wall paint ideas:
#9: Inexpensive Lighting Fixtures for an Ambient House Makeover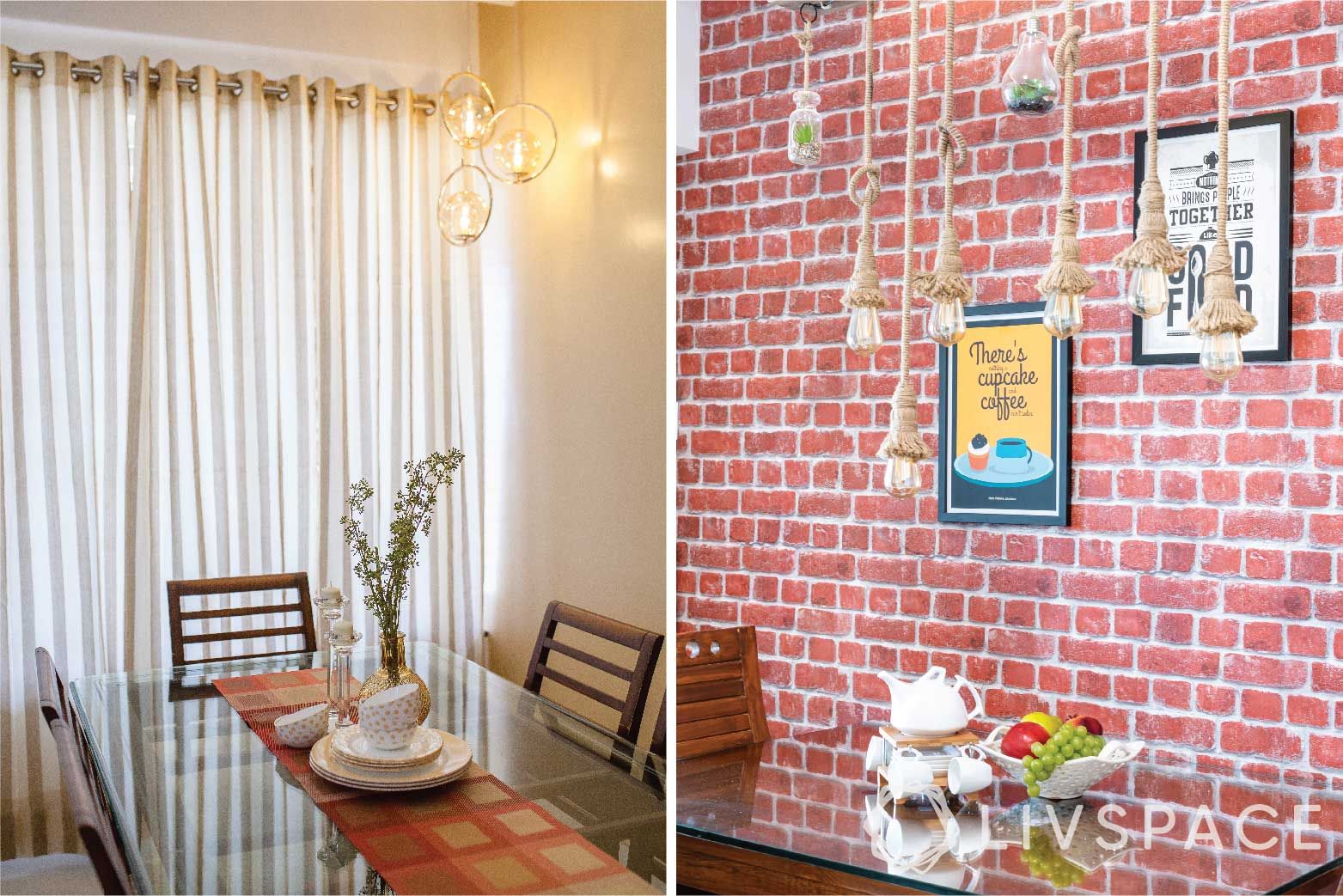 Adding spotlights or a lamp to the corner of the room uplifts the room and when placed strategically, can add the required spotlight to your favourite artefacts scattered about the space. You can take your pick from some cute table lamps that match your budget perfectly at Jainsons Emporio and Orange Tree.
Price of a table lamp: ₹ 500-1,200
#10: Peel-Off Wallpapers and Trendy Accessories As Bathroom Makeover Ideas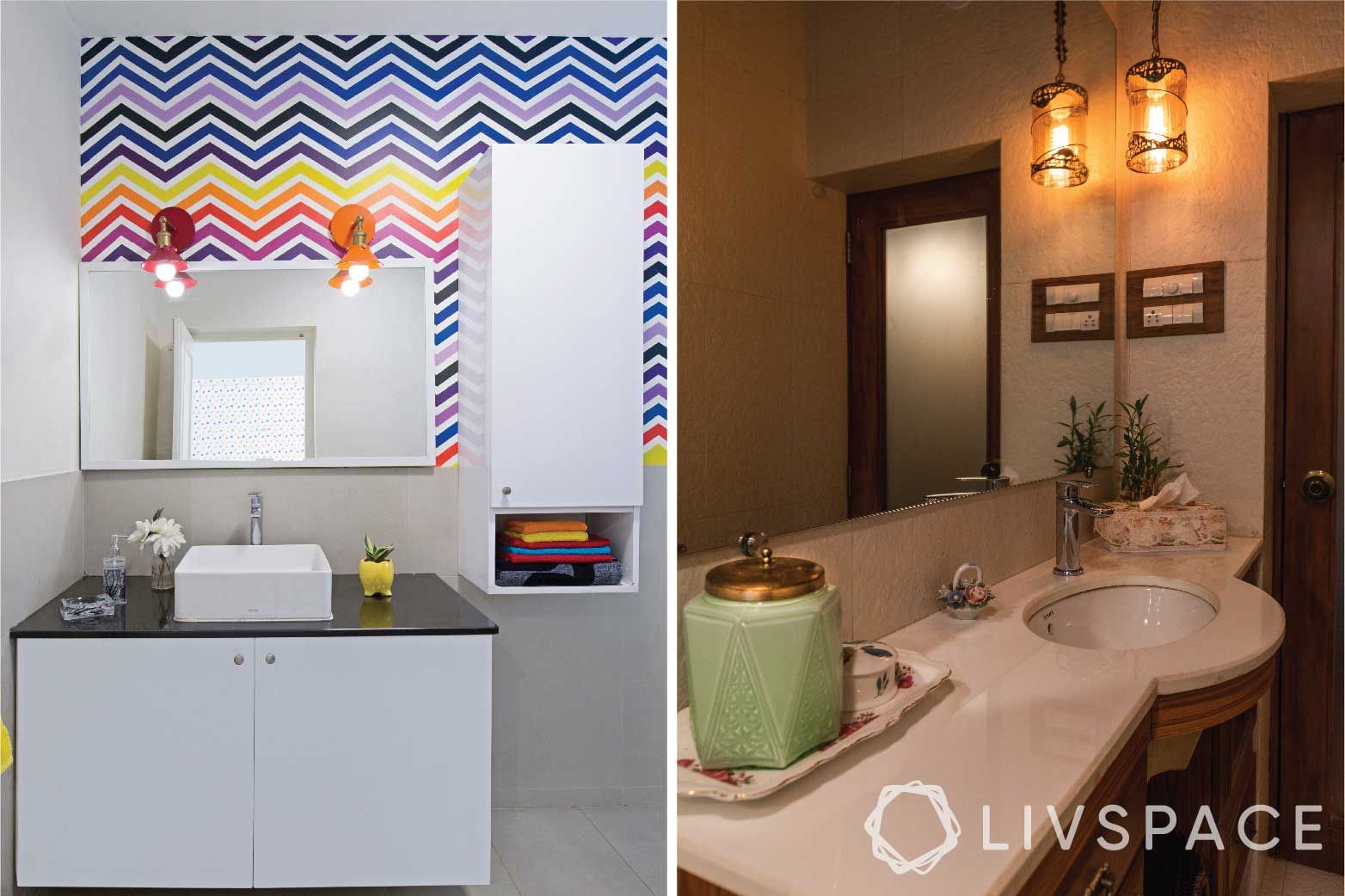 Looking for an easy small budget big makeover idea for your bathroom? Try a fresh coat of wall paint or opt for a peel-off wallpaper. Over time, your bathroom walls can start looking drab and by just giving it a lick of paint you can transform this space. While painting is a great idea for DIY lovers, you can also pick up easy-to-apply peel-off wallpapers (just make sure they are waterproof). Try to swap out old soap sets with off-the-shelf, fresh soap sets and feel the difference. Check out some ways to redo your vanity in less than ₹5000!
Price of peel-off wallpaper sheets: ₹650 onwards
Price of ceramic soap sets: ₹1,500 onwards
#11: Kitchen Organisers to Declutter the Kitchen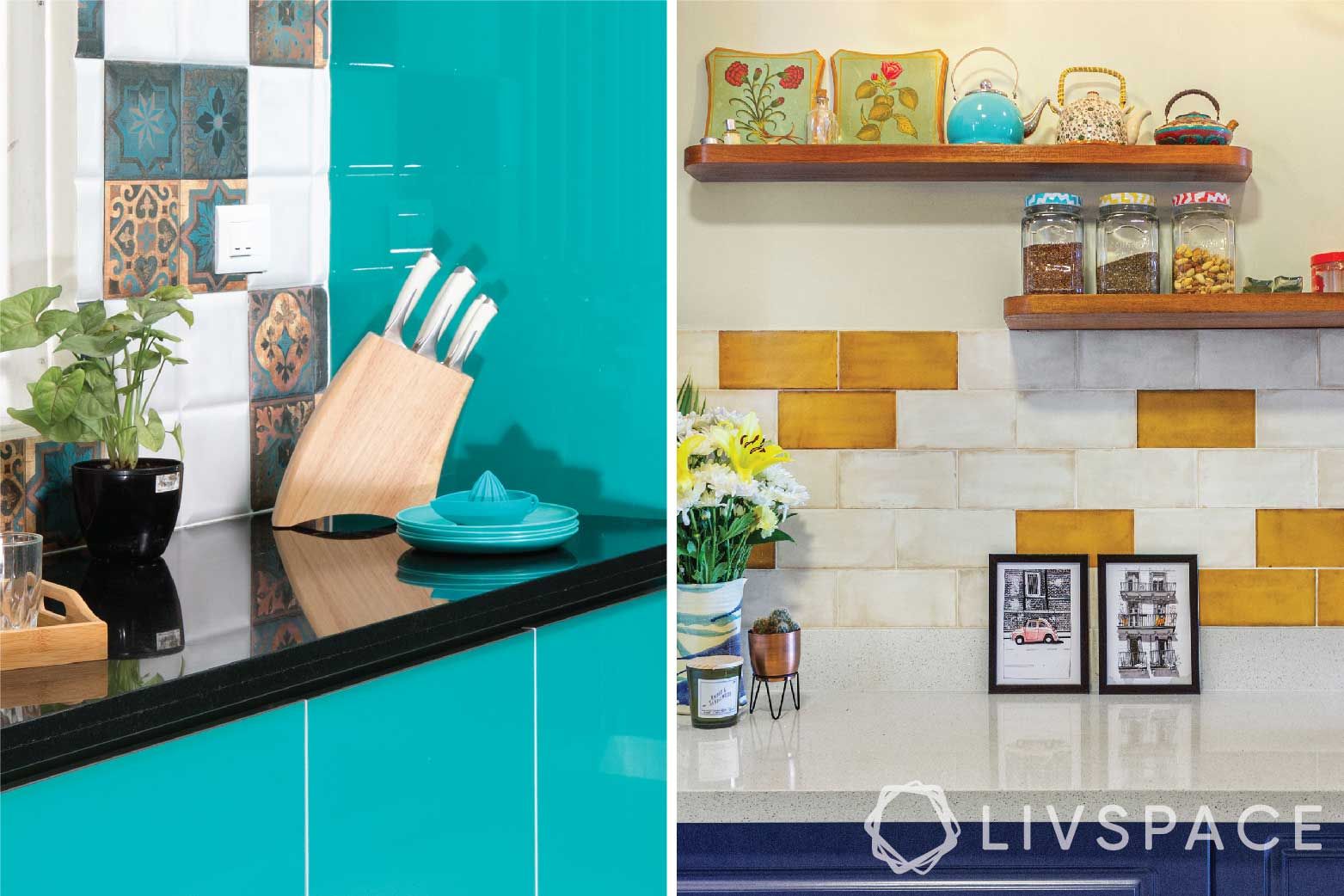 A great way to tidy and pretty up your kitchen is to get your hands on some organisers. Get a useful knife holder or put up some shelves and racks with a few nails and screws. Since these shelves cannot take a lot of weight, they are ideal for small jars and cookbooks. You can also add some quirky frames with your favourite quotes in the corner. We love this small budget big makeover idea!
Price of a knife holder: ₹500 onwards
Price of wall shelves (set of two): ₹800 onwards
#12: Shutter Knobs and Handles As Home Renovation Ideas on a Budget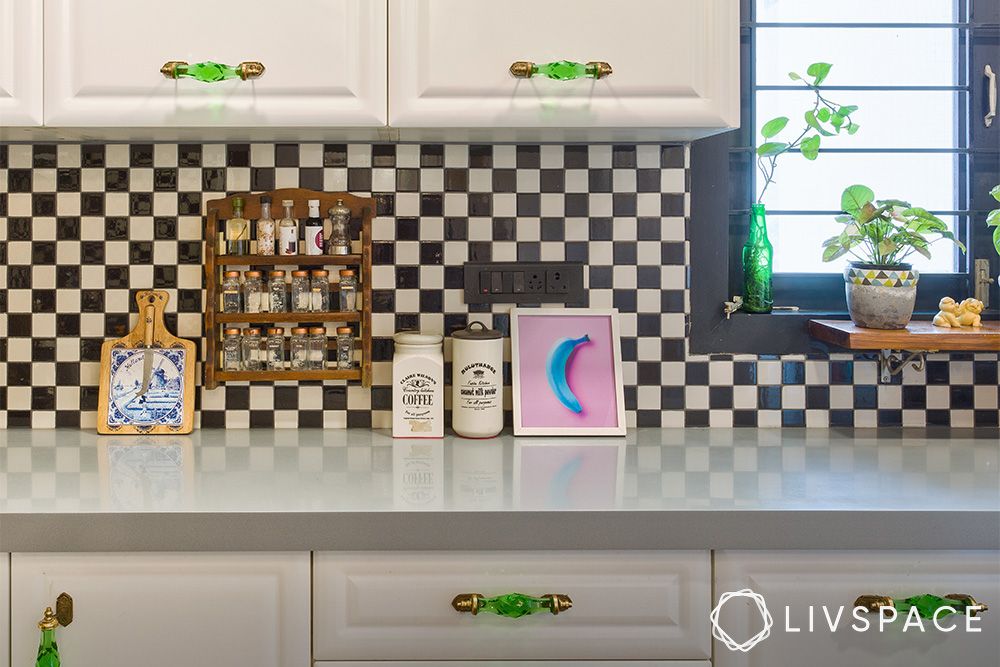 Another simple way to give any cabinet a fresh look is to change the handles. Since changing the entire cabinetry is an expensive affair, you can try adding fun stickers on the cabinets instead. Try vinyl stickers that are easy to apply and rip them off. Keep an eye out for unique handles and knobs on your next trip to the market.
Price of ceramic knobs (pack of six): ₹700 onwards
Also Read: 7 Unique Ways to Revamp Your Bedroom
#13: Little Things for Small Budget Big Makeover Projects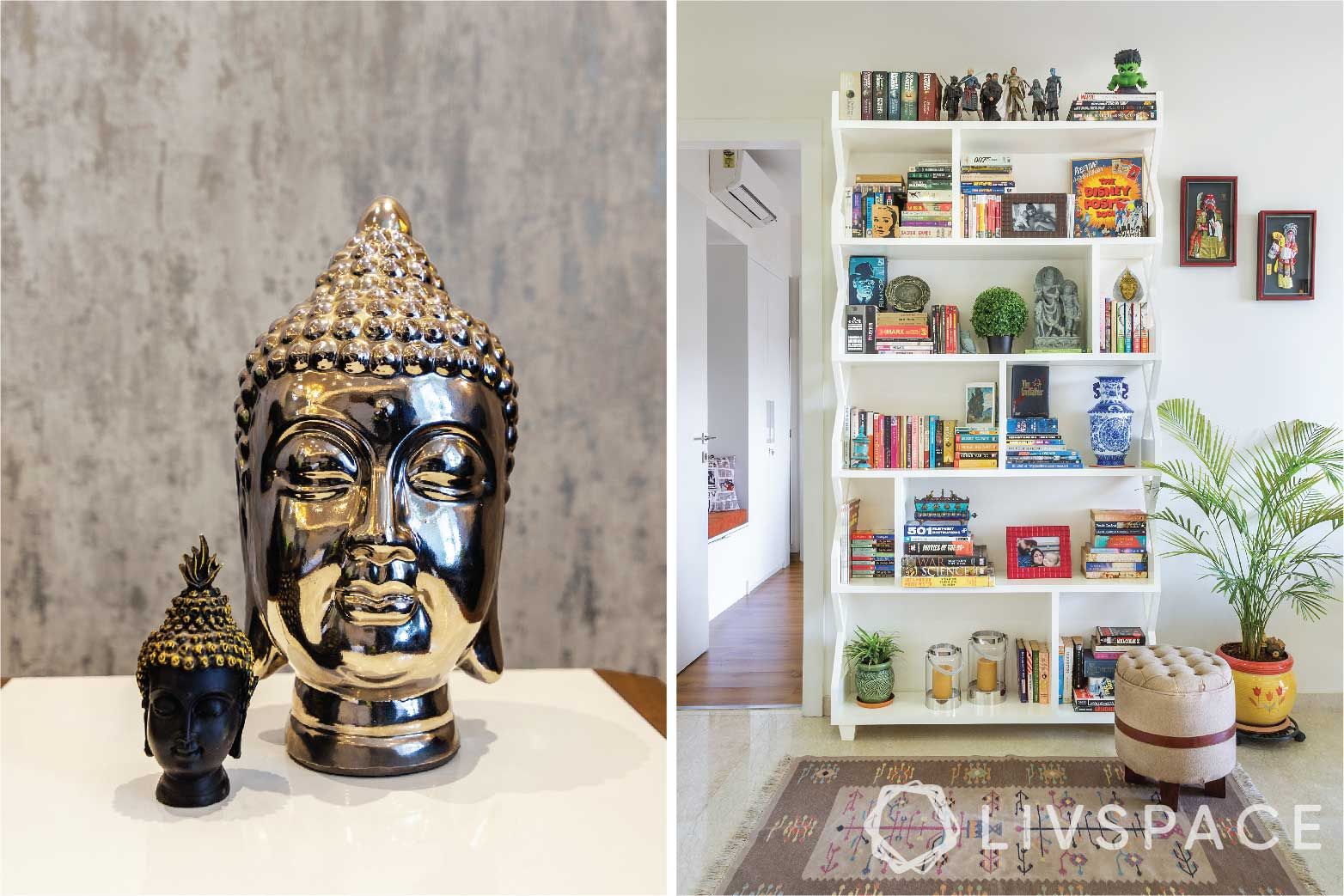 Titbits placed in nooks and corners of your room are just what you need to add elements of fun and intrigue. You can add wacky stuff like some figurines, trunks or a giant clock to upgrade your man cave/studio/study in the house. You can also dust off the curios you've collected on your travels and gifts you've got from friends and display it.
#14: Light It Up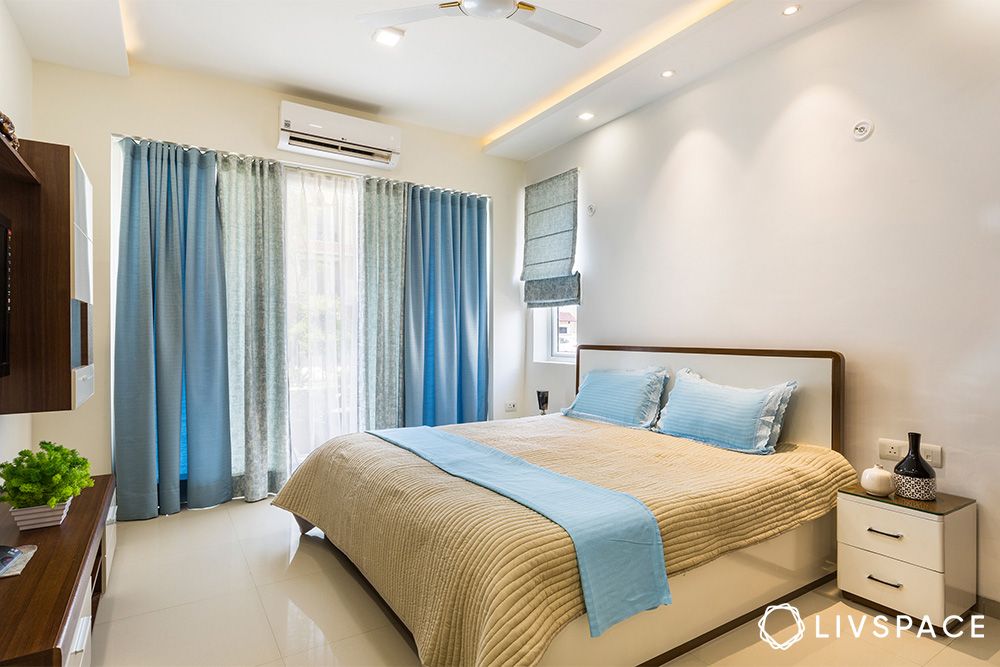 Want fancy lighting fixtures for your home, but they are out of budget? Visit thrift stores and flea markets to get budget deals. You will pay a fair price for an authentic item there. Some items might need a little polish or paint, but they can be changed into something that appears expensive within a few hundred rupees.
Price of table lamps : ₹200 onwards
Price of chandeliers: ₹2,000 onwards
#15: Simple Bathroom Makeover Ideas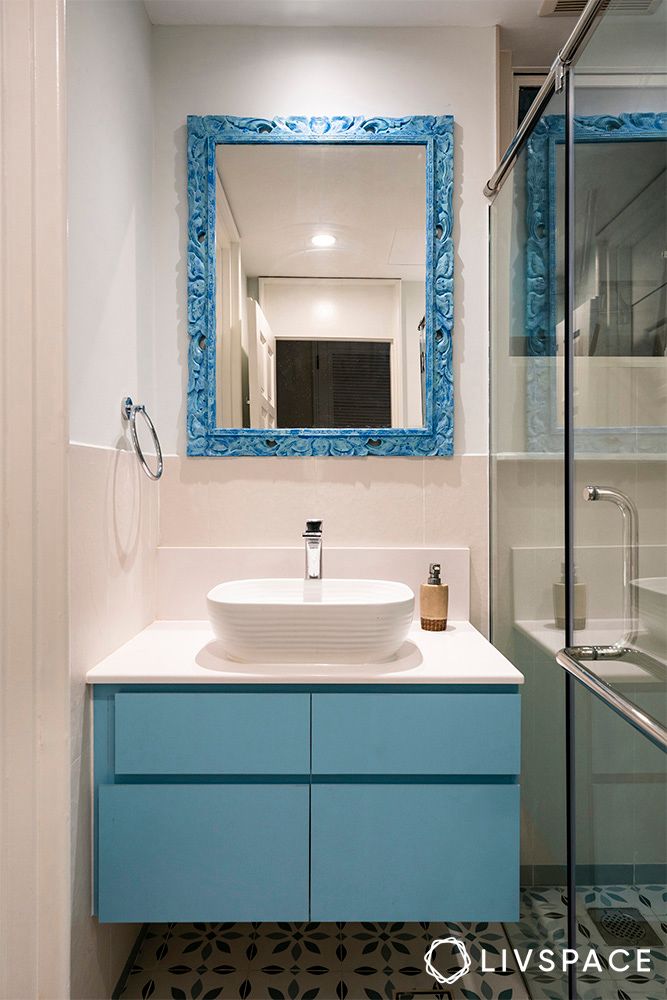 Your bathroom makeover can also be achieved within a small budget if you visit smaller hardware shops or flea markets for buying accessories, mirrors and movable cabinets. Go for affordable flooring options like laminate flooring, peel-and-stick tiles. You can also use DIY wall art or paint as home remodelling ideas on a budget.
Starting price of bathroom accessories : ₹200 onwards
#16: Use All the Accessories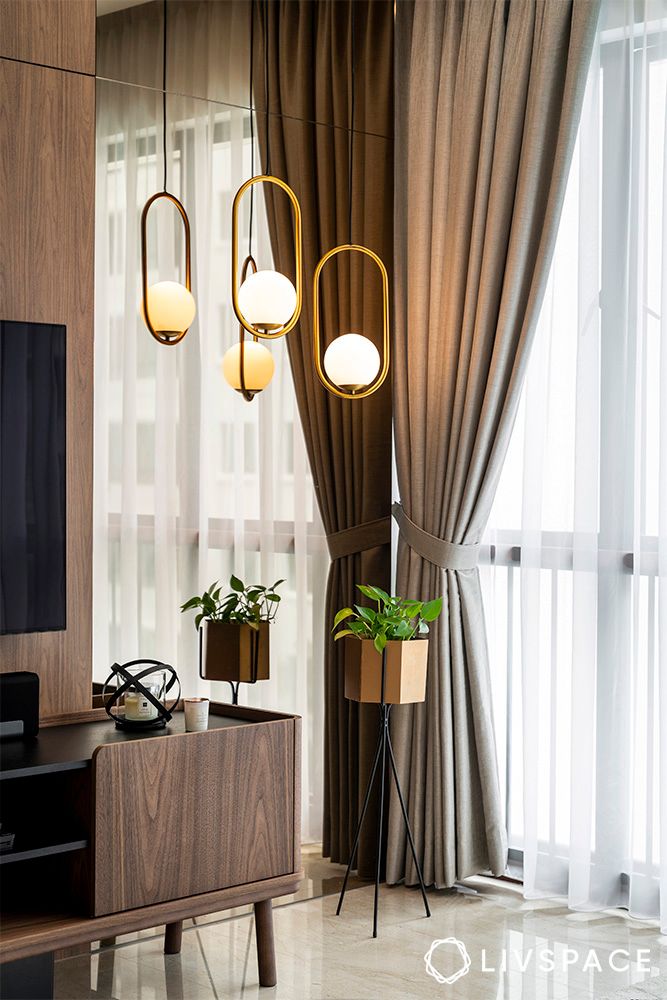 Contrary to what many individuals may believe, accessorising does not negatively impact one's financial status. There are many low-cost ways to decorate your home for your small-budget big makeover plan like colourful curtains, rattan furniture, pillows, cushions etc.
Note: All the brands mentioned in this article are available on the Livspace catalogue.
How Can Livspace Help You?
We hope you found our ideas useful! If you want beautiful interiors for your home, then look no further. Book an online consultation with Livspace today.
Send in your comments and suggestions to editor@livspace.com