A girl grows up from a curious child into a strong and powerful woman in her bedroom. A girl's bedroom is her sanctuary, which holds her dreams and future goals as she grows older. Every girl is different and so are her tastes, preferences and sensibilities. So, we have curated a list of girls bedroom ideas from Livspace Homes for all age groups and preferences.
Girls Bedroom Ideas #1: Cuteness Overload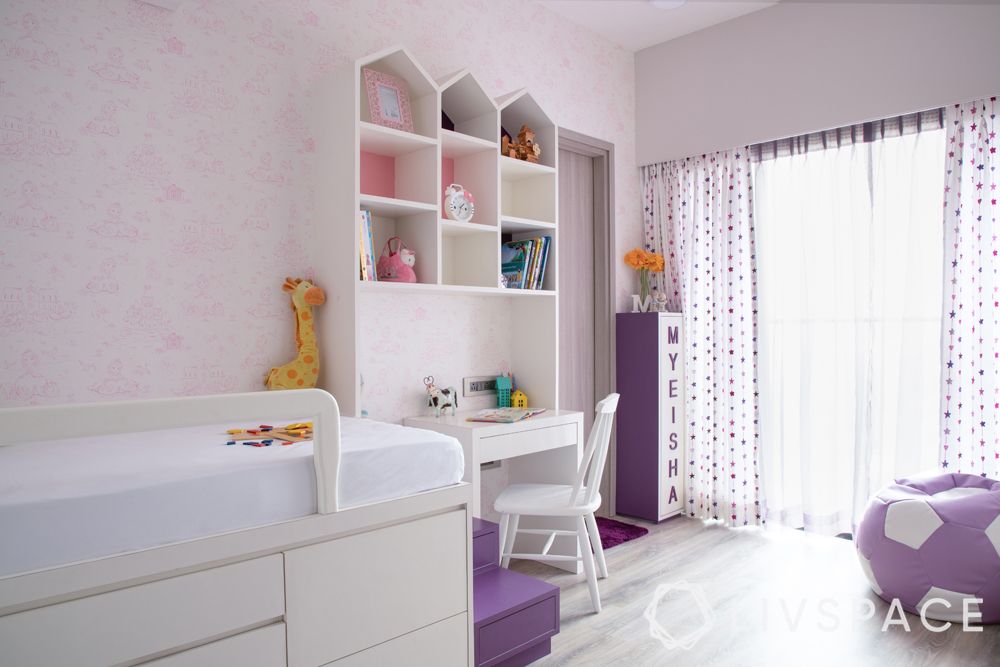 This one is for the little girls who love all things cute and sweet! The colour palette – soft pink and white – is so soothing on the eyes! The pops of purple add a fun element, ensuring your baby girl will adore her room!
Bedroom Ideas for Girls #2: A Gender-Neutral Room for the Progressive Women of Tomorrow
Girls love pink and boys love blue – can we please stop with the stereotypes?! This room design is the perfect bedroom for the strong, progressive woman your girl will one day be. Notice how our designer kept the look from being OTT by following a white colour base with only splashes of blue.
Girls Bedroom Ideas #3: Floating in the Starry Sky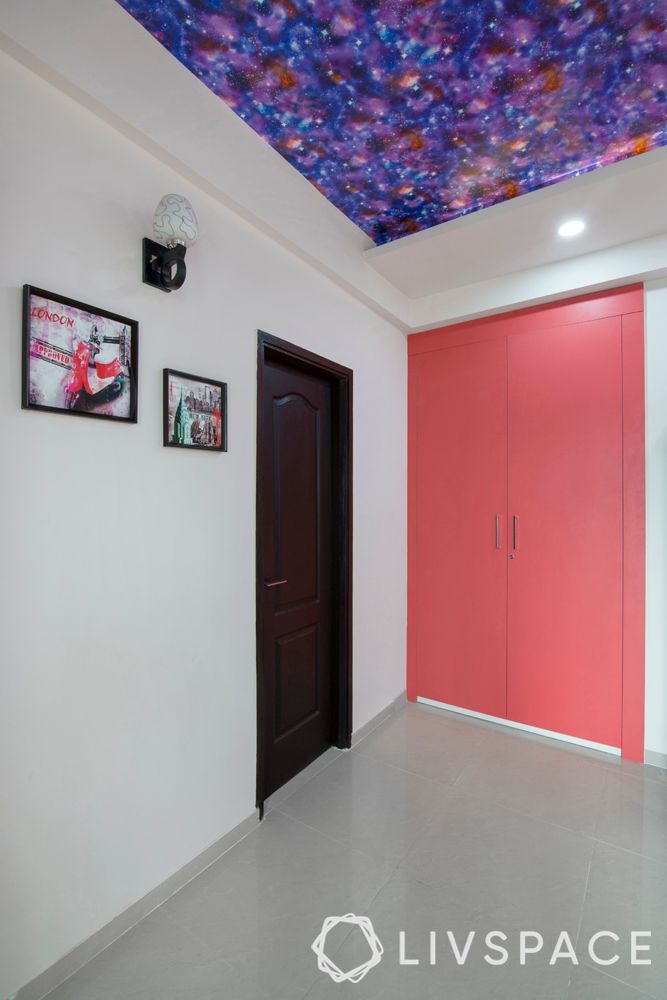 Does your daughter already have a bedroom and you want to add a little something extra? Consider getting a ceiling mural in a starry design, as this Livspace homeowner did. Your daughter will love gazing at the stars while lying in bed at night!
Bedroom Ideas for Girls #4: For the Potterheads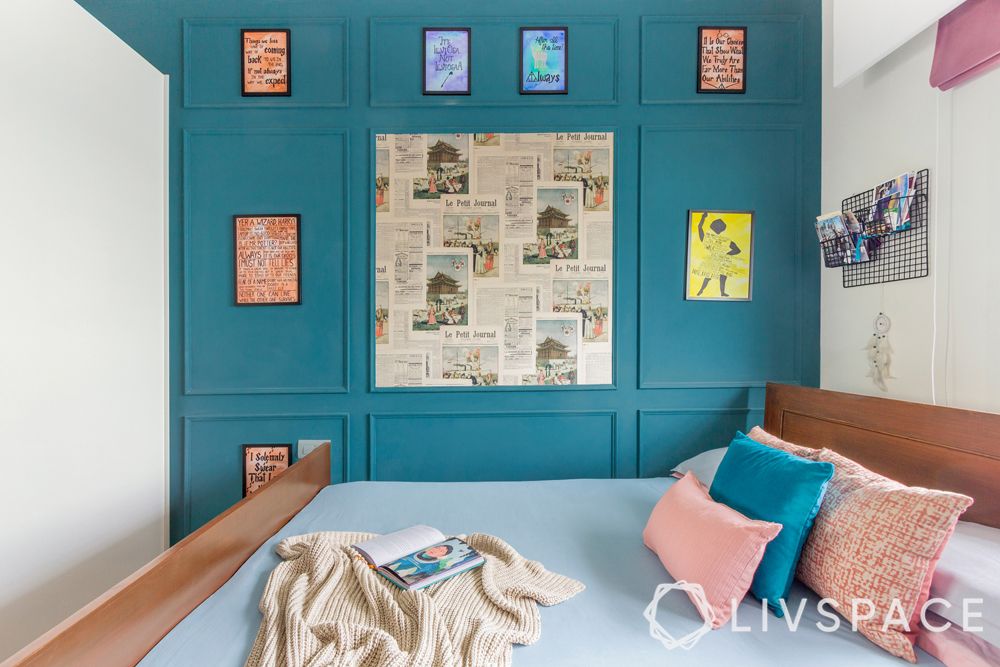 Trends come and go, but Harry Potter lives on forever! Harry Potter is an eternal favourite amongst both millennial and Gen Z kids. If your little one is also a Potterhead, surprise her with a cute Harry Potter themed bedroom. Our designer created this look by asking local artists to create posters of Harry Potter quotes. 
Girls Bedroom Ideas #5: A Room That Stays Timeless as Your Angel Grows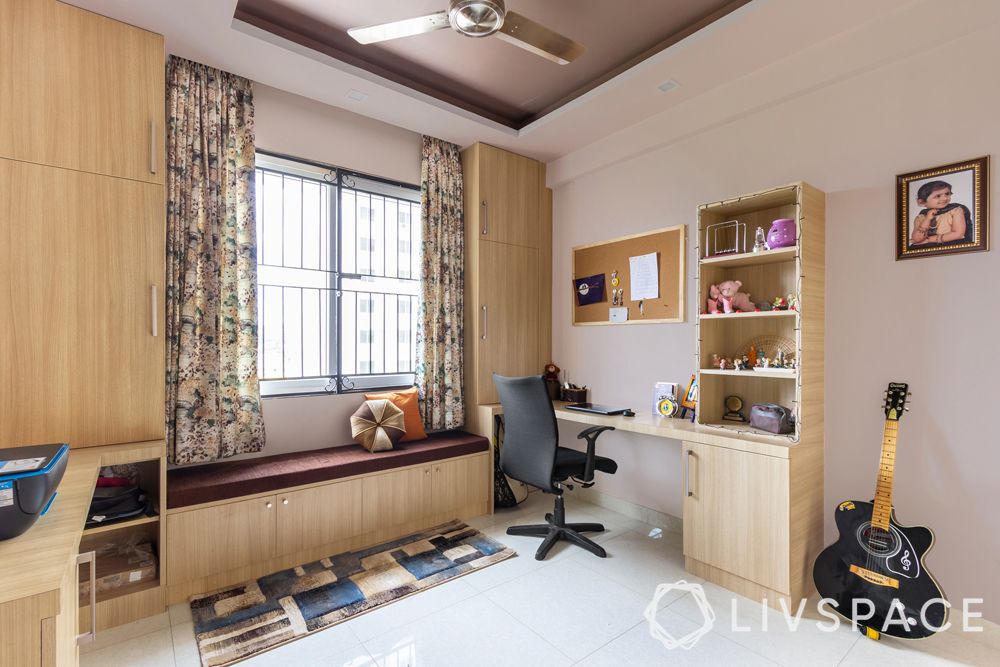 If you are looking for girls bedroom ideas, consider choosing a design that will remain timeless as your daughter grows older. This bedroom is so classy and elegant! The wooden look gives off warm, welcoming vibes! We love how this room has everything that a growing girl might need – a study table, a daybed to lounge on and ample storage. 
Bedroom Ideas for Girls #6: Vibrant Pink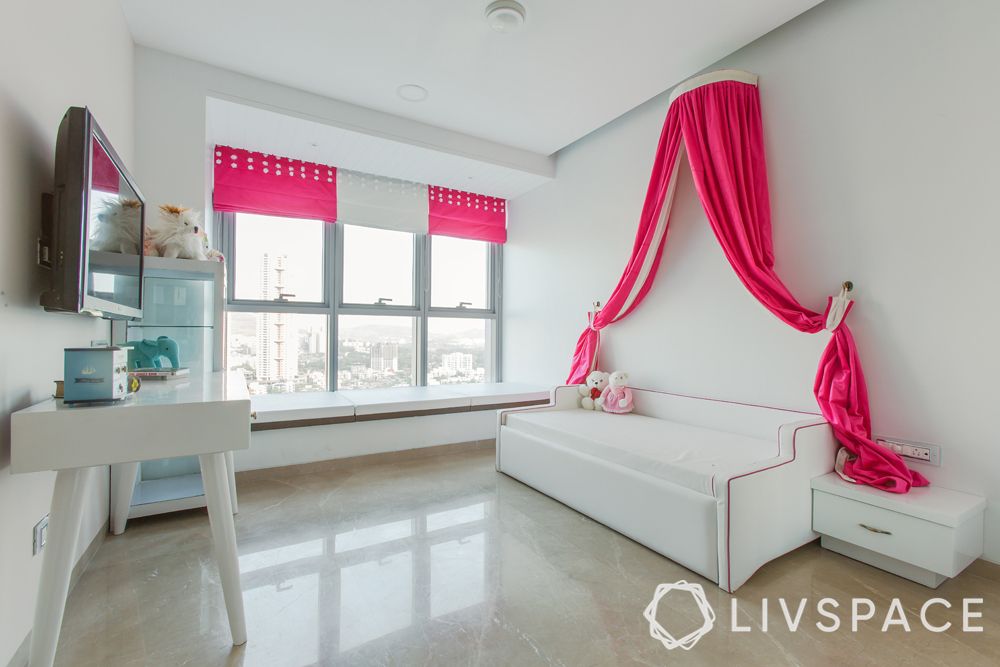 Girls bedroom ideas are incomplete without a bright, peppy, pink room. This bedroom is as elegant as it gets! Instead of going for an all-pink look, our designer chose a pristine white palette with pops of fuchsia pink. The best part? The pink drapes can be easily removed and replaced with some other colour whenever your daughter wants.
Girls Bedroom Ideas #7: Dainty Florals
There's something so magical about florals! Trust us when we say that your daughter will love this floral bedroom which is fit for a queen! The elegant white headboard, subtle floral wallpaper and gorgeous combination of white and turquoise are so steal-worthy!
Bedroom Ideas for Girls #8: Whimsical Pastels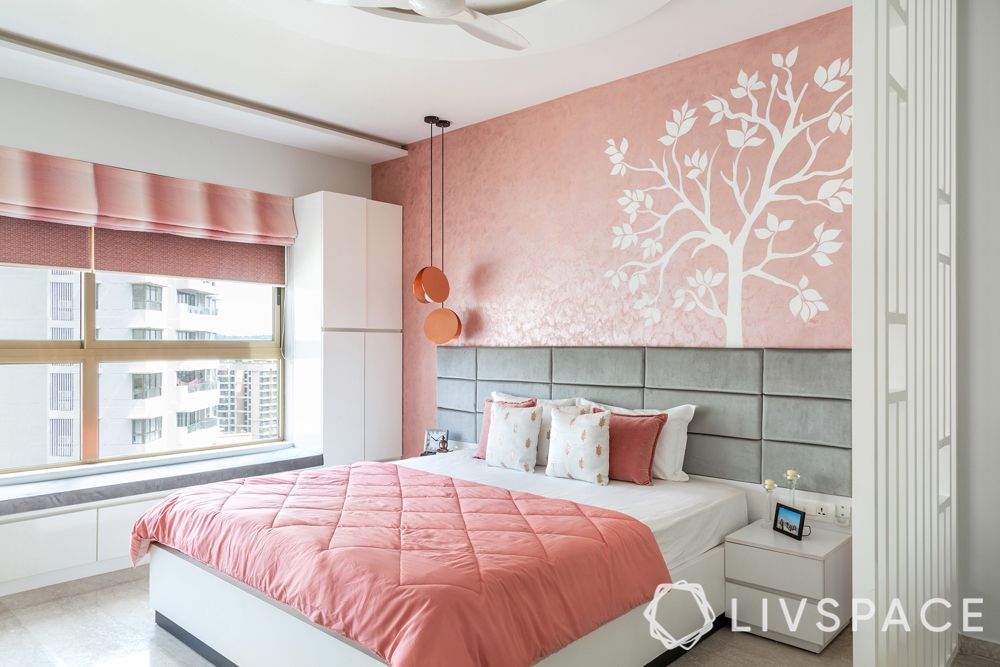 Pastels have our heart! Pastel shades are not only trending right now, but also the perfect palette for a young girl's bedroom. The combination of pastel pink and pure white is an elegant choice. Also, check out the hand-painted tree design on the wall.

Girls Bedroom Ideas #9: A Music Lover's Paradise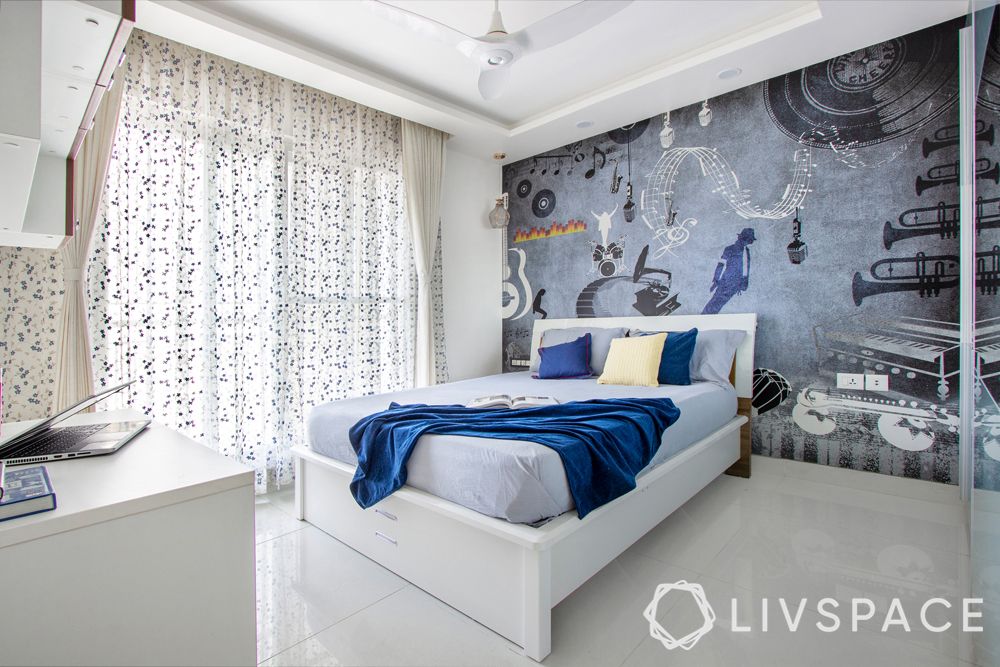 This bedroom is perfect for the musically inclined young woman. Whether your daughter is a Taylor Swift fan or loves to hum to Dua Lipa, this music-themed bedroom will be her haven. The amazing thing about this room is that the major part of the room has a neutral theme, keeping the look versatile. 
Bedroom Ideas for Girls #10: Parisian Dreams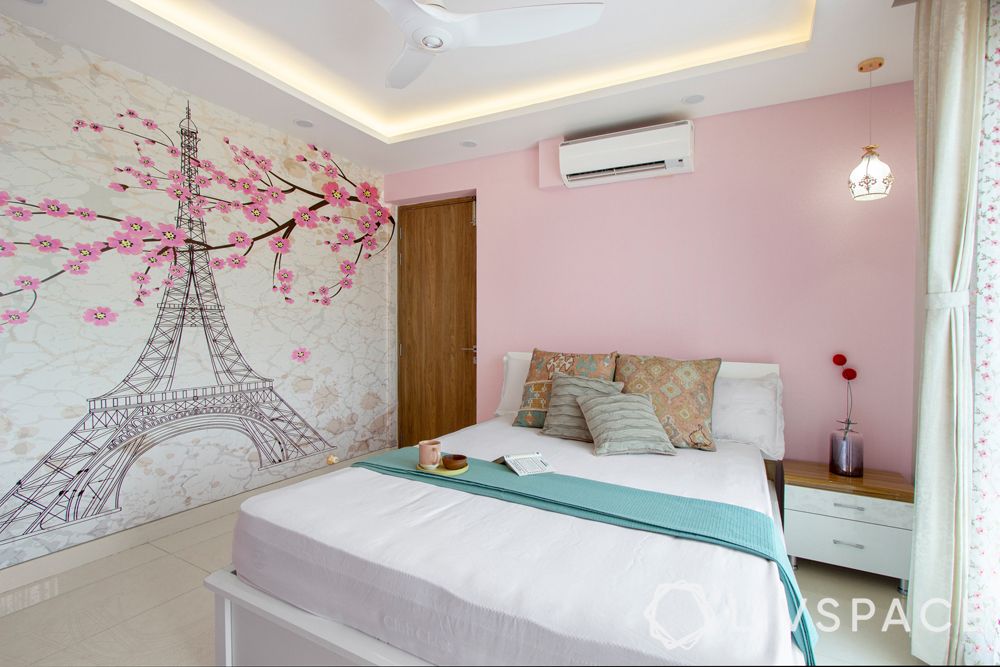 Your little one might not go to Paris right now, but you can definitely bring Paris to her! This bedroom with the charming mural of the Eiffel Tower is a splendid choice for the little girl who wants to see the world!
Girls Bedroom Ideas #11: Princess Diaries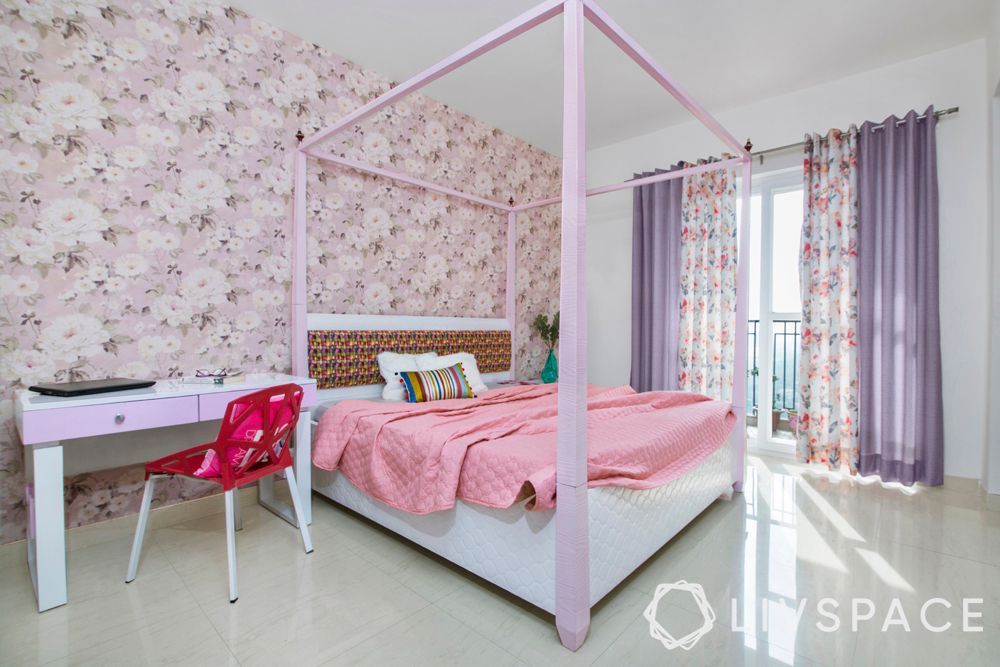 A princess or a warrior – a girl can be anything and everything she wants! This dainty room is perfect for the little princess who has her parents wrapped around her little finger! Your daughter will love the pink and purple theme with the floral accents and the lovely four-poster bed.
Bedroom Ideas for Girls #12: Epitome of Elegance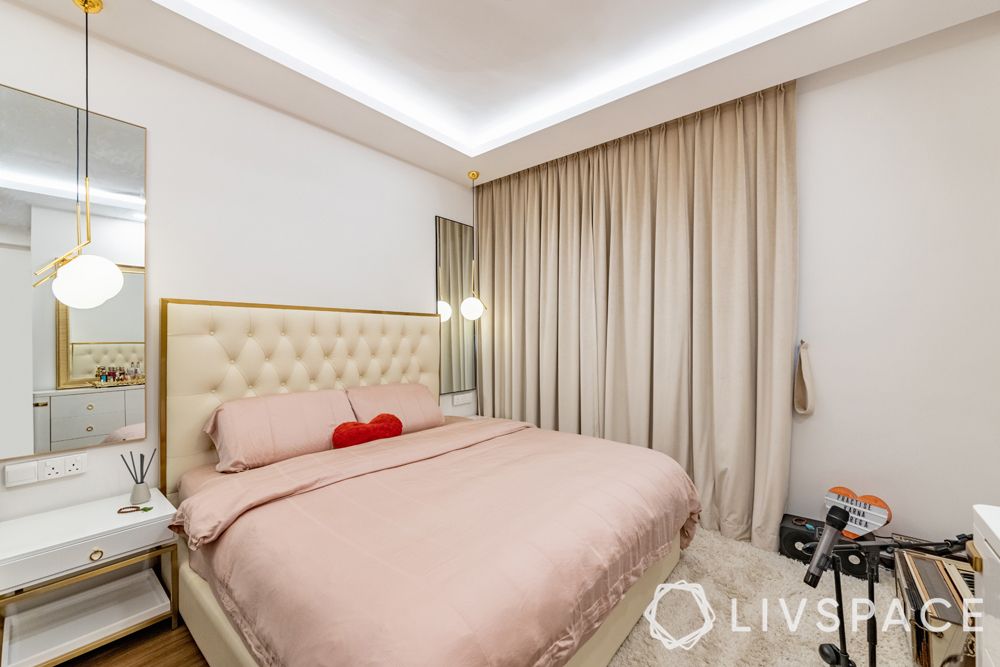 A room for an elegant young lady – this bedroom is the epitome of beauty! Subtle and classy, the soft pink and beige shades and the pendant lights create a luxurious ambience. 
Girls Bedroom Ideas #13: For the Nature Lover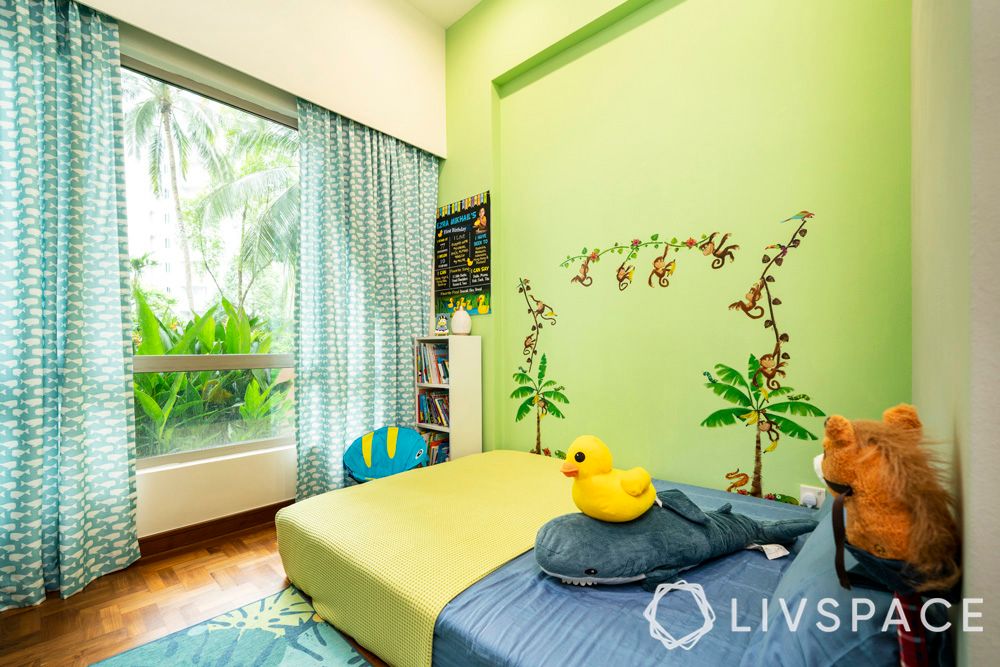 For girls bedroom ideas, the bedroom design should match the personality of the young girl. This bedroom is a great option for all nature lovers! From the quirky wall design to the gorgeous view outside, what's not to love in this bedroom?
Bedroom Ideas for Girls #14: Under the Sea
This one is for all the Little Mermaid lovers! Reminiscent of Ariel's world under this sea, this little girl's aqua bedroom is a beauty! Also, notice how our designer personalised her room with her name.
Girls Bedroom Ideas #15: For the Little Elsa in Your Home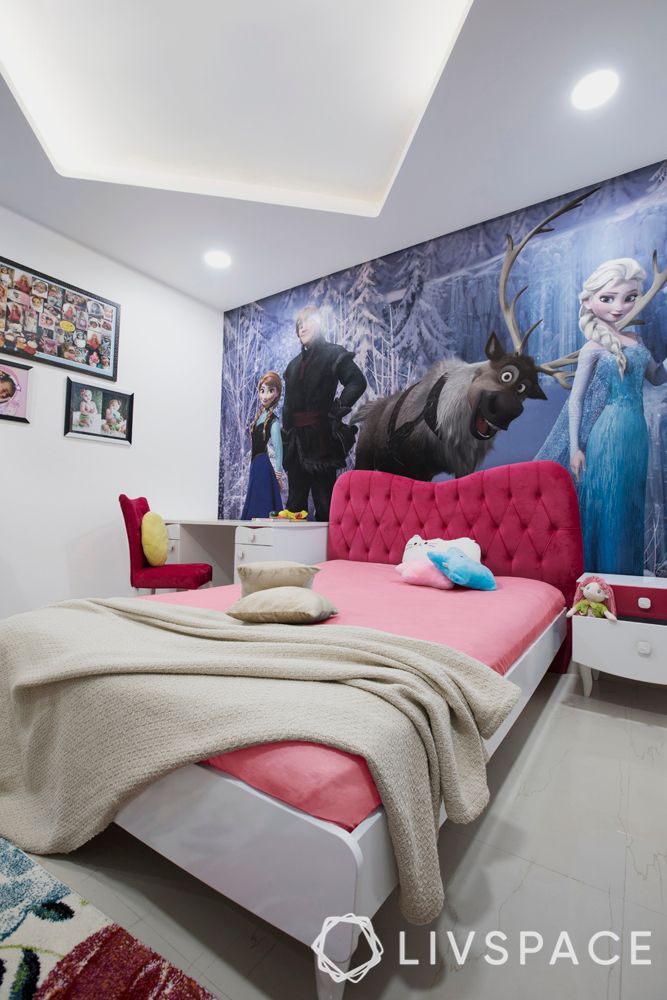 And this girls bedroom design is for your little Elsa at home! The Frozen-themed wall will be a delight for every little girl! Also, don't forget to add a child-friendly, tufted headboard to the bed.
Bedroom Ideas for Girls #16: Dreamy Vibes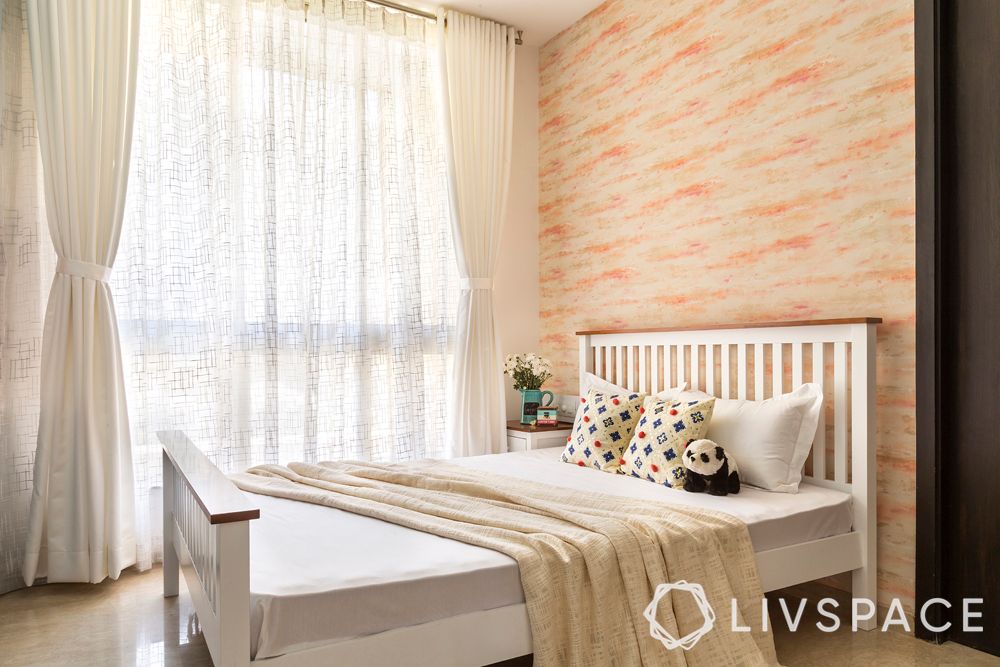 Dreamy, classy and oh so elegant – this bedroom proves that no colour is as timeless as white. Our designer followed a white theme but added some colour with the textured wall. 
Girls Bedroom Ideas #17: Bright and Quirky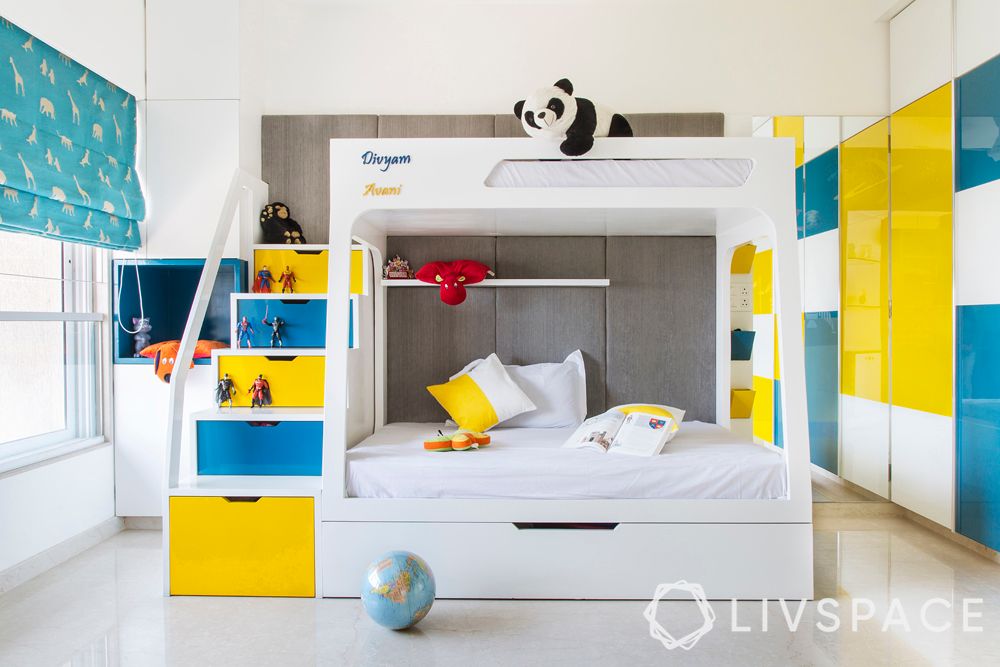 Your daughter's childhood should be filled with colours, and so should her bedroom! This bedroom is as bright as it gets with a blue and yellow colour theme. The bunk bed is a superb choice for inseparable siblings. 
Bedroom Ideas for Girls #18: For the Girl who Wants to be a Superhero, not a Princess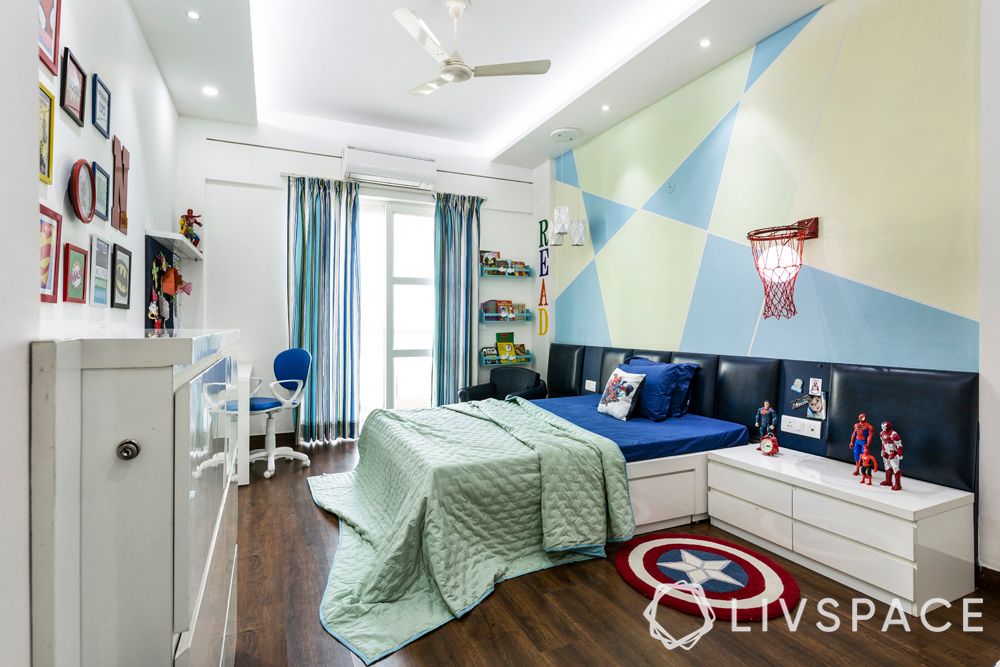 This quirky Marvel-themed bedroom is for all the little girls who want to be superheroes when they grow up, not damsels in distress. We love the basketball hoop – for the sporty young girl – so that she can hone her shooting skills in her bedroom. 
Girls Bedroom Ideas #19: For the Girl who Will go Places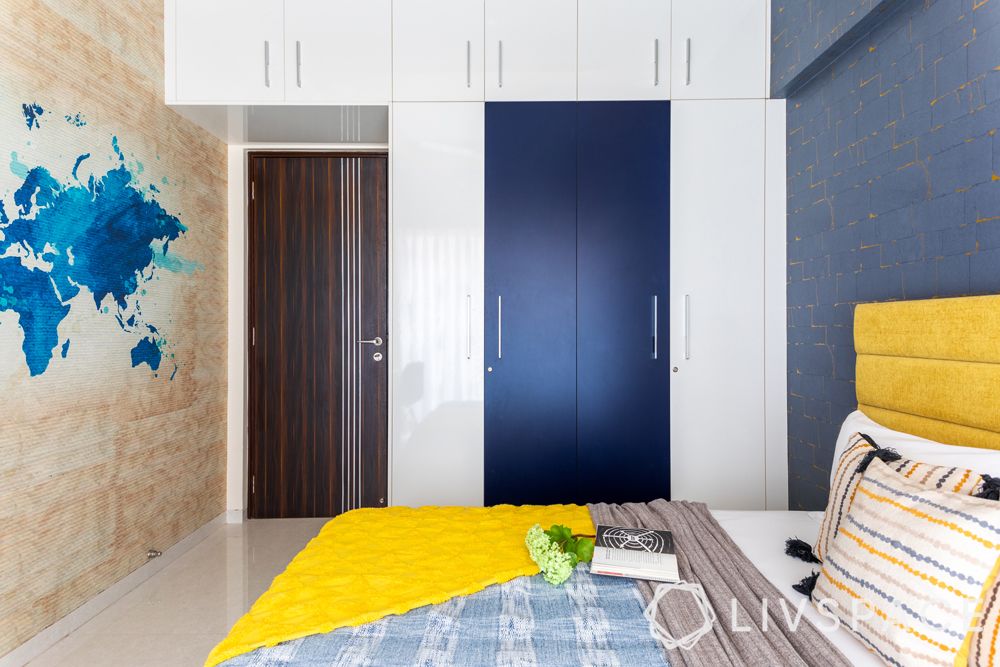 Your baby girl will one day go places – and this world map wall decor will remind her of just that! While the wall design adds an element of quirk, the rest of the room is subtle, with pops of sunny yellow. 
Bedroom Ideas #20: For the Love of Blue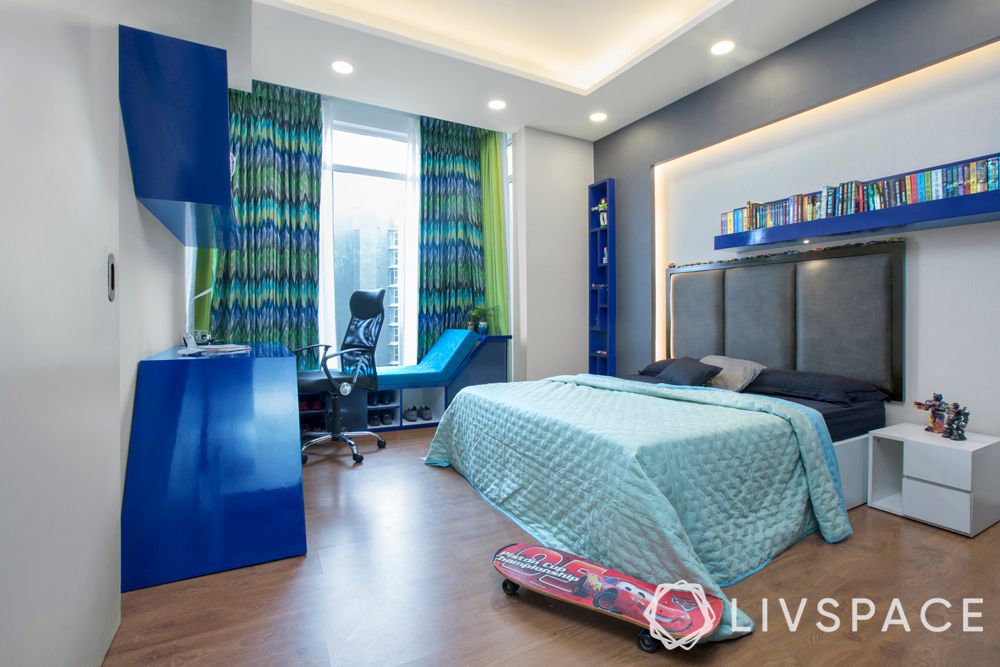 Blue may not be the first colour that comes to mind when you think of girls bedroom ideas. But this cool blue bedroom will change your mind! Done up in multiple shades of blue, this bedroom design is a perfect example of how to use only one colour without making it look boring or OTT.
Bedroom Ideas #21: Warm Wooden Vibes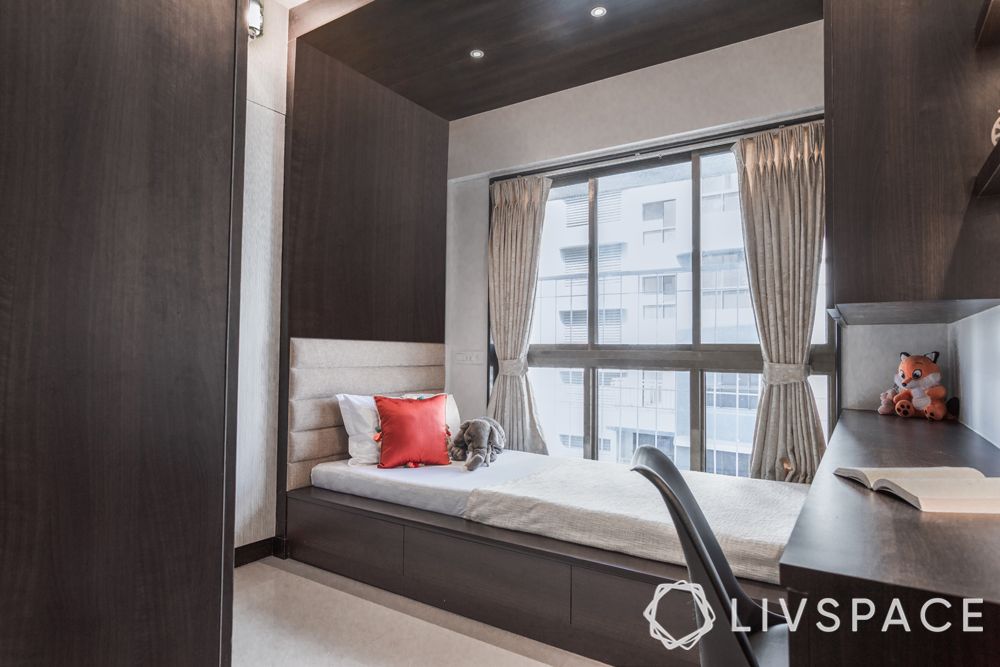 Whether your daughter is a 10-year-old girl or a 25-year-old woman, this bedroom design will remain her eternal favourite! Subtle and classy, the wooden furniture gives off gentle, warm vibes. We love how the bed is placed next to the window!
Bedroom Ideas #22: Timeless Elegance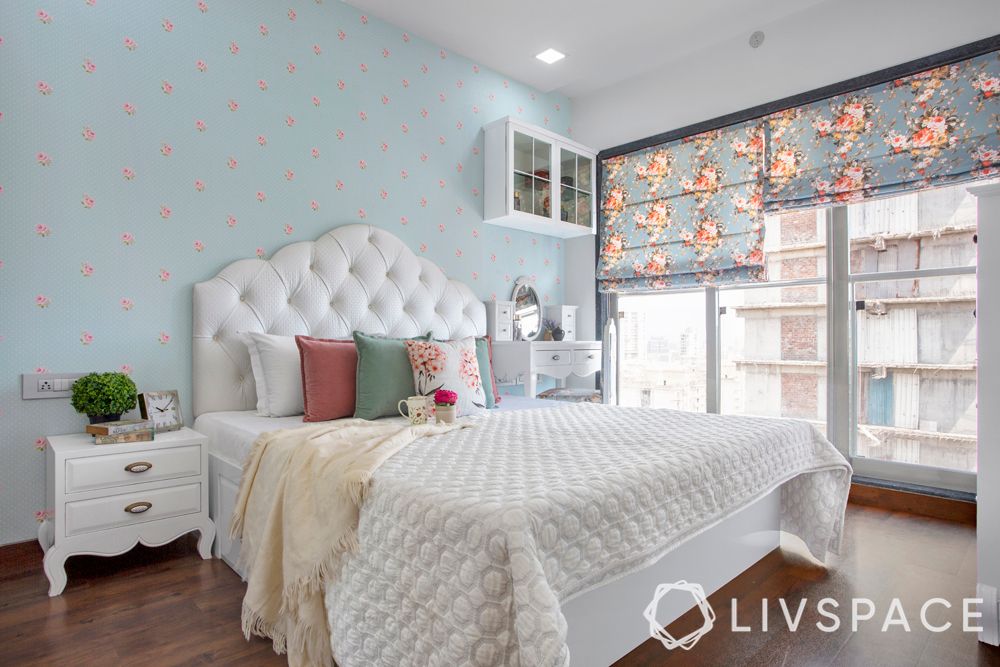 If sheer elegance had a look, this would be it! From the powder blue floral wallpaper to the pristine white bed and headboard, every part of this bedroom spells opulence!
Bedroom Ideas #23: Cute and Playful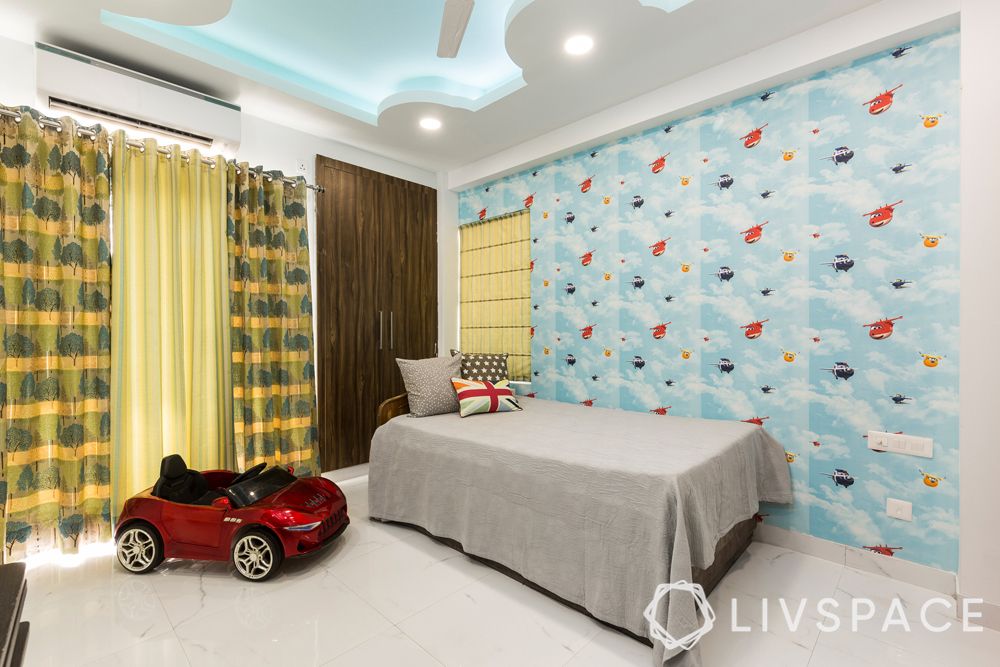 Do you need bright colours to make a room cute and playful? Not at all! This girls bedroom design proves that a subtle room can also be playful. While the bedroom has a neutral white and sky blue theme, the cartoon-themed wallpaper keeps it fun. Also, check out the stunning false ceiling design.
Bedroom Ideas #24: For the Artist in her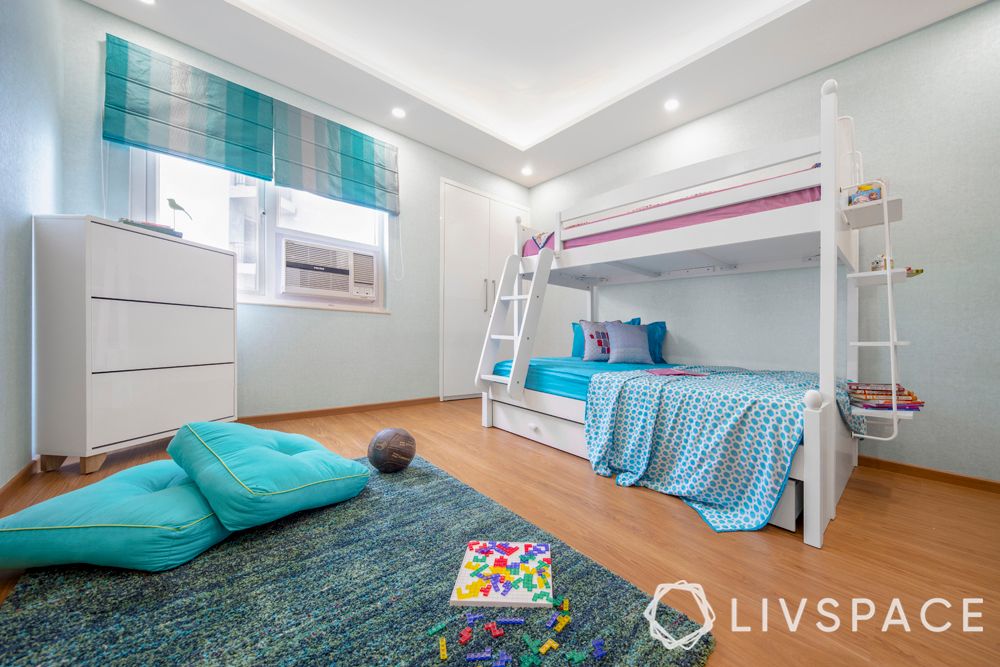 While thinking of girls bedroom ideas, the one thing that you must keep in mind is that there should be enough space for your little one's activities. Our designer ensured this bedroom has enough floor space – for drawing, painting, dancing or whatever catches your daughter's fancy!
Bedroom Ideas #25: The Rustic Rose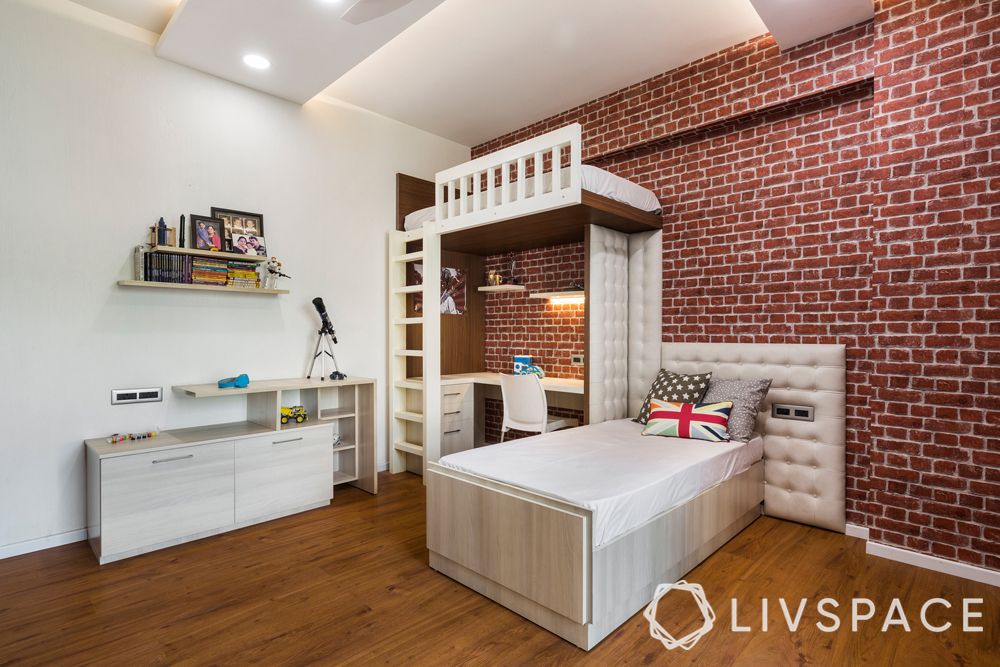 Rustic-themed bedrooms are a favourite! The warm wooden flooring, exposed brick wall, and subtle white furniture is a brilliant choice for a growing girl's bedroom.
Your precious daughter will love these stunning girls bedroom ideas! Also, check out these whimsical designs for kids bedrooms.