Many of you may have memories of swinging from the wooden doors of your ancestral homes. While that was always fun and the wooden door design does evoke a sense of nostalgia, we have come a long way since wood was the go-to material for doors. We have moved from the traditional wooden door design to the lighter blockboard ones that also happen to be more environmentally sustainable. Your options for picking a main door design, or any door design for home, has only grown leaps and bounds.
So, if you are considering installing a new door or just casually browsing the latest designs of main doors, this article is for you. We have curated some of our favourite styles along with internal doors from Livspace homes that you can also use as a front door design and more. Check them out. 
Door Design Ideas for Front Doors, Balconies and Your Interiors
The main entrance modern door design is different from the other doors you use in the house. The placement  for one, is an obvious difference. Another way that a traditional main door design for homes is different is that it is heavier than internal doors. Let us now explore the latest door design for main door and internal doors.
#1: Glass Sliding Doors Design for the Balcony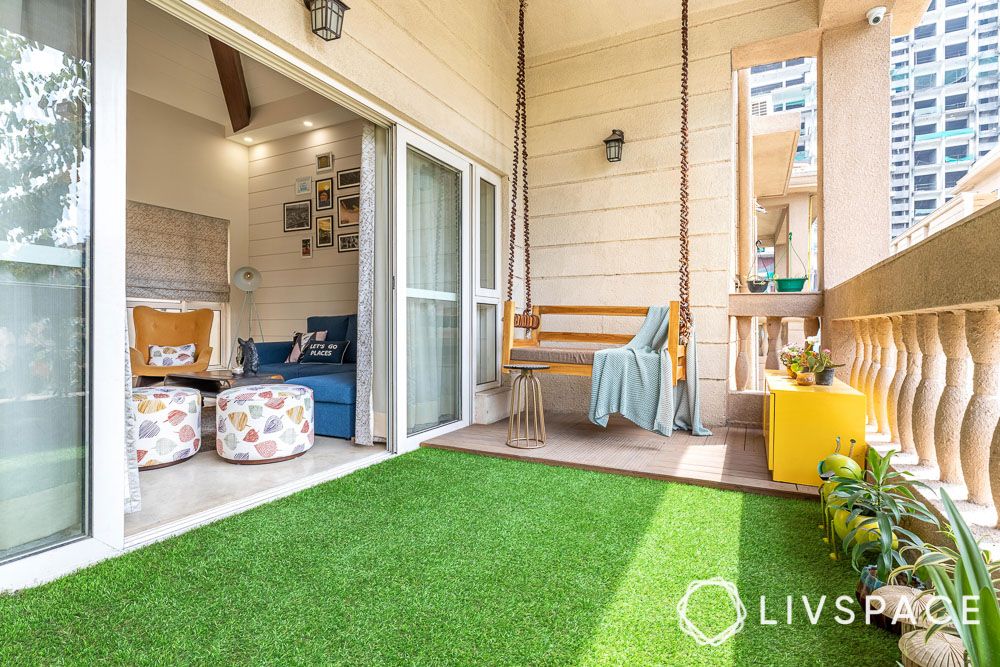 Mind going European with these sliding French-style doors? A glass sliding door design like this is essential in making spaces like this brighter (and prettier). They are ideal for rooms with attached open spaces like balconies.
#2: A Wooden Door Design for a Wide Entryway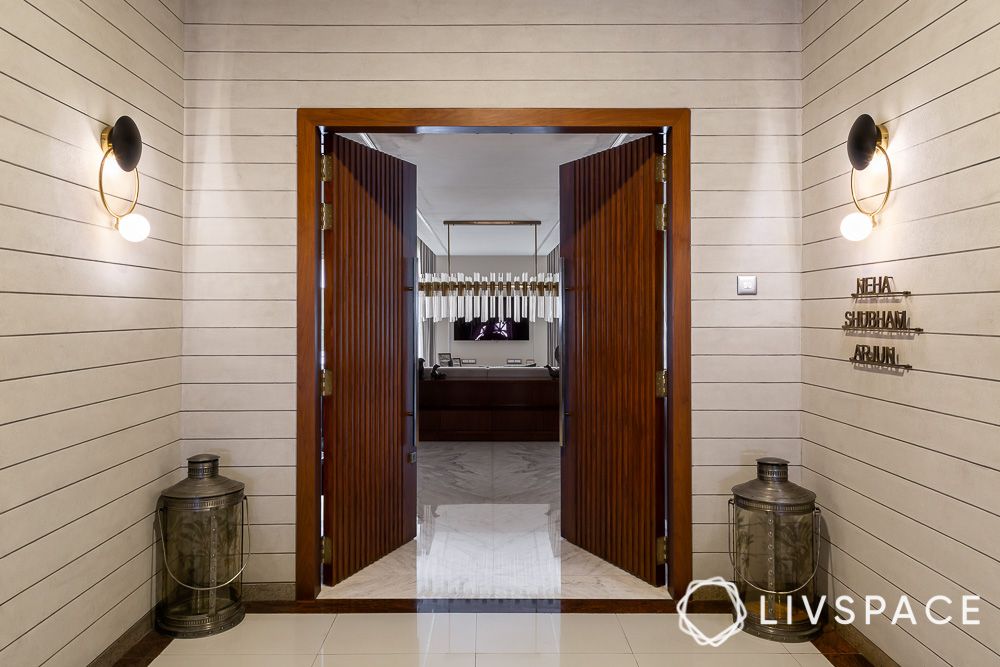 You can never go wrong with a wide wooden door design for your entryway. A dark wooden door is timeless, as is the idea of double doors for wide entryways. Plus, you can accentuate it with steel handles and stoppers.
#3: Glass Door Design With a Wooden Frame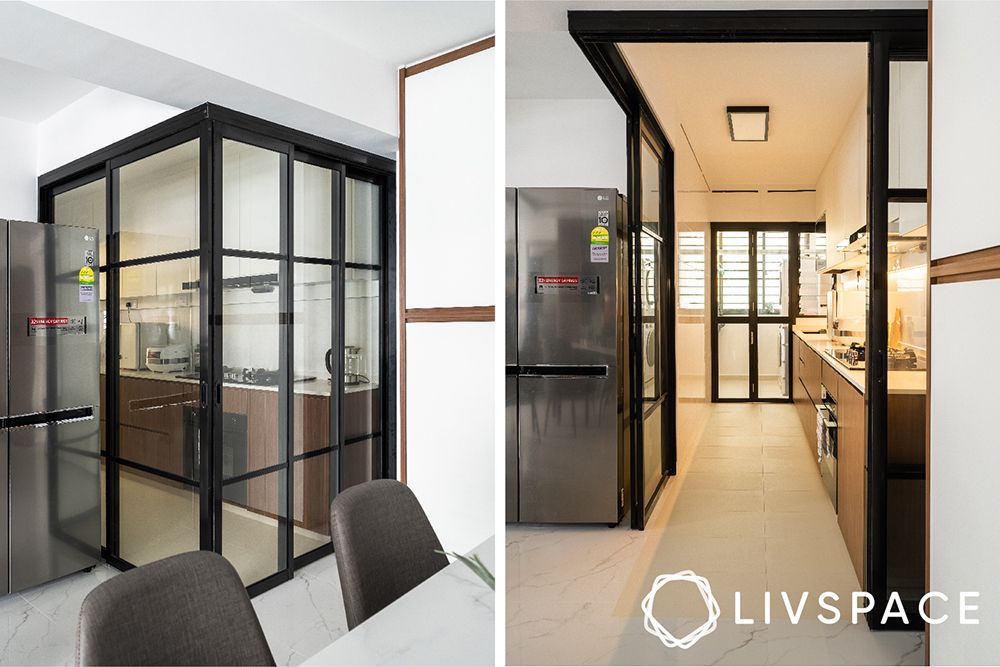 Nothing says classy like the combination of wood and glass. This glass door design with a wooden frame is a case on point for your interior doors. It serves as the perfect partition if you have any large spaces to segregate in your home.
#4: Folding Doors Design With a Black Metal Frame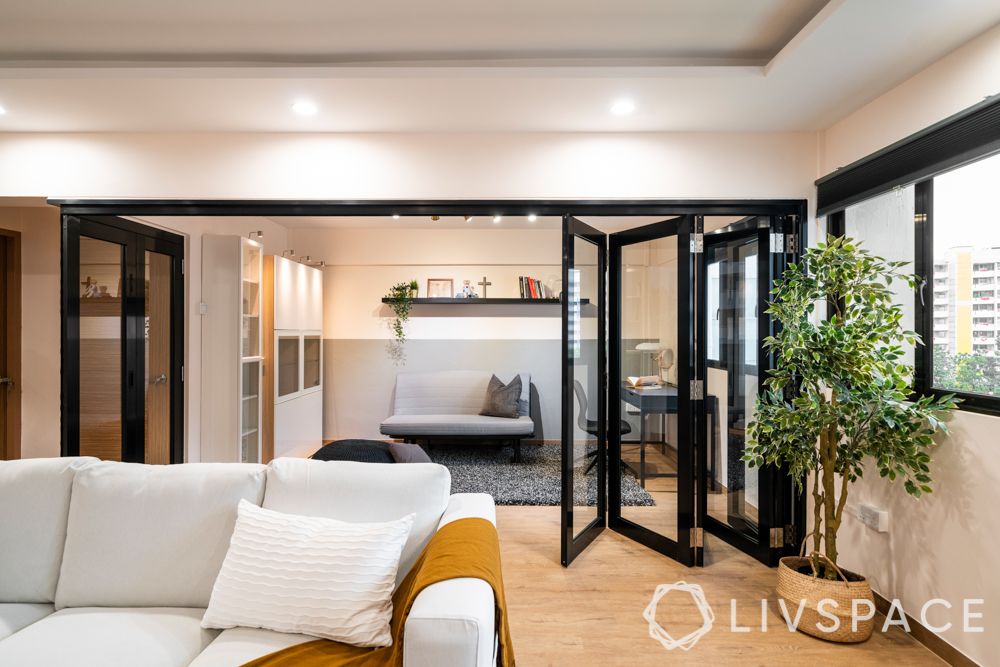 This folding door design framed in black metal adds a contemporary look to the space. A good option if you want that minimal yet eye-catching element to your living room while segregating space.
#5: Modern-Style Sliding Door Designs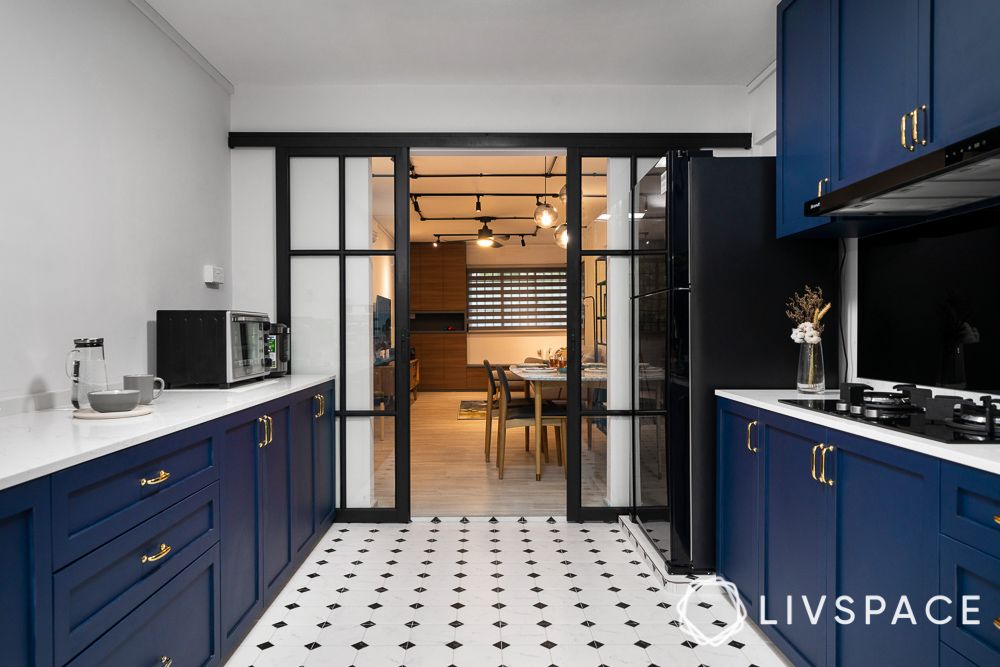 Who would have thought of sliding door designs for a compact kitchen? Bringing a modern touch, these aluminium powder-coated sliding doors go perfectly with the rest of the design. 
PS: It preserves the aesthetics of the open layout but also restricts the smoke and grime to the kitchen.
#6: Traditional Wood Carving Designs for the Main Door
As Indians, our love for traditional carvings on solid wood is unconditional. Traditional wood carving designs for the main door is one sure-fire way to meld modern and traditional design. Look at this traditional wood carving design for the main door, for example. It adds warmth to the minimal white setting of the home and also a touch of desi glam.
#7: A Geometric-Patterned Main Entrance Modern Door Design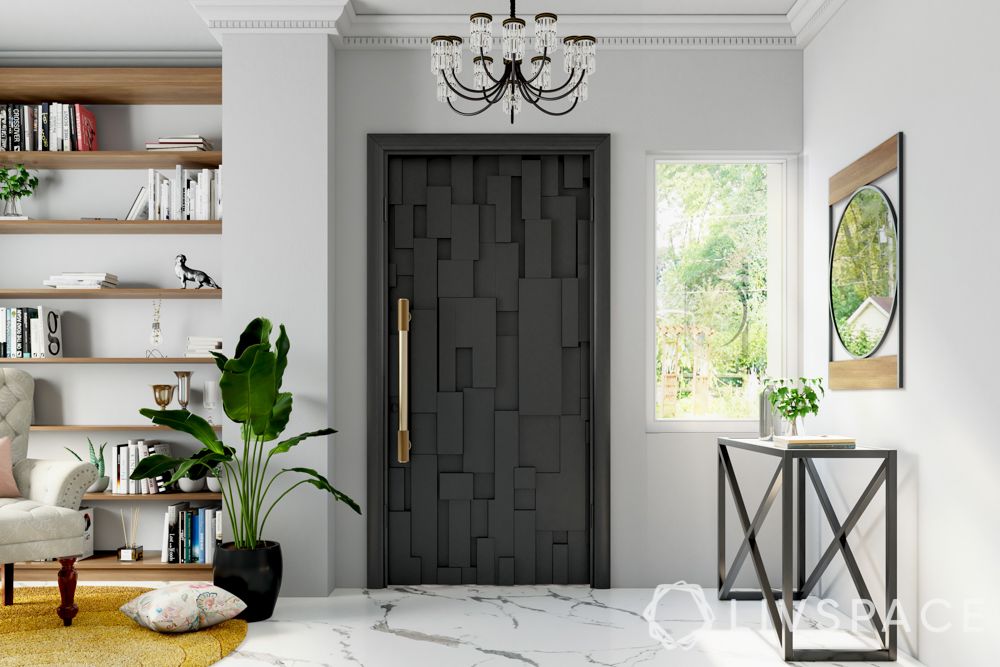 So, you do not appreciate a traditional wood carving design at home entrances? Opt for a main entrance modern door design. This chic grey door with patterns is an elegant and understated main entrance modern door design. The long gold handle is a striking detail that makes it look stunning. This type of main entrance modern door design can also be used as a statement piece when it comes to interior decor.
#8: Latest Designs of Main Doors: Etched Glass with a Frosty Finish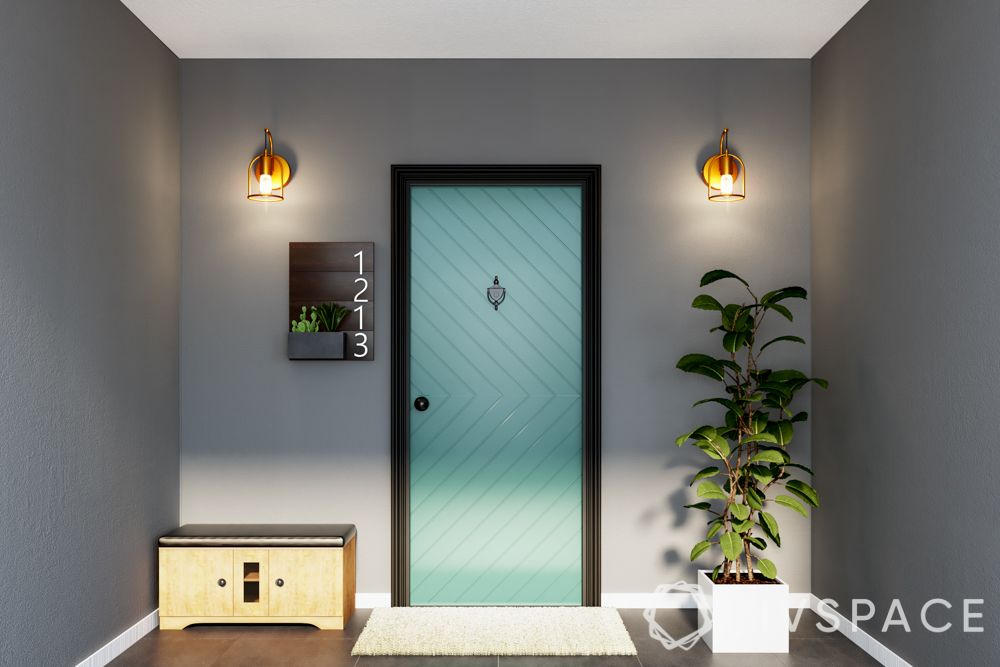 You don't always need traditional wood carving designs for the main door to make a statement. Simple geometric patterns like this can be experimented with if you're looking to try the latest designs of main doors. Worried about privacy? Rest assured that though this front door design uses glass, it isn't see-through as the finish is frosty. 
#9:  A House Main Door Design with Glass and Wooden Detailing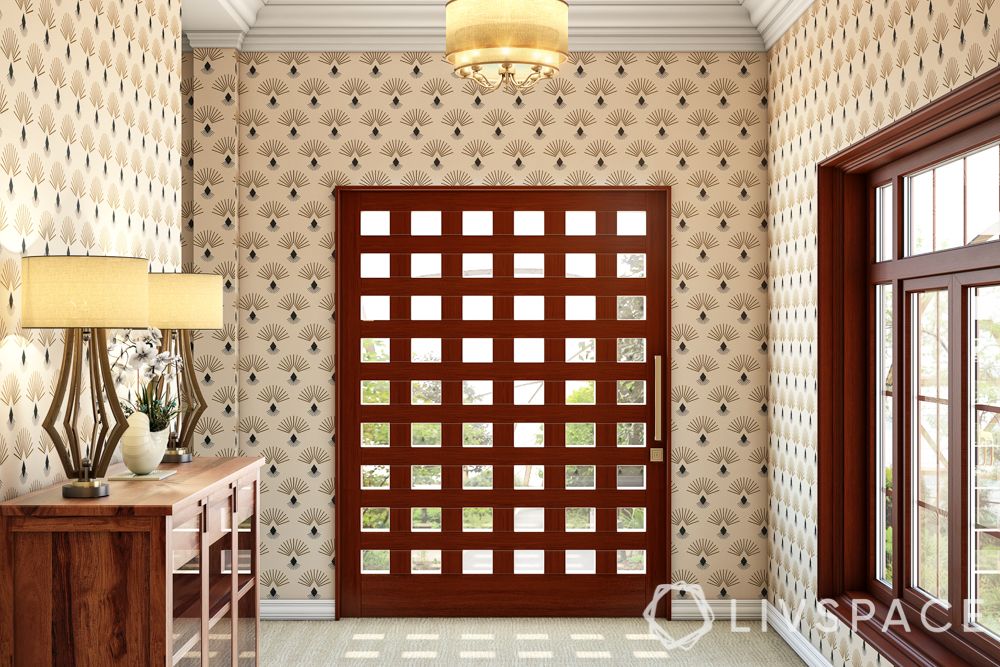 Who would say no to a grand entrance provided you have the space for it? This traditional wooden carving design for the main door with a gold handle (paired with the patterned wallpaper) adds a sophisticated touch to the entire space. And don't we just love the glass pockets that make this house's main door design look like a traditional jharokha!
#10: Traditional Main Door Designs for the Home That Loves Colour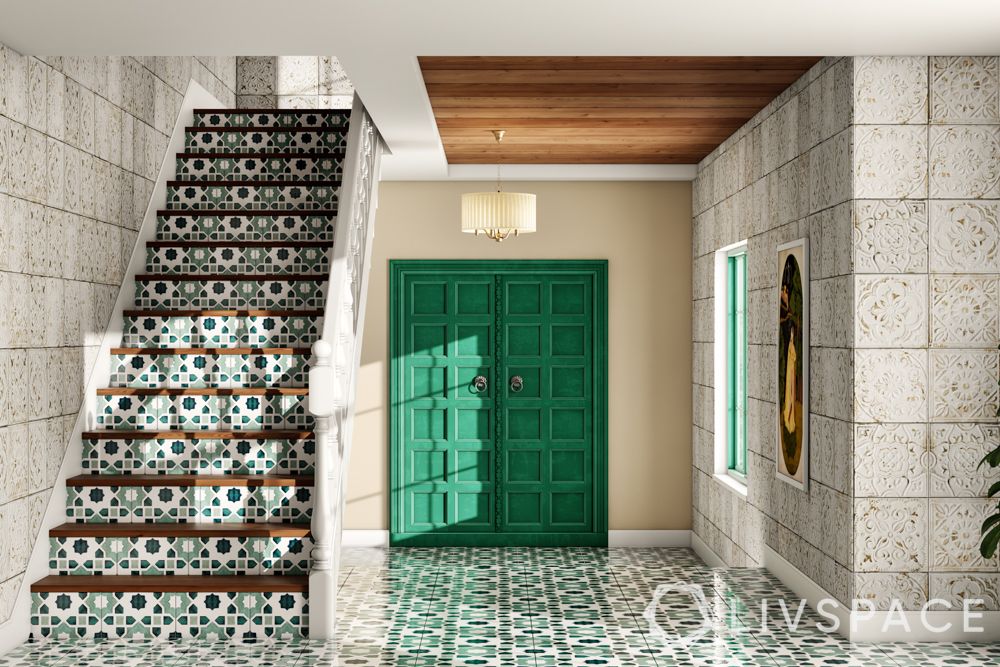 If you feel like you have seen this somewhere, then you are right. This wooden door design is inspired by grand fort entrances. This historically inspired door design is for those who want to imbibe some Indian culture and heritage into their interiors. Plus, the pop of colour is an added bonus for traditional main door designs.
To stay true to the origin of this style, stick with distressed finishes for your wooden door design.
#11: Door With Etched Glass and LED Lights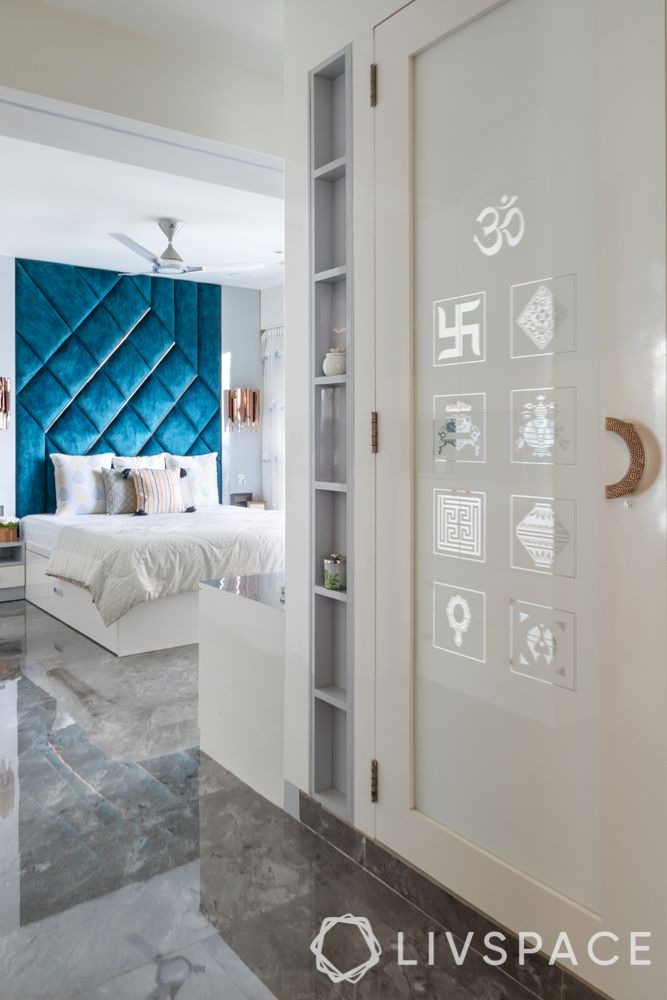 Add more variety to your door design for the pooja room with etched glass. This pristine single-door design is etched with religious symbols, signifying that it leads to the pooja room. The LED lighting ensures that you can't miss it!
#12: Resort-Style Fancy Door Design That Opens Up the Balcony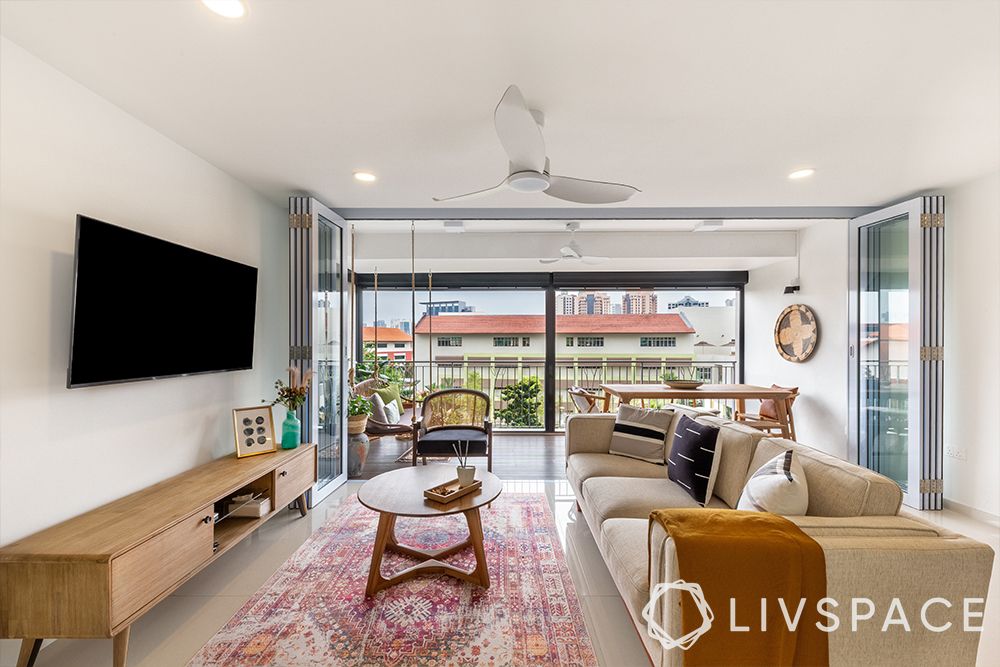 Large spaces like this deserve an interesting door design. In this living room, the folding doors are designed with the Scandinavian aesthetic. Also, this door is more like a glass wall as it covers the entire length of the room.
#13: Sliding Door With a Mirror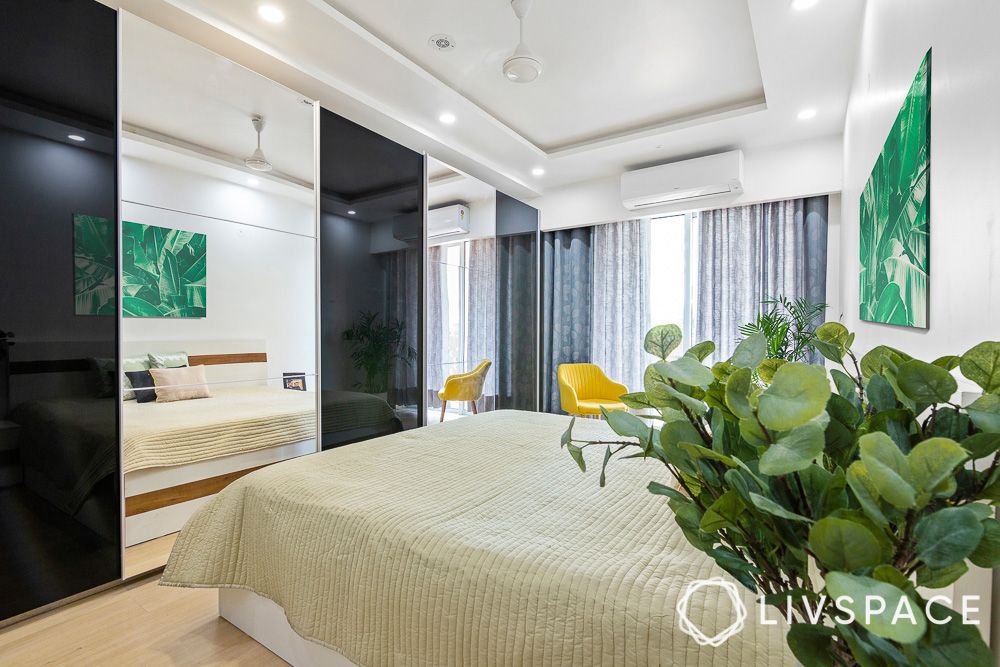 Apart from your wooden door design, there are other options you can consider for your interiors. Some doors can be multifunctional too! Instead of dedicating a significant part of the room to a dresser, you can opt to attach a mirror to the door like this one. This setup also allows the space to look bigger.
Also Read: Pick from Our 15+ Best Wardrobe with Mirror Designs for Your Bedroom
#14: A Single-Door Design That Swings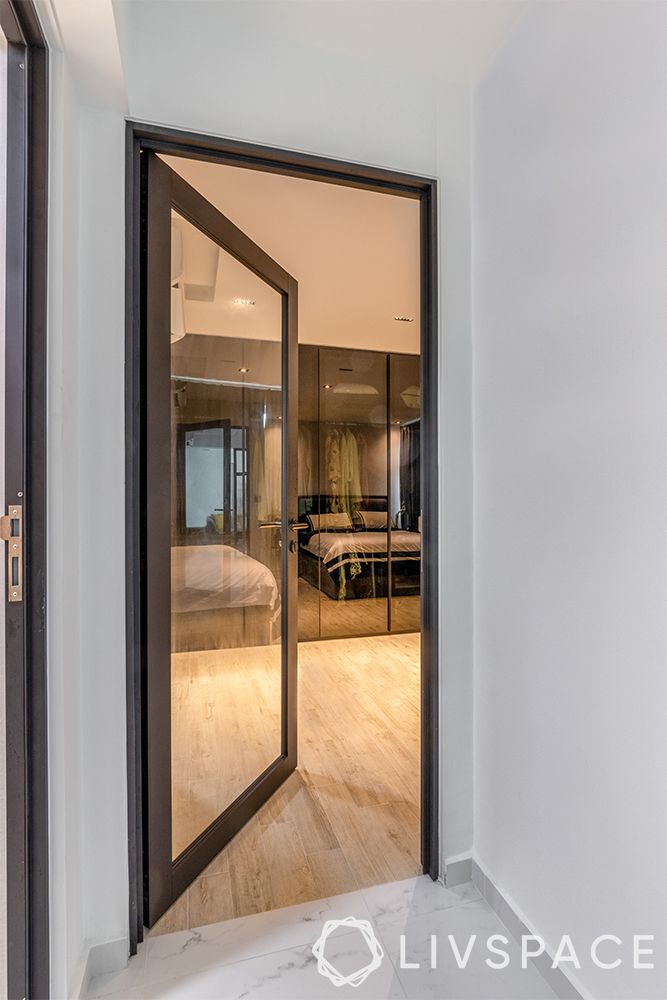 There are so many ways in which a glass door design for home interiors can beautify a space. This grey-framed glass door that leads to the bedroom follows a very minimal design but is very aesthetically pleasing.
#15: A Camouflaged Door Design for the Home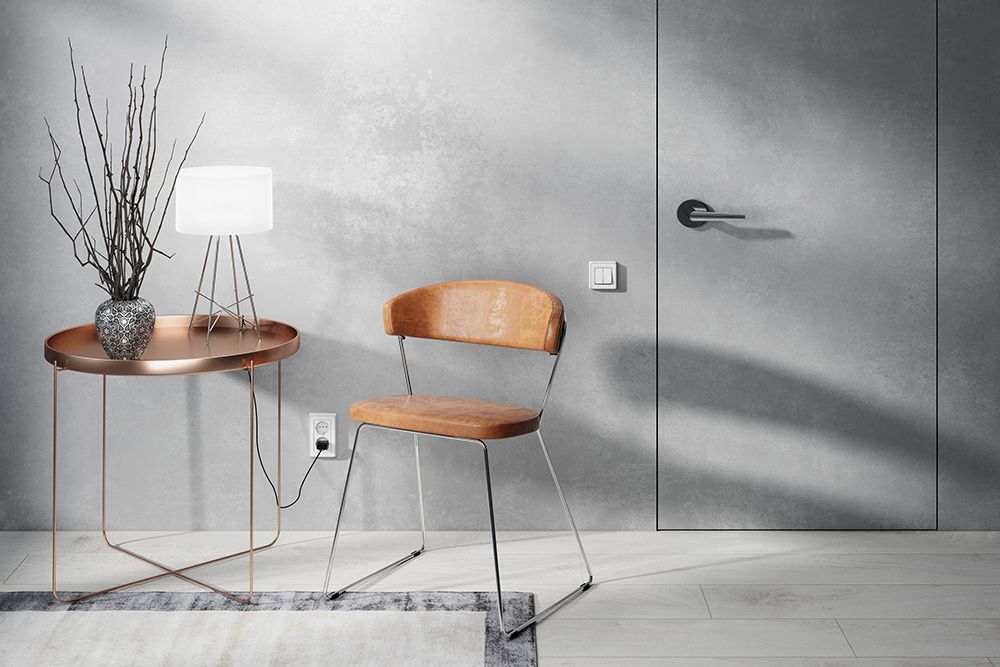 This door design for home interiors is  seamless. It is a house main door design crafted to blend into its surroundings easily.
#16: A Mint Green Front Door Design for Urban Homes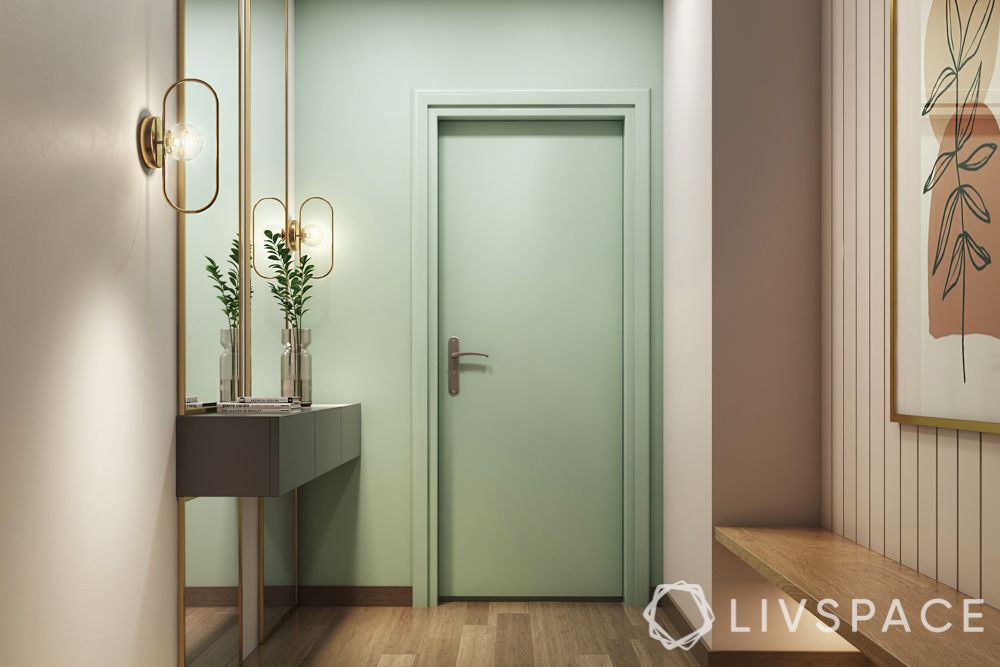 Your front door design can be more than just carvings and patterns. Go with a unique colour to make the front door design more engaging, like this mint green door with a silver handle. The unique feature of this design is that the wall is also in the same colour as the door.
#17: A White-Framed Sliding Door to the Balcony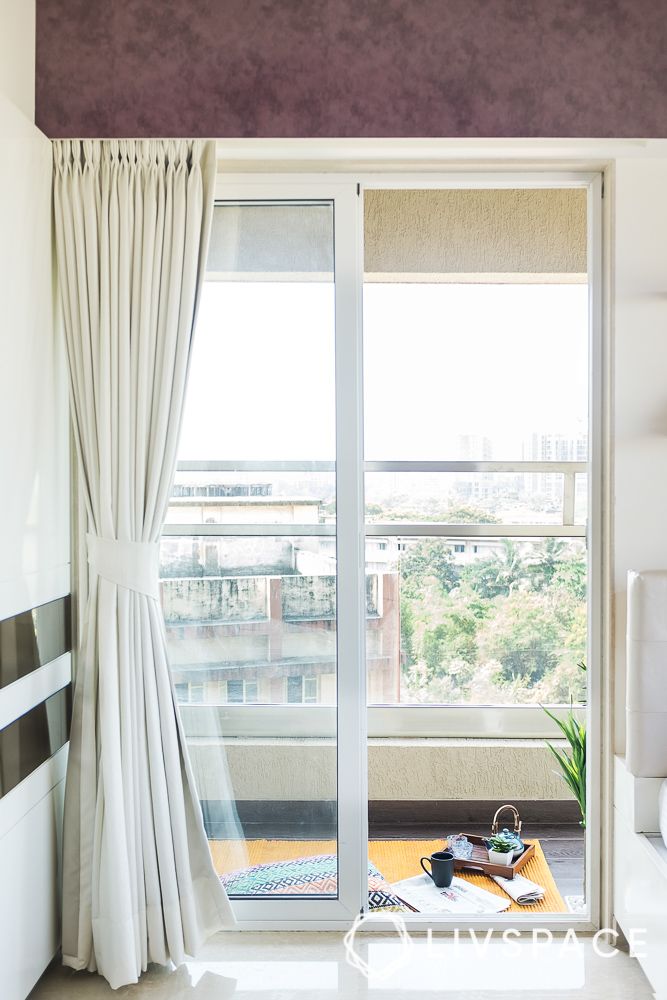 A compact bedroom with a view, anyone? Sliding glass doors are a perfect fit. Take this door design for home as inspiration and opt for white-framed sliding glass doors opening into a balcony.
#18: Wooden Sliding Door Designs That Close from Two Sides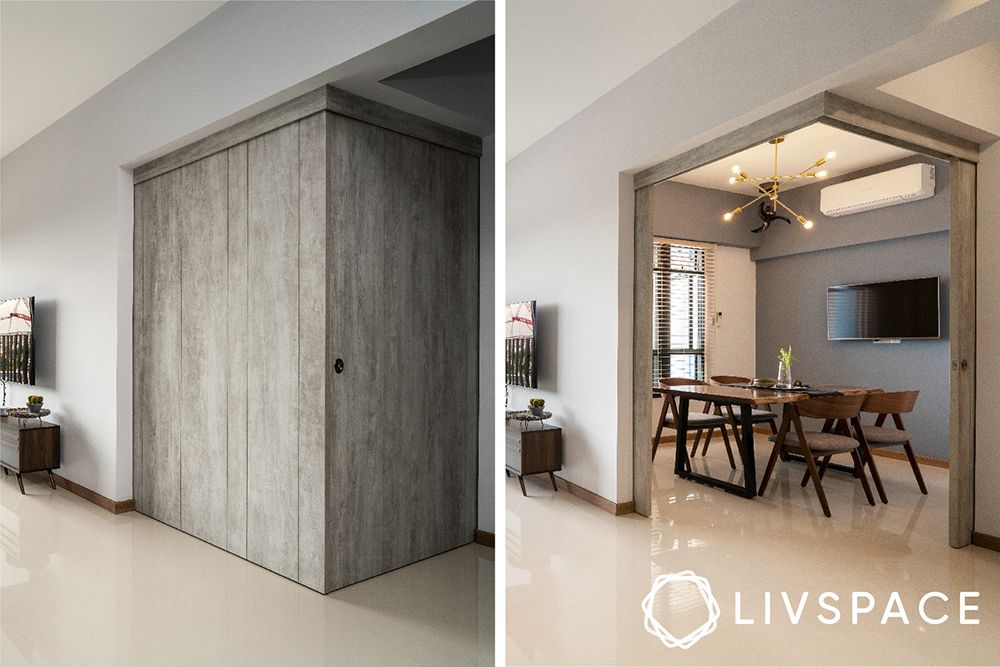 This homeowner wanted their open dining area to be concealed. So, the Livspace team installed a sliding wooden door design that closes on two sides. Brilliant, isn't it?
#19: Concealed Door Behind Laminate Walls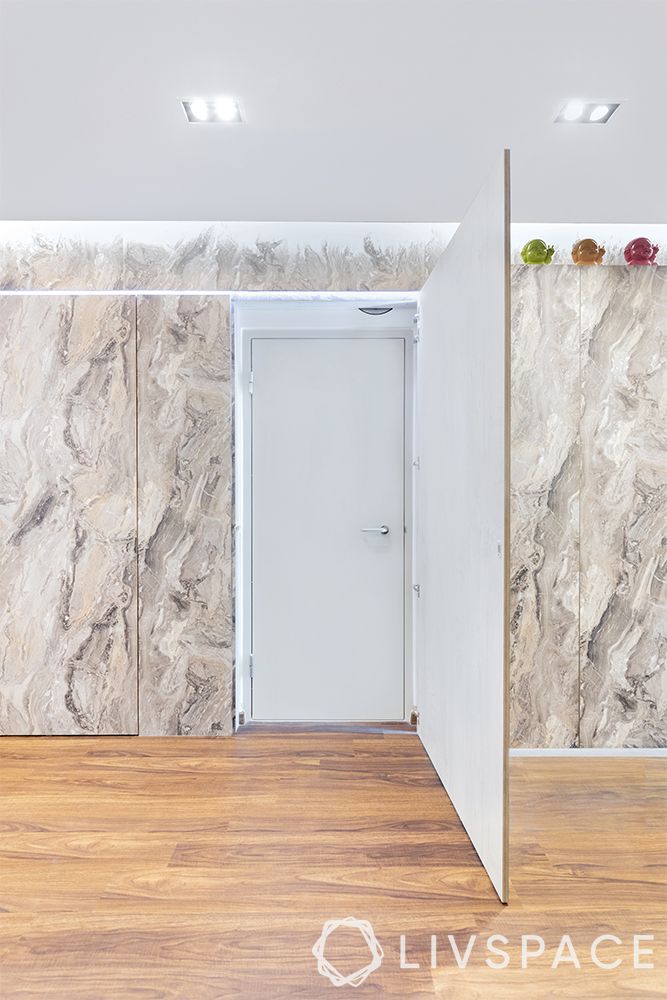 In this home, the plain wooden door design is concealed by stone-textured laminate-finish walls. This latest design for main doors is for those who want a seamless, uniform look.
#20: White-Framed Sliding Doors With a Pop of Mint Green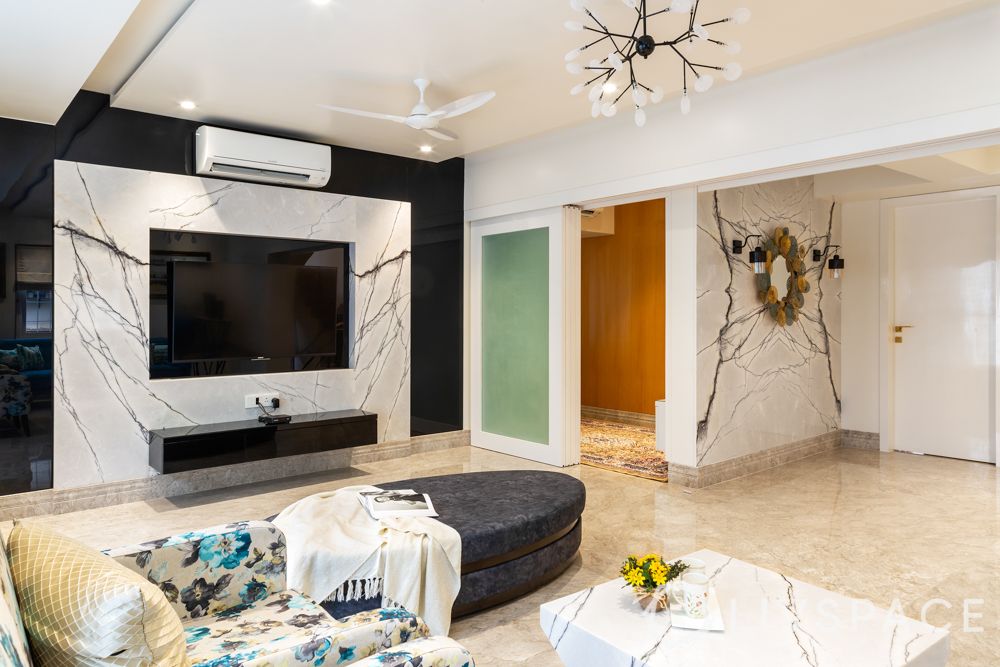 Here, the white-framed sliding doors are installed to separate the quiet open nook from the hustle bustle of the living room.
#21: A Brass Main Door Design for Your Home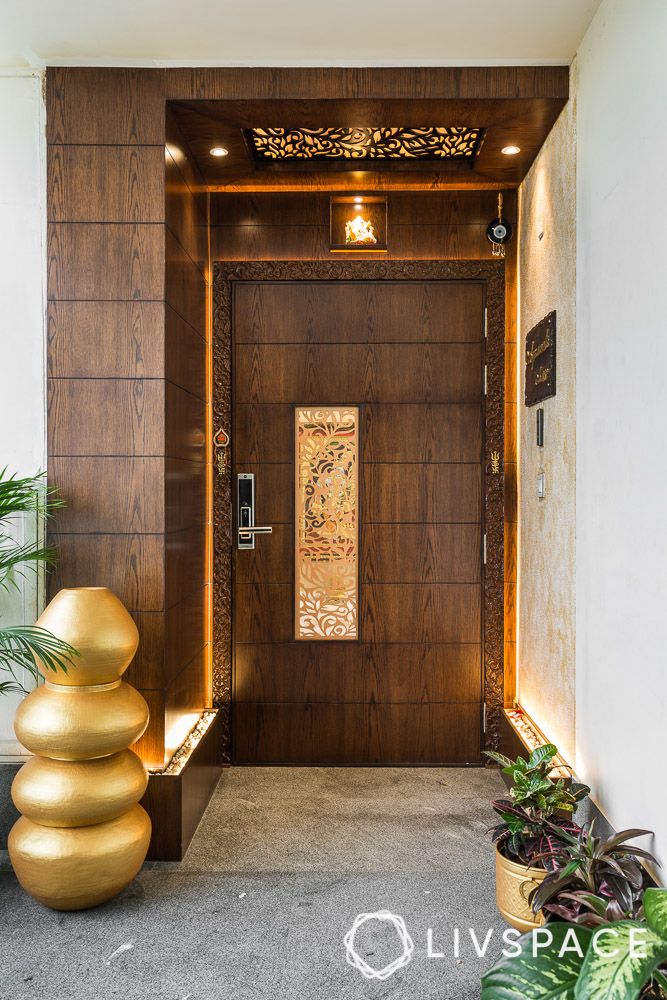 If you have an artistic bent of mind, then a brass door design for homes may just be your jam. This  door is elegant, sturdy and durable. Did we mention that it is resistant to rust too?
#22: Try Out The Black Door Design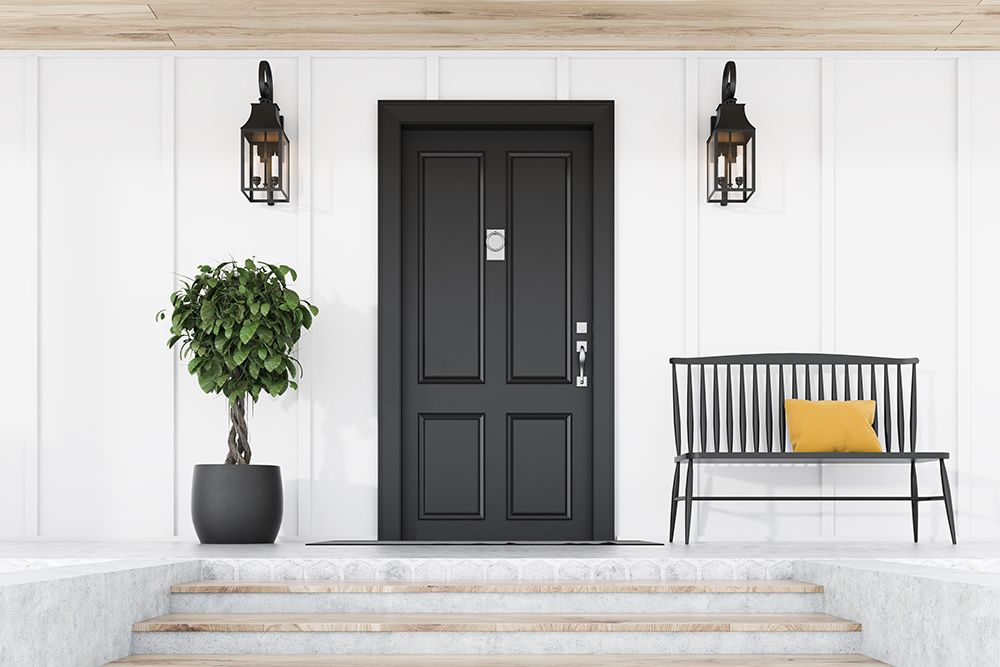 If your taste tilts more towards edgy and modern, it is time to consider a black door design for your home. They can easily blend into any background while strengthening the energy in your home. Now who would not want that?
#23: Dutch Doors as a Gateway to the Balcony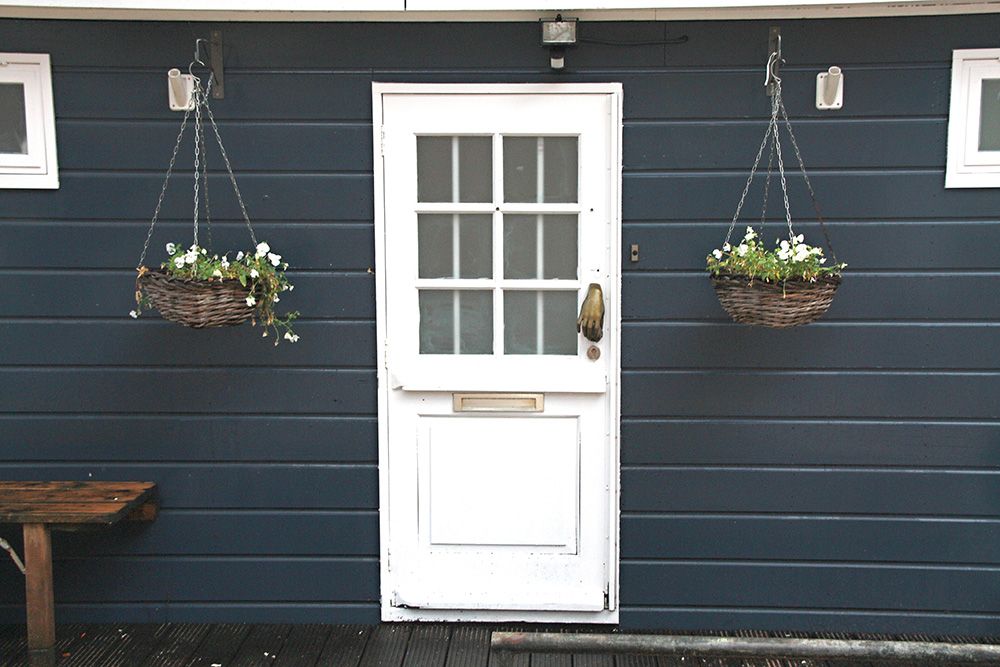 A dutch door, also known as a half-door, is divided into two halves. Thus, the user can choose to open either halves. They work great in compact balconies as one can use them as a window as well without opening the entire door.
#24: Hues of Red For the Main Door Design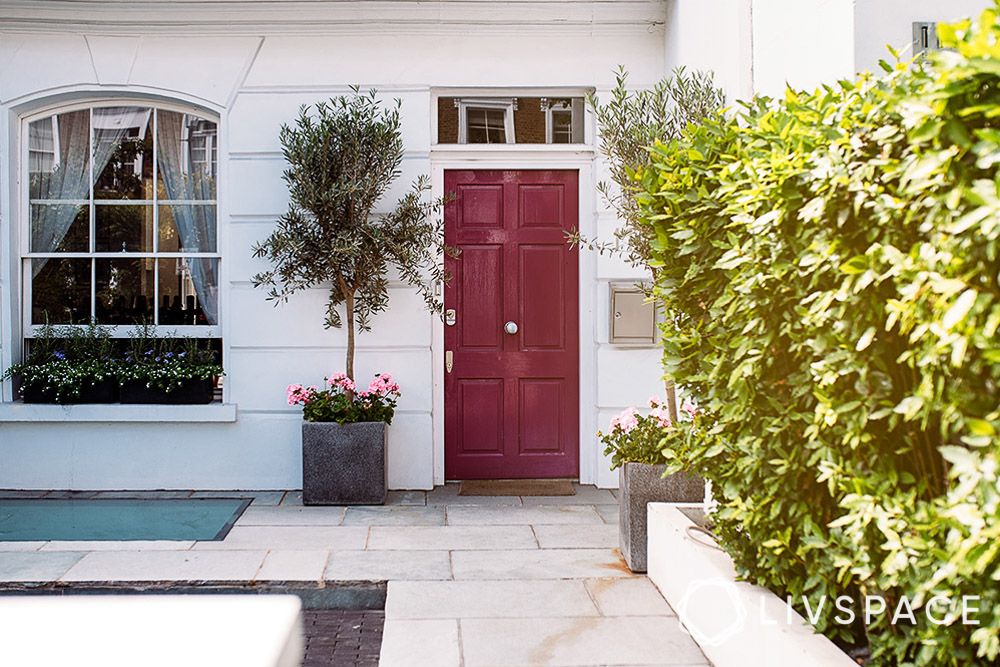 Red is a vibrant, bold shade and can work well as an accent. You can even consider your latest design for the main door. It can easily act as an accent to your home decor. But, be sure you  combine it with the right colours.
#25: Victorian Glass Door Design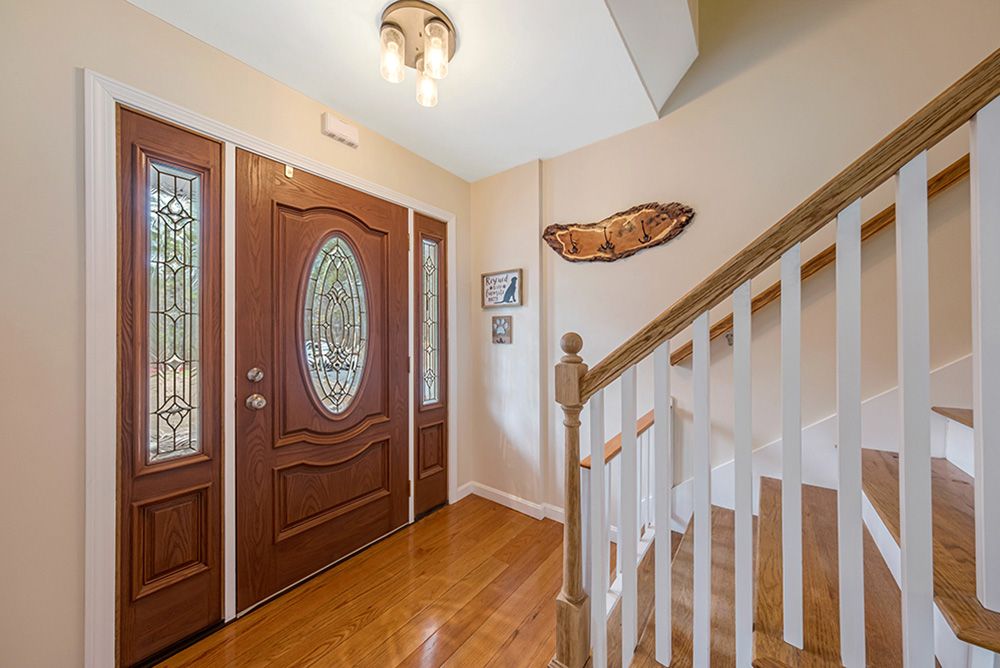 We have all seen those enchanting vintage church glass doors and windows. Recreate the magic in your own home with the door design. Opt for colouful glasses and antique design to achieve the same.
#26: Blue Main Door Design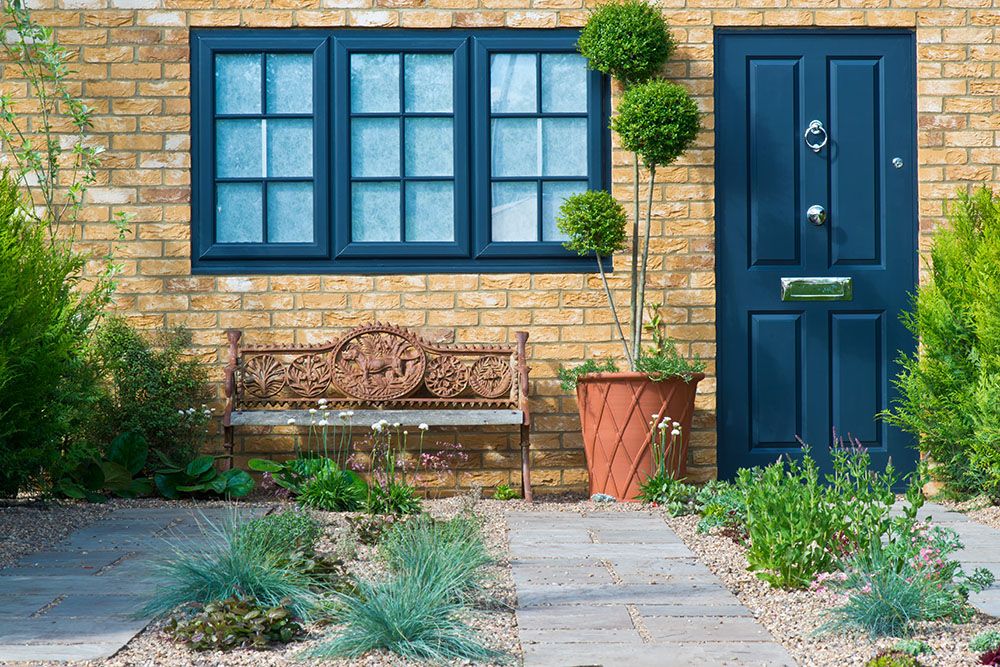 Homes are a haven for relaxing. Thus, it makes sense to pick a blue- coloured door design as they can add some calmness to your space. The best part? Blue as a colour is both vastu- and Feng Shui-approved.
Do You Know What Materials Doors are Made Of?
#1: Solid Wood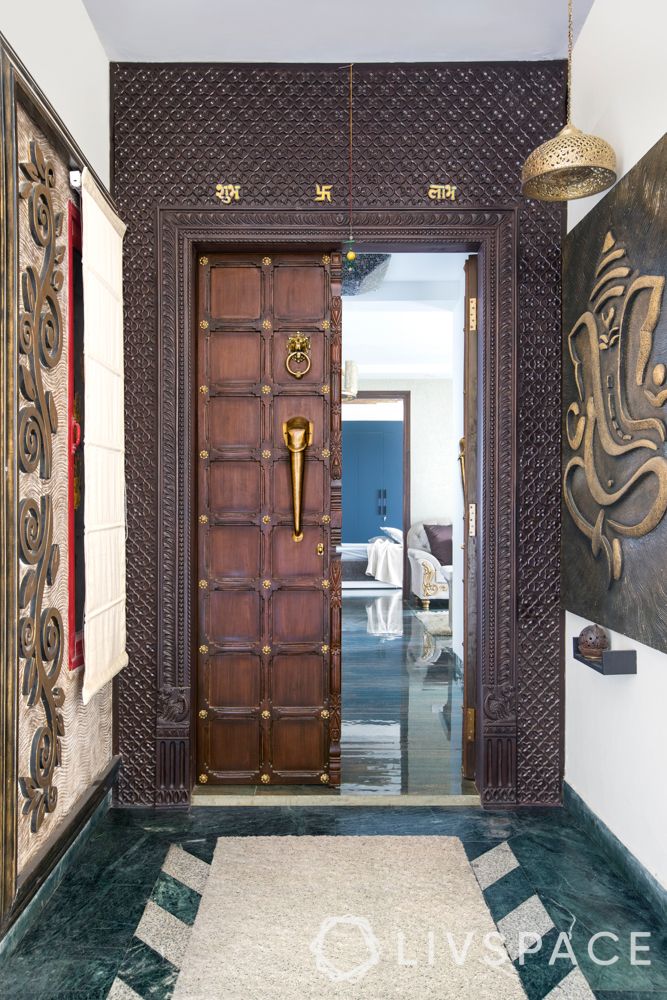 The most popular material for doors used to be solid wood. Remember the large, traditional wood carving designs for main doors you'd see at your grandparents' or ancestral homes? Chances are they are solid wood doors. Made of timber, a solid wooden door design can be customised to your taste. However, it can also be quite expensive and not the most eco-friendly option. 
Despite occupying a nostalgic spot in our hearts, a solid wooden door design has several disadvantages. As it is prone to warping, cracks and termites.  It is also high on maintenance. 
#2: Blockboard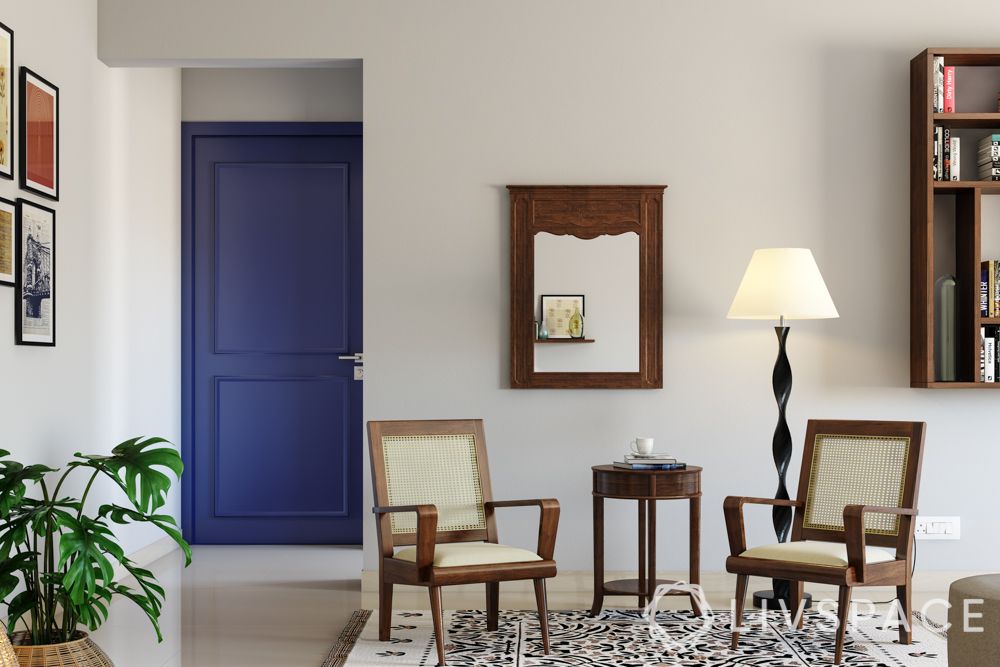 Did you know that most house main door designs that you see now are made of block boards? Similar to plywood, blockboard is a type of engineered wood. It comprises many dense layers of wood shavings pressed together with great adhesion. 
A home main door design made of block boards is lighter and less expensive than solid wood. It is a low maintenance and highly durable, as well as sustainable option. The only catch with blockboards is that you can't get those beautiful carvings like solid wood doors. 
#3: Glass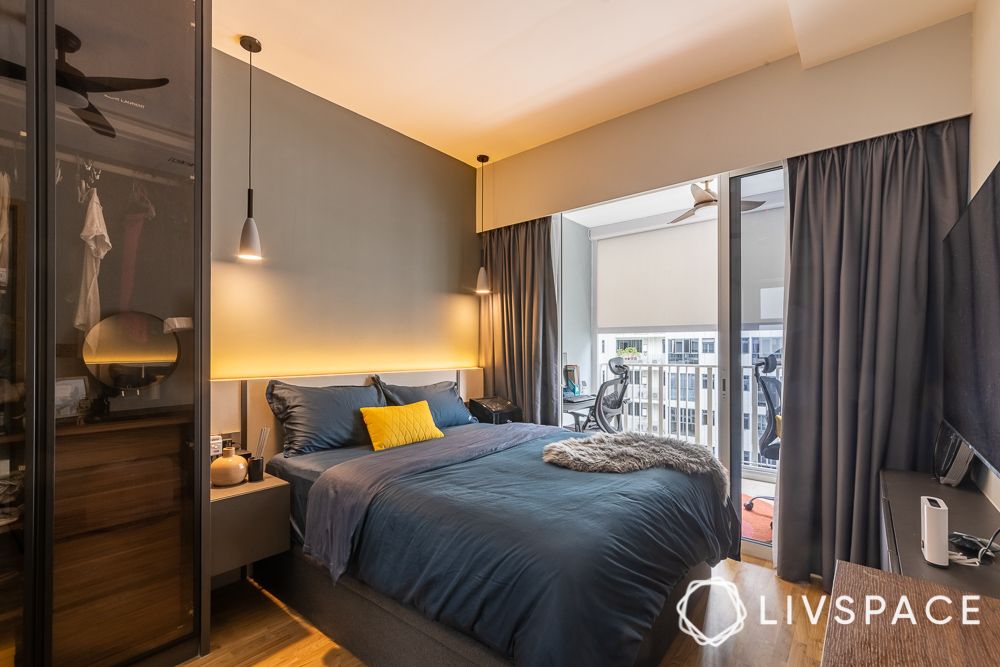 Glass doors have their own charm in a desi home. They bring in natural light, are charming and exude modern vibes. However, they can be pricey, fragile (read high maintenance), less secure and not private. Thus, try to include glass doors for internal doors such as balcony or kitchen.
Also Read: 8 Great Window Styles to Consider for Your New Home
#4: Fibreglass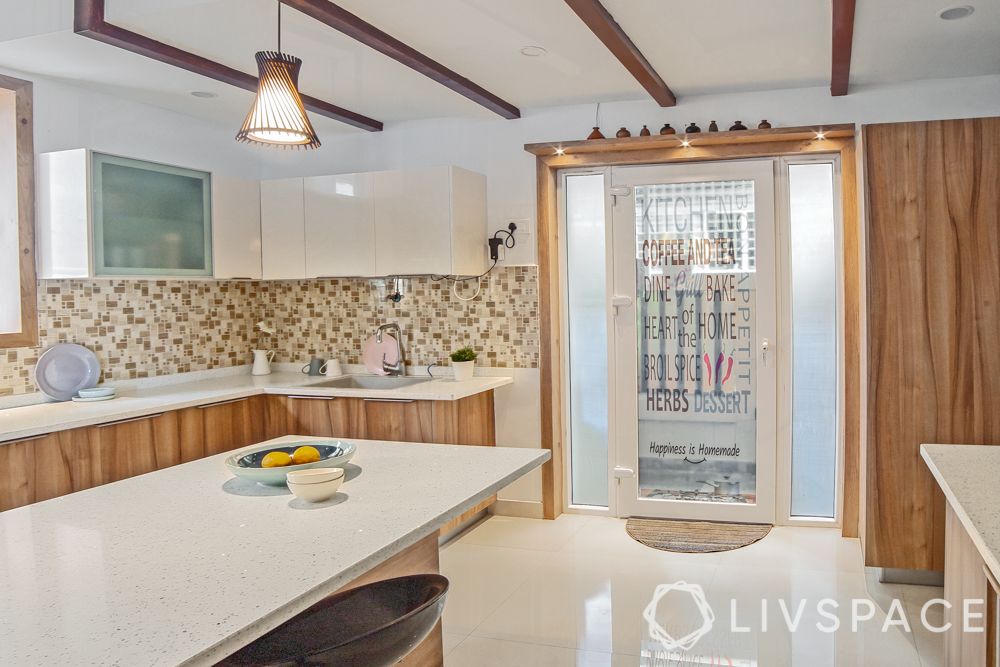 Fibreglass can be customised according to your preferences. The material currently  seems to be trending among homeowners. It is an option you might want to explore further. Fibreglass doors are strong, light, durable, easy to maintain, waterproof as well as soundproof. However, this could be a little bit on the pricier end. Consult your interior designer for further guidance.
#5: Other Materials
Aluminium: Doors made of aluminium are strong, durable and sleek. They can also be powder coated in several colours. The downside to aluminium is that it corrodes fast, which can be high maintenance for a home main door design.
Steel: Tough and durable, steel is an option to consider when safety is a concern. This material is also used for grills and windows. A steel door contains an insulated foam wedged between two steel panels. Given these features, you can consider it a good material for your house main door design. However, steel is also prone to dents that are not easy to fix. If aesthetic is important to you, then steel wouldn't be the best option.
Iron: Iron was a commonly used material for doors earlier. But not so much now, despite iron being strong and durable. Why? Like with aluminium, it is not a viable option as it rusts easily and is difficult to maintain as a home main door design.
UPVC or Vinyl: The synthetic UPVC is a rigid and flexible material at the same time. This material can also sustain high temperatures and provide insulation. Moreover, UPVC is less expensive than wood or steel.
| | | |
| --- | --- | --- |
| Material | Finish | Price per sq. ft. |
| Solid wood  | Polish | ₹1100 – ₹1800 |
| Wooden flush  | Paint | ₹150 – ₹200 |
| | Laminate | ₹200 – ₹220 |
| | Membrane | ₹200 – ₹250 |
| Glass | Aluminium | ₹750 – ₹950 |
| | UPVC | ₹800 – ₹1500 |
| Steel | Paint/galvanised | ₹450 – ₹851 |
Please note that these prices are subject to change based on various factors including availability
The Different Styles of Door Designs for the Home
#1: Single Door Design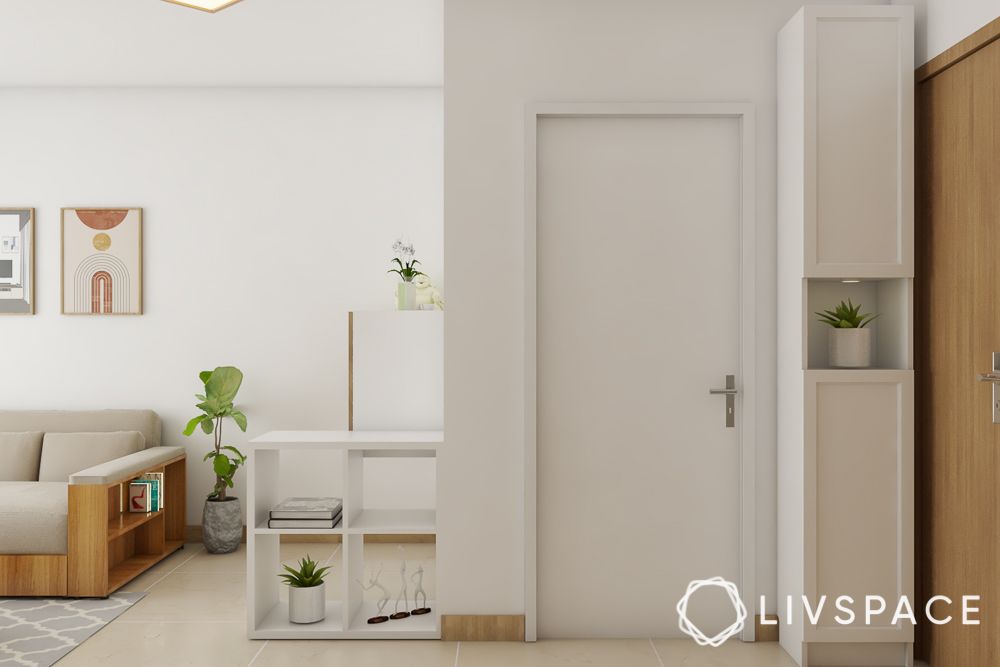 The humble door with hinges is the most prevalent in Indian small homes design low cost. This standard style for a home main door design does what it needs to but should not be considered uninspiring. With the right home main door design, you can make it elegant, like the one you see in the picture.
#2: Double Door Design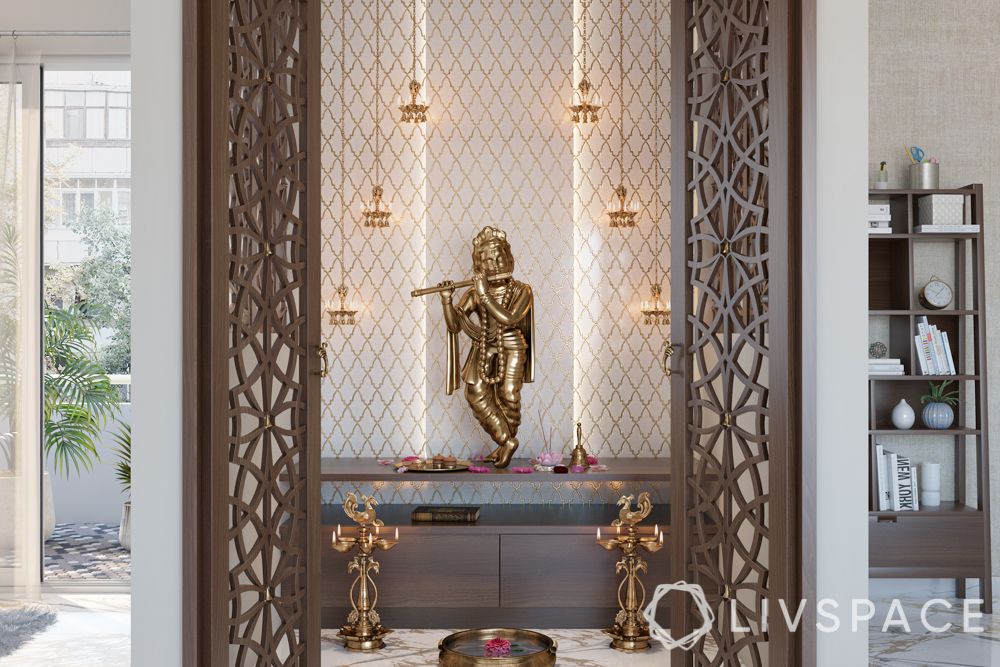 As the name suggests, the double door design uses two doors instead of one. The idea of having two doors for one entryway is not revolutionary but it does add more grandeur—perhaps, even a majestic sense—to the space. One such way to experiment with a double door design is in the pooja room. You can either go for a solid double door design or play with a jaali pattern for your pooja room double door design!
#3: Sliding Door Designs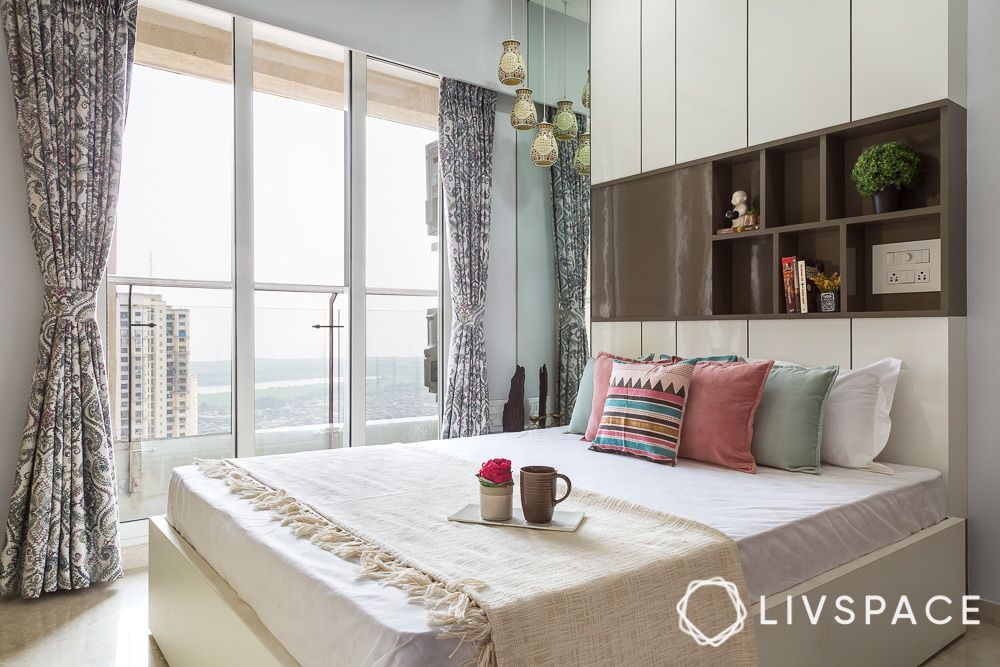 A sliding door is installed parallel to the wall and can be opened by sliding it horizontally. The sliding door operates on a sliding door gear mechanism that comes in two standard types: top-hung and bottom-rolling systems. However, if you need a bit more privacy, there are opaque versions also available.
#4: Folding Doors Design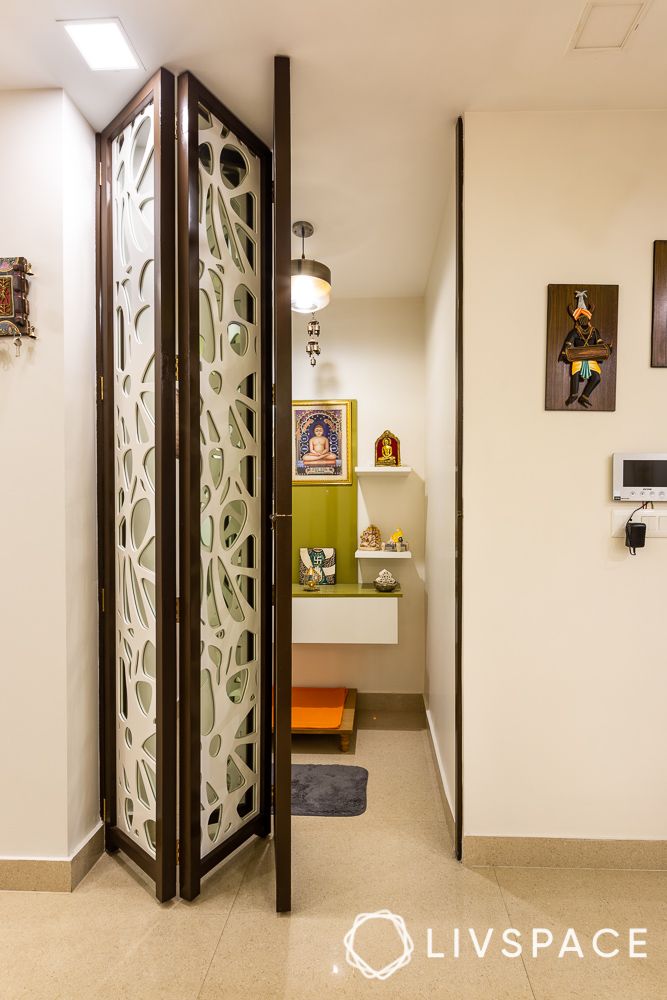 Typically meant for large spaces, folding or accordion doors are multiple panels that neatly pleat at the doorway's edge(s). Glass folding doors with an aluminium or UPVC frame are a popular choice. If you have a compact space, a folding door design is your ideal indoor pick.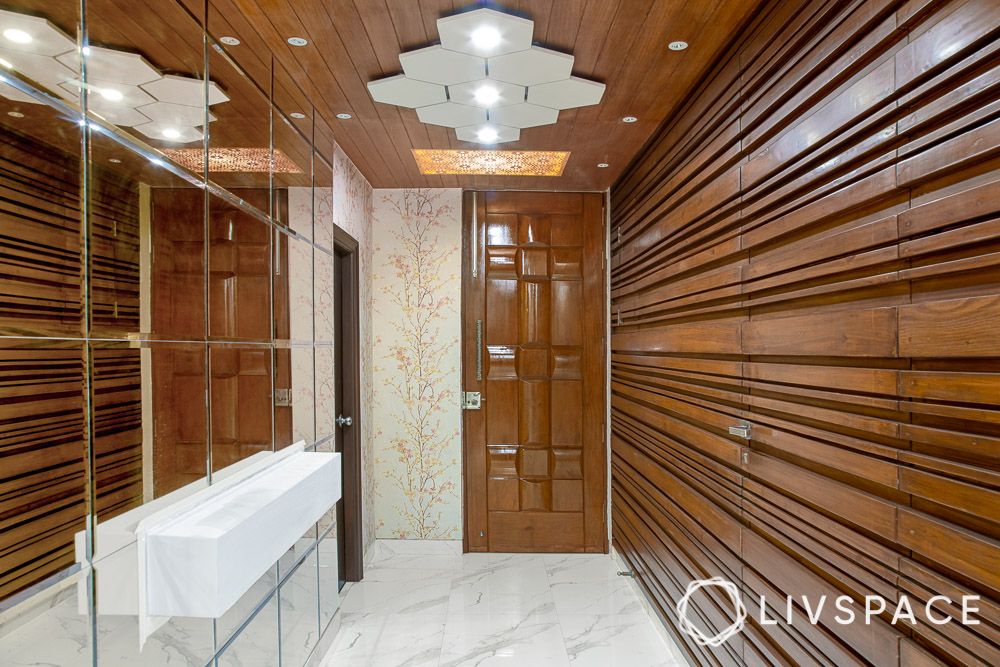 If you believe in Vastu Shastra, then you might want a door that's vastu-compliant. Here are some tips for you:
According to Vastu Shastra, the main door should be the largest one in the house. It should be situated in the north, east or north-east direction. It should be situated in the north, east or north-east direction. You can also consider having a double door that opens inside as it is auspicious. Beautiful designs, bright colours and lights are also believed to increase the flow of positive energy. 
All the internal doors must be of the same size, as only the main door should stand out. The number of doors inside the house should also be even, i.e. multiples of two (2, 4, 6 etc.)
Vastu experts proclaim that creaky doors can lead to quarrels in the house. So, make sure that your door hinges are sturdy and well-oiled.
Make sure that the materials you choose are also vastu-compliant. Wood is considered the most auspicious. There are also materials for every direction that you can choose for a vastu-approved door:

North-facing door: Metal or iron
South-facing door: Wood and metal 
East-facing door: Wood
West-facing door: Metal or iron

As for the colours, choose earthy shades like wood or soft colours like beige, light yellow etc. Avoid using bright colours like red and orange.
Also Read: These Vastu for Home Entrance Tips Will Help You Welcome Good Vibes
How Can Livspace Help You?
We hope you liked this gallery of the latest designs of main doors and internal door designs! For modern door design colour ideas, be sure to check out Trendy & Offbeat Front Door Designs.
If you want beautiful interiors for your home, then look no further. Book an online consultation with Livspace today. If you have any thoughts and suggestions you'd like to share with us, we're all ears! Drop us a line at editor@livspace.com.
FAQ
Which Type of Door Is Best for Main Door Design?
There are many types of door designs available in the market according to size, materials and shape. You can pick one according to personal preference.
Which Metals Are Used for Door Frames?
Aluminum, fiberglass or composite material are used door frames. Wood is another popular choice.
How Do You Modernize the Front of a House?
By using a modern door design. Explore options here.
What Should be the Main Door Size?
The standard height of a main door is 6 ft. 8 inches along with 30 to 32 inches of width.
Can My Main Door Design Open Anti-Clockwise?
The door should open indoors (clockwise). Opening the main door anti-clockwise can result in a vastu defect.