Nothing makes an amazing first impression as a stunning front door design. Rather than being just another aspect of decor, a charming entrance is an important investment since the right door colours go a long way in reflecting your personality and style.
With the help of our experienced in-house designers, we've put together 5 door colours that make for an awesome entrance. So, stray out of your comfort zone and experiment with your favourite colours!
Option For Door Colours #1: Morrocan Blue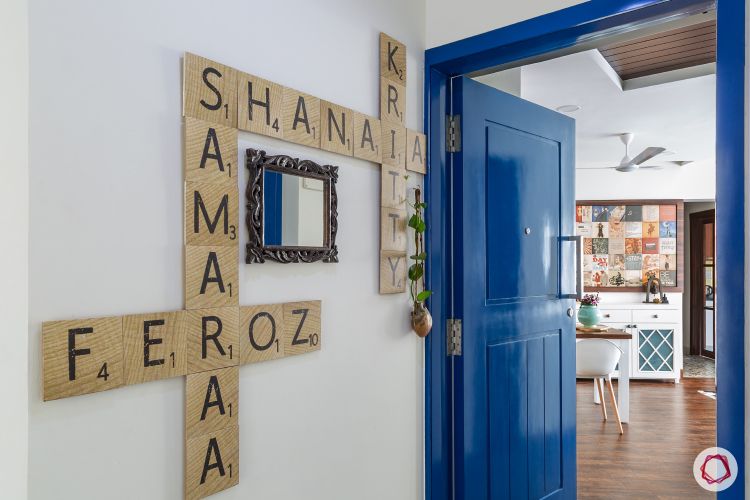 For a chic and bohemian home design, try out this simple Morrocan-inspired blue front door design, that stands in contrast to the wooden flooring and plain white walls. Blue is a popular choice when it comes to soothing interiors. If you're a board game enthusiast, you may also be inspired by this #LivspaceHome that uses large Scrabble-like letter blocks to form the nameplate. Add hanging plants, vines, vintage mirrors and other ornaments on your wall to complete the look.
Option For Door Colours #2: Quirky Purple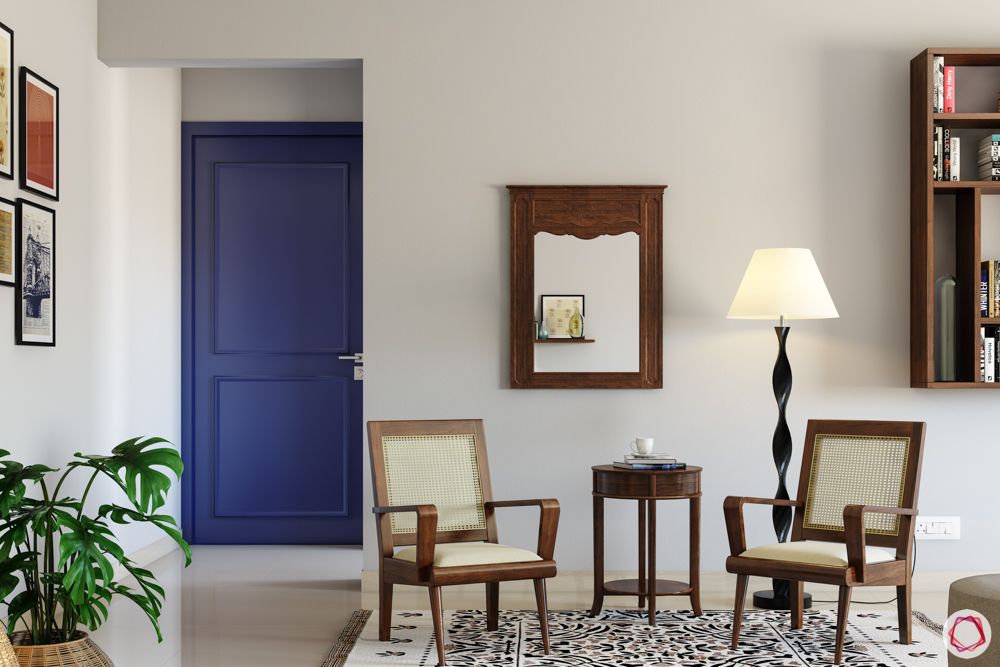 For a white living room with yesteryear wooden furniture, a purple front door design can lend an upbeat and playful vibe. If you want the focus to stay on the door, keep the walls clutter-free and maintain a minimalist design. You can opt for a small wooden mirror, a few floating bookshelves, or even hand drawn wall art to enhance the rustic ambiance.

Option For Door Colours #3: Soothing Green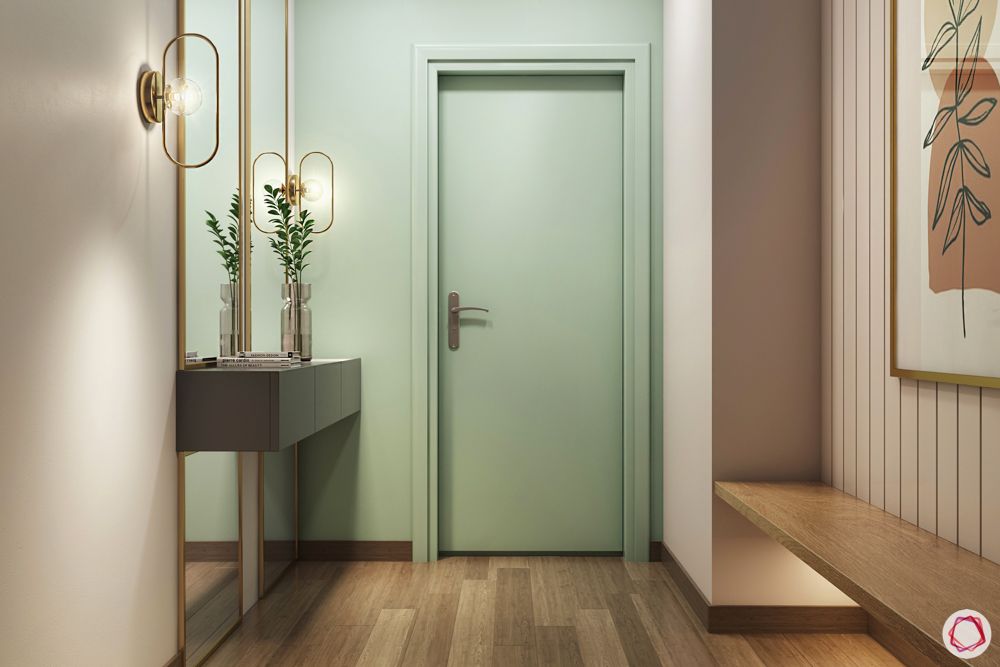 A soothing, mint-green front door design instantly turns your foyer into an oasis of relaxation. Pair it with blush-pink walls, brass light fixtures, floor-to-ceiling mirrors and botanical artwork for a truly spa-like setting, right at home. This door works best with a cosy hallway that includes warm-toned, wooden flooring and furniture.
Option For Door Colours #4: Classic White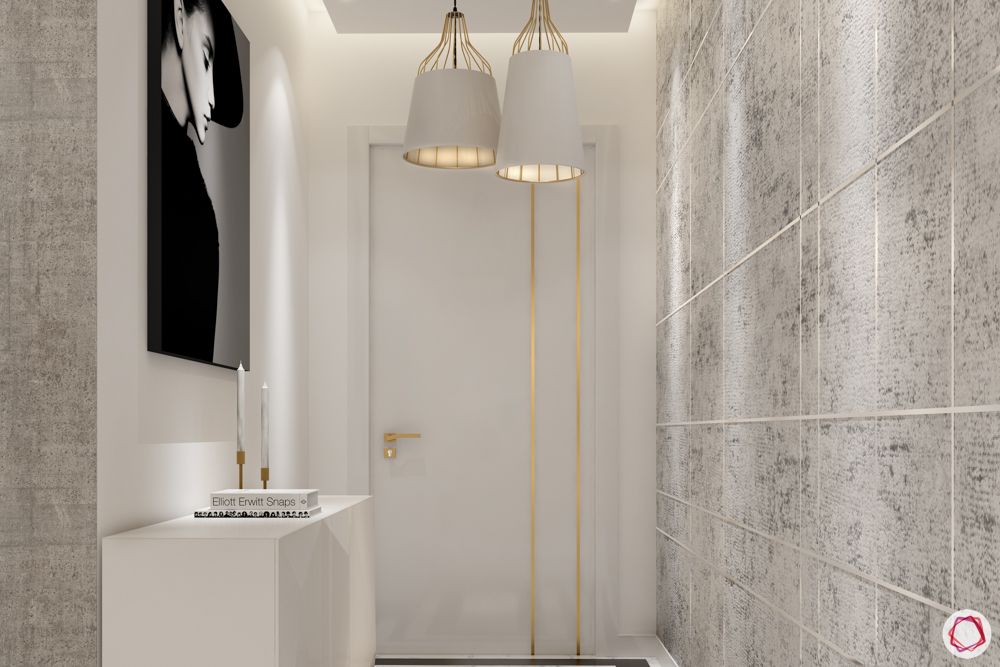 People may often discount the classic white when it comes to door colours. However, when it is set against the right elements, it instantly lends a look of luxury to your living room. Complement a white door with metallic pendant lights and intriguing artwork, for an elevated and bright look. The above image shows a polished white door with two gold stripes.
Often, the right door colours can be the perfect way to make a design statement. We hope we've helped you understand the impact of a great front door design. Now, you can experiment with the colours on your own door to make you feel like you're in a brand new home!
Option For Door Colours #5: Vintage Brown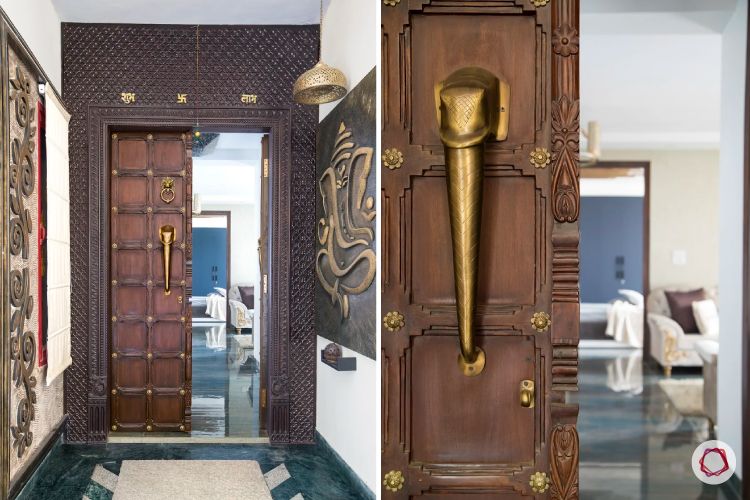 A dark brown hue never fails to make a powerful statement. Especially when it's done with an ornate, temple-style front door design. Pair them with porcelain flooring and wallpaper that matches the door colours, to transform your doorway into a bold nook. Brass knobs and embellishments on and around the door also add to the traditional aesthetic. You can enhance this look with a modern altar that consists of a large piece of art and a few incense sticks.
Enjoyed reading this? Take a look at Doorway to Happiness: Vastu Tips For Entrance.
Send in your comments and suggestions.