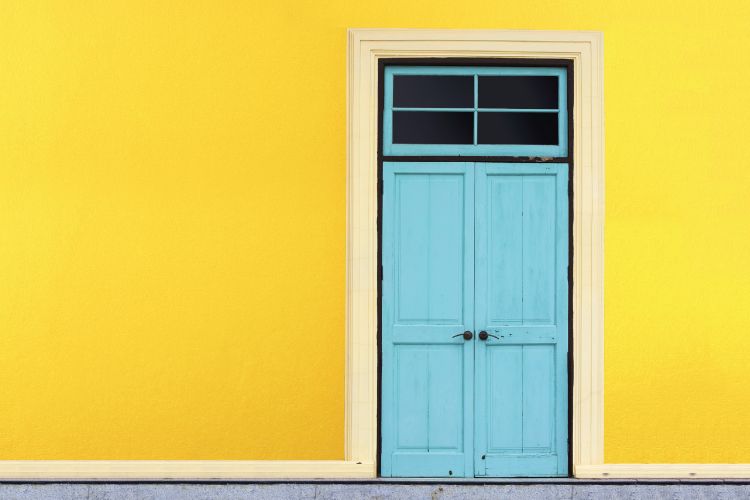 Doors are an incredible way of expressing your personality. It's the first thing that your visitors or neighbours will see, and an enthralling and stylish door can be a great way to flaunt your creativity. Usually, we tend to ignore our doors and only get them re-polished periodically. The wall colors could change, the furniture could too but the doors, more or less, remain the same.
But it's time to look at doors as an essential element of your interiors. Chuck the primitive and give your doors the spotlight they deserve. It truly is the difference between nice and fine interiors. If you still can't wrap your head around this fact, then have a look at the gorgeous inspiration of door designs we've picked out for you.
Classic red door
A classic red color door can never go out of style. Having a red door makes a powerful statement and is also believed to be a symbol of energy in Feng Shui. The front door is considered as the 'Mouth of Chi' through which energy enters. And with a red door, you're definitely exuding a joyful, cheery and welcoming vibe.
French doors

French doors provide excellent visual stimuli in rooms where privacy is not a concern. They are visually very light when compared to wooden doors. Affixing them to the entryway of the living or dining area, allows you to take a peek at what's happening on the other side of the house. Frosted French doors, instead, give you the best of both worlds – visual lightness and privacy.
DIY chalkboard door

Source: Blackbird Style
Have you thought of repainting that old kitchen door, which had grocery lists stuck on it? You can throw those lists away and give the door a fresh black coat, which will make chalking down or scribbling things on the board so much fun. This one is undoubtedly our favorite door!
Pivot door

Source: Sandiego Pivot Doors
These doors are usually massive, and they make quite a statement. They're ideal for larger entrances with hinges attached on the top and bottom rather than on the sides. If you love elegant designs, pivot doors are a must-have.
Traditional Indian door

Source: Cudmore Builders
Traditional Indian doors can vary, right from the north to down south. These doors are artistically designed carrying historical and cultural significance from different regions of the country. Often carved out of wood, these doors are aesthetic and visually charming especially for a prayer room.
Inlaid glass doors

Inlaid glass doors are a sophisticated way of welcoming visitors. Notice the glass work that gives a peak of the interiors, while also standing out as a testament to elegant craftsmanship. Stained glass, on the other hand, would be a source of intrigue, especially on sunny days.
Old metal doors

Source: Robert Elliot Homes
A metal door can seem like an unusual choice. However, it can be bring in some industrial chic and intrigue to any space.
Rustic wooden doors

Source: Rafter House
Rustic doors are a classic and fresh addition to any home. Either have them polished to highlight their beautiful swirly wood grain or paint them teal or sky blue to make a statement. These doors can turn a home into an aesthetic pad.
Nailhead Trim doors

Source: Normadic Decorator
Who said nailhead trims were meant only for sofas? As much as they add elegance to your couch, the effect of it is nothing less on doors, as well. Innovatively executed, this door is clearly unconventional from the rest of the doors that we see. We love the idea of using nailheads in a beautiful pattern.
Contemporary doors

Source: Likainen Parketti & Tretoen
The coming-of-age trend is to keep doors simple, and fun at the same time. The above are brilliant examples of turning a plain white door into a focal element. Black and pink washi tapes have added a pop of color to transform an ordinary door into an extraordinary one.
And there you have it, our inspiration for doors – big and small, for the front and inside. The next time you think re-polishing your old door is your only option – think again!