The ancient lore of Vastu Shashtra tells us wooden door design ideas are auspicious for your home, in the way that they attract good luck. Wooden door designs are the most popular door designs in India. That's because wood lends a warm tone to your home, thus making your space more inviting and welcoming.
Wood also adds a sense of timelessness to your interiors. It is also believed to improve resale value. Keeping all these factors in mind, it's best to opt for wooden door designs for home. Without much ado, let's take you through the best wood door design ideas you can try:
1. Teak Wood Double Door Design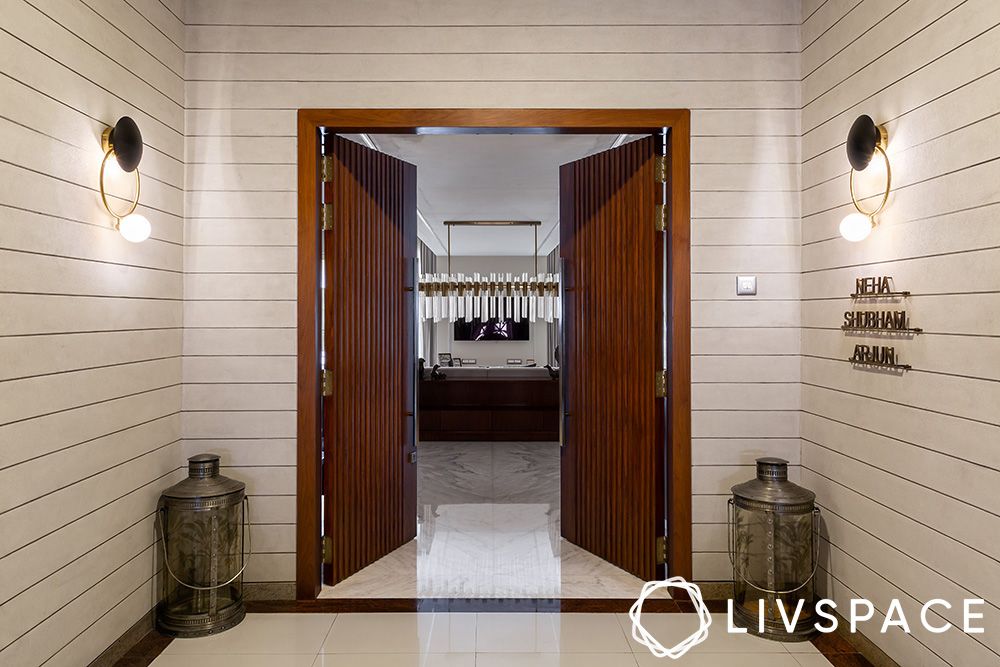 For your main entrance, a double door design is recommended. That's because of the extra space they provide – for ushering people in or moving furniture.
Also, double doors will improve your resale value. So, if you've such plans in mind, it's best to opt for double doors, given their extra inviting vibes.

2. Wooden Door Design In White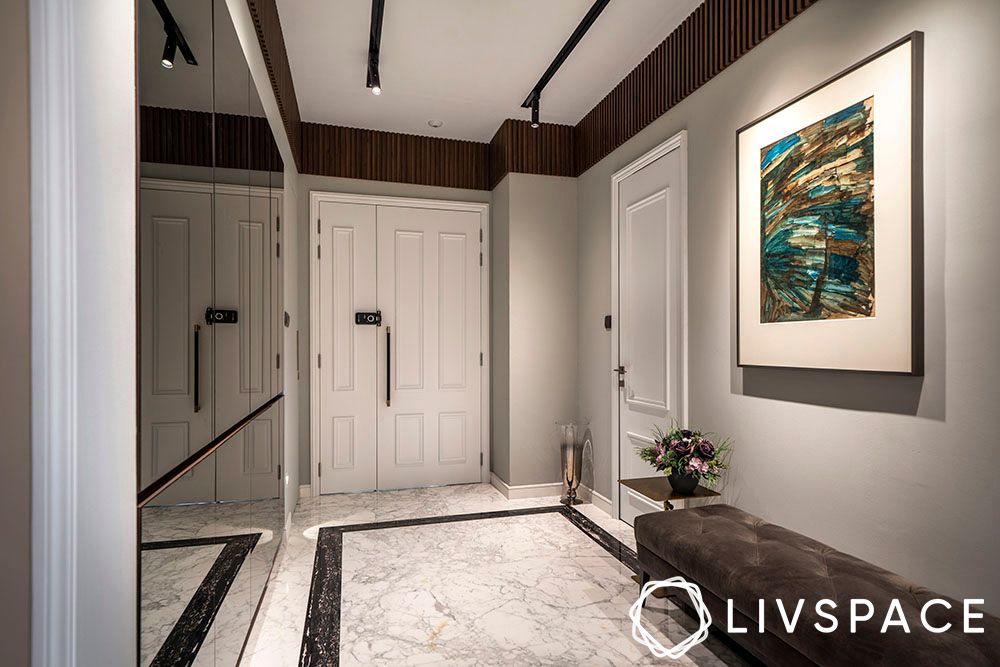 White is a vastu-approved colour and often lends a cool touch to the warm wooden vibes. This wooden door design in rectangular blocks in all-white can go with most of the prevalent colour themes.
Try having a double door design for your home main door design to give it a sense of spaciousness and warmth.
3. Foldable Glass Door Design With Wood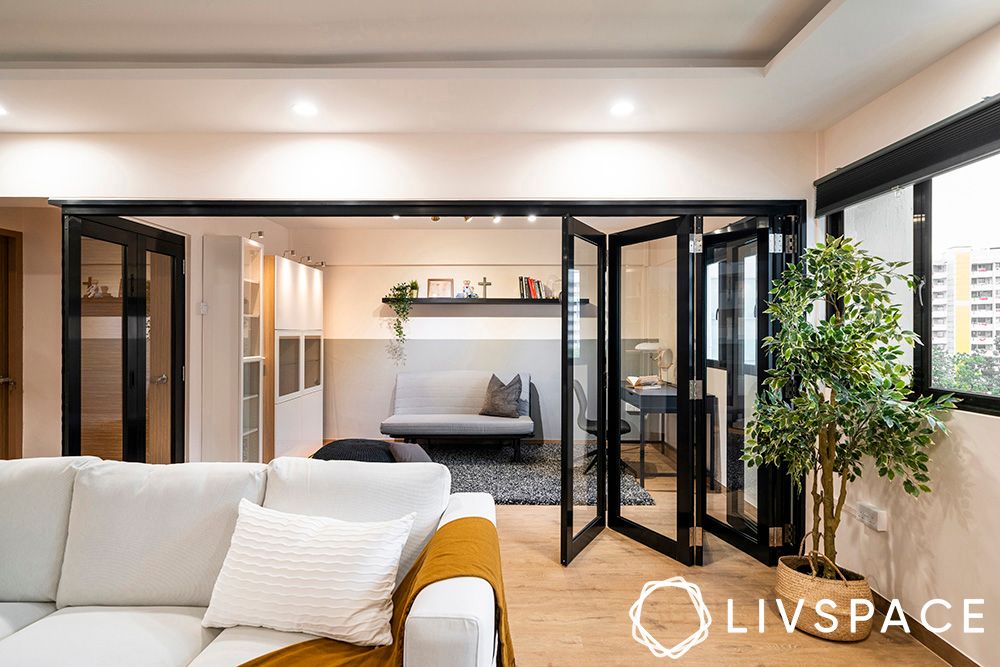 If you would rather not have an entirely wooden door, you can opt for glass door designs. They're the latest designs of main doors that have taken the interior world in India by storm.
They're easily foldable: so you'll end up saving quite a lot of space. Plus, they're mostly see-through, unless you opt for fluted glass panels, which can give you privacy and design in one.
4. Sliding Glass Door Design With Wood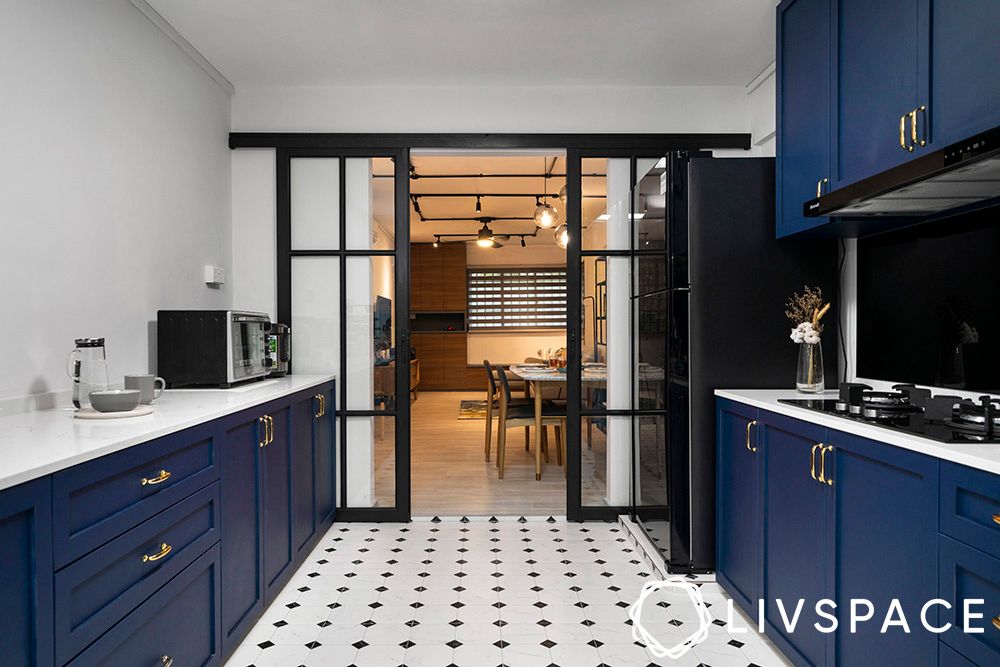 If you think sliding glass door designs only offer an uninterrupted view of the other rooms (unless fluted), that's not all! In fact, we're just getting started on the pros these modern door designs come with.
Their designs equip them to be perfect fits for a compact, space-saving home. Plus, they offer a sense of aesthetic elegance and style to your interiors. Comparatively, they're also less-maintenance.
5. Pastel Wooden Main Door Design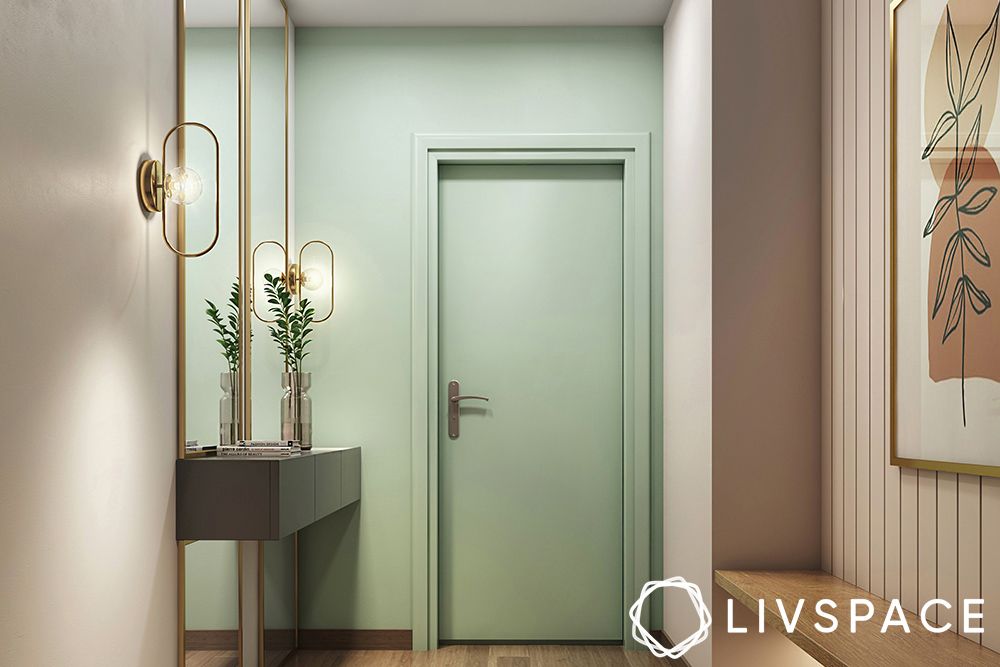 If you want to have wooden main door designs, but don't want the wooden look, you can paint it the shade of your heart! By that, we mean, you can paint in any colour you like. Just make sure that it goes with the larger theme of your interiors and gives off a good impression.
Also Read: 25+ Trendy Main Door Design Ideas to Inspire You
The pistachio green plays off with the neutral shades of this Livspace home and brings out a sense of elegance we don't usually see. Have the benefits and timelessness of wood, but not in the look it's known for.
6. Abstract Wood Door Design in Black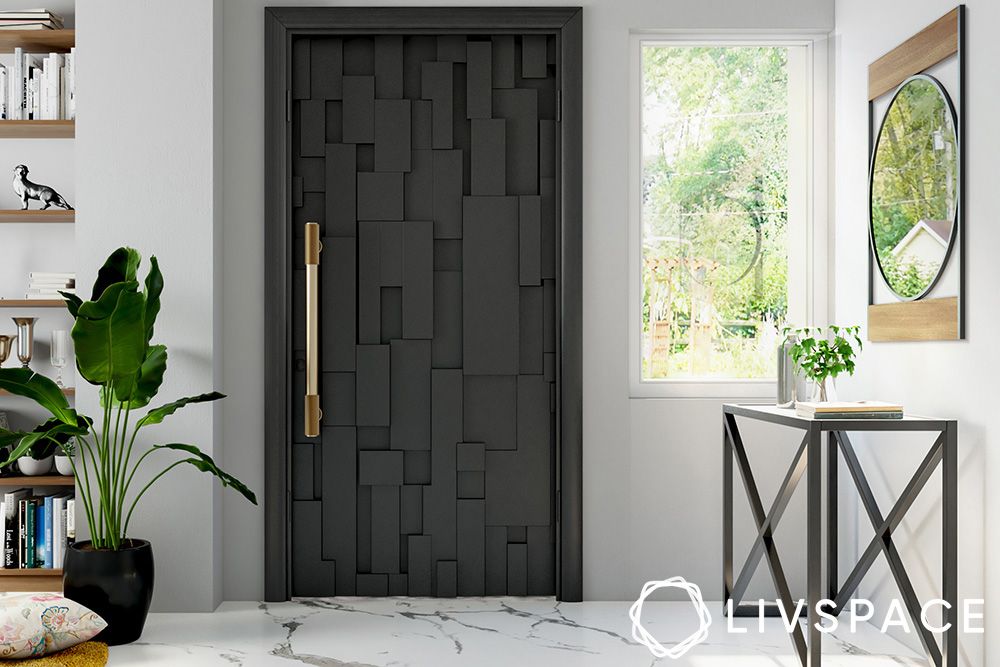 Often times, abstract designs don't come with a sense of regality. But that was our idea before, we at Livspace, came up with this latest door design in black.
It's abstract in the way it has uneven textures and rectangles, and yet the bold colour lends a sense of royalty, perfect for white and neutral-themed homes.
7. Simple Black Door Design Wood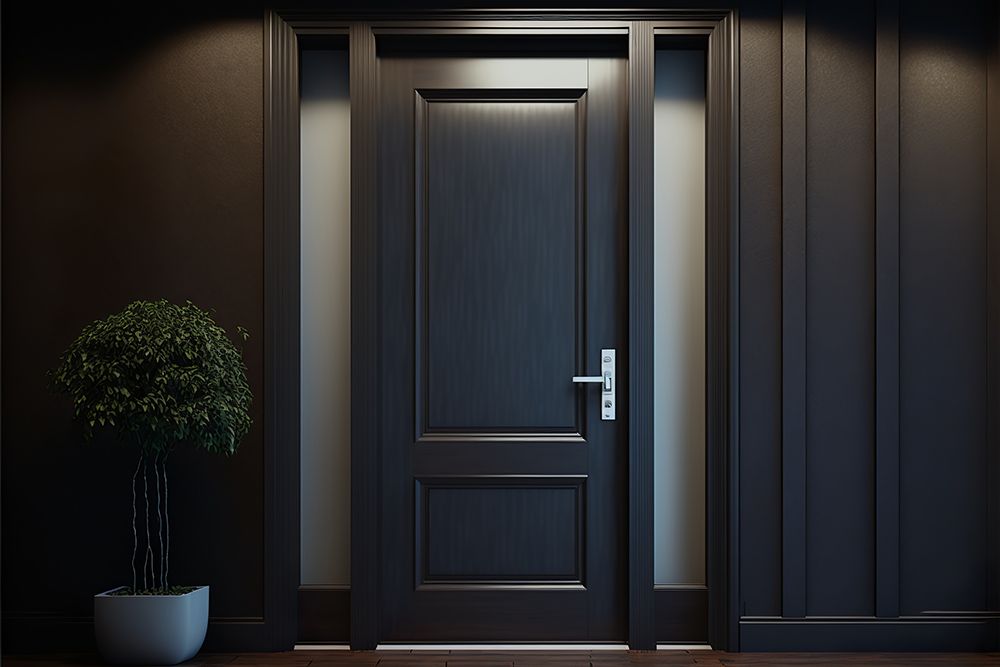 If you're not into abstract designs and yet would like to stand out with elegance and sophistication, try a simple black door design like the one above.
It has two rectangular blocks and a simple silver knob design. When we look at this door, we can't help but agree that "Simplicity is the ultimate sophistication."
8. Geometric Wooden Door Design for Home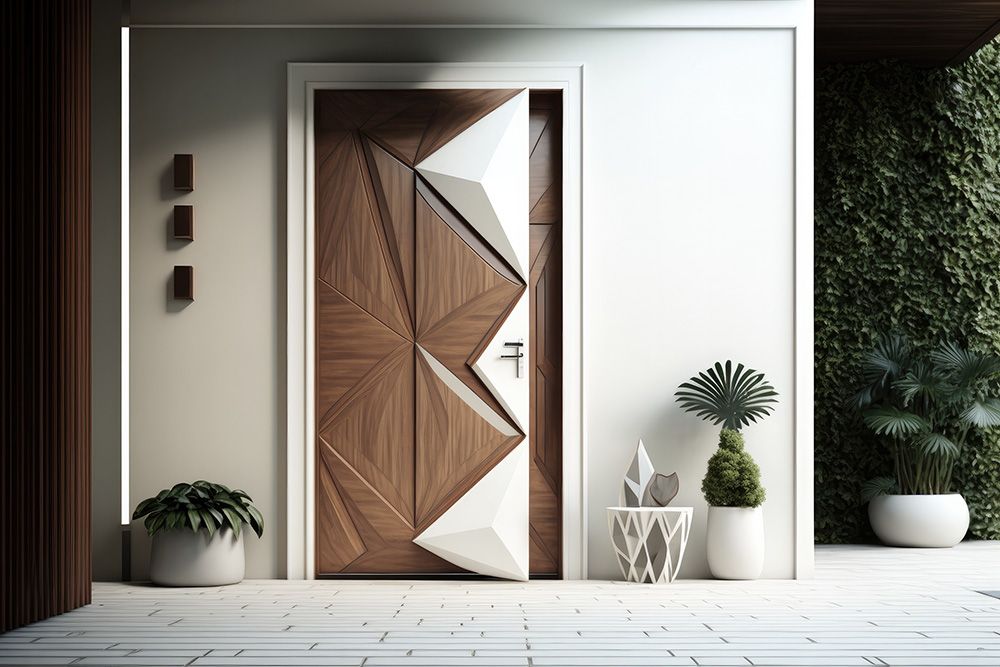 Bored of the same set of boxed door designs that you see everywhere? Go out of the box, take a look at this unique, geometric door design in wood with modern lines.
If you're a fan of European architecture or want to create a stunning first impression, you should go all out with this white and brown door. It'll add a sense of sophistication to your home, while giving it an uncommon edge.
9. Brown Wooden Design Door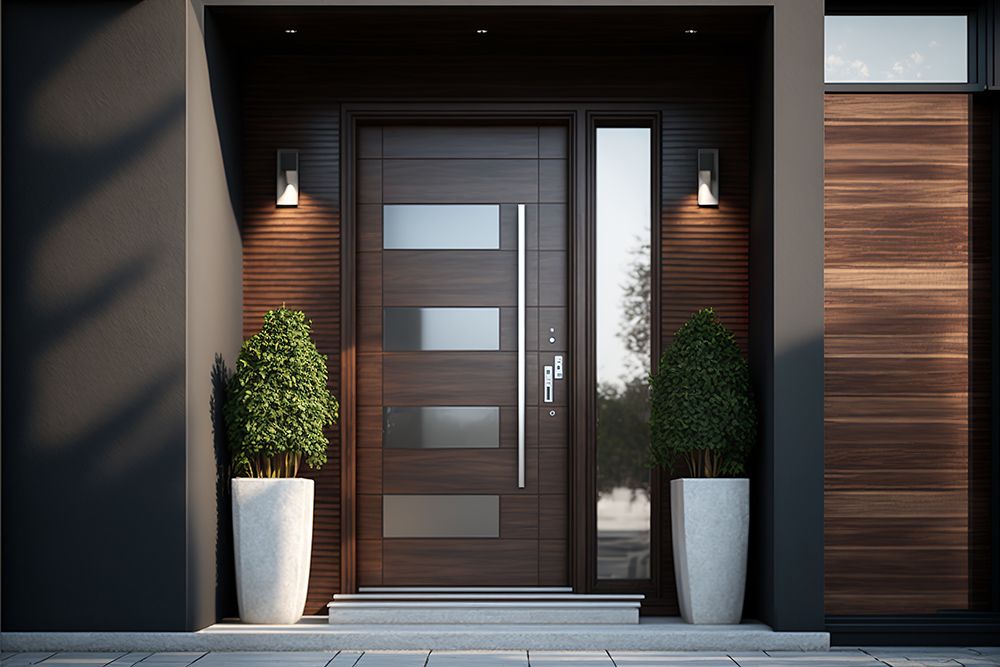 You might already know how brown wood door designs are very popular in India. They have also managed to catch up with the recent trends. Look at the wooden door design above, and you'll see the sense of modern charm and sophisticated vibe it has.
A brown exterior also pops out very well amidst lighter interiors and darker interiors alike.
10. Traditional Wood Door Design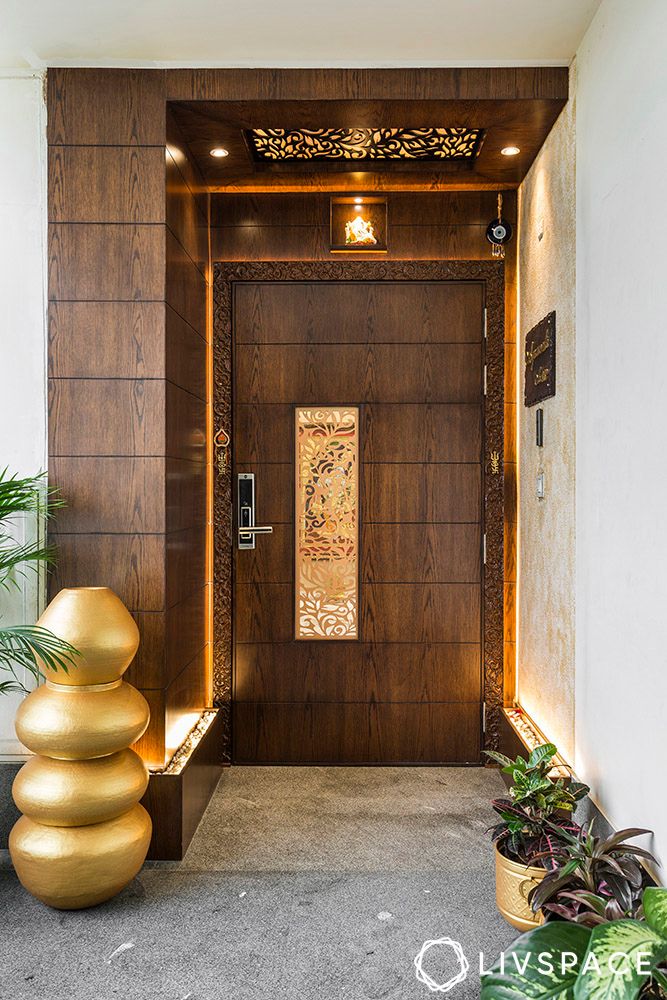 If you love traditional designs, you must give a chance to wood door designs with brass frames and jaali designs.
In addition to the high durability and strength that you get from wooden doors, the jaalis add a sense of elegant charm.
FAQs
1. Which Wood Door Is Best for the Main Door?
Teak wood door is best for your main door, as they're durable and timeless.
2. Is Double Door Good for Vastu?
Yes, double door is good for vastu.
3. Which Type of Door Is Best for Room?
A wooden door design is the best for a room.
How Can Livspace Help You?
We hope you found our ideas useful! If you want beautiful interiors for your home, then look no further. Book an online consultation with Livspace today. To know how our customers feel about working with us, check out these Livspace reviews for more details!
Please note that the designs showcased within the story are subject to availability and will vary based on the year the homes were designed in. Consult our designers for more details on the latest designs.