Wooden kitchen designs have always been the go-to option in Indian homes for their classic look and warmth. While many colours and finishes have taken over the market, the demand for wooden finishes hasn't ceased. So we took this as a cue to show you the wonders we can work with this finish for modern modular kitchen designs. Check these wooden kitchen interior designs and tell us which one's your favourite!
Get the Modern Wood Kitchen Design as the Focal Point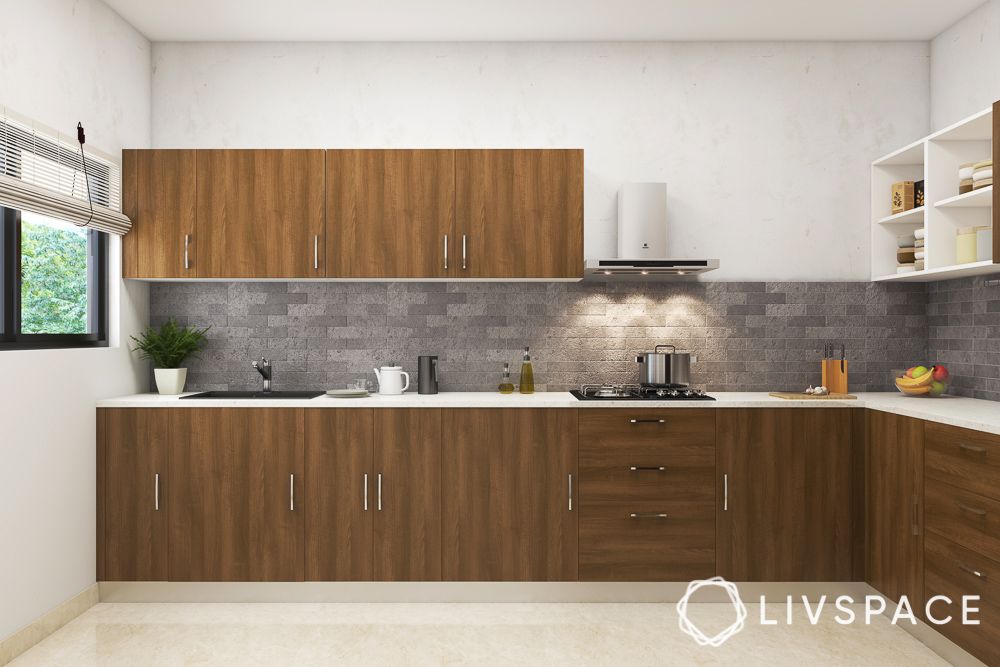 This lovely L-shaped kitchen works great for large families. The wooden tones are balanced with white walls and countertop to give it an airy ambience. Do not forget to complement such wooden kitchen designs with good ventilation to maintain a balance between warmth and cool.
Create a Colour Palette to Complement Your Modern Wood Kitchen Design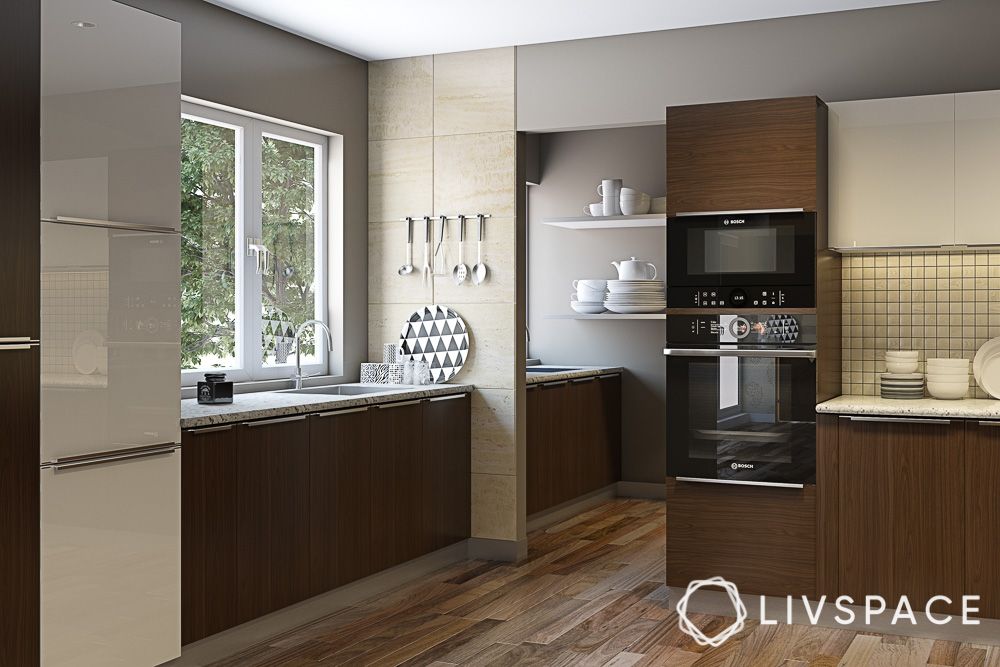 A large L-shaped kitchen needs some warm elements to tone down the brightness. Thus, wooden finishes work great here as well. But if you are using dark wooden colours for kitchen cabinets, keep the countertop and walls light. A strip of track lights will further accentuate the effect beautifully.
Enrich Your Kitchen Design with Kitchen Design Wooden Work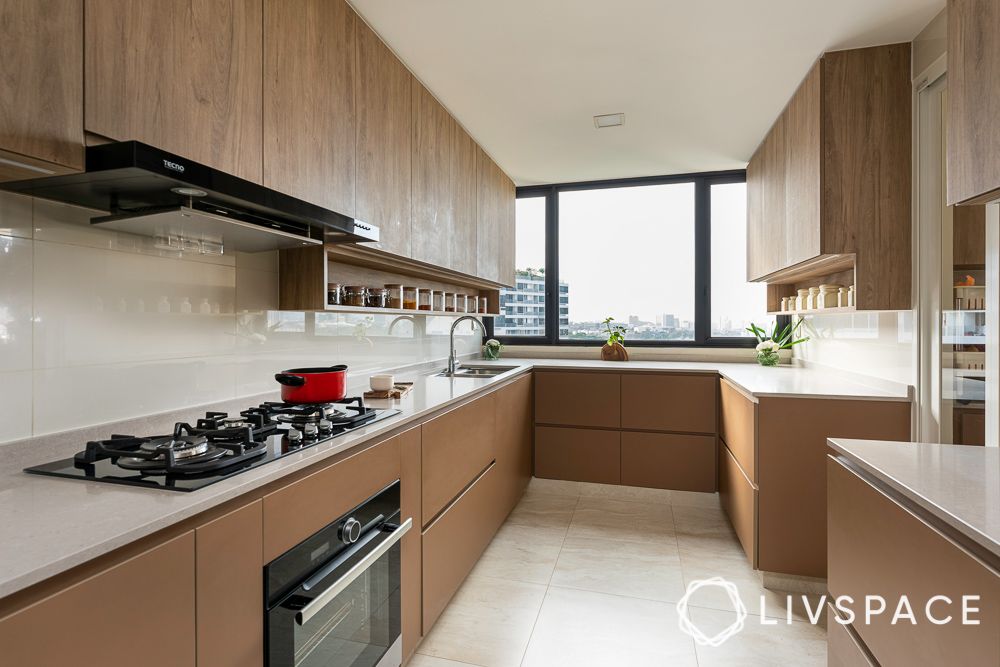 Want wooden finishes to enrich the kitchen space? Well, use a white marble or glossy backsplash to bring in some contrast. Wood on white is a popular choice across the globe!
Get a Multi-Wood Modern Kitchen Design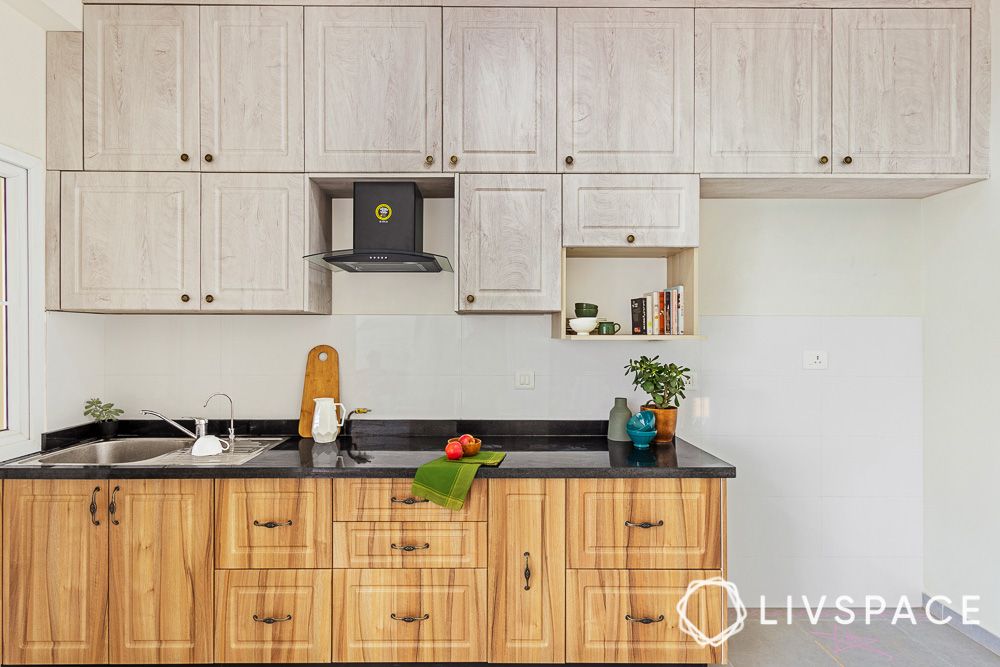 Who says wood comes only in the shades of brown? It can be multi-coloured too. Check out this design where the brown and cream wooden cabinets complement each other too well. When using wooden finishes, resort to a combination of open and closed cabinets. This not only visually lightens the feel but also makes it easy to access essentials.
Also read: 50+ Simple Kitchen Design Ideas for the Ultimate Makeover
Let Your Wood Modern Kitchen Design Speak for Itself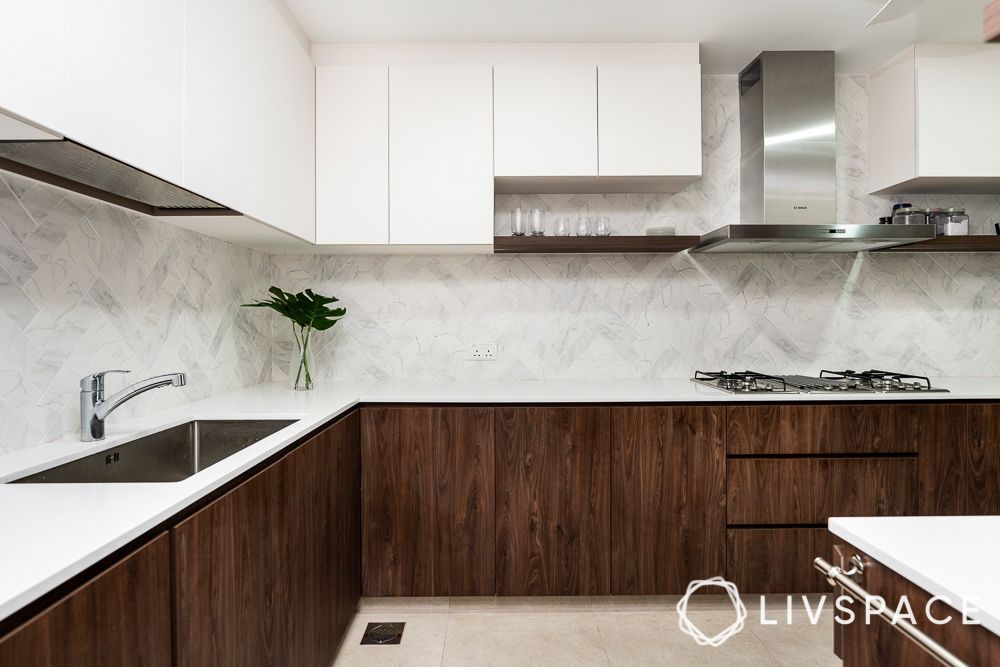 We adore this innovative yet bold design! An L-shaped kitchen made interesting with contrasting colours. The dark brown lower wooden cabinets with white acrylic upper cabinets. The countertop and backsplash is white as well. And if you can see, this kitchen design is full of storage. Who would've thought that this simple kitchen can be optimised so well for space utilisation?
Use Complementary Finishes With Your Simple Wooden Kitchen Design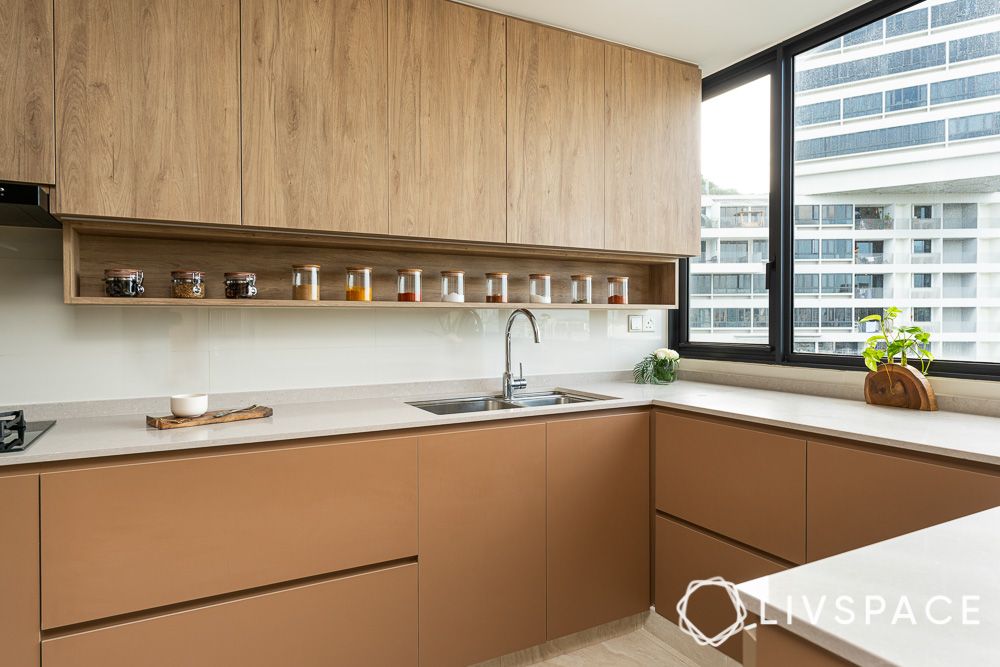 Wooden finishes don't all have to be dark! Choose Acacia or American Walnut to tone down the visual effect. Adding a white marble backsplash or backsplash with Moroccan prints just makes the design more intriguing.
Implement Wooden Kitchen Ideas on a Humble Budget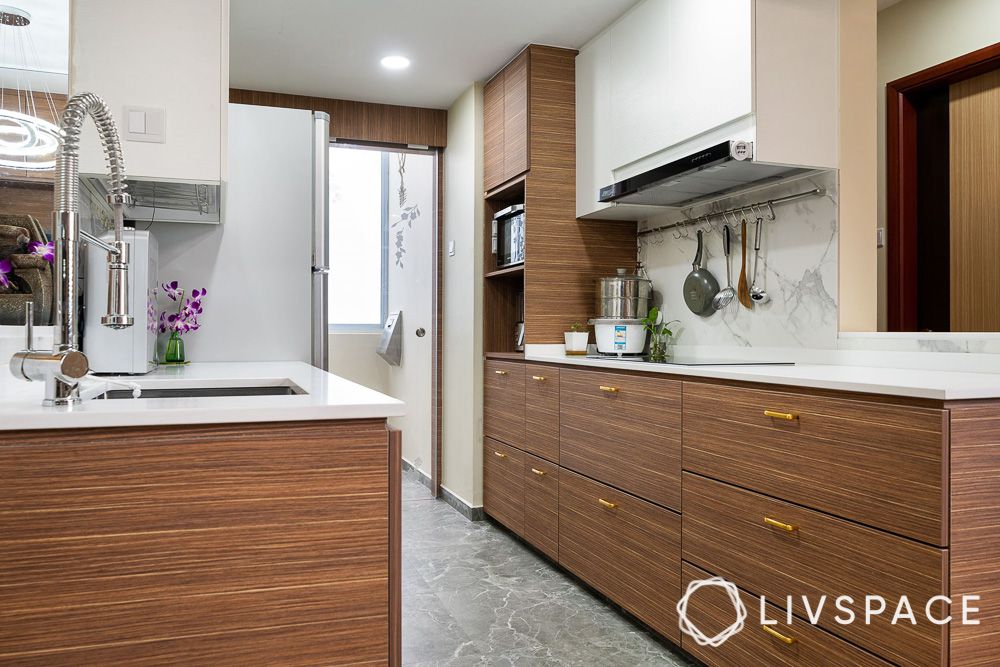 Can you see the difference golden handles on kitchen cabinets can make? If you love wooden kitchens, you can experiment with different contrasts and handle finishes to find a perfect balance. And you know what the best part is? It's all within a humble budget.
Modern Kitchen Woodwork Design With a Neutral Colour Palette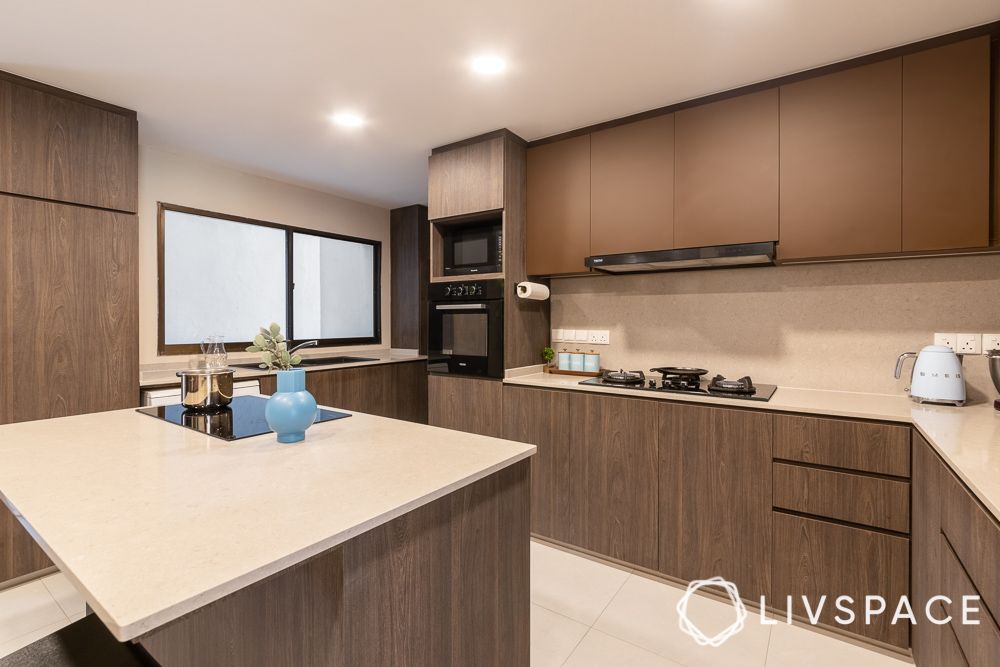 Not a big fan of pops of colour? Well, this kitchen is just for you then! Using neutral colour palettes with wooden cabinets simply amplifies the style quotient. Keep it simple yet classy with the neutrals!
Also read: 10 Small Kitchen Design Ideas Under 100 sq. ft. and What Makes Them Amazing
Get a Wooden Work Kitchen for Modern Kitchen Design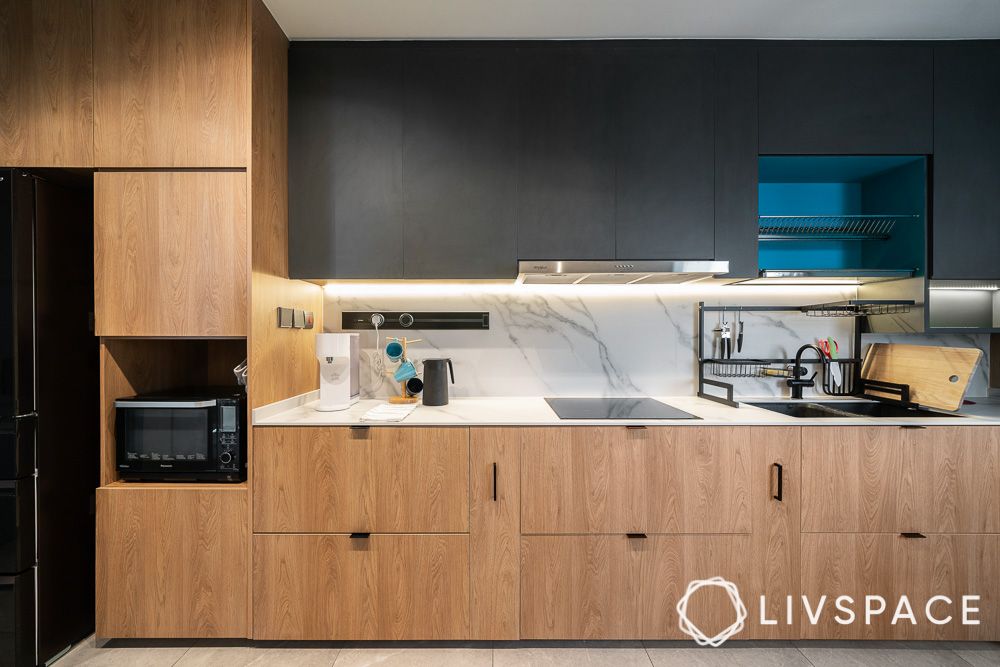 Black highlights and accents can affect the way a finish looks. Although this kitchen has the wooden finish, the black upper cabinets, cabinet handles and in-built appliances take away all the limelight. Think of this when you finalise a finish or just talk to an expert.
Glass Backsplash and Under-Cabinet Lights for Kitchen Wood Designs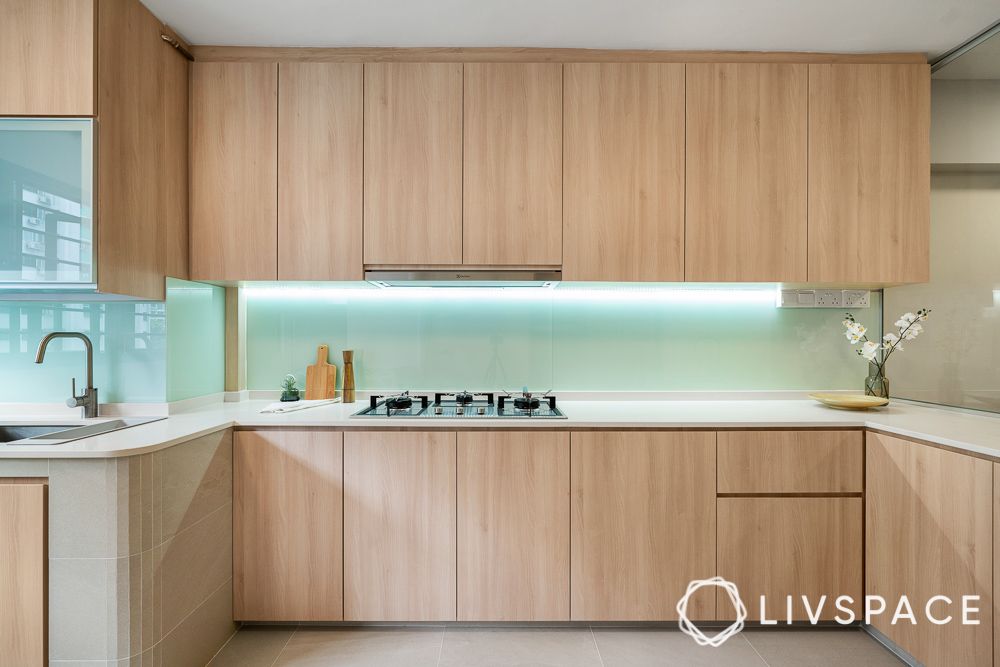 Here you should observe what a glass backsplash can add to your kitchen design. Wood finish kitchens should not be all about dark colours. Think of pairing different materials and light colours and you're good to go. Still craving some elegance? Paint your walls dark blue, grey or black for maximum effect and see the difference.
Create a Perfect Space With Minimal Wooden Kitchen Designs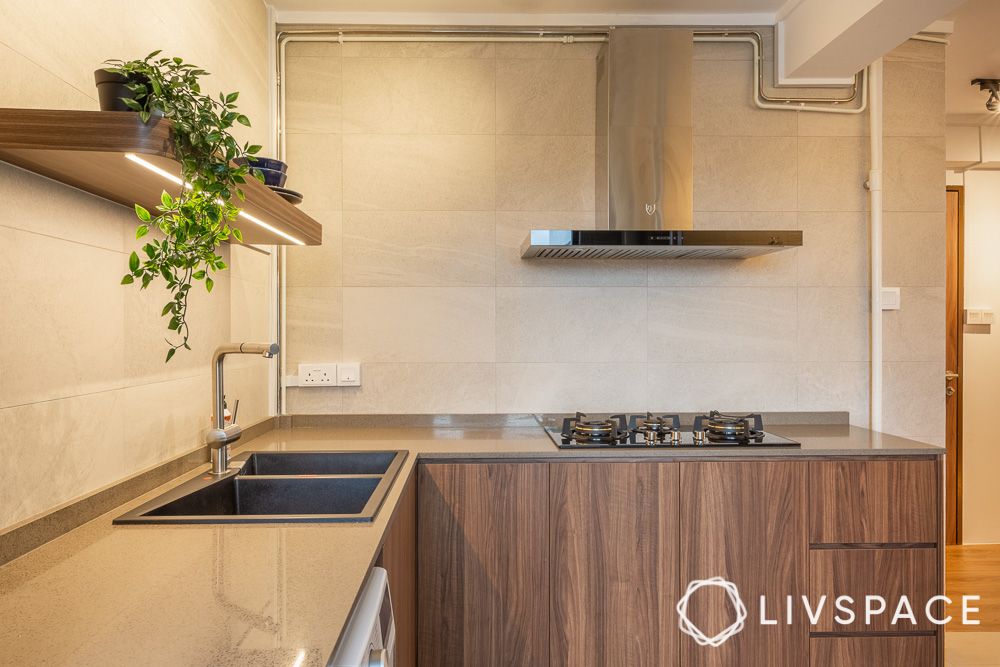 One dark cappuccino with brown sugar, anyone? Take a look at this lovely combination of dark wood finish cabinets and neutrally coloured marble-tiled finish backsplash. Also, this is the best way to add class to your wood finish modular kitchens.
Get Custom-Made Wooden Kitchen Designs for Your Home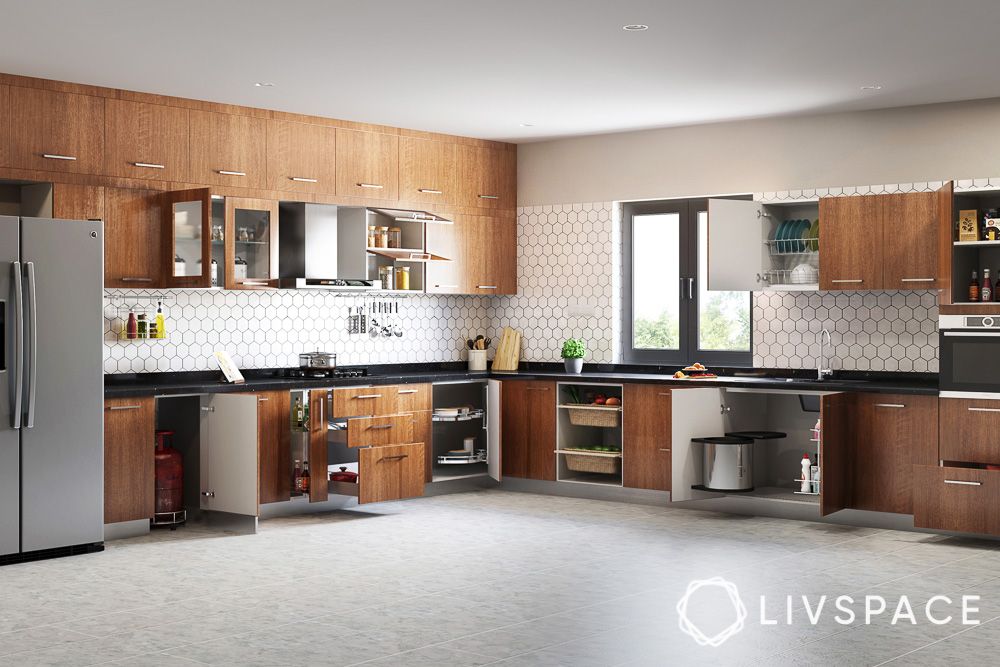 When you have wooden cabinets in the kitchen, you should definitely experiment with the backsplash. Think Moroccan tiles in a statement colour to add interesting detail. Wood does not look overwhelming and lofts can be easily added without making your kitchen heavy on the eyes.
Breathing-White Kitchen Cabinets Along With Wooden Kitchen Designs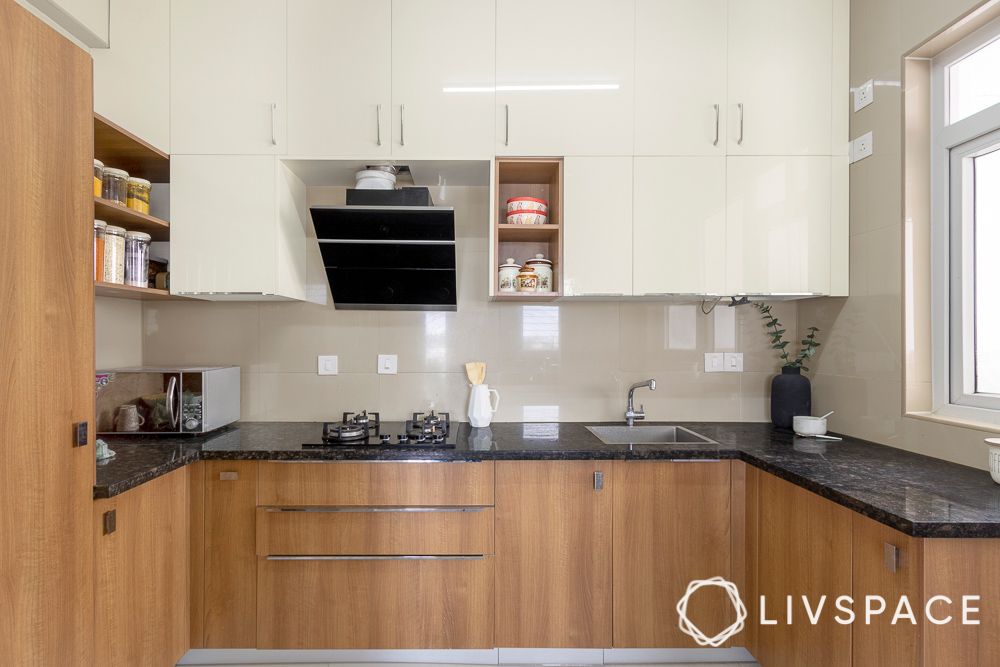 Breathing space is essential for every design. A break from the wooden cabinets with open shelves makes this kitchen appear fresh and bright as well. So don't just think of storage, but how ventilated and breezy a kitchen can feel.
Also read: 20+ L-Shaped Kitchen Design Ideas That Will Make You Want an L-Shaped Kitchen Too!
Geometric Tiles With Wooden Kitchen Designs are a Good Idea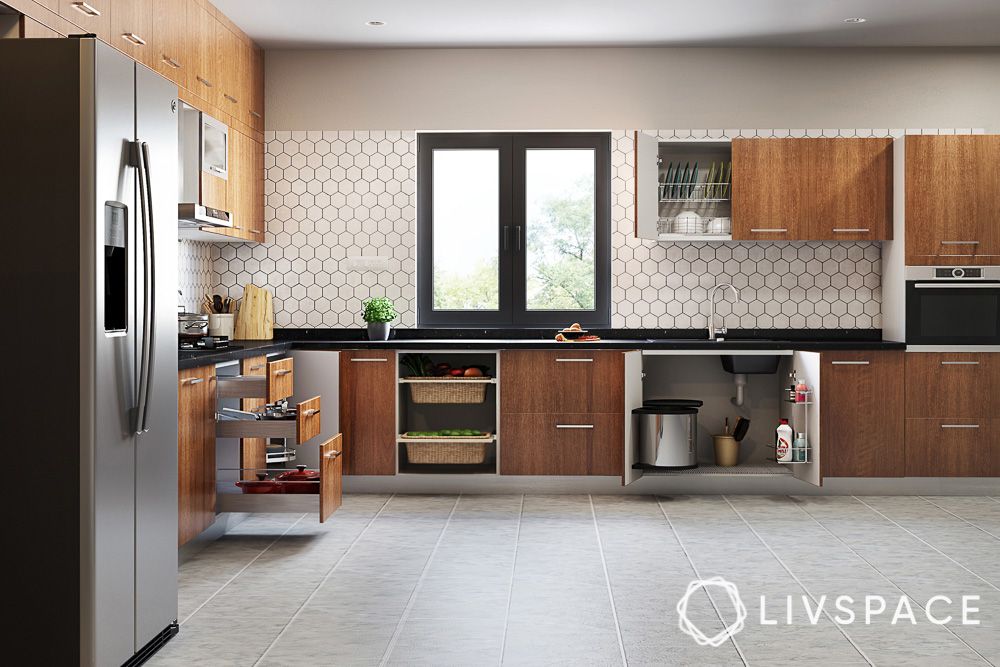 Another stellar example of how geometric tiles can add spark to wooden kitchen designs. These white hexagonal tiles add structure to the kitchen design and give it a breezy feel.
Golden Cabinet Handles for Wooden Modular Kitchen Designs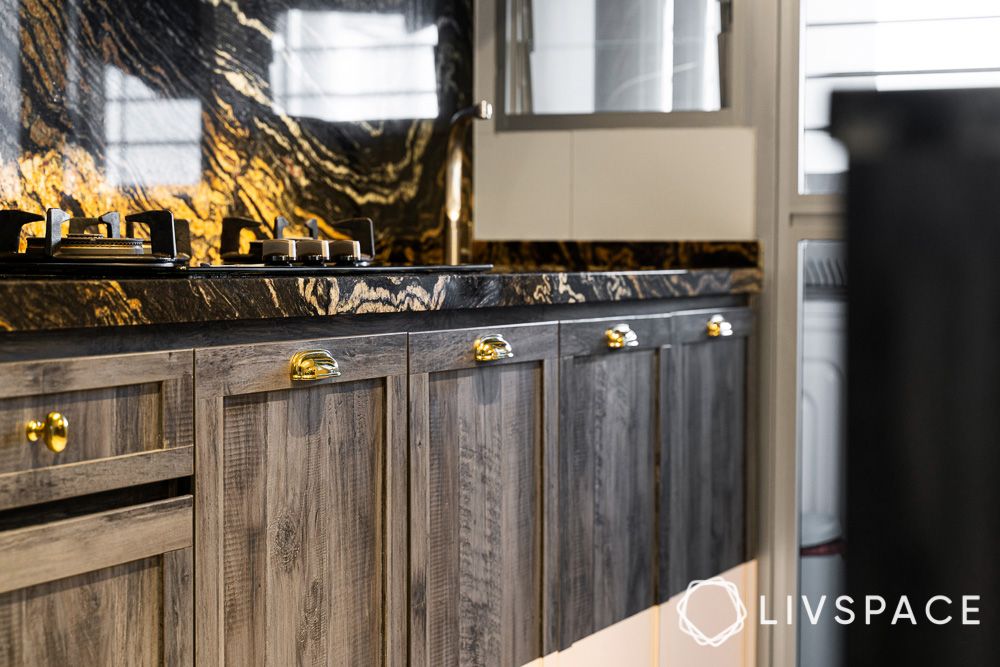 Contrast doesn't have to be all about colours, you can choose between patterns and finishes for a lovely design. Grey plywood finish paired with a golden handle is something to consider for your kitchen design.
Create Unique Details With Your Wooden Kitchen Designs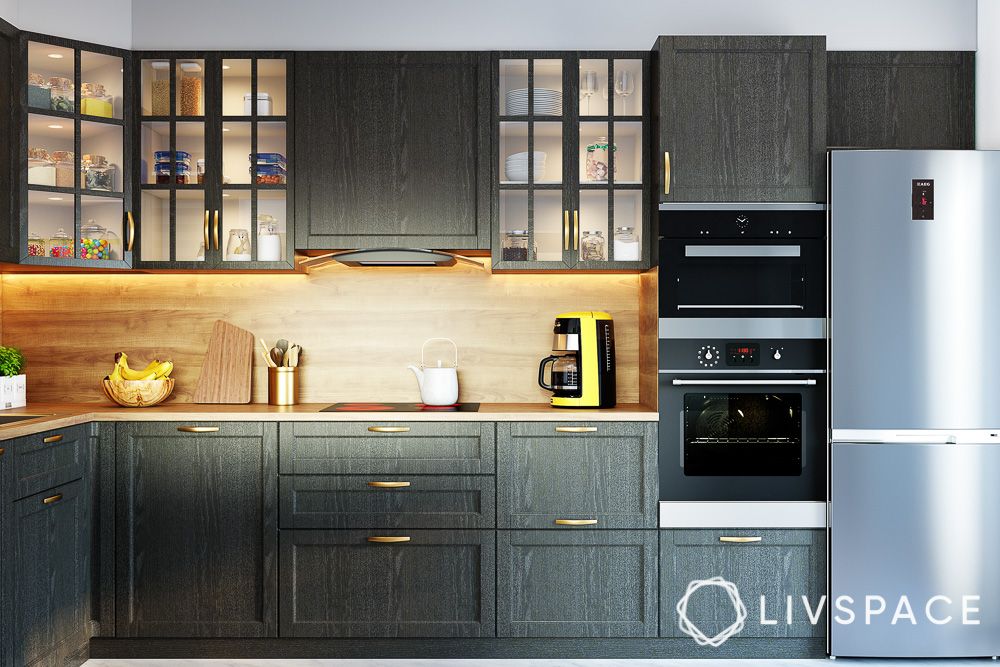 This kitchen is our favourite and we're not kidding. Just have a look at what a glass shutter can do to a kitchen. Dark grey plywood kitchen cabinets with glass shutters not only add depth to the kitchen design but also add ease of accessibility to it. Also, the impact these golden handles and wooden backsplash add are hard to describe in words.
Don't you love the spin we've given wood finish kitchens? We have plenty of kitchen designs (other than wooden kitchen designs too!) for you to consider. Here are some stunning New Kitchen Designs to peruse:
If you want beautiful interiors for your home, then look no further. Book an online consultation with Livspace today. In case, you want to share any comments and suggestions you might have, feel free to write to us at editor@livspace.com.