Designing a new kitchen is hard work because it's a high-value purchase, and a functional one at that. However, that does not mean we have to miss out on all the fun! From choosing different colours to carefully considering the ergonomics, you will find the entire process worth it when you get your dream kitchen. However, most Indians just stick with the good old granite countertop design. If they want it plush, they look at marble. But, there are many countertop options to choose from. 
Here's a list of the best kitchen countertop design ideas—because, you deserved to be spoilt for choice.
#1: The Grand Old Granite Countertop Design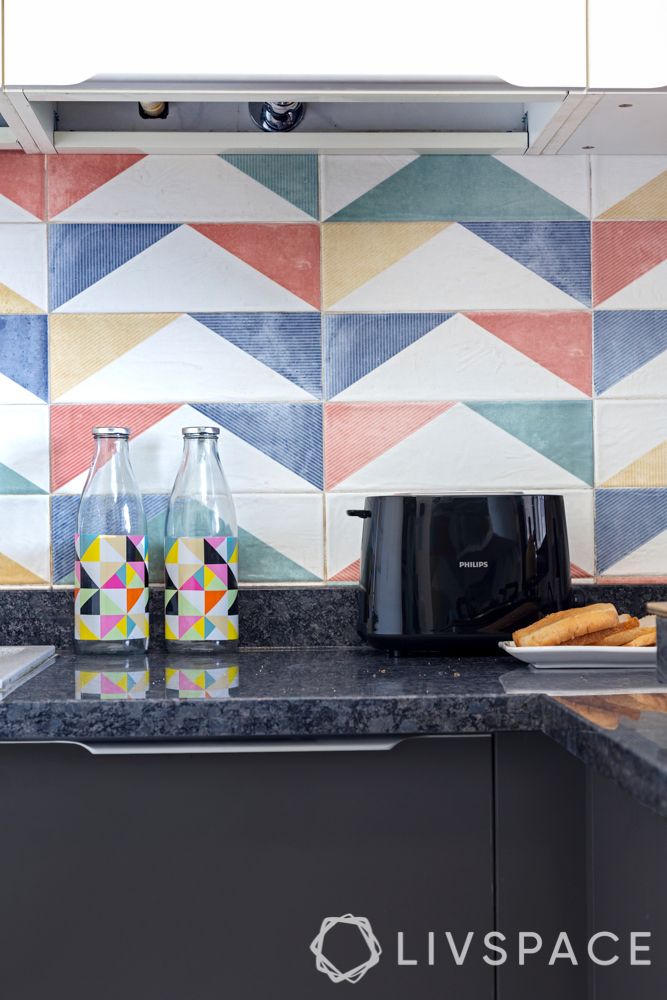 Let's begin with the most obvious choice: black granite. While this is the most common choice for Indian homes, there is no denying its functional merits. Granite is sturdy for heavy-duty cooking, and black covers up the numerous curry spills that are bound to happen in Indian kitchens.
#2: Red Quartz Countertop for Vastu-compliant Kitchen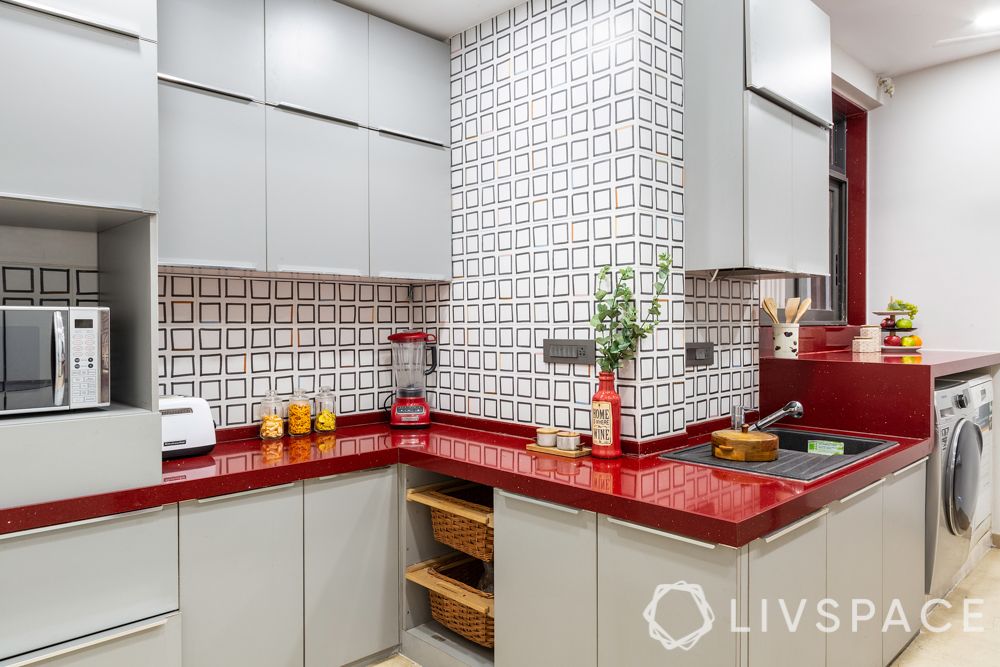 If you're looking to add colour to your neutral kitchen design without overwhelming it, then a pop of red is the way to go. This red modern countertop design stands out in the otherwise grey kitchen. Quartz or Corian stones can be found in a variety of colours and patterns to add a cheerful look to your kitchen. Also, red is the colour of fire, and hence, suitable for your kitchen as per vastu. 
#3: Sleek Design of Soapstone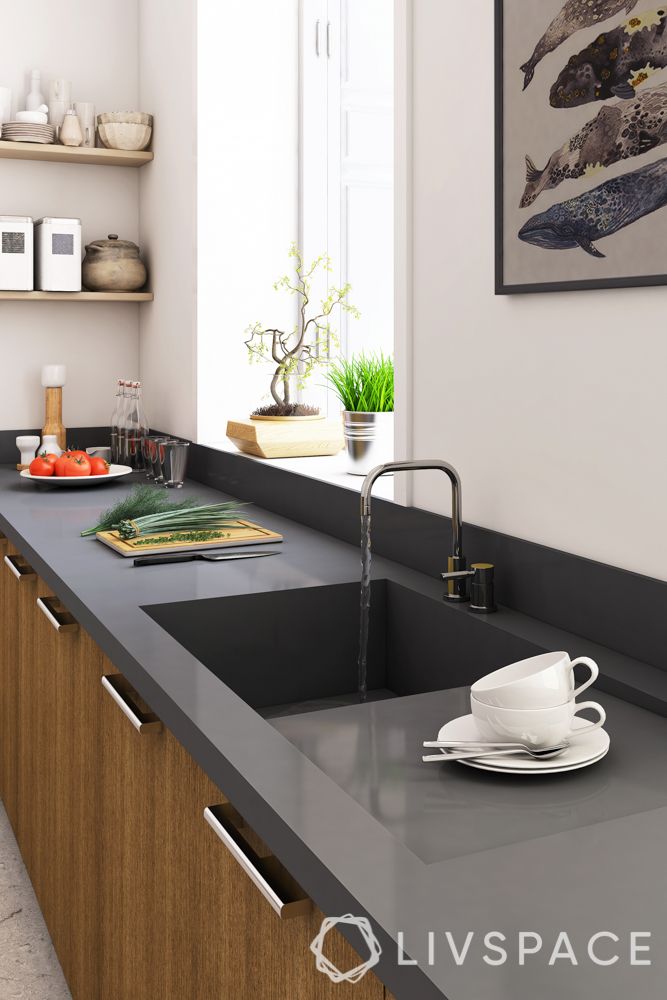 A smooth, soft look in a natural stone? Well, if you want something that isn't made of a resin mix, then soapstone is your best bet. The texture and even surface makes it easy on the eyes and adds to the flow of the kitchen. It is resistant to heat, thus making it ideal for Indian kitchens. 
#4: Granite Countertop for Industrial Kitchen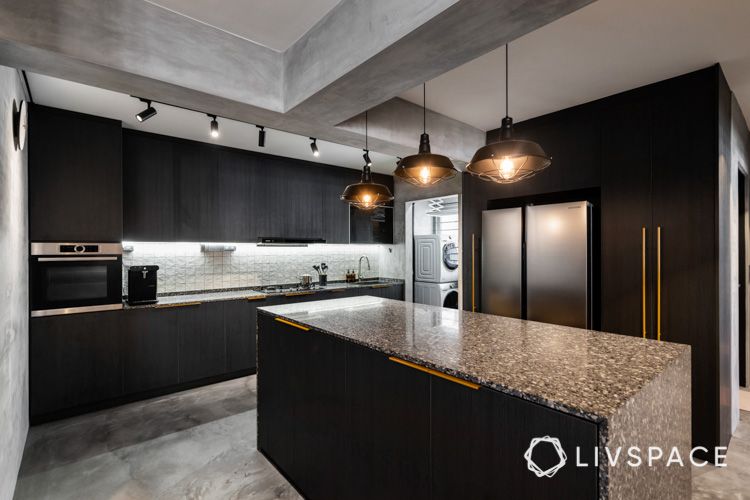 As far as kitchen countertop materials go, granite is one of the best-sought materials. Its sturdy quality, pricing, design and durability are some of the factors that make homeowners love granite. In this industrial kitchen design, granite adds to the rugged appearance of the space. 
#5: White Countertop Design for Minimal Kitchen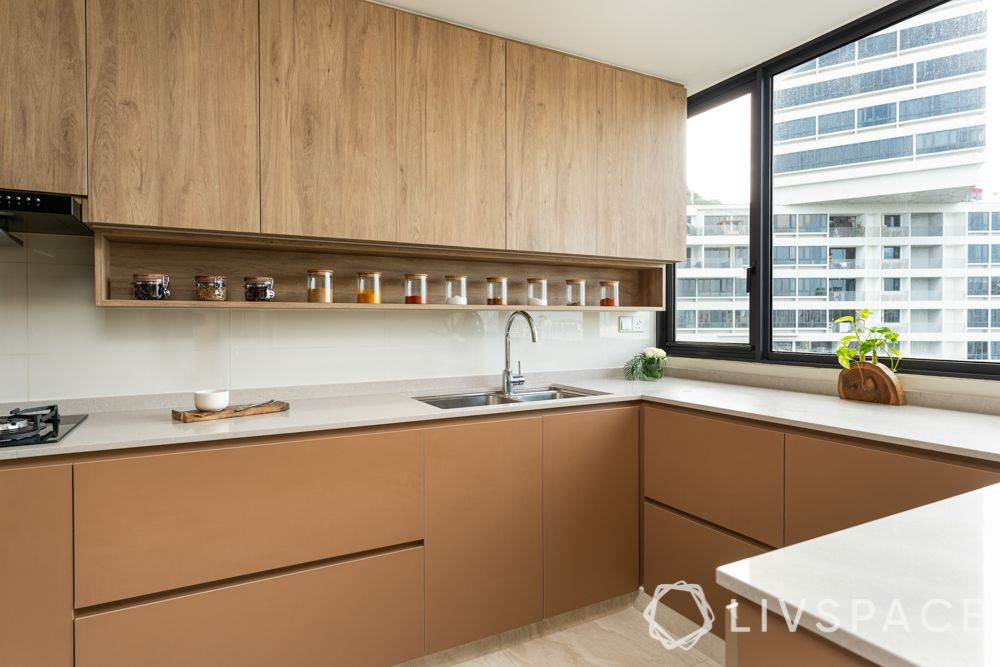 Indian households have got over their aversion to white in the kitchen. As a result, many homes have white kitchen slab designs and countertops. Using quartz is a good option because it's easy-to-maintain, and it doesn't absorb stains easily. With some regular cleaning, this countertop design can be maintained for a long time with a fresh look. 
#6: Countertop of Contrast With White and Red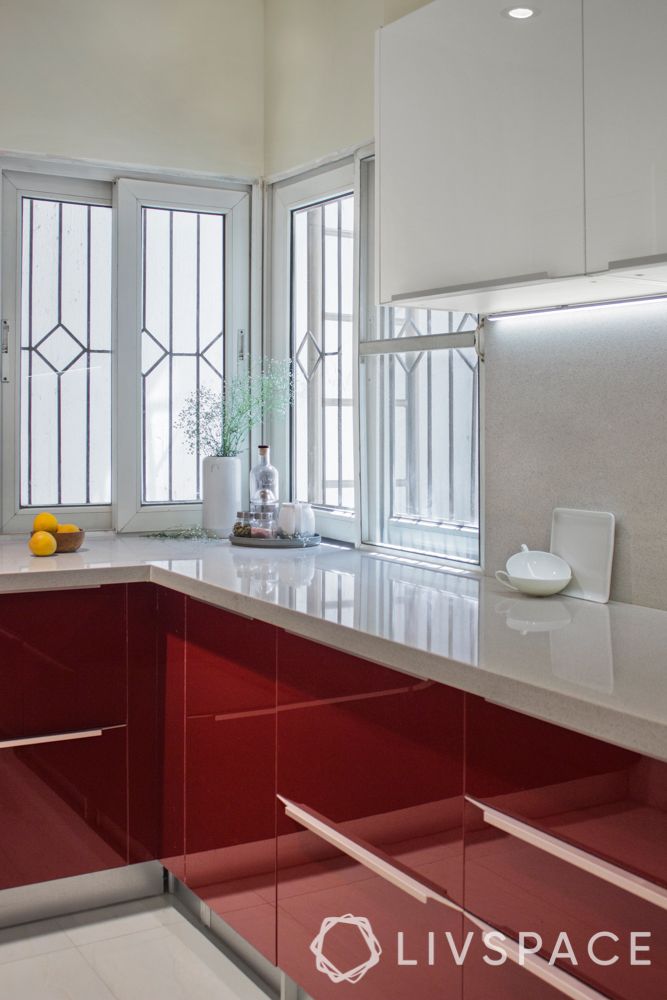 Here's another white countertop design that adds to the sleek, shiny look of the kitchen. We love how the colours are balanced well to complement the deep red of the kitchen cabinets. Also, white kitchen slab designs are currently in vogue for a chic minimal look. So, you might as well hop on the trend. 
#7: Countertop Design in Black and White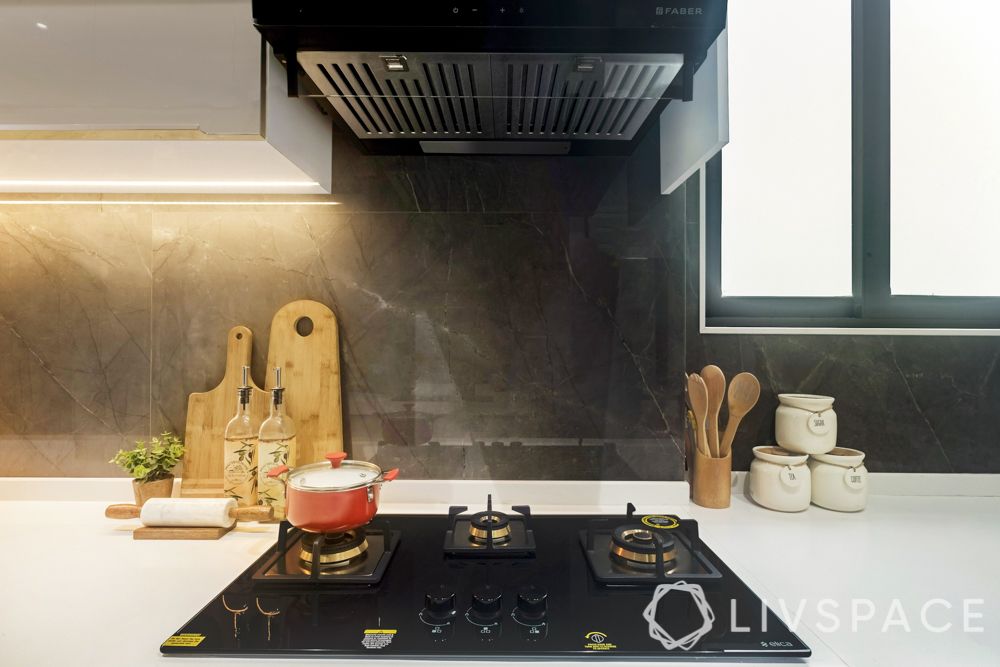 Gone are the days where gas stoves sit atop the counter. It is now time to upgrade to sleek hobs that can be fixed easily on the countertop with a chimney over it. This countertop design can be seen in most modular kitchens as homeowners are now keen to pick ease and efficiency for their kitchens. 
#8: Brown Granite Countertop for White Kitchen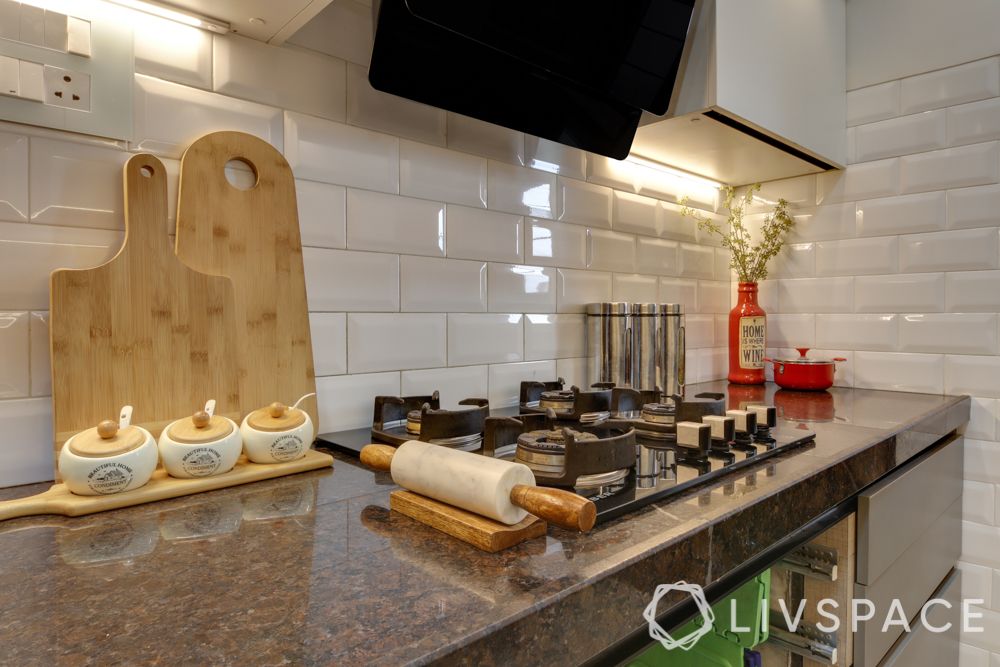 Kitchen granite designs are often chosen based on durability and maintenance. However, granite doesn't always have to be black in colour. You can pick a slightly novel shade of granite like brown to spruce up the look of your kitchen while sticking to the budget.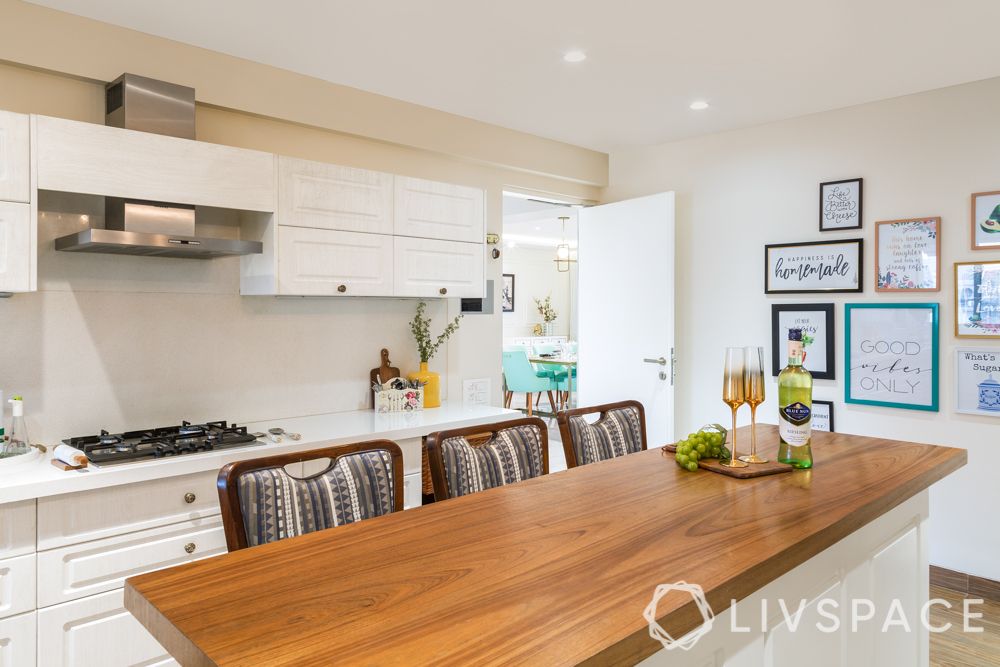 Kitchen countertops options of stone and resins are seen aplenty. But, have you considered wood as a countertop? In this Scandinavian island kitchen, this wooden countertop brings together the whole look. As a bonus, it also acts as a dining table for the family.
#10: Easy-to-maintain Black Corian Stone Countertop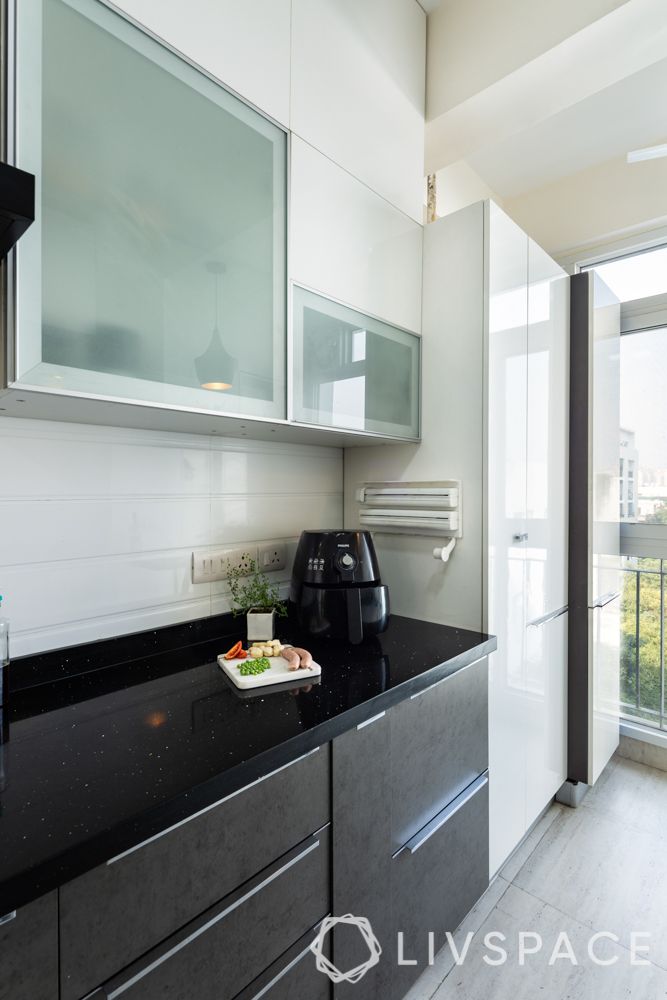 Many Indian households employ cooks to get their meals done. And, the biggest concern of spending on expensive kitchens is the rough use of the surfaces. If you're worried about stains and scratches, then go for a black quartz/corian stone countertop. It doesn't stain or scratch easily and is heat-resistant, making it the perfect choice for you. Moreover, there is nothing quite as classy as a black countertop in a well-lit kitchen. 
#11: Classic Combination of Black and White for Kitchen Countertop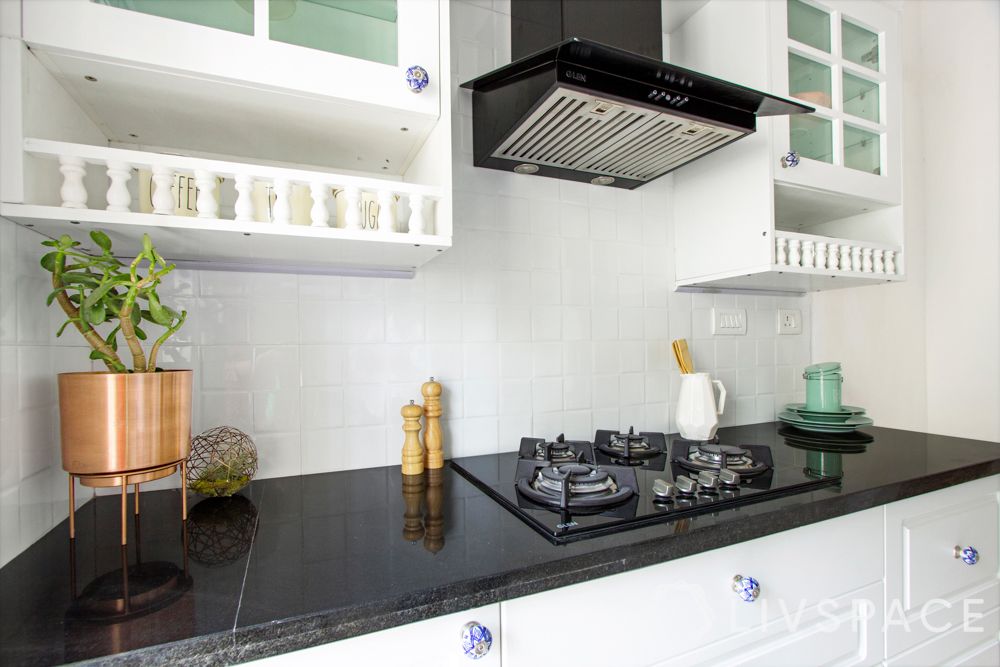 Black and white is a classic combination of colours and this kitchen is the epitome of that. The back granite countertop with white cabinets gives the kitchen a neat look while being durable and easy to maintain. Don't you love an ergonomic kitchen that looks stylish too?
#12: White Countertop Design That Makes the Backsplash Pop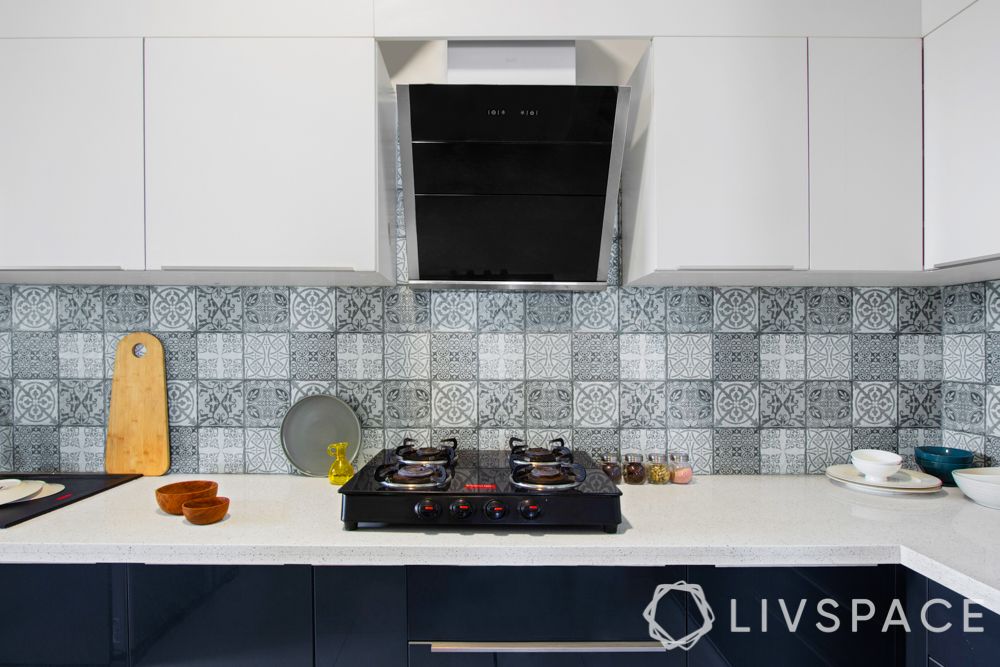 Here's a countertop design that doesn't fight for space or attention. Thanks to the simple and plain white counter, we can see the intricate patterns on the Moroccan tiles of the backsplash. Sometimes, the trick is in being invisible.
#13: Laminated Countertop Design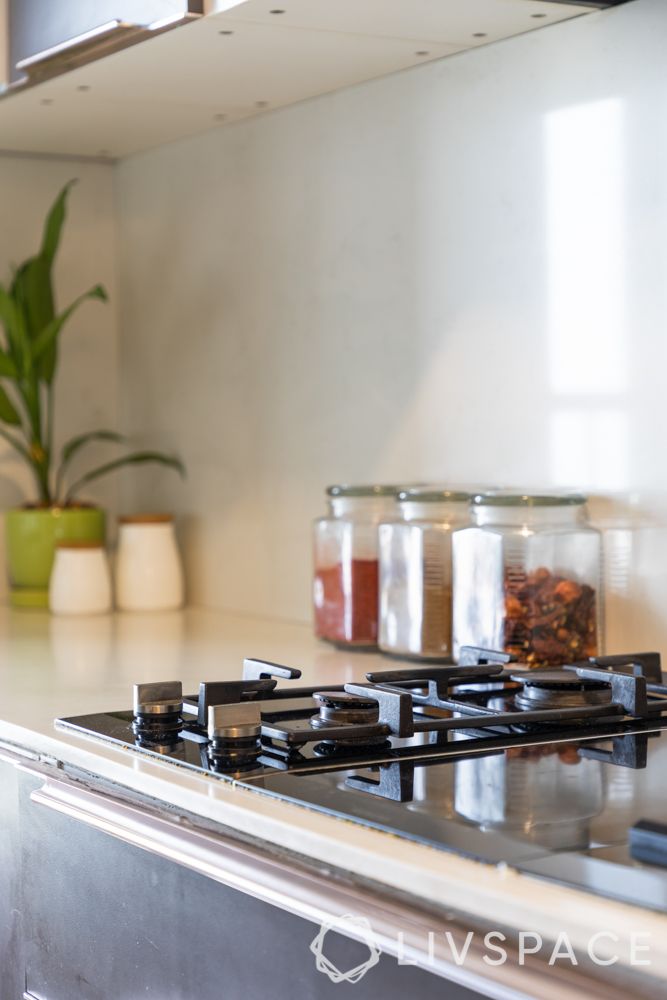 Laminate countertops are quite inexpensive options for homeowners. With the right edge-bending technique, no one would guess that it is not a natural stone. With laminates of varying colours and patterns, you can get the look you want for your home.

#14: Colourful Kitchen Balanced with Marble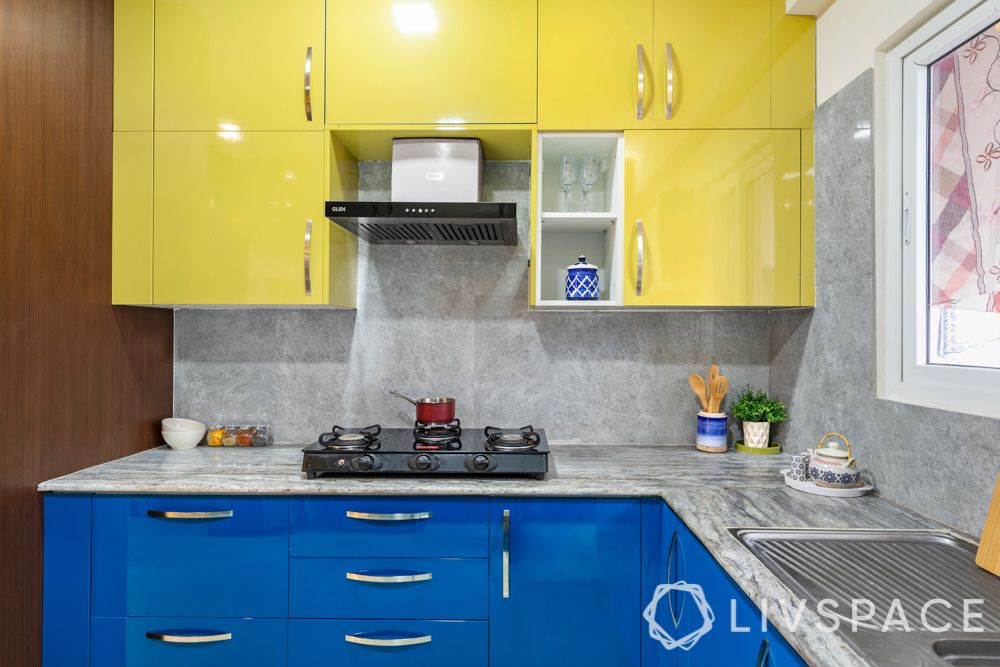 The beautiful marble stone countertop design mellows the effect of a colourful kitchen. The deep veins of the marble surface bring in some patterns and add to the charm. The natural stone also looks elegant in this quirky setting.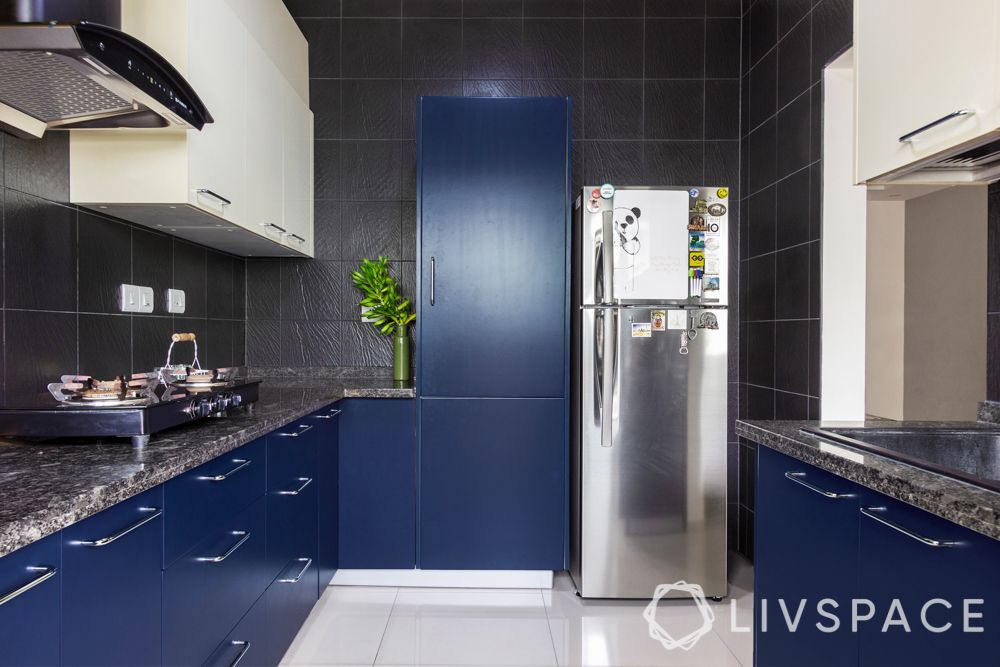 The kitchen looks posh with navy-blue matt finish cabinets. Adding to this fancy ambience is the black granite that boosts the overall intensity of the look. Granite's texture complements the design well, in addition to backsplash tiles.
#16: Corian Countertop Design for Seamless Green Kitchen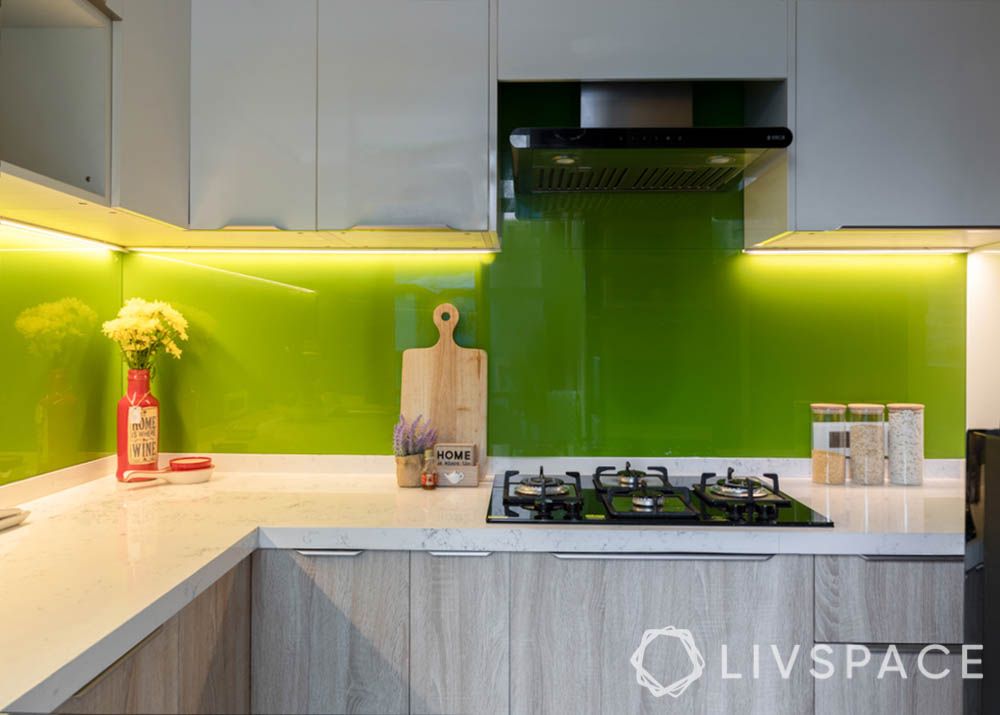 Here's another white countertop designthat brings together the look of the kitchen by contrasting it with the parrot green backsplash. The cabinet lights amplify the charming look by highlighting the right spots. The countertop design comes off as chic and subtle. 
How can Livspace help you?
From different materials, colours, designs and patterns, there are many kitchen countertop options for your home. You can opt for a natural stone or find one created using polymers and resin for the desired look. Your countertop design should complement your kitchen and meet your needs in terms of budget, durability and aesthetics.
Book a consultation and get safe and quality interiors.
While you are here, also take a quick look at Which Countertop is Easiest to Maintain?
Let us know which countertop design is your favourite! Send us your comments and suggestions to editor@livspace.com.