Some studies say that the average adult spends an hour every day prepping and cooking in the kitchen. The kitchen is the room that receives the maximum footfall in your home. Considering the amount of time you spend here, you would obviously want your kitchen to be comfortable and convenient. But comfort shouldn't make a hole in your pocket! Before you finalise your design, here is how to reduce kitchen design cost with these 7 easy hacks (special inputs from interior designer Heny Savla).
#1: Opt for Laminate Finishes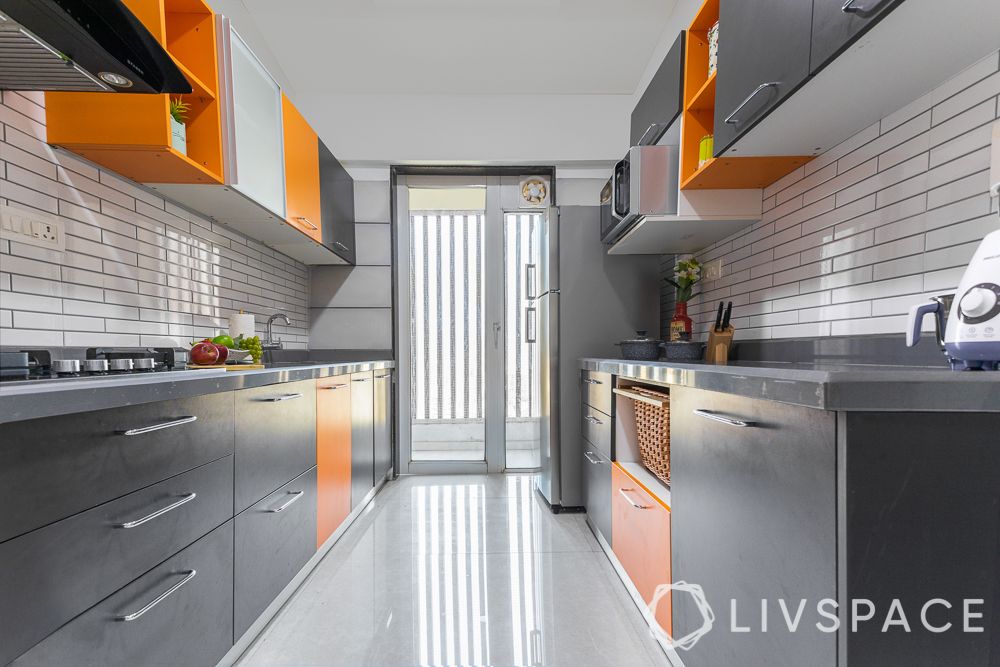 One of the easiest ways to save money on kitchen design is to opt for laminate finishes, according to Heny. Laminate is not only budget-friendly but also very easy to maintain. Moreover, they are available in a wide variety, ensuring you can pick the one that is perfect for your kitchen. If you have a compact kitchen, opt for a glossy laminate finish as reflective surfaces can make a space look bigger. On the other hand, if you're always busy and hate cleaning every day, choose a matte laminate finish.
#2: Choose a Galley Kitchen Layout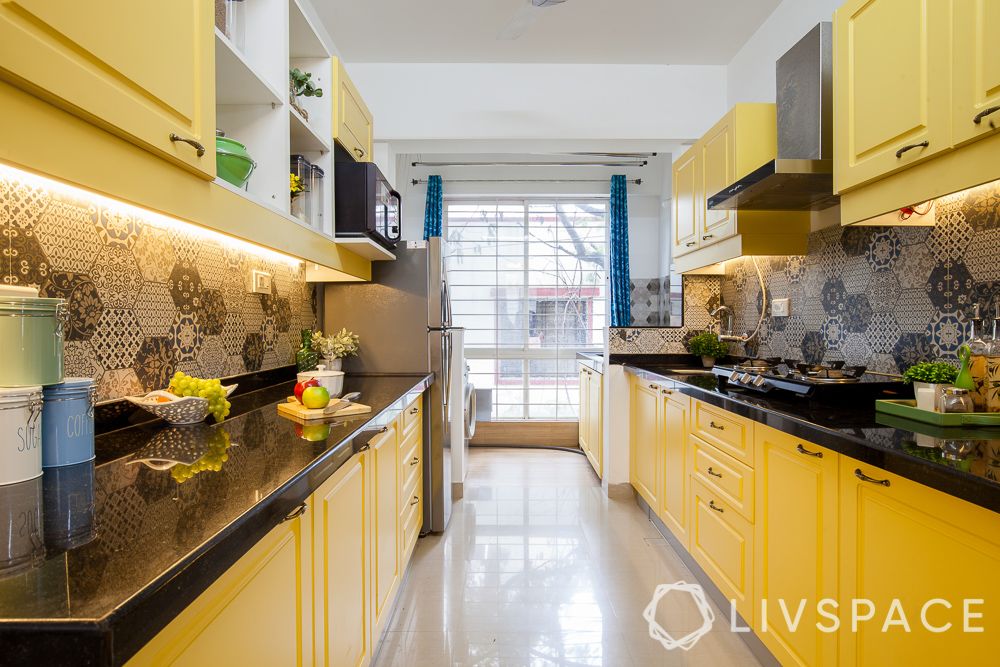 If you are wondering how to reduce kitchen design cost, the layout matters. The layout of your kitchen plays a vital role in determining the budget. A galley kitchen, also known as a parallel kitchen, is a cost-effective layout that can help you stick to a budget by bringing down your kitchen layout cost. Apart from being budget-friendly, a parallel kitchen offers several other benefits. Since this type of kitchen layout comes with two opposite counters, you get maximum countertop as well as storage space. It is also a very convenient layout as every kitchen accessory has a designated space.
Check out these 16 stunning parallel kitchen designs to inspire you.
#3: Opt for MDF in Overhead Cabinets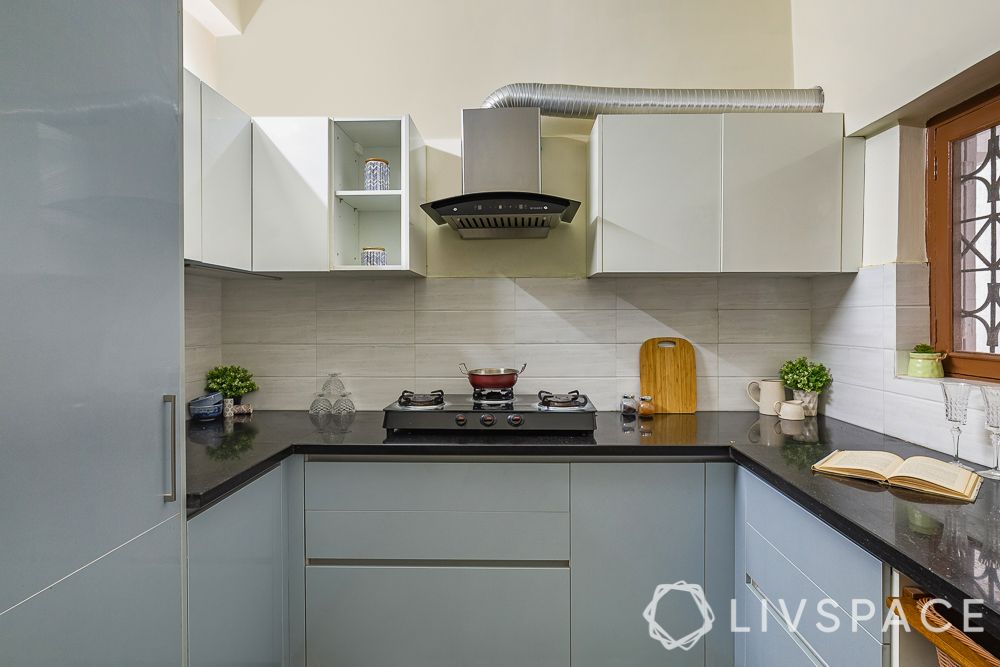 To answer the question of how to reduce kitchen design cost, you need to consider the material. Another cost-effective material that you can use in your kitchen is MDF or medium-density fibreboard, says Heny. A type of engineered wood, this material is quite popular amongst Indian homeowners. However, MDF isn't moisture-resistant. Thus, if you want to use MDF in your kitchen, avoid the sink and areas that come in contact with water. Instead, get MDF overhead cabinets, to reduce your overall kitchen cost.
#4: Use a Granite Countertop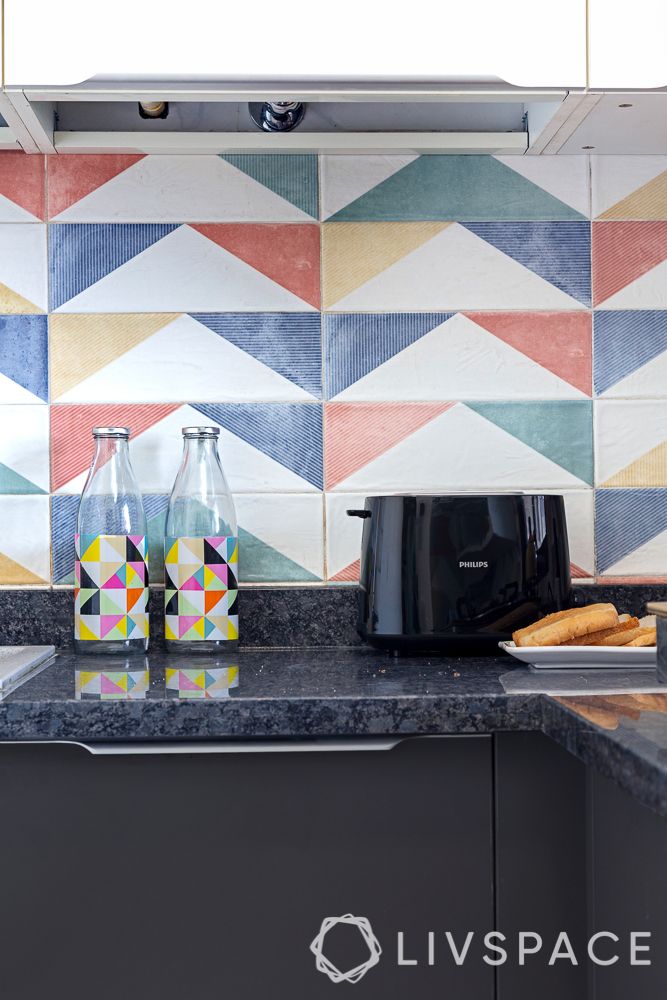 Once you're done with the layout and kitchen cabinets, it's time to move on to the countertop. When selecting a countertop material, you need something strong, durable and one that will not break over time, especially considering countertops are a high usage zone. In India, the best countertop material to save money on kitchen design is granite, according to Heny. Not only is granite very cost-effective, but it is also durable and can last over a longer period. Another big advantage of a granite countertop is that it is low-maintenance.
#5: Opt for Dado Tiles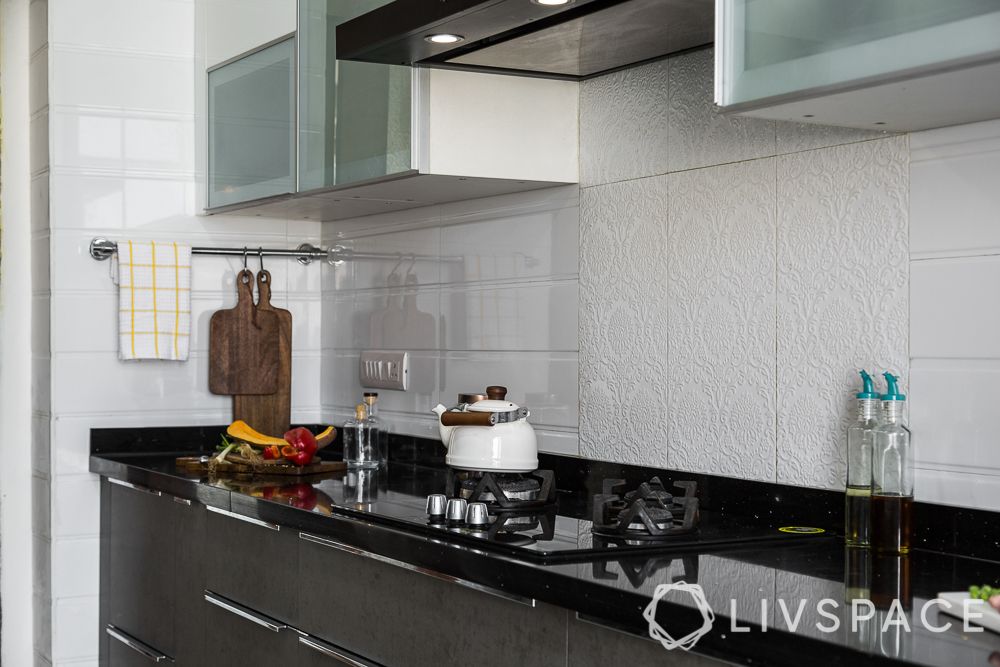 While answering the how to reduce kitchen design cost question, you also need to consider the backsplash. Nowadays, homeowners are experimenting more and more with the backsplash area. While splash-proof backsplash wallpapers are common, if you want a cost-effective yet elegant option, opt for dado tiles. When tiles are arranged in a particular pattern, they are called dado tiles. Tiles in general are a budget-friendly option for your backsplash, especially ceramic tiles. Choosing dado tiles will help you achieve the design and look you want, on a budget.
Check out these 17 gorgeous kitchen tile designs.
#6: Choose Exterior Handles Over Concealed Ones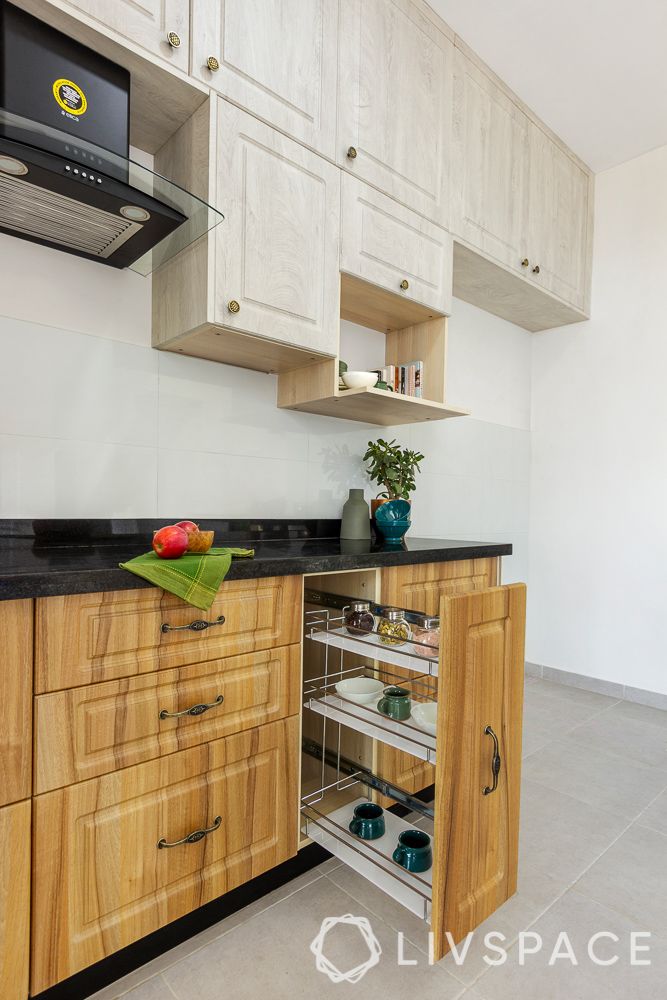 Did you know that even your cabinet handles can help you save money on kitchen design? Depending upon the aesthetics of your kitchen and apartment, you can choose from a variety of handles like pull-outs, knobs, profile handles, etc. However, when it comes to the question of how to reduce kitchen design cost, avoid interior, profile handles and go with the traditional pull-out style. And if you do not want basic stainless steel handles, you can always customise the design and colour. However, customisation will push up the cost.
#7: Opt for Open Shelves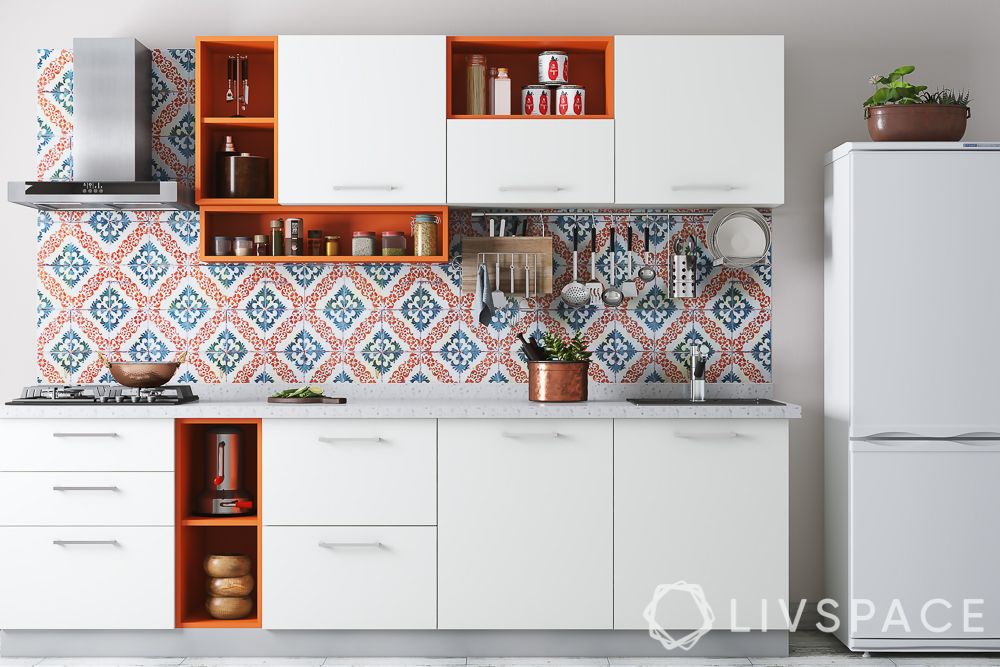 While the cabinet material will definitely affect your kitchen cost, the type and style of the cabinets also play a role while answering the question of how to reduce kitchen design cost. In general, open shelves will be cheaper than closed cabinets. In addition, open shelves are a great option for compact kitchens as they open up the space and make the room look bigger. However, having open shelves involves regular cleaning and maintenance. In case you want to avoid cleaning every day but also want a low-cost option, go for a mix of open shelves and closed cabinets.
These easy kitchen design hacks will ensure that you get the kitchen of your dreams, on a budget.
Also, check out 8 hacks to reduce your interior design cost.
How Can Livspace Help You?
We hope you found our ideas useful! If you want beautiful interiors for your home, then look no further. Book an online consultation with Livspace today.
Wondering how our customers feel about working with Livspace? You can check out the Livspace kitchen reviews here!
Let us know your comments and suggestions at editor@livspace.com.