White is not a traditional colour for Indian kitchens, as we typically prefer darker shades. This is primarily because of the rough nature of the Indian style of cooking. It is commonly believed that darker colours for the kitchen will endure curry and oil stains. However, these days, there's a craze for white kitchen design ideas, as global trends make their way into India. To help you get started, we have curated 65 gorgeous white modular kitchen designs to inspire you!
#1: A Dreamy All-White Kitchen Design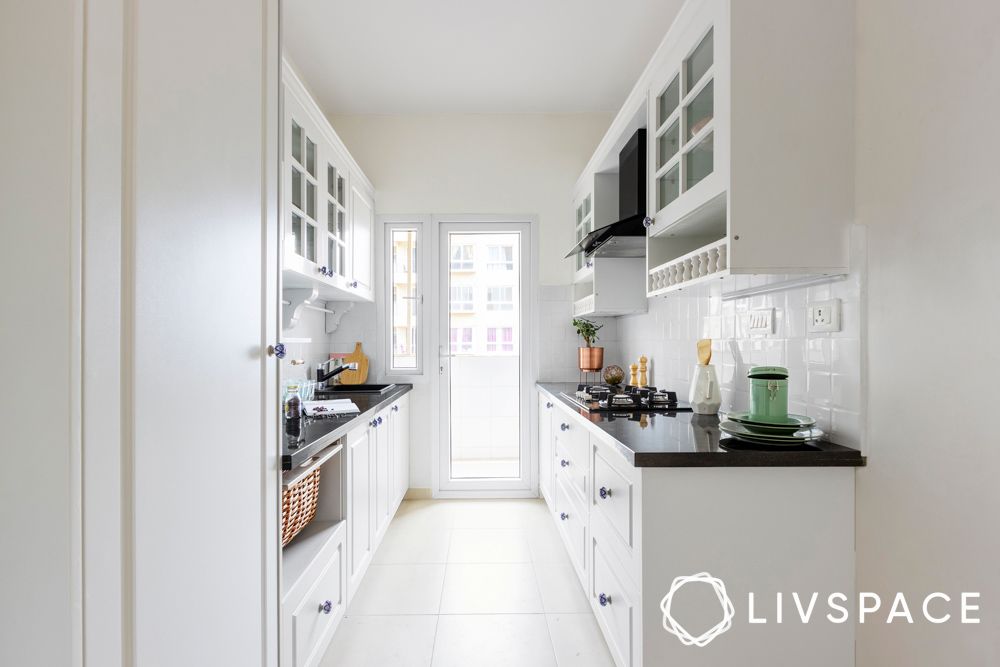 This dreamy white kitchen design makes the space look open and airy, despite being packed with storage.
#2: Modern White Kitchen Cabinets With a Splash of Green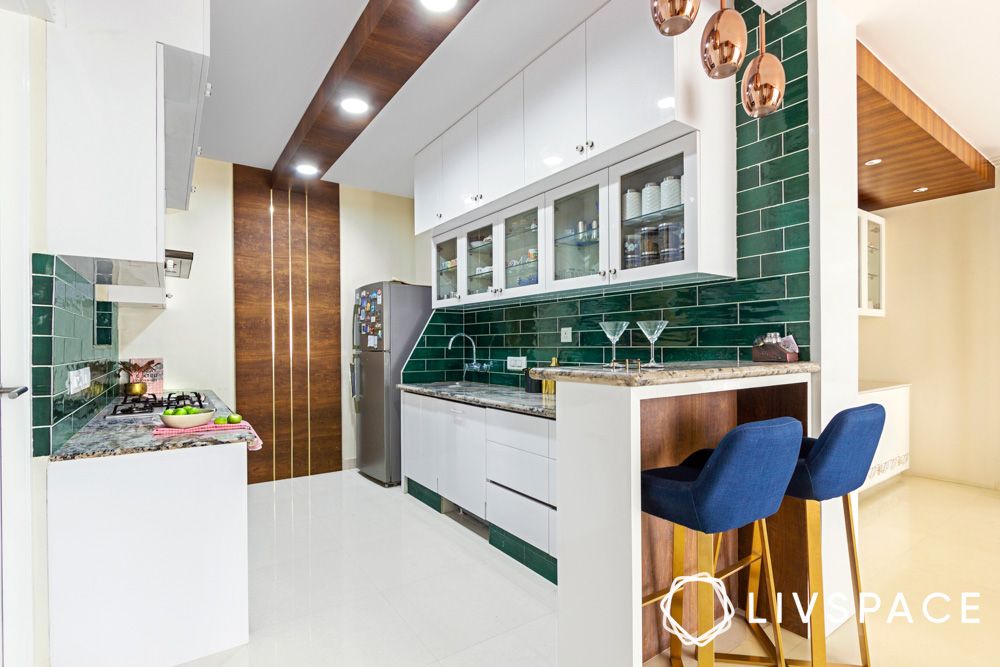 Who said white can be boring? Add a pop of colour, with a green backsplash, to jazz up your white modular kitchen.
#3: Glossy White Kitchen Design With an Aqua Blue Backsplash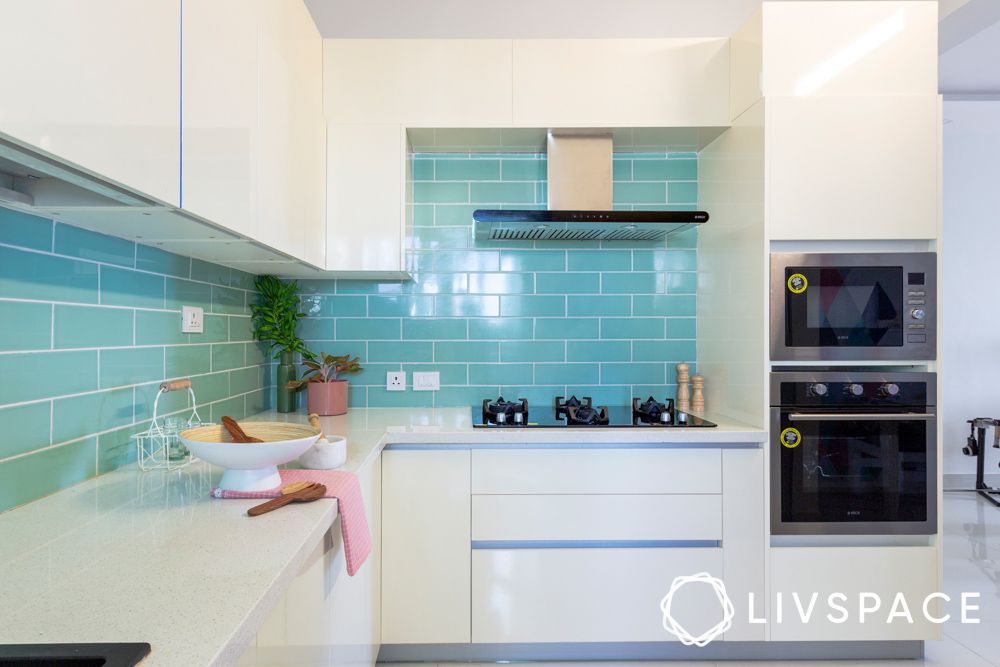 When space is scarce, white can make your kitchen design look spacious while glossy, reflective finishes create the illusion of space. The gorgeous aqua blue backsplash adds a much-needed pop.
#4: Monochromatic Shades of White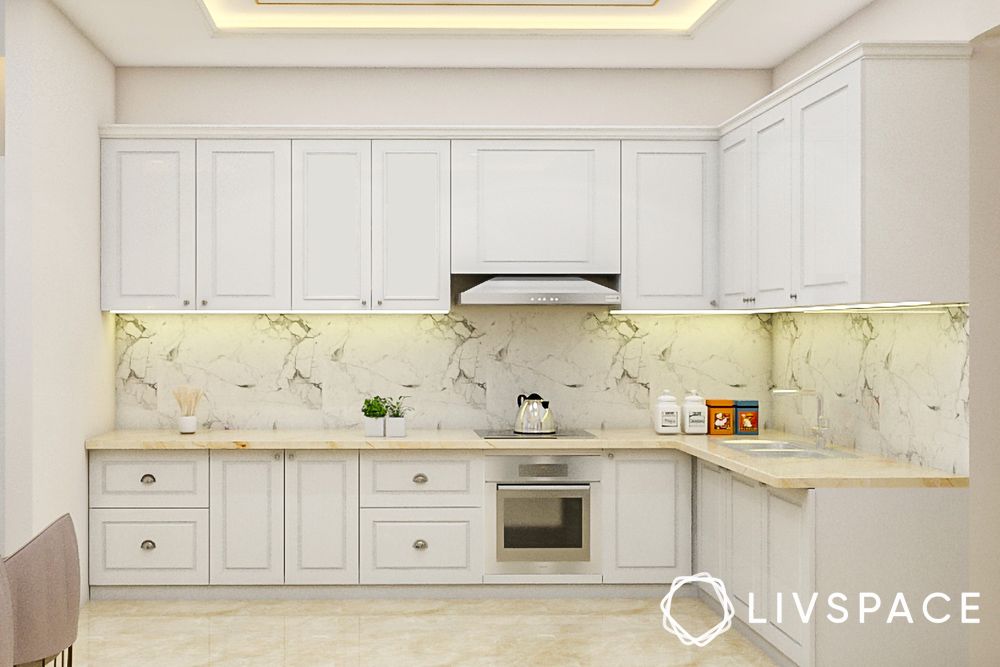 A monochromatic white kitchen design is an evergreen option that looks amazing for both small and large spaces. Additionally, use your backsplash and flooring to add texture.
Also Read: 25+ Kitchen Designs That Will Inspire You (With Amazing Pictures)
#5: A White Kitchen Design With a Black Dado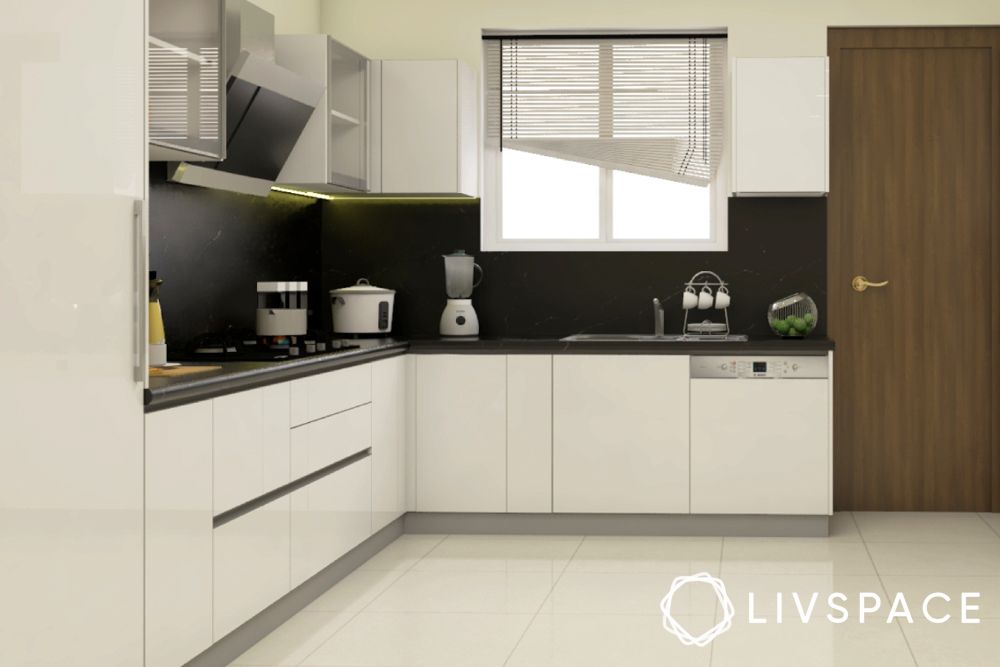 White is not a traditional colour for Indian kitchens. We are culturally inclined to opt for darker colours for our kitchens. However, if your heart is set on a white kitchen, opt for a black dado that will camouflage oil stains.
#6: An L-Shaped Modular White Kitchen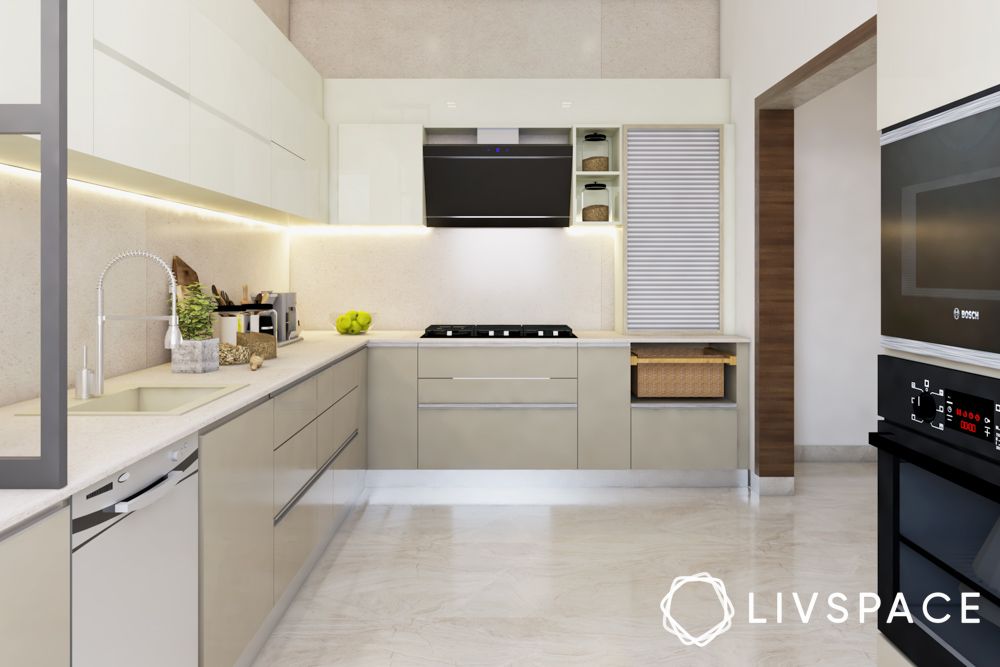 The concept of white kitchens is originally Scandinavian. As the region gets minimal sunlight, the whites accentuate the effect of natural light. To further enhance the bright and airy effect, opt for artificial lights and explore under-cabinet lighting options.
#7: A White Kitchen Design Packed With Storage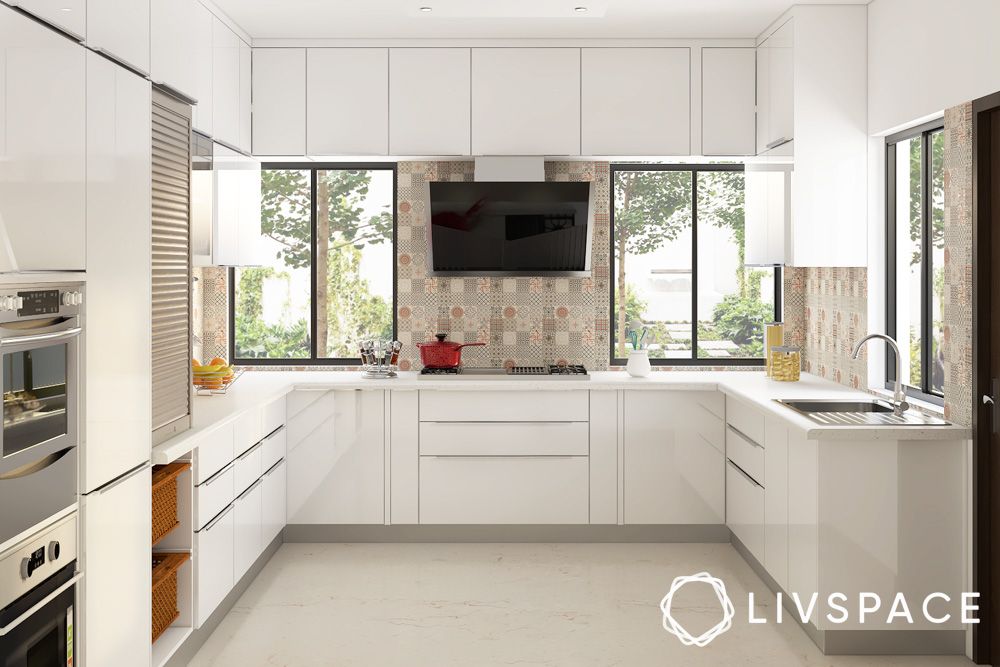 White cabinets come with a natural finesse, which complements the seamless look of a modular kitchen. This is perfect for when you want maximum storage and a clutter-free design.
#8: Traditional One-Wall White Kitchen Ideas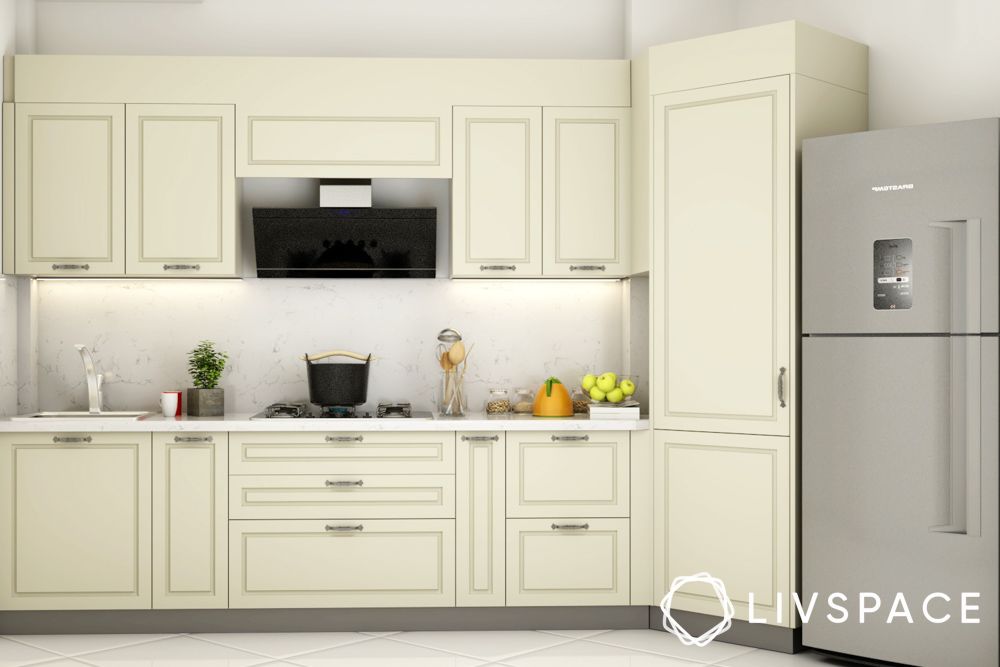 This serene and soothing modular white kitchen is perfect for small flats. The additional tall unit provides extra storage space for appliances and condiments.
#9: White Kitchen Cabinets and a Quirky Backsplash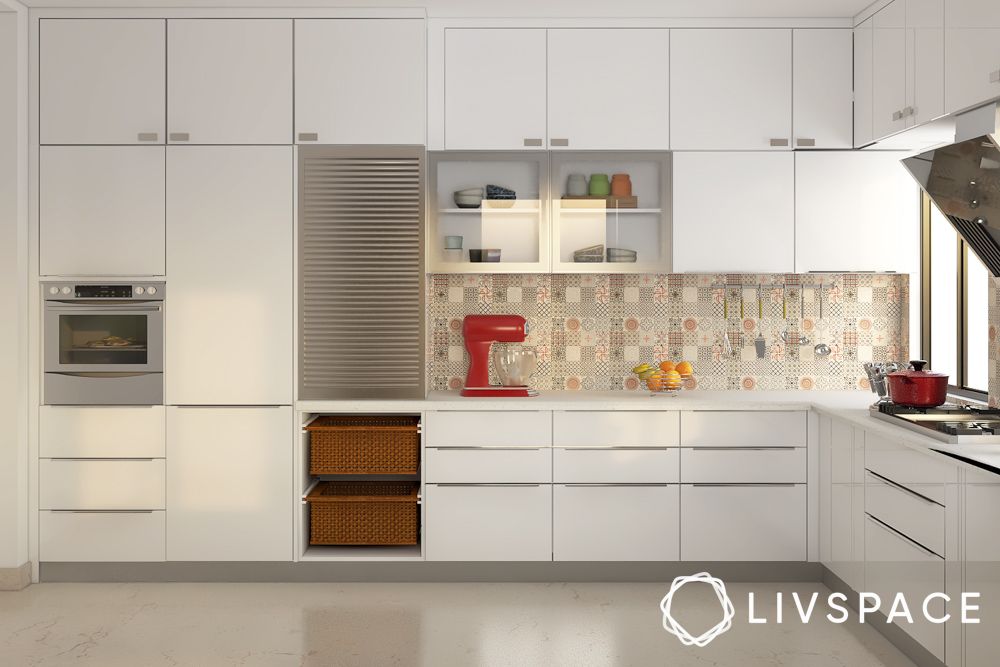 If plain white is too boring for you, a backsplash with a unique design can spice things up. Moreover, this also helps to break the monotony of the white kitchen design, and you can also use it to add some texture to your space.
#10: A White Kitchen With the Warmth of Wood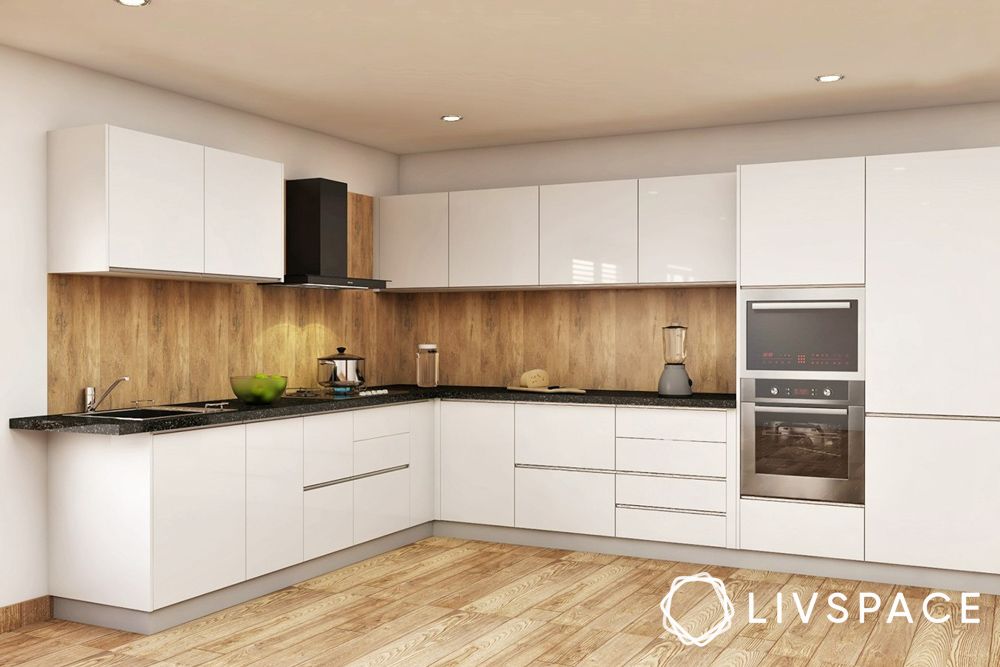 White goes great with wood. This white and wood kitchen design has serene white cabinets and the warm beauty of a wooden backsplash and flooring.
#11: White Cabinets and a Glass Backsplash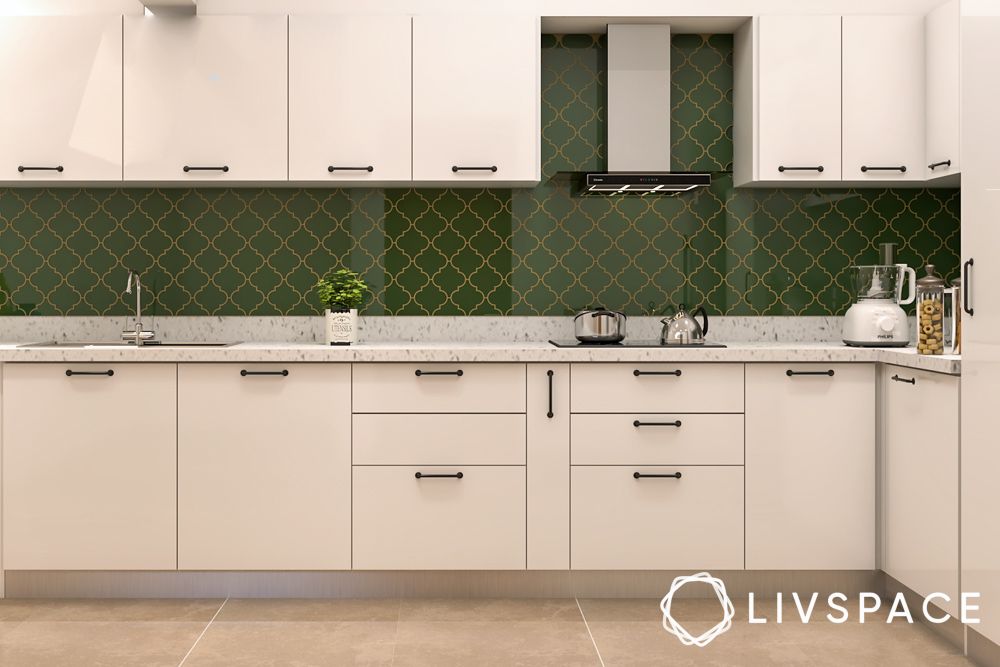 For a premium and elegant look, go for a glass backsplash. A deep green glass dado will pop out against an all-white kitchen.
#12: A White Kitchen Design That Is Also a Dining Space
When you have a spacious kitchen, but the rest of your home is compact, use the space in your kitchen as a dining area. Also, choose colours for your dining chairs that will complement your white modular kitchen design.
#13: A White Modular Kitchen With Patterned Flooring and Backsplash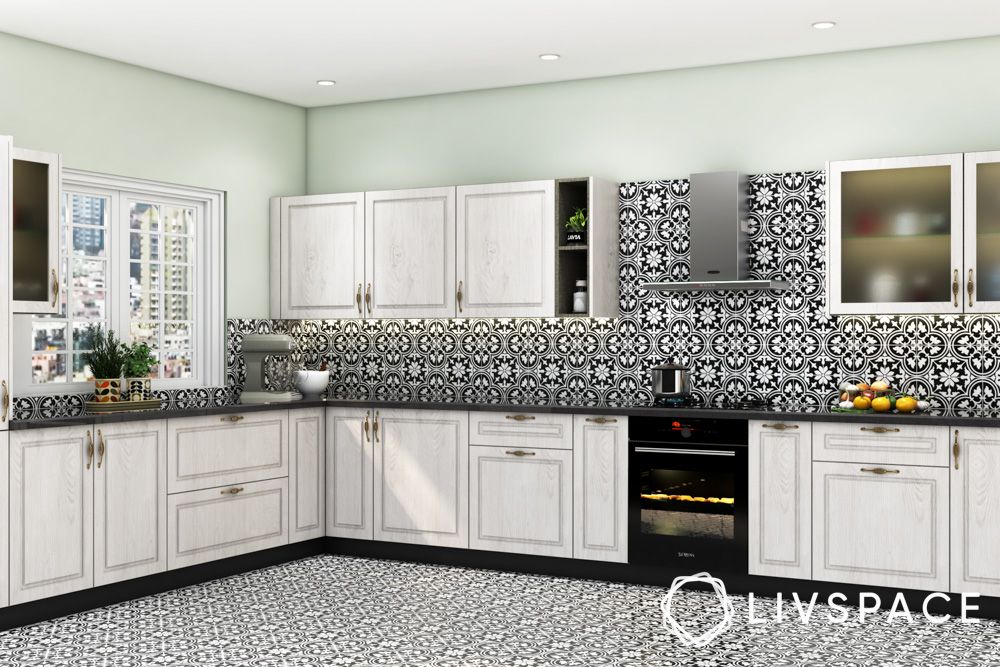 Even if you have a white kitchen design, you can play around with patterns for your backsplash and flooring to add a fun element. For a monochromatic look, choose patterns in black or grey.
#14: A White Kitchen With Tons of Greenery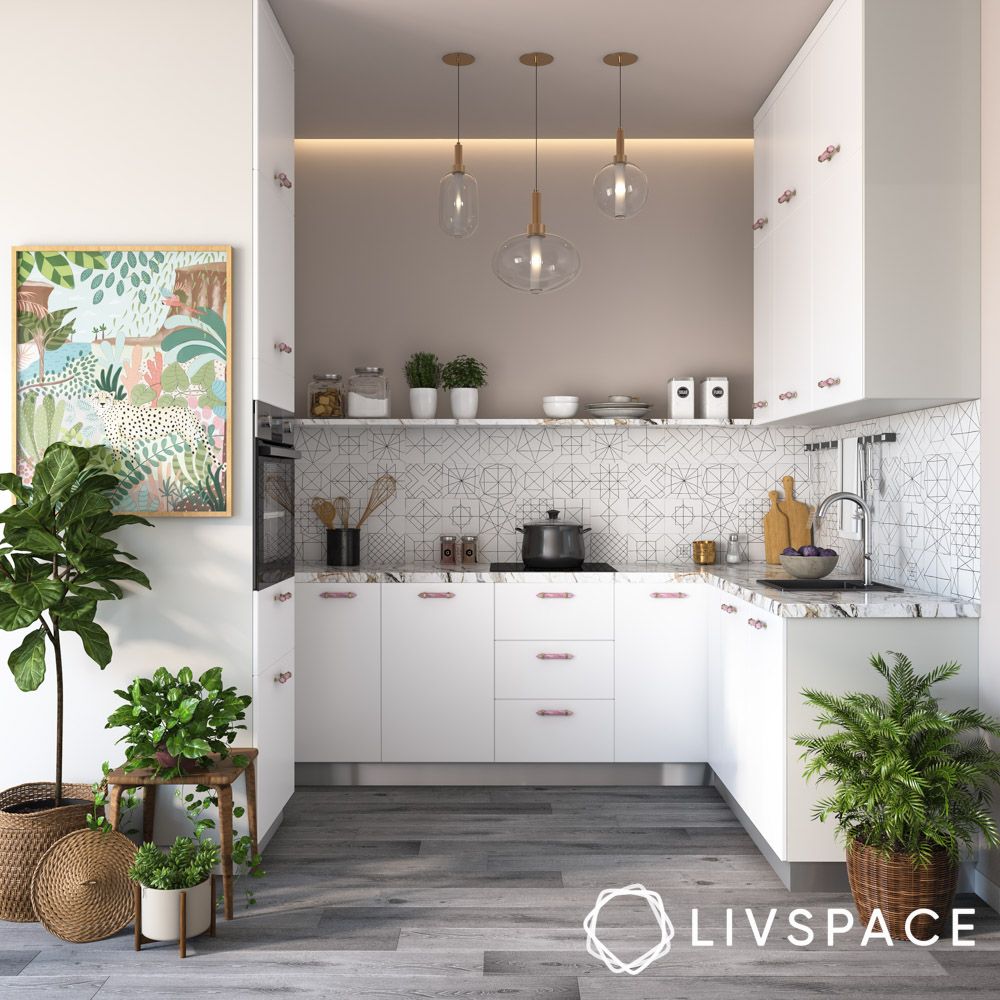 Even if you have a compact white kitchen design, you can add a dose of freshness with a few potted plants like this home.
#15: The Perfect Place to Enjoy a Cup of Tea While Cooking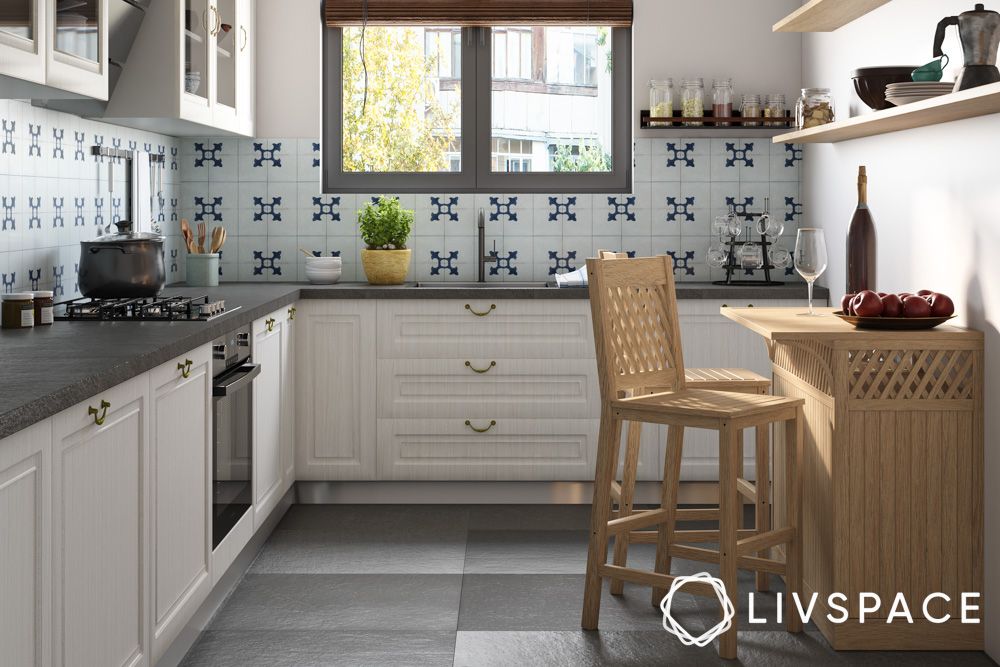 Another great way to jazz up a plain white kitchen is to add a breakfast bar made of wood. This not only adds some texture, but also provides a place where you can sit and rest while cooking.
#16: A White Kitchen Design With Unique Handles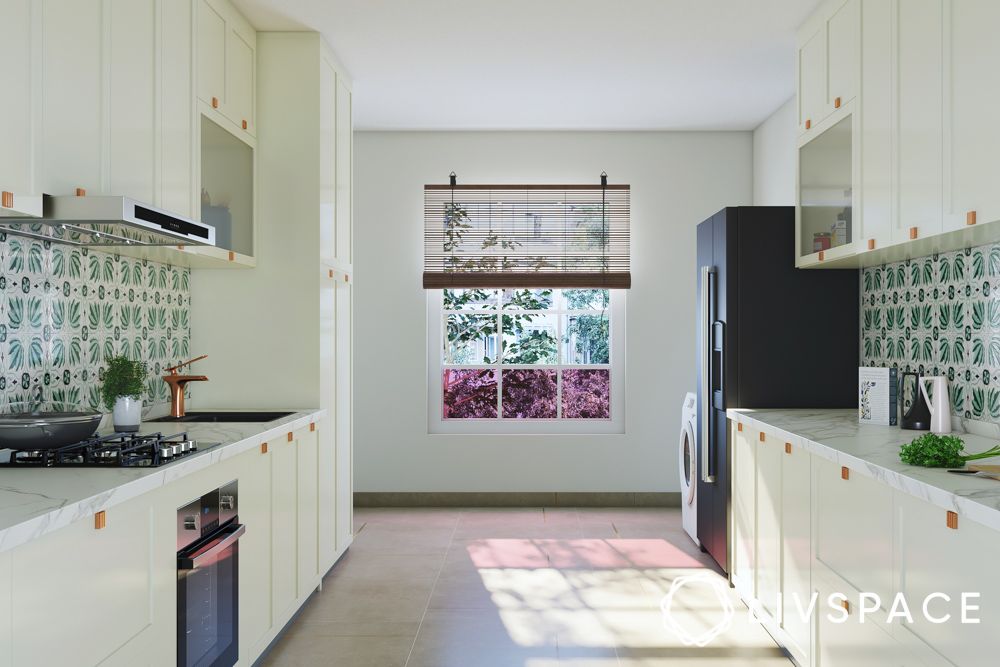 A minimal yet effective way to enhance the look of a plain white kitchen is to add some striking handles. For instance, the copper handles here transform the look of the space.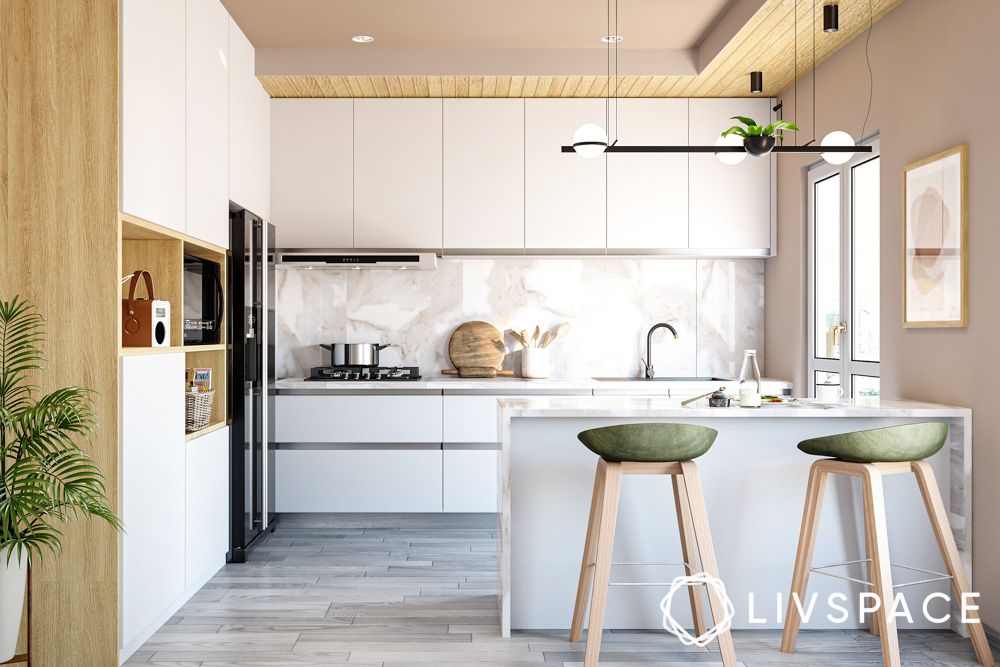 In true Scandinavian style, this white modular kitchen is bright and airy, with pristine white cabinets and hints of light wood tones.
#18: Compact Kitchen Design Ideas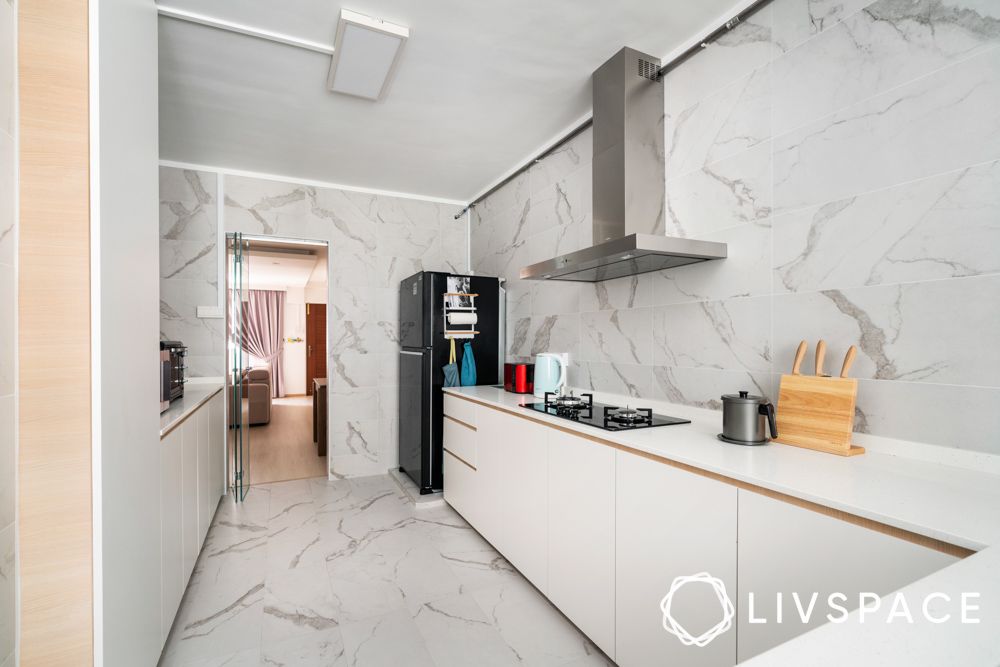 White works best when you have a compact space. In addition, opt for a basic layout and minimal kitchen accessories.
#19: The Niche in the Corner
If you have a small kitchen but want some space to display your crockery or decor, build a customised rack into a niche like this one. This is perfect for decor purposes while also saving on space.
#20: White Cupboards With a Matte Black Countertop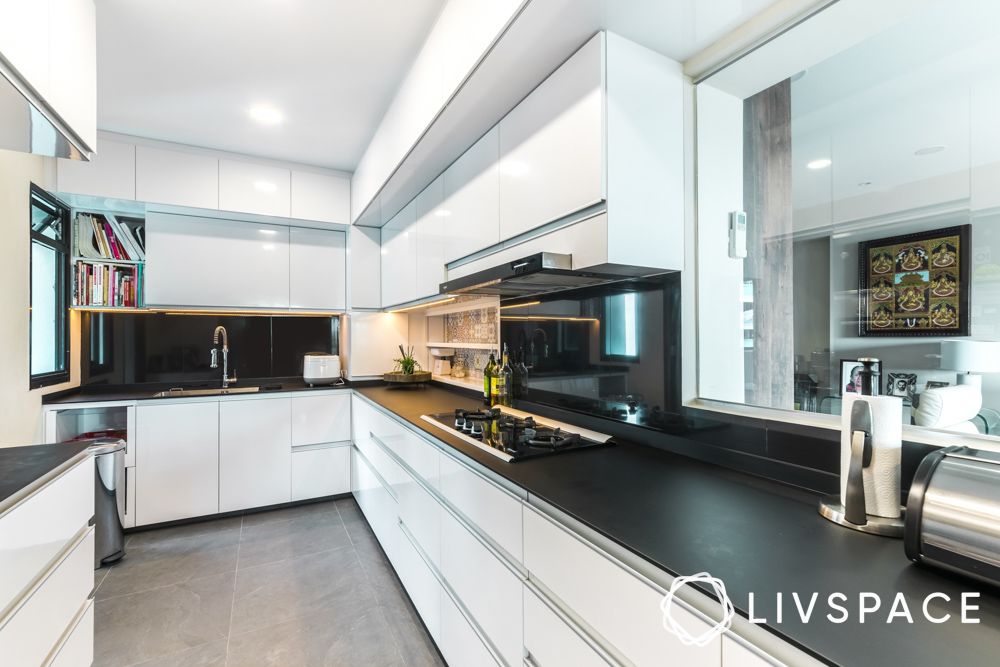 Another great way to enhance the look of a modular white kitchen is to strategically add some complementing colours. In this kitchen, for instance, the white cabinets make the matte black countertop and backsplash pop.
#21: White and Wood Kitchen With a View Into the Living Room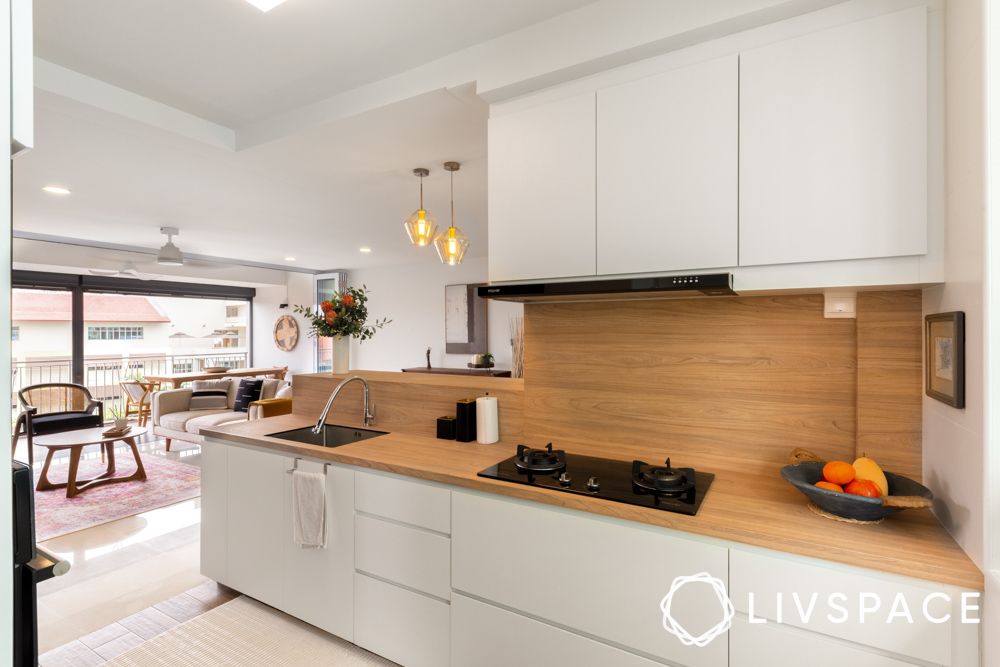 If you're someone who likes to entertain, this type of open white kitchen is perfect for you. Moreover, it hardly takes up any space.
#22: A White Kitchen Design With Display Space
This modern white kitchen stands out due to the nook in the cabinetry – perfect for displaying pretty decor.
#23: U-shaped Kitchen With a View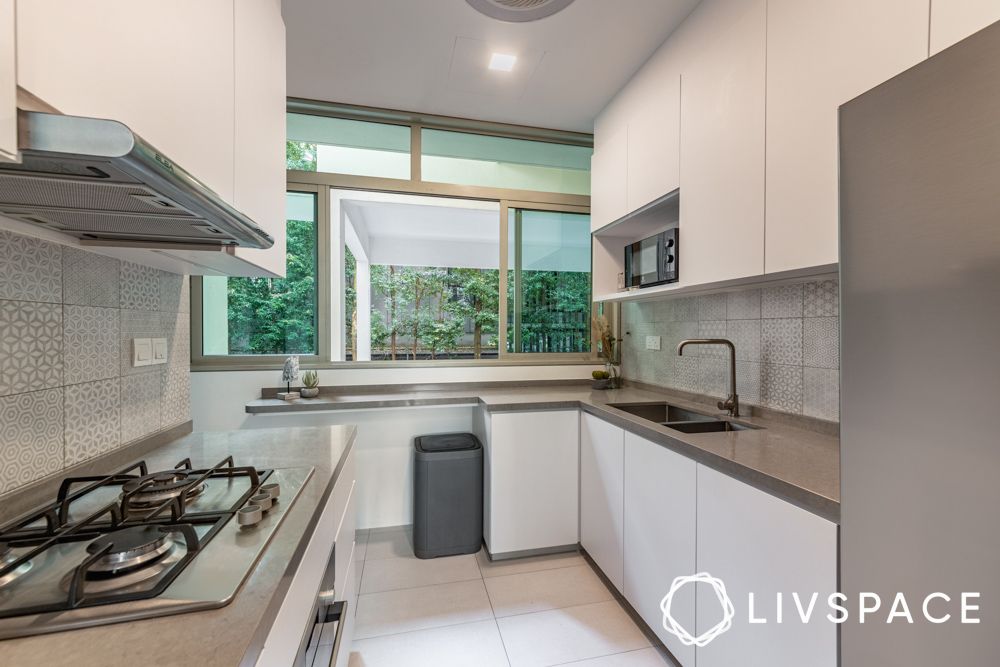 Apart from the seamless white cabinets and the extended countertop space, one of the most striking features of this U-shaped kitchen is the large window that offers a beautiful view.
#24: Compact One-Wall Kitchen Designs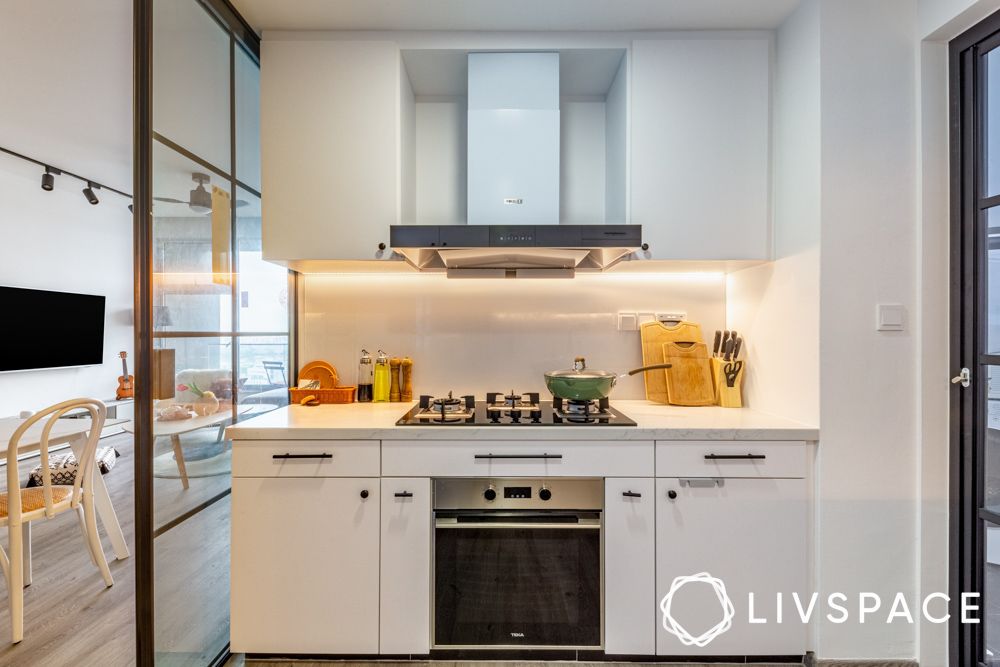 When space is scarce, opt for a simple one-wall kitchen in white. Additionally, a glass door can help in keeping smoke and smells from escaping into the rest of your home.
#25: More Glass Backsplash Inspiration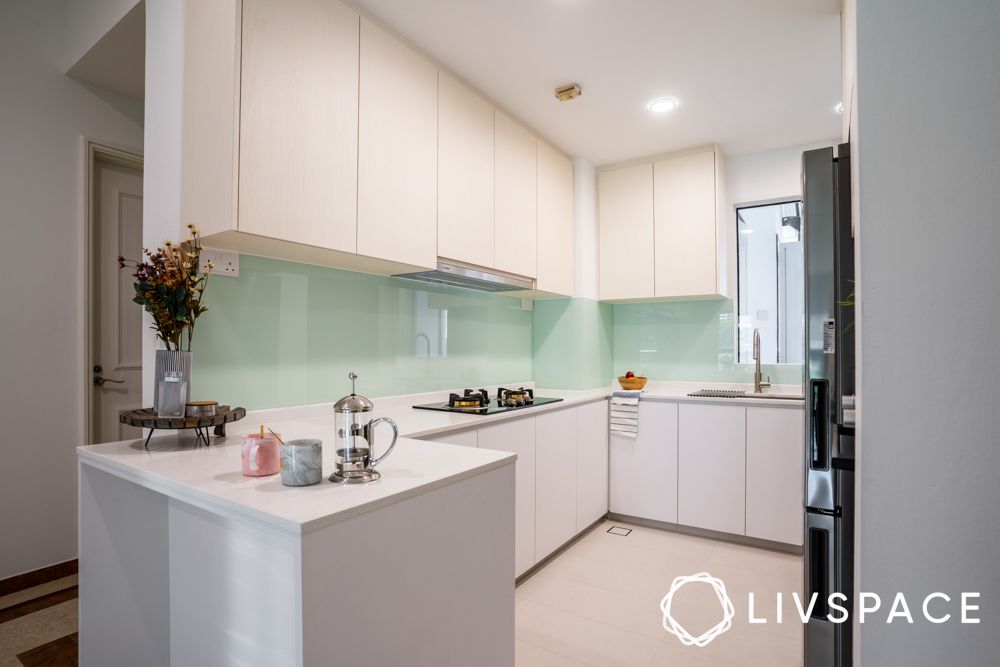 When you have a white kitchen design, a backsplash in a soft pastel colour will complete the overall look. Moreover, opt for a glass backsplash for an elegant and premium vibe.
#26: A Beige Kitchen When You Want a Unique Twist to White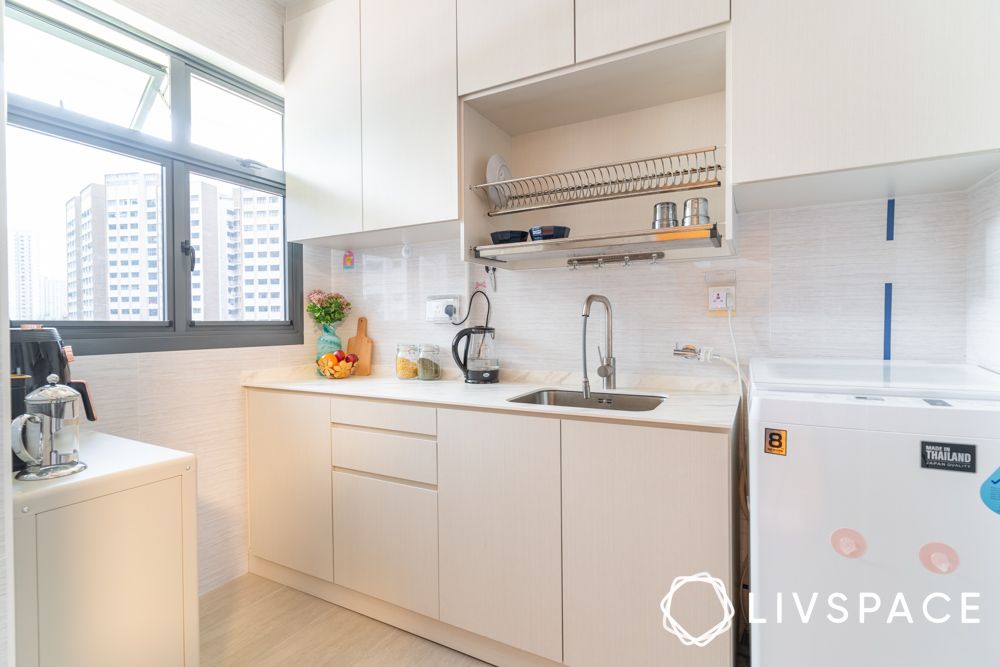 Find white monotonous but want a colour that will make your small kitchen look spacious? Beige is the best option for you!
Wondering how much your interior design will cost you? Use our full home design cost calculator to find out.
#27: A Modern White Kitchen With an Island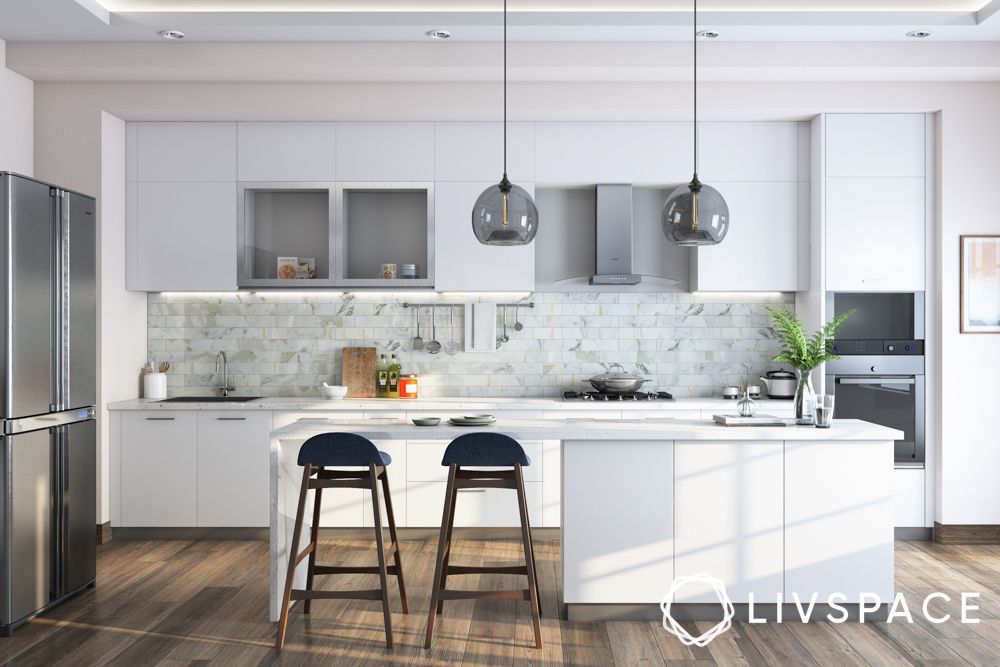 Island kitchens are extremely popular among homeowners due to the plush look and extra available space. This white kitchen design features an island with an extended counter that serves as a breakfast bar.
#28: A Pop of Yellow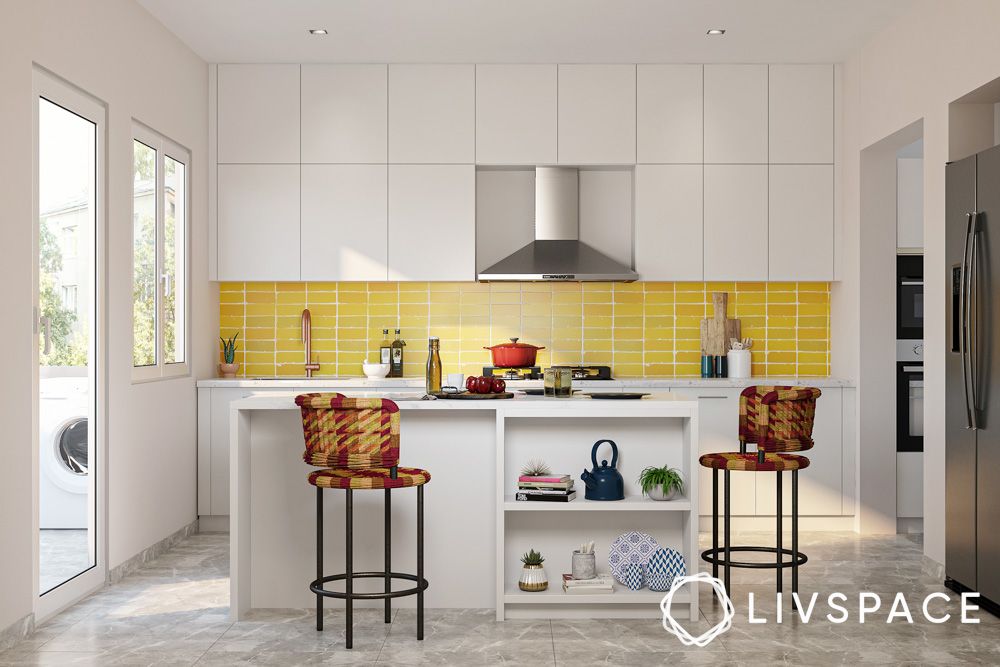 If you love colours but want an all-white kitchen, keep the cabinetry white and choose a patterned vibrant yellow backsplash.
#29: White Kitchen Ideas With Ample Space for Breakfast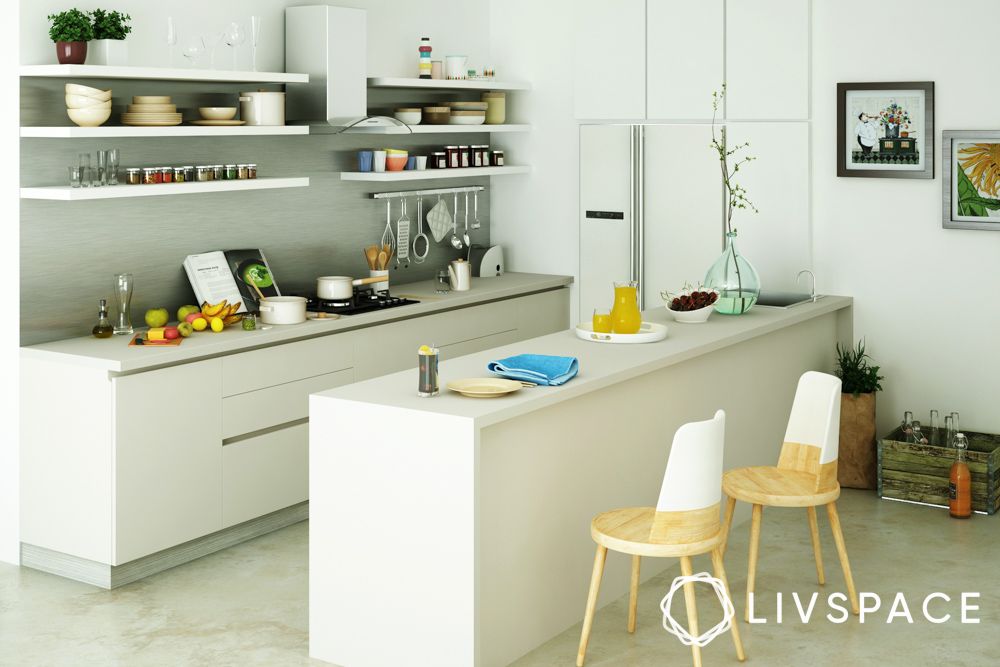 This white kitchen design features a long breakfast bar that's great when multiple people eat breakfast together. Additionally, the open shelves help in making this kitchen look spacious.
#30: Sleek Handles and Cheery Yellow in This White Kitchen Design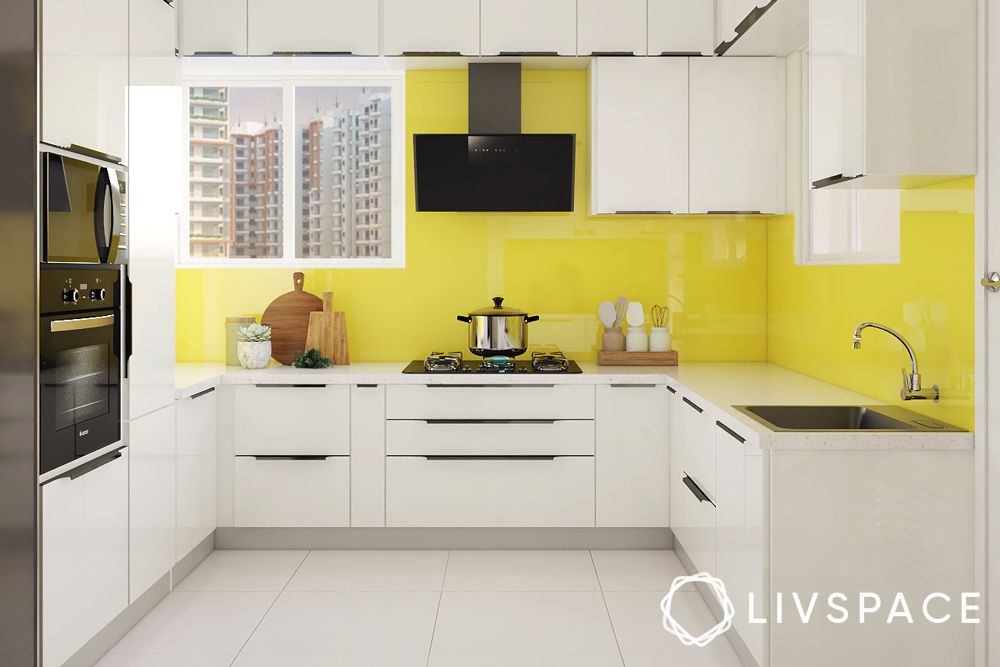 Sleek handles help in creating a clutter-free look in this compact kitchen. In addition, the happy yellow backsplash enhances the look.
#31: Can't Get Enough of Glass Backsplashes?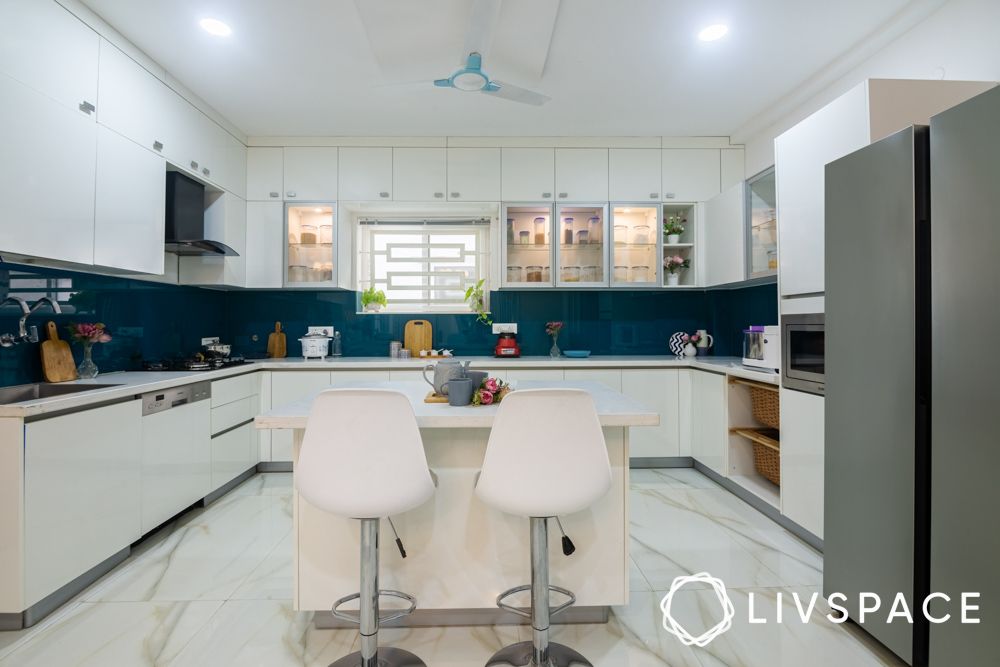 Glass backsplashes are trending, no doubt, due to their elegant look! This midnight blue backsplash looks striking against the all-white kitchen.
#32: Red and White Modular Kitchen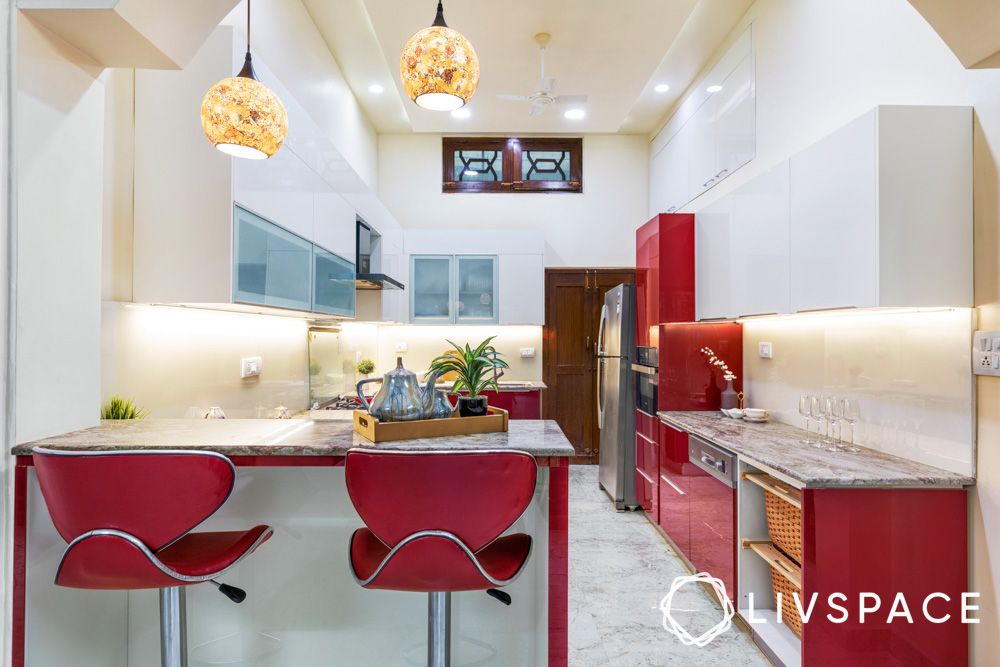 One of the best colour combinations is red and white. Opt for white upper cabinets and red base cabinets for a low-maintenance kitchen.
#33: Monochromatic Black and White Kitchen Design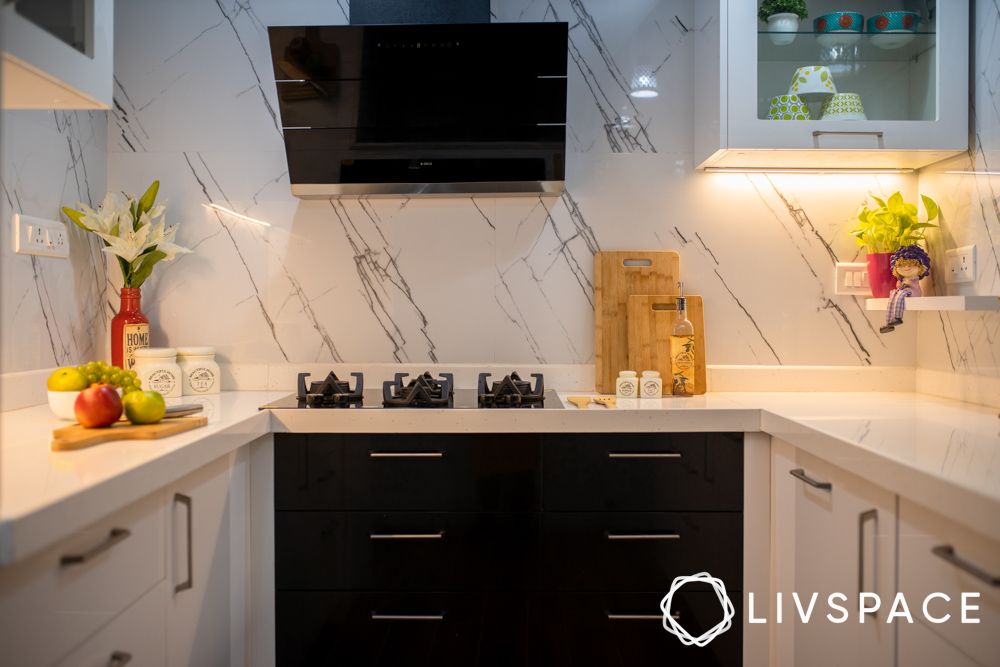 Black and white is one of the most classic combinations that will always remain evergreen. The glossy finish and patterned backsplash adds to the overall look.
#34: An Island Kitchen in Black and White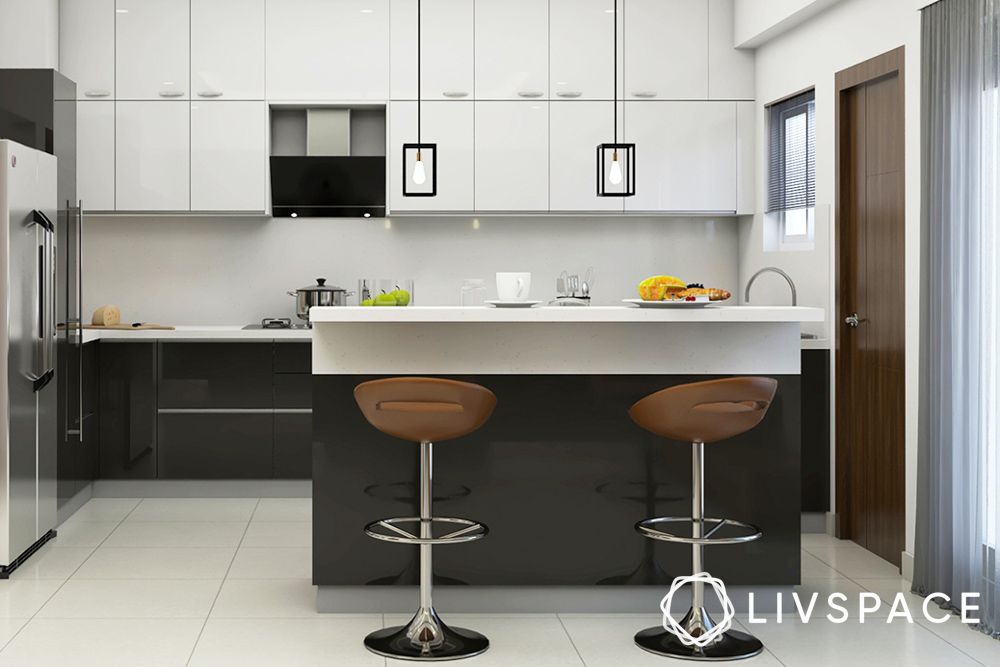 Island kitchens are very convenient when you want to cook and eat simultaneously due to time constraints. The gorgeous colour combination is just the icing on the cake!
#35: A White Kitchen Design With a Wooden Island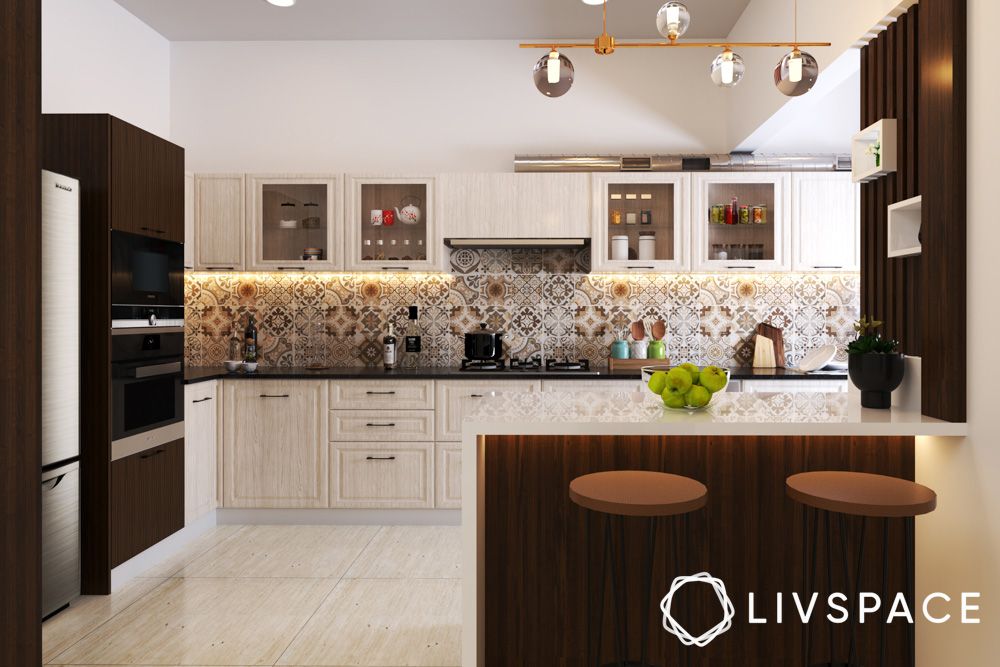 No combination is as warm and cosy as white and wood. If you have white cabinets in your kitchen, go with a wooden island for some warmth.
#36: A Forest Green and White Kitchen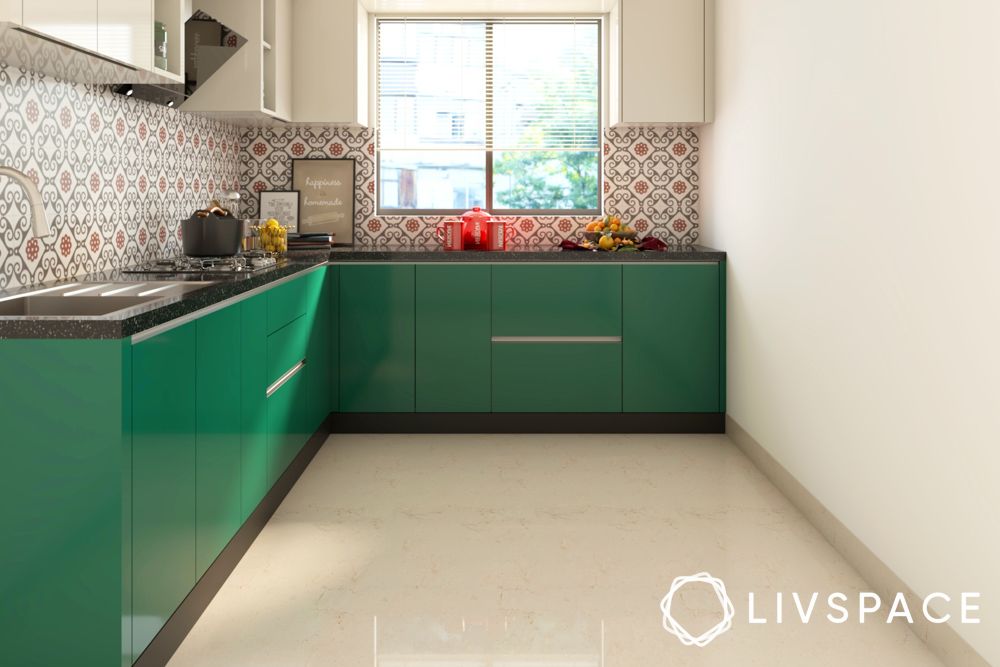 If you want a unique colour combination, opt for green and white cabinets. A plain black countertop and patterned backsplash will complete the entire look.
#37: Cheery Yellow and Serene White Kitchen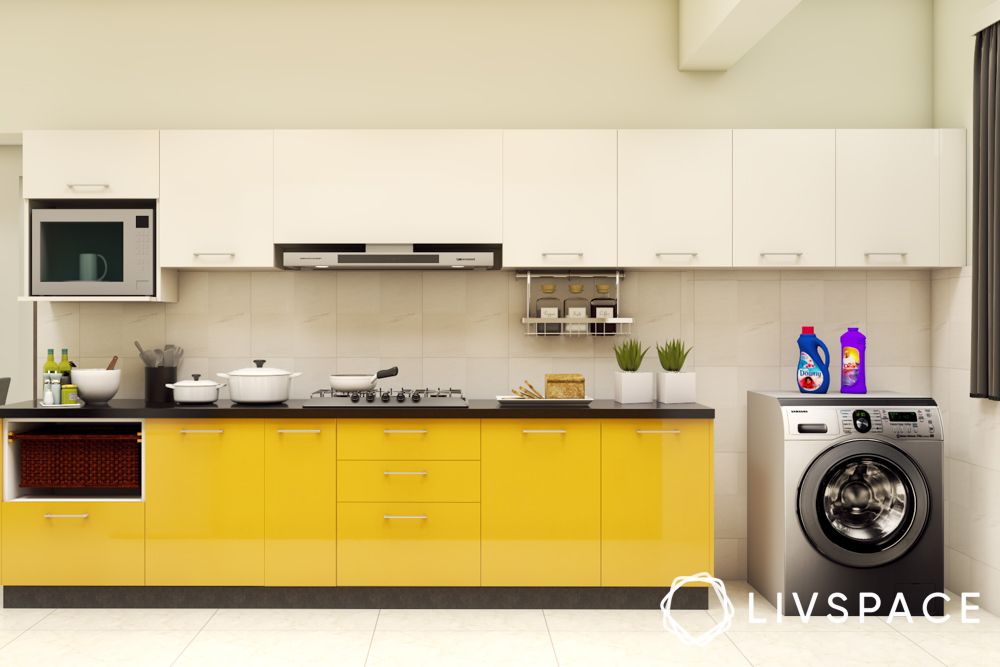 Indian cooking involves a lot of curry stains and oil spills. As such, lower cabinets in a colour like yellow can help hide these stains. In addition, you can opt for white upper cabinets and backsplash.
#38: For the Love of Monochromes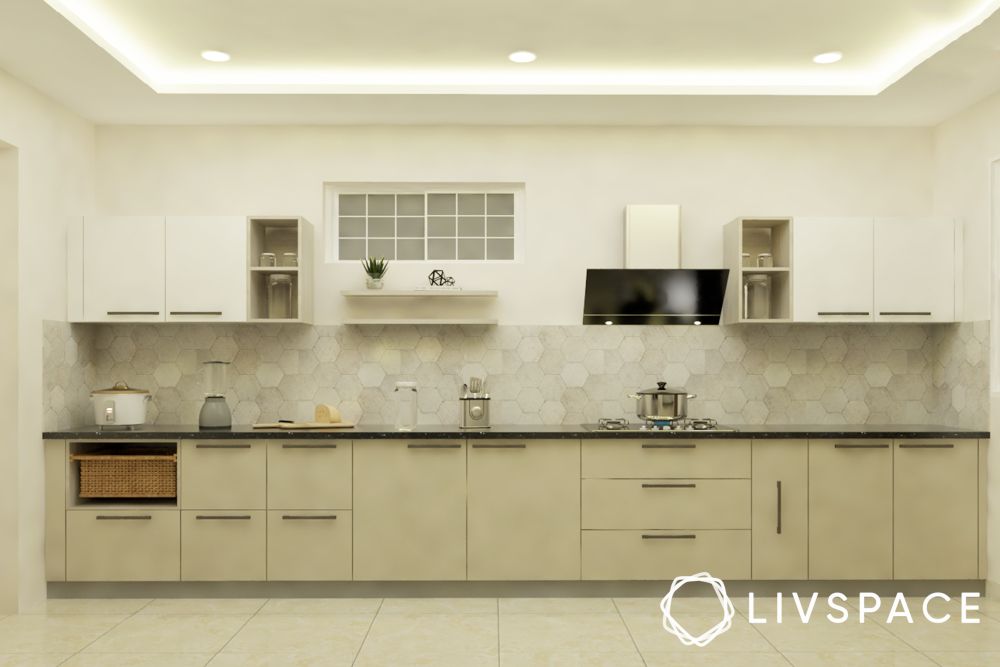 Monochromatic shades are always a winner when it comes to modern white kitchens. Opt for a combination of white and beige for a classy look.
#39: A Fun Pop of Lime in This White Kitchen Design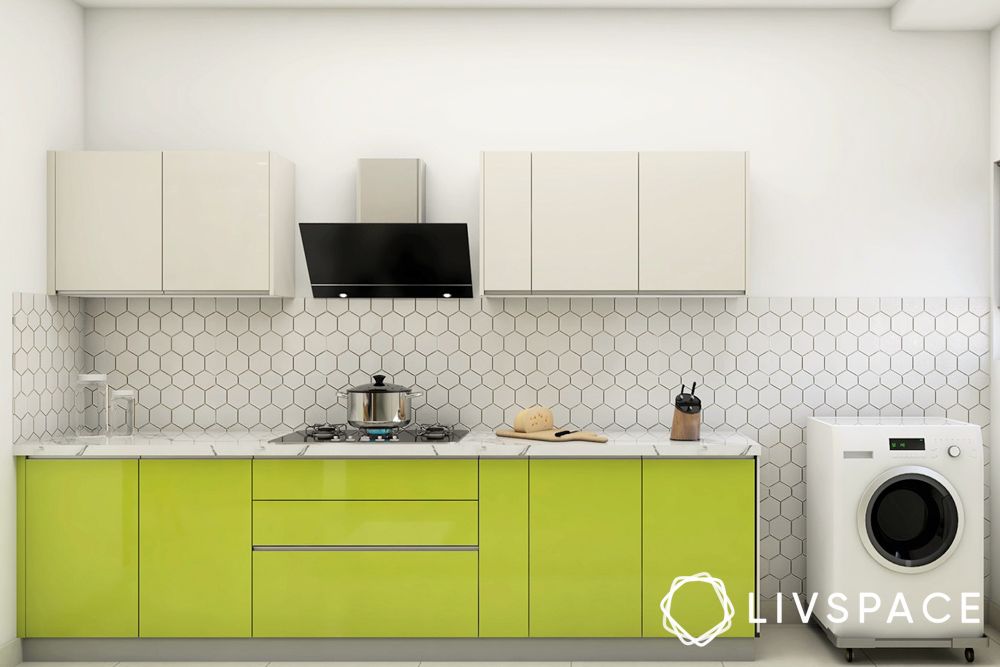 If you want an offbeat colour to pair with your white modular kitchen, opt for something vibrant like lime green. However, keep your backsplash and flooring simple to tie the entire look together.
#40: A White and Wood Kitchen With a Breakfast Bar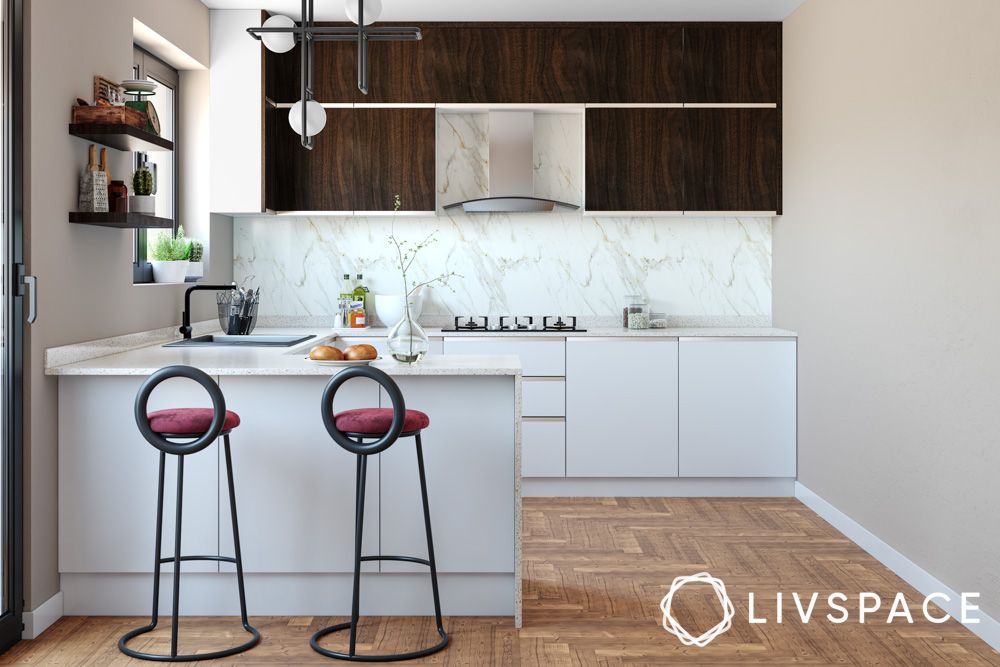 A white and wood kitchen can look basic. If you want to jazz up the look, opt for trendy accessories like pendant lights and avant-garde chairs in unique designs.
#41: Vibrant Hues of Green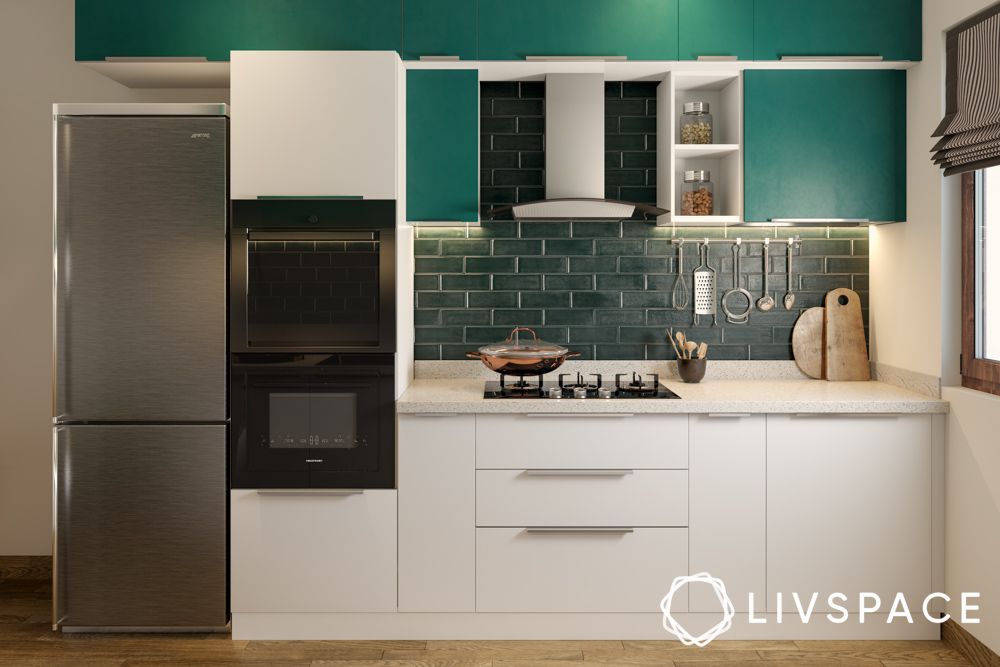 Who wouldn't love this gorgeous shade of blue! It goes so perfectly with the white base cabinets, while the brick-like grey backsplash ties up the entire look.
#42: A Light Wood and White Kitchen Design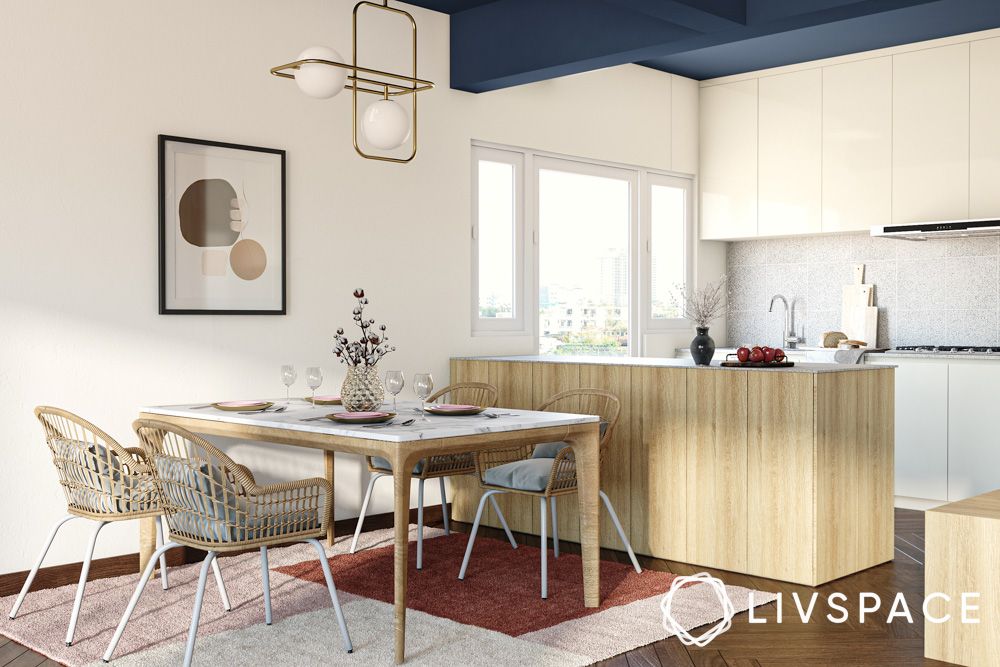 The combination of light wood and white gives this kitchen a Scandinavian vibe. In addition, the dining space is a very convenient option to cook and eat together with your family.
#43: A Beautiful Blue and White Kitchen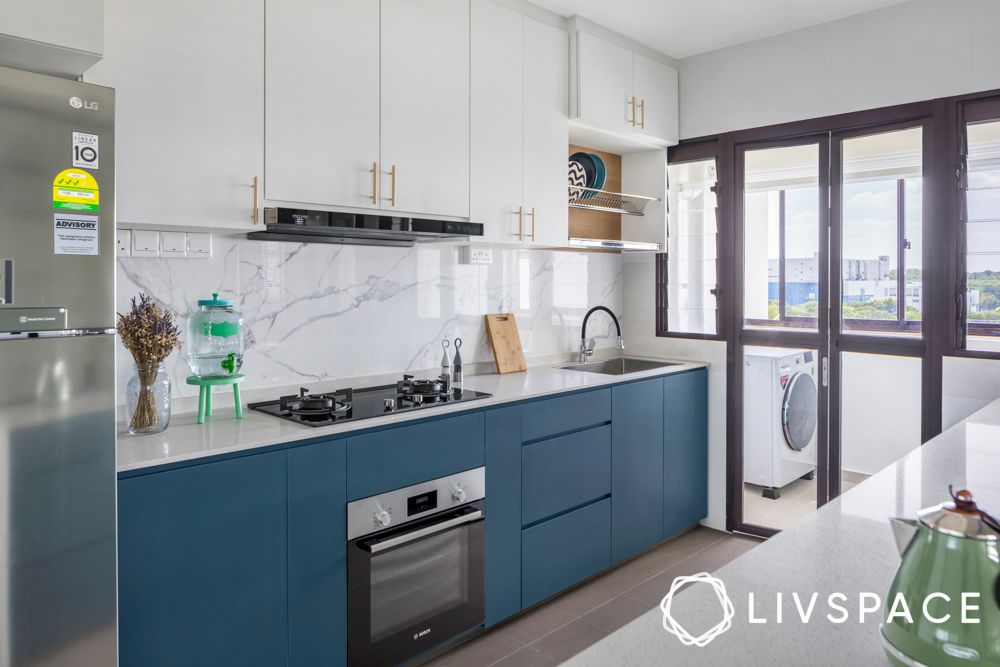 Blue, white and gold accents – what's not to love in this kitchen? While the matte blue base cabinets are handleless, the upper white cabinets feature gold handles for a luxe look.
#44: A Kitchen With an Extra Counter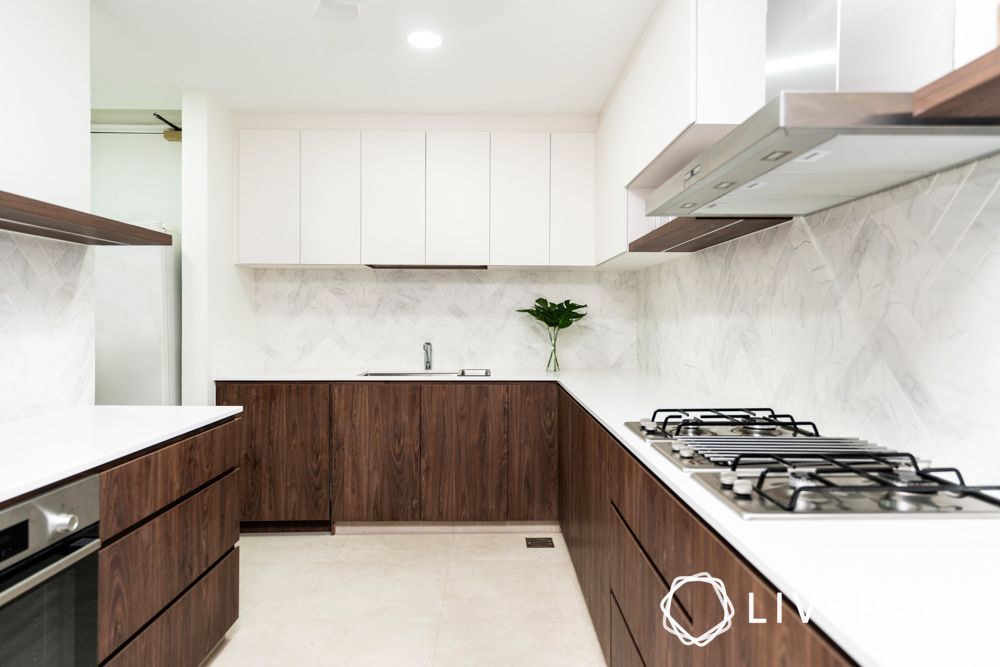 While the white and dark wood combination is definitely striking, the reason this modular white kitchen stands out is due to the extra counter/peninsula. This offers extra prepping and storage space.
#45: Stunning Blue Kitchen With Luxe Accents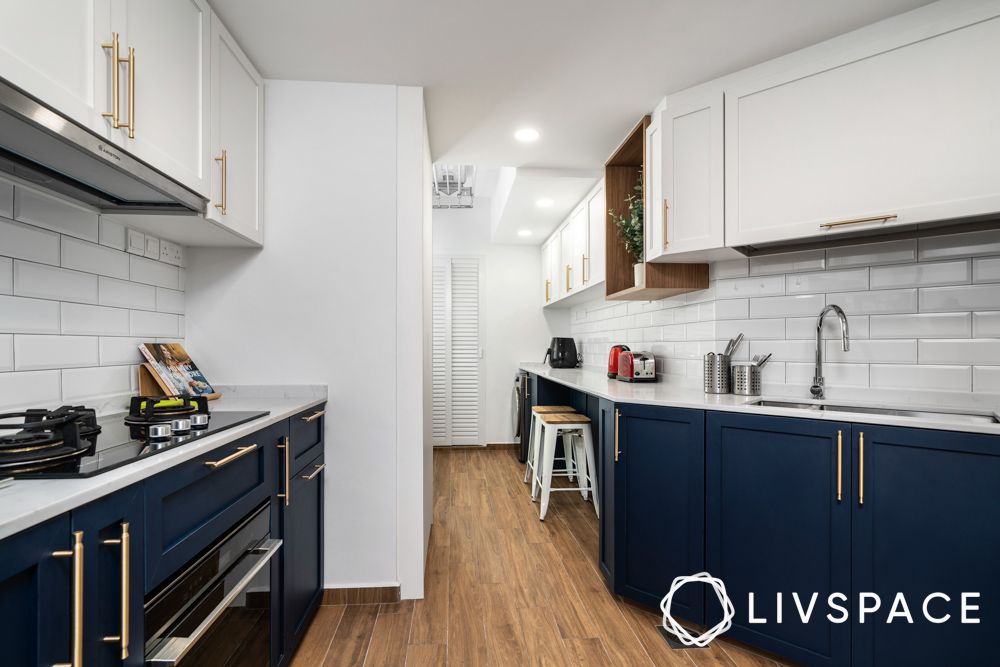 Midnight blue and white is one of the most soothing and elegant colour combinations. In this white kitchen design, the wooden flooring adds a dose of warmth, while the gold handles makes the space look opulent.
Take a tour of this white kitchen designed in Ahmedabad:
#46: Trendy Lighting in This White Kitchen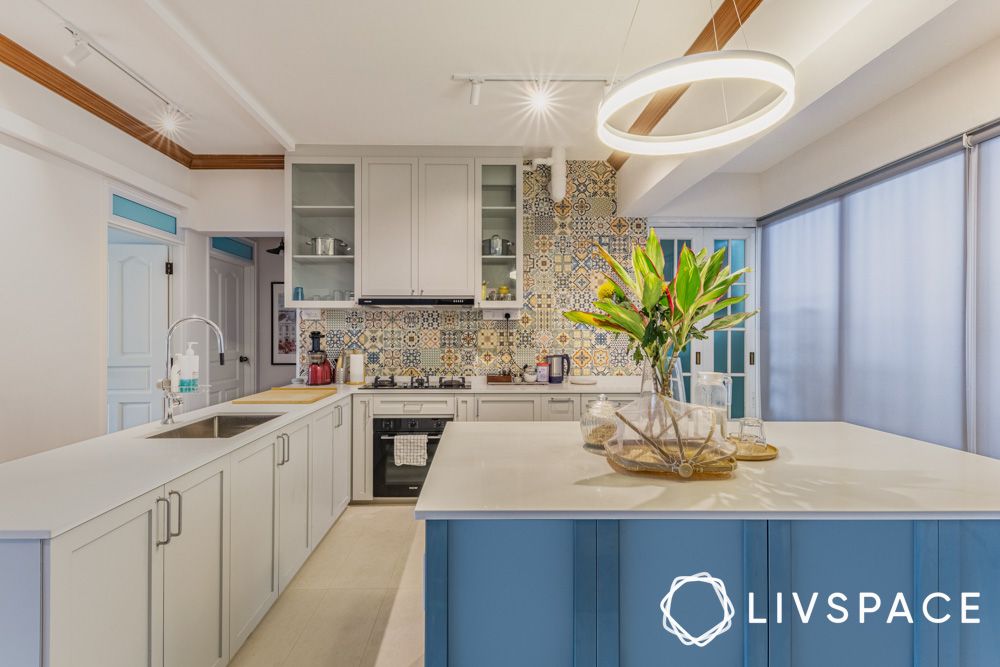 Lighting is one of the easiest ways to make a simple space look glam. For instance, the unique lighting options liven up the look of this all-white kitchen. Moreover, the Moroccan backsplash adds a splash of colour.
#47: A One-Wall Black and White Modular Kitchen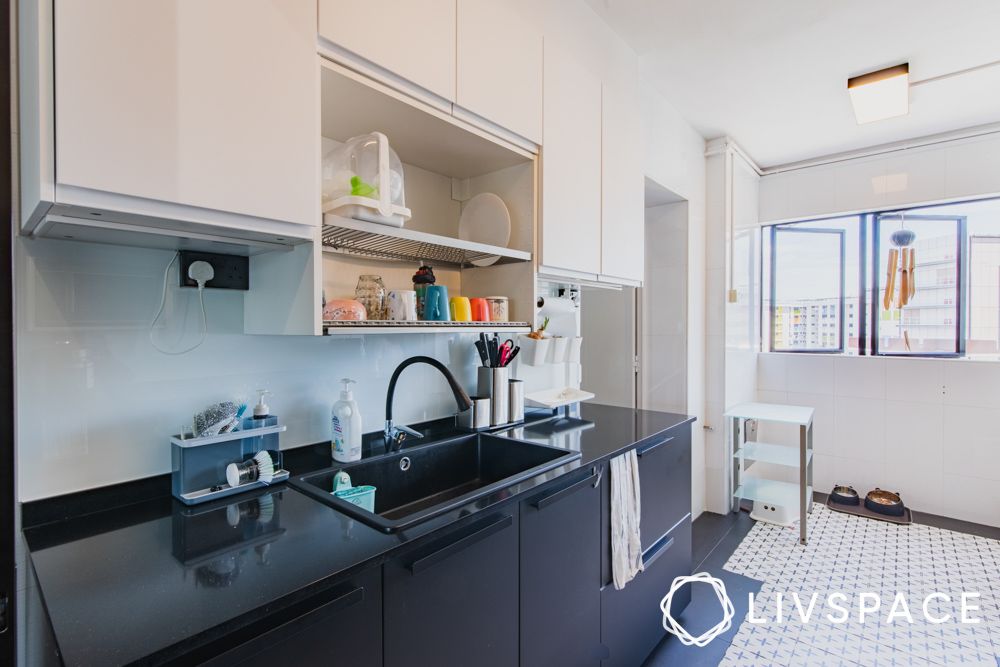 One wall kitchen designs can also be trendy, as can be seen from this example. The bold black base cabinets look gorgeous with the pure white upper cabinets. When you want a spacious look, opt for a mix of closed cabinets and open shelves.
#48: A Black and White Island Kitchen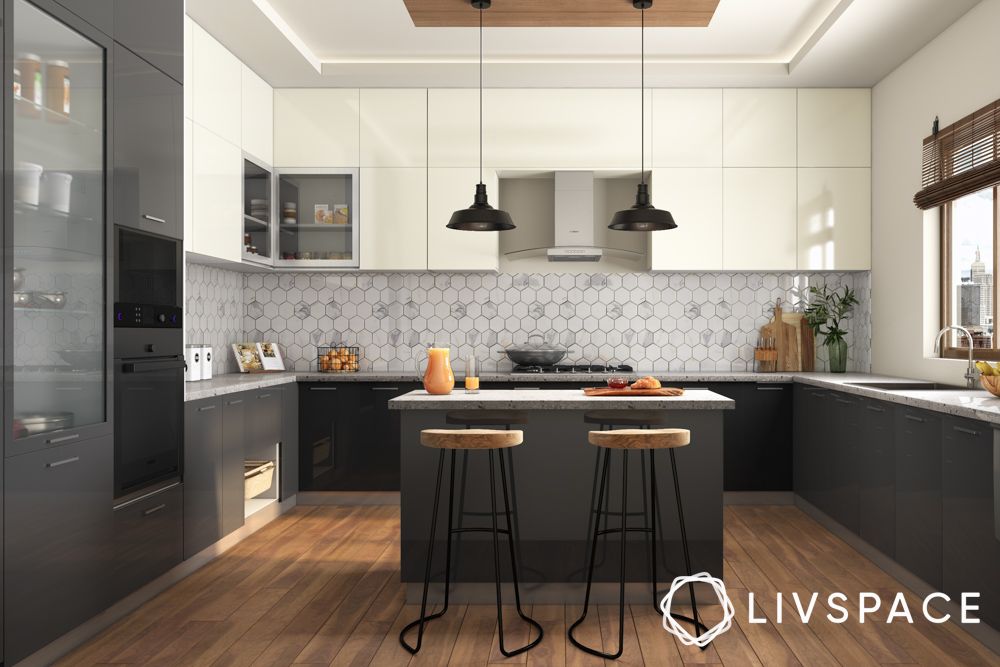 Black and white is one of the safest and most stunning colour combinations. This is especially true when you have a spacious kitchen. Apart from the colour, go for a mix of matte and glossy finishes for an appealing final look.
#49: Vibrant Colours in This Island Kitchen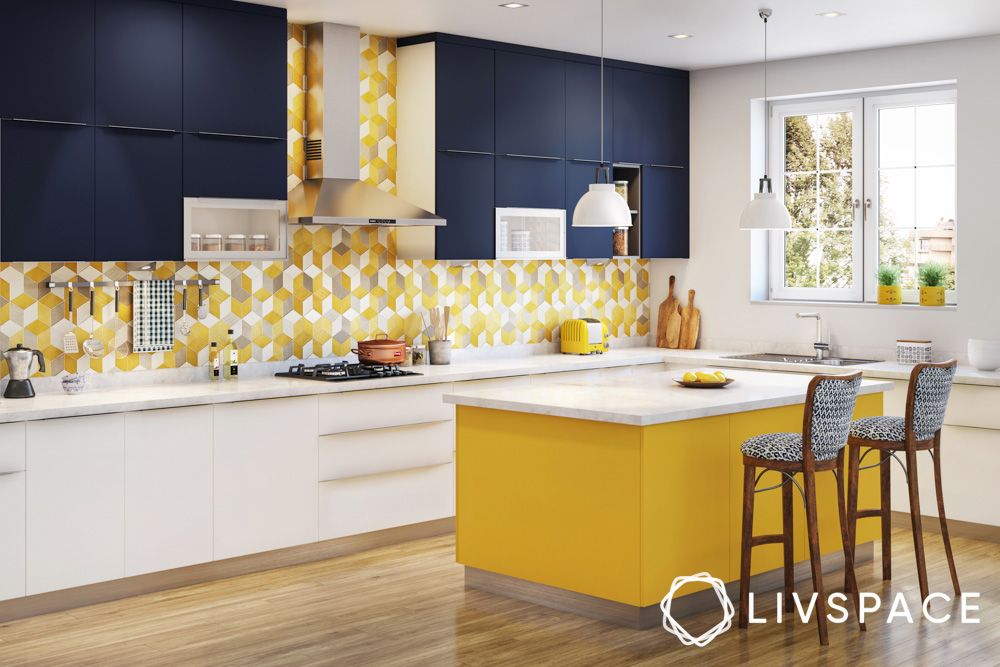 What's better than two colours? Three colours! This vibrant kitchen features midnight blue upper cabinets, white base cabinets and a yellow island. Additionally, the yellow-grey-white backsplash adds both colour and texture.
#50: A White Kitchen With a Vibrant Lime-Green Island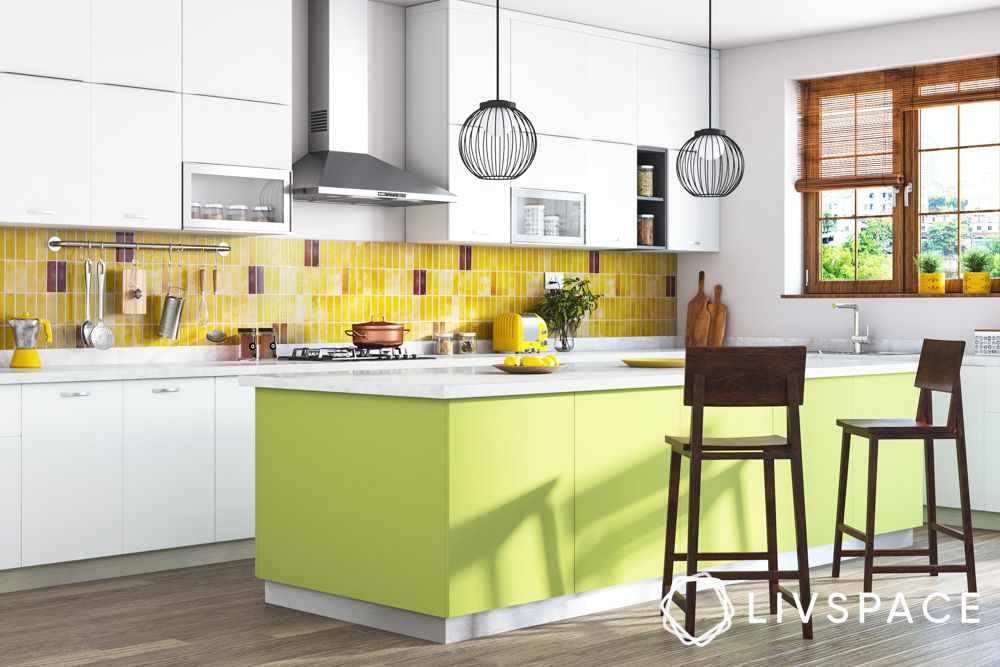 For the ones who love peppy colours, this one's for you! While the kitchen itself is all-white, the lime green island and patterned yellow backsplash help add pops of vibrant colours.
#51: Dazzling Shades of Red and White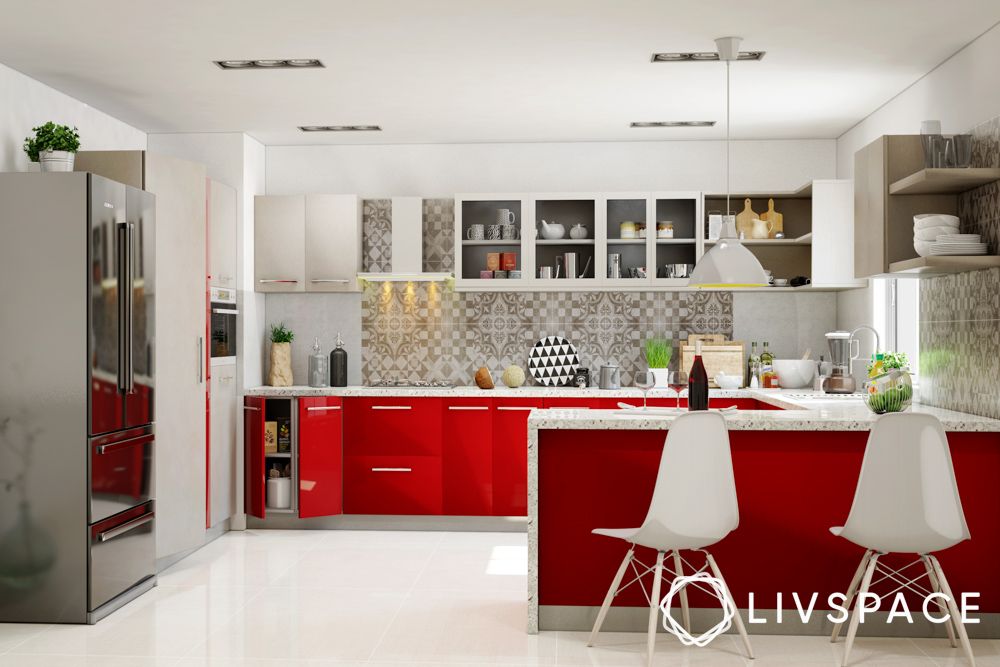 #52: A Bold Peninsula Kitchen in Black and White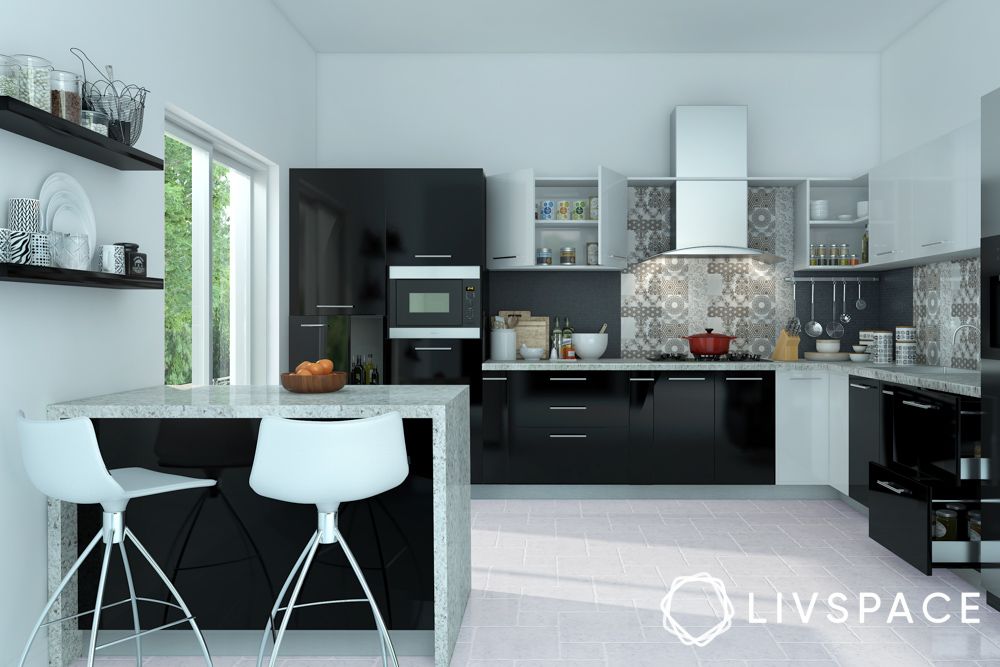 #53: An Evergreen Combination of Blue and White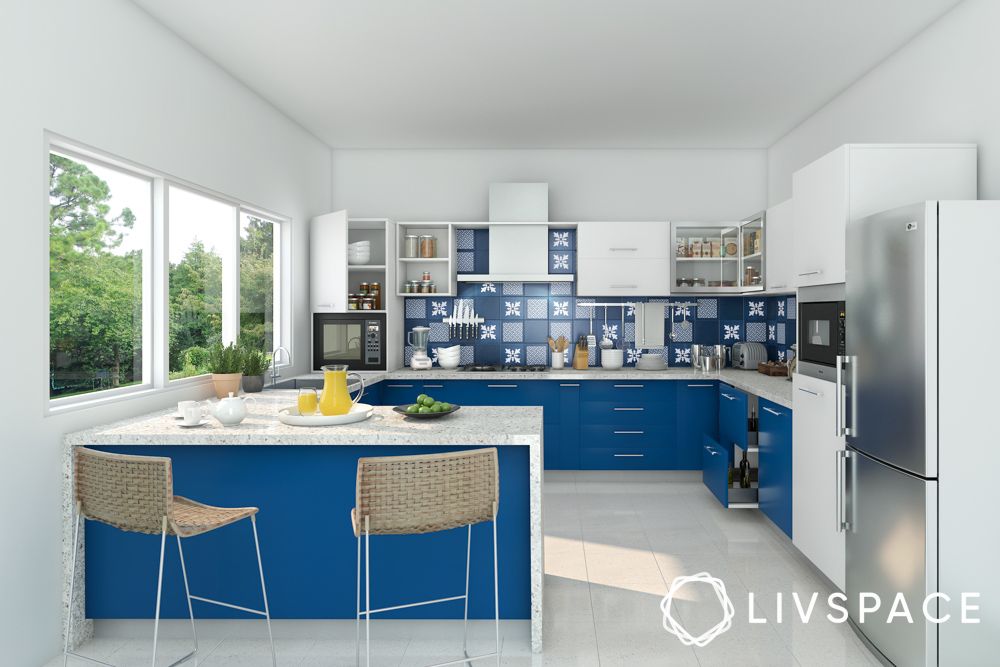 #54: Luscious Chocolate Brown and White Kitchen Design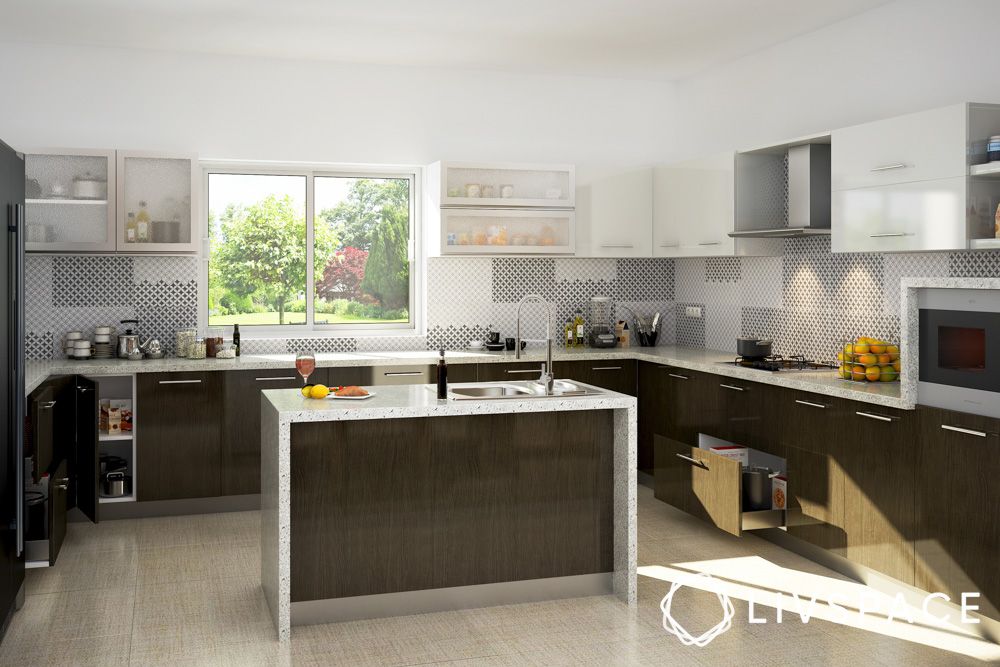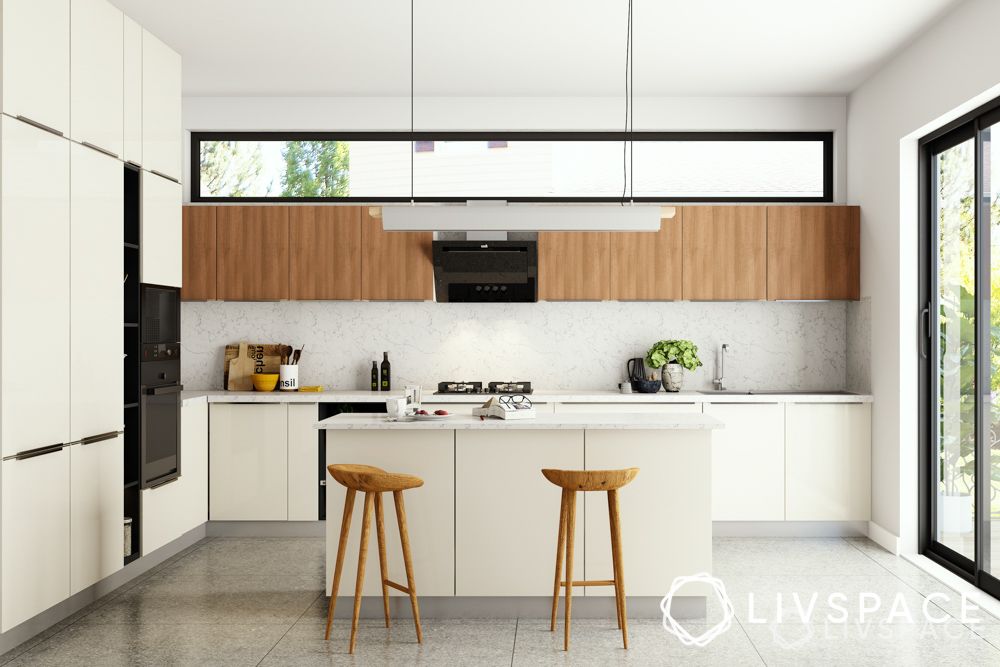 #56: A White Kitchen Design With a Black Island and Lighting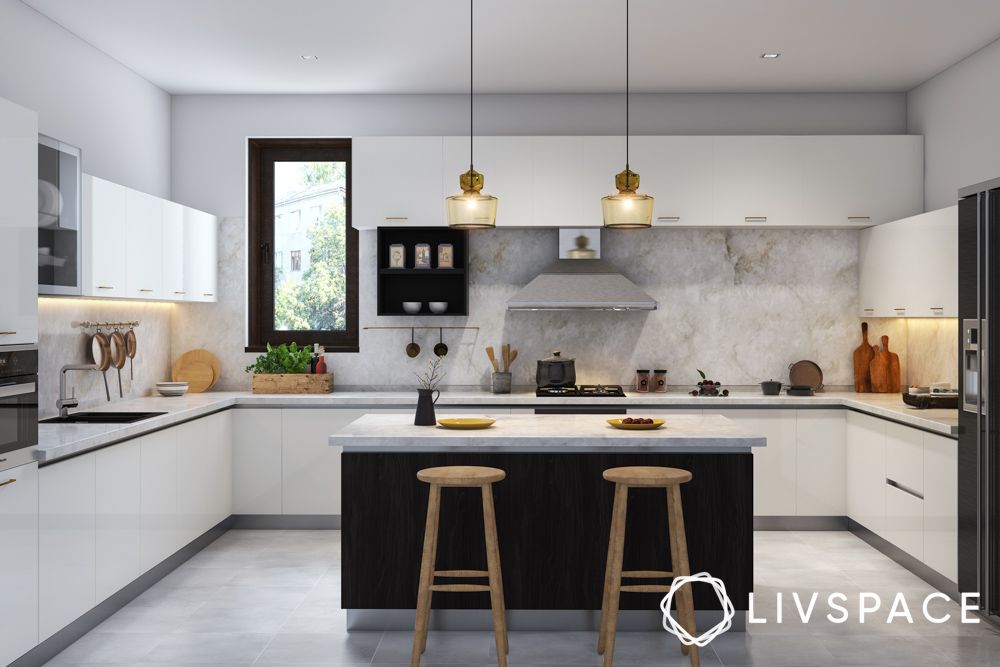 #57: The Warmth of Wood and a Kitchen Island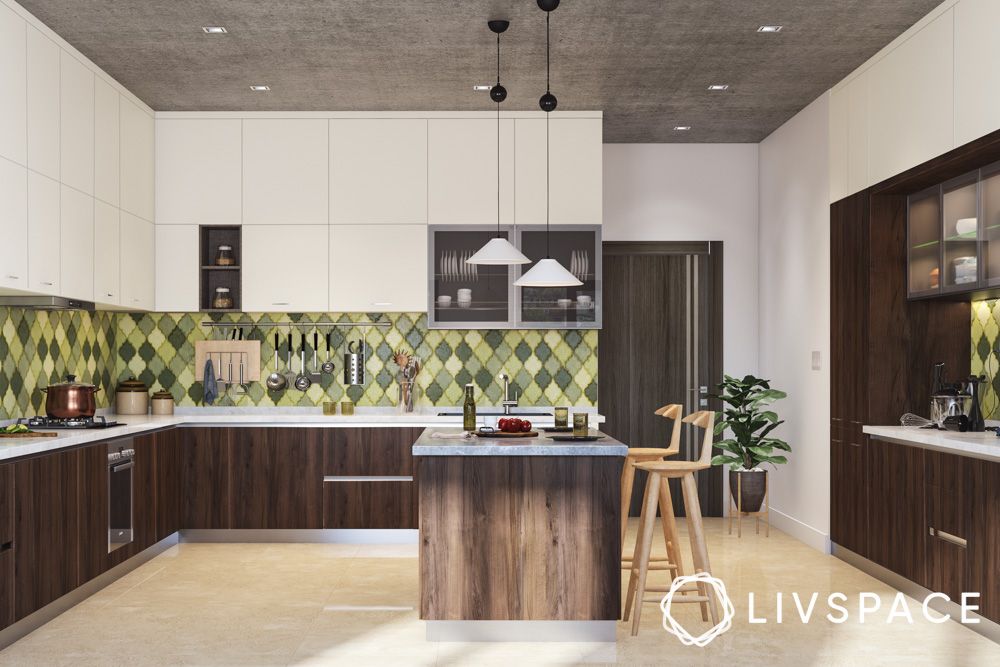 #58: A Mustard Yellow and White Kitchen Design
#59: Be Bold in Black Like This Stunning Kitchen
#60: Grey White Kitchens With a Pop of Red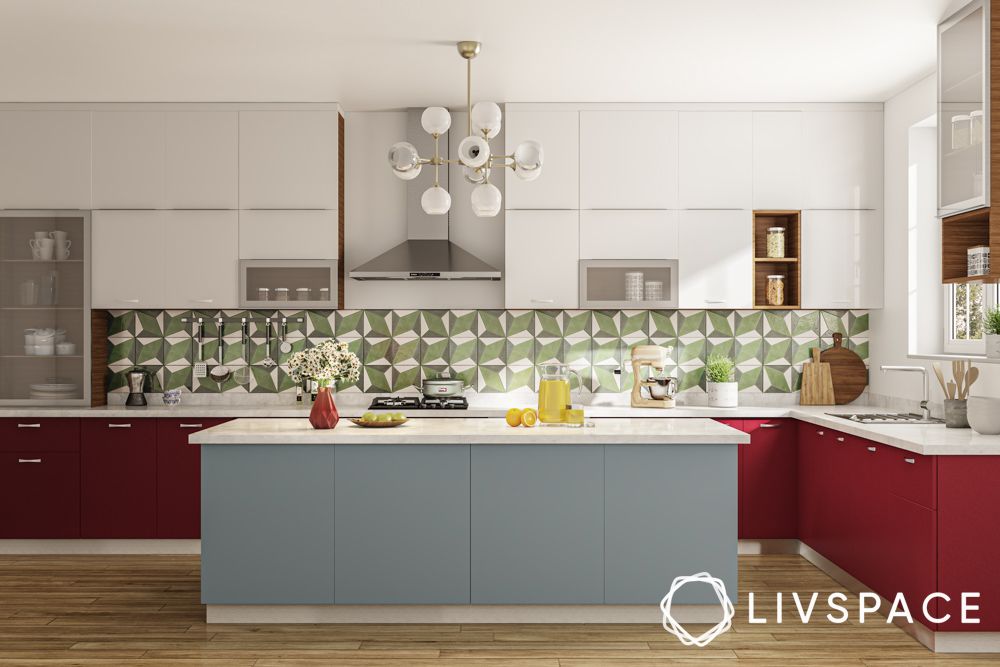 #61: White and Grey Modular Kitchen With a Red Ceiling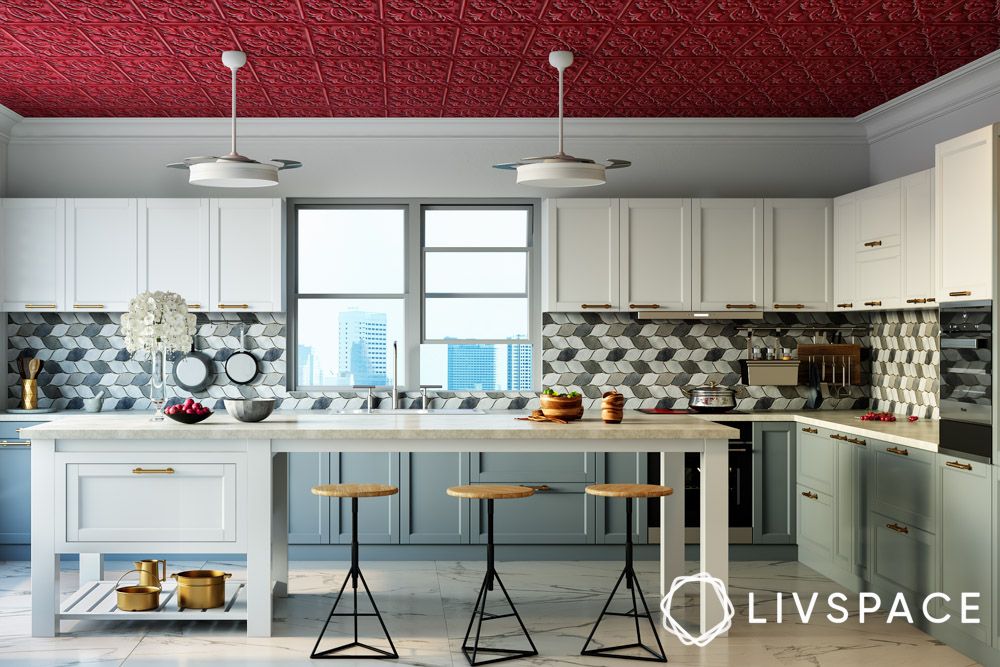 #62: A Glam Alternative to White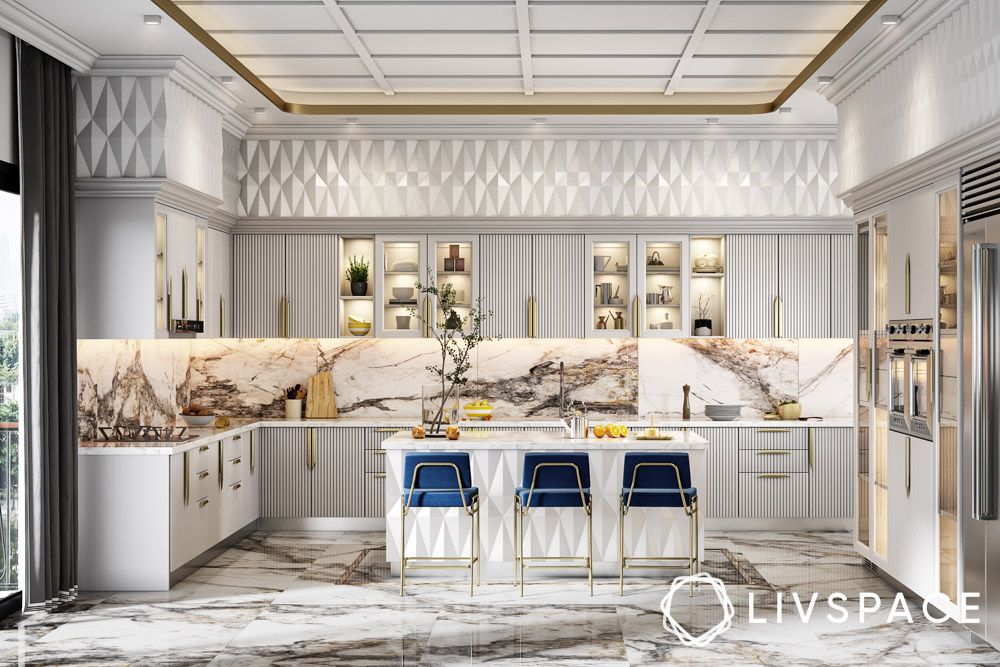 #63: Glossy Green and White L-Shaped Kitchen Design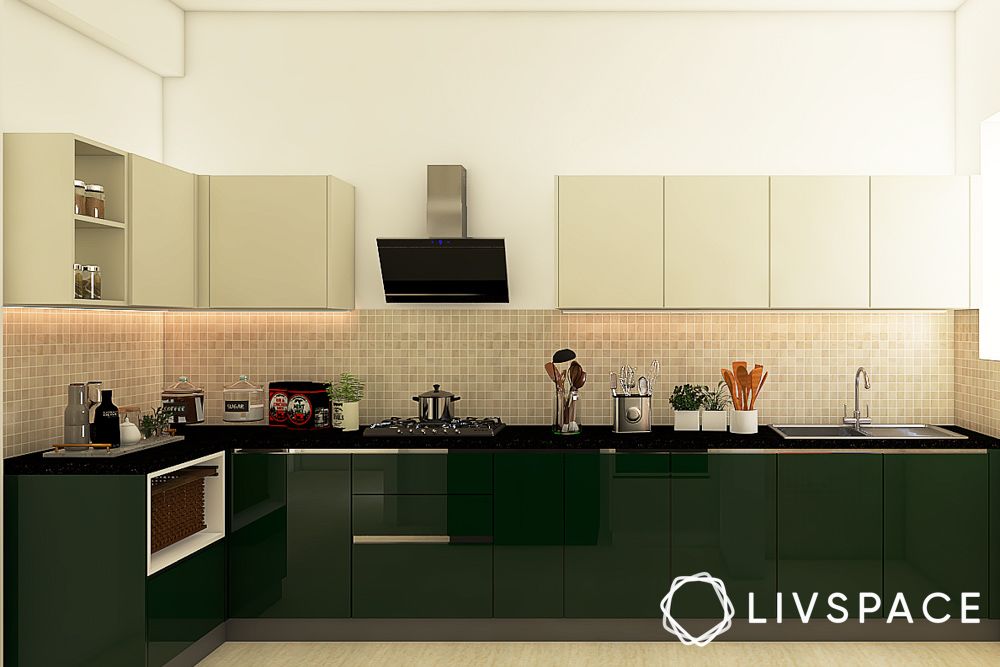 #64: A White Kitchen With a Bright Yellow Fridge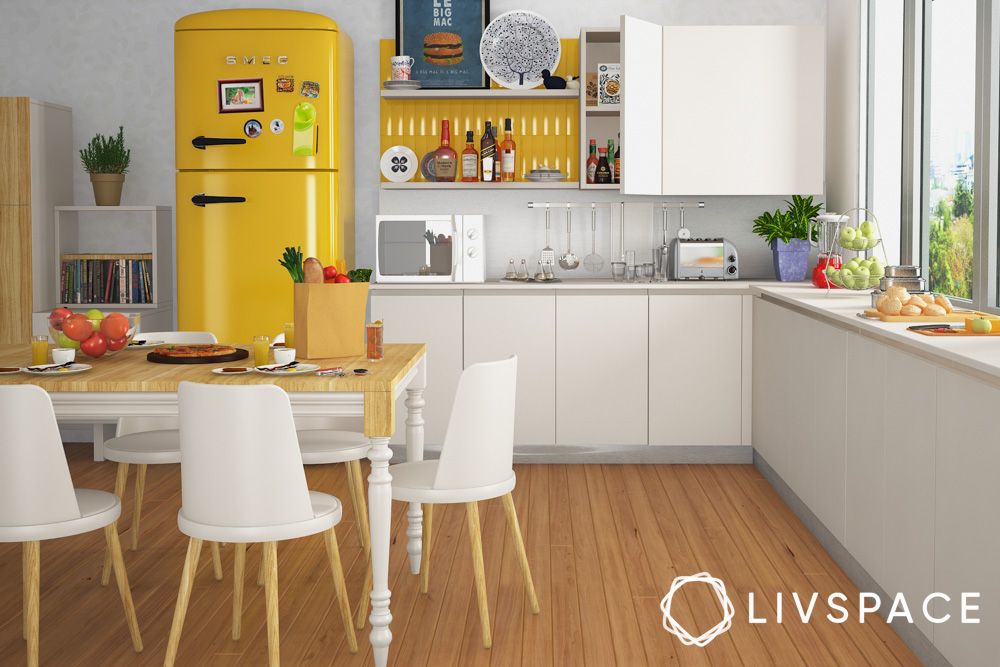 #65: A White Kitchen Design With a Black Backsplash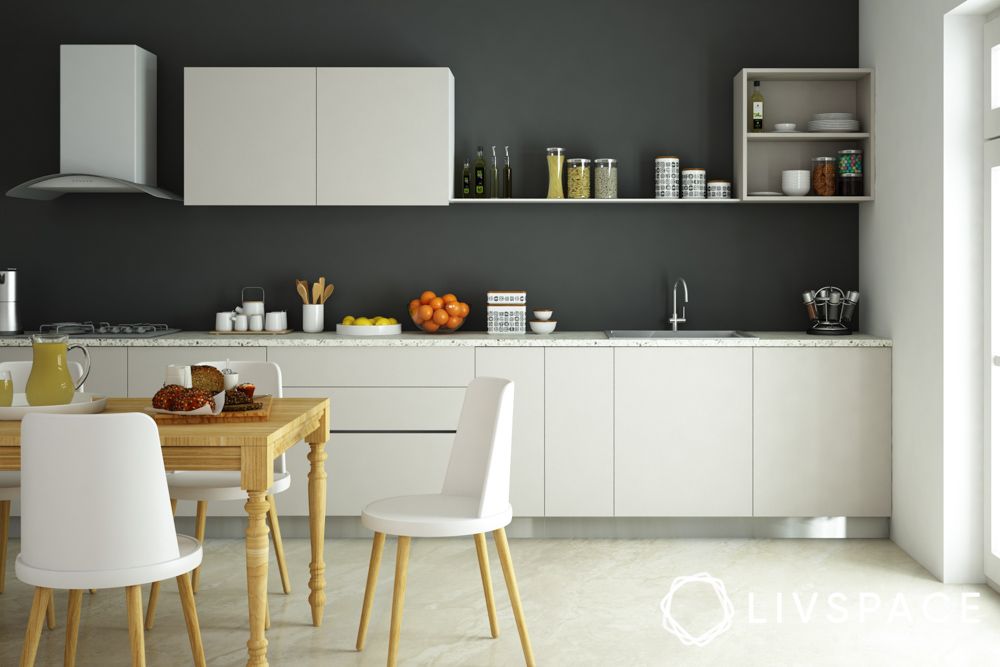 Also Read: 50+ Simple Kitchen Design Ideas for the Ultimate Makeover
Stunning white kitchen design ideas to inspire you:
Check out more modular kitchen designs:
How Can Livspace Help You?
We hope you found our white kitchen design ideas useful! With high-quality materials and aesthetic designs, we can give you the kitchen of your dreams. Book an online consultation with Livspace today.
Have any thoughts or suggestions you'd like to share with us? We're all ears! Drop us a line at editor@livspace.com.
Please note that the designs showcased within the story are subject to availability and will vary based on the year the homes were designed in. Consult our designers for more details on the latest designs.