We're all used to choosing one colour for our kitchens that will last a good few years and be flexible with changes! But that choice can be a hard one to make given all the beautiful colours in the market, and can take away the opportunity to do something fun with the space! That's where this trend comes in handy. Dual or two-toned kitchen cabinets are in, and how! We've put together some kitchen design images to inspire a makeover in your kitchen! Take a look.
Kitchen Design Image #1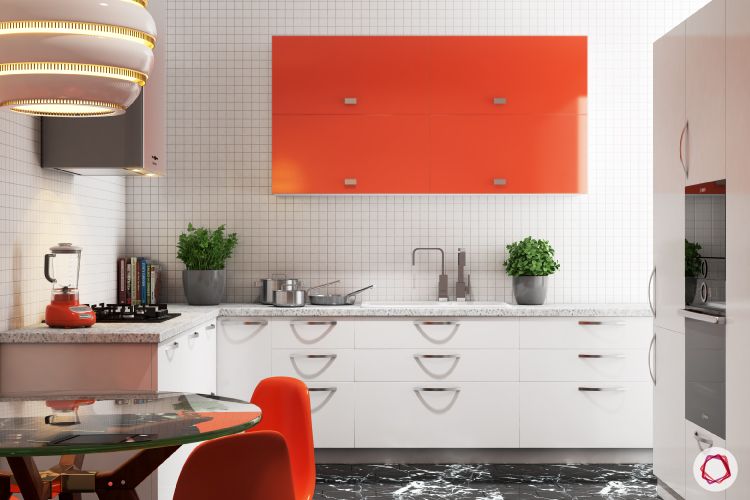 Agreed, this one's not for the faint-hearted, but the orange really adds life to what would otherwise be a plain white kitchen. You can add other orange elements to complement the look!
Kitchen Design Image #2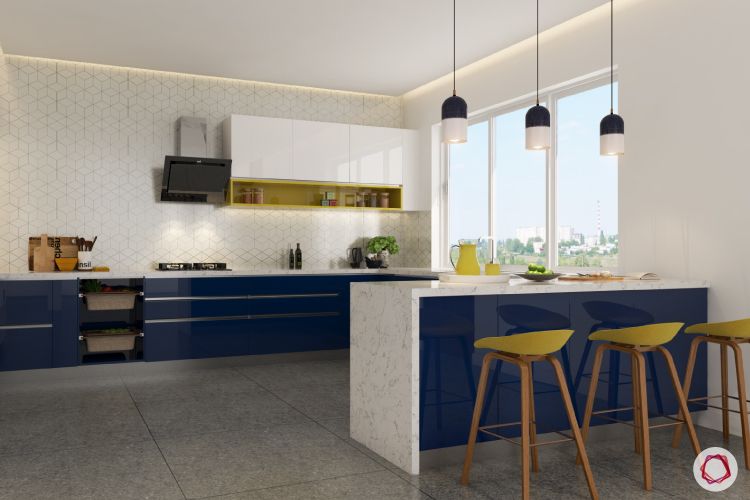 If you've got the space and prefer soothing shades, opt for this colour combination for the heart of your home. Add contrasting shades in your furniture or accessory choices.
Kitchen Design Image #3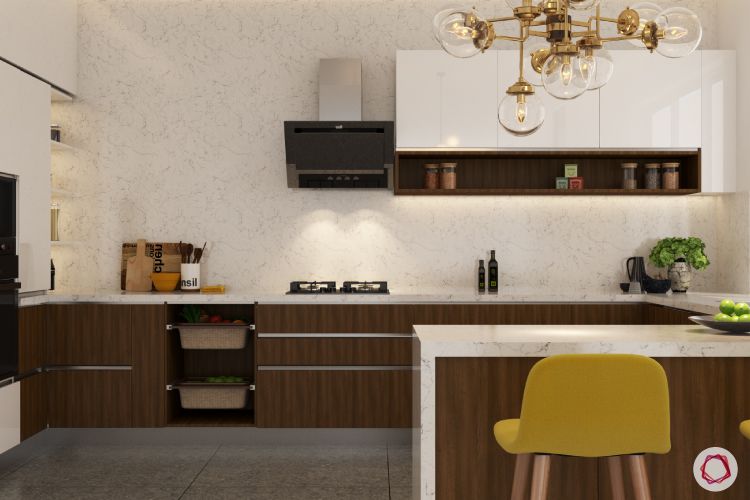 The wooden grains keep things warm while the white overhead cabinets keep things looking spacious. This look works for everyone!
Kitchen Design Image #4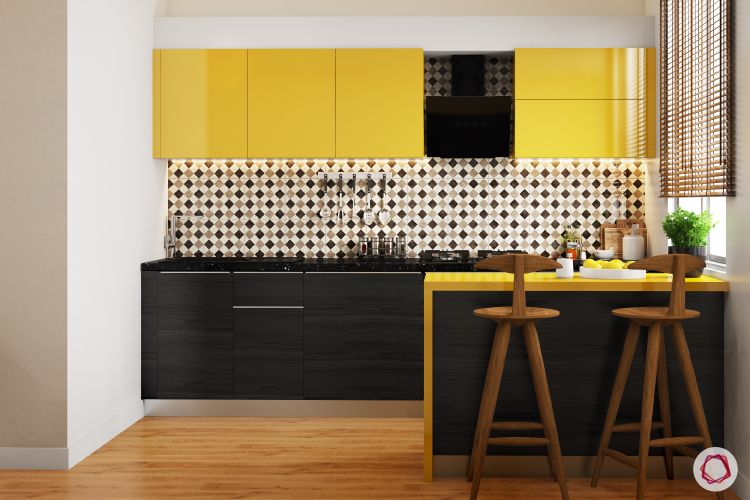 Add two contrasting shades and a quirky backsplash to keep things fun, especially if it's an open kitchen! You only have to be young at heart for designs like this.
Kitchen Design Image #5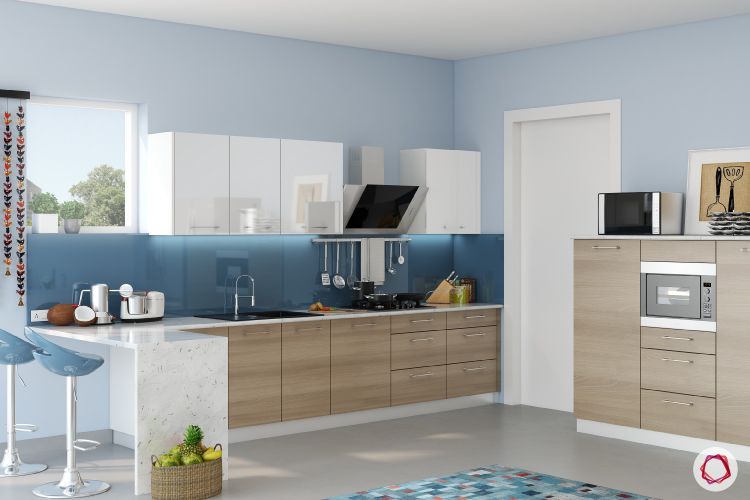 If you're one for sober shades, we recommend this one. The wood on white with a blue backsplash keeps things light and breezy!
Kitchen Design Image #6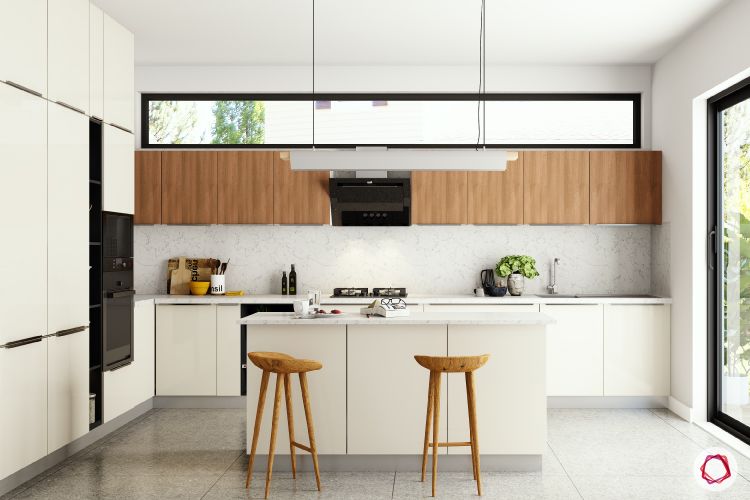 We love it when our designers play around with usual colours but manage to turn it into a stunner!
Kitchen Design Image #7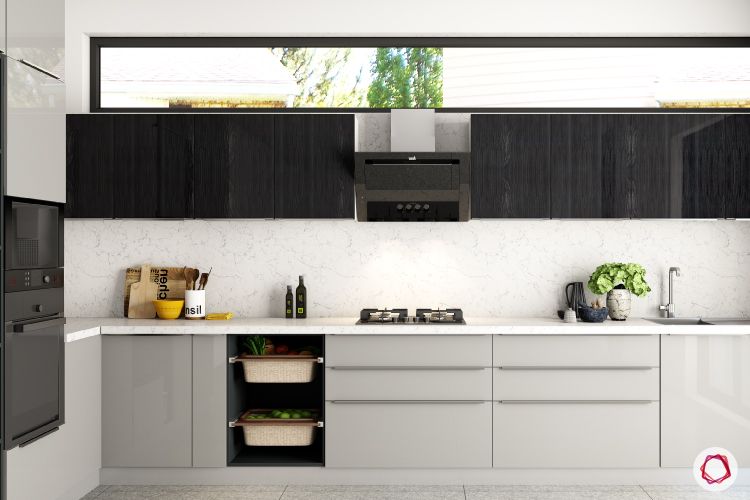 Grey and black doesn't necessarily have to be dull! If you have an open layout with plenty of natural light, you should try out this combination!
Kitchen Design Image #8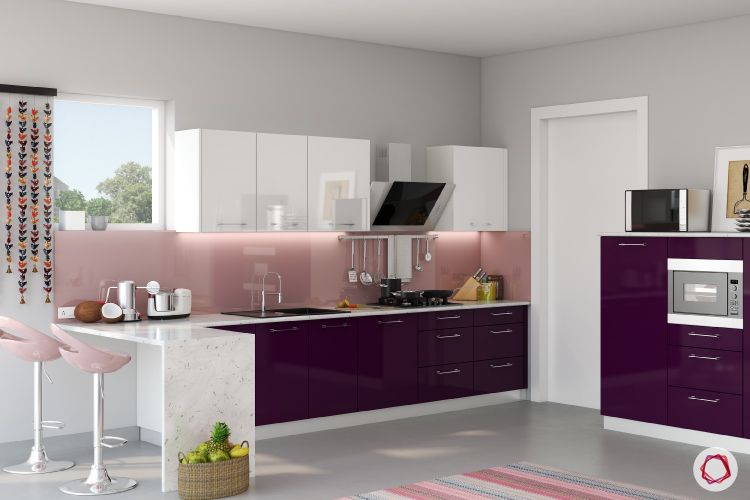 Purple and white, with a dash of pale pink as the backsplash makes things quite interesting, don't you think?
Kitchen Design Image #9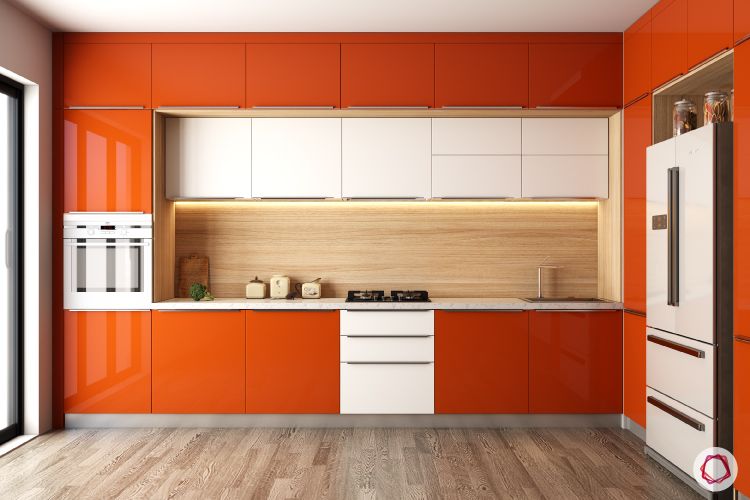 Glossy finishes for the orange paired with matte finish for the white is what summer in Tuscany would look like! Does this look like your next kitchen?
Kitchen Design Image #10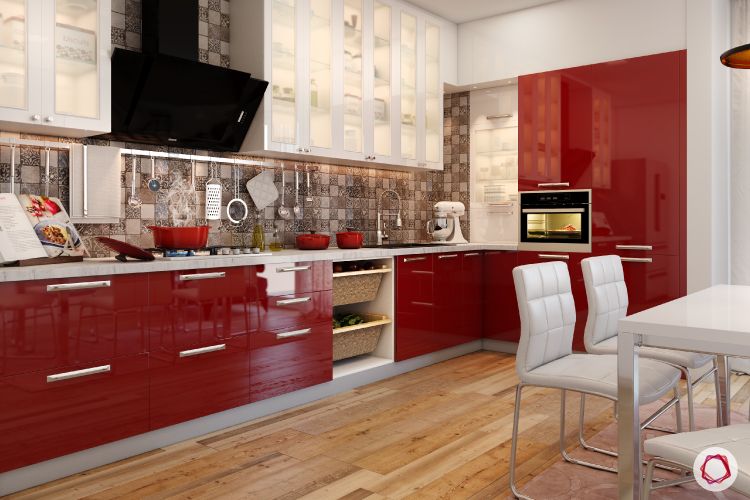 This is one of our all-time favourite combinations – red and white in high gloss finishes! Exciting, fun and easy to maintain!
Kitchen Design Image #11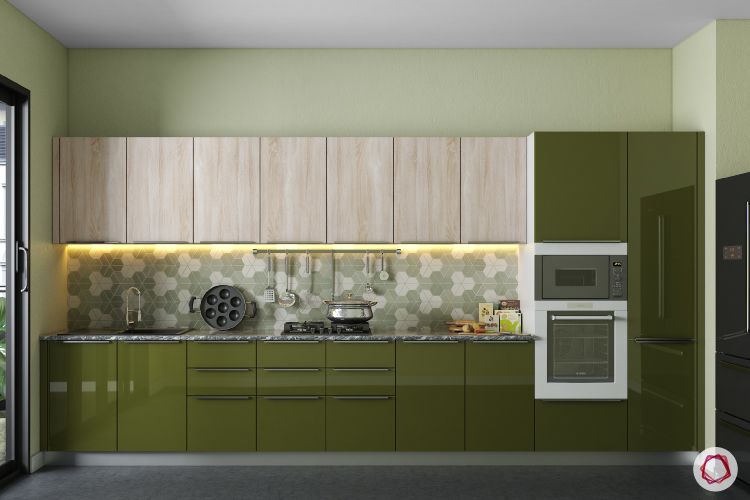 Looking for a more subtle combination? How about olive green with wooden grains? Add a complementary backsplash to the milieu!
Kitchen Design Image #12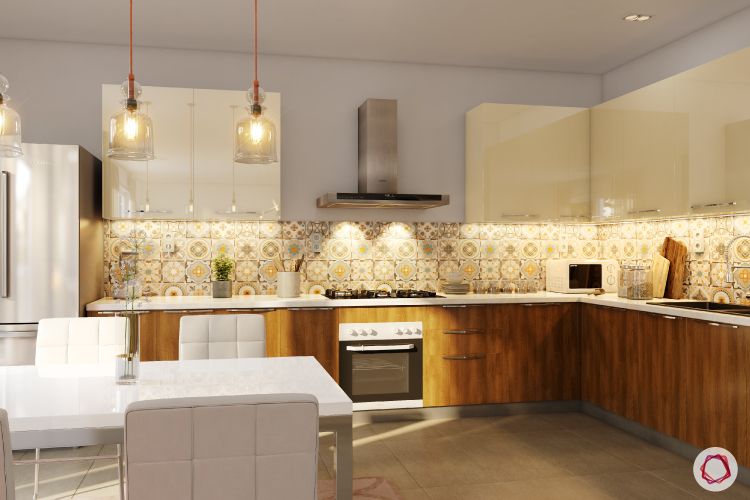 Since the wooden grain with white/off white combination is so popular, we gave it a slight twist with a Moroccan tile backsplash! Don't you love how it looks?
Kitchen Design Image #13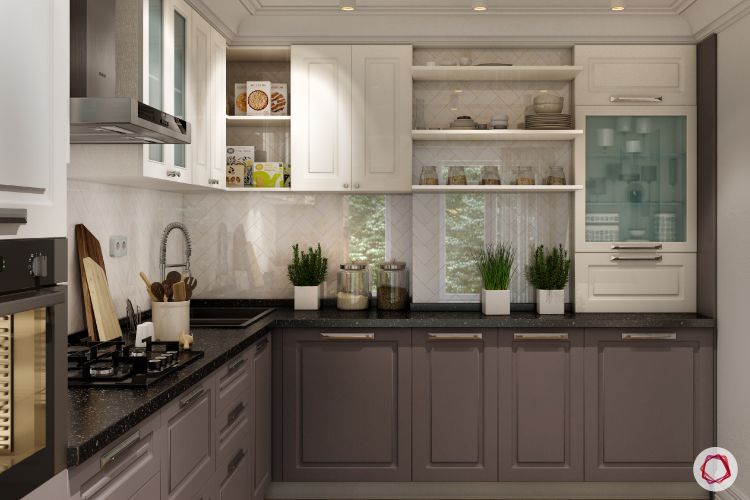 Two-tone kitchens usually have the same format – darker colour for the bottom shelves and lighter colours for the overhead shelves. This is to create the illusion of spaciousness.
Kitchen Design Image #14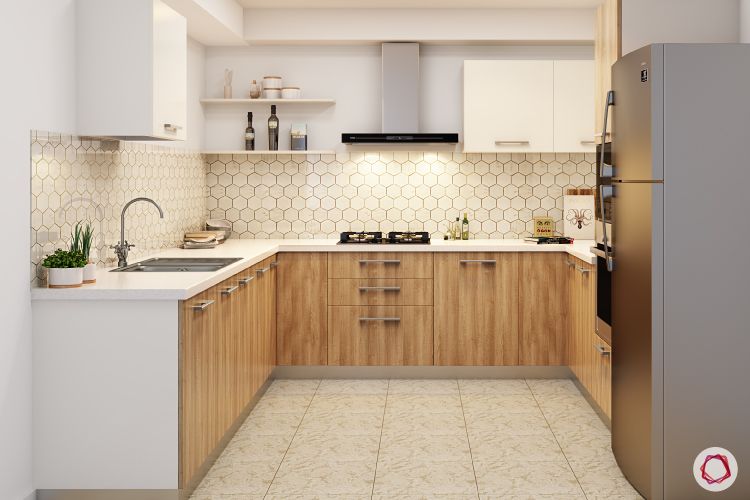 Compact but beautiful, this kitchen is instantly pleasing to the onlooker! We've used geometric tiles for the backsplash.
Kitchen Design Image #15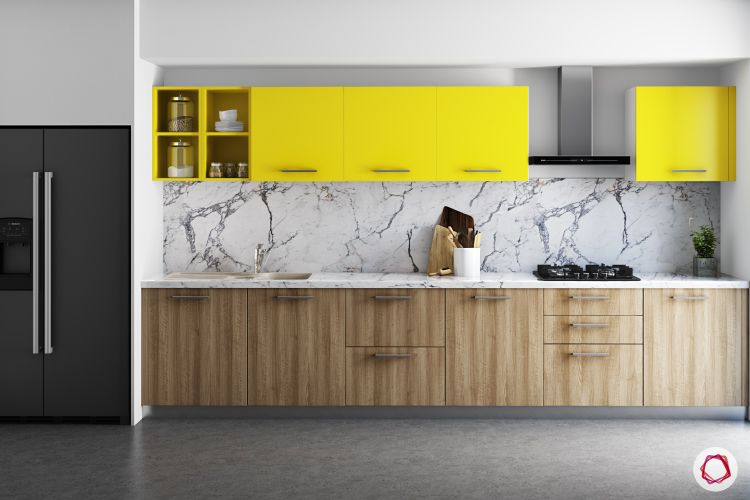 Add a pop of colour like this stunning yellow to your kitchen if you want to turn heads!
Kitchen Design Image #16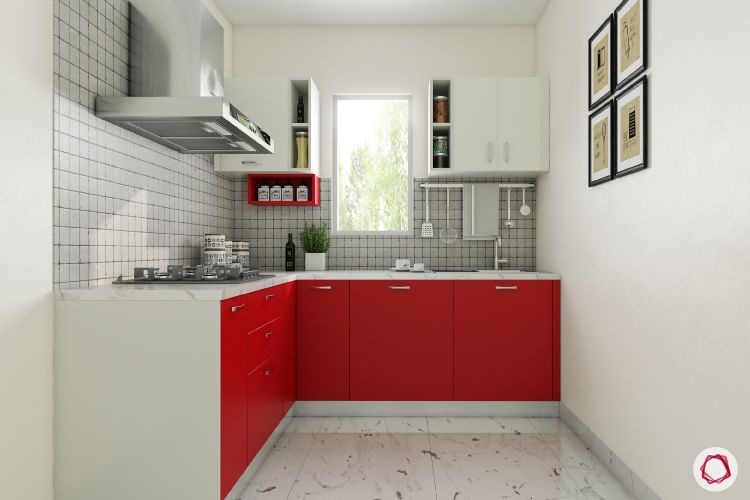 We've increasingly noticed people opting for fiery red in their kitchens for this impressive look! This works best with open kitchens.
Kitchen Design Image #17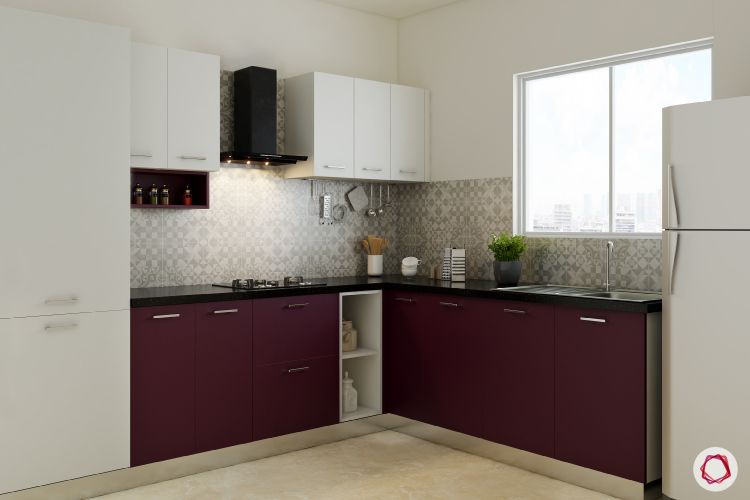 This L-shaped kitchen design employs wine and white for a toned-down but elegant look.
Kitchen Design Image #18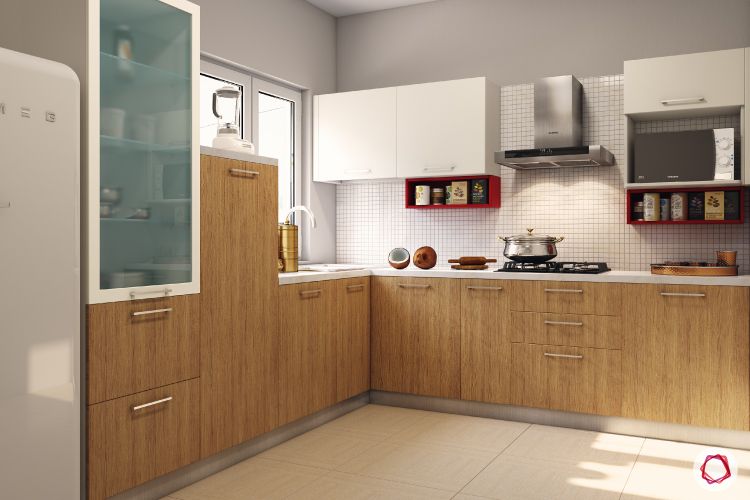 While you can use the wood and white combination, ask your designer to add open cabinets in contrasting shades to keep things interesting!
Kitchen Design Image #19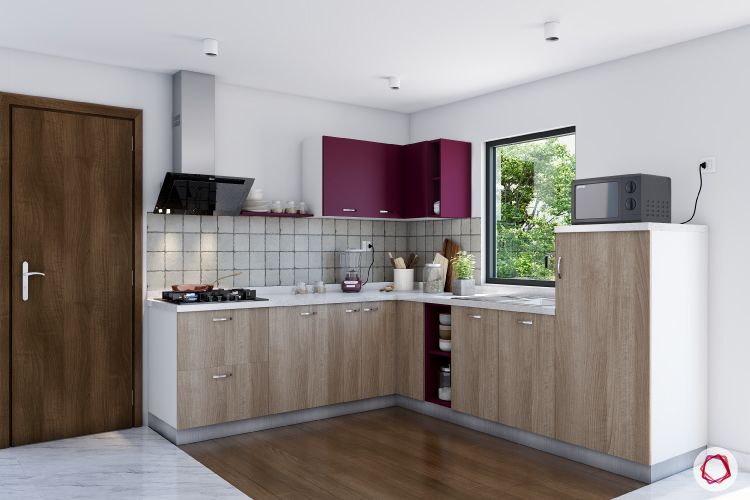 A dash of wine and you're set to show off your dual-toned urban kitchen!
Kitchen Design Image #20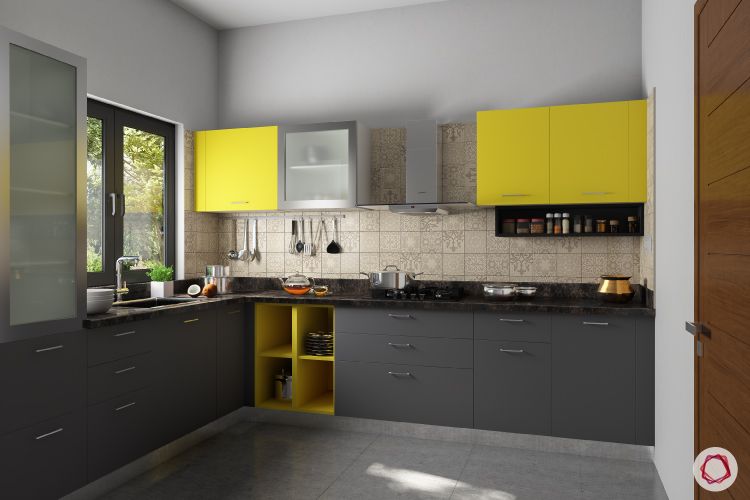 Yellow works with grey too! These contrasting shades are great for those with fun personalities and like to keep reinventing.
Kitchen Design Image #21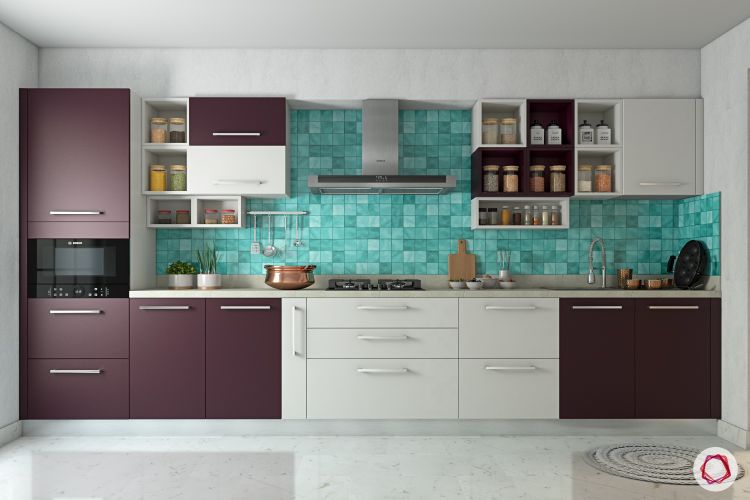 If white and wine aren't enough, breathe life into the kitchen by adding a contrasting backsplash! Fresh and fun, we would recommend you try this out!
Kitchen Design Image #22
Grey is also popularly paired with red, especially when there is the leverage of space.
Kitchen Design Image #23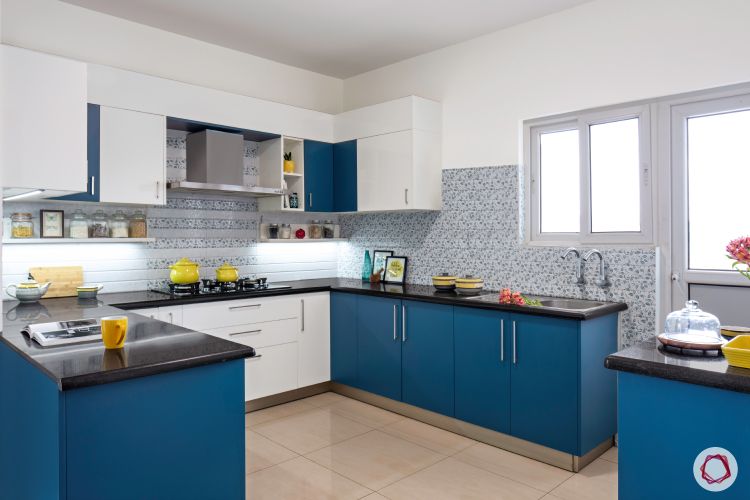 Cool and refreshing, this kitchen design is for those who want to play it safe!
Kitchen Design Image #24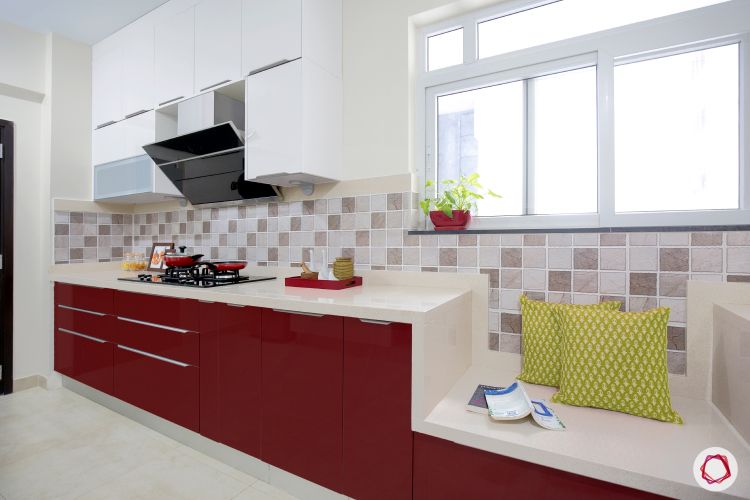 Stick to popular colours but get an offbeat layout if the space allows it. This reading nook is great for kids to catch up with their parents as they cook.
Kitchen Design Image #25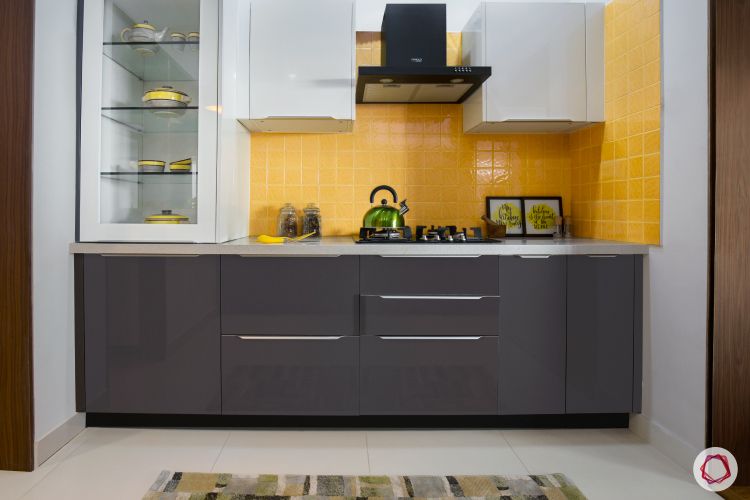 The pop of colour here in this kitchenette is the warm yellow tiles given for the backsplash. You could make these small changes for a great makeover!
Kitchen Design Image #26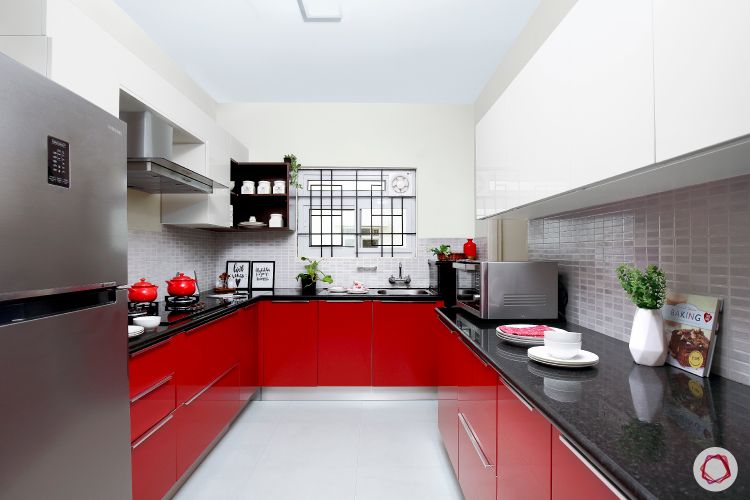 We believe this red adds energy and excitement to this kitchen at Sharal Moras' home. Check out their home for all the vibrant colours used!
Kitchen Design Image #27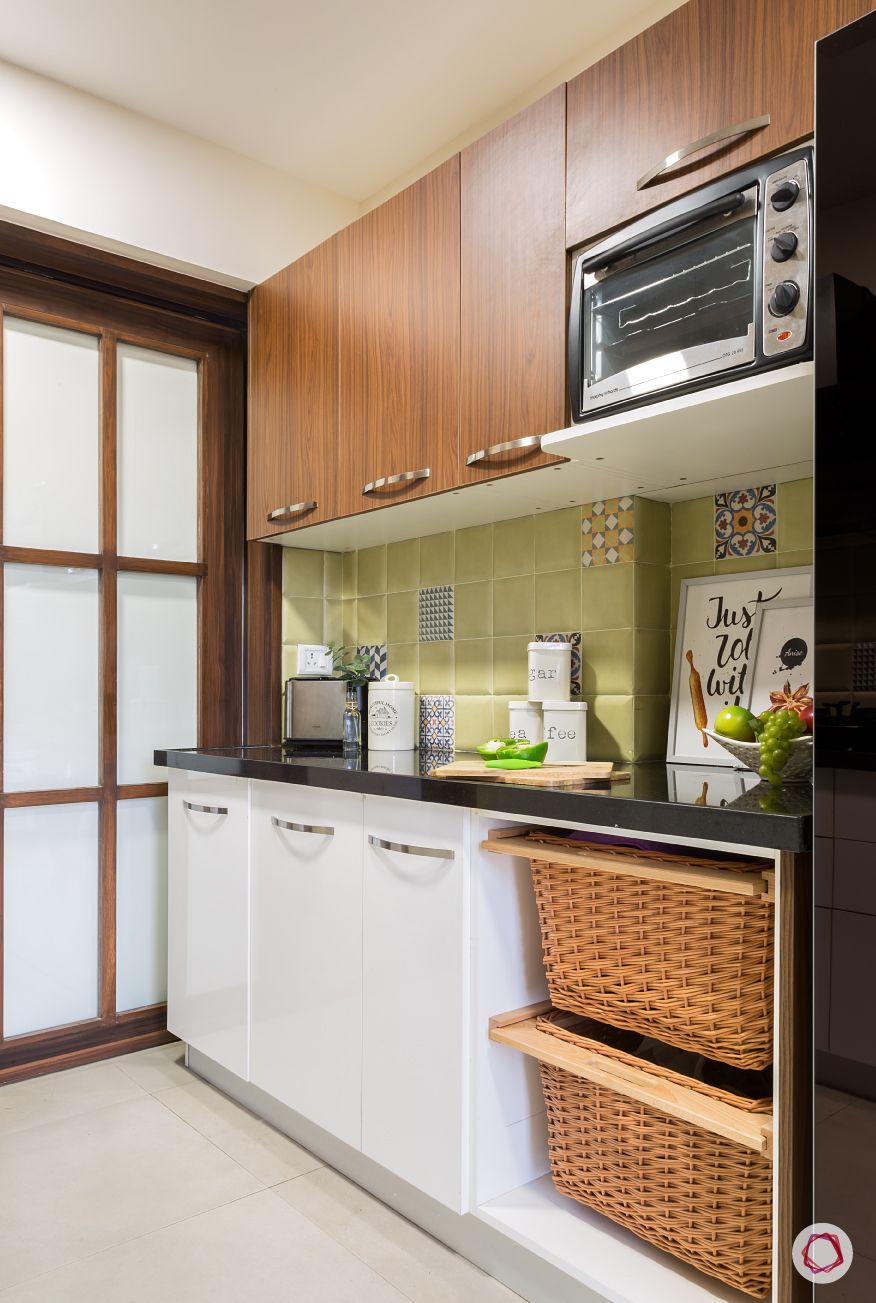 White on wood with a lemony backsplash, Feroze Khan's Livspace home has a lot of interesting elements. The wicker baskets complement the wooden grains of the top cabinets in this kitchen. We love the earthy and warm vibes of this setup!
Kitchen Design Image #28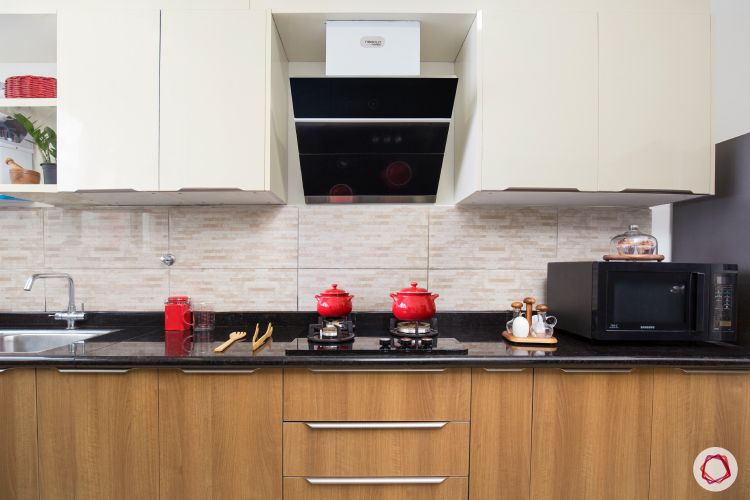 Roshni Mitra's contemporary home also has a two-toned kitchen which has been kept subtle but functional!
Kitchen Design Image #29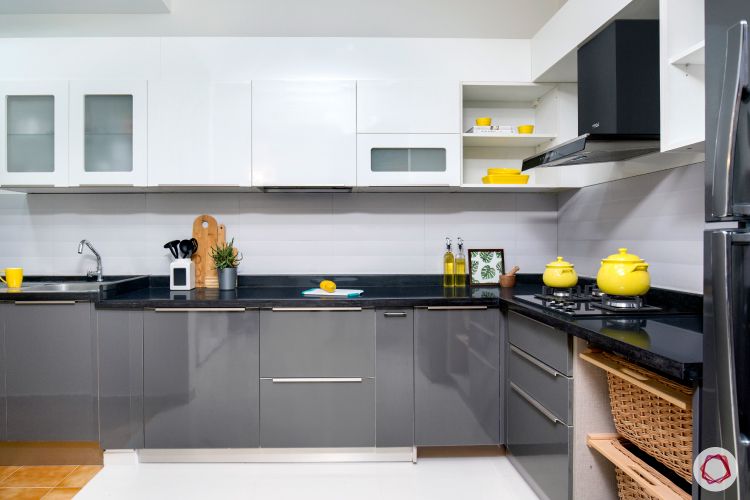 Another example of keeping it subtle with pops of colour is in Tarun Rakhendranath's Livspace home. We believe this design is one for the ages!
Kitchen Design Image #30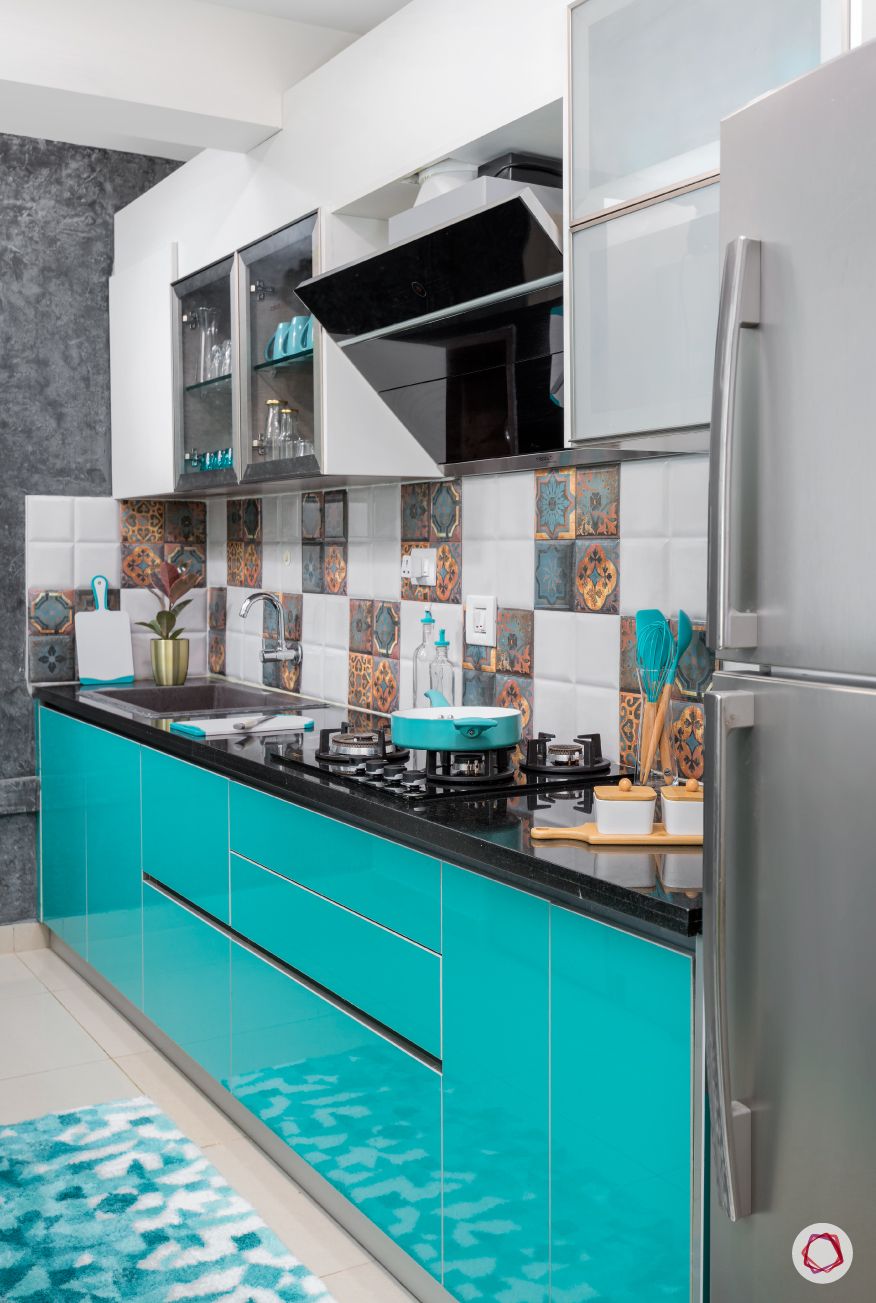 Blue and grey is another favourite amongst our clients, including Shaheen Farooqui. It inspires culinary experiments and supports the chef with its functional elements.
Kitchen Design Image #31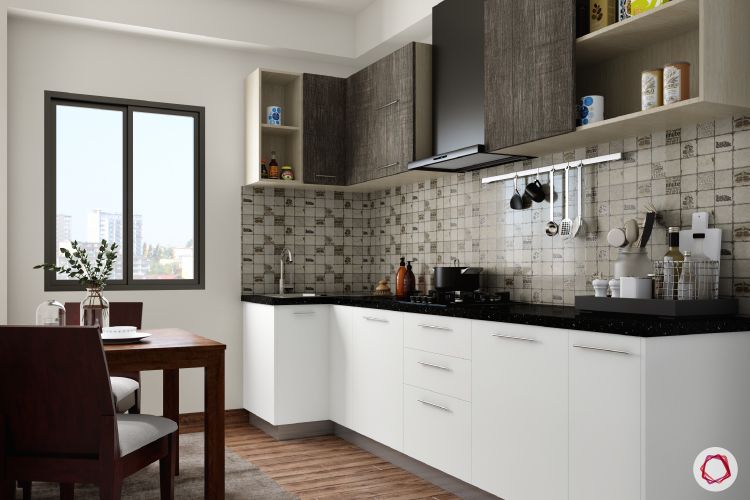 Basic is beautiful! This one's an ode to urban, compact kitchens. The colour combination will be loved by the young and old alike!
Did you enjoy this collection of kitchen design images? Let us know at the ID below.
Check out some parallel kitchens designs for further inspiration!