Kitchen designs have been evolving and we at Livspace have been studying the kitchen cabinet design trends closely. Inspired by our learning from having installed 1000s of kitchens, and observing space planning and kitchen behaviour in the Indian context, we keep innovating with designs that are not just functional, but also aesthetically appealing.
Take a look at this collection we've curated of our favourite designs. They've been designed by combining 20+ shutter unit colours and 5+ open unit colours in muted, eye-popping shades to wood grains in matte finish. Be amazed!
Kitchen Cabinet Design #1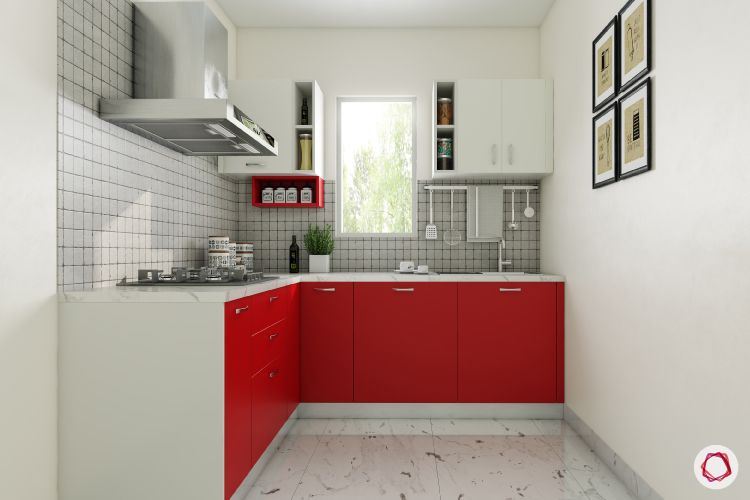 Why choose one colour when you can have two? Two-toned kitchens are all the rage and the use of complementary and contrasting shades can turn your kitchen into a stunner. Like this white and fiery red combination which would suit open kitchens best. What better way to show it off to your guests?
Pro tip: If you're keeping the overhead cabinets white, you can, for instance, add red open shelves to add some spice to the design.
Kitchen Cabinet Design #2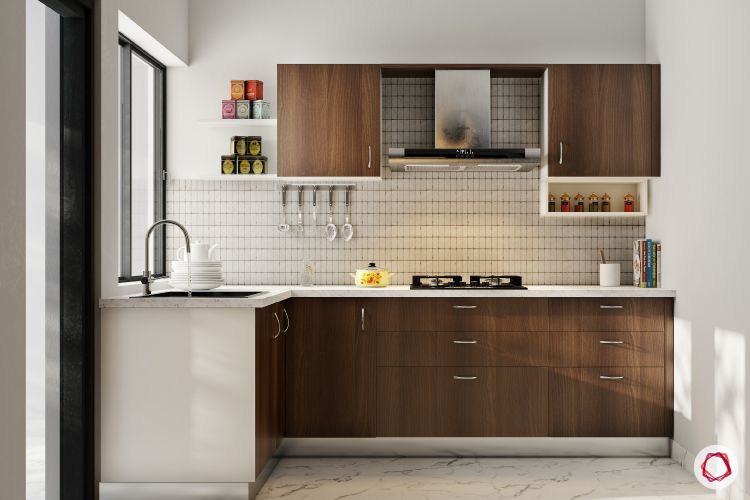 We know how the beloved and go-to option for kitchen cabinets in most Indian homes is the wooden grain. Our matte finished wood grain laminates will suit any kitchen – large or compact, open or closed.
Pro Tip: Match the darker brown shades to white countertops and the lighter browns to darker countertops.
Kitchen Cabinet Design #3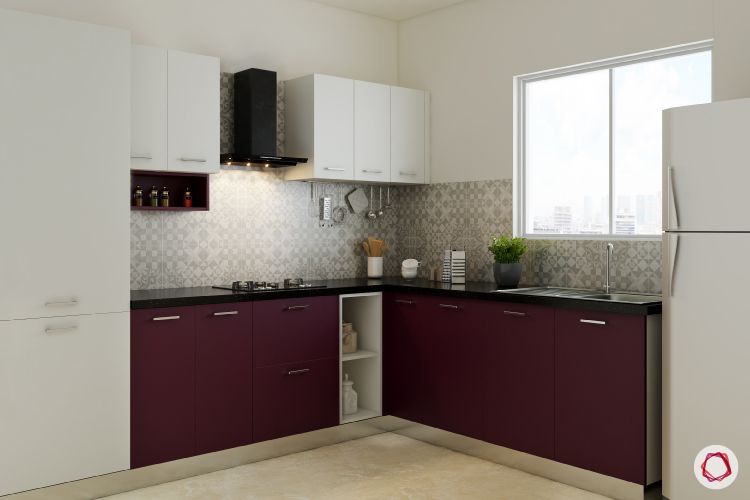 You can choose to have only a few modules done up in colour like the bottom shelves in this kitchen. You can mix and match the open cabinets in the respective colours too! Stunning, don't you think?
Pro tip: Use white in the overhead cabinets to make your kitchen look more spacious!
Kitchen Cabinet Design #4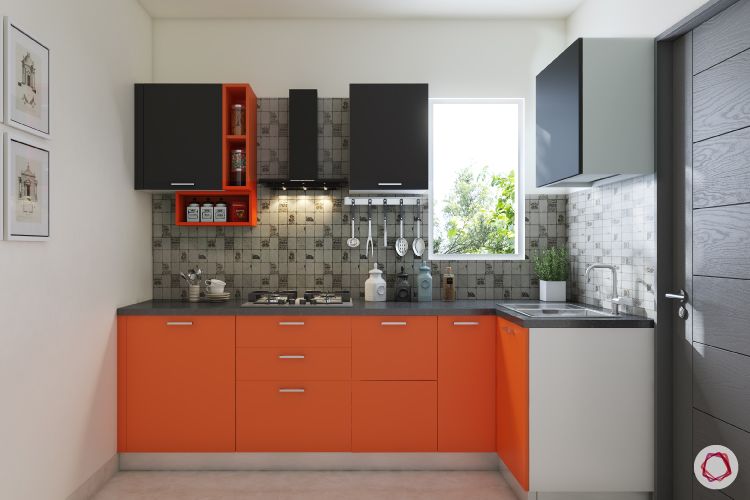 If you don't want a run-of-the-mill option, try a quirky colour combination like this! Best used in kitchenettes and open kitchens. The open overhead cabinets in dark grey is a beautiful contrast.
Pro tip: Use bright and bold colours especially if you have an open kitchen.
Kitchen Cabinet Design #5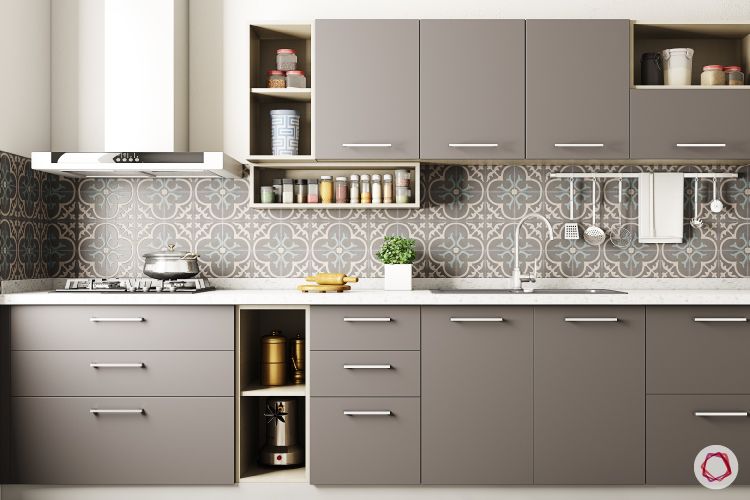 If it's a single colour you want, you can opt for something like this in grey and match it to a gorgeous motif printed backsplash. Keep the open cabinets basic in white.
Pro tip: A mix of open and closed cabinets will come handy for those who are on the move and need basic ingredients within reach.
Kitchen Cabinet Design #6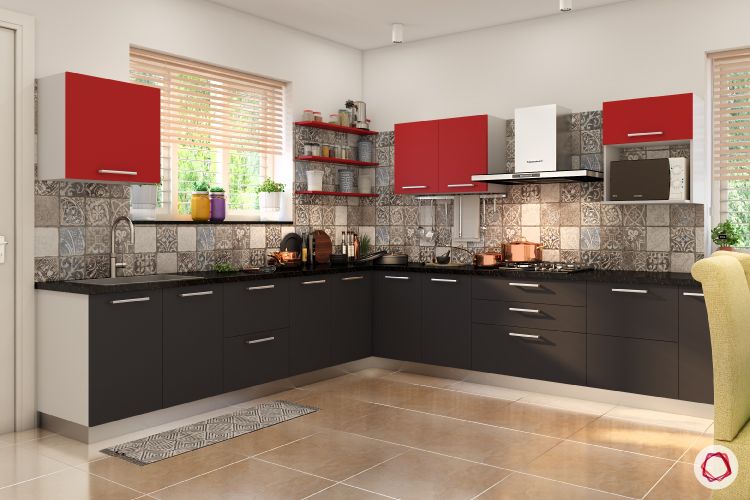 One of our favourite combinations is grey and red. It's bold but elegant, and when paired with the right backsplash, can turn the kitchen into a head-turner.
Pro tip: Minimise the number of ledges and open shelves to ensure the kitchen doesn't look cluttered.
Kitchen Cabinet Design #7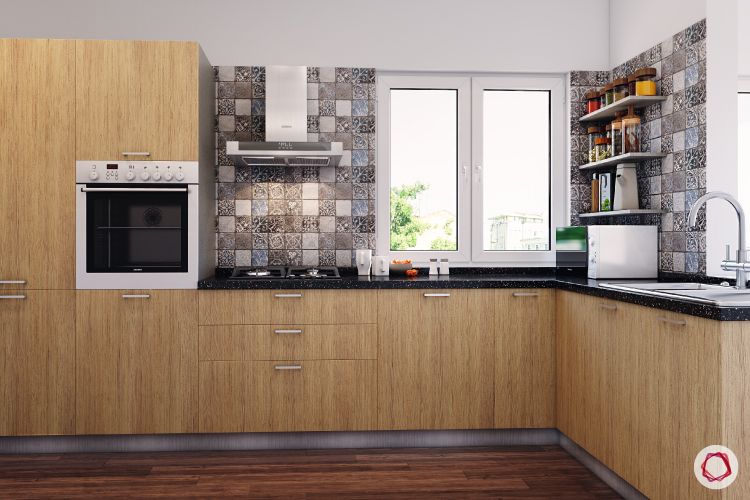 If you think the wood grain look is timeless, we agree with you! Look at the seamless design and the subtly mixed backsplash tiles. The condiments are easily accessible when placed on open shelves.
Pro tip: Tell you designer what appliances you have/need so that they can build it into the kitchen design.
Kitchen Cabinet Design #8
You can have the best of both worlds! Mix wood grains with a dash of wine like this kitchen! It works especially well for smaller apartments with plenty of natural light.
Pro tip: Explaining your lifestyle to your designer can help make the best of the space available for all your needs.
Kitchen Cabinet Design #9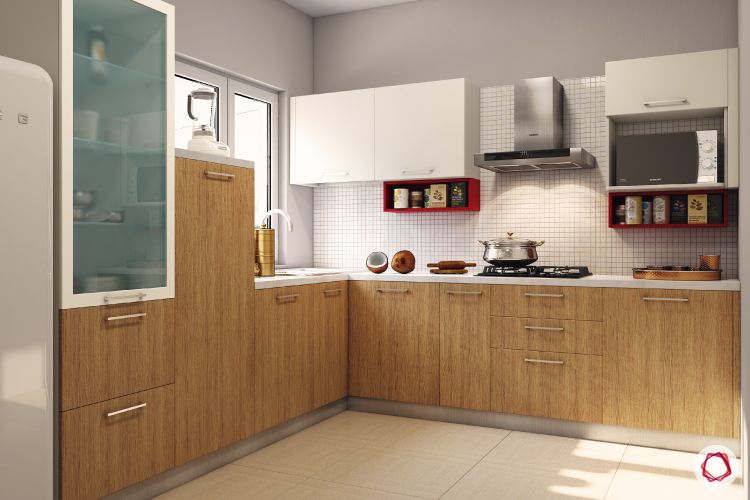 What a lovely blend of wooden laminates, white, red and glass finishes! Who ever thought these four elements would come together so beautifully! It's for those who have their hearts rooted in tradition and their arms embracing modernity.
Pro tip: Glass shutter cabinets can be plain, frosted or tinted, depending on what you want to show off. It works best for crockery.
Kitchen Cabinet Design #10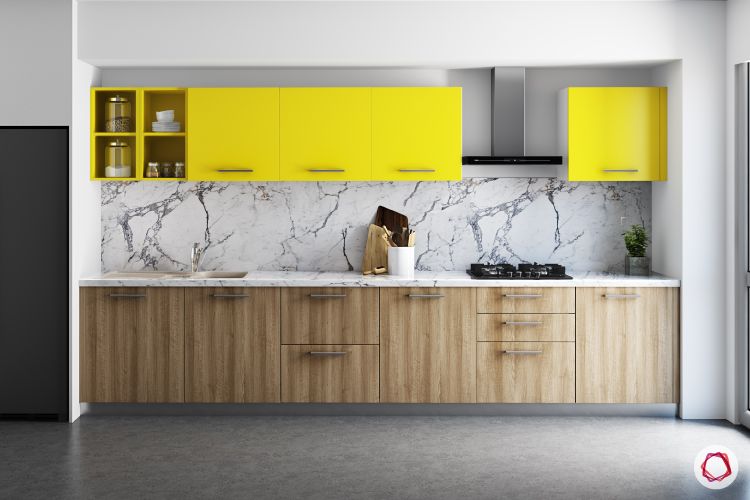 If all you have is a single counter kitchen, it can still be made beautiful! Our designers can pair wood with a bright colour that suits your personality and home.
Pro tip: Don't block the natural light coming into your kitchen, especially if it is compact. It will make the space airy and bright.
Kitchen Cabinet Design #11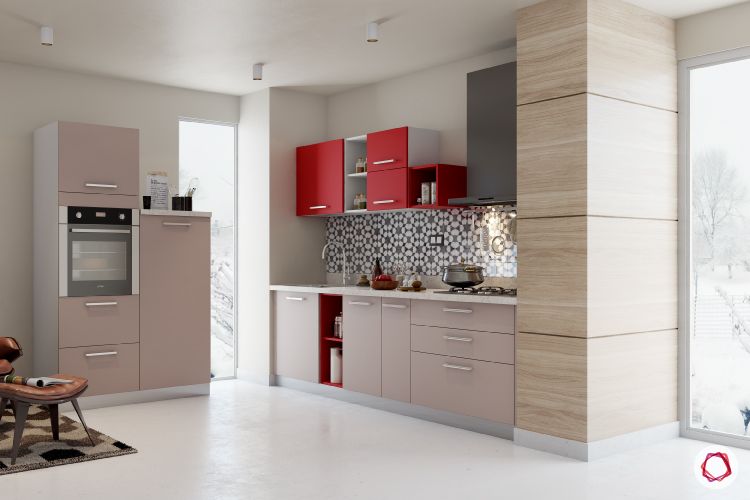 An urban home deserves a stylish kitchen like this one. It's subtly chic, unpredictable in colour choices and utilitarian in layout!
Pro tip: There's no one right way to do up your kitchen. There is, however, a design and layout that works for you and your lifestyle. Work with a designer to get the best option.
Kitchen Cabinet Design #12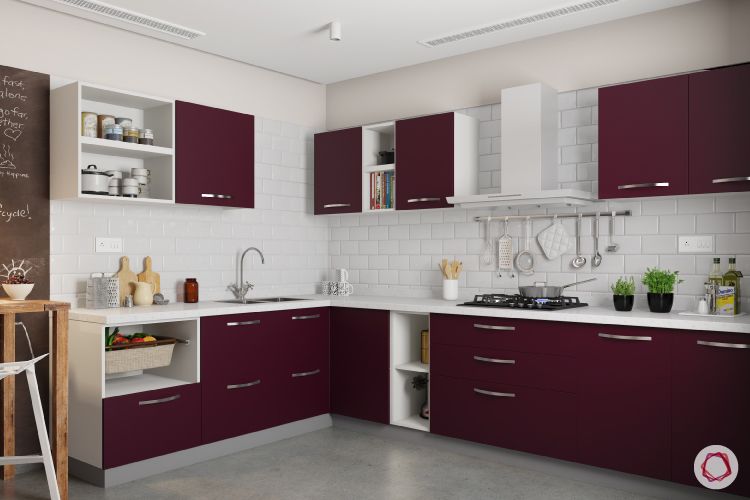 If you love solid colours, we'd recommend a kitchen like this. The deep colour contrasted by pristine white is an eye-catcher! The matte finish is easy to maintain and lasts long!
Pro tip: You can add a breakfast table to the milieu or extend the existing countertop. This will enable you to grab a quick breakfast or even help your kids with their homework as you get dinner ready!
Kitchen Cabinet Design #13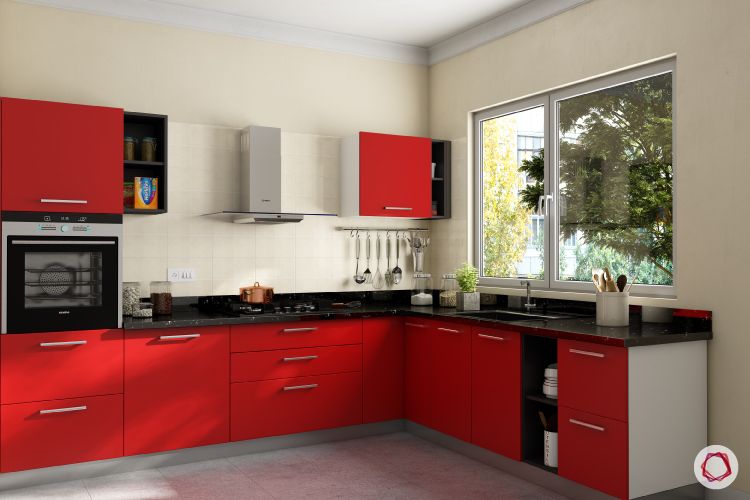 Bold red is not everyone's cup of tea, but when done right, it can really make your kitchen an exciting space.
Pro tip: Go with sober background shades when you use bold shades like red and wine. The contrast will balance the visual effect.
Kitchen Cabinet Design #14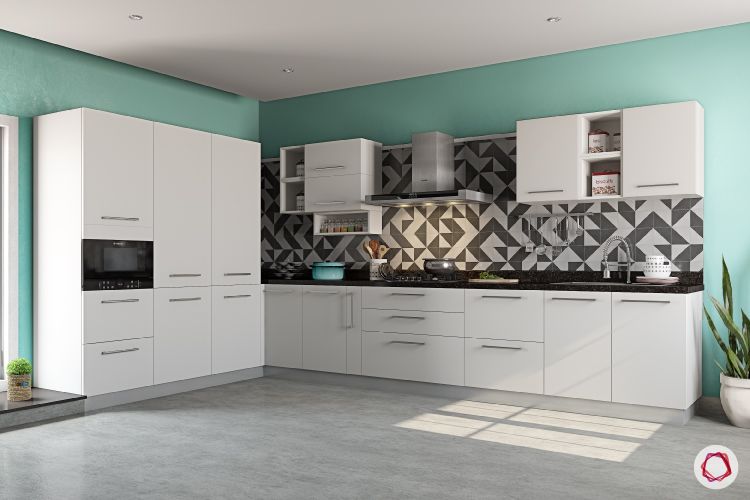 Visually light and high on convenience and storage, this kitchen is another favourite. The cabinets have been kept simple while backsplash tiles in abstract print have been added. The wall colour in blue helps frame the kitchen beautifully.
Pro tip: Don't be worried about using white in your kitchen. With regular care and maintenance, you can keep these kitchens looking sparkly white. Need help with maintenance, read 5 Ways to Keep Your White Kitchens Spotless.
Kitchen Cabinet Design #15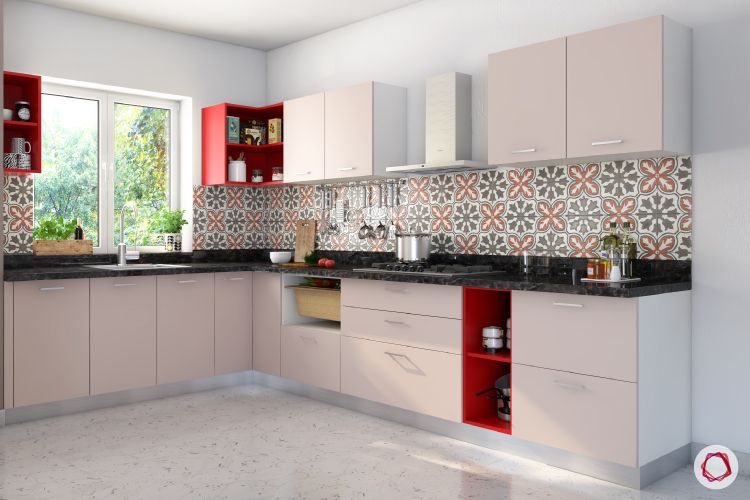 Baby pink and red! Who would've ever thought of this combination? We did, and look how fabulous it turned out. It's subtle with pops of colour and a pretty backsplash pattern to boot.
Pro tip: Don't be afraid to experiment with colours in your kitchen. This is another extension of your personality and we believe it should shine through!
Love this collection of kitchens? Check out the Kitchen Designs That Are Ruling Homes in 2018.
— editor@livspace.com