As the name suggests, an L-shaped kitchen is where the countertop resembles the letter 'L'. This basic kitchen layout is preferred by many homeowners and is one of the most popular layouts for Indian kitchens. Wondering why? This is mainly because this layout provides ample space to work, facilitating an easy, efficient and practical workflow. The highlight of the modular kitchen design L-shape is that it can fit into all kinds of spaces: small, medium and large.
So we present you with 20+ L-shaped kitchen designs from the homes designed by us. For your ease, we have sorted these designs into small, medium and large kitchens.
Small Kitchens
#1: Glossy white kitchen with a pop of blue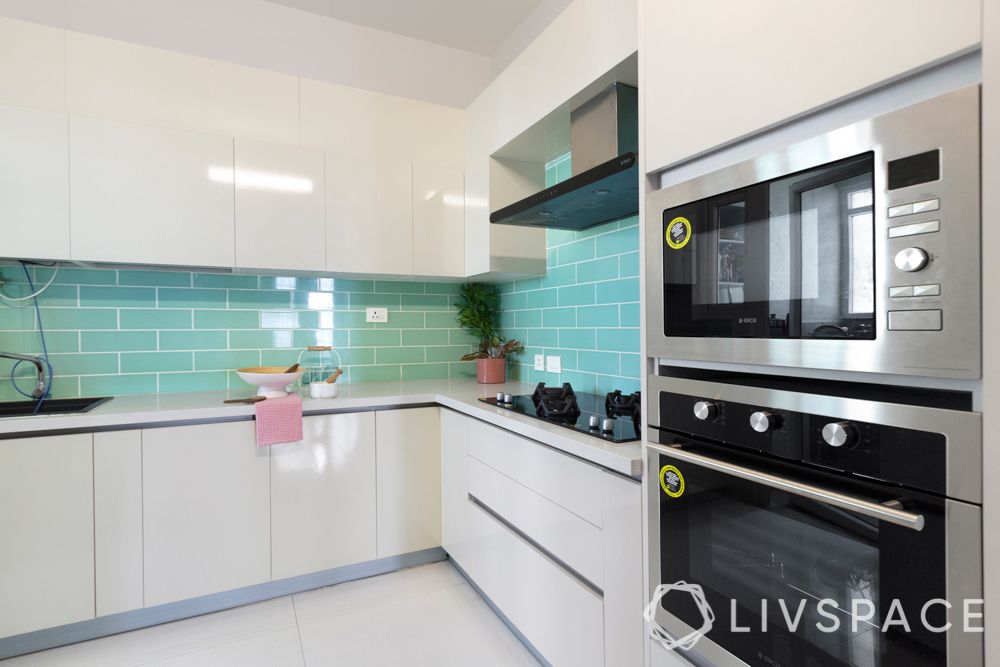 One way to make compact kitchens like this one appear big is by using glossy white interiors. The cyan subway tiles for the backsplash add a pop, making this L-shaped kitchen more striking.
PRO TIP
#2: Green L-shaped kitchen designed around windows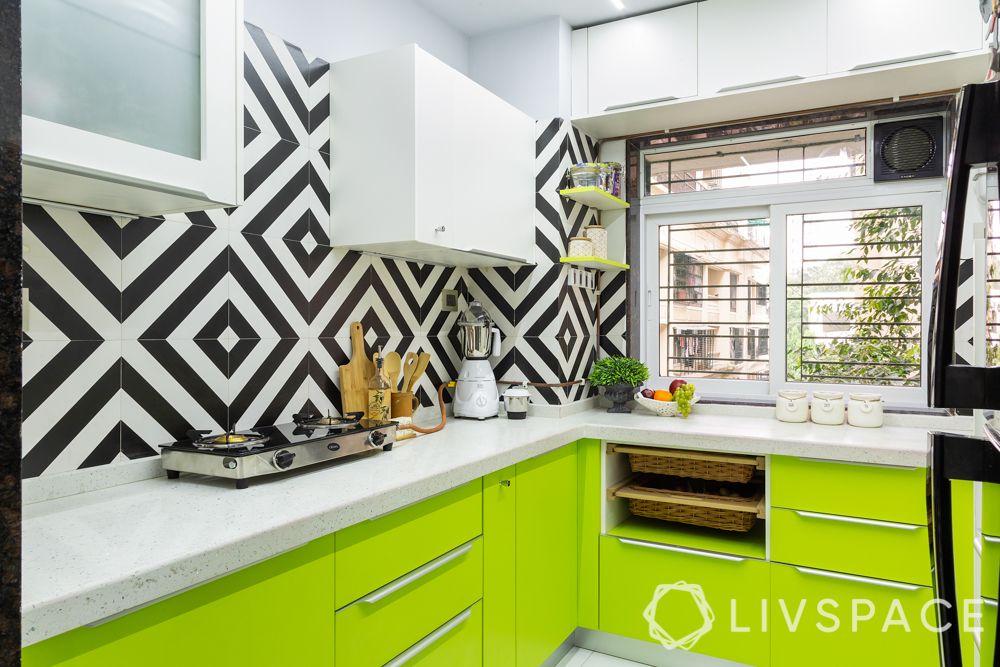 Though there is a space constraint in this kitchen, the interiors are incorporated around the window without obstructing the flow of light and air. This kitchen also religiously follows the golden triangle rule— hob-sink-refrigerator— maintaining efficiency.
PRO TIP
#3: Compact L-shaped kitchen in blue and grey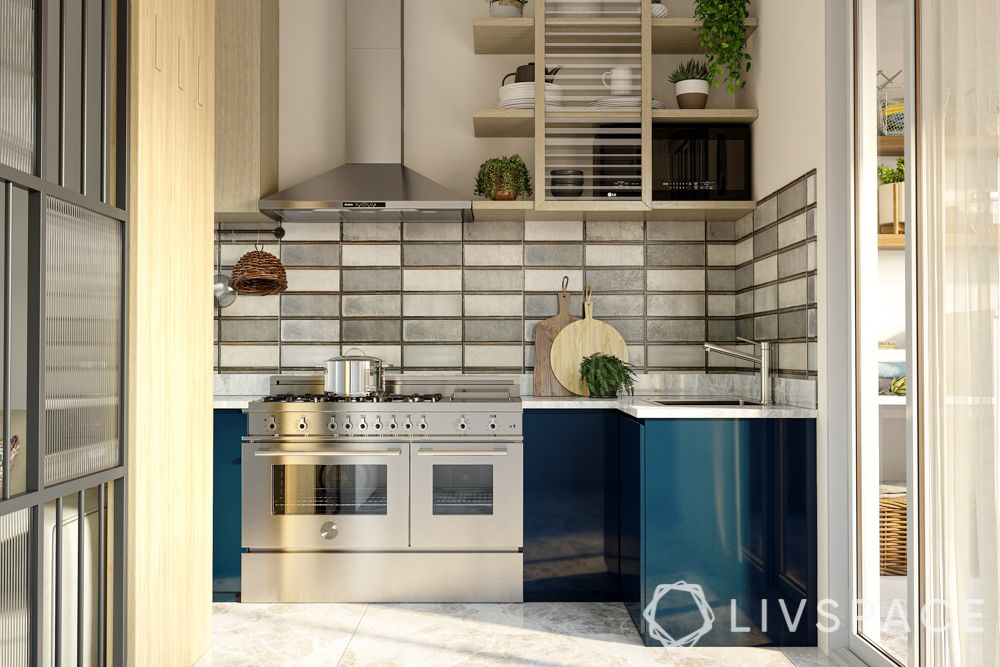 Who says compact kitchens have to be dull? Look at this kitchen's glossy blue cabinets and grey bricks for the backsplash. It all comes together so nicely in a bright, compact space.
#4: L-shaped Kitchen with glass partition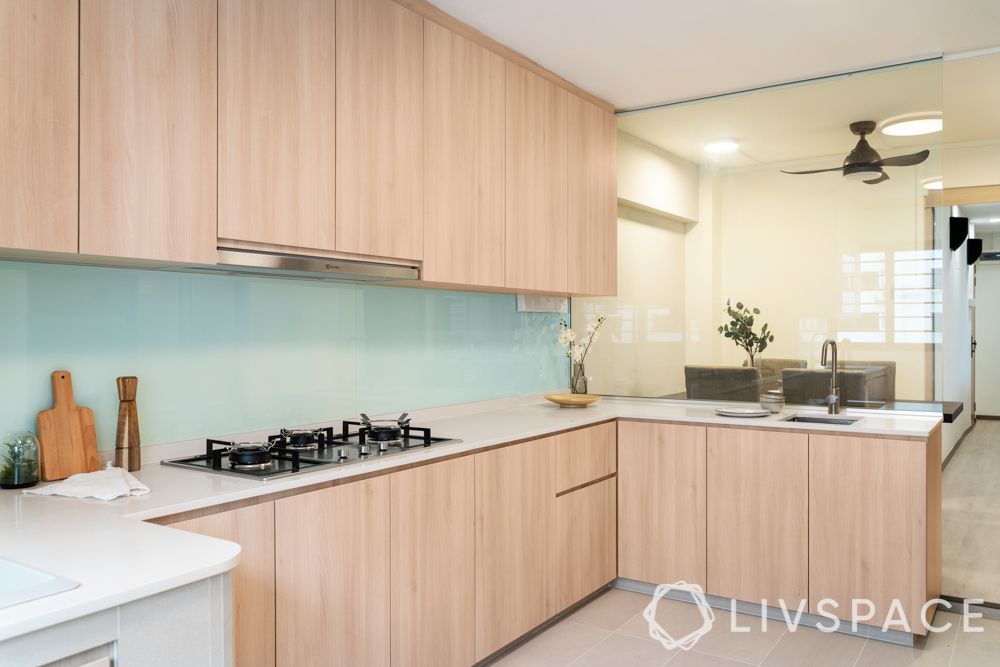 In this neat kitchen, we see timeless light wooden cabinets paired with a modern lacquered light-blue glass backsplash. Seamlessly separating the kitchen from the dining space, is a glass partition. This keeps the smoke and smells of the kitchen at bay without eating up space. Ingenious, isn't it?

#5: Two-toned kitchen that fits in a corner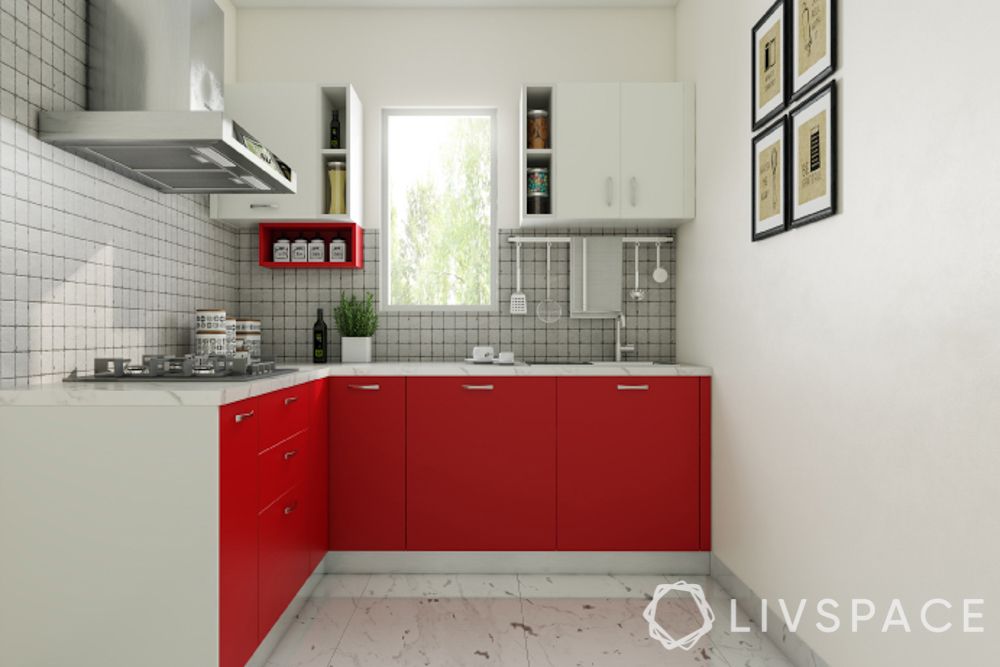 Why choose one colour when you can get two? This red and white kitchen is our favourite. Indians love red kitchens because they are vastu-compliant. But, too much red could be overwhelming for a small kitchen. So use it just for the base cabinets; it creates a pop and also protects against curry spills.
#6: L-shaped kitchen with green glass backsplash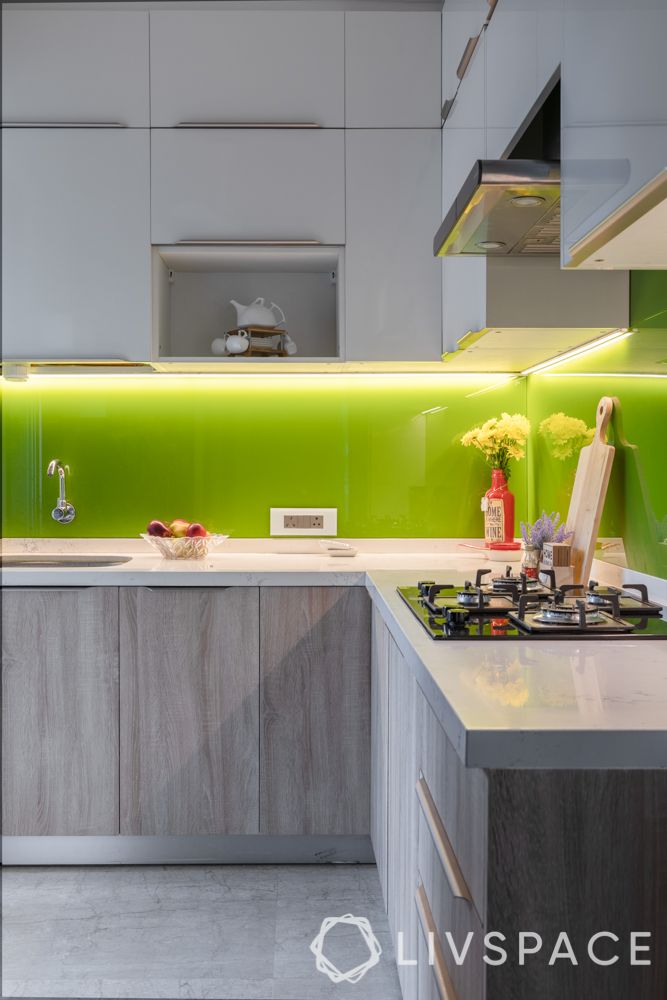 Opt for a glass backsplash that can endure the wrath of Indian curries and dals. The back-painted green glass backsplash in this kitchen is not only low-maintenance but makes the space more lively. It also makes this kitchen effortlessly modern.
PRO TIP
#7: Glossy grey kitchen with scratch-resistant finishes
The shades of black and grey add panache to this kitchen. The glossy acrylic finish for the cabinets is reflective and opens up the compact space. And don't forget the under-cabinet lights that brightens up the workstation. Also, this kitchen is in a home that has 2 dogs and a cat so the finishes are scratch-resistant and pet-friendly.
#8: Black kitchen that makes clever use of vertical space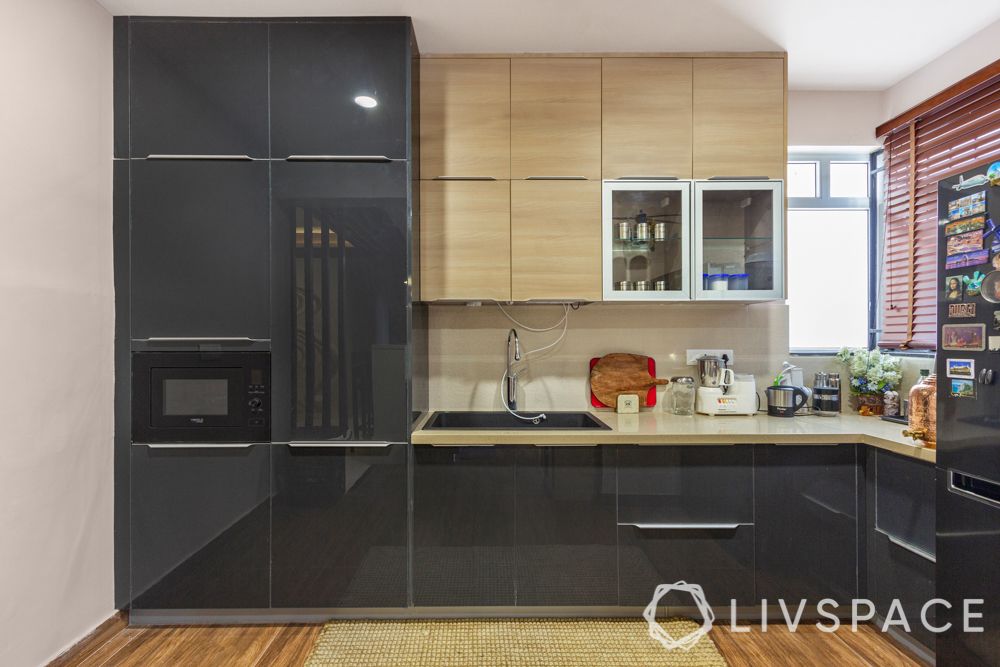 Though compact, this kitchen is high on storage and conserves the floor space to walk around freely. The free floor space is a result of using floor-to-ceiling tall units and overhead units.
Medium Kitchens
#9: L-shaped kitchen with open layout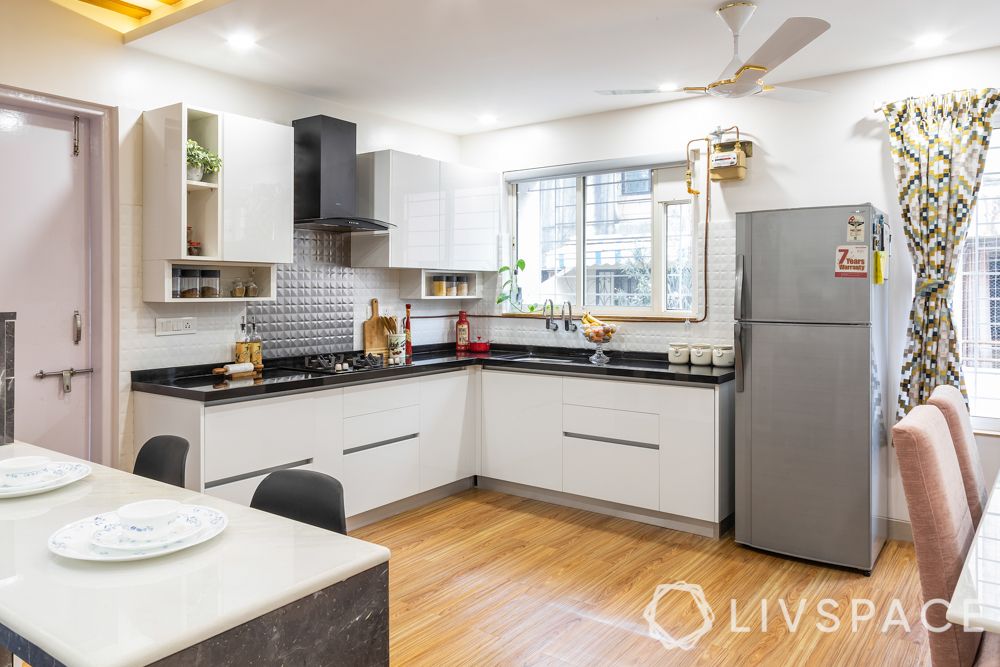 This kitchen was too small to support a family of 5 before the renovation. So, the Livspace team broke down the wall between the kitchen and the living room, opening up the space. The glossy white cabinets and the wooden flooring exudes a European look as the dining table functions almost as a kitchen table here.
#10: Yellow kitchen with an island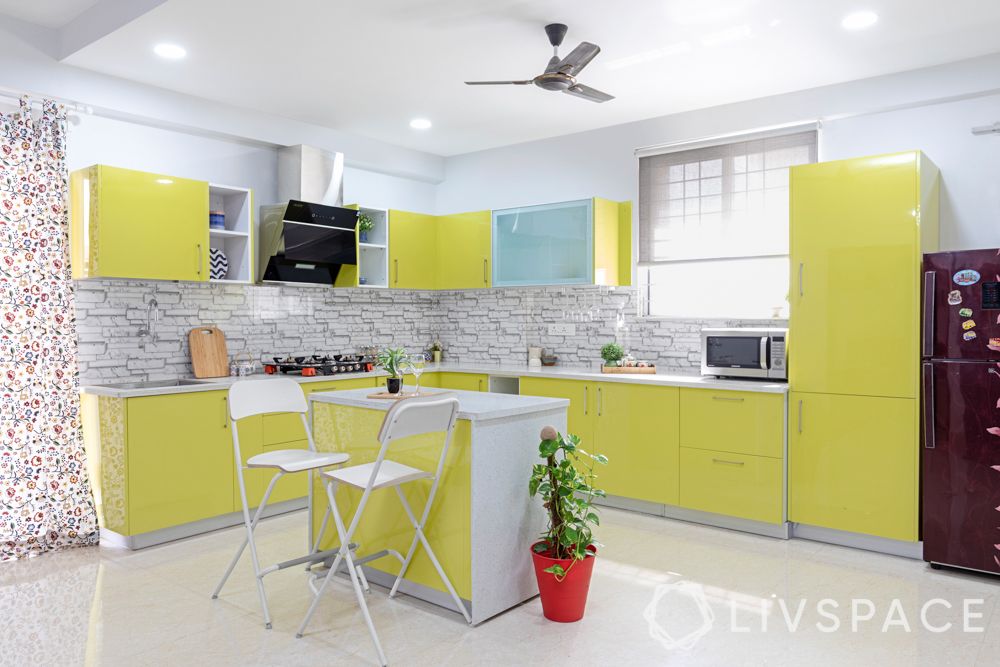 You can amp up your L-shaped kitchen by adding an island. Use this extra space to have meals or keep cooked food away from the workspace. You can even cook as you work from home here. The bright colour scheme is also a defining characteristic of this kitchen but its functionality takes the cake.
#11: Grey and white kitchen with separate utility area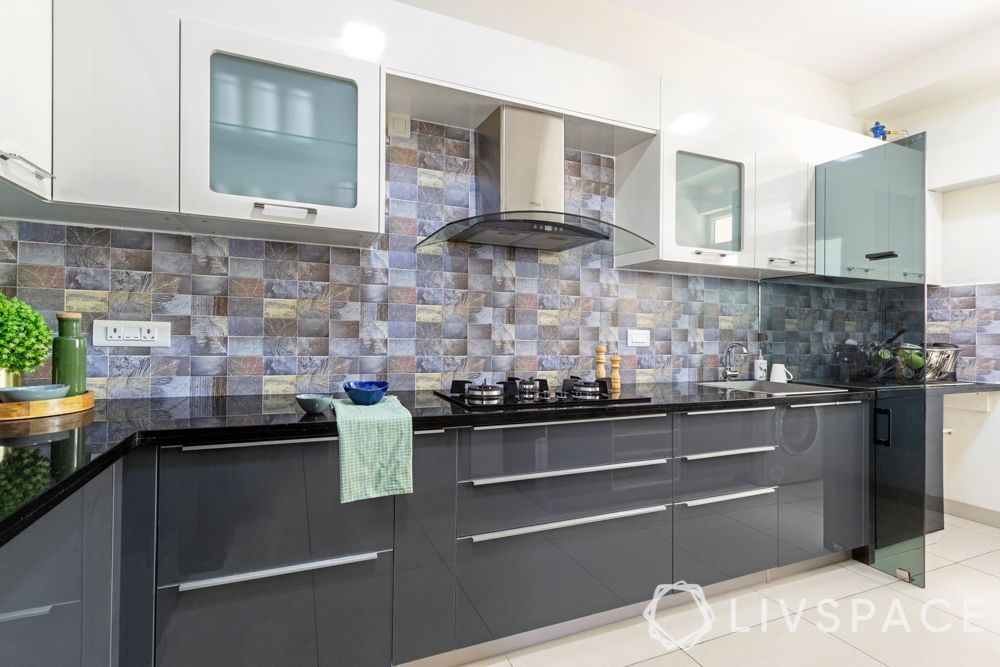 Segregating the dry and wet areas in a kitchen improves efficiency. As in this medium kitchen, the best way to separate the wet area from the rest of the counter space is by utilising a glass partition. In the Indian context, you can cook uninterrupted by your household help even if she is washing utensils in your kitchen.
#12: Mid-century modern kitchen with dining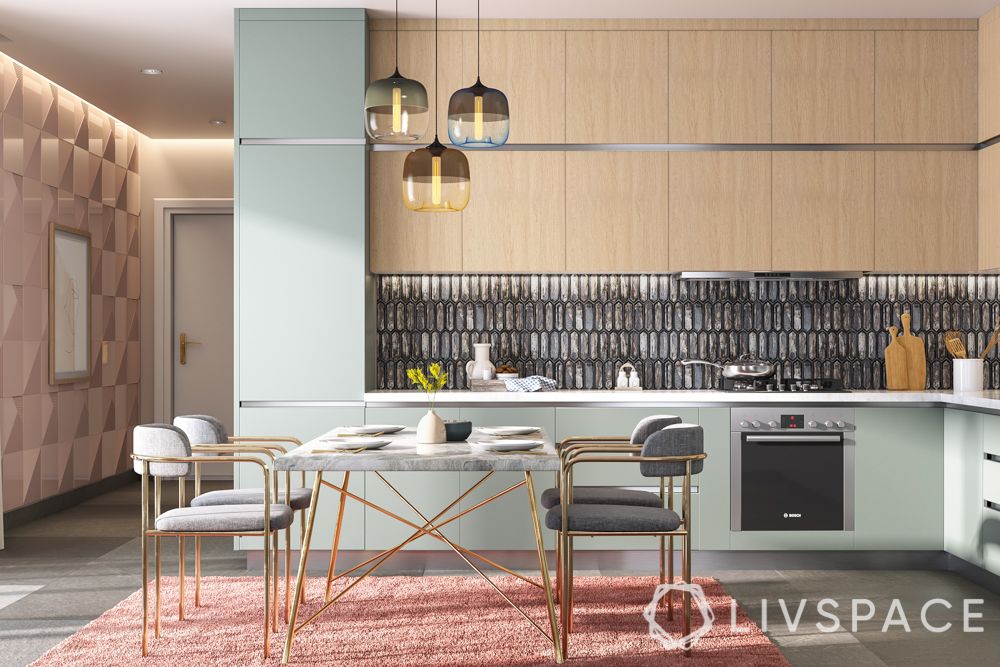 This unconventional mid-century modern kitchen proves the flexibility of the L-shaped layout. By adding a dining table and chairs, you can convert the kitchen into a dining space simultaneously. The kitchen also flaunts lofts, a light colour palette and a black textured backsplash.
#13: Rustic finish white kitchen with blue backsplash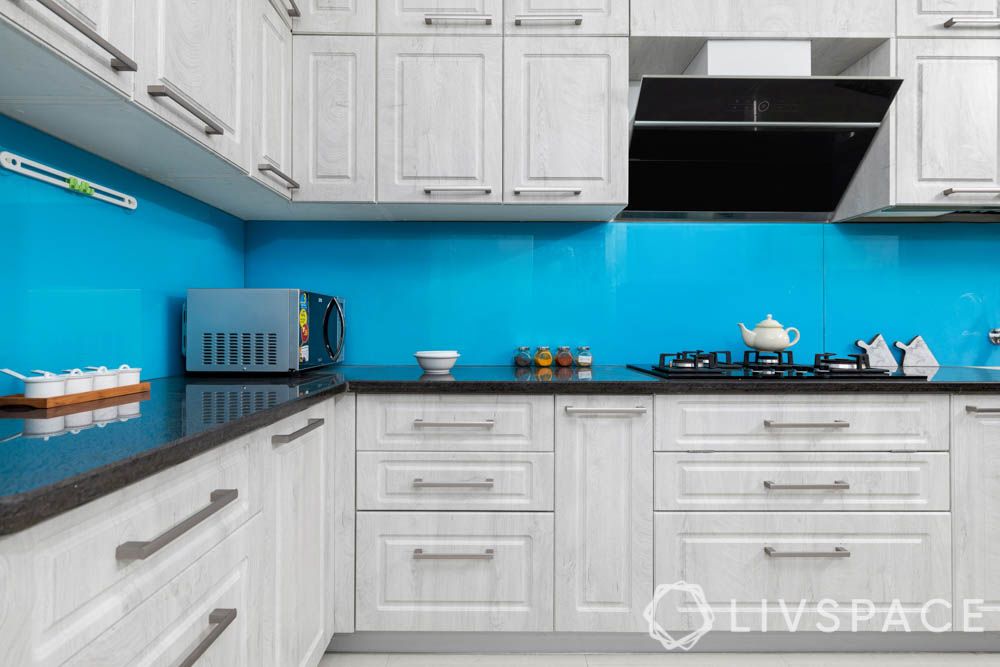 In this eclectic kitchen, the country-style cabinetry is paired with the modern lacquered blue backsplash. While the finishing is distressed, giving an industrial look to this kitchen, the seamless glass backsplash adds a touch of the contemporary to it.
PRO TIP
#14: Blue kitchen with tall units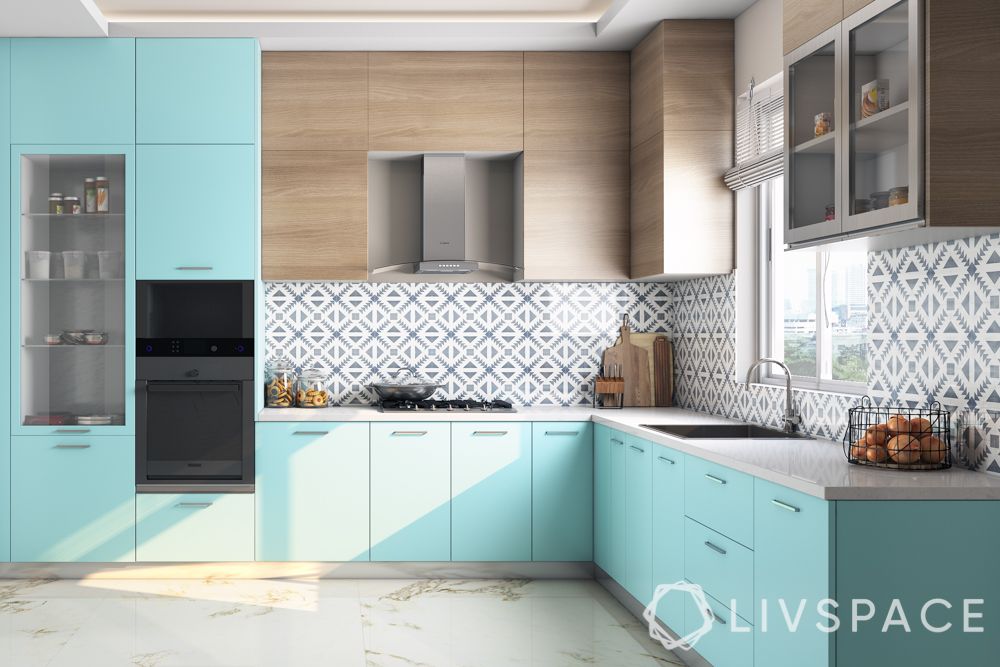 Do you have a lot of things to store in the kitchen? Fret not. Use tall units to increase the storage space in your L-shaped kitchen. You can use tall cabinets to have inbuilt appliances too.

#15: Blue and white kitchen with textured backsplash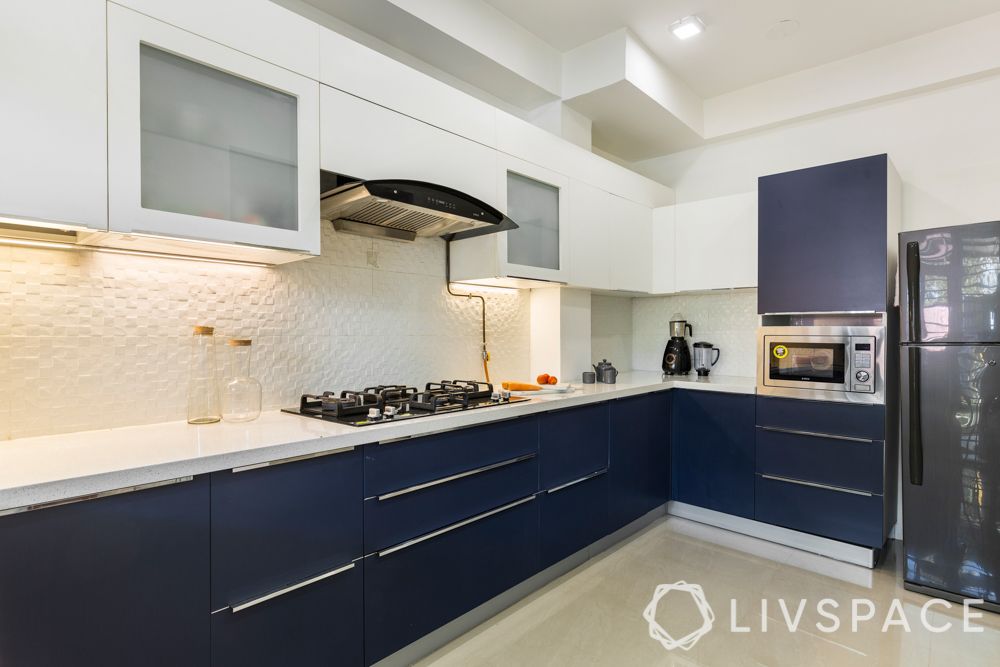 You can experiment not only with colours but with textures too for an L-shaped kitchen. Zoom in on the backsplash of this very blue kitchen to know what we are talking about. Also, this shade of navy blue is a favourite of Indian homeowners; 80% of our readers voted for it!
#16: White kitchen with different cabinet mechanisms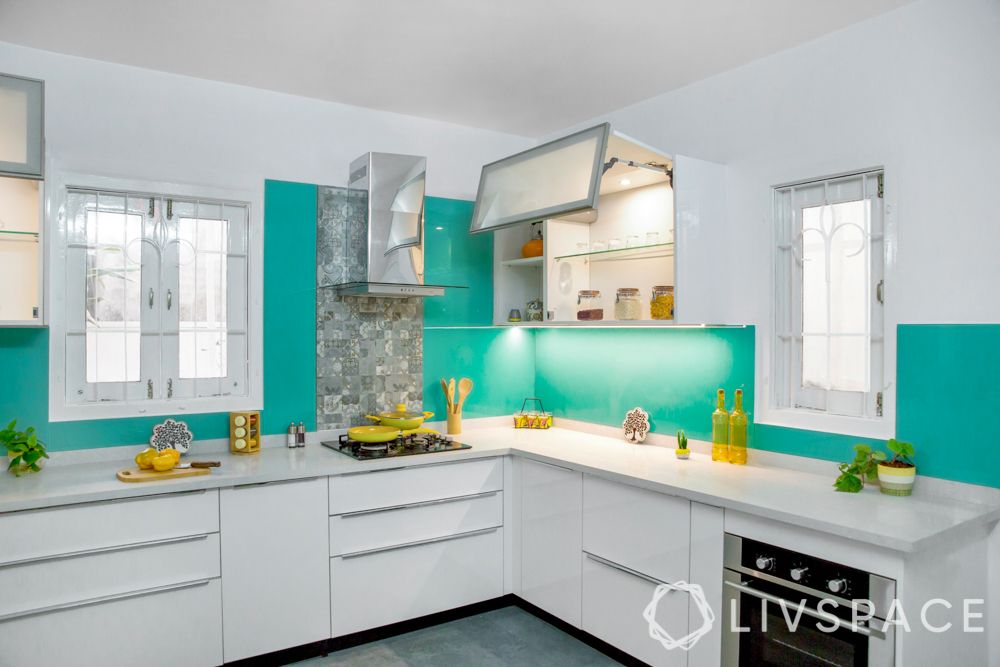 Look at the sleek construction of the cabinets in this L-shaped kitchen. They can be opened effortlessly! All the base cabinets are drawers and there is a lift up shutter too for the wall cabinets. Don't miss the task lighting under the cabinets here.
#17: Red L-shaped kitchen loaded with accessories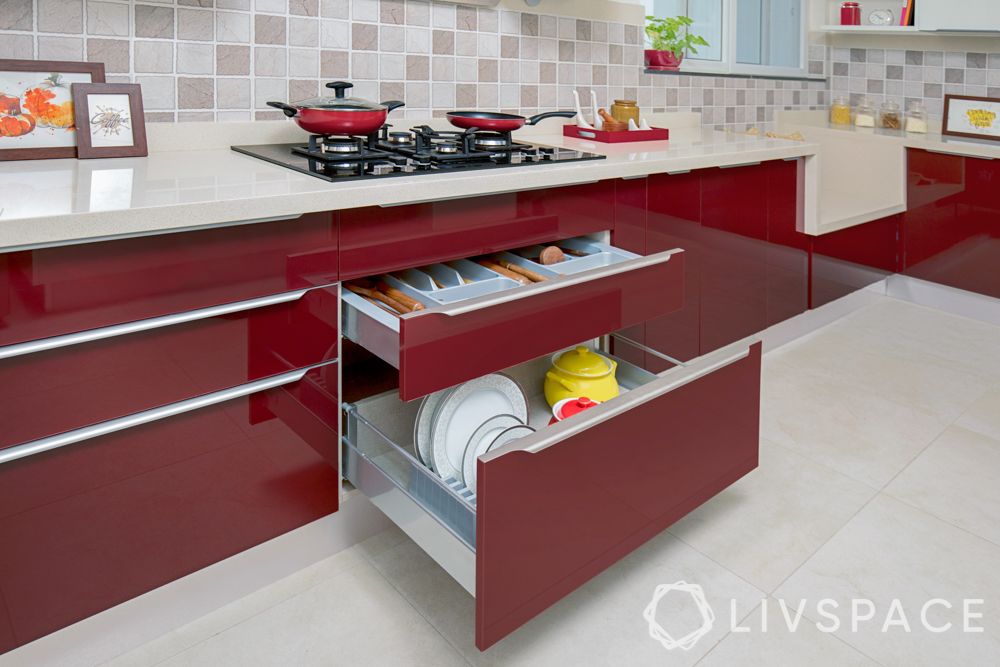 Save more space in your L-shaped kitchen by accessorising it right. Installing thali baskets, cutlery trays etc., makes space for every item in your kitchen and improves the workflow. Moreover, it gives you a neater looking kitchen with all the cookware and dinnerware inside closed cabinets with designated space.
#18: Blue and white kitchen with breakfast counter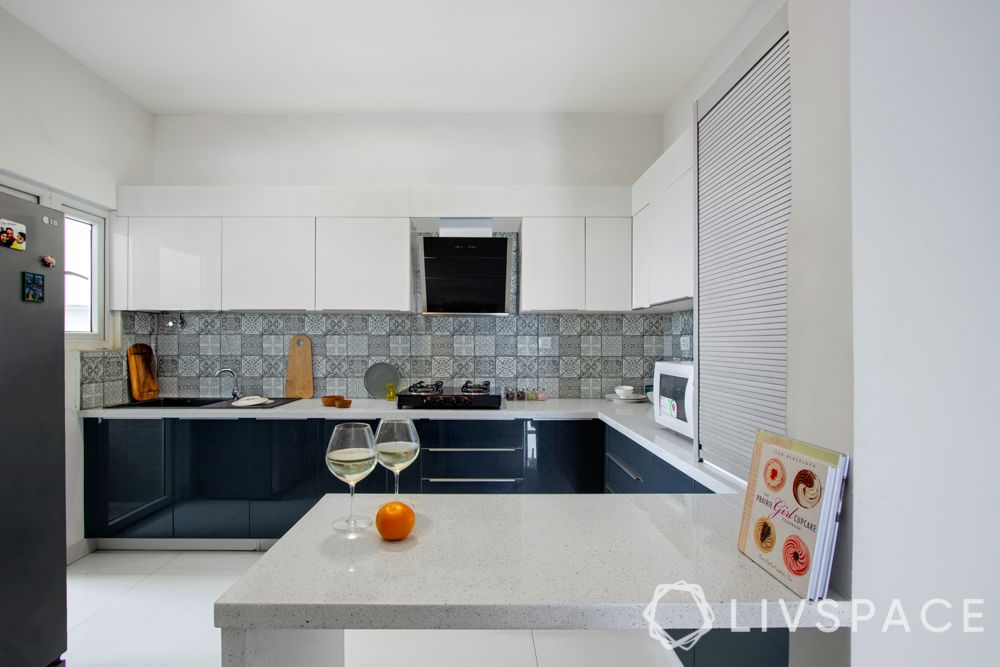 If you have an open kitchen, why not consider installing a breakfast counter on one end? Take inspiration from this white and blue kitchen. We have basically extended the counter at the entrance of the kitchen to create a breakfast counter that can also be used as extra workspace.
Large Kitchens
#19: Handleless kitchen with extended counter space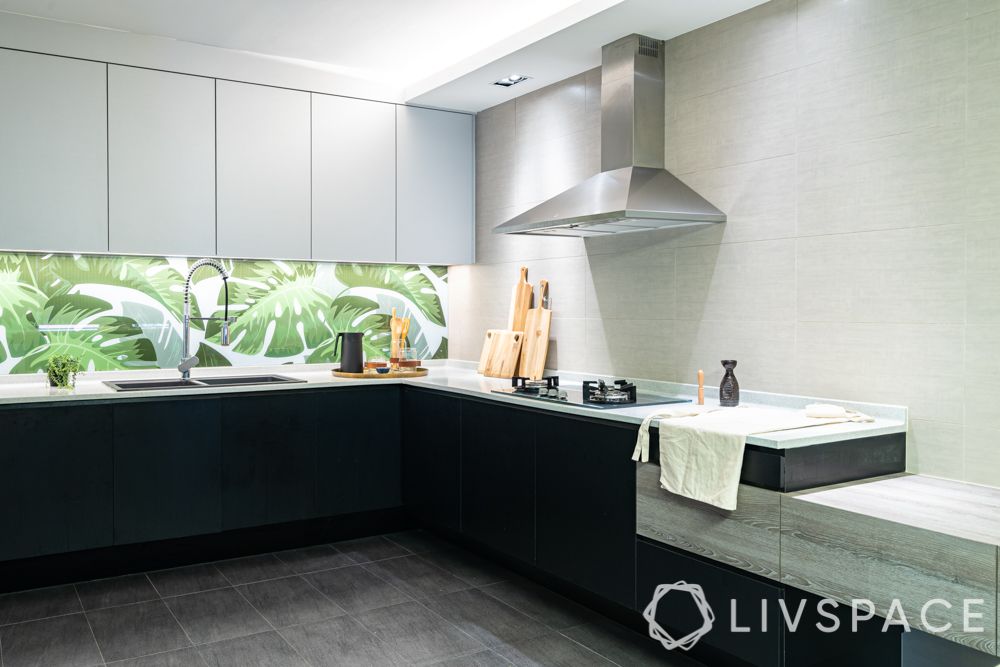 This large L-shaped is gives us an example of lengthening the counter space in an unconventional yet stylish way. It is ideal for large families, allowing more than one person to work together. Another highlight of this black and white kitchen is the unique backsplash with leaf motifs.
#20: Blue and white kitchen with appliances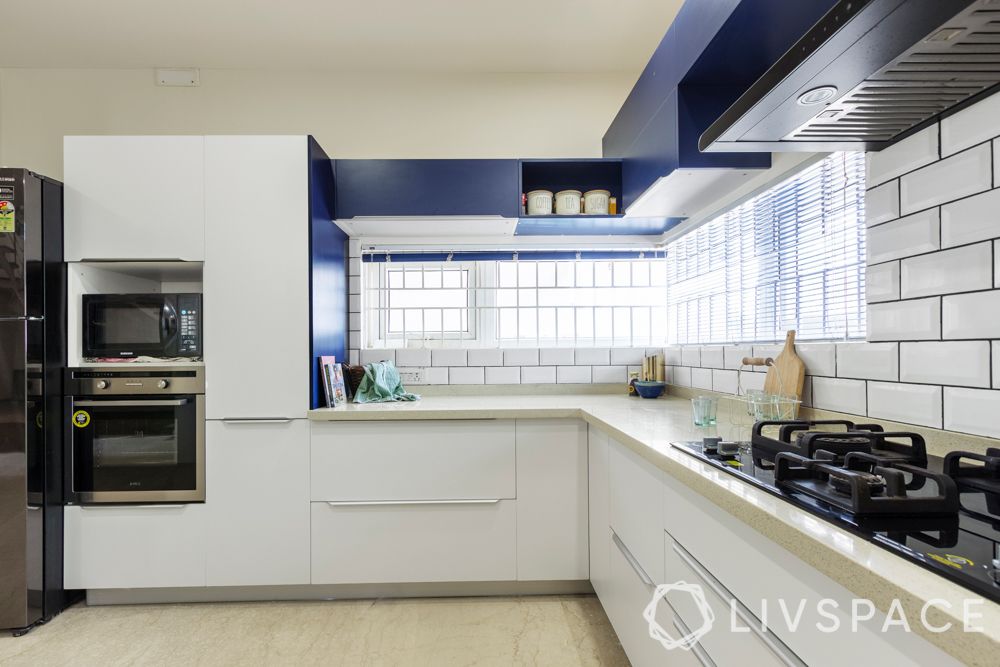 When you have a large kitchen, you get the space to stack your electrical appliances in one place, leaving the counter and the rest of the kitchen free for other things. And what is a better layout to be able to do this than L-shape?
#21: Country-style white kitchen with wooden flooring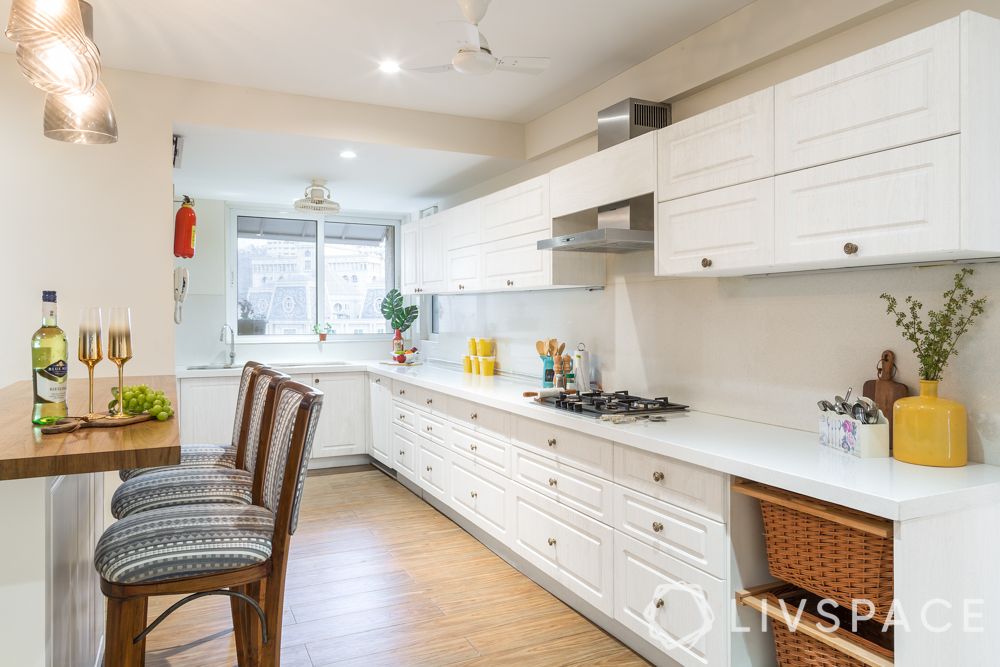 If colours aren't your thing, then try this classic white kitchen with wooden flooring. The large space is well-optimised in this modular kitchen with one long counter for the hob and workstation and the short counter set separately for the sink.
We bet you are impressed and inspired by our gallery of modular kitchen design L-shape. Find out more about kitchen layouts and learn Which Type of Kitchen is Right for You?
We love hearing from you! Write to us with your comments and suggestions at editor@livspace.com