When it comes to balancing form and function with more than enough storage and prep space, there's nothing quite like the L-shaped kitchen. An Indian favourite, this kitchen layout successfully links the stove, workspace and sink in a functional work triangle. If the home in question has more square footage to play around with, an L-shaped kitchen can also incorporate a kitchen island dedicated to prepping or dining without making the space seem cluttered.
L-shaped Kitchen Idea #1: Split the Zones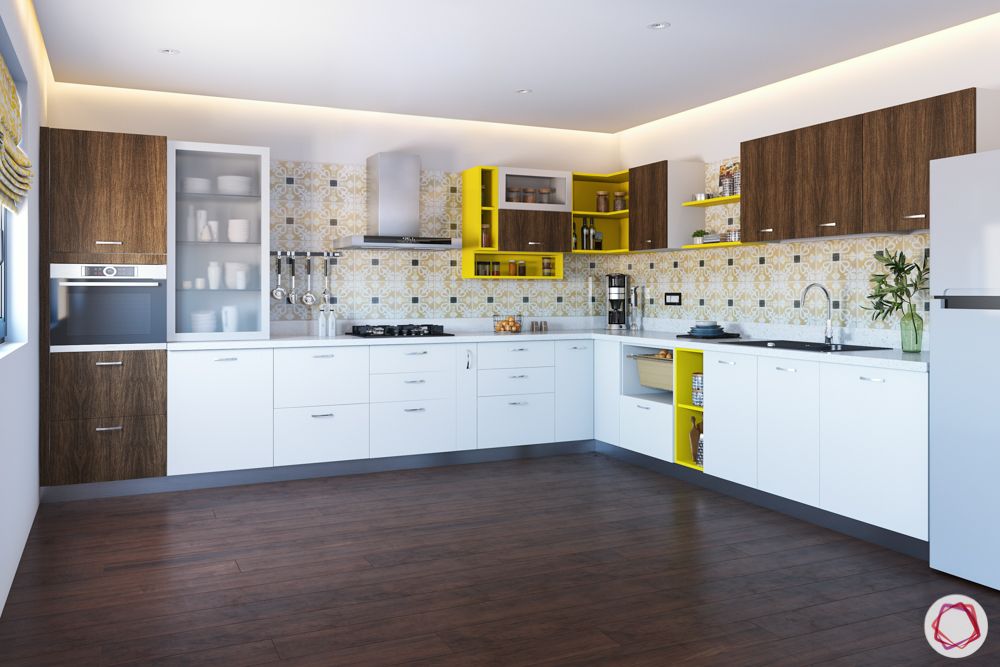 With only two countertop areas to work with, it could be confusing to decide where to put what appliance. Placing them haphazardly is a no-no because it's impractical and will definitely increase legwork in the kitchen. Instead, consider splitting the two 'wings' of the L-shaped kitchen into task areas. Dedicate the shorter wing to sinks, water purifiers and cutlery drawers if there's enough space. The longer wing is ideal for visually splitting into two– one part for preparing ingredients and the other for appliances like the stove and the refrigerator.
L-shaped Kitchen Idea #2: Add an Island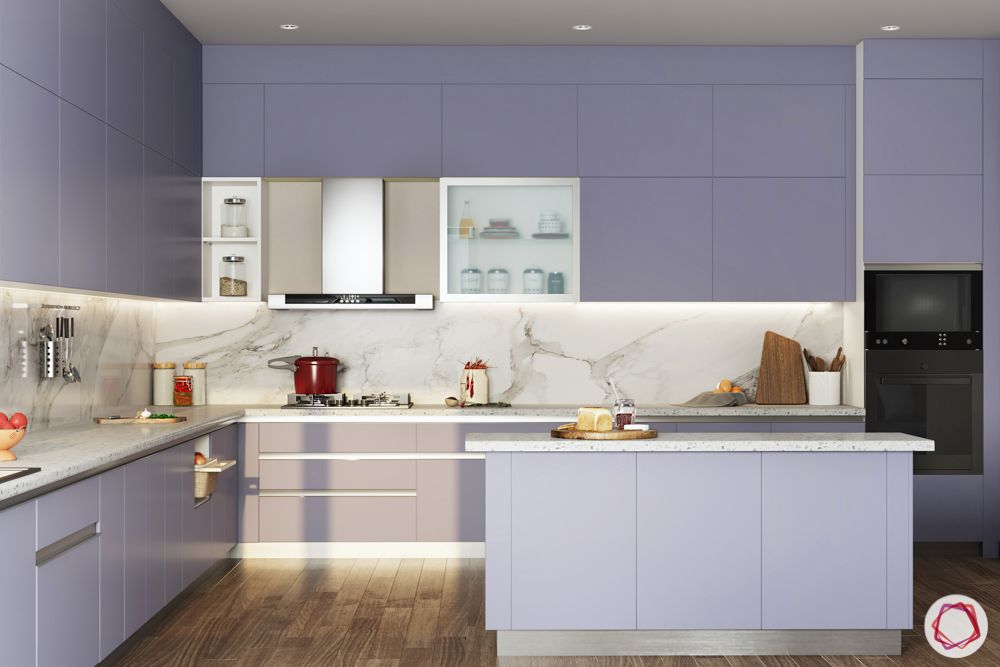 An island is a functional addition to any kitchen but works especially well in an L-shaped kitchen. This is because the lack of more counters provides ample square footage to fit in an island without being counter-productive or making the kitchen look cluttered. Islands enable more than one person to use the kitchen at the same time; they also provide extra storage and countertop space and can be converted into a quirky breakfast counter if the need arises.

L-shaped Kitchen Idea #3: Make Use of Corners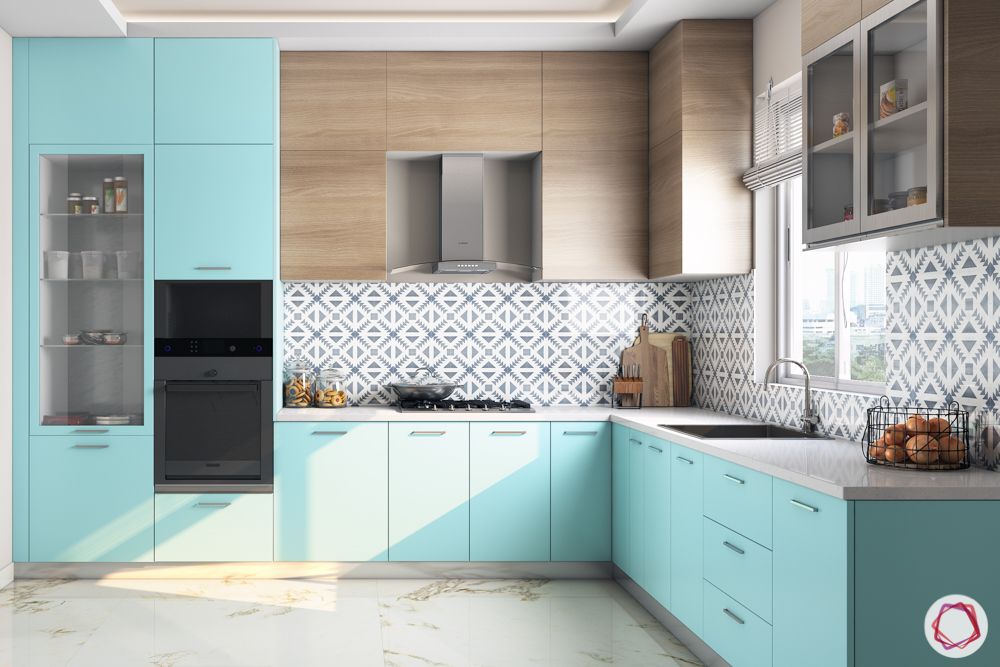 This layout is such that you will inevitably end up with corners. This may seem like a dead space at first, but all it needs is a smart storage solution to bring it to life. Consider pull-out cabinets, Magic Corner units and carousels to draw function out of the corner. Also, this capitalises on available space as much as possible. It's also a good idea to layout your kitchen in such a way that you only have to deal with one or two such corners. More corners could reduce the efficiency of the kitchen.
L-shaped Kitchen Idea #4: Use Accessories For Functionality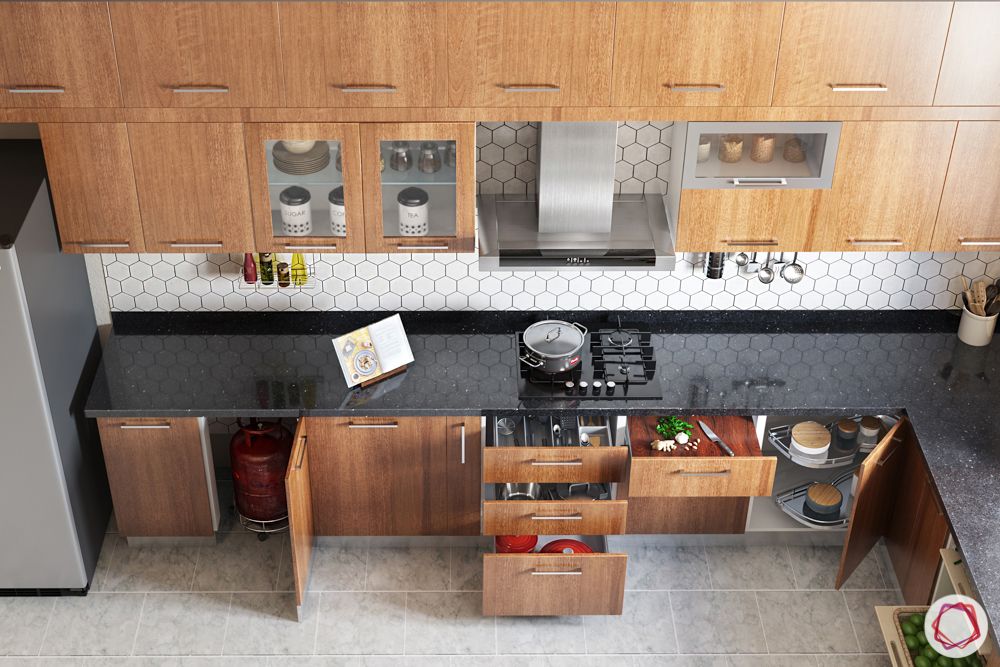 In an L-shaped kitchen, planning out efficient storage and task areas without introducing clutter could be quite the mission. Accessories are your weapon of choice here– they capitalise on available space without adding to clutter. To keep appliances off the counters, construct a vertical shelving unit to the side. Add racks for frequently-used utensils in the spot where you need it the most. Furthermore, fix floating shelves for spices and condiments. Don't forget to pick out some elegant containers to put on display!
When enhanced with smart planning, an L-shaped kitchen can be the most efficient kitchen design for typical Indian homes! Take a look at Standard Measurements to Design Your Kitchen.
Check out kitchen design ideas:
Send in your comments and suggestions.