Indian homeowners love their kitchens and most homes focus on making these spaces as functional as possible. The easiest way to achieve functionality is to follow the golden triangle in the kitchen. The golden triangle implies that your sink, fridge and hob/stove should form an equidistant triangle. A kitchen layout that beautifully incorporates these rules is the L-shaped kitchen design. And what's more, it doesn't matter if it's a big or small kitchen. An L-shape kitchen interior design can be made attractive and super functional. Here we have 20+ gorgeous L-shaped kitchen ideas for you to draw inspiration from! Take a look.
#1: Embrace Red for Your L-Shaped Kitchen Design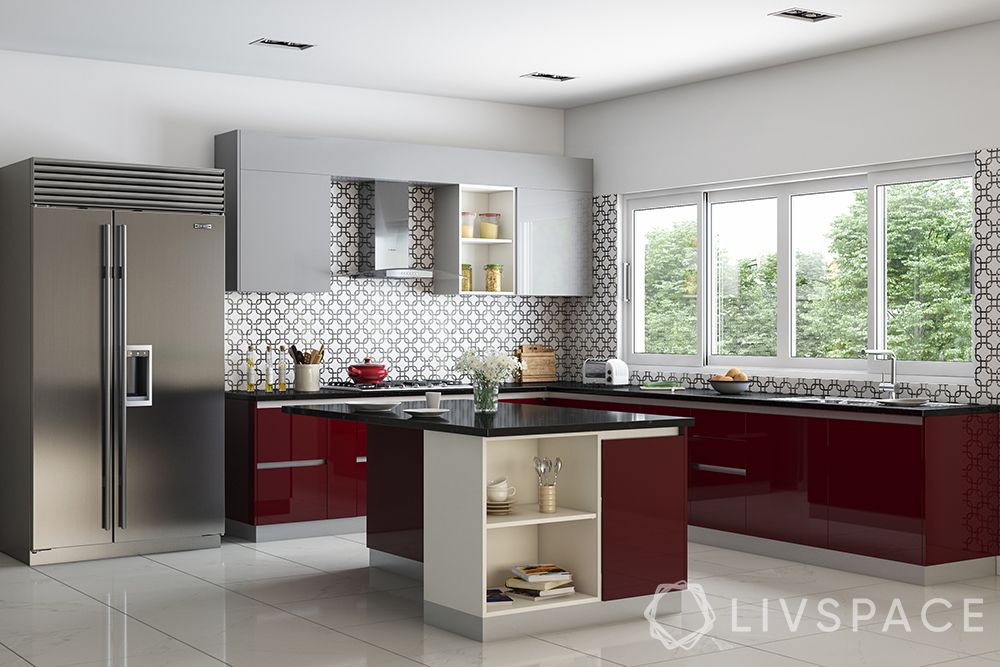 With an equally spaced hob, sink and refrigerator, this open L kitchen design is attractive in red while being ergonomically efficient. With a blend of open and closed cabinets, it makes the best use of available space.
#2: Invite Warmth in Your Kitchen with Wood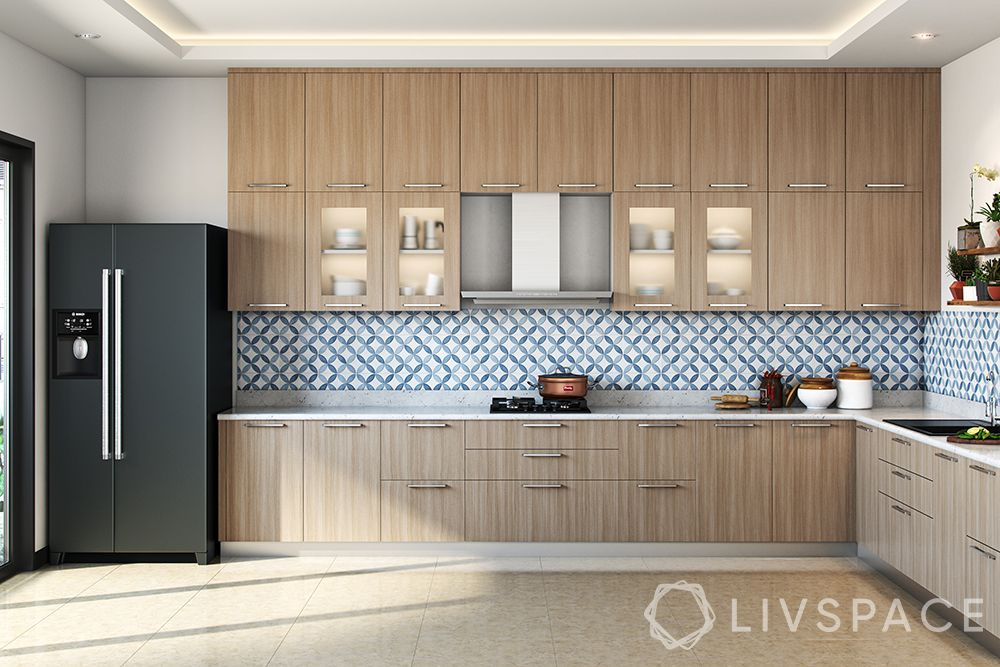 You can imagine being encased in a wonderful warm glow when you step into this kitchen. With its wooden tones paired with a soothing blue backsplash. If you have an L-shaped kitchen layout, you can easily opt for an all-wood space. In an open layout, it will maximise storage space.
#3: Spare a Wall for Hidden Storage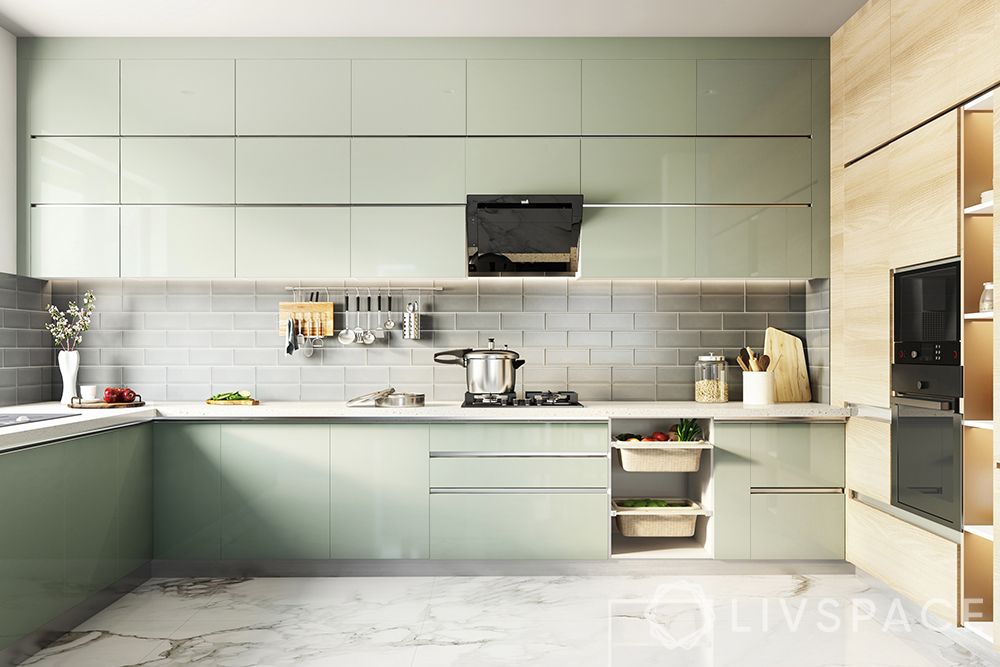 This closed kitchen has oodles of storage, thanks to the extra wall. Here, the extra wall is carved with cabinets, giving this kitchen more than enough space to store all its appliances. You can also tweak this L-shaped kitchen design to add a tall wall unit which can give you loads of extra storage.
#4: Optimise Your Small L- Shaped Kitchen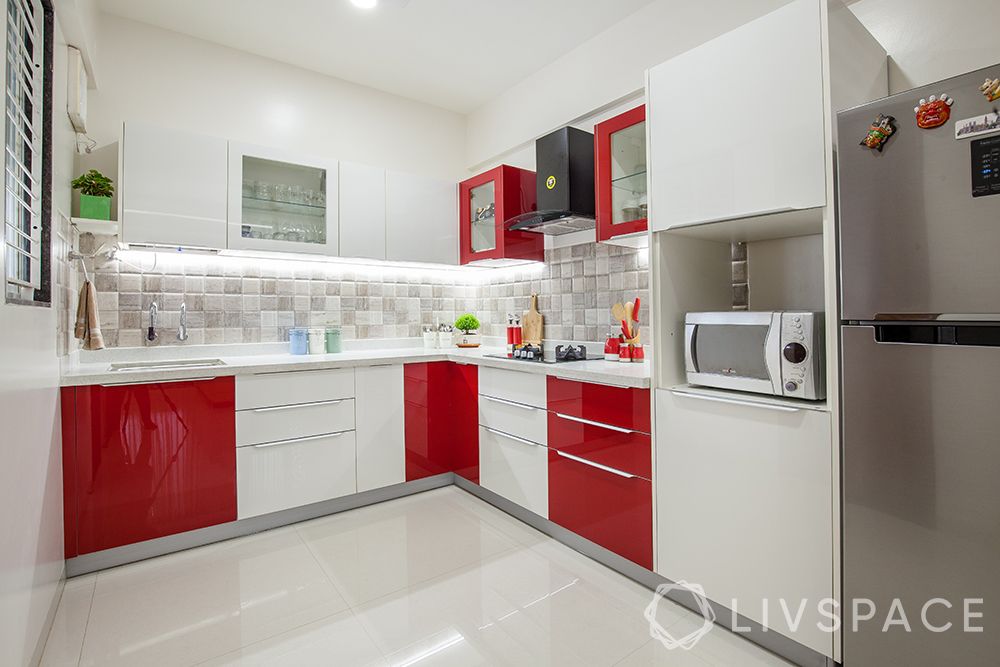 Small L-shaped kitchen designs don't have to feel cramped. You can get all the storage you need with appropriate accessories to keep your counter space free. If you have a vibrant personality, we recommend a pairing of red and white cabinets for a bright and bold look.
#5: Enjoy Your L-Shaped Kitchen Design in Mahogany Browns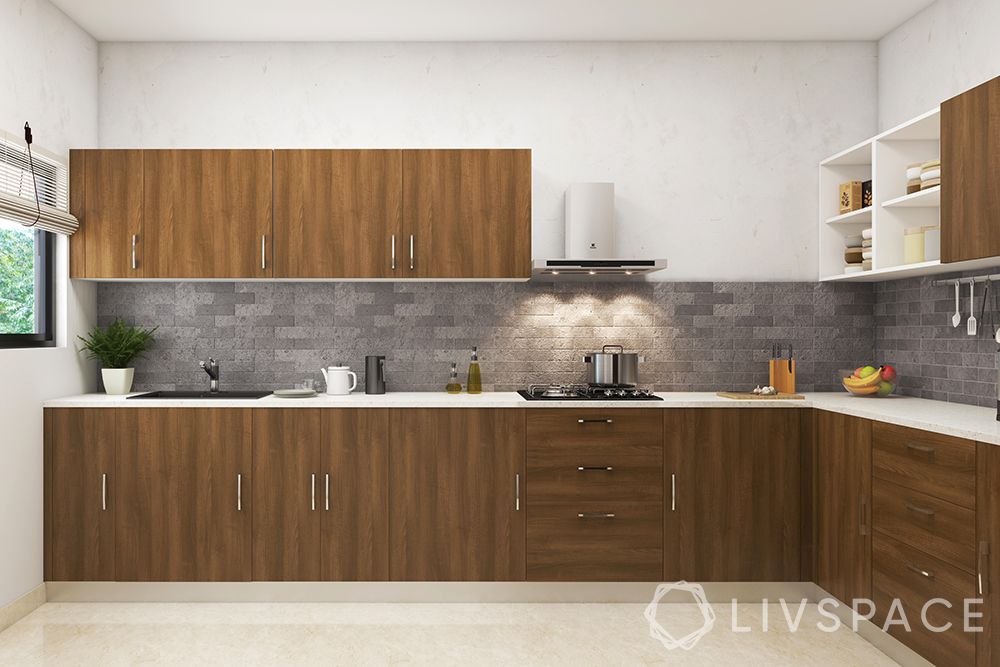 Don't you just love a wooden finish L-shape kitchen interior design? They work spectacularly well for small spaces too! We've provided some ledges and open cabinets to this L type kitchen design for condiments that are frequently accessed.
#6: Add in Modern Aesthetics To Your Small L-shaped Kitchen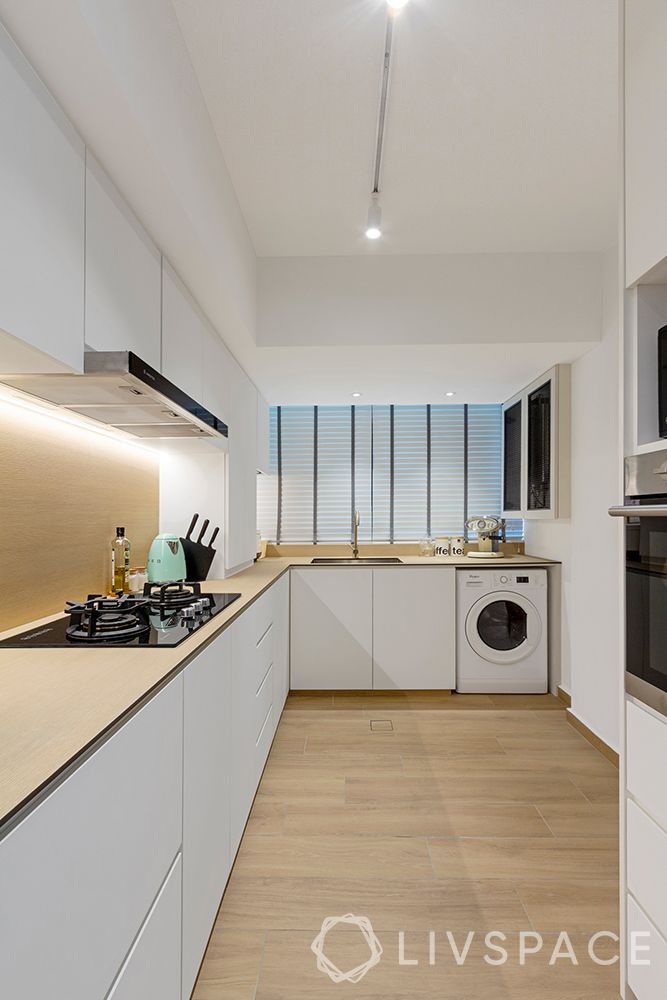 Another wooden finished L kitchen design in a lighter shade, we've paired it with wooden backsplash and task lighting to keep it visually light.
#7: Drizzle a Bit of Cheery Colours in Your L-Shaped Kitchen Design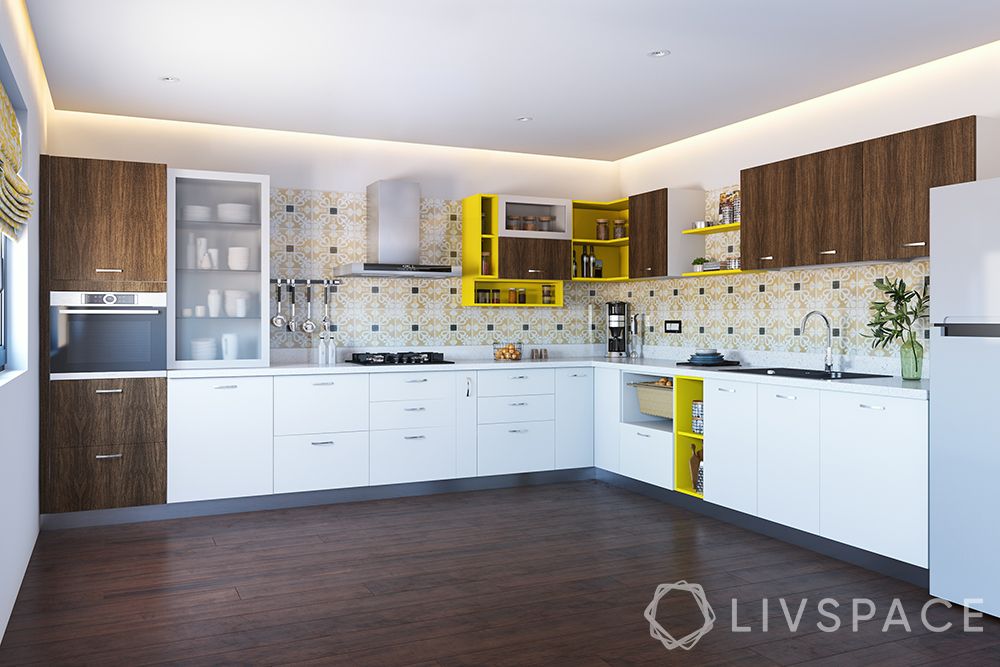 What makes traditional kitchens trendy is an interesting twist. Here, the yellow cabinets do just that. This white-and-wooden-finished kitchen, paired with the dazzling yellow cabinets, make this L-shape kitchen interior design trendy.
#8: Contrast Your L-Shaped Kitchen Ideas with a Quirky Backsplash
We love how this kitchen has come together! Visually balanced and so very attractive, the kitchen showstopper here is the blue-tiled backsplash!
#9: Open Your L-Shaped Kitchen Layout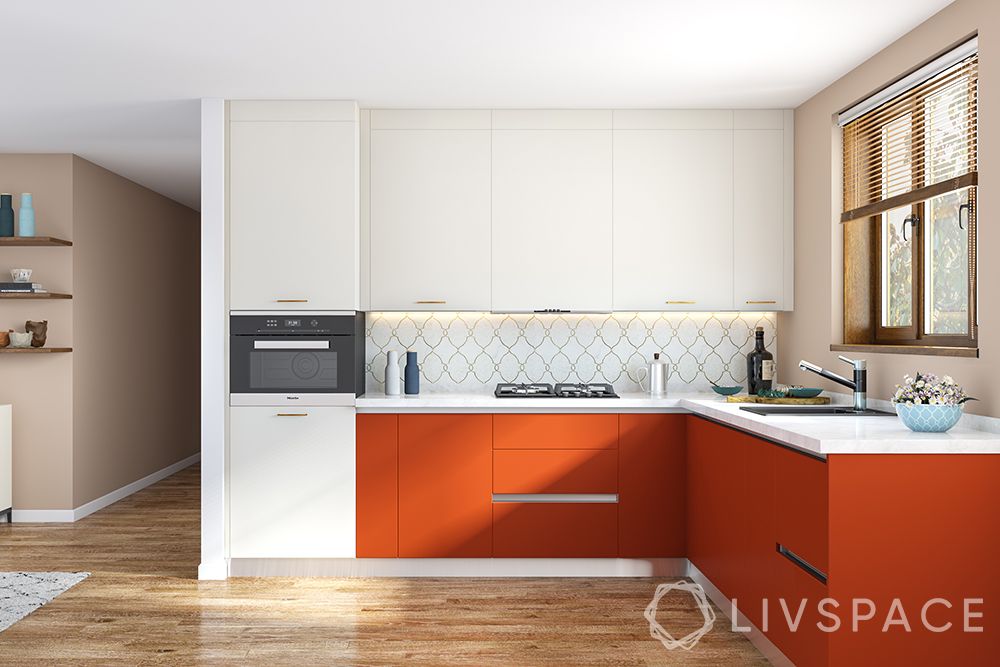 Open layouts have found favour in a lot of urban homes due to shrinking home sizes. So we decided to play with colour in this compact kitchen. Check out this orange-and-white kitchen design.
Also Read: Is an Open Kitchen in India Worth it? Know All About It Here!
#10: Paint It All Blue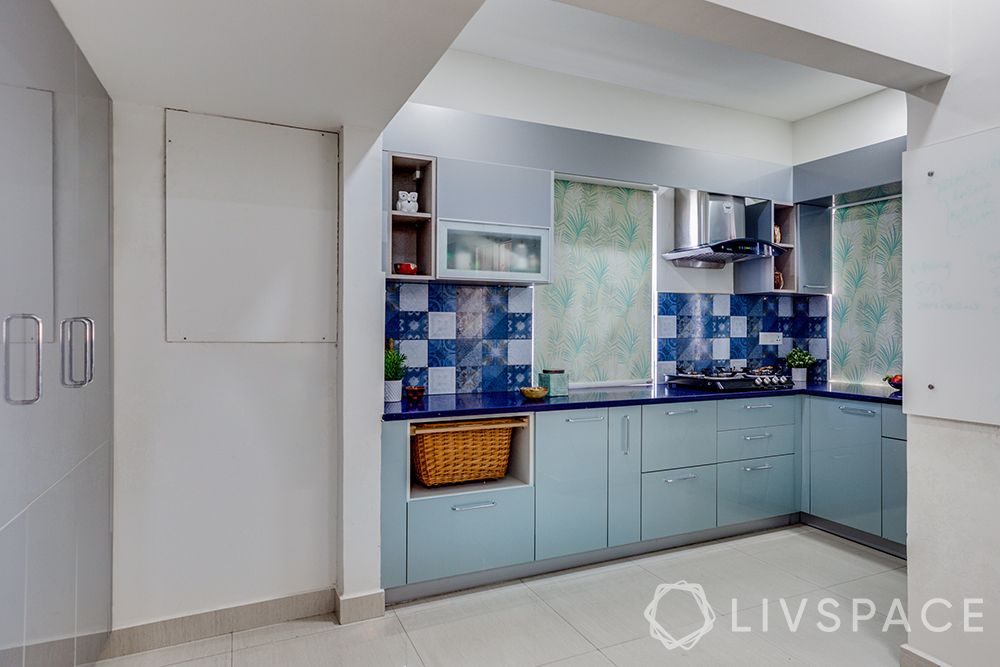 Using one colour in compact spaces helps create cohesiveness. This is the case with this Livspace kitchen that is bathed in all blue, from the cabinets to the backsplash. The shape is accommodated optimally for storage too!
#11: Enjoy an All-Cream Kitchen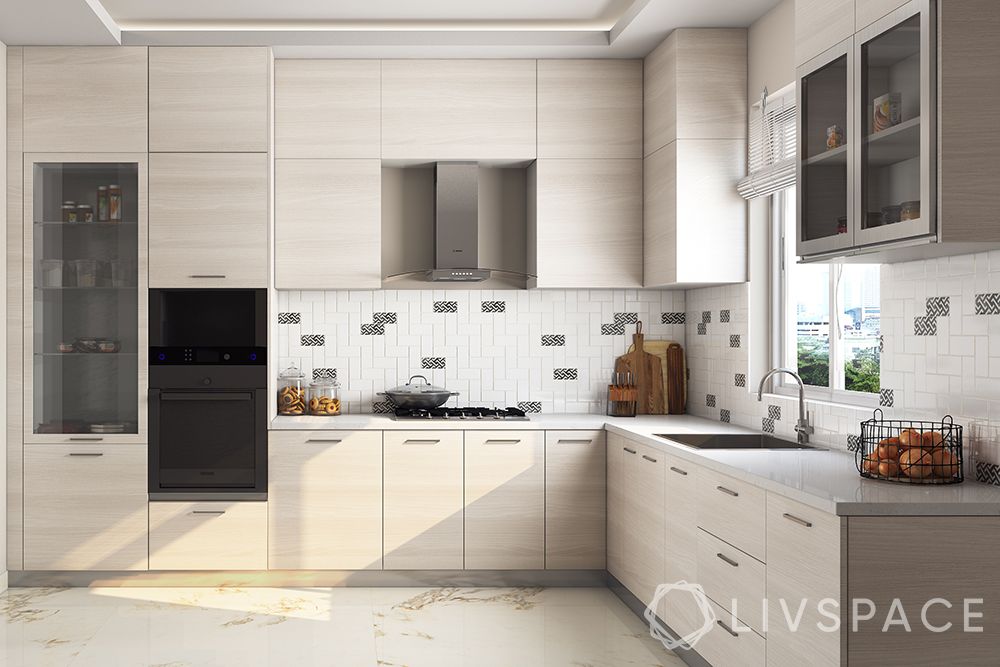 We love the frosted-glass cabinet in this kitchen along with the tall pantry unit. It's perfectly spaced with a great combination of display and storage options.
#12: Play with Blacks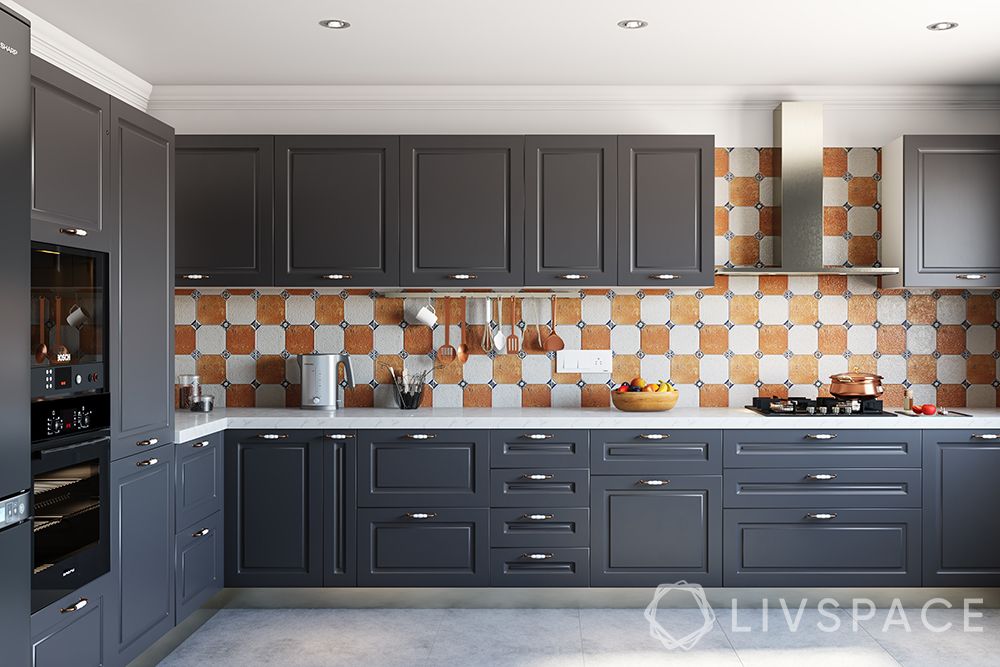 If you love darker hues for your home, this kitchen will serve as all kinds of inspiration. Made entirely from dark-hued laminate, the space is given a brighter touch with an orange backsplash while the dark cabinets fall back to create a cohesive picture.
#13: Stay Neutral with Your L-Shaped Kitchen Ideas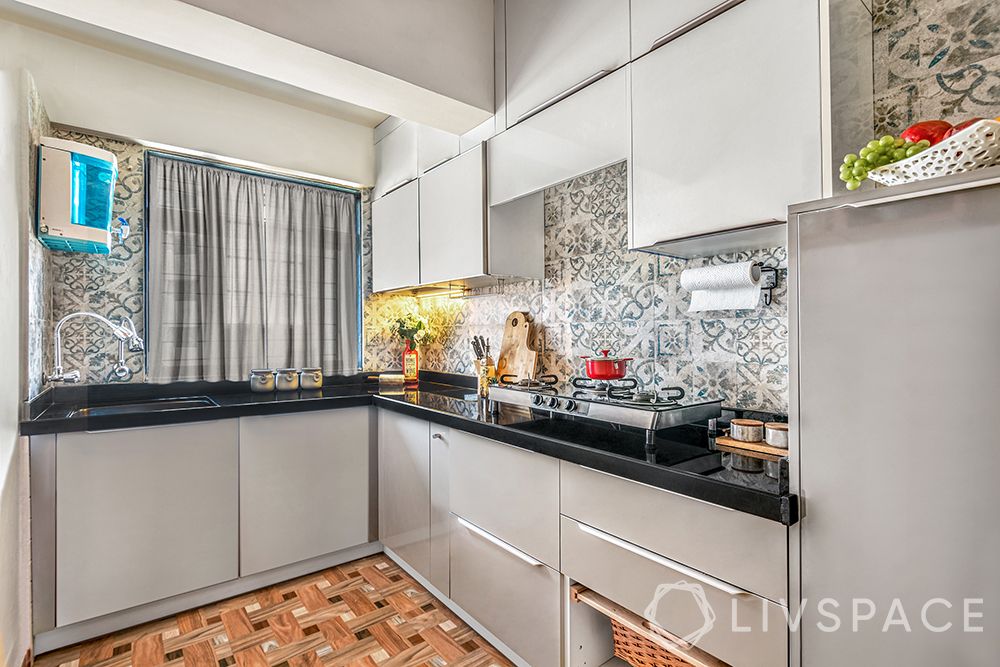 While most kitchens are all about cabinets or backsplash, this kitchen's flooring awes us. Such an elegant pick for a small kitchen! We also love the handleless cabinets installed to give this kitchen a flawless look.
#14: Extend Your L-Shaped Kitchen Design with Appliances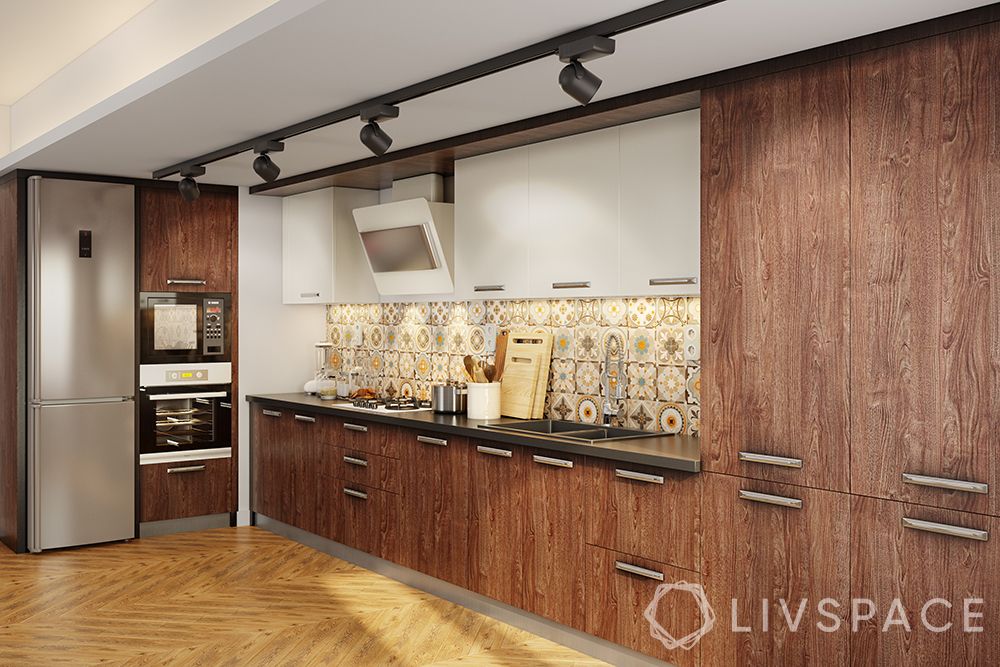 Sometimes, extending the kitchen to create more storage space is the solution to declutter it. In this L shape kitchen interior design, the appliances extend it to make an L-shape. Thus, you can always alter your one-walled kitchen and create an L type kitchen design by moving your appliances.
#15: Highlight the Backsplash in Your L Shape Kitchen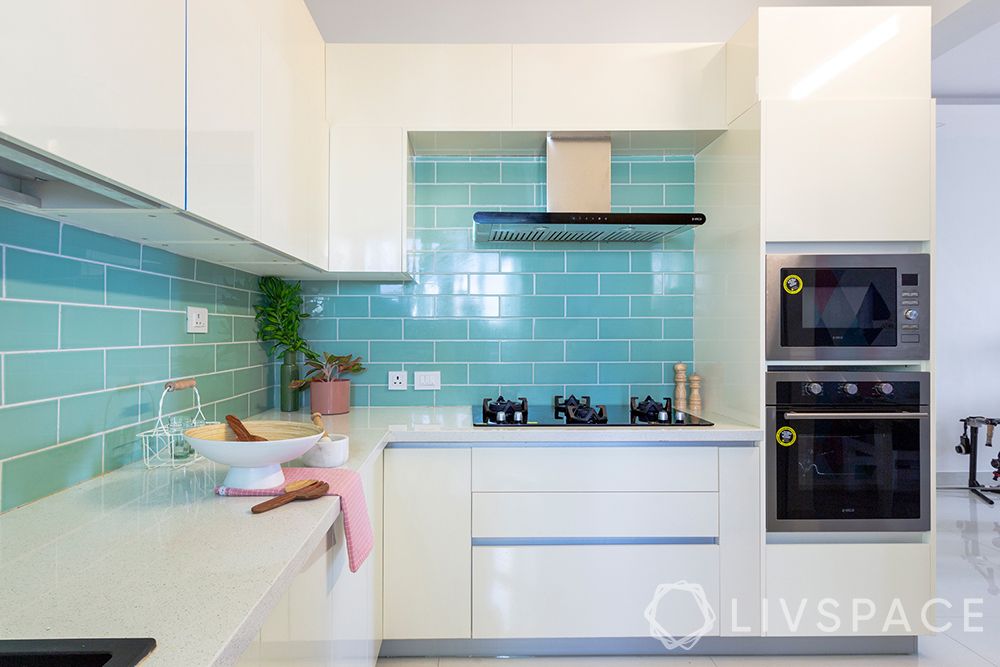 This cyan blue backspalsh gives us main character energy. This space is seamless with its glossy laminate and equipped with every appliance needed. Create your culinary masterpieces in a design like this!
#16: Experiment with a Semi-Open Kitchen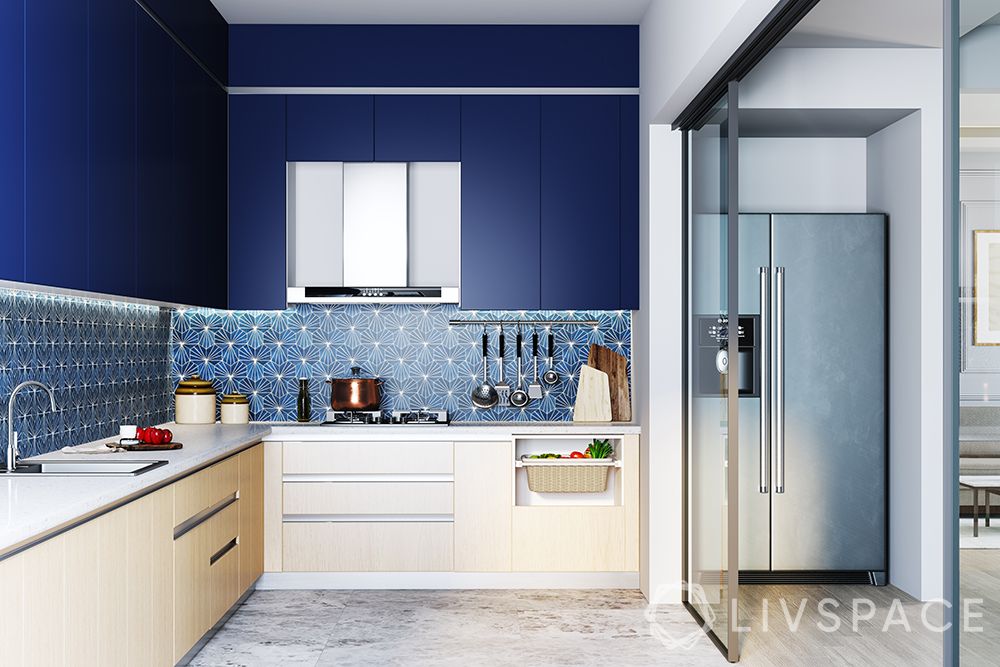 Can't decide between an open and closed layout? This L-shaped semi-open kitchen layout can rescue you. Get the best of both worlds —- your privacy in the kitchen while also being able to chat with your guests across the hall.
#17: Step into a Classic Two-Toned Kitchen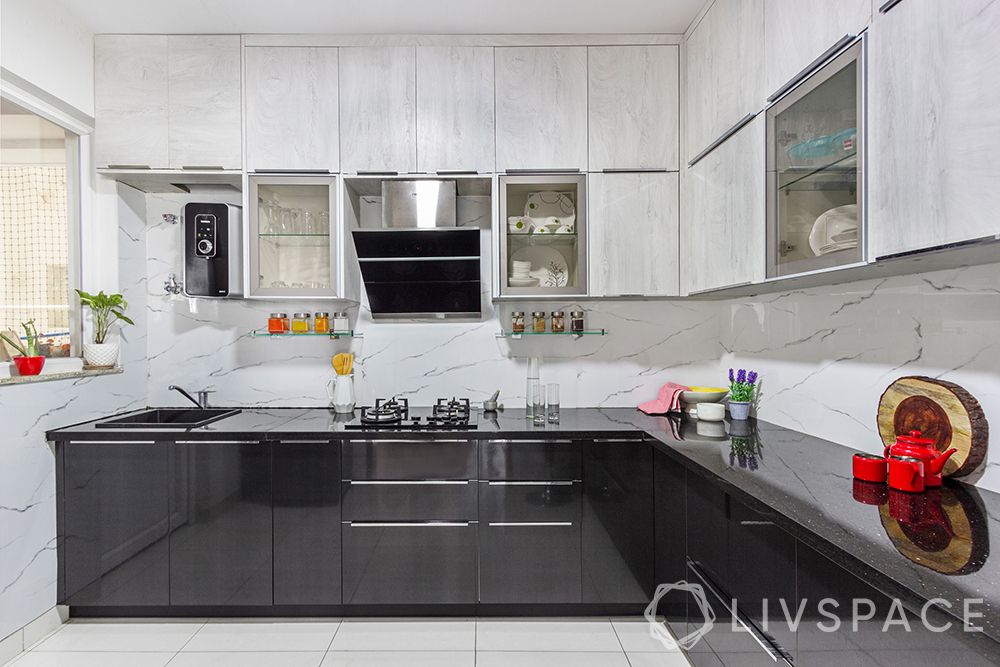 When we are talking about enjoying the best of both worlds, why leave colour behind? Two-toned kitchens are beautiful as is, but this black and white L-shaped kitchen design is stealing our hearts.
#18: Go Pastel for Your L-Shaped Kitchen Design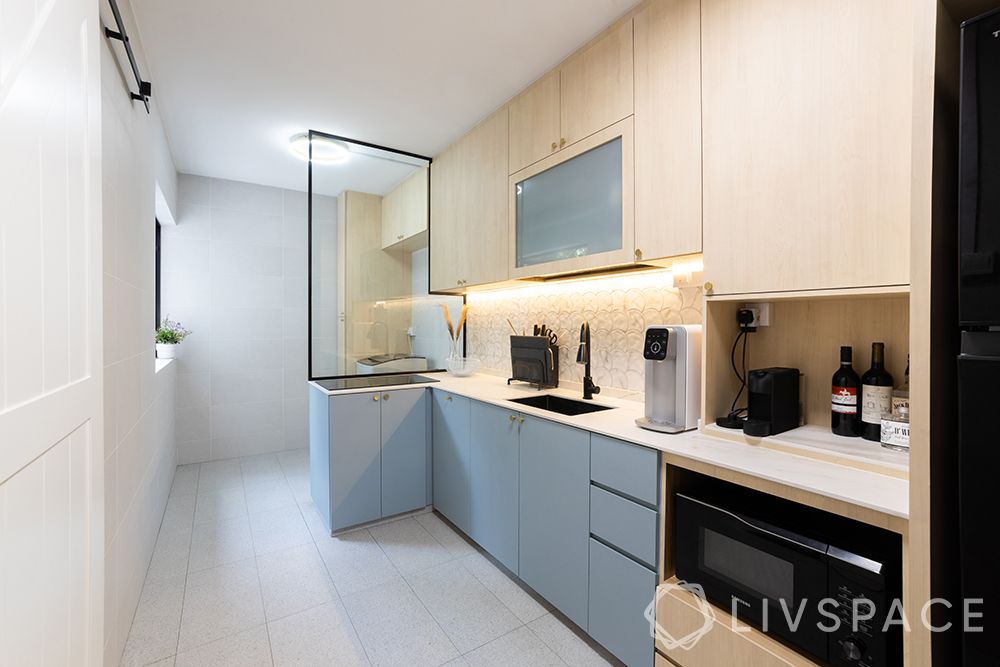 Combine pastels with wood? We love the unconventional and you can see for yourself how it's worked.
Must Read: 8 Stunning Color Schemes for Your Kitchen That You'll Love
#19: Do Not Shy Away from a Feature Wall
We love playing with design concepts. This kitchen is beautifully satisfying as the backsplash makes its mark as a feature wall while the rest of the kitchen is in greys.
#20: Introduce a Playful Pop of Lime in Your Kitchen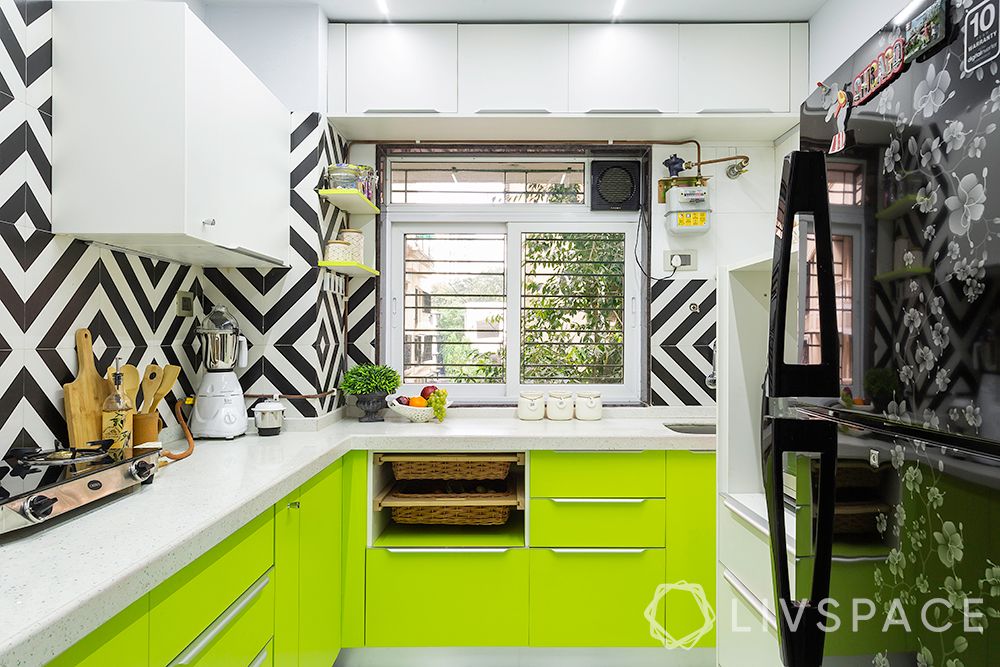 What we love about this Livspace kitchen is the bold choice of colours. Lime is a colour not seen in many kitchens. Combine that with the backsplash and it works beautifully to make this kitchen layout a masterpiece.
Also Check: 6 Stunning Small Kitchen Backsplash Ideas to Make Your Kitchen Look Larger
#21: Accommodate Awkward Corners in Your L-Shaped Kitchen Design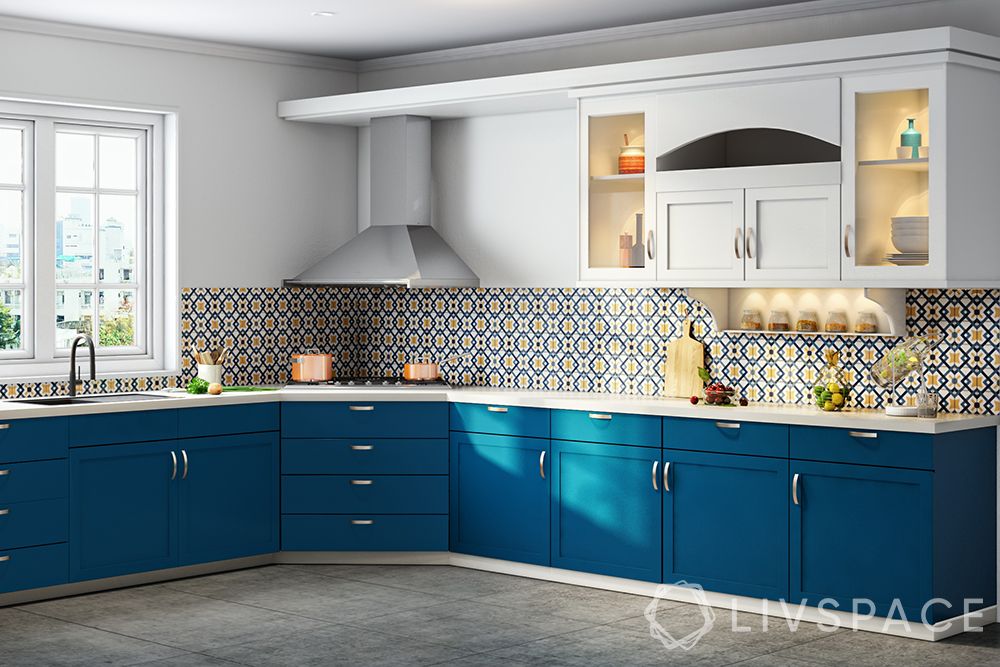 This L-shaped kitchen design layout is a little unique. The awkward wall in the corner would look like a hard task to accommodate in the kitchen but this one does it beautifully. The splashes of teal make this kitchen even more appealing.
More modular kitchen designs to inspire you:
Love our kitchens? Read 7 Easy Hacks That Will Help You Reduce Your Kitchen Design Cost too! Wondering how our customers feel about working with Livspace? You can check out the Livspace kitchen reviews here!
How Can Livspace Help You?
We hope you found our ideas useful! If you want beautiful interiors for your home, then look no further. Book an online consultation with Livspace today.