All kitchens are not the same; some kitchens are made unique by personal requirements of their users. These requirements could be based on certain kind of work flows, aesthetic preferences, storage needs or even the number of people cooking at the same time in the kitchen. We have 9 such unique kitchen designs that have used various combinations of modular kitchen fittings and saved money!
Let us first take a look at the 9 modular kitchen fittings that are common in Indian kitchens and what their starting prices are:
Modular Kitchen Fittings
Modular Kitchen Fittings Price
(Starting From)
Tall oven unit with 2 shelves
₹31,200
Tall unit with 5 shelves
₹21,100
L-corner unit with carousel
₹25,600
Luzy corner unit
₹14,500
Wall Tambor/roller shutter unit (PVC)
₹21,800
Wicker basket unit (2 tier)
₹18,300
Spice pull-out rack
₹8,800
Base units 2/3 drawers
₹25,000/₹30,700
Aquaguard unit
₹5,700
Lift-up top shelves
₹22,600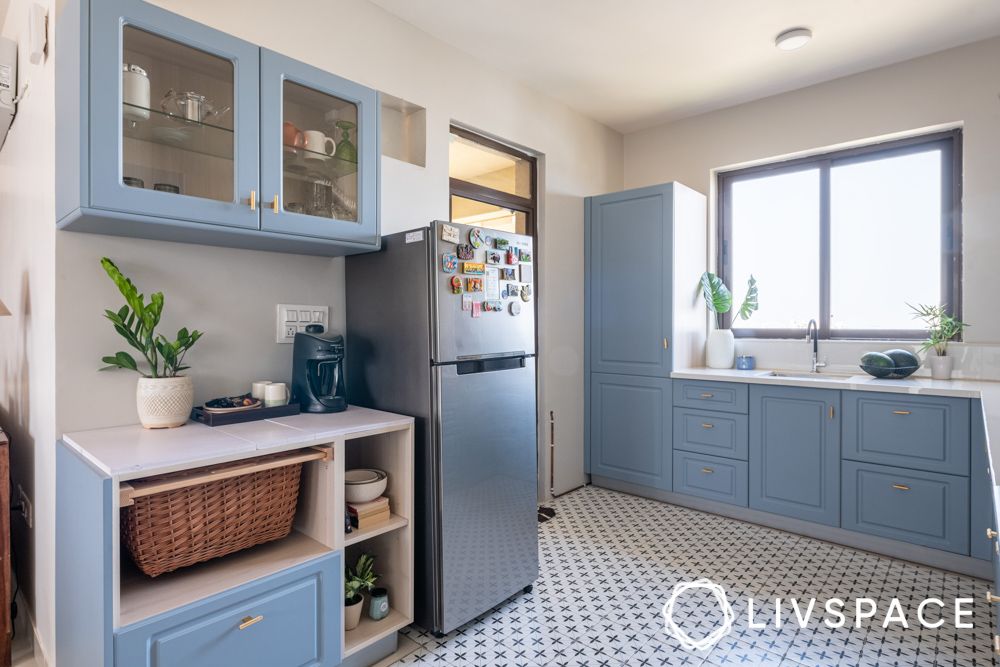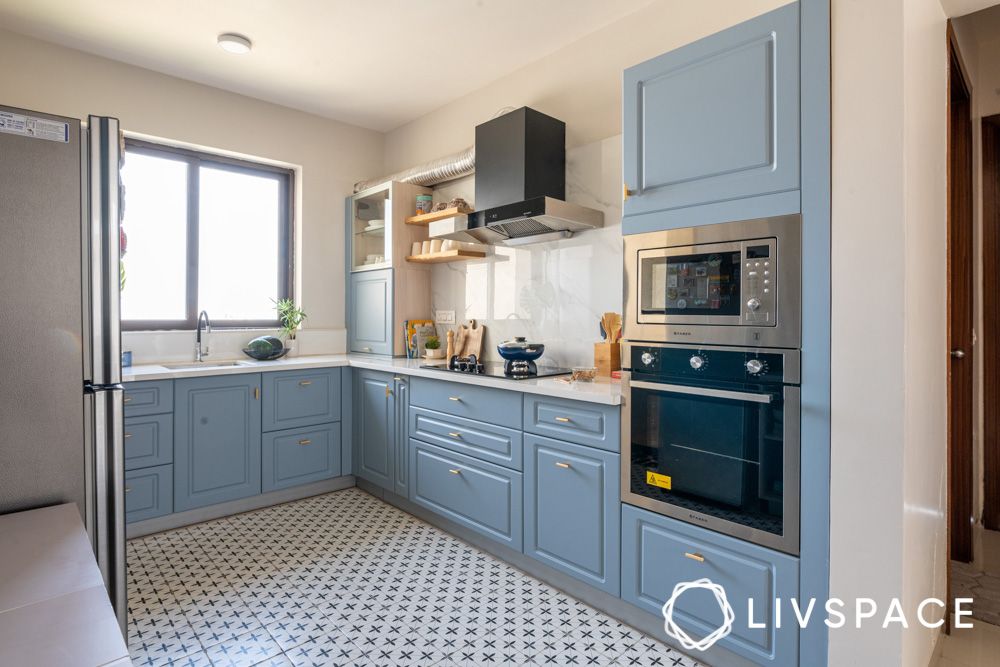 Mohit's storage-compliant U-shaped kitchen has 2 tall units, one mid tall unit in the corner, a wicker basket unit, numerous base cabinet drawers.
These units were made affordable because there are no upper cabinets or any special end/corner units. This let Mohit also make room in his budget for moisture-resistant membrane finish on the cabinets. This finish can increase the life of the shutters. Amazing, isn't it?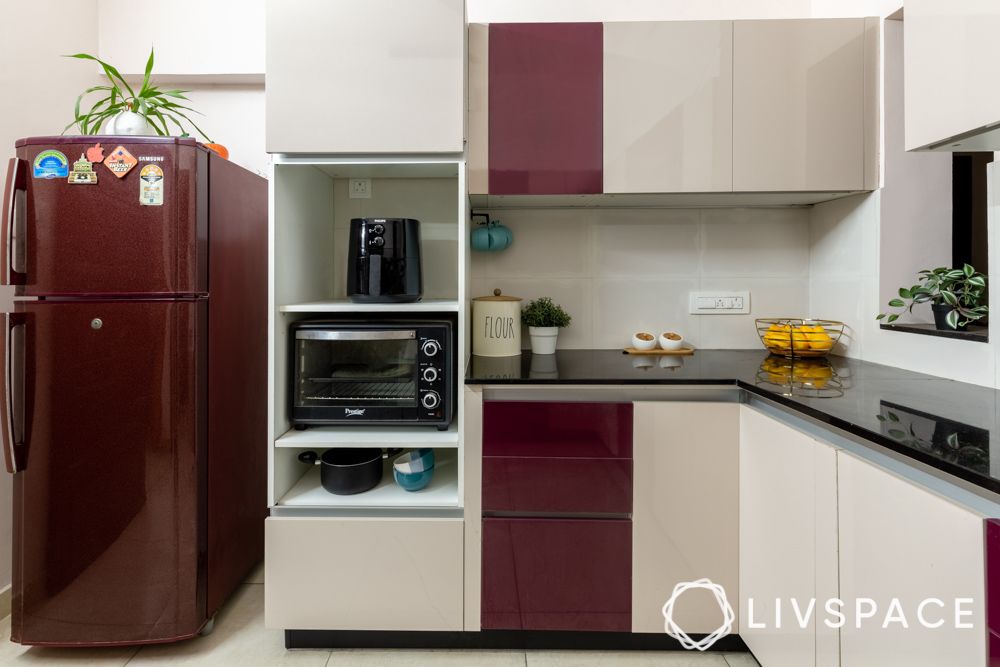 In this kitchen, you'll notice that there are upper and lower cabinets on all three walls and just one tall unit. There are also fewer drawers compared to the previous kitchen. Having said this, it is also important to note that prices vary from city to city by at least 15 to 20%.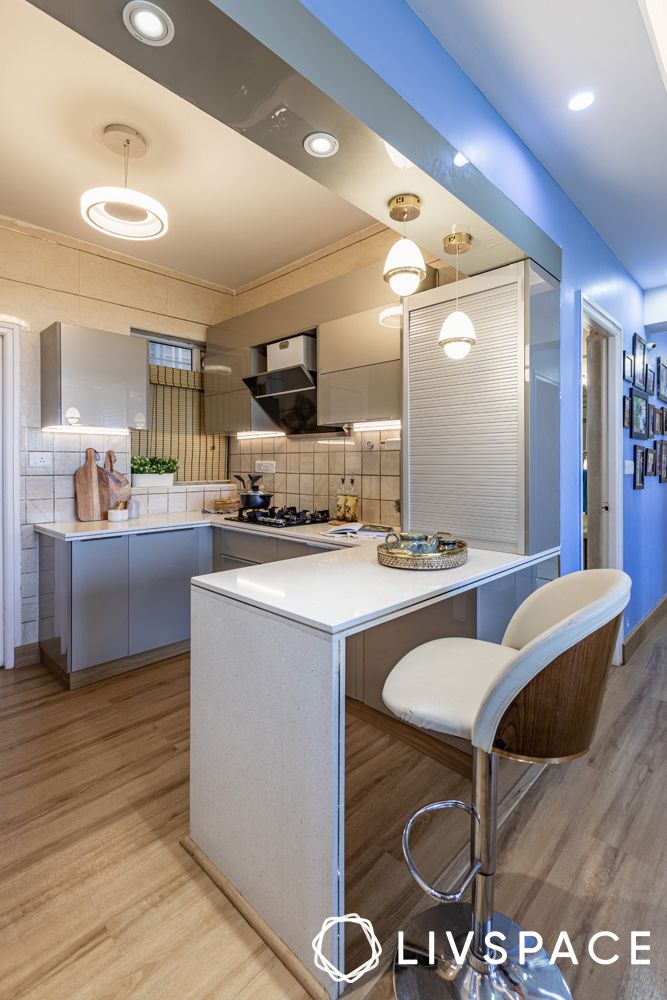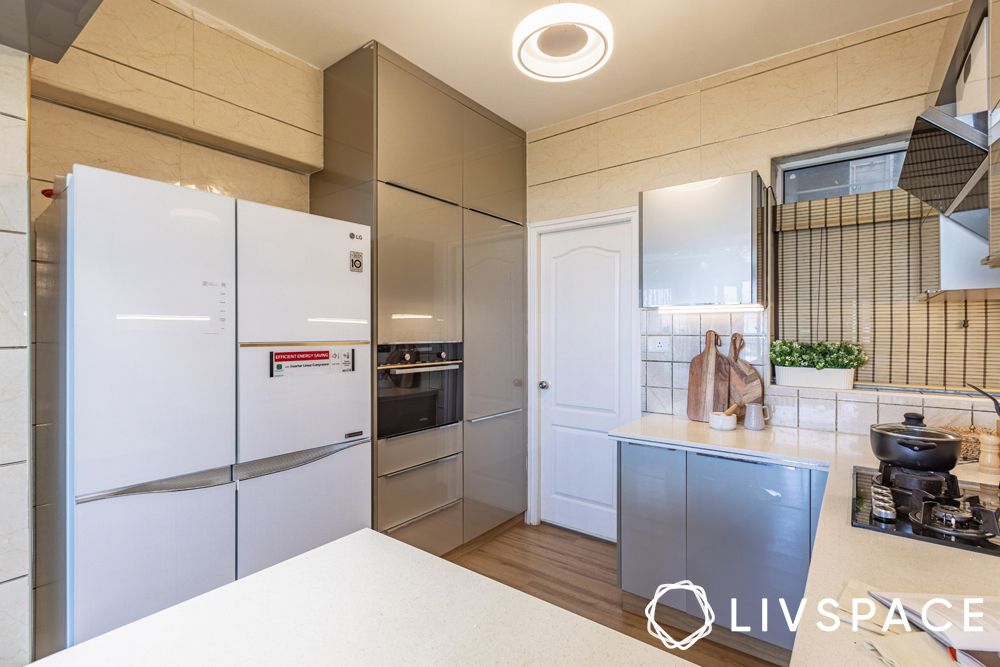 This is actually a U-shaped kitchen, but the extended breakfast counter (peninsula) makes it a G-shaped one. It has two tall units with loft, a roller shutter unit and some upper cabinets that have flap-up shutters (which cost ₹6,000 each, at least). But since it has economical laminates on the cabinets, the price is controlled. This kitchen also doesn't have any special corner units, unlike the next design.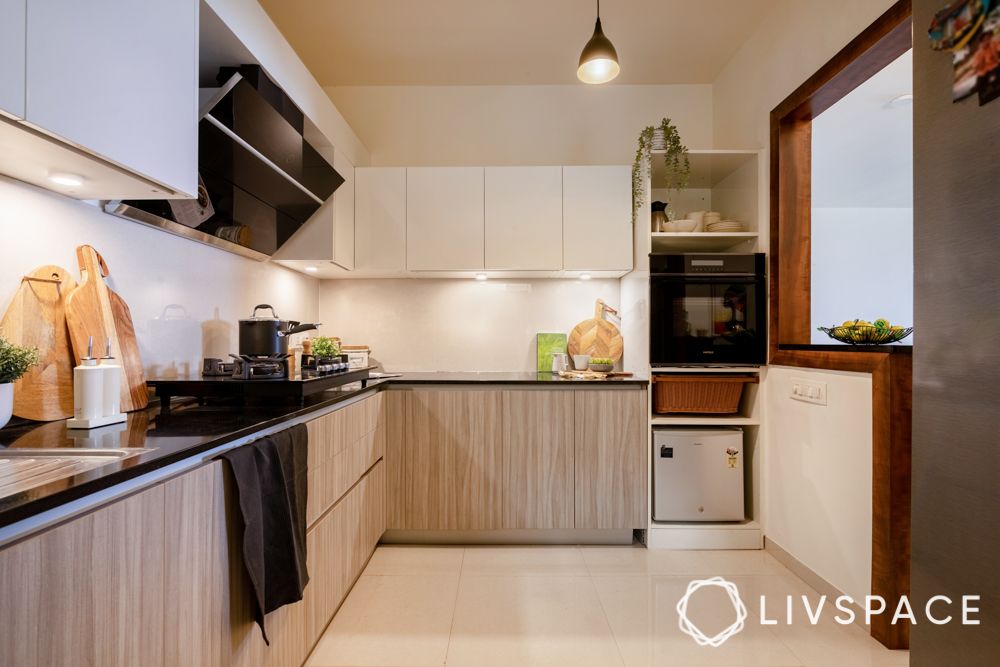 This L-shaped kitchen has one tall unit will 5 shelves and no shutters (open shelves are cheaper) and a wicker basket. It also has a Luzy corner shelf to utilise space in the blind corner. However, this kitchen has simple shelf cabinets instead of base drawers and all its units have been finished in laminates. This is the most budget-friendly way to plan your L-shaped kitchen.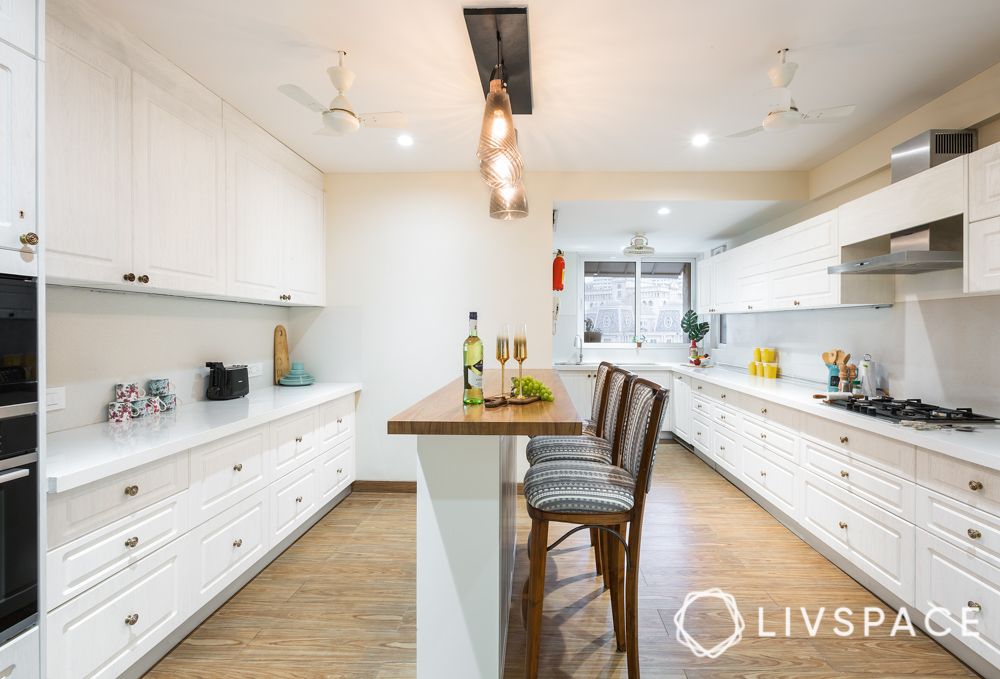 To count, this kitchen has top cabinets inclusive of lofts, numerous base drawers, top lift-up cabinets and one tall unit. Moreover, the cabinetry has membrane finish, which is more expensive than laminates. But given that many people use the kitchen, and the family also eats here at times, it is money well-spent on highly durable interiors.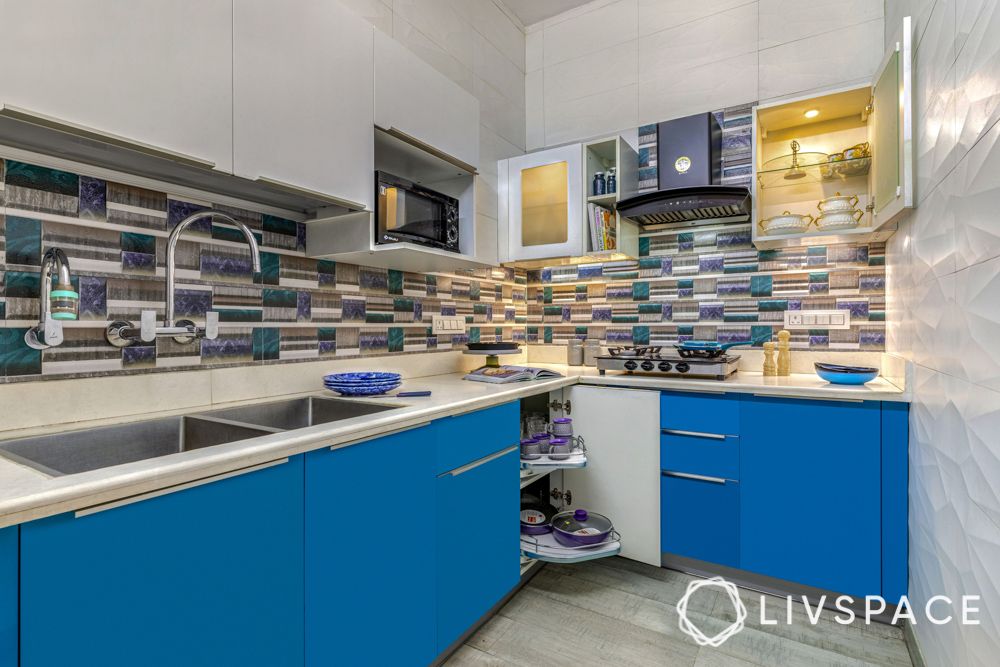 Most L-shaped kitchens require a special corner unit. This is because most of them are already small and losing storage space to the bind corner is not sensible. Therefore, Anu Malhotra Khanna chose simple units with no lofts, but made sure she got the carousel to fit in her kitchen corner. This allowed her to spend the rest of her budget on aesthetic finishes. Don't they look great?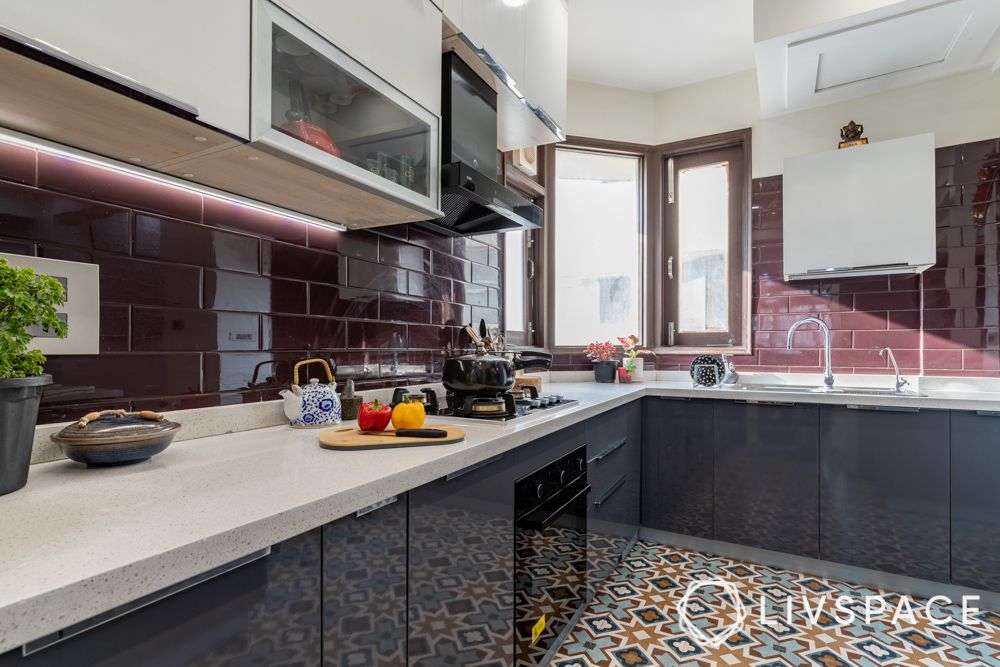 For Prerna Kaul, beauty matters as much as her workflow in the kitchen. This is evident from the base hob unit with the built-in oven and the lift-up cabinet in the wall. She also gives importance to storage as she also got modular kitchen fittings like the Luzy corner and the lofts installed.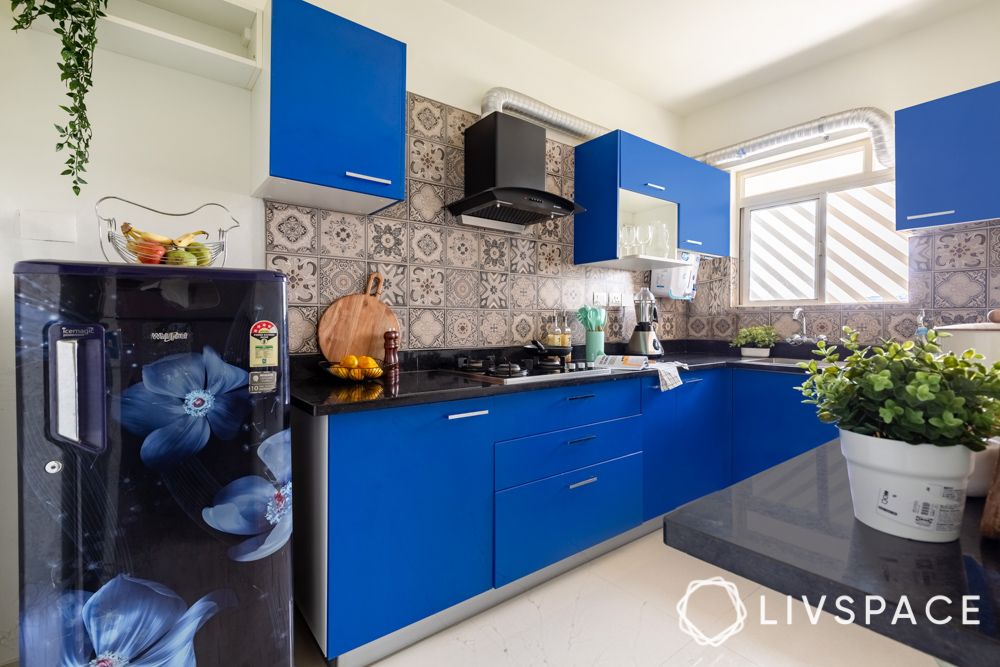 The Moroccan theme in Anukumar's kitchen is uncompromised; even the water purifier is installed behind an aquaguard unit to have clean, unbroken lines in the kitchen. The cabinetry has also been kept minimum to control the budget of the kitchen while giving it an inviting look.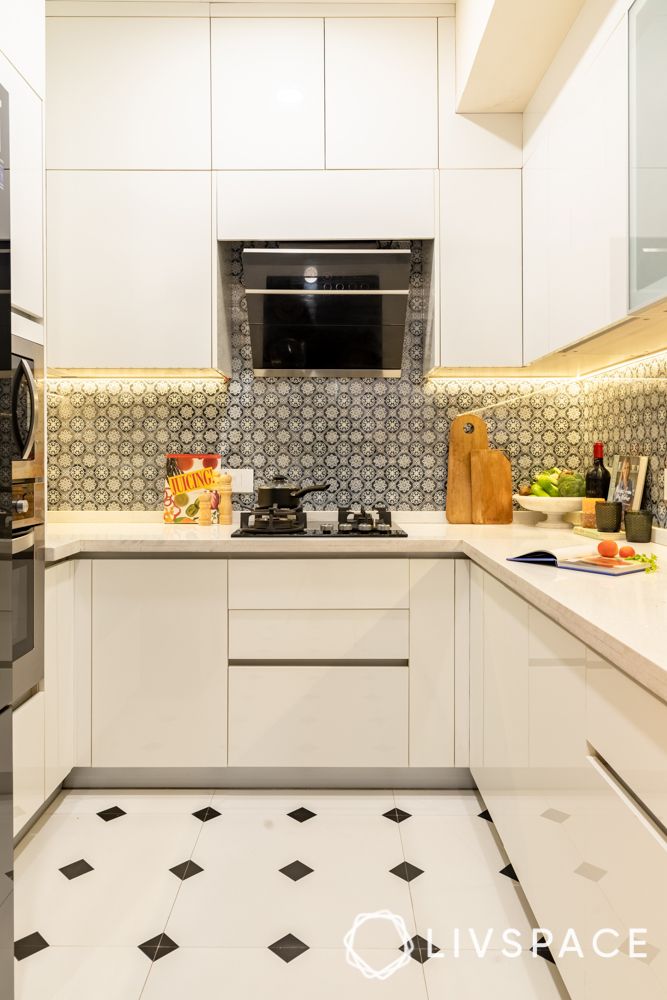 Apart from the regular modular units, Dinesh got a spice pull-out rack, and a tall microwave unit to keep his design functional as well as storage compliant.
If you like our budget ideas based on modular kitchen fittings, then you may want to read: 5 Low-Budget Homes Across India With Happy Homeowner Video Testimonials.
How Can Livspace Help You?
If you want your home to be just as beautiful, then look no further. Book an online consultation with Livspace today.
We love hearing from you! Write to us with your comments and suggestions at editor@livspace.com