From minimalism to Scandinavian, Indian homeowners are gradually moving away from traditional Indian designs and adopting more Western looks for their homes. One such elegant but lesser known interior design theme is the classical European theme. This elegant theme focuses on clean lines, maximum storage and subtle colours. Mohit, from Jaipur, was looking for an open modular kitchen with some elements of the European classical style. Check out this membrane kitchen design in Jaipur, completed under ₹3.5 lakhs.
---
Who Livs Here: Mohit and his family
Location: Jaipur
Design team: Interior Designer Bharti Babani
Livspace service: Kitchen design
Budget: ₹₹₹₹₹₹
---



In a Nutshell

Brief
A modular functional kitchen with open space planning and some elements of the classical European theme

What We Loved
The faded denim blue colour theme of the kitchen

Look Out for
The print tile flooring that adds a pop to the subtle kitchen



#1: Unique Denim Blue Membrane Kitchen Design in Jaipur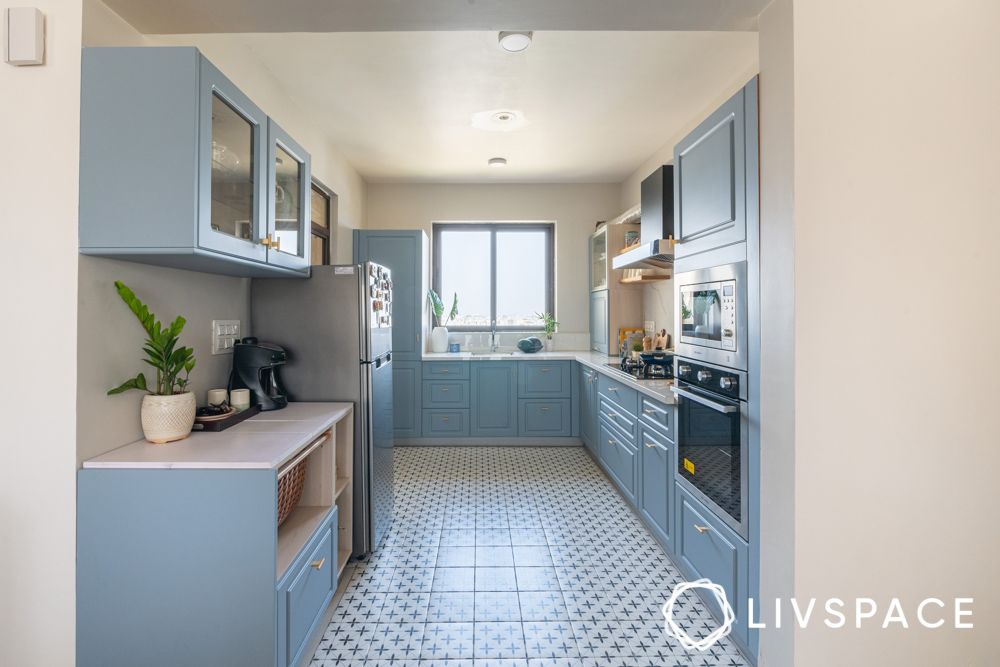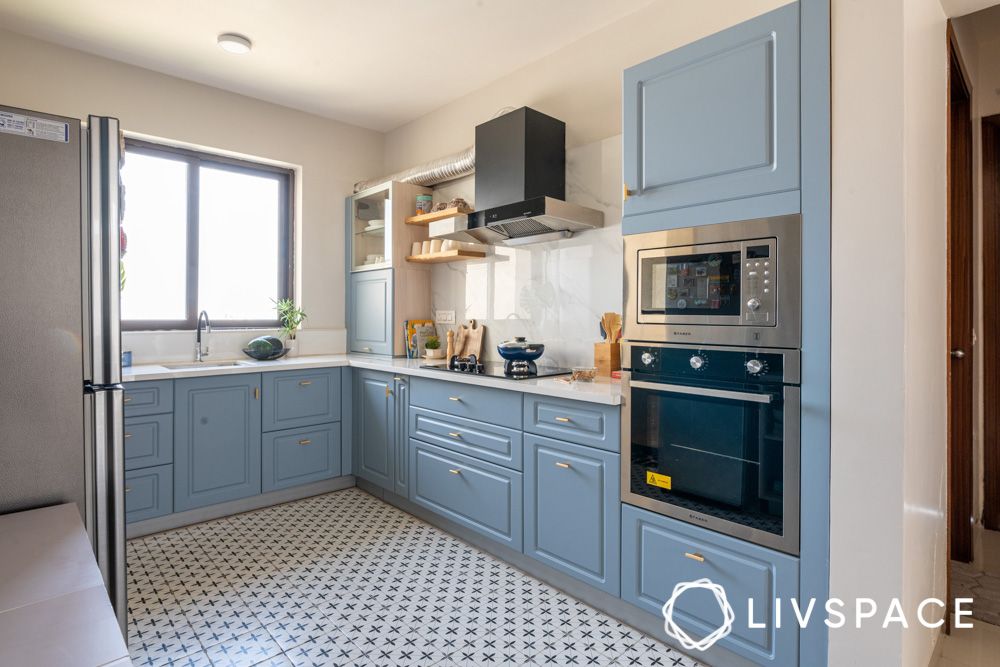 Choosing Livspace for your home interior design can give you several benefits. You can get access to high quality of products as well as a one-stop solution for all your interior design needs and expert advice. For Mohit, the main reason why he picked Livspace for his kitchen design was the wide variety of colour options that we offer. He had his heart set on a faded denim blue colour for his kitchen, something that wasn't otherwise available in the Jaipur market. And with Livspace, he got his dream denim blue membrane kitchen design in Jaipur.
#2: More About the Stunning Features of This Membrane Kitchen Design in Jaipur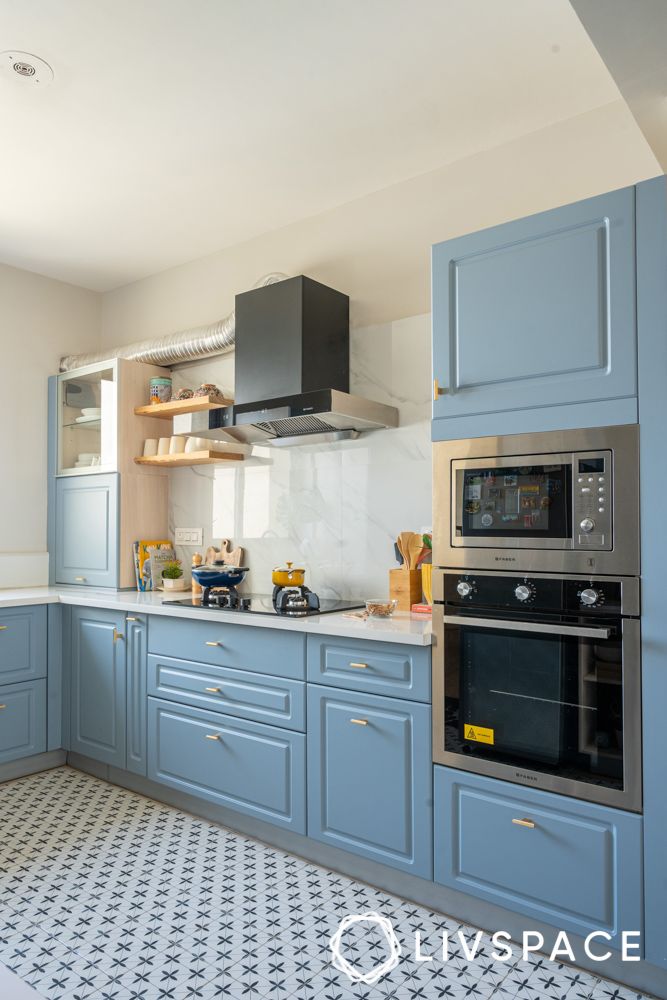 Designer Bharti Babani tells us that Mohit wanted every feature that would make his kitchen a functional space. However, completing a compact membrane kitchen design under ₹3.5 lakhs in Jaipur can be a challenge. The family wanted both a breakfast counter and a service counter. However, considering the space constraints, Bharti skipped the breakfast counter and gave them a service counter instead. This was the more useful option as their dining space was in the same area. This also gave them some extra space, making the room look more spacious.
Most kitchens usually have both base and upper cabinets. However, Mohit did not want too many upper cabinets. Instead, he wanted shelves in his membrane kitchen design in Jaipur to display his crockery. So, we gave him a combination of shelves, cabinets with glass shutters and upper cabinets. This not only served his purpose, but also made the kitchen look more open and airy.
Moving on to the finishes, the family intended to go for Moroccan tiles for their flooring and backsplash. However, Bharti, as an expert membrane kitchen designer in Jaipur, suggested going for print tiles for the flooring with a white marble dado. A simple white backsplash aligns perfectly with Mohit's requirement for a minimal design, while giving the compact kitchen a spacious look.
#3: How Did We Keep the Membrane Kitchen Design Under ₹3.5 Lakhs in Jaipur?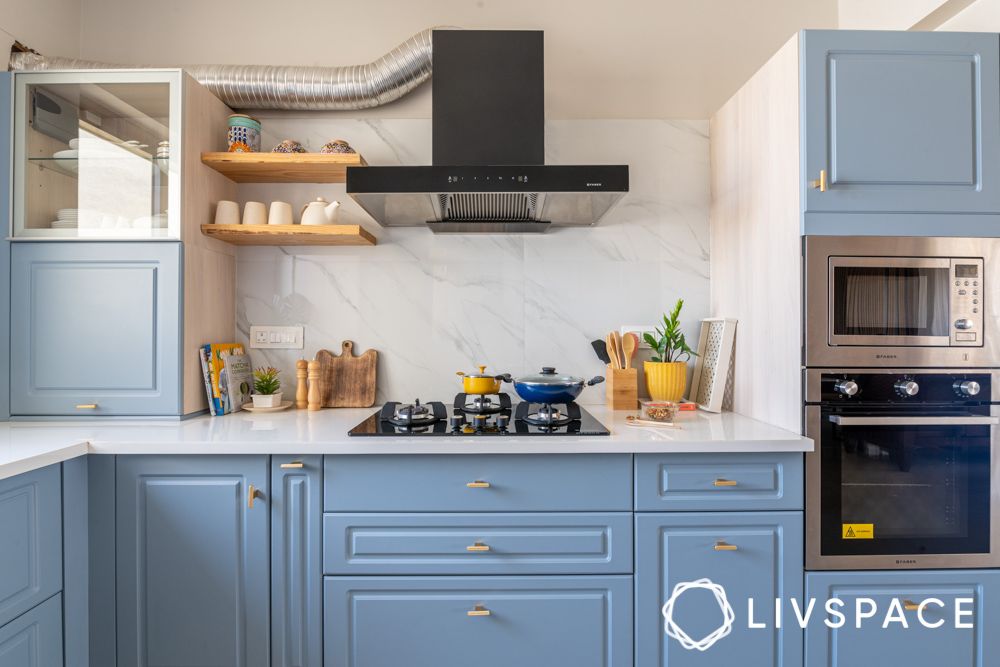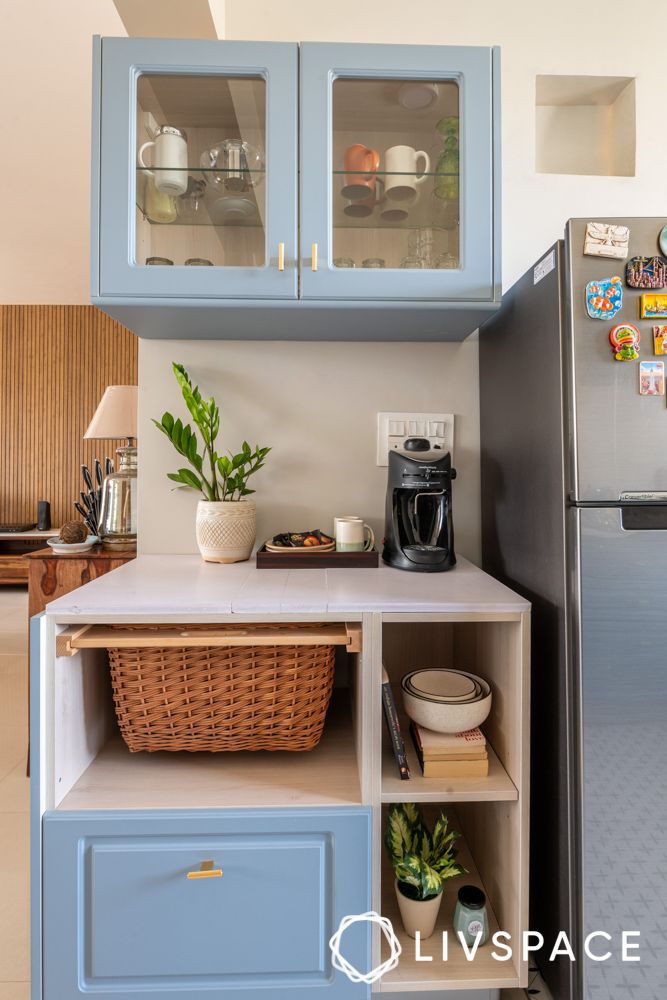 While getting interiors done, budget is always a primary factor for homeowners, as was the case for Mohit. Keeping this membrane kitchen design under ₹3.5 lakhs in Jaipur was a challenge. There were multiple constraints for Bharti. Firstly, Mohit wanted an additional tall unit, which would have pushed up the cost. Since they already had a tall unit, Bharti suggested that he should go for a microwave unit instead, which would help in keeping the cost low.
Secondly, there were several accessories that the homeowners wanted in their membrane kitchen design in Jaipur. To accommodate for the same, Bharti suggested that they opt for smaller sizes for all the units. This way, the homeowners got everything that they wanted without crossing their budget. Thirdly, since the cabinets were of a membrane finish, Bharti decided to cut down on the cost of the handles. She chose gold-finish knobs instead of handles, which were lower in cost and suited the aesthetics of the kitchen.
Bharti also chose low-cost options for the flooring and the dado tiles to keep the denim blue membrane kitchen design in Jaipur budget.
Cost of dado tiles: ₹60-70/sq. ft. approx.
Cost of flooring tiles: ₹35/sq. ft. approx.
#4: Designer Speaks…
It was an enjoyable as well as a good learning experience. The project helped me understand how to plan a small open kitchen with all the functional utilities and aesthetics.

– Bharti Babani, Designer
If you liked this membrane kitchen design in Jaipur, also check out this modular kitchen in Chennai.
How Can Livspace Help You?
We hope you found our ideas useful! If you want your home to be just as beautiful, then look no further. Book an online consultation with Livspace today.
Wondering how our customers feel about working with Livspace? You can check out the Livspace kitchen reviews here!
Send in your comments and suggestions to editor@livspace.com