Once in a while, we come across a project that is as riveting as it is challenging. That is exactly how we felt when Rohini Karkera approached us to completely transform and renovate her 20-year old kitchen. At first glance, we had our work cut out for us! Until interior designer Aparna Ganesh stepped in and designed a small modern kitchen that is stunning and functional. Take our tour to know how she transformed a 20-year old kitchen into a modern masterpiece!
---
Who livs here: Rohini Karkera with her family
Location: Pune
Size of kitchen: 100 sq ft approx.
Design team: Design Manager Aparna Ganesh and Project Manager Paankhi Sahu
Livspace service: Modular kitchen design
Budget: ₹₹₹₹₹₹
---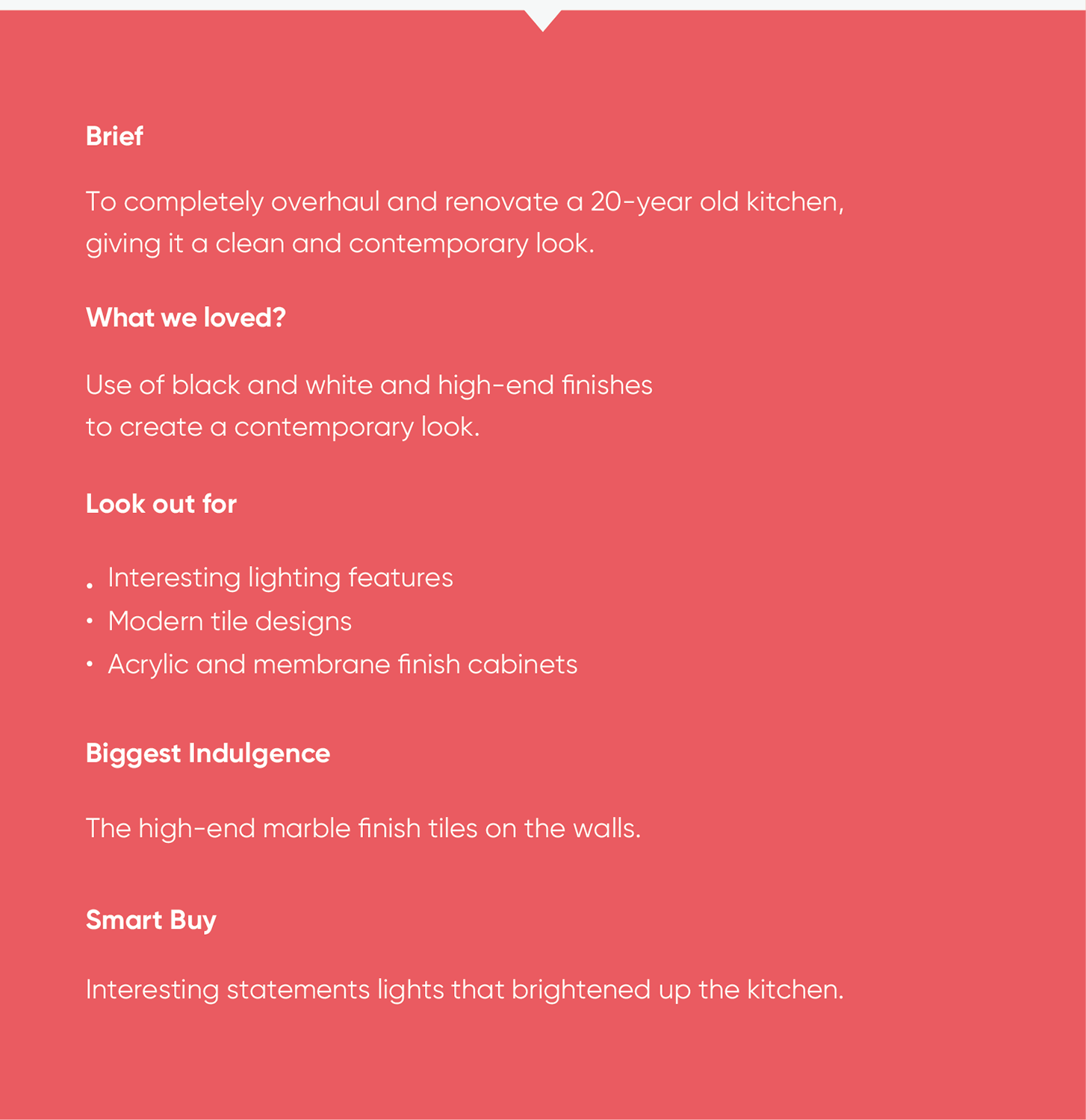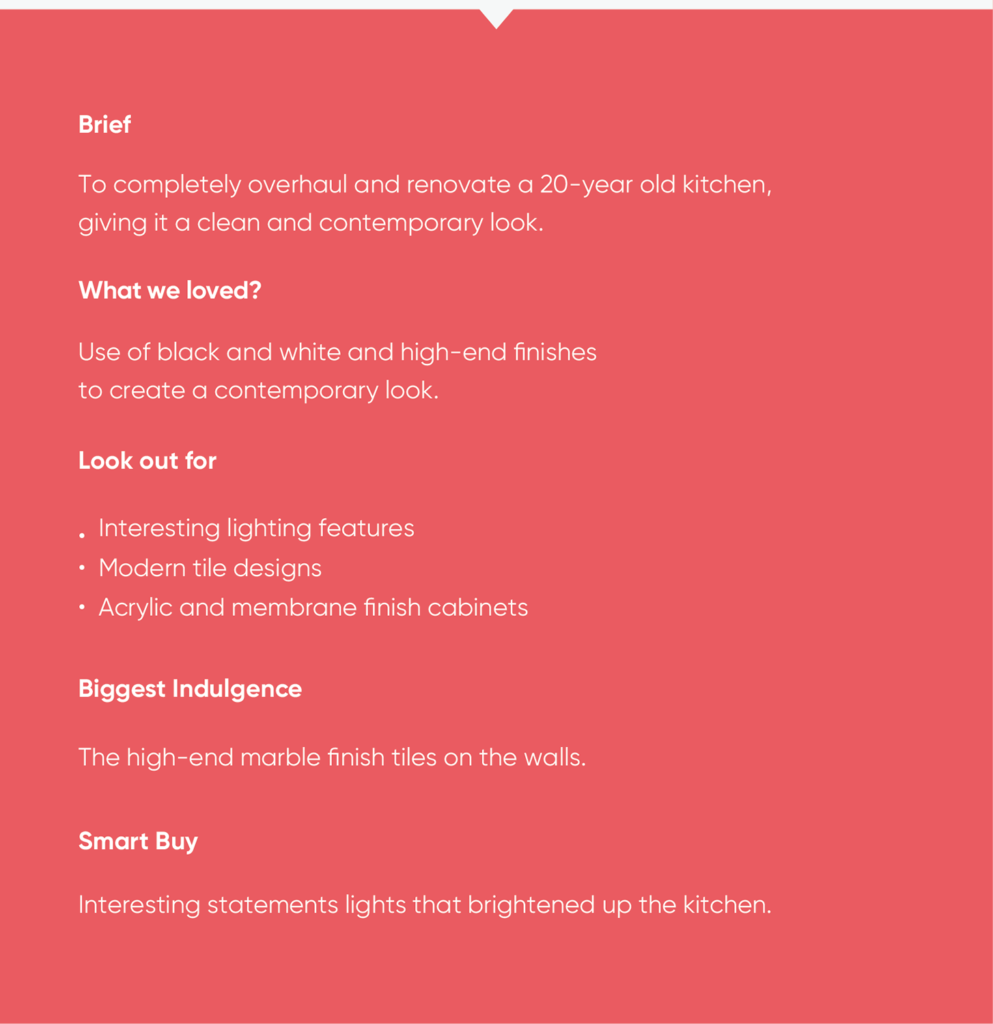 1. From an L-shaped to a C-shaped layout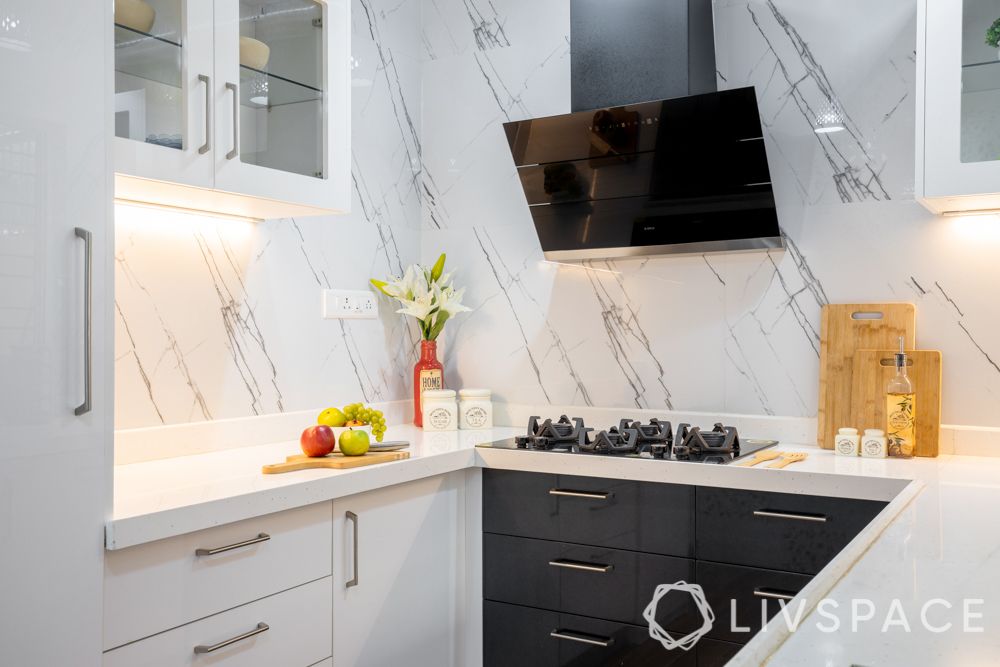 Before actually beginning the renovation process, Aparna had to maximise the space in this small modern kitchen. Originally, the kitchen had an L-counter with deep shelves and cabinets. Along with RCC (Reinforced Cement Concrete) lofts, the usable space in the kitchen was very low. These RCC structures were broken and L-shaped counters removed, post which, there was more than enough space for a swanky C-shaped counter!
2. We used high-end tiles for a plush look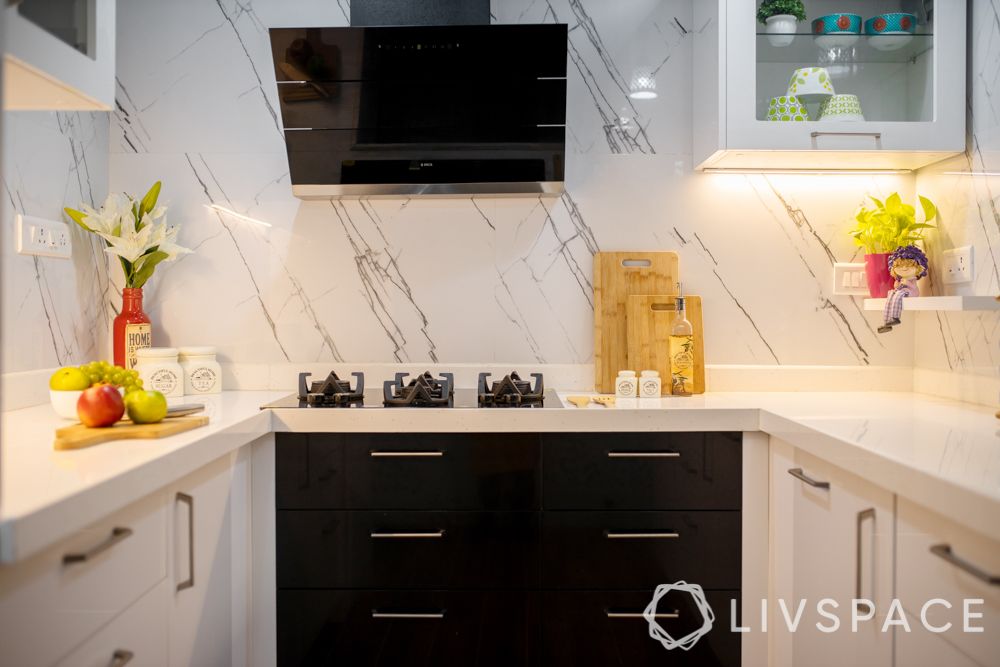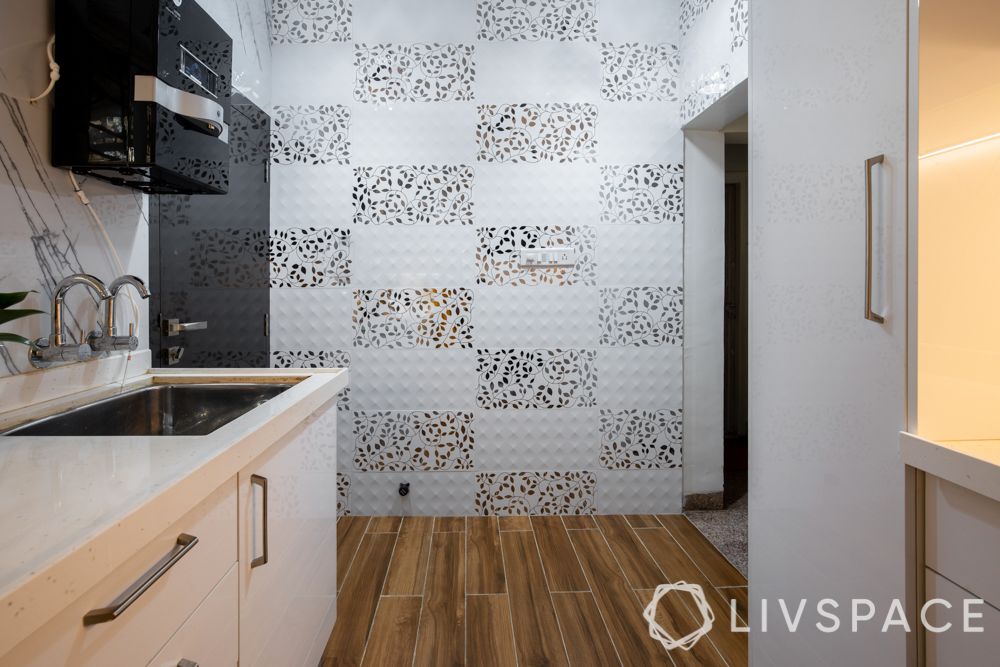 The original tiling of this 20-year old kitchen was boring and basic! Rohini wanted her kitchen to come out of the 90s and enter the modern world of chic designs. So, Aparna's first step was to change the tiles. She kept the flooring simple with some wooden-finish tiles. The highlight here was the high-end marble-like tiles on the walls. The snazzy design and smooth finish completely transformed the look of this kitchen. She also added some quirky tiles to break the monotony of smooth marble everywhere else.

3. Sleek cabinets in acrylic and membrane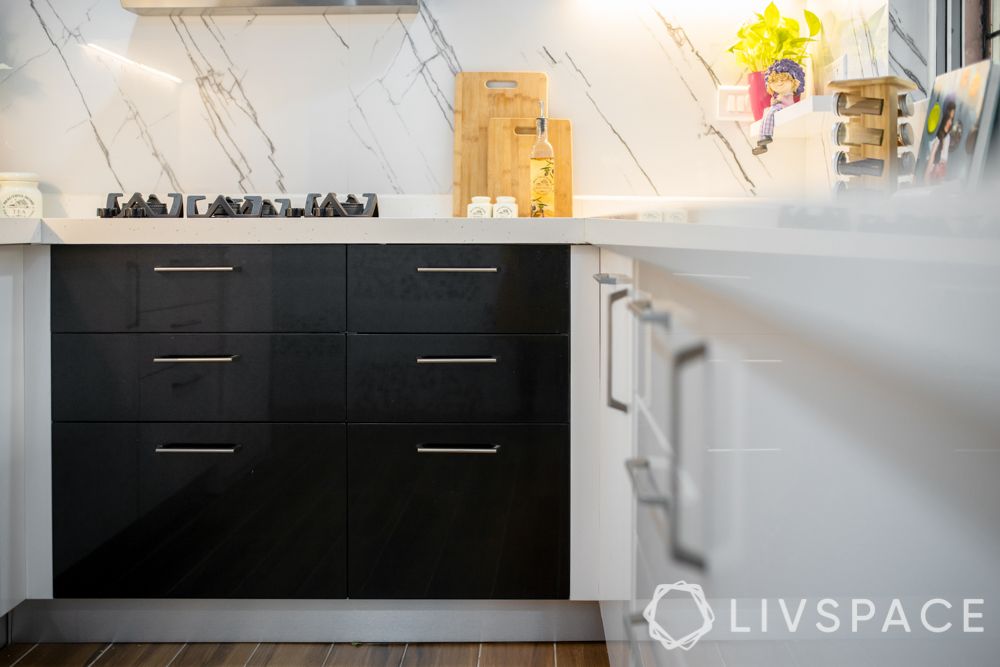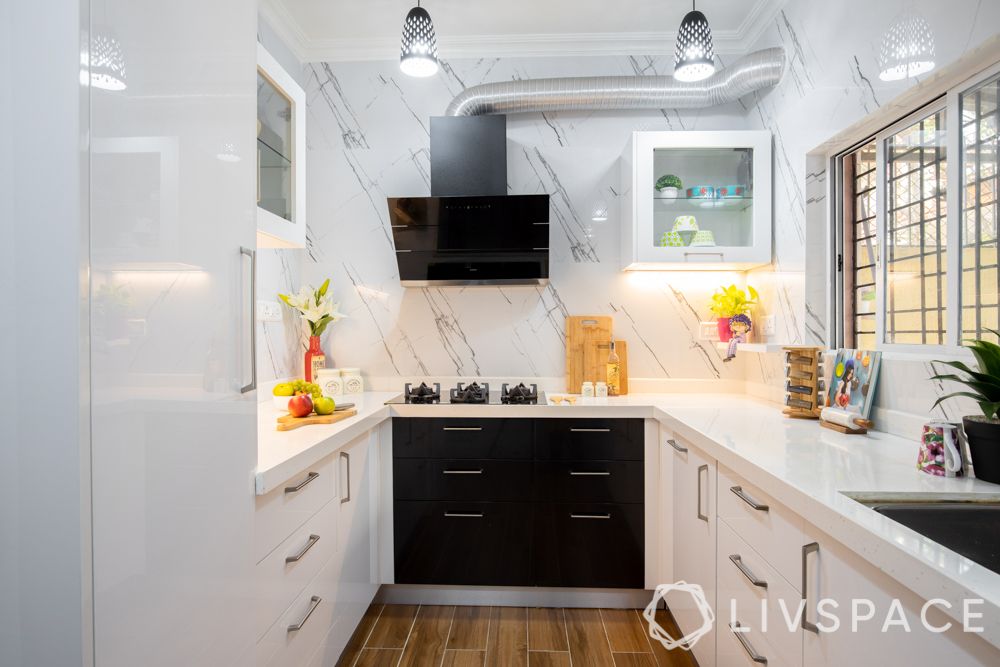 The look of a kitchen depends upon the look and feel of the cabinets and counters. As we mentioned earlier, Aparna removed the existing L-shaped counter and replaced it with a modern C-shaped counter. She used a mix of acrylic and membrane finish for the cabinets to create a plush and varied look. The countertop made of Kalinga stone adds a modern vibe while also being low maintenance. Finally, Aparna opted for a monochromatic black and white colour combination, which is the perfect choice for this small modern kitchen.
4. Profile lighting to brighten the room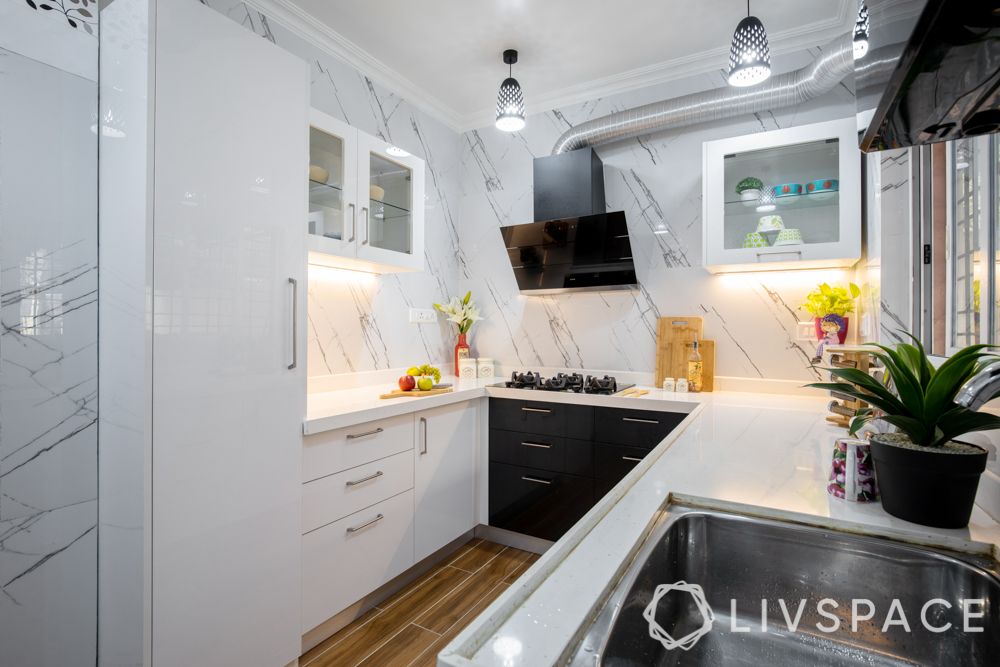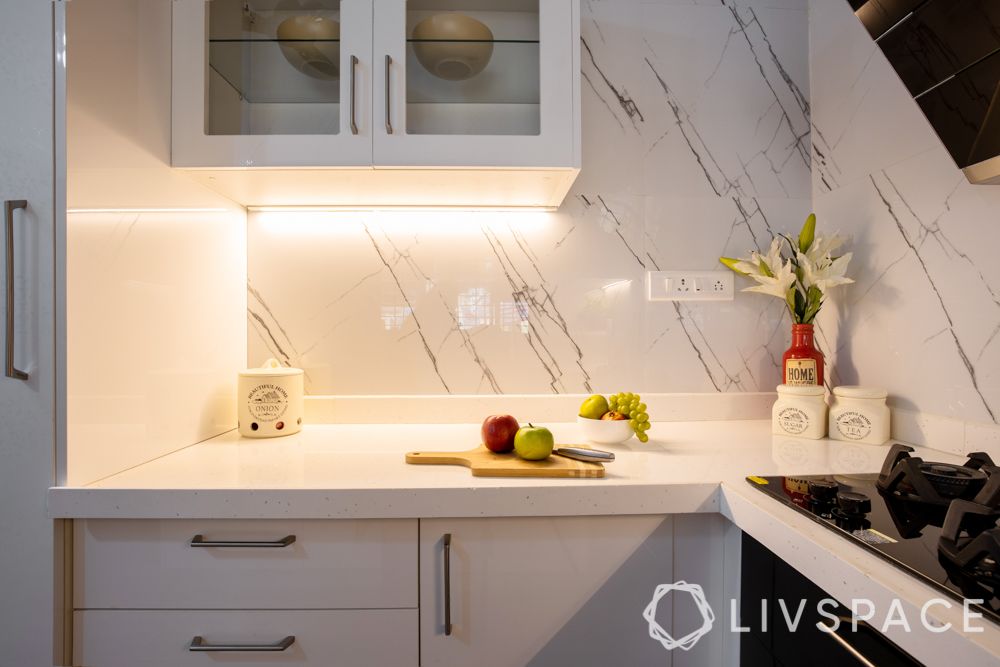 When you are cooking up a storm, you definitely don't want a dark and dingy kitchen! Rohini's original kitchen barely had any natural light. To get some cheery sunlight flowing in, Aparna removed the dark shades from the existing window. Also, for some added lighting, she incorporated a simple false ceiling and added profile lights. Strategically placed LED lights brightened up the place further.
Liked this small modern kitchen renovation? Check out how we designed this 10-year old kitchen to be pretty and functional.
Send in your comments and suggestions to editor@livspace.com