A simple kitchen design perked up with a piquant lime green hue.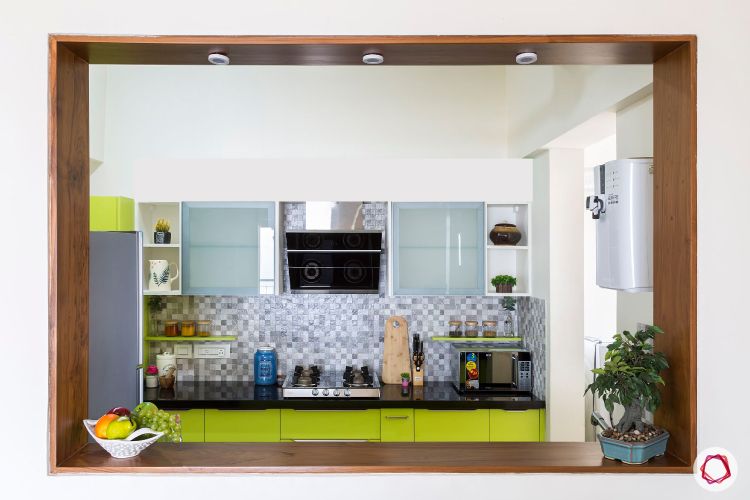 ---
Who livs here: Sachin Nambiar with his wife Bhavya and 5-yr-old daughter Nandini
Location: Runwal Greens, Mulund, Mumbai
Home Size: 2.5 BHK
Design team: Interior Designer Kanwaldeep Kaur (Kd) with Quality Managers Ramesh C. Parmar and Anthony
Livspace service: Kitchen design
Budget: ₹₹₹₹₹
---
After scouring through the portfolios of many interior designers and firms, Sachin Nambiar and his wife Bhavya ventured upon Livspace by chance. That's where they met Kanwaldeep Kaur, their designer, who gave them ample options to suit their requirements. The couple couldn't find any other vendor who could match all their preferences. This led them to seal the deal!
The trio sat through many meetings to finalise the colour and design for the kitchen. As Bhavya was intent on communicating with her family while cooking, a pass-through window made its way into the plan. A citrusy lime green shade was finalised to match their south Indian taste, while lots of storage space was added to the design.
The Chat Window!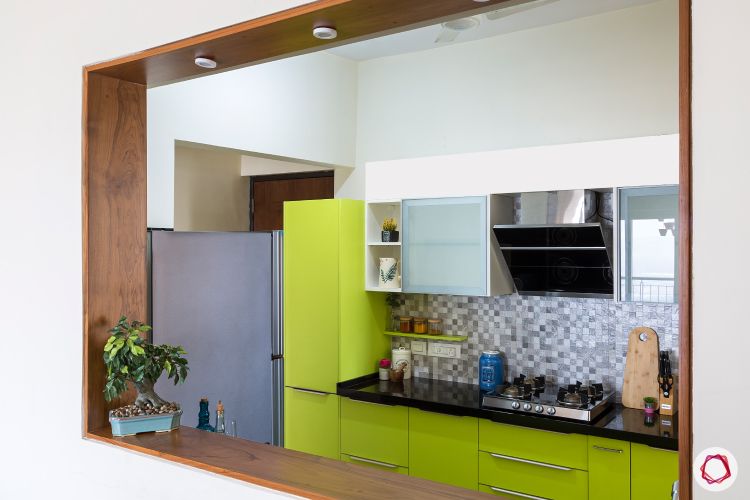 The pass-through window gives the compact kitchen an airy feel while being a conversation starter. We're sure this is a fun spot for the family to enjoy sumptuous snacks and catch up on the day's events.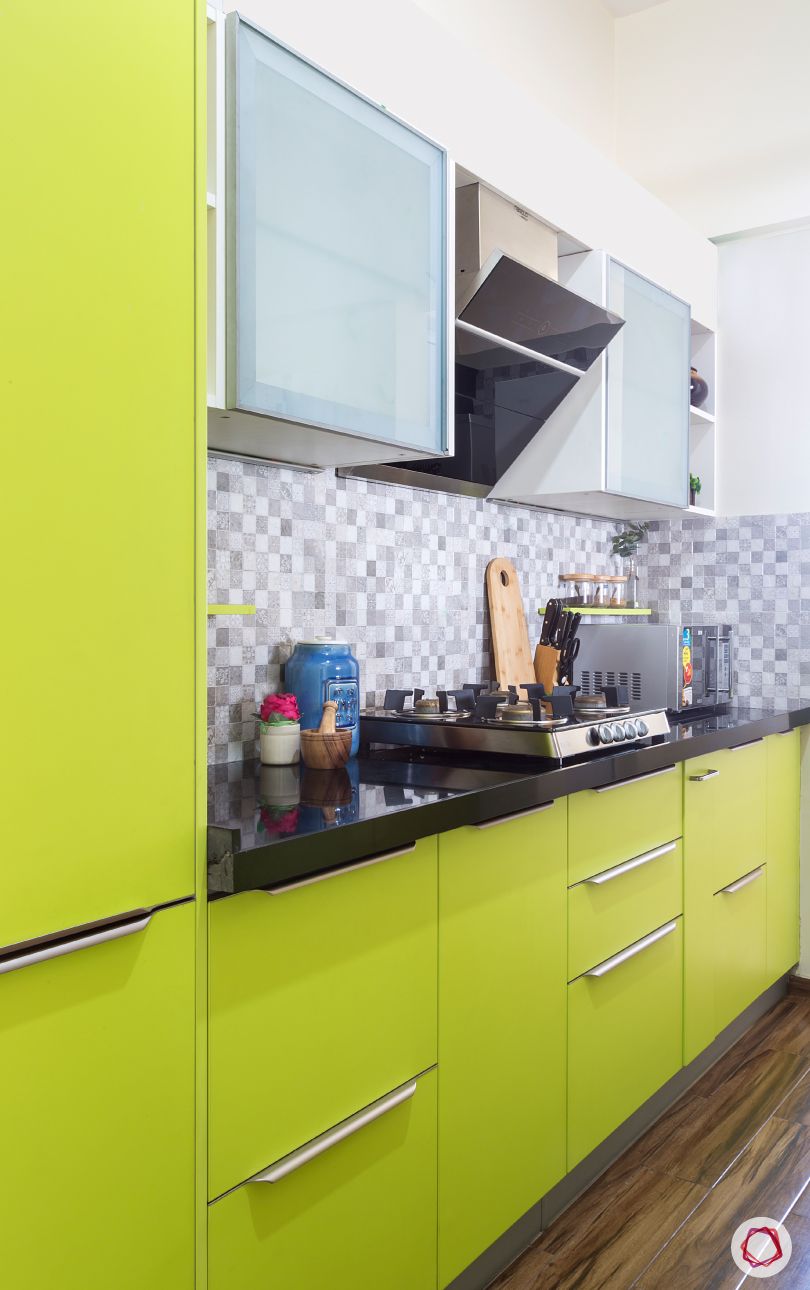 As the parallel kitchen is compact, loading it with storage units was definitely a task. But at Livspace, we cater to every need. Thus Kanwaldeep was able to offer units to fit seamlessly into the kitchen. The designer also changed the flooring to a wooden one, to bring in warmth and made sure it matches with the outline of the pass-through window for a rich look.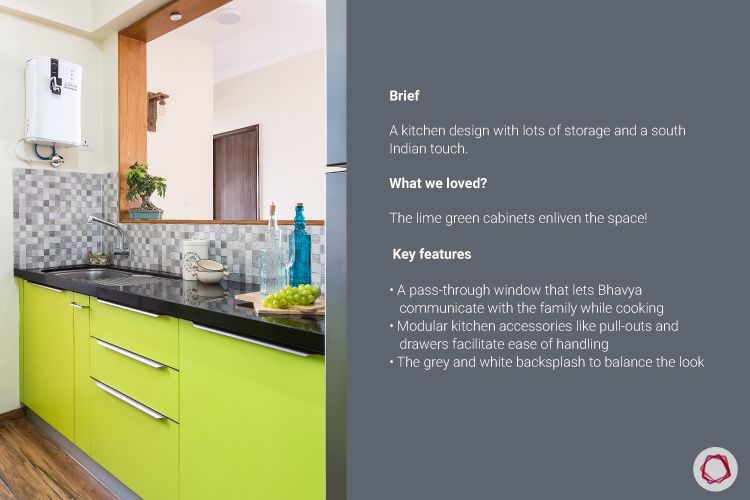 Functionally, the kitchen features a perfect work triangle with the sink, hob and refrigerator placed at equal distance to each other. This makes movement in the kitchen easy and efficient.
Easy Storage

The pantry unit stocks up enough groceries to sustain the family's needs. This is handy as Bhavya was eager to stack all the kitchen essentials in an organised fashion.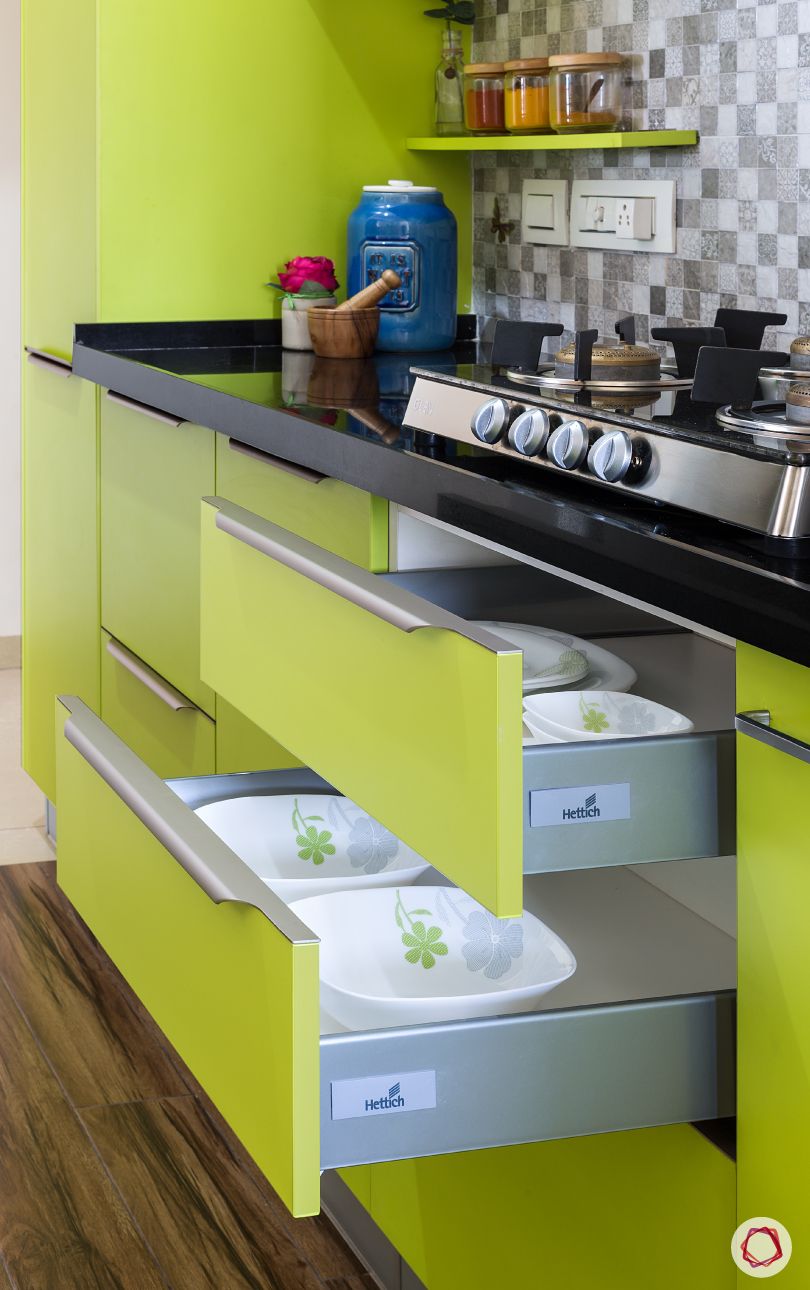 Tandem drawers, cutlery units, bottle pull outs and shelves find their place in the design to make cooking easy. It also makes sure that Bhavya doesn't have to strain herself while she flaunts her culinary skills.
For the Bright Look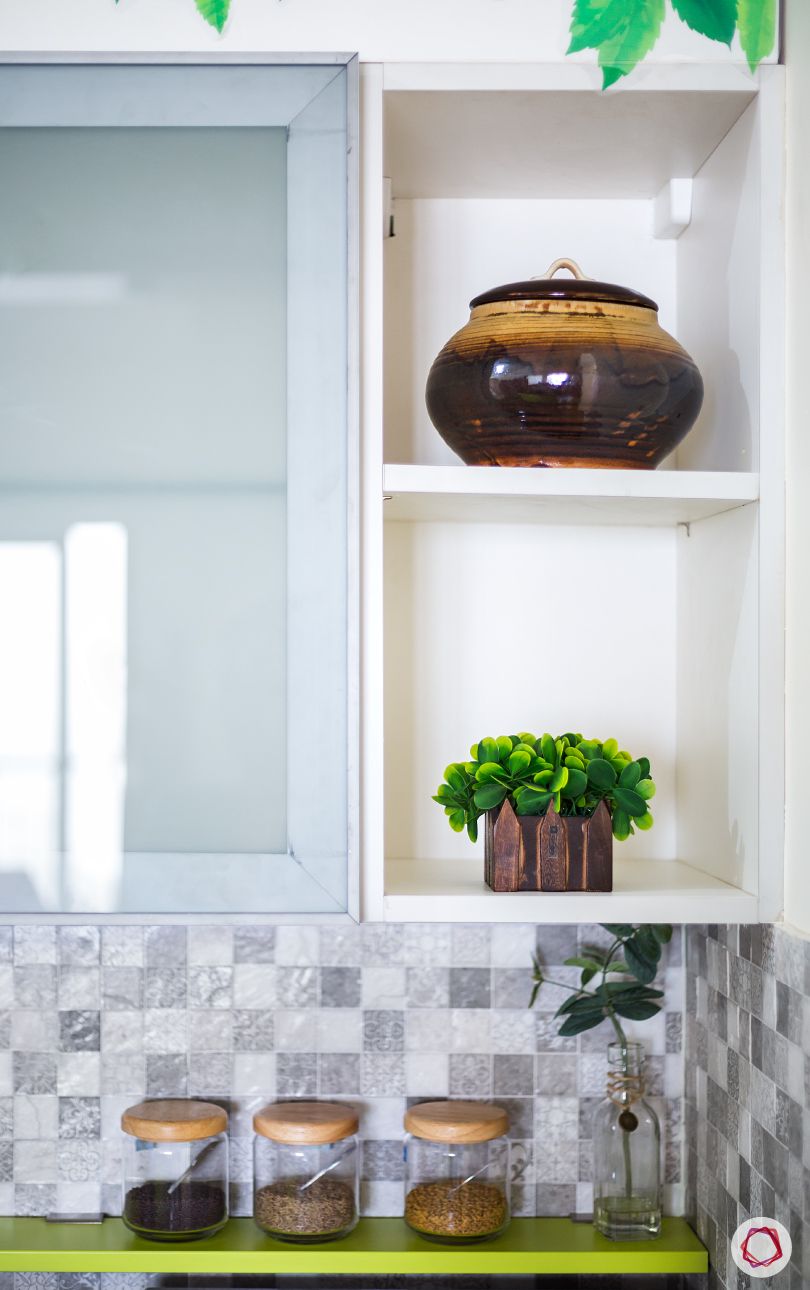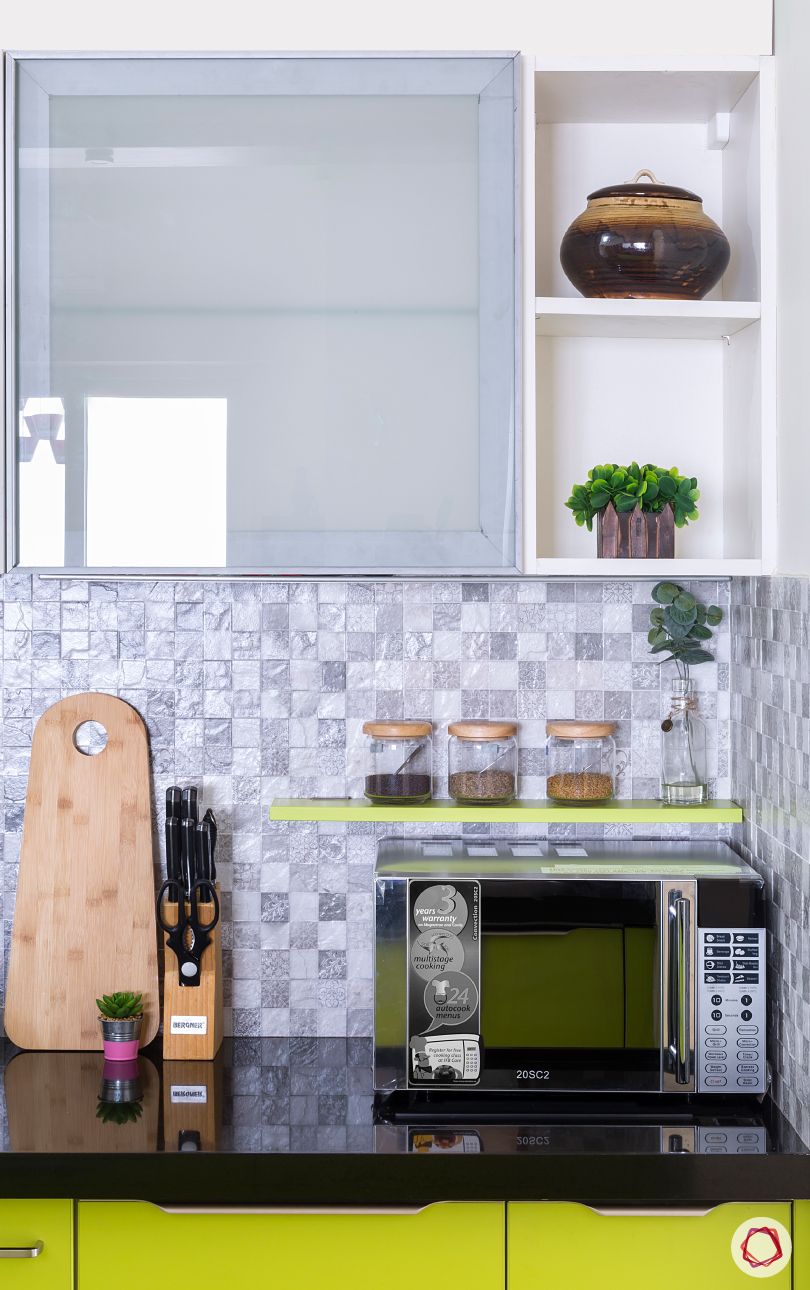 Open shelves and cabinets with glass and aluminium shutters give the kitchen a bright and airy feel. The balance is necessary as too many closed units can be visually overwhelming. It also makes finding essentials effortless.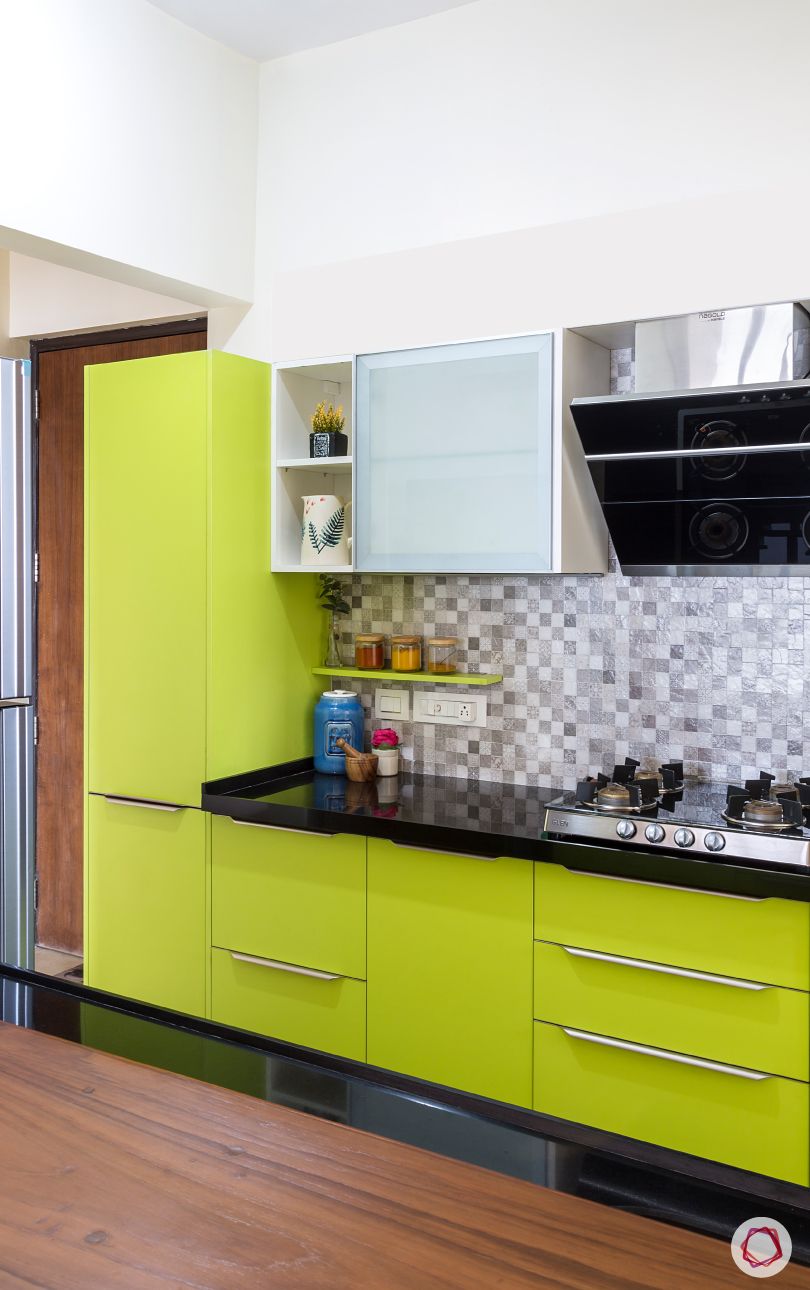 The grey and white backsplash infuses a supple and graceful appearance. It brings together the whole look from the black countertop to the ivory wall modules.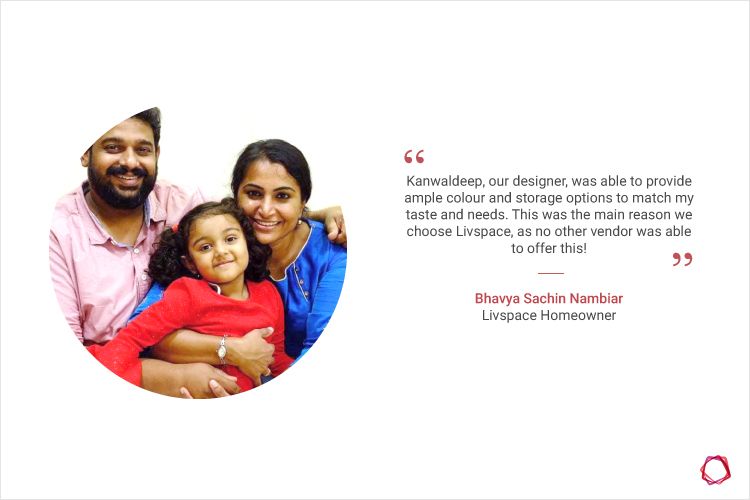 "The Nambiar's are sweet clients who are very understanding and cooperative. We had detailed discussions on the design from aesthetics to functionality before we zeroed in on the final output."
— Kanwaldeep Kaur, Livspace Interior Designer
Love kitchens with vibrant colours? Check this country-style kitchen in Gurgaon.
Disclaimer: All contents of the story are specific to the time of publication. Mentions of costs, budget, materials, finishes, and products from the Livspace catalogue can vary with reference to current rates. Please get in touch with a designer for more details on pricing and availability.