This farmhouse style kitchen with a cheery yellow is a treat for sore eyes.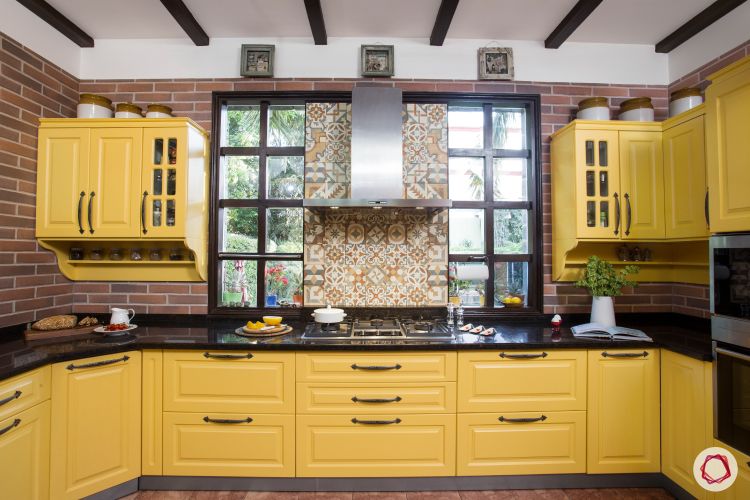 ---
Who livs here: Sonia Puri
Location: DLF Phase 1, Gurgaon
Kitchen Size: 170 sqft
Design team: Interior Designer Nilisha Keshri with Quality Managers Harshika Allawadhi and Deepankar Khattar
Livspace service: Kitchen design
Budget: ₹₹₹₹₹
---
Sonia Puri's Gurgaon home is an ode to country-style interiors. She wanted her kitchen to pop with some bright colours. Thus, she decided to renovate it. Nilisha Keshri, her Livspace designer decided to keep the essence of the country-style while giving it a vibrant twist.
She employed Laguna yellow cabinets paired with black handles and countertop. In addition, she added an exposed brick wall for the backdrop and wooden rafters to complete the look. This kitchen is a tribute to the 1970s classic kitchens. As simple as it sounds, the design took time and effort to think through the right colour options and revision of the layout.
Country-style Living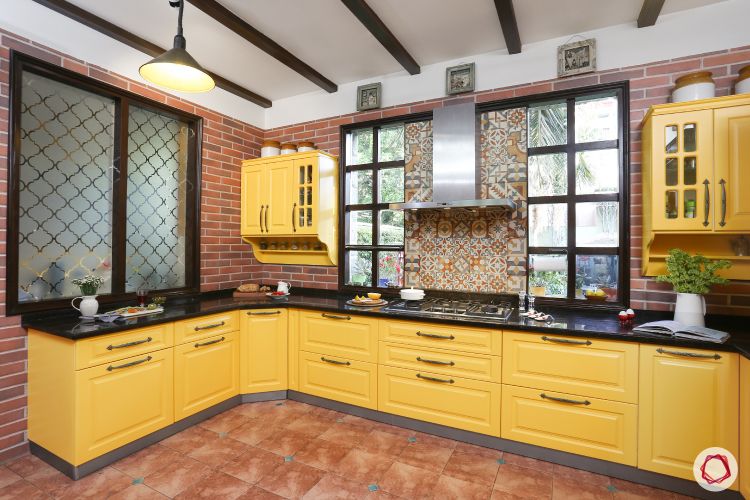 While the kitchen gives a retro look on the outside, the inside is filled with modern hardware like stainless steel drawers, wicker baskets to ensure ease of use. Since the kitchen is handled by a servant, a fuss-free design with ample practical options were offered.
Efficiency and functionality are the core principles of any kitchen. And to make this possible, the design offers ample space for movement along with handy accessories for systematic storage.
Warm Wooden Notes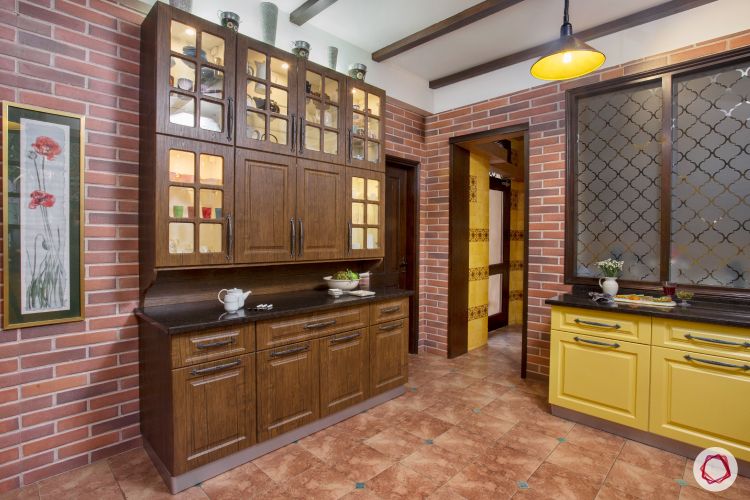 The kitchen also houses a crockery unit. Nilisha picked the wooden tones to match the windows and doors as too much yellow would be overpowering. In order to keep the setting airy, glass shutters are introduced. This carries all the cutlery and easy-to-display fancy crockery.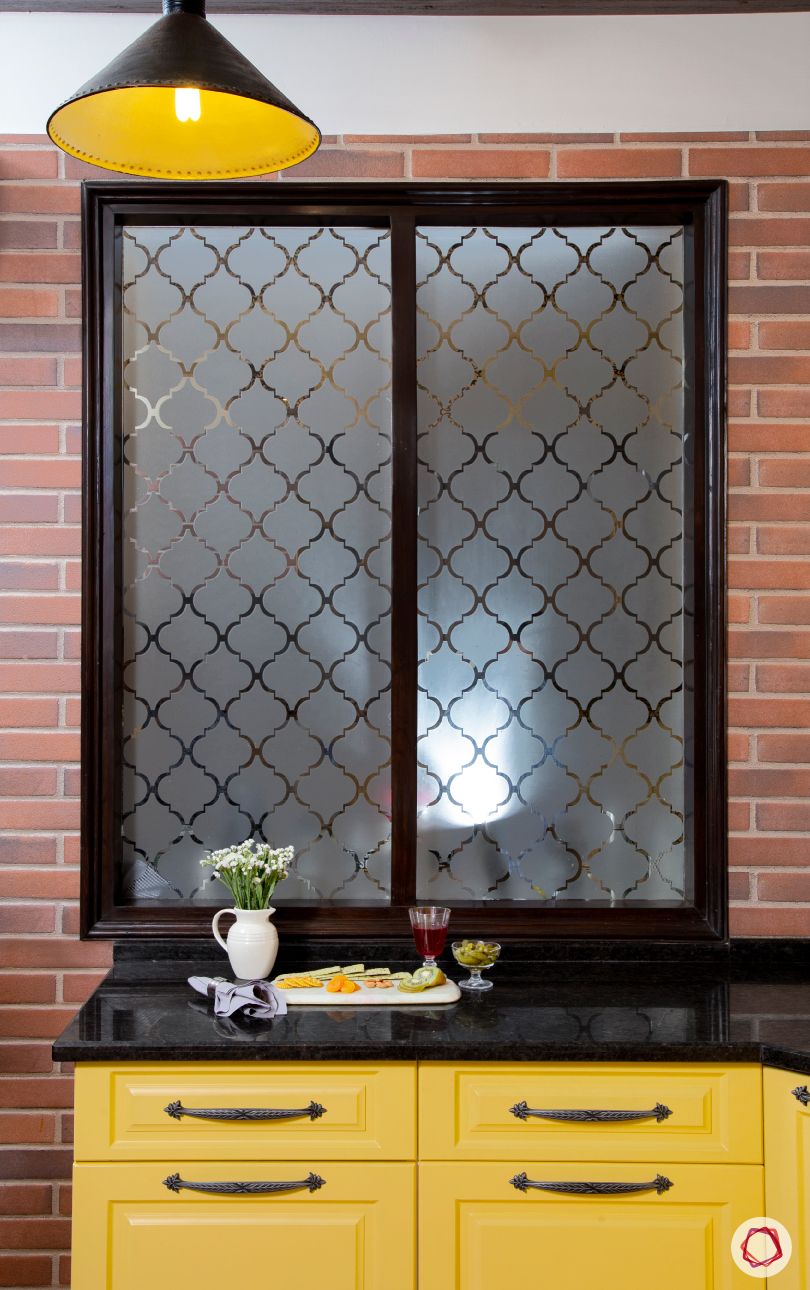 The sink unit, however, finds its place in a wet area in the storeroom. A patterned-film is used on the window to block the view of this area. A pendant light is the major source of light, keeping the retro feel intact instead of fancy ambient lighting options.
Nostalgic Memories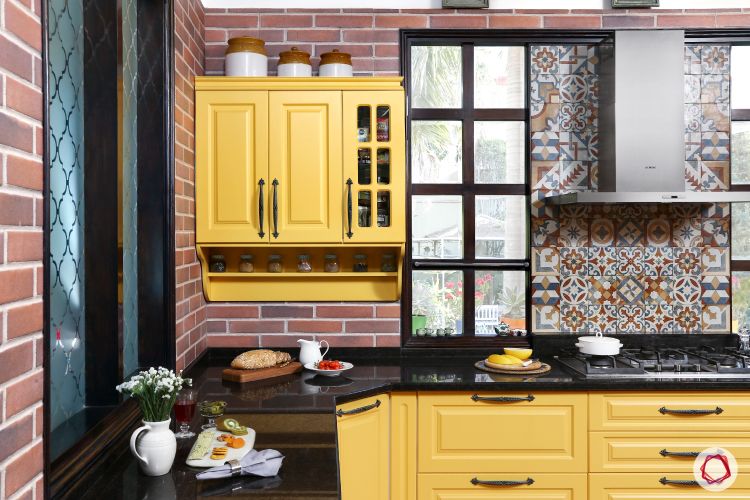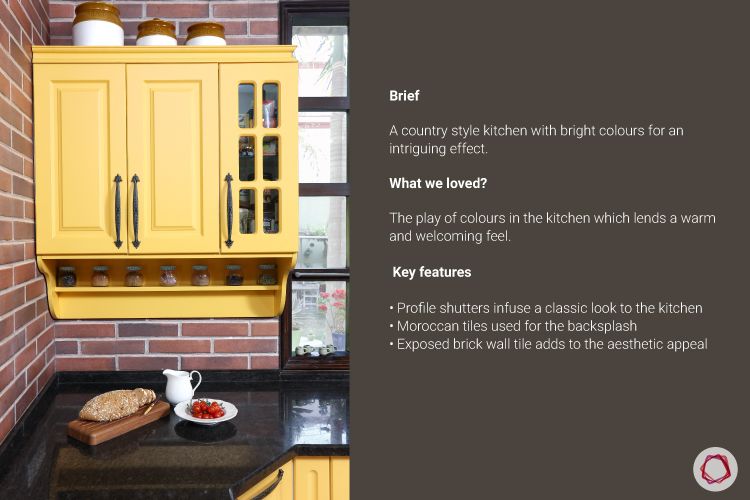 We love how farmhouse style shelves enhance the beauty of this kitchen. Doesn't this remind you of the summer vacations spent at your granny's when you were young?
A Moroccan Addition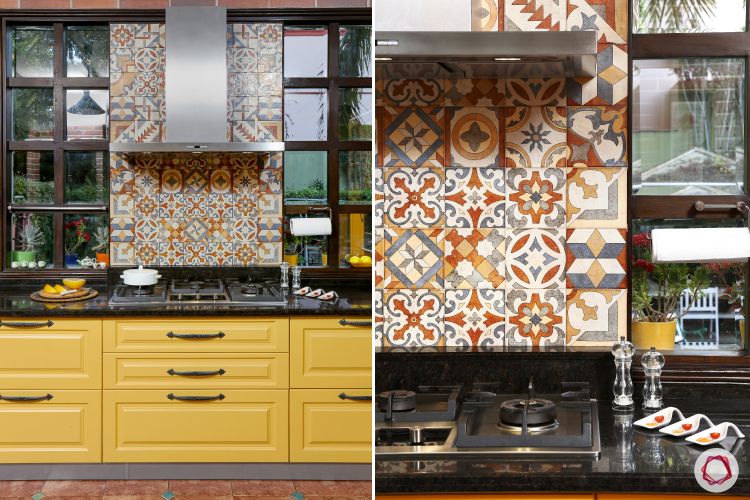 For ease of handling, the hob and chimney were moved to the centre of the kitchen. Thus, a small wall replaced an existing window which was decorated with Moroccan tiles for a striking contrast.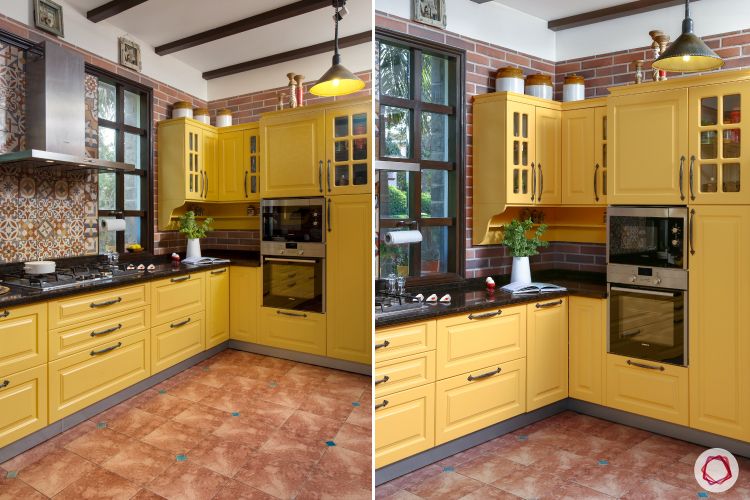 Country style in itself makes the kitchen visually heavy. Thus, to let the ambience take on a light and inviting appeal, wall units were minimised.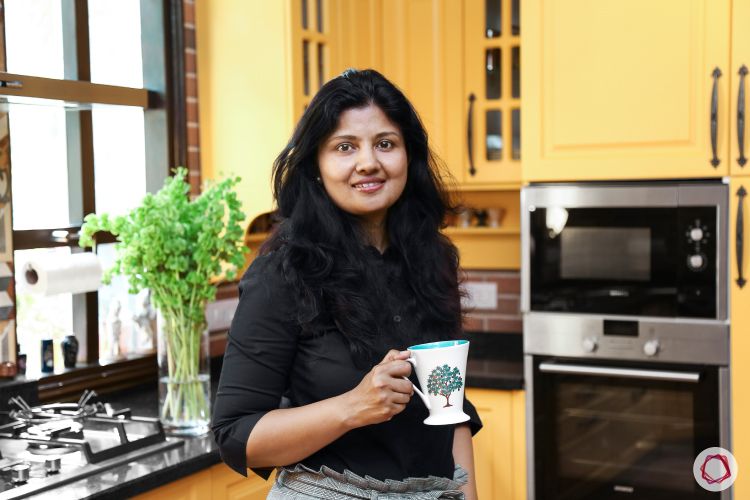 "Sonia Puri knew what she wanted and engaged in the design through and through, despite her busy schedule. I'm happy about how the country style design is the highlight of the final outcome."
— Nilisha Keshri, Livspace Interior Designer
Love profile shutters? Here is a stunning kitchen in white you need to see.
— editor@livspace.com
Disclaimer: All contents of the story are specific to the time of publication. Mentions of costs, budget, materials, finishes, and products from the Livspace catalogue can vary with reference to current rates. Please get in touch with a designer for more details on pricing and availability.