Home design at Noida that's a good blend of bright and dark hues for a small and happy family.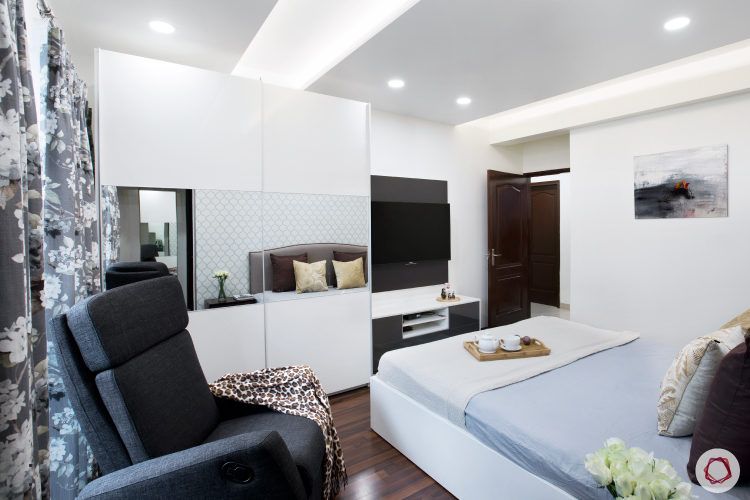 ---
Who livs here: Dr Vivek Vaibhav with wife Dr Anuradha Roy and daughter Blossom
Location: Cherry County, Noida
Home Size: 3BHK spanning 1,500 sq ft
Design team: Interior Designer Tanvir Kaur Kohli with Quality Manager Ambar Sharma
Livspace service: Full home design
Budget: ₹₹₹₹₹
---
There's something about compact homes adorned in bright colours with an open kitchen and cozy seating. It weaves a picture of a happy family that resides within those walls. Picture a pretty little girl running around her mum and dad playing hide 'n seek! Yes, the image you've conjured up sums up how homely and cozy this apartment is.
Our client, Dr Anuradha Roy, is a gynaecologist, while her husband, Dr Vivek is an anaesthetist, and this keeps them extremely busy. Time-pressed discussions, meetings, decisions — it was all about getting things done on a tight schedule. When Livspace designer, Tanvir, entered their home, she knew she had to give them the best. She put on her thinking cap, and along with Anuradha, they designed a space for this lovely family to call their own! Take a look.
Compact Living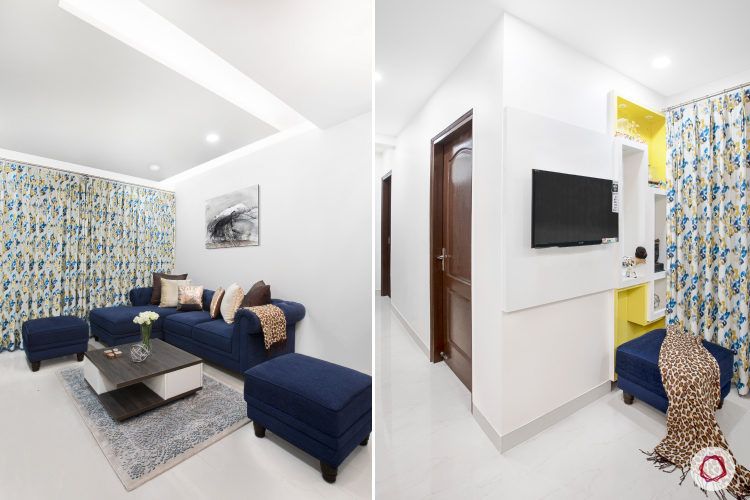 First and foremost, Anuradha was certain about one thing, the moment people enter their home, they should be awestruck! Therefore, they were given a blue chesterfield sofa which has ample seating space, while the TV unit built in the wall niche is such a practical solution for a compact space. Therefore, this is a space they can enjoy with their loved ones.
Exposed Brick Wall Charm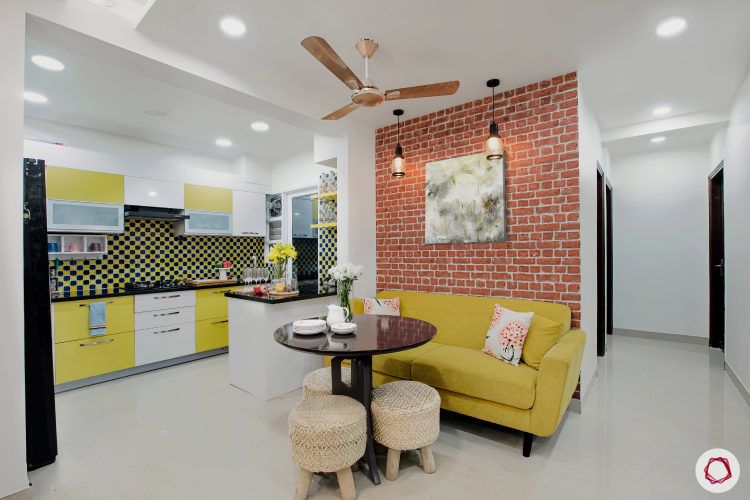 The couple collectively wanted a bright entrance to their home, and the exposed brick wallpaper does just that! The mustard hued sofa sits pretty against the wall, and a tiny round table with stools around it makes for a cozy dining area that is so uniquely designed. Ideated by Anuradha and executed by Tanvir, this seems like one statement dining room!
Vibrant Kitchen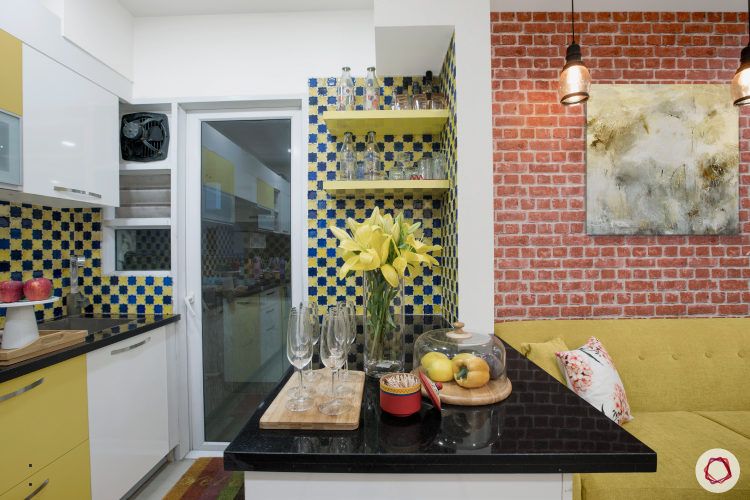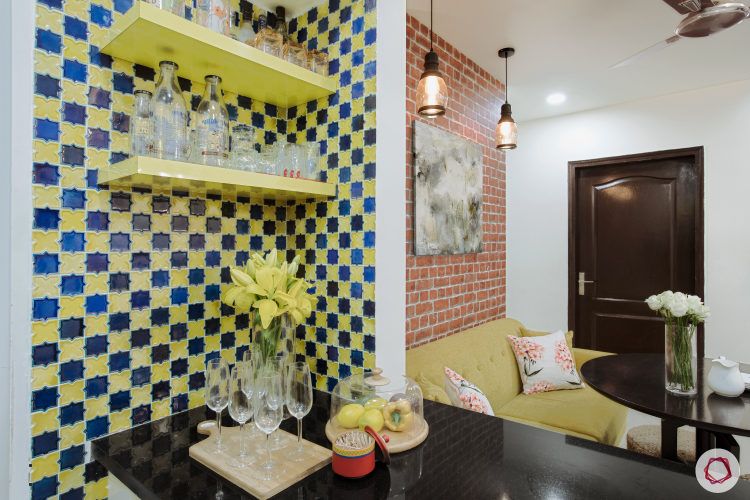 One look at this vibrant kitchen, and you will instantly fall in love! If you are someone who loves bright colour combinations, then this open plan kitchen is just right for you. For starters, the backsplash is made up of stunning hand-painted tiles in yellow and blue, which is matched by the yellow cabinetry. Complete with all modular kitchen accessories and a breakfast counter, this is one modern day kitchen for a family that's always on the move!
Guests Feel at Home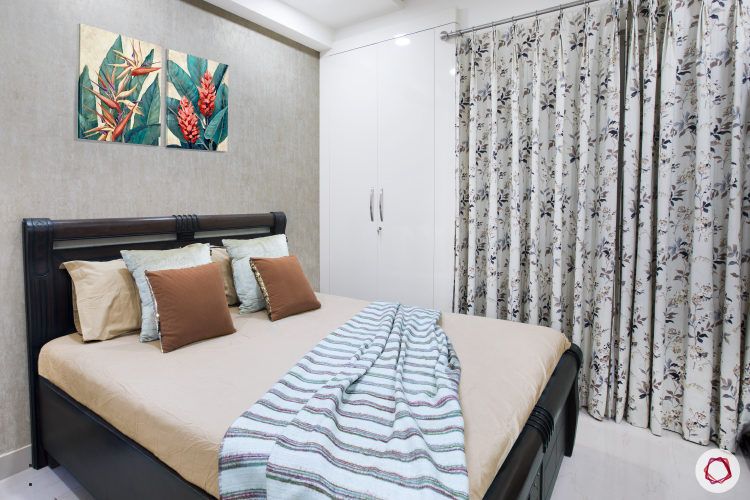 The guest room is as neutral as it gets. A soft ash and beige textured wallpaper complemented by glossy cream wardrobes defines this room. In addition, floral drapes in the same colour scheme add a soft touch to this space. Seems like a space anyone would feel welcome in.
For the Little One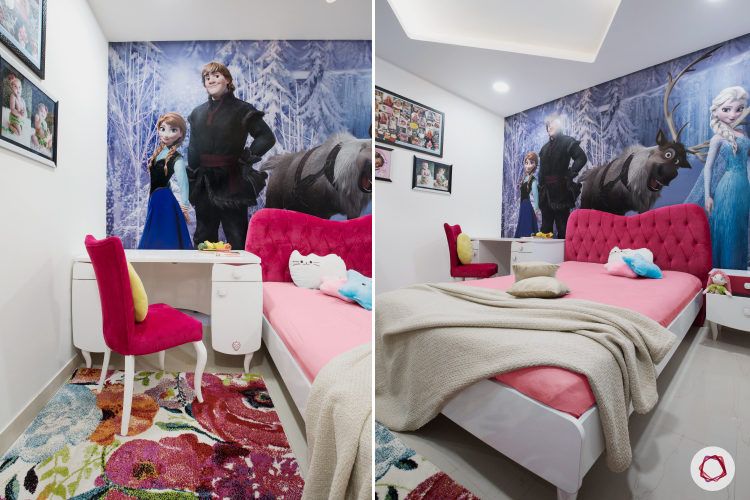 A fairytale room for her dad's princess, Blossom's room looks like something straight out of her books or animation movies. A tiny tot who loves the animated movie "Frozen", Blossom wanted a customised movie themed wallpaper so that she can stay with the characters. Furthermore, her bed and the study chair sport lustrous suede finish upholstery which is also her favourite colour! Vivek was very particular about their daughter's room. As a result, Tanvir made every effort to make it look perfect!
The Master Bedroom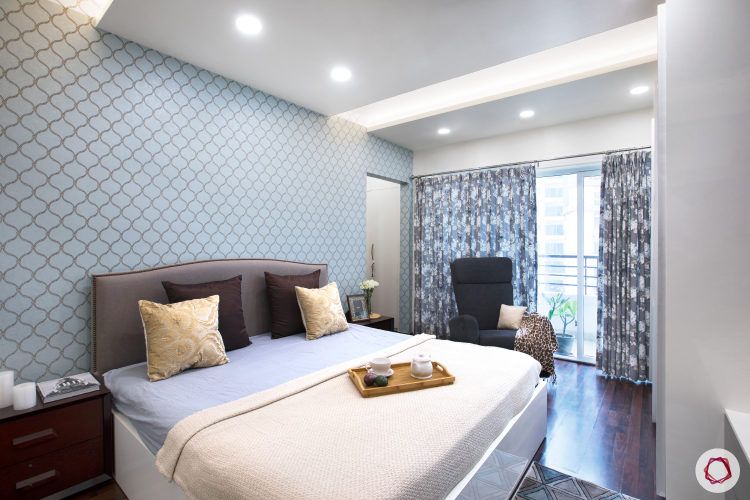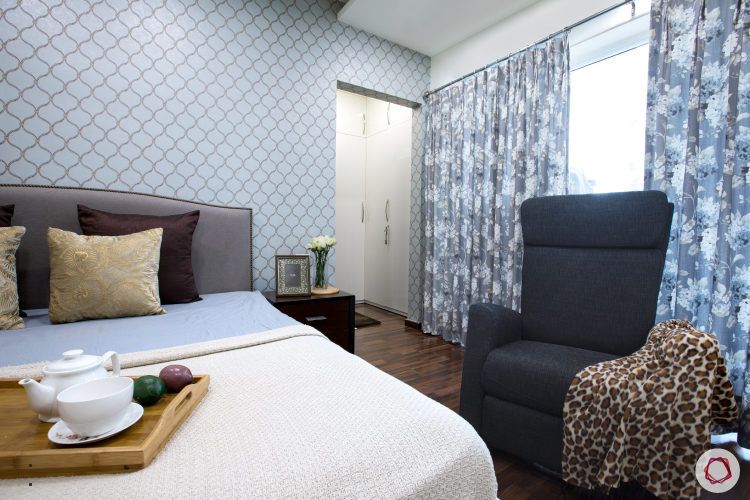 In conversation, we found out that the couple wanted a bright home, but a very subtle bedroom where they could feel relaxed at the end of the day. Therefore, Tanvir gave them a recliner in dark ash that serves as a total stress-buster on tough days! In addition to this, a Moroccan-themed wallpaper in powder blue and pretty nailhead trimmed bed make this room a haven.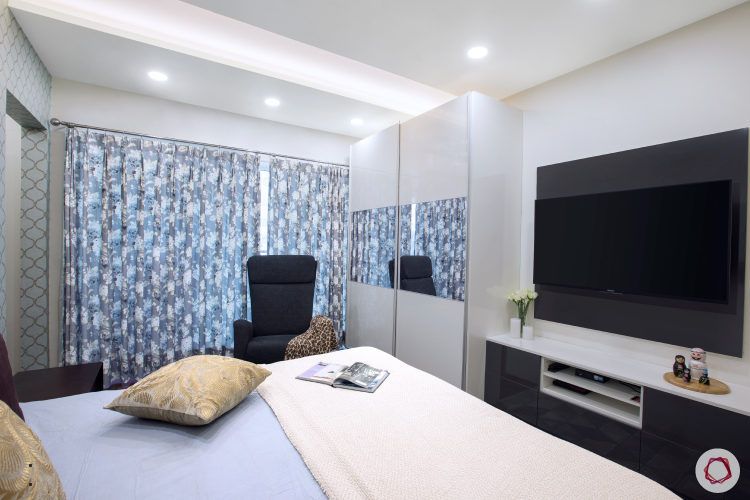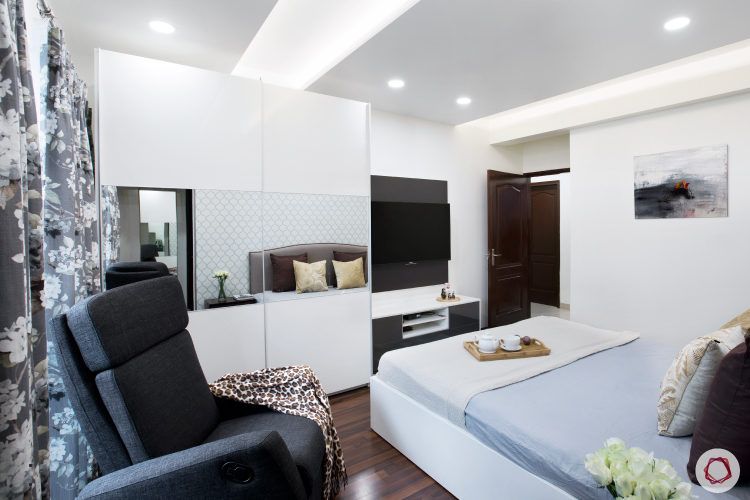 The wardrobes in this room are pristine white and glossy with a centre mirror panelling. The sliding mechanism serves as a bonus to save space! Also, we installed a TV unit in the same colour as the theme of the bedroom, complete with shelves for storage of all sorts. In addition to this, false ceiling and mood lighting have been provided that work splendidly with the theme!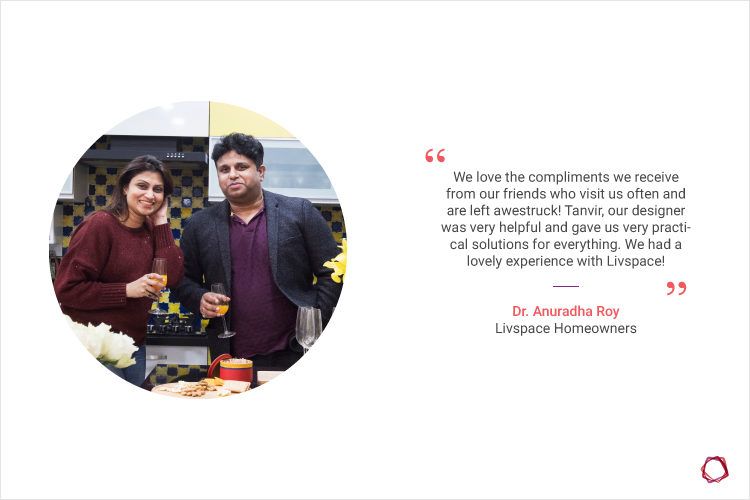 "Since the couple was really busy, the designs had to be finalised very quickly and efficiently. There was no scope for error and we had to be on our toes! It was great to work with the couple and the end result was loved by one and all!"
– Tanvir Kaur Kohli, Livspace Interior Designer

If you enjoyed reading about this home design, you're certain to fall in love with the other homes we've done up too! Head here to read about some beautiful homes by Livspace.