Kids room interior design that inspires us to do more!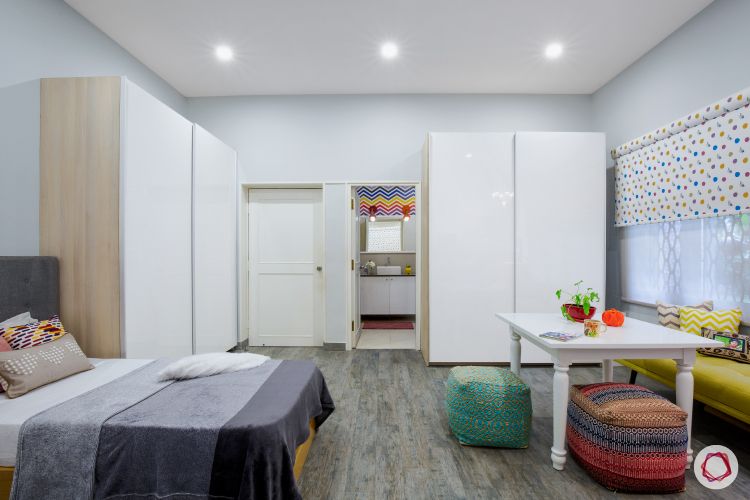 ---
Who livs here: Lavanya Devatha with her husband Vivek, two kids and parents
Location: Jayanagar, Bengaluru
Size of home: A 5BHK spanning 6,000 sq ft approx.
Scope of work: 250 sq ft approx.
Design team: Interior Designer Ami Doshi with Quality Manager Ashwin KC
Livspace service: Kids room design
Budget: ₹₹₹₹₹
---
When you're staring down the end of a room remodel, after making some big decisions and major overhaul, there are some things that run through your mind. For Lavanya and her family, this is just the beginning of their home renovation. Their kids owned a huge room that was a little cluttered and a little disorganised. A desire to give the little ones their own space that they would love to stay in, brought the family to Livspace.
Having looked at Ami Doshi's (their interior designer's) previous work, they contacted her and engaged her to give their kids room a makeover. While Ami was clearly told that they want a neutral room with no loud colours, she also had to take into account that it was going to belong to naughty siblings. She put on her thinking cap and churned out a design that they now love!
The Stunning Makeover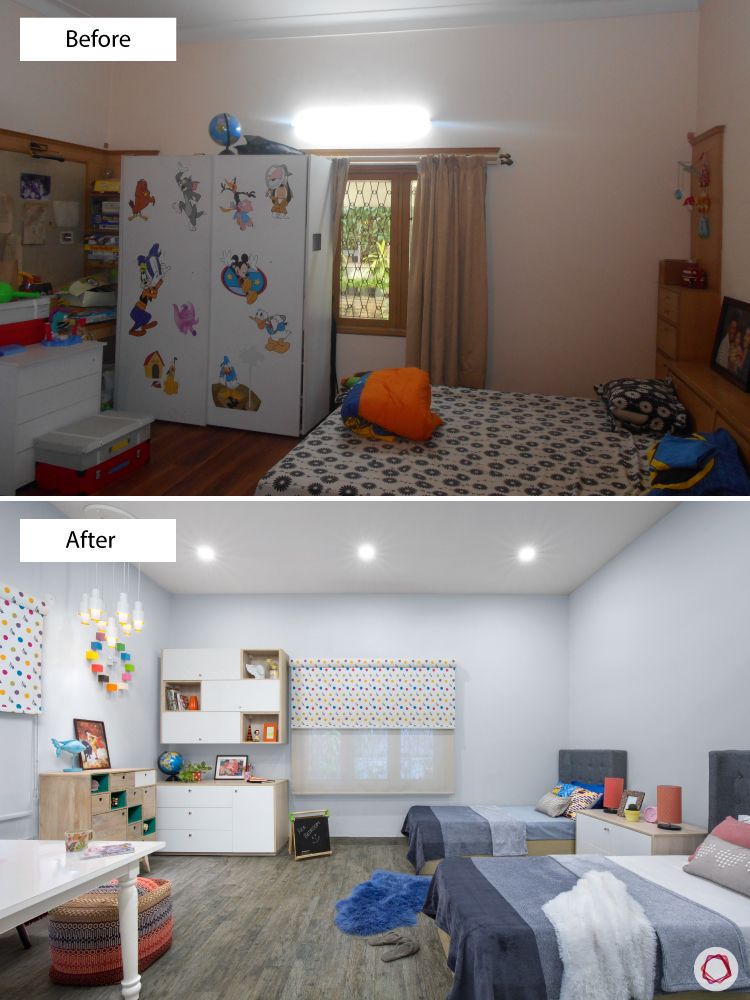 A Studio Style Kids Room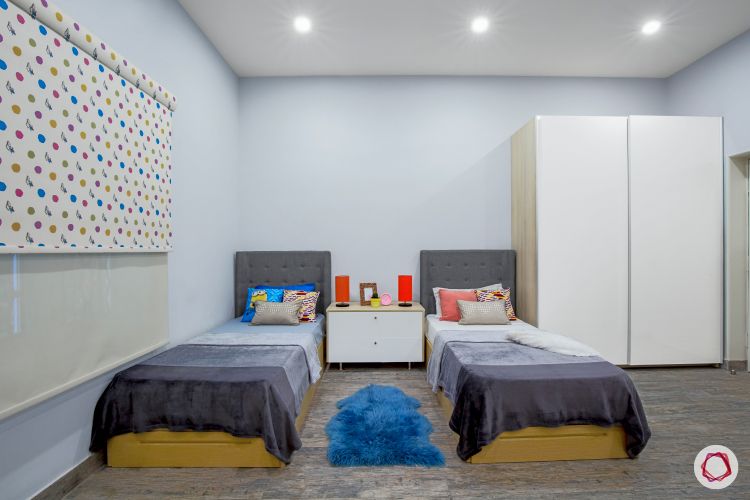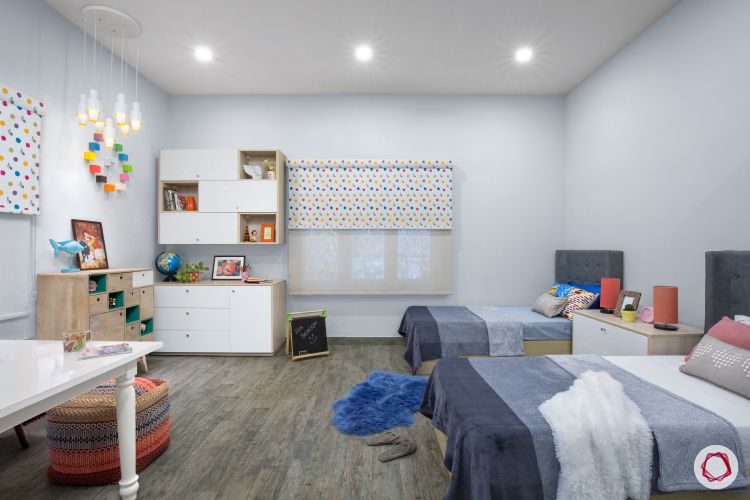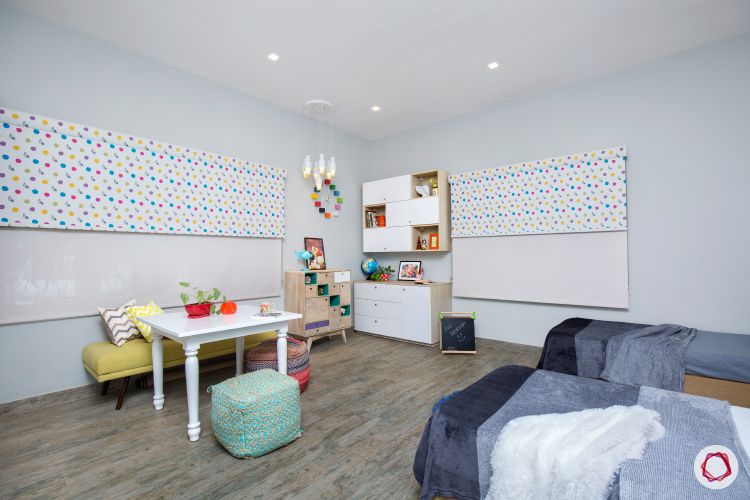 While looking for the perfect design for their kids room, the family was naturally overwhelmed and Ami came to their rescue. A complete change from the previous design, this room now wear a fresh new look, thanks to the excellent teamwork.
This 280 sq ft room was the perfect canvas for Ami to start designing it from scratch. It involved a lot of civil work, including flooring, tiling and so on. Evidently, the room had to look and feel new. This room now features two customised single beds with storage and upholstered headboards. The vitrified tiles used for the floor give a very neat look to the space and makes it look more inviting. Also, do not miss the elaborate storage unit and chest of drawers that take care of storing all the toys that these kids possess. The little details like the cascading pendant lights and colourful wall clock make this space more fun!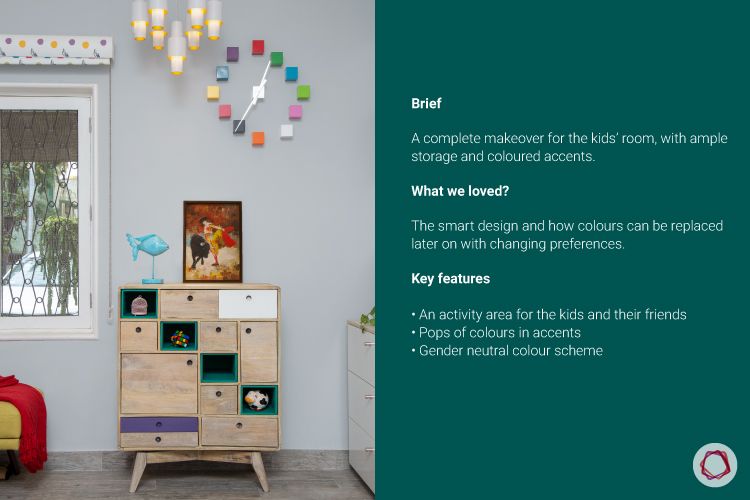 Activity Area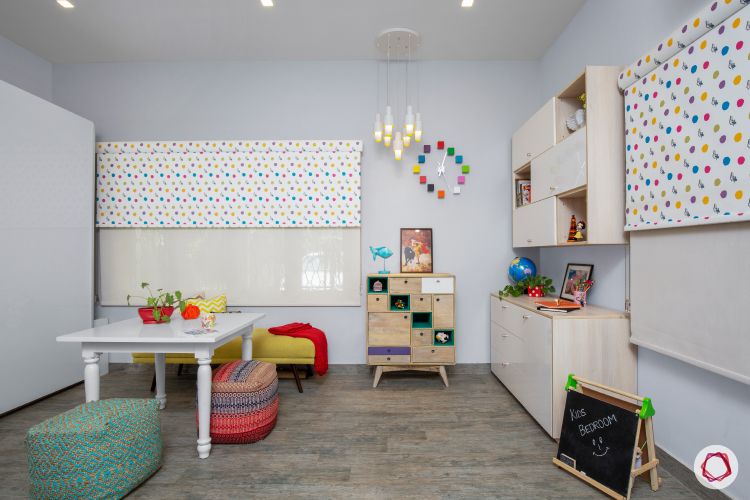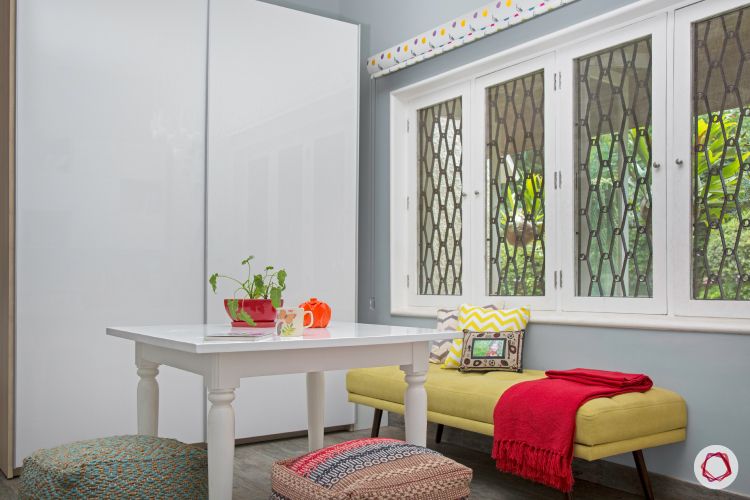 If you notice carefully, this room has a dedicated area to engage the little ones in interesting activities. The customised table with colourful poufs makes for a cosy little corner to play and have fun. The bright canary-hued bench adds a dash of colour, while making it the perfect spot to sit and read while enjoying the green view outside. Once the kids are older, they can simply change the upholstery to another colour.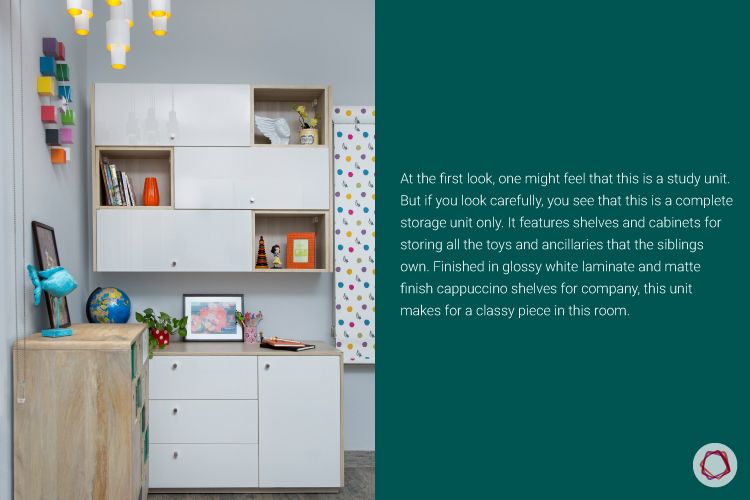 A Colourful Space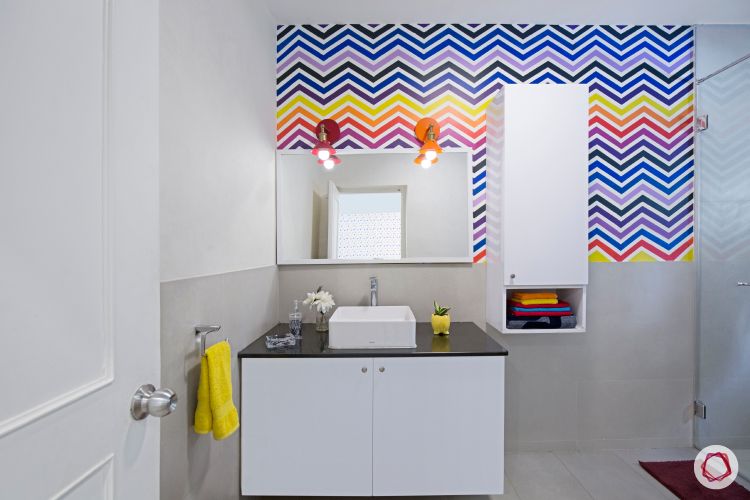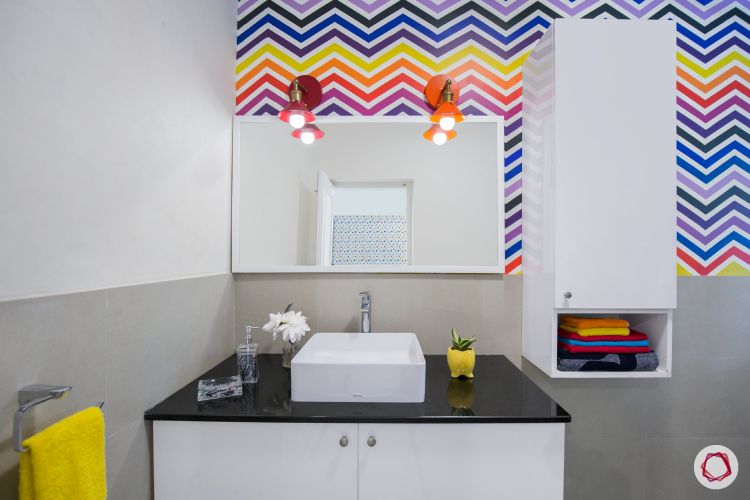 The bathroom that the kids owned earlier was a regular design with basic tiles and dull colours. So, the family was adamant that they want this space to look and feel more lively, since it belongs to the little ones. Therefore, Ami decided to give them a chevron pattern on the wall, that steals colours from the rainbow. And yes, this is a painted pattern and not a wallpaper, so it works for a space like the bathroom. It also features a vanity at the bottom of the wash basin and a storage unit beside the mirror.
---
"We had already seen Ami's work for a friend's home, so we were convinced with her skills before starting out. But the expertise she showed during the design process for our kid's room was extraordinary. We are very happy with the quality of Livspace products as well. It was a a good experience to get our interiors done through Livspace!"

– Lavanya Devatha, Livspace Homeowner
---
"It was a challenging task for me to redo somethings since it involved a lot of breaking down and civil work. But, the clients gave me complete freedom to design their space. They really liked the 3D views that we showed them and they were not very demanding. They loved the modular and custom furniture that we provided, too!"

– Ami R Doshi, Interior Designer, Livspace

---
If this kids bedroom gave you goals, then do not miss our huge collection of kids' room designs that we curated just for you!
Send in your comments and suggestions.