Kitchen interiors that went from blah to tada!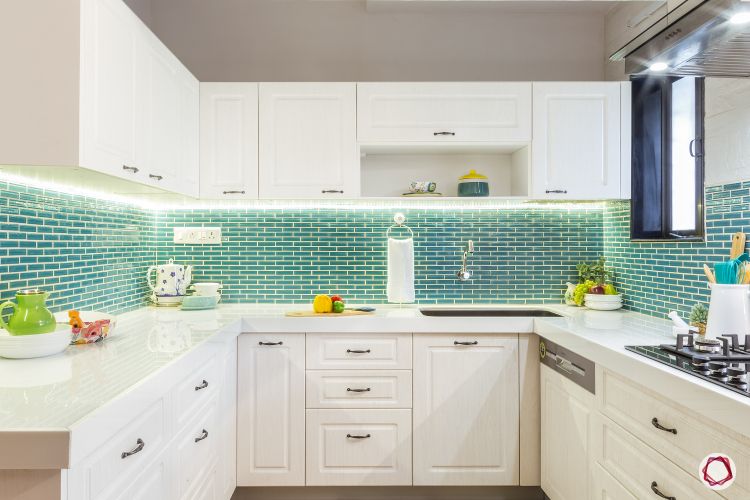 ---
Who livs here: Girish and Amruta Parulkar with their two kids and his mother
Location: Runwal Heights, Mulund, Mumbai
Size of kitchen: 135 sq ft approx.
Design team: Interior Designer Rushika Dilip More with Quality Manager Rajesh Patil
Livspace service: Only Modular Kitchen
Budget: ₹₹₹₹₹
---
Girish and Amruta Parulkar have lived in their dream apartment in a suburban Mumbai high-rise building complex for 14 years. They managed to make a home out of it with their two kids Shreeda, 8, and Sharvil, 5. Like most other families, they renovated their house in bits and pieces over the years but could not work on their kitchen interiors. They seemed to have saved the best for the last.
At first, the Parulkars were skeptical because they assumed that as a brand that delivers end-to-end interior decoration services, we would not be interested in a kitchen interiors renovation project. Luckily, a discussion with the Design Team ensued, and they were happy with the designer's enthusiasm to do more with less (read resources and space). Check out the transformation story of this kitchen into a fancy yet efficient working space!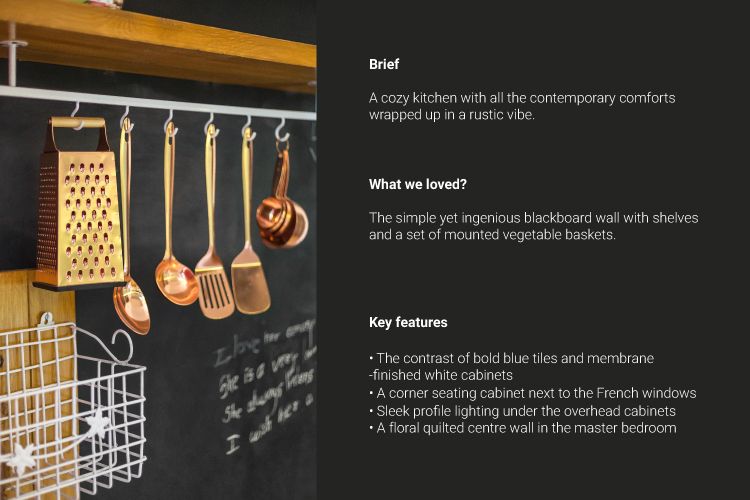 Codes of Contrast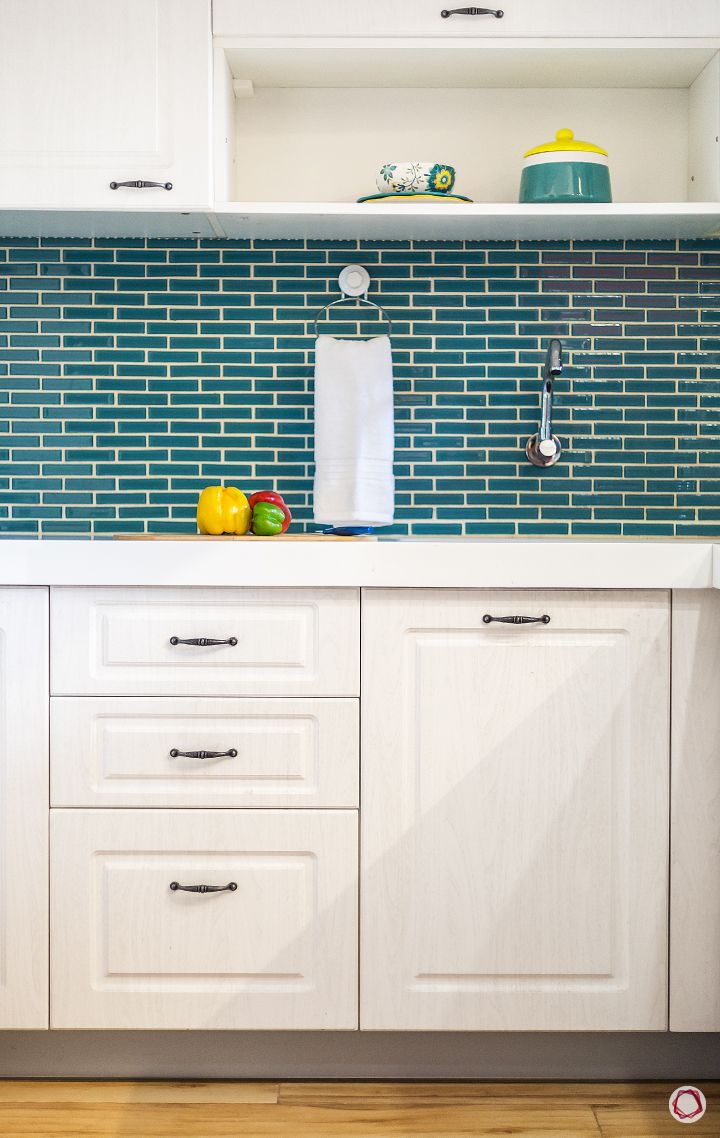 The contrast of teal blue tiles set in the pinwheel style and serenely white woodwork has upped the glamour quotient of the kitchen. Modular cabinets with grooved country style membrane finish replaced the old woodwork. This lends a natural and rustic feel to the space. Also, since white reflects light, it makes the kitchen look a lot brighter as well!
Let There Be Light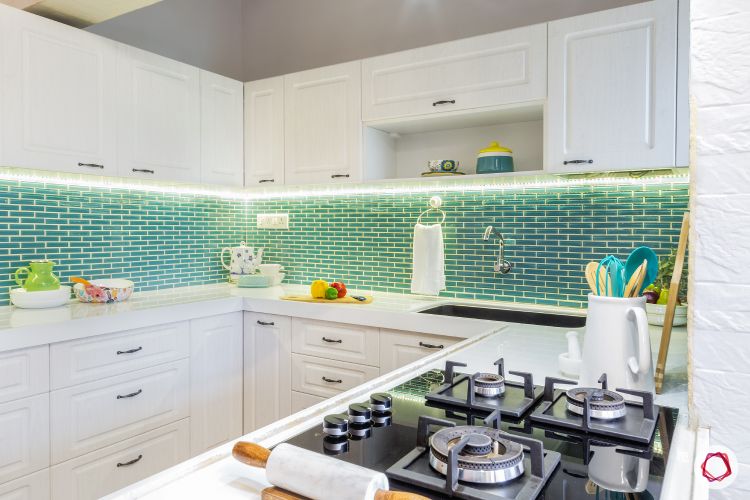 Amruta is very particular about light so she took both options: the natural light coming in from the widened window and the profile lighting under the upper cabinets and shelves.
Getting Cornered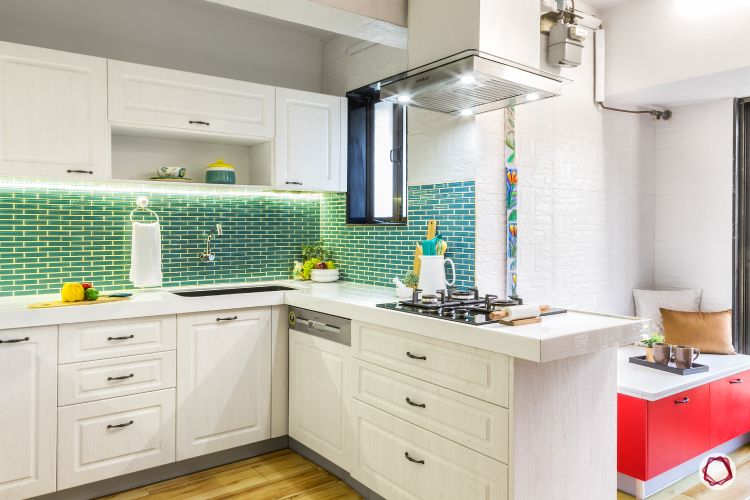 The Parulkars had a huge kitchen interior coupled with an utility area, which had to be demolished to make room for this quaint corner that gets plenty of sunshine. The low seating fixture is ideal for an early morning/evening cuppa. It also allows Amruta to keep an eye on her kids who sometimes study or play here.
The Blank Slate We All Want!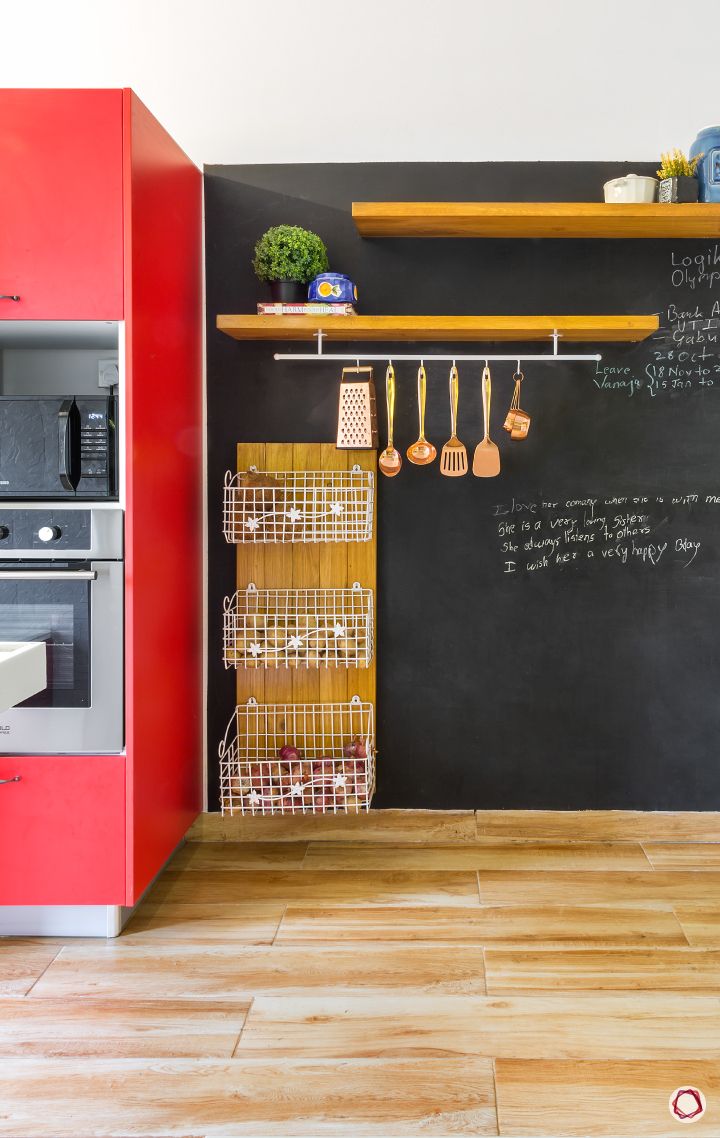 Amruta's favourite part of the kitchen is the wide blackboard, which was earlier the spot for the refrigerator. The slate board is both decorative and utilitarian. This helps keeping track of all the hustle and bustle in their busy home. Amruta often leaves notes on this board, which also serves as a welcome distraction for the children.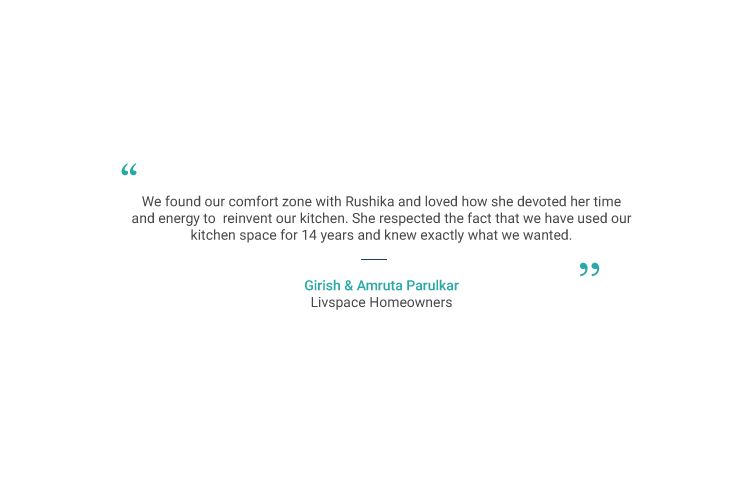 "Mr. Girish & Mrs. Amruta Parulkar gave me full support to implement my ideas for revamping their kitchen as they were very excited about the same. As the family lives in Mulund and our nearest Experience Centre is in Lower Parel, they could not travel very often. However, we managed to coordinate over phone, and I visited their house several times to ensure that every detail was attended to. It was delightful working with them."

– Rushika Dilip More, Interior Designer, Livspace
If you liked this renovation story, take a look at A Sleek Kitchen & Bathroom Upgrade at Dadar Parsi Colony as well.
Send in your comments and suggestions.