Often, in carpenter-made kitchens, comfort and convenience can take a backseat. However, be it storage or functionality, modular kitchens can give you practical solutions to all of your family's needs. Even a traditional family like Sandeep R's understood that their kitchen needs to be upgraded. Sandeep lives in Bangalore with his family and approached Livspace for our renovation services. When it comes to multi-generational homes, designers understand that the family's needs can differ from a modern nuclear family. Thus, this kitchen renovation under ₹4 lakhs, Bangalore tells you the story of an incredible transformation.
Who Livs here: Sandeep R with his parents, wife and kid
Location: Sampige layout, Prashanthnagar, Bangalore
Size of kitchen: 70 sq. ft.
Design team: Interior Designer Nikitha V and Manager Chethan Kumar N C
Livspace service: Kitchen design and storage
Budget: ₹₹

Brief:

Renovate to make a modern, modular kitchen that fits a traditional family needs

What we loved?

How each and every element is chosen to help to brighten the kitchen

Look out for:

– The laminate finish TV unit
– Edge-profile kitchen cabinets

Biggest Indulgence

The glossy acrylic finish throughout the kitchen

Smart Buy:

The mid-tall unit carved with a microwave space
Successful stories of such drastic transformations come only when Livspace designers like Nikitha V understand the homeowners' needs. They also have to walk the tightrope of functionality and demands from two different generations. Hence, if you want to transform your kitchen to cater to your family's needs, we recommend you read till the end.
#1: Watch the Transformation of the Kitchen and the Console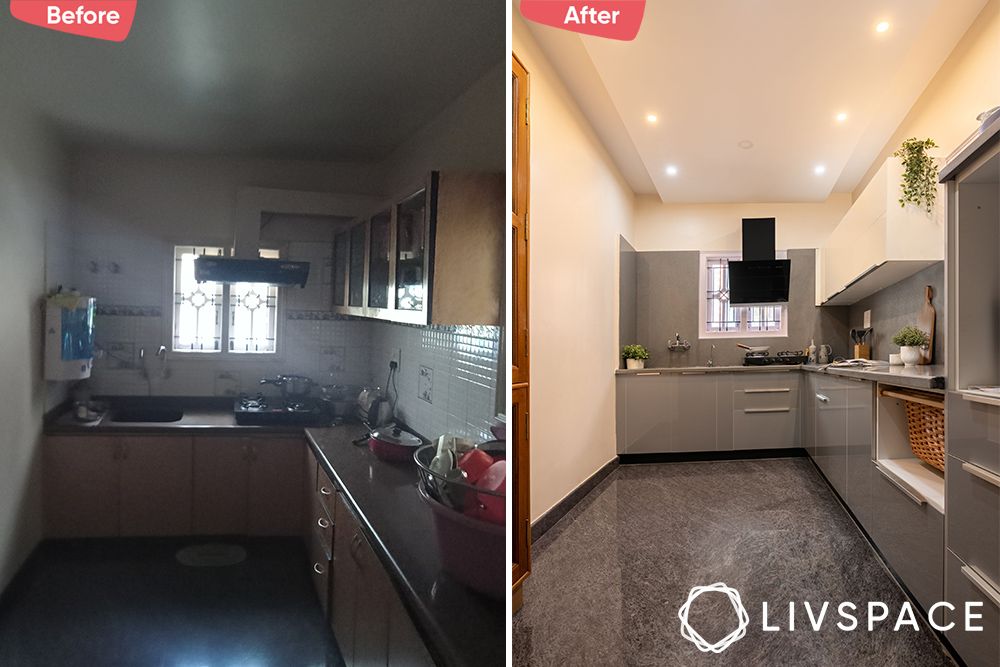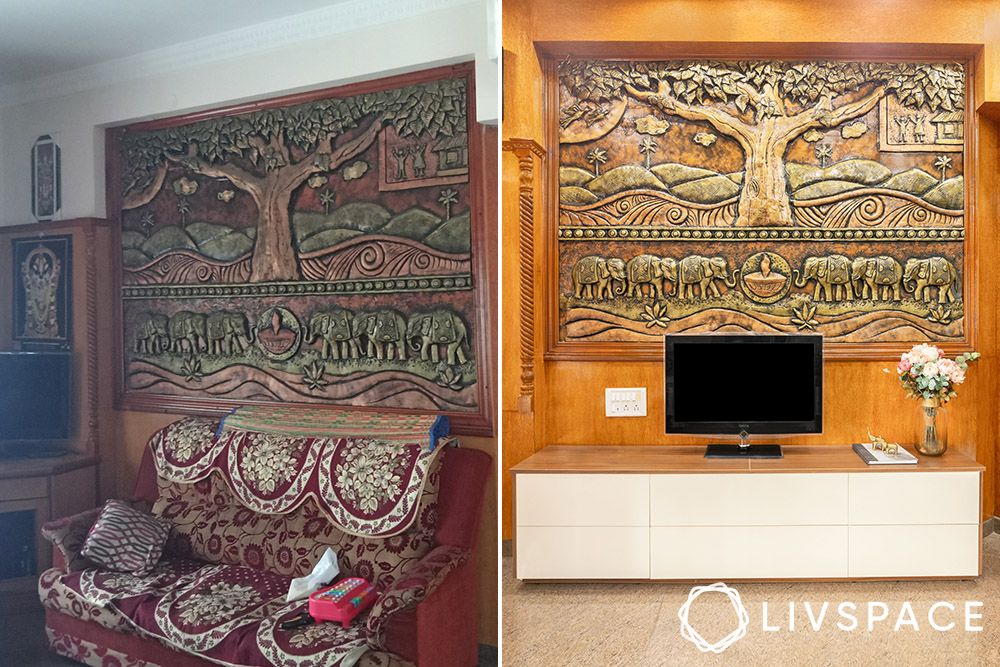 As you can see for yourself, this kitchen renovation in Prashanthnagar, Bangalore has much to show. From dingy and drab, our designer transformed this kitchen renovation under ₹4 lakhs, Bangalore into a modern space, also making it spacious. This was in keeping with the demands of the family. Interior designer Nikitha V and her team put in a lot of work to make this happen. There were cement blocks holding the old kitchen that was removed.
The TV console was also a striking addition to the space. Nikitha talks about how she chose to refurbish the veneer artwork behind the sofa instead of replacing it. As the TV unit designer in this Bangalore house, she decided to keep the unit minimal. This was to let the artwork shine.
#2: Let's Talk About the Kitchen Renovation in Under ₹4 Lakhs, Bangalore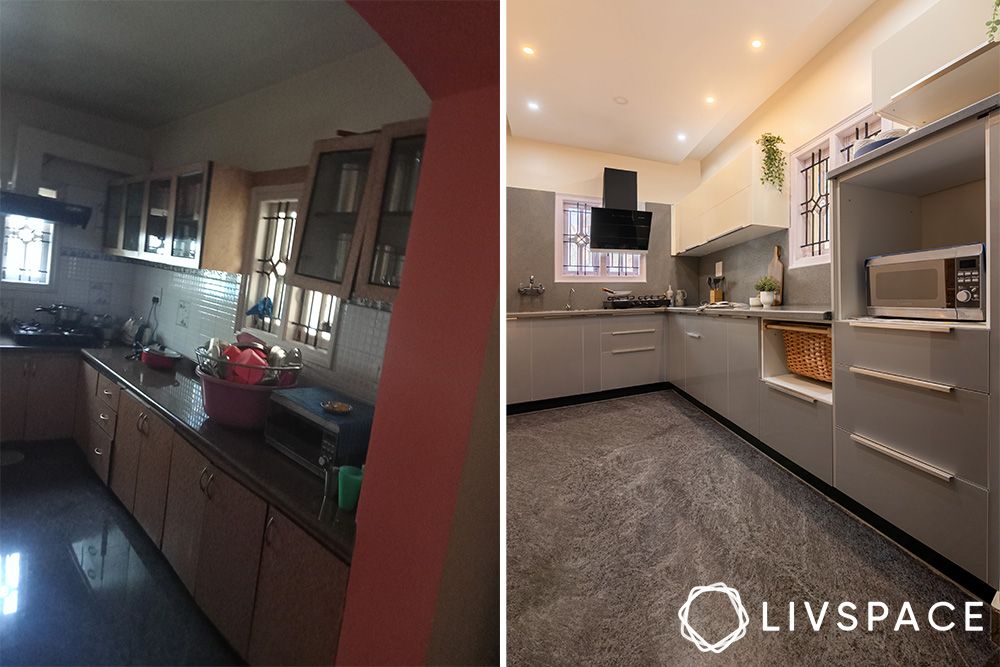 Sandeep R wanted an acrylic finish for his kitchen. The quartz countertop was already serving as the backsplash too. Thus, Nikitha V matched the base cabinets of the kitchen with the same colour. For the upper cabinets, she chose white. This helped to open up the kitchen. This kitchen renovation in Prashanthanagar in Bangalore was all about giving the space a luxe touch, which was done with the acrylic finish.
The top lift shutters with the edge-profile handles makes the kitchen look seamless. The clients had given Nikitha a free hand in the kitchen design. Something that Nikitha specifically mentions is the thali organiser drawer she installed. As a tradition, the family uses large steel plates for their meals, which can take up quite a lot of space. Thus, Nikitha decided to customise a base cabinet just for this requirement. You can spot the cabinet just beside the corner unit on the right-hand side.
We should also make a special mention of the mid-tall unit. This kitchen renovation in under ₹4 lakhs, Bangalore is fully modular. However, Nikitha was able to piece together a mid-tall unit with a carved space for the microwave. Earlier, the microwave was positioned on the countertop, eating up space.
#3: Simple TV Unit Design in Bangalore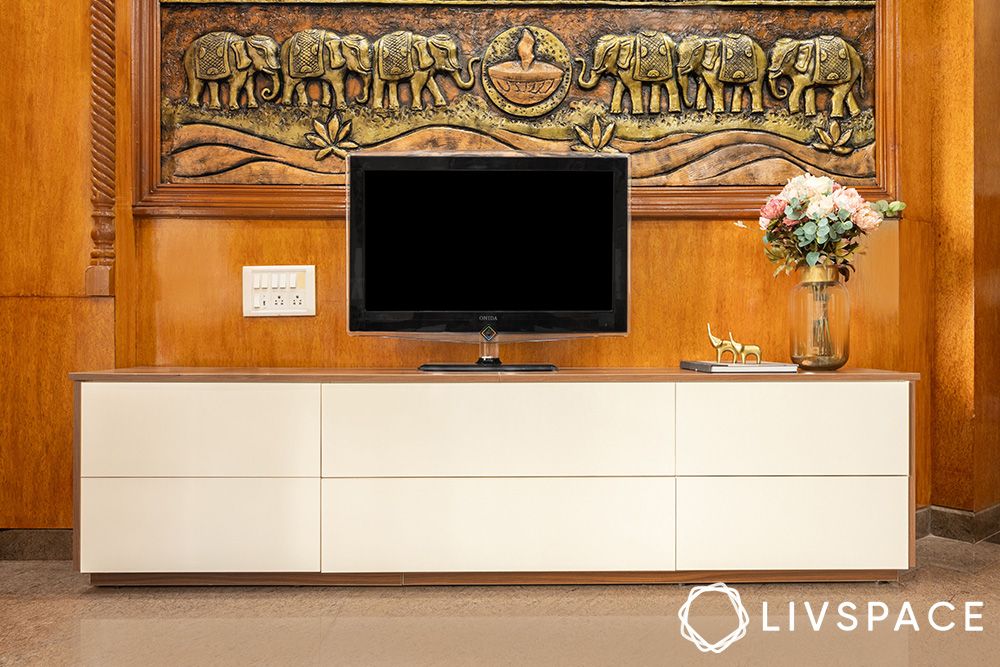 Now, it is time to move on to the TV console. The TV unit design in this Bangalore house has a laminate finish. Nikitha has cleverly refurbished the artwork to take the centre stage here. Additionally, handleless cabinets grace the TV unit design to keep with the seamless theme of the home.
Thus, we see the TV unit and kitchen renovation in under ₹4 lakhs, Bangalore can change the look of the house. If you want to check out more renovation stories, read about the 90 sq. ft. U-shaped kitchen renovation from Delhi is under ₹2.5 Lakh.
How Can Livspace Help You?
We hope you found our ideas useful! If you want beautiful interiors for your home, then look no further. Book an online consultation with Livspace today. Have any thoughts or suggestions you'd like to share with us? We'd love to hear you out. Write to us at editor@livspace.com.