Wouldn't designing your interiors be much easier if you had a little cheat sheet to flip through at every step of the journey? And if that's what you're looking for, you're in luck because we have just the thing for you! Though simple in design, the Mahajans' 3BHK in Bangalore has many interesting tips to offer. Join us as we take a tour of this home and answer some common design questions that you may have while designing your space.
---
Who Livs here: Sheenam and Ashish Mahajan along with their two sons
Location: Alpine Eco Apartments, Bangalore
Size of home: 3BHK spanning 1,905 sq. ft. approx
Livspace service: Partial home renovation
Budget: ₹10 to ₹15 Lacs
---
IN A NUTSHELL


Design Brief

To design a budget-friendly 3BHK with the right amount of storage for a family of four

What We Loved

The mix of open and closed storage units throughout the home

Look Out for

— The modular wardrobes with open storage in the bedrooms
— The brown and grey cabinets in the kitchen
— The use of wood-grain finishes across the modular units in the home



#1: What Type of Storage Units Are Best for Child-Friendly Homes?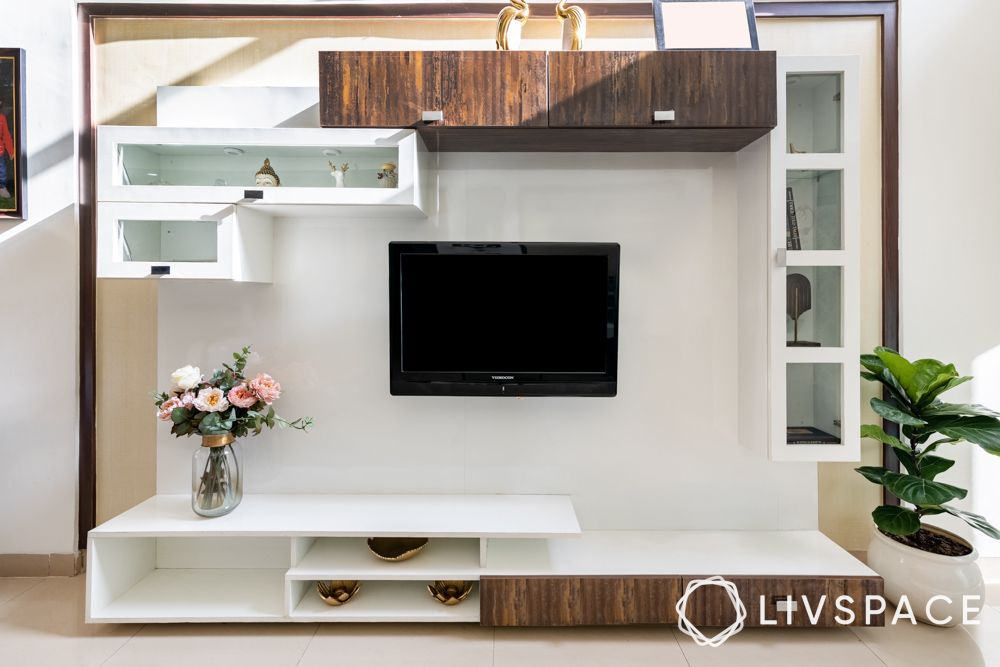 When it comes to furniture, you might be weary about certain design choices. Depending on the age of your children, you might wonder what's going to work and what isn't. For example, sharp edges or low-lying shelves can be a recipe for disaster if you have inquisitive toddlers running around. This is why it's imperative to go for storage units that can offer both style and safety.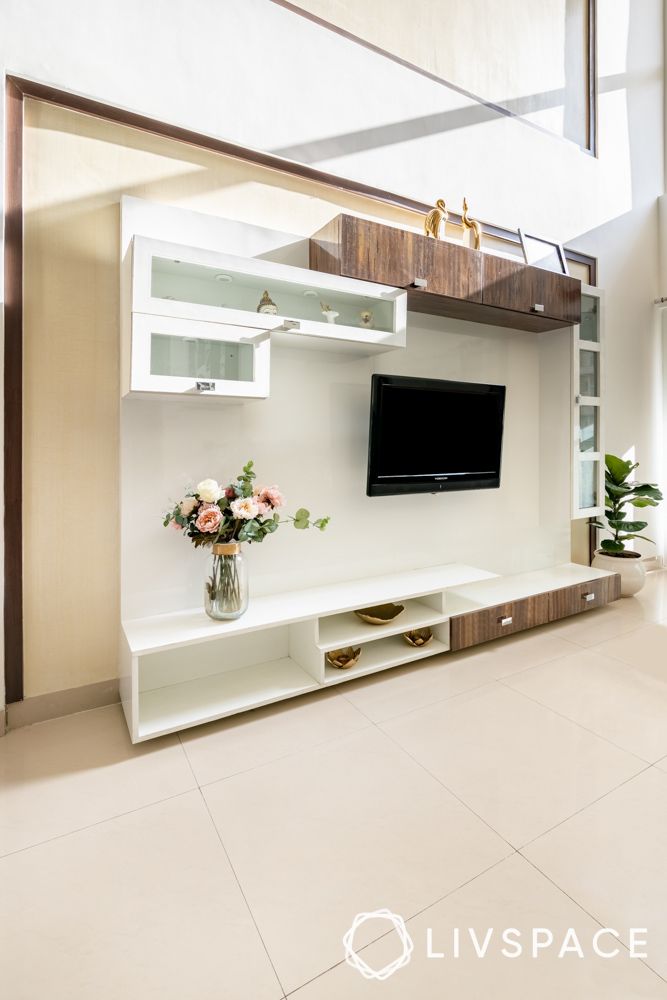 In the Mahajans' home, the TV unit can be a great example of child-friendly design that doesn't compromise on style. With the help of floating cabinets, the family can store glass ornaments, knick-knacks, and showpieces at a height, minimising the risk of accidents. A mix of open and closed cabinets is also useful to have, as the open cabinets can double as display cases.
Also Read: 60+ Elegant TV Unit Design Ideas: Trendy Options for TV Unit Design
#2: What Colours Are Ideal for a Great Big Indian Kitchen?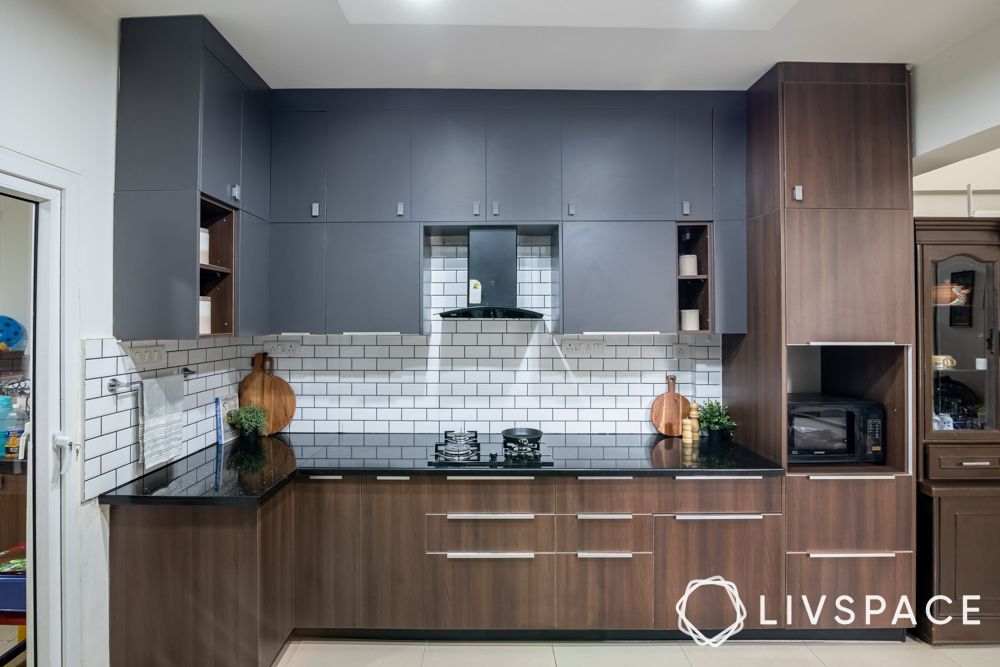 With maintenance on their minds, the Mahajans wanted a no-fuss space that matches their fast-paced lifestyle. That being said, light coloured cabinets are a no-go from the start.
Instead, they went for a mix of darker colours like grey and brown to give the space a low-maintenance edge. Such colours can be especially handy to have in homes with kids or working couples.
While darker colours might help guard you against stains or spills, they can run the risk of making your space look cramped. To combat this, break the monotony by using a neutral shade like white.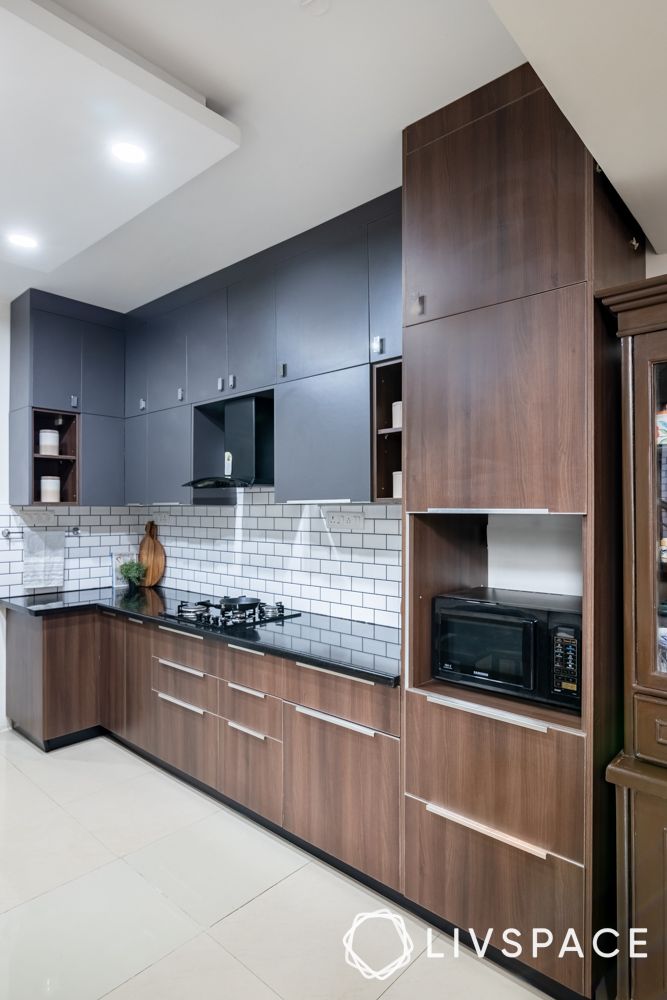 We did this by using white subway tiles for the backsplash. These tiles not only give the space a clean look, but are also fairly easy to maintain. Apart from a fuss-free colour scheme, the family also opted for a complete modular kitchen to ensure the space stays low on maintenance.
What does a modular kitchen have to do with longevity, you may ask? Well, if you get a modular kitchen from Livspace, you can rest assured with a *flat 10-year warranty on modular and semi-modular products. So, if you're in the market for a long-lasting kitchen design, consider going modular with Livspace during your next renovation!
*For the full scope of warranty, please visit livspace.com/in/interiors/service
#3: How Do You Add Visual Interest to Your Master Bedroom?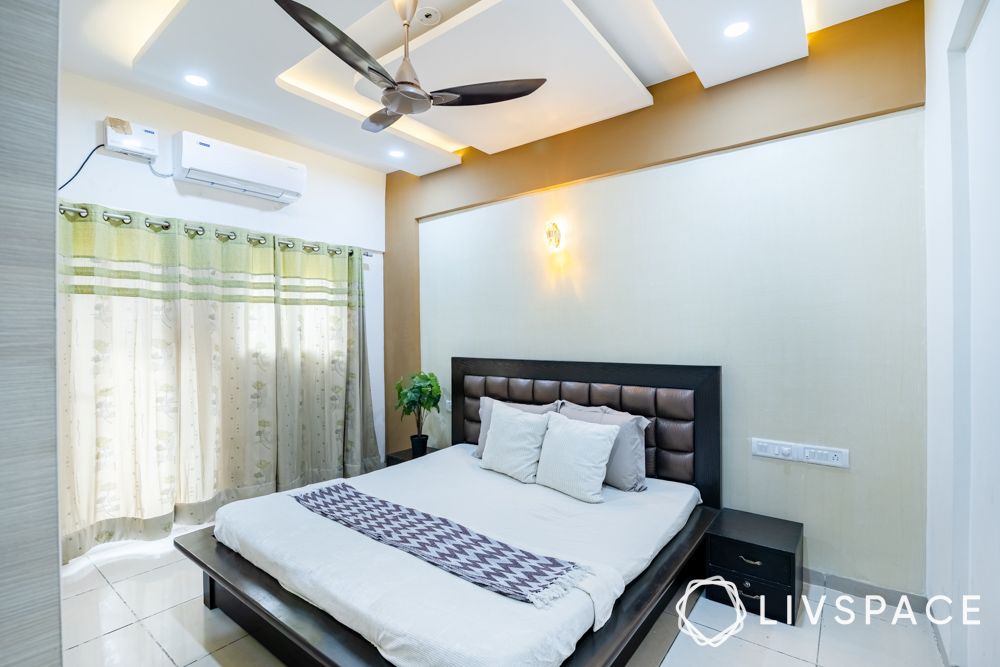 Adding too much or too little to your bedroom can either make it cluttered or nonfunctional. The best way to approach bedroom design is by creating a balance between both style and functionality. To achieve this, consider stripping your bedroom down to its necessities and adding a single element as a highlight.
For example, a bed and bedside table are often non-negotiable elements for most bedrooms, including this one. However, this can leave the room looking plain or bare. To balance it out, a recessed false ceiling has been added for some much-needed depth and visual interest.
Also Read: Top 10+ Small Bedroom Ideas to Make Your Bedroom Look Like a Million Bucks
#4: What's the Best Way to Bring in Storage Without Cramping the Space?
Storage is always great to have, but not if it comes at the expense of crowding up your room. Moreover, if you're dealing with a smaller space, you might not be able to devote as much space to storage either. In such cases, consider using customised storage units to get the job done.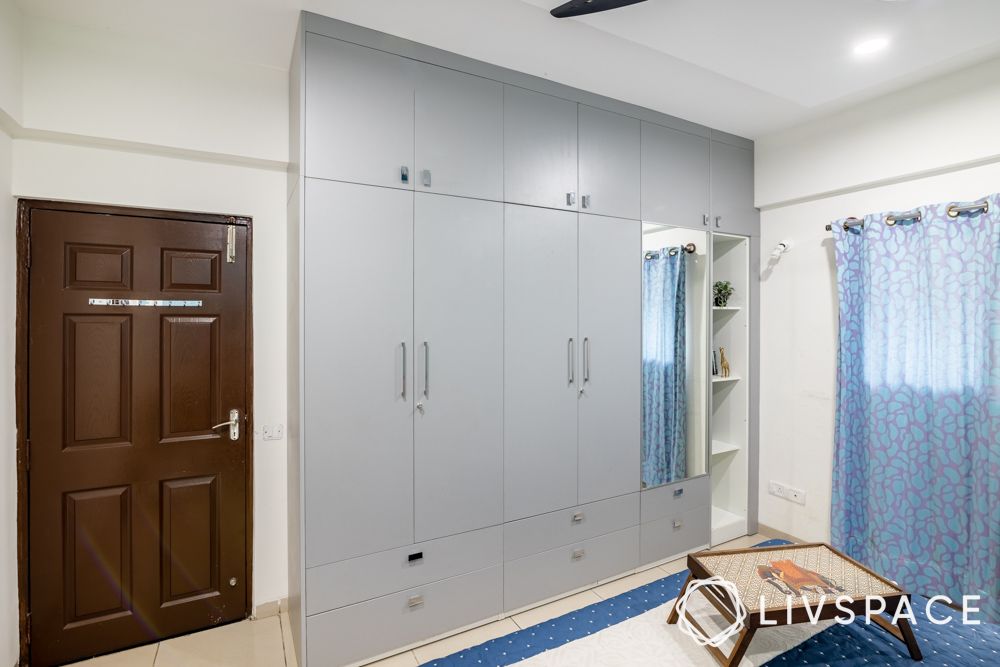 In compact rooms where space is scarce, it's best to not go for multiple storage units that eat away your floor space. Instead, consider embracing the available vertical space with a single unit. In this home, one wall of the room is devoted to full-length wardrobes, with no other storage units in sight.
Since these wardrobes take up the entire length of the wall, we're able to get more storage out of them without the need for additional drawers and cabinets.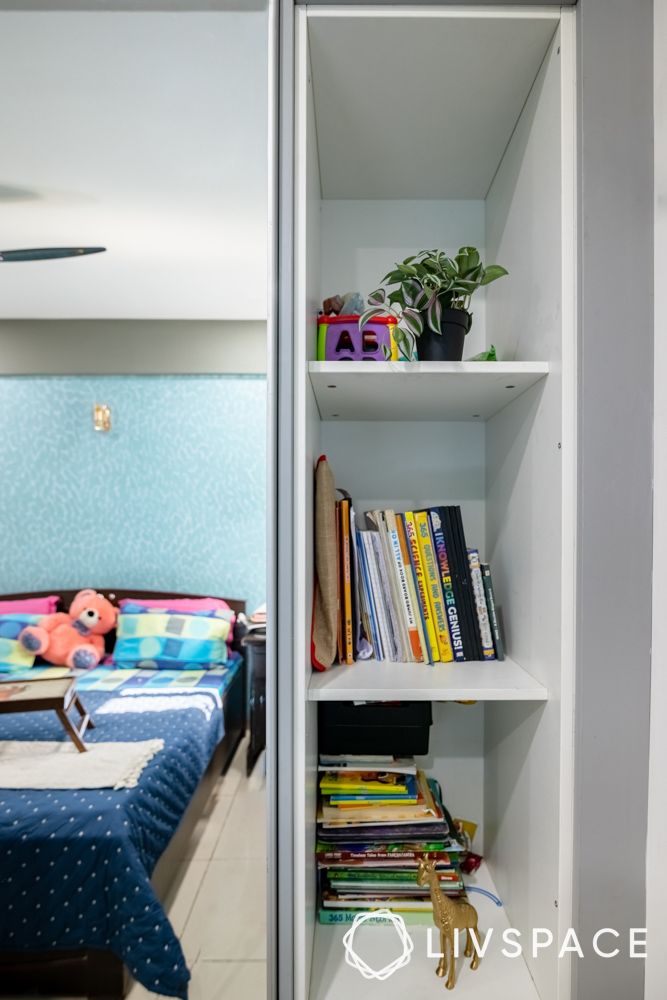 Apart from vertical storage, you'd also want to consider building a mix of open and closed storage options into your wardrobe. With open shelving, you can display your books or easy-to-access items without having to rummage through the entire wardrobe.
By customising your wardrobe, you can ensure that it meets all your needs, besides just storage. This, in turn, offers added functionality to your space, all in one design!
How Can Livspace Help You?
We hope you found these renovation ideas from this chic 3BHK flat useful! If you want beautiful interiors for your home, then look no further. Book an online consultation with Livspace today.
Have any thoughts or suggestions you'd like to share with us? We're all ears! Drop us a line at editor@livspace.com. To know how our customers feel about working with us, check out these Livspace reviews for more details.
Disclaimer: All contents of the story are specific to the time of publication. Mentions of costs, budget, materials, finishes, and products from the Livspace catalogue can vary with reference to current rates. Talk to our designer for more details on pricing and availability.