Designing homes is our passion, our goal. But if you ask us for our favourite part, we would say renovations. There is something magical about seeing an old, worn out home transform into a stunning masterpiece! And the best part about a flat renovation? The way vintage pieces and modern design unite to create a timeless wonder! Arpit and Shweta Agrawal's 7-year-old home in Mumbai is proof that design prowess can transform the look of any home. Take the video tour of their renovated apartment here.
When we first entered Shweta and Arpit's apartment, we knew we had our work cut out for us! Our designer, Rukmani Dialani, had to transform a dark and cluttered apartment into a bright, airy and contemporary home. Shweta, being an interior design enthusiast, also had her thoughts. And finally, this home took shape – with a combination of Rukmani's expertise and Shweta's valuable inputs.
#1: From a cluttered living room to pristine white interiors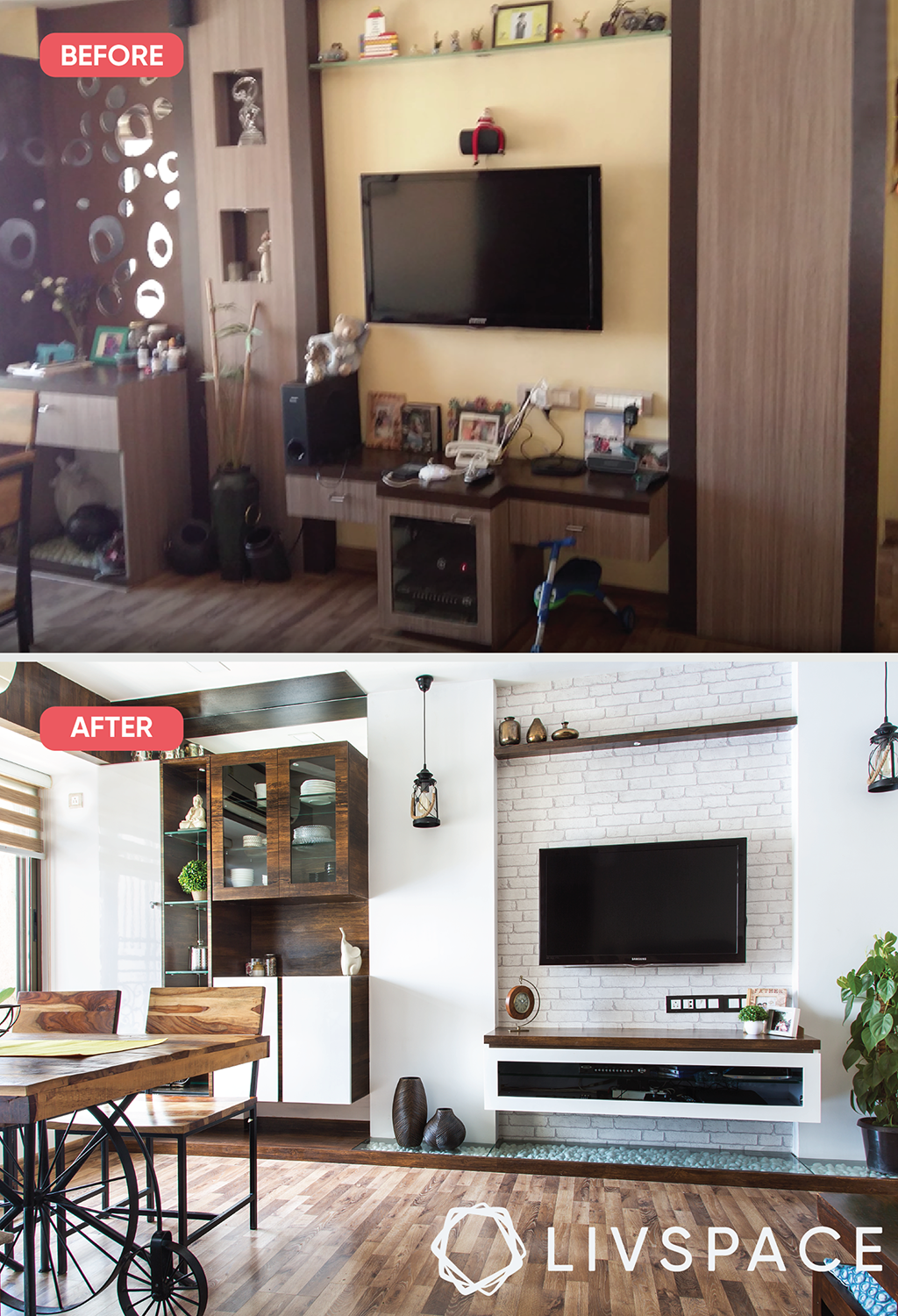 What better way to make a great first impression than to do up your living room? Their original living room was chaotic. Crowded, with no distinct design elements, Shweta and Arpit wanted a clean look for this space. Rukmani based the design of the living room on the oodles of natural light flowing in. The white, pristine interiors that Rukmani chose not only amplified the natural light coming in but also matched the Agrawals' preference for a contemporary look.
While the living room is modern, you will also notice a rustic earthiness in the design. This was on purpose as Rukmani wanted to give the flat renovation of this home a warm, vintage vibe. The wood-like furniture, the dining table with the wheels, planters and pebbles below the TV unit and the exposed brick wall all come together to create a rustic, country look.
#2: A jhula for a desi touch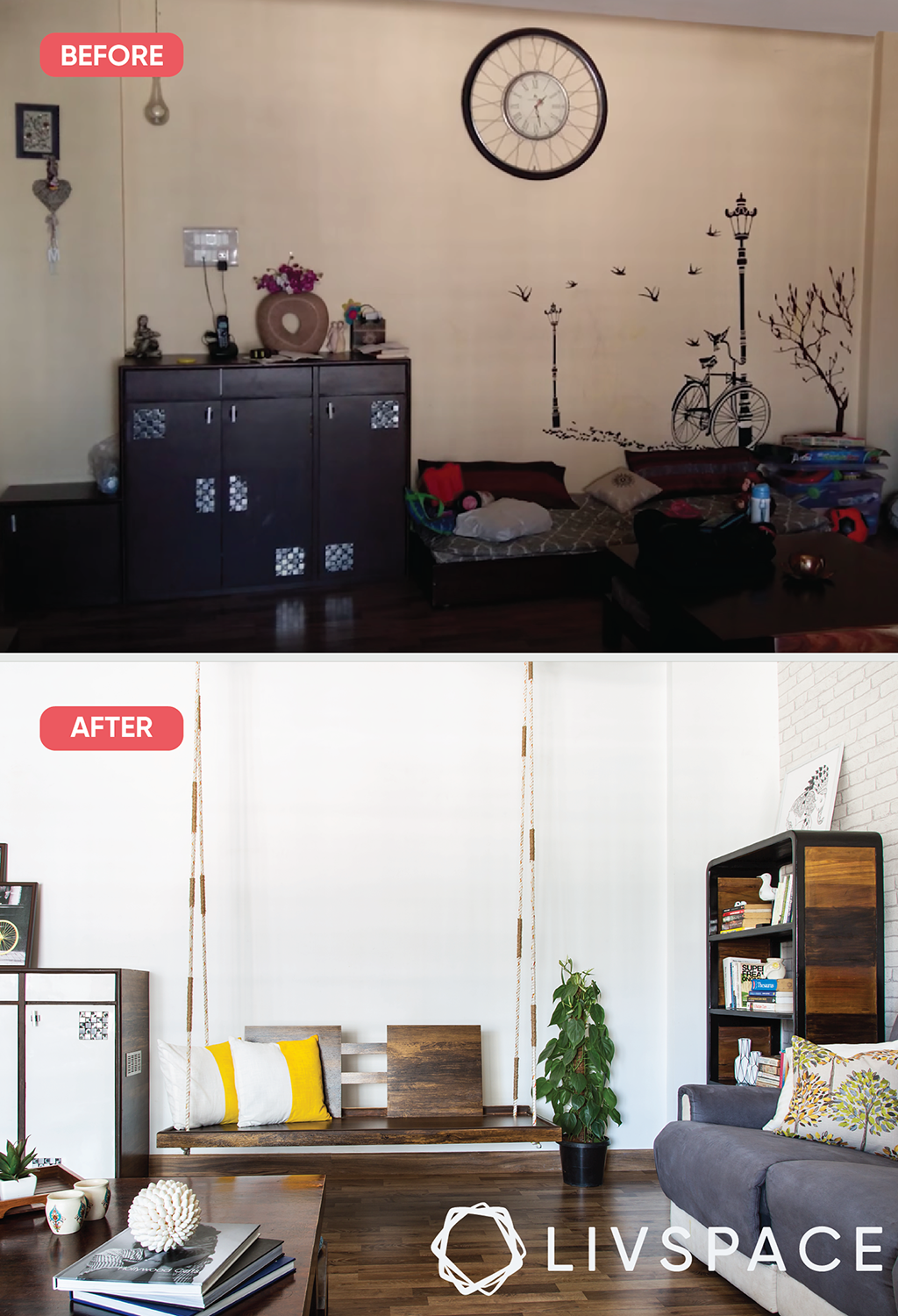 Unlike most Mumbai homes, Shweta and Arpit's living room was quite spacious. However, the poorly planned design and clutter made the space look cramped. But after clearing the room, Rukmani had ample space to implement Shweta's and Arpit's requests. And Shweta was adamant about only one thing – she wanted a jhula in the living room. Well, who wouldn't?
Incorporating a jhula wasn't tough at all for Rukmani as the space was more than enough. She created a seamless look by choosing a wooden pattern for the jhula which matched with the floor and rest of the furniture. The jhula adds a fun element and some desi drama to an otherwise contemporary room.
#3: A dull guest room revamped into a Moroccan paradise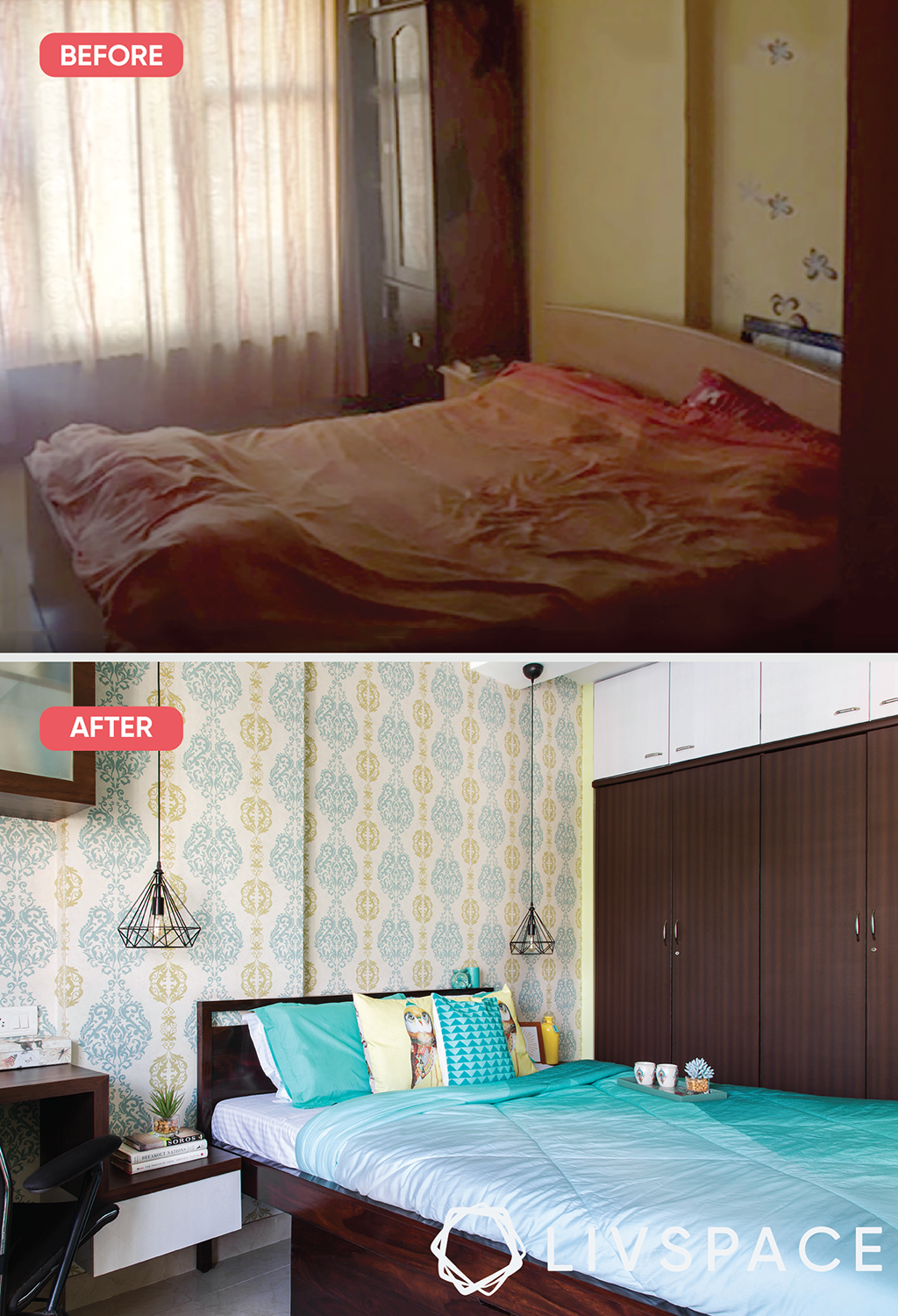 Unlike the living room, the guest bedroom wasn't very large. Also, the original space was very dark. The Agrawals' wanted to steer clear of a bulky look for this room, considering the small space. In addition, they wanted a minimal, airy look for this room.
While planning the flat renovation and transformation of the guest room, Rukmani focused on the wall design. The gorgeous mustard and blue wallpaper in a Moroccan design set the tone for the room. Coupled with the soft, turquoise theme, the guest bedroom paints an idyllic picture! Also, Rukmani solved all storage woes with wall mounted cabinets and a study table-cum-side drawer without compromising on aesthetics.
#4: A colourful Lego-themed kids room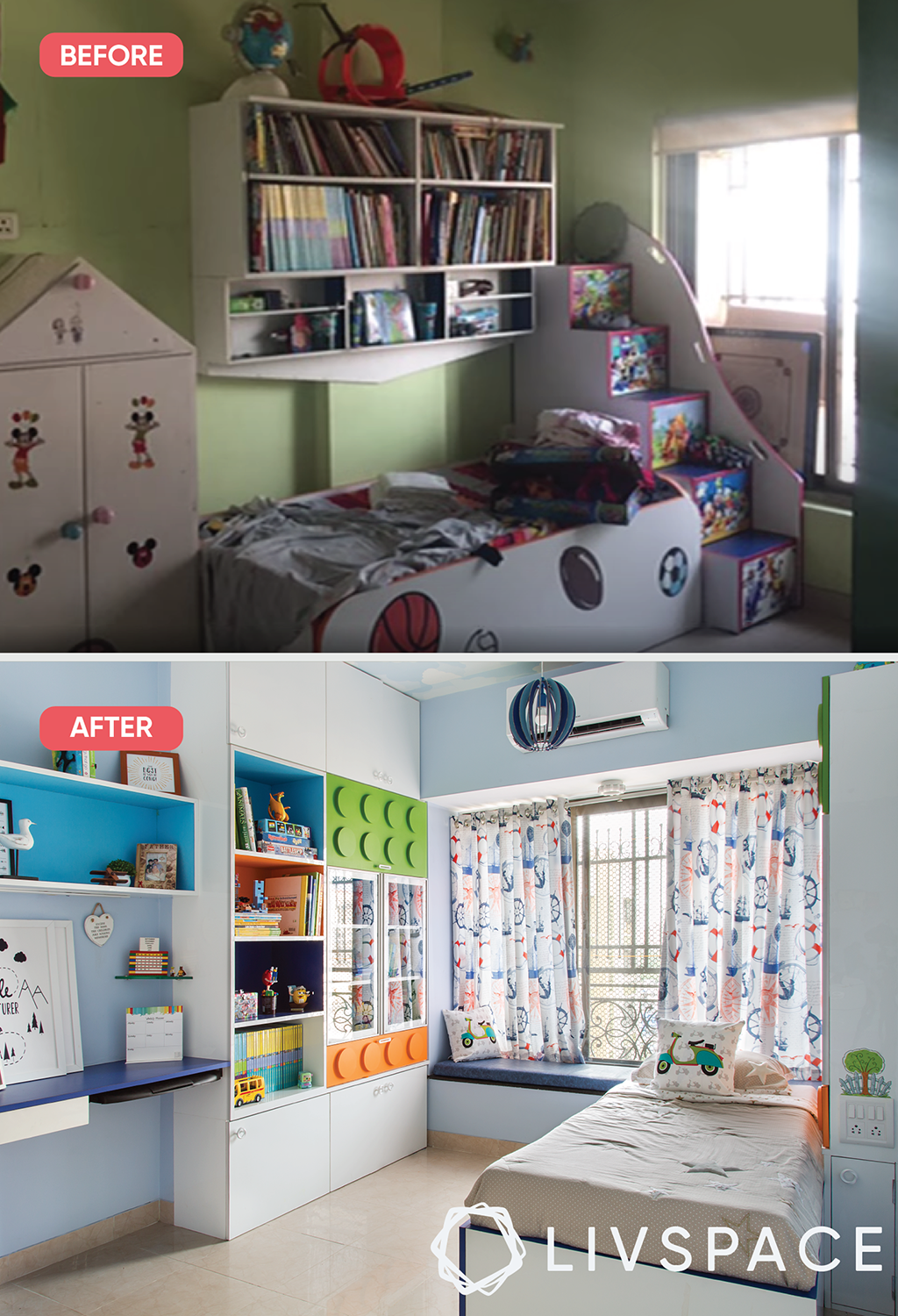 The Agrawal sons, Aarav and Arsh were very keen on a Lego-themed room. While the look was easy enough to get, Rukmani also had to fit in storage for the wide assortment of books and toys that the boys had!
Rukmani followed a bright blue palette with cabinets in the shape of Legos for a playful look, perfect for growing boys. To get rid of the clutter that the original room design had, she designed an amazing book and toy storage unit. With multiple shelves, both open and closed, Rukmani ensured that the boys would have ample space for their books and toys. The bright colours go oh so well with the entire theme of the room!
The flat renovation of Shweta and Arpit's Mumbai home was a massive success with the clients loving the complete look! Check out how we renovated this 3BHK in Gurgaon into a glamorous house, all within budget!
We love hearing from you! Write to us with your comments and suggestions at editor@livspace.com
Disclaimer: All contents of the story are specific to the time of publication. Mentions of costs, budget, materials, finishes, and products from the Livspace catalogue can vary with reference to current rates. Please get in touch with a designer for more details on pricing and availability.