DLF Garden Villas interiors, courtesy Livspace, are on point!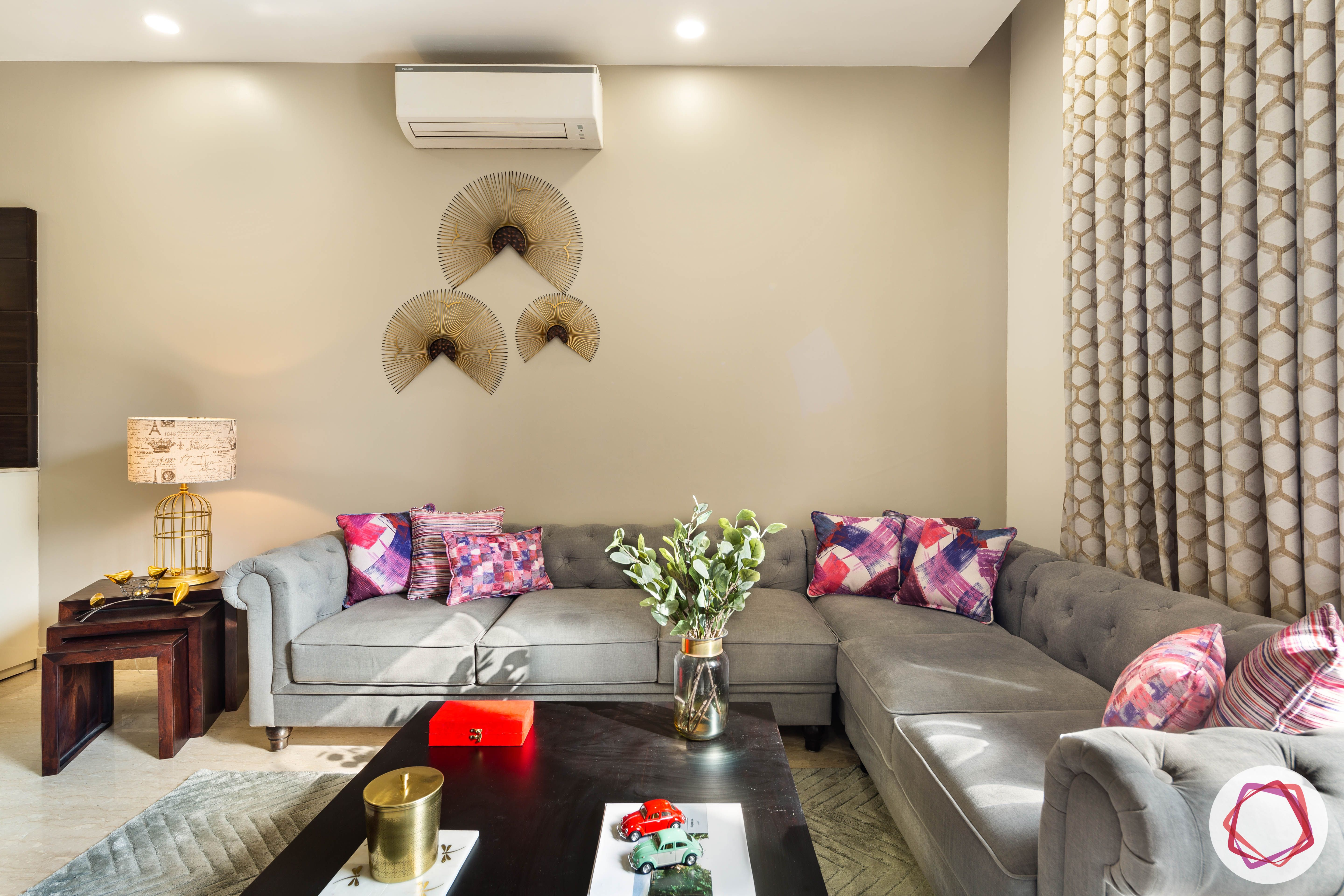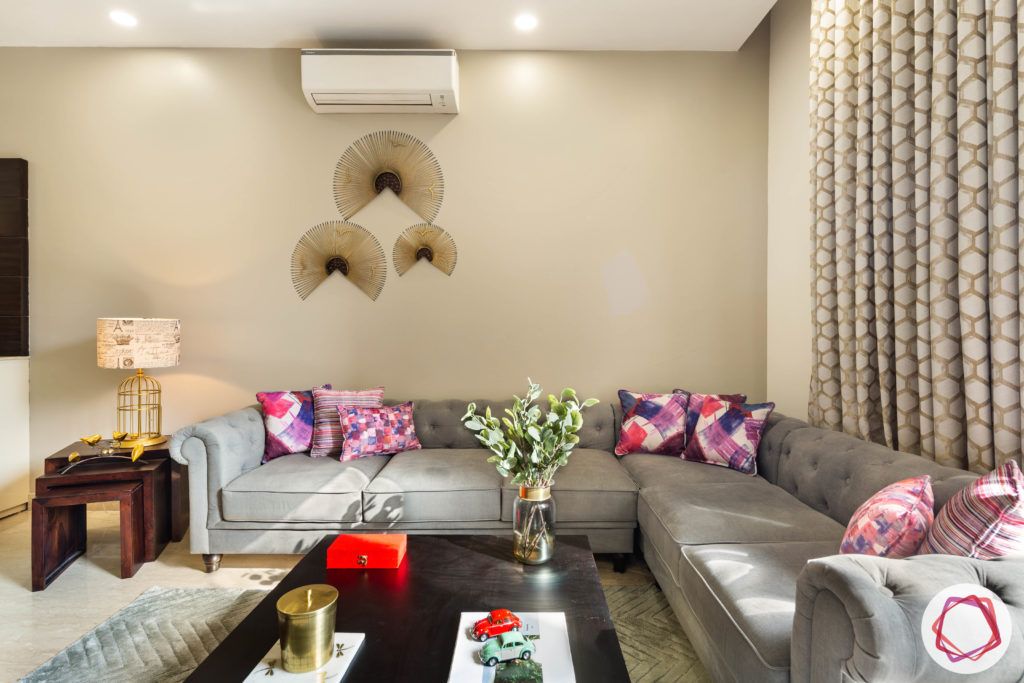 ---
Who livs here: Shweta Dudeja and her husband Rishi Arora
Location: Garden Villas, DLF Phase IV, Gurgaon
Size of home: 3BHK spanning 2,300 sq ft
Design team: Interior designer Shruti Modi and Project Manager Ravinder Berwal
Livspace service: Living, dining and master bedroom
Budget: ₹₹₹₹₹
---
When Shweta Dudeja and her husband Rishi Arora set out to find interior designers for their brand new home, they realised two things. First, it was exhausting to find someone who fit their requirements and lastly, everything seemed expensive! After a friend's recommendation, the young couple decided to visit our Experience Center in Sector 29, Gurgaon. "We loved everything we saw there and we were excited to get started!" Shweta tells us.
A meeting with our designer Shruti Modi soon followed. They revealed they were looking for a chic and trendy interiors for their living, dining and master bedroom within a stipulated budget. So, with a deft hand, Shruti crafted a subtle glamorous home that's definitely won our hearts! Here's the tour.
Minimal Foyer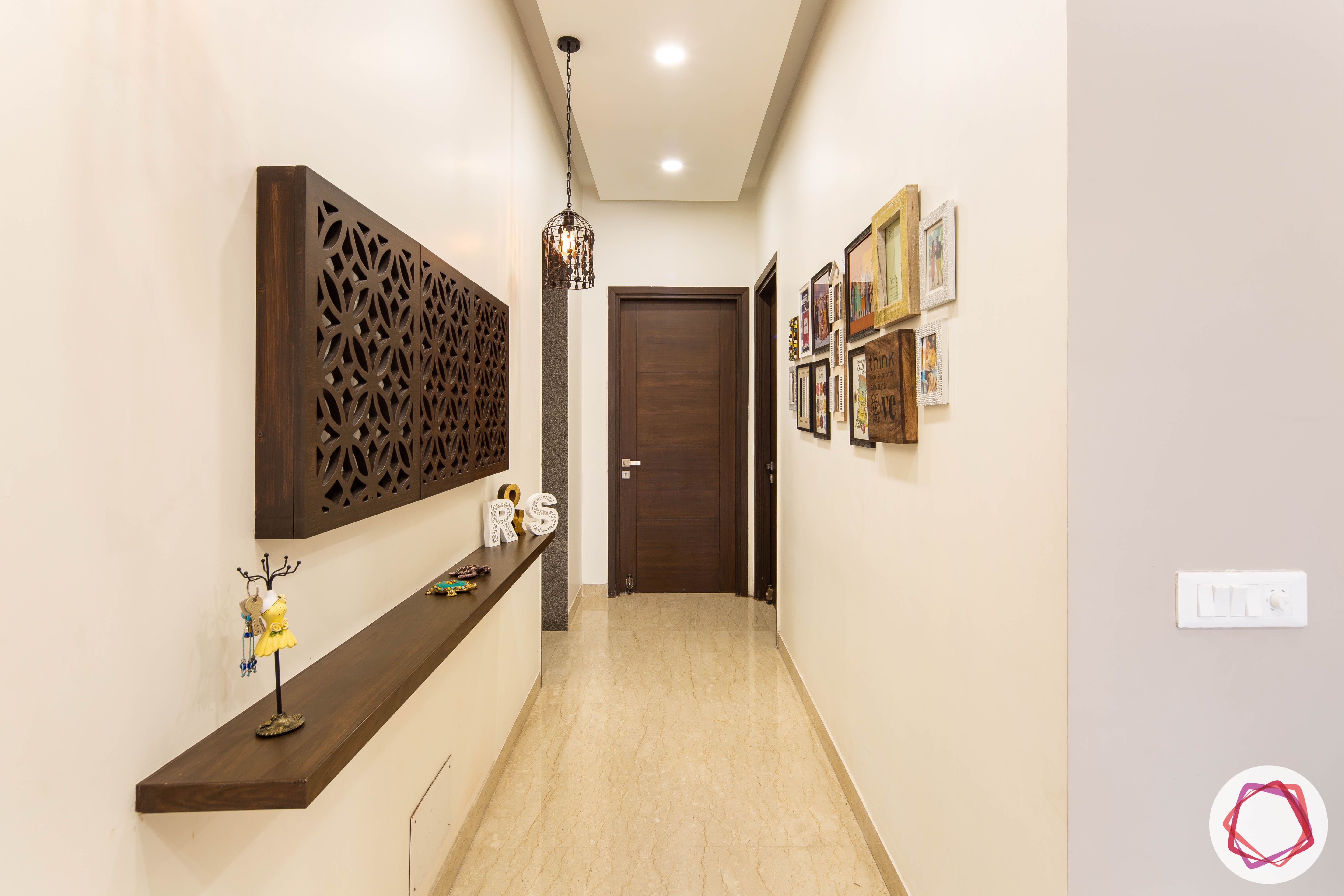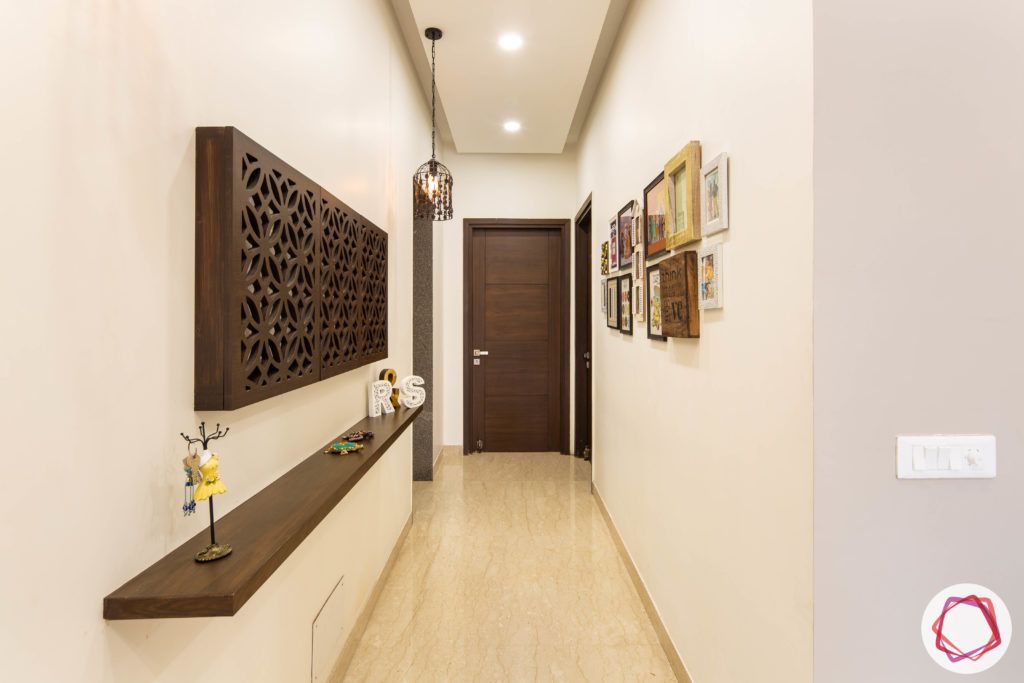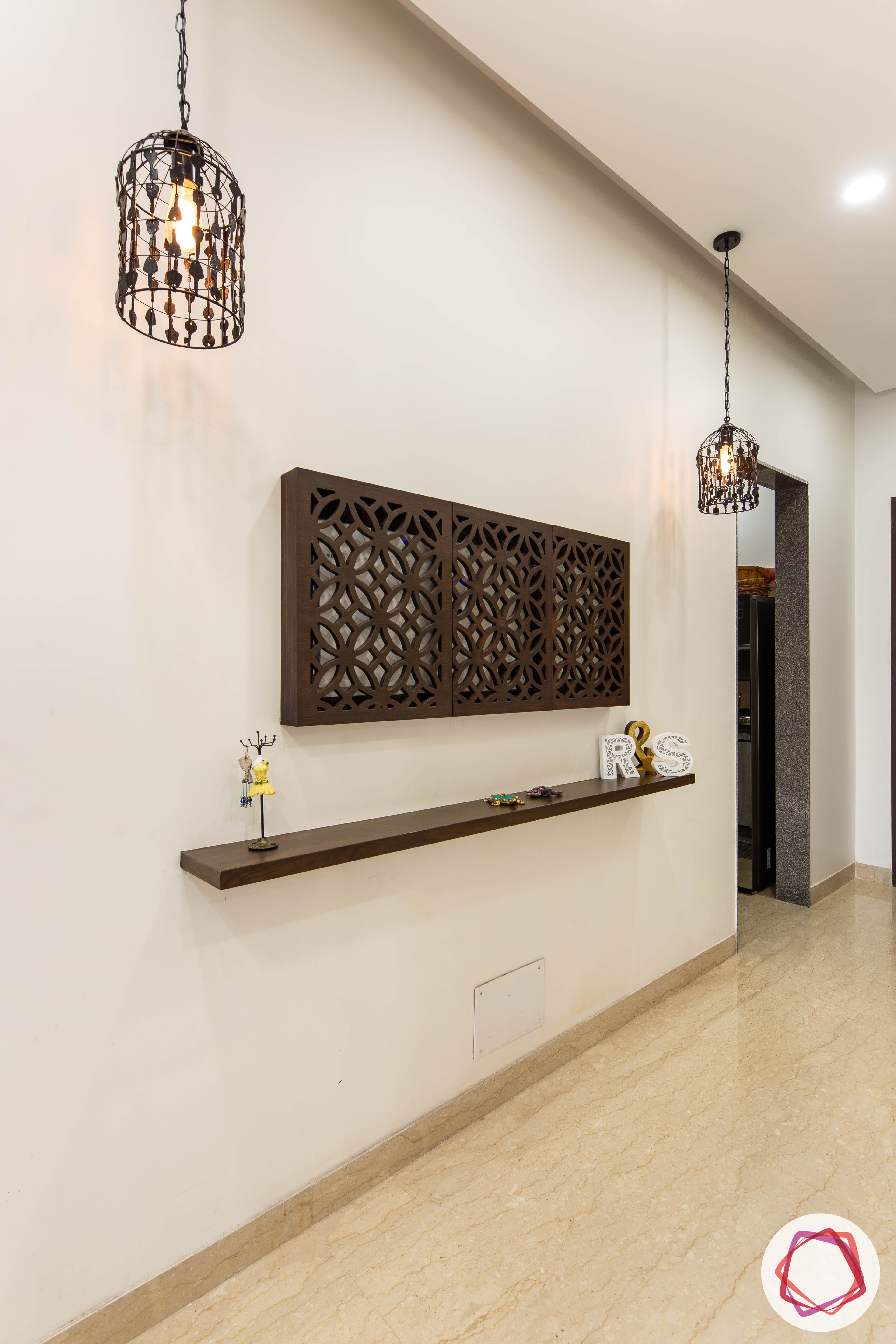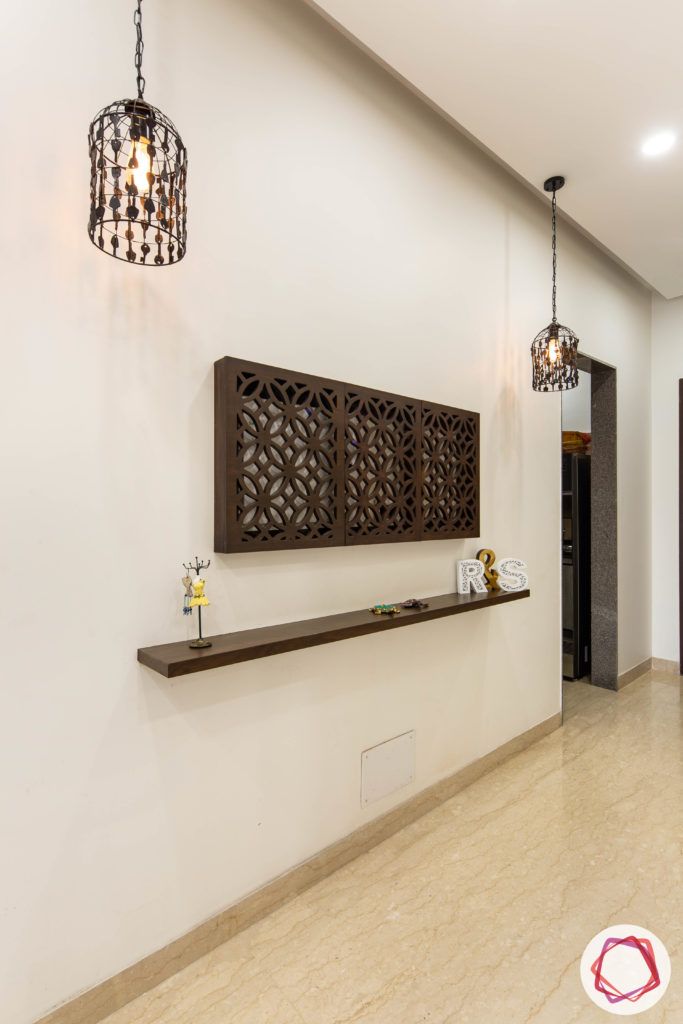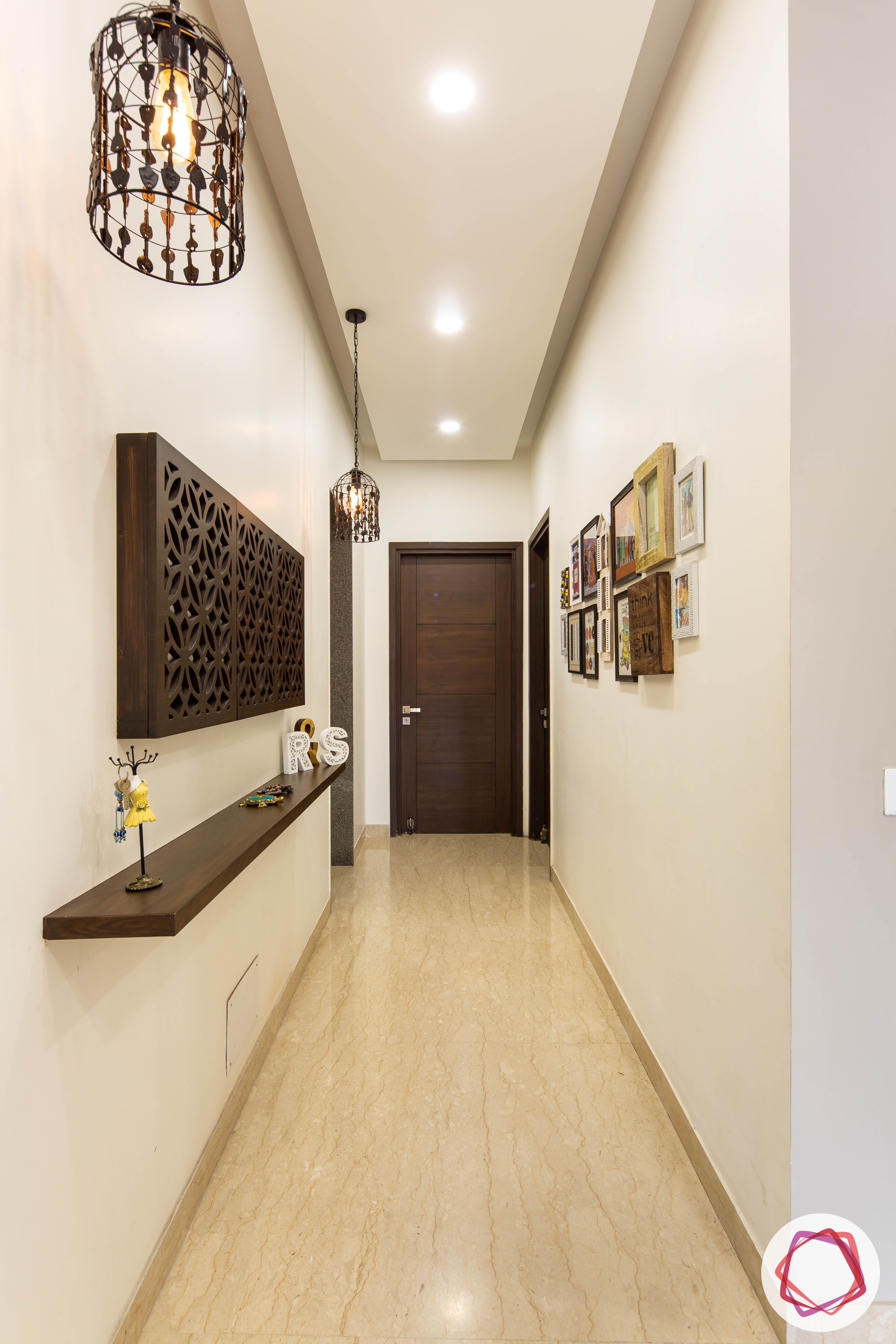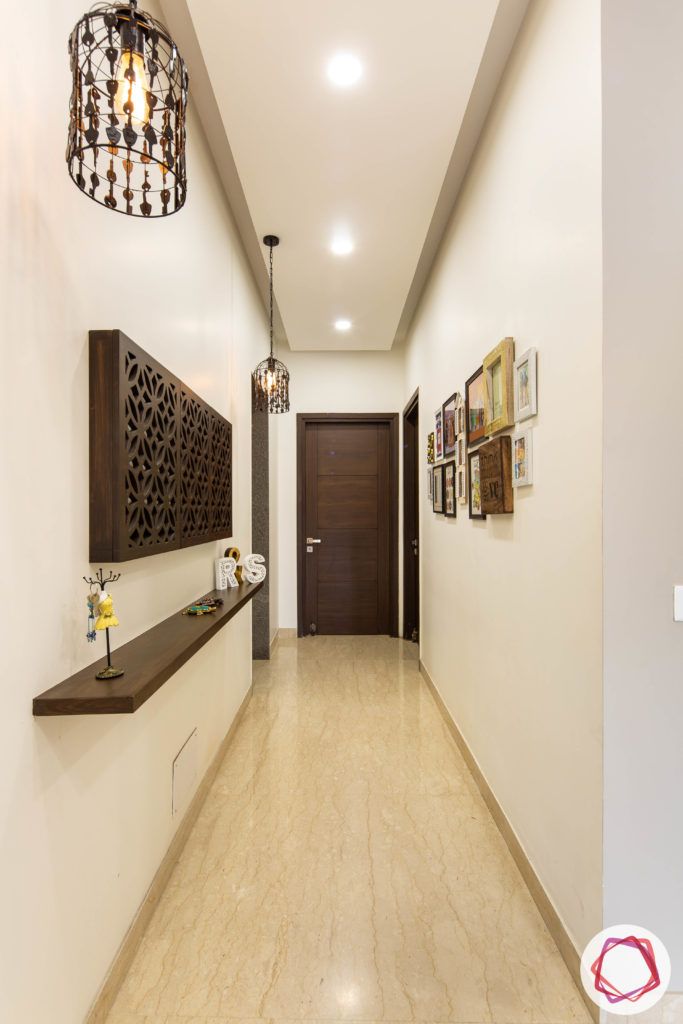 As you enter the home, your eyes are drawn to the wall flaunting family photographs. Coming in a close second, an elegant jaali has been placed to conceal a power board. In addition, Shruti put in a minimal shelf to stash keys and other quick essentials. We love this build up leading to the living room!
Bright, airy and plush living room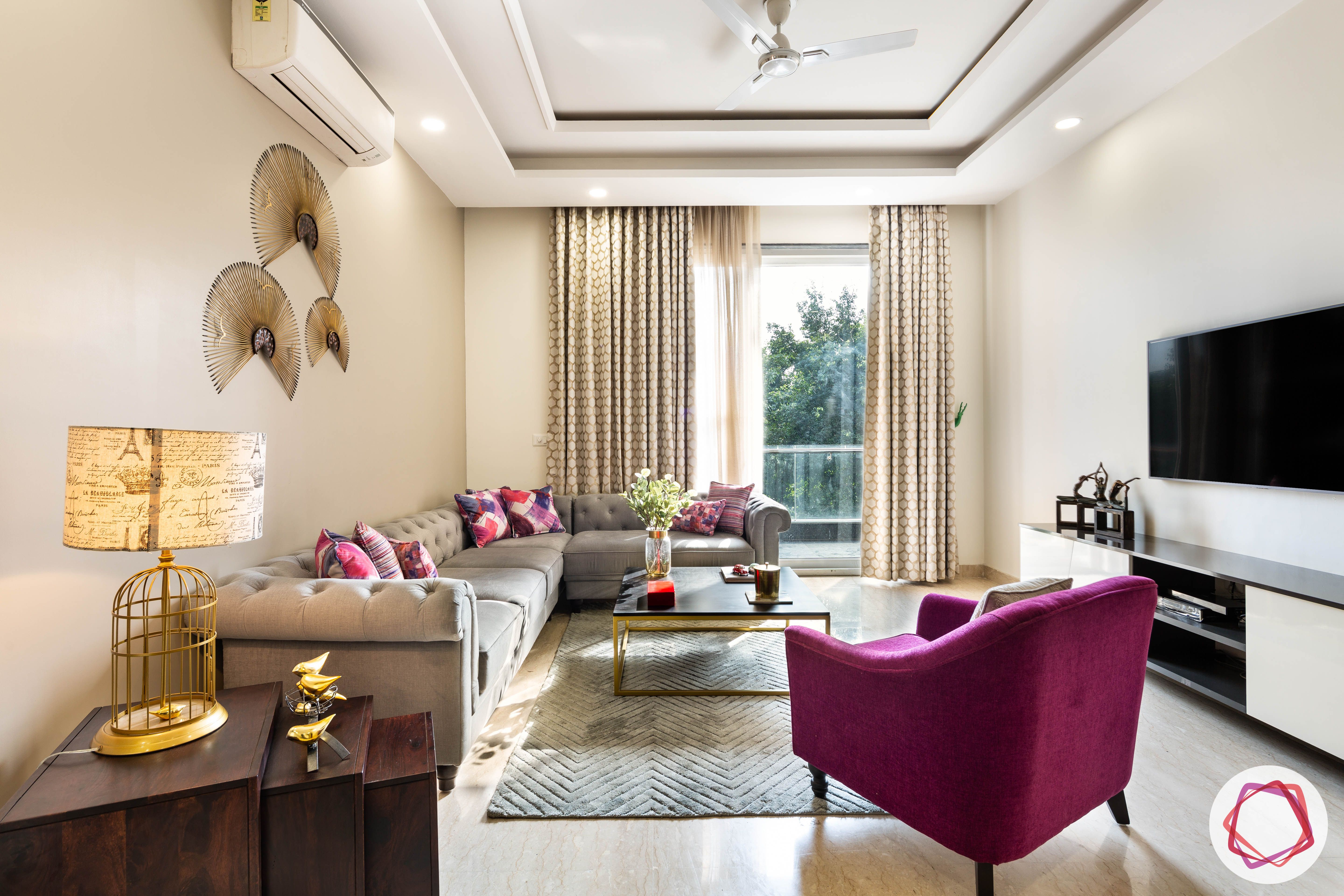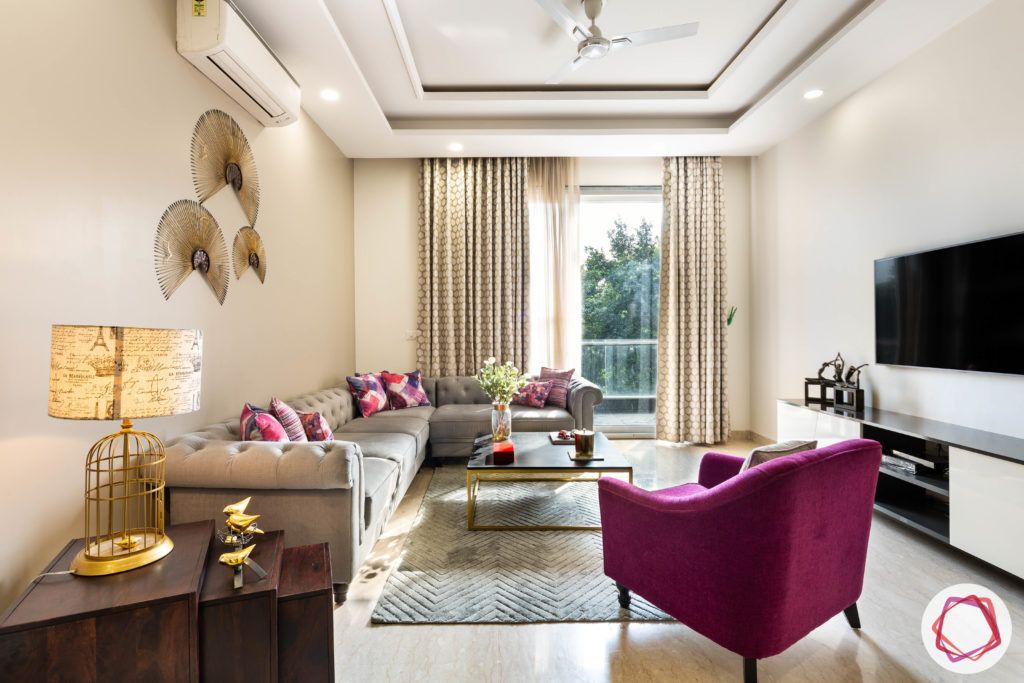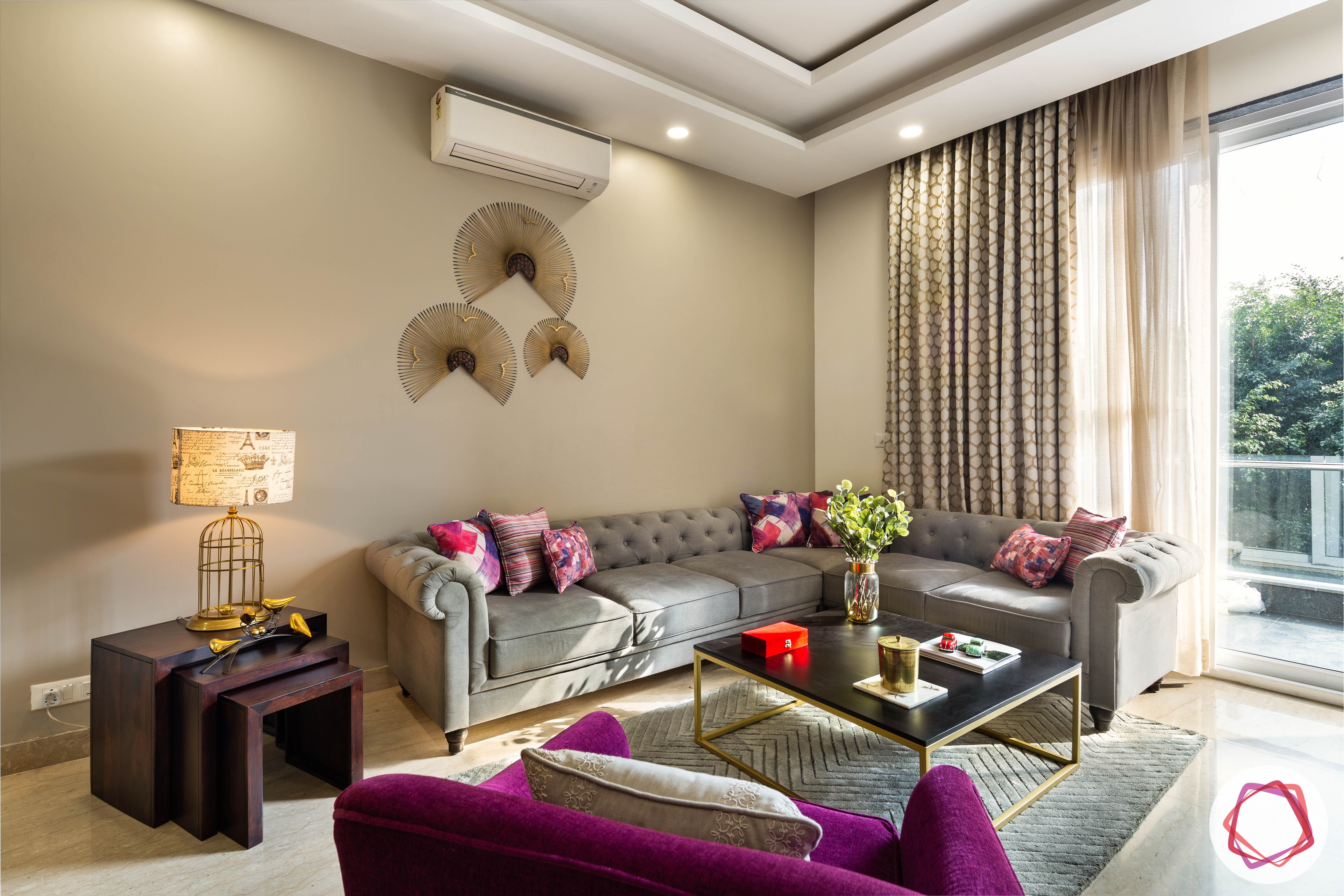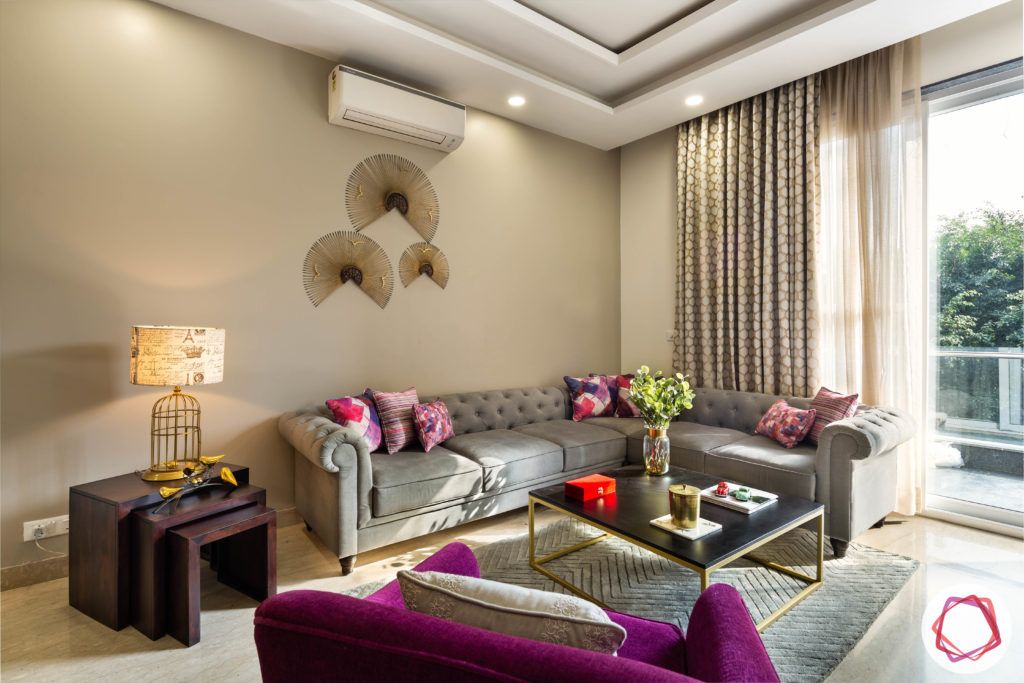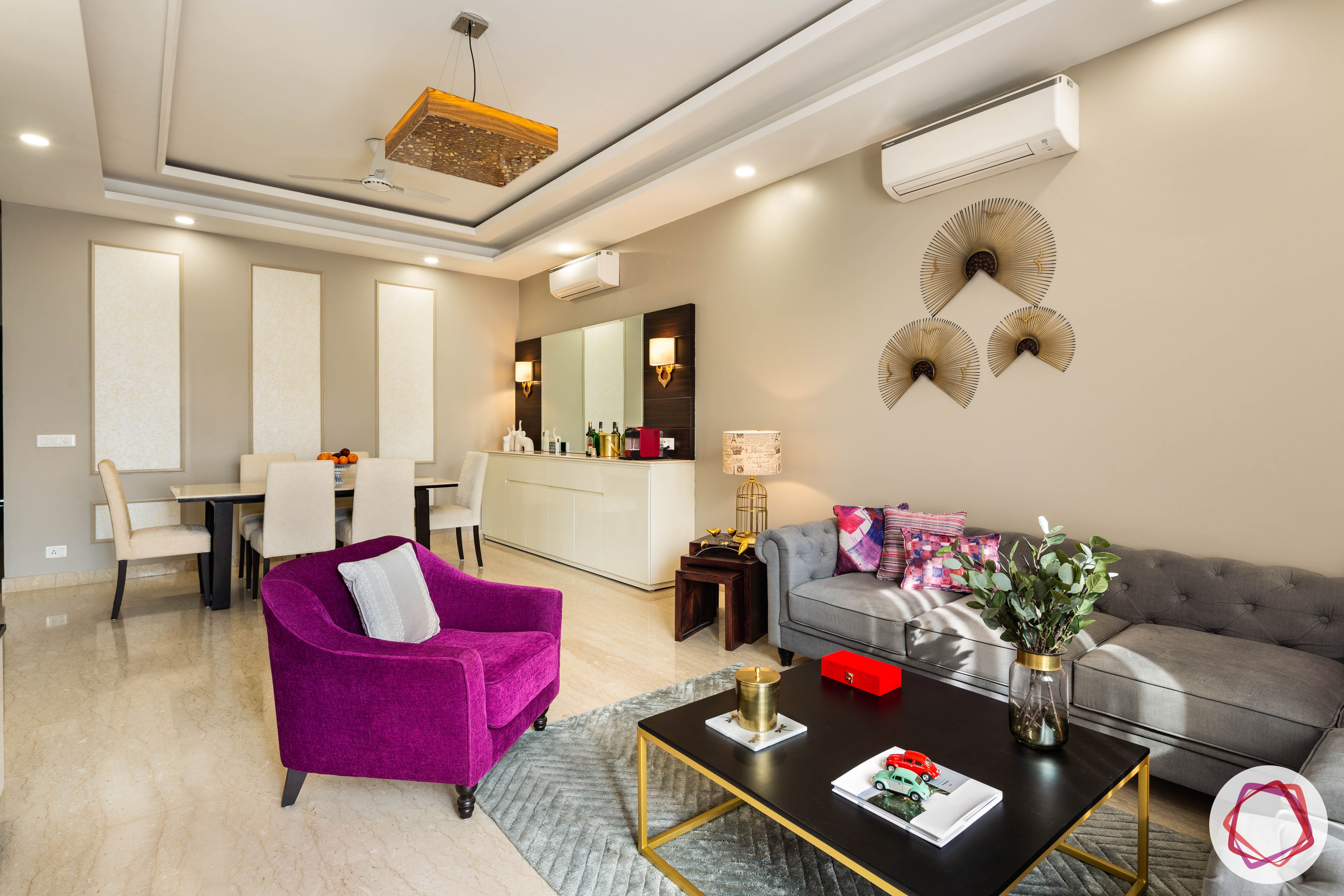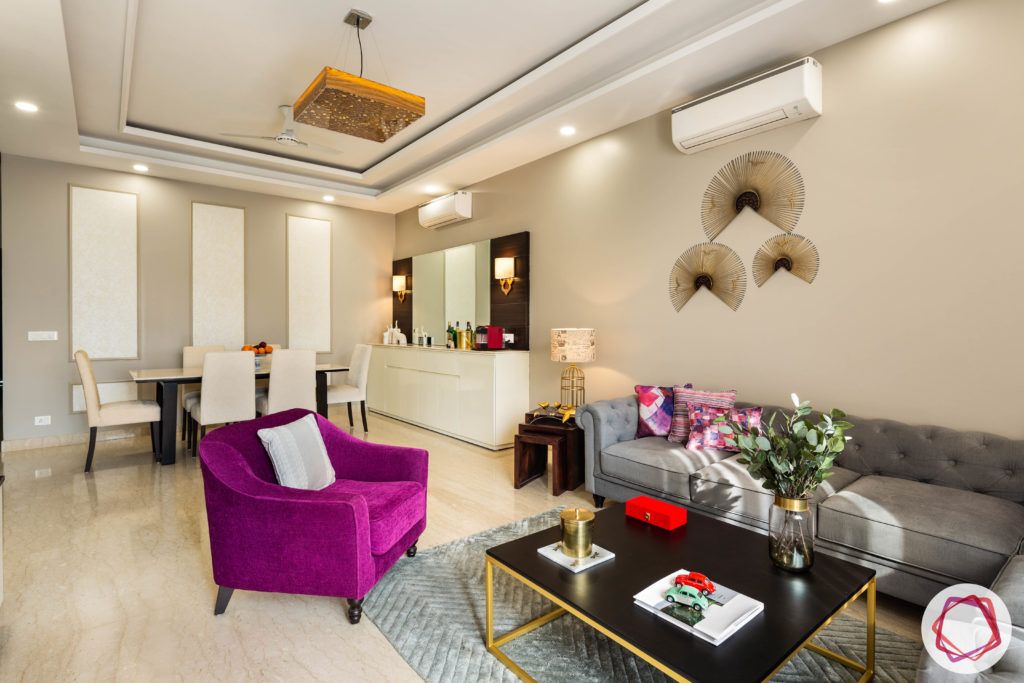 If you ever needed inspiration for classy interiors, this would be it! Basking in abundant sunlight, sits a plush living room. The couple The grey chesterfield L-shaped sofa offers ample seating. We love the pop of magenta for the wing armchair as well. A sleek table on gold-toned legs centres the living room.
Notice the wall behind the sofa? To keep this interesting, Shruti used a subtle greyish brown paint to elevate the ambience here. The TV unit stands in a pristine white laminate with both open and closed shelves.
"We had met a few designers before finalising with Livspace. Everybody was exorbitantly expensive. But with Livspace, we were impressed because our designer asked us about our budget and worked backwards. We also loved the Experience Centre because that gave us an idea of what finish and materials we would expect. The overall output was fabulous!"

Shweta Dudeja & Rishi Arora, Livspace Homeowner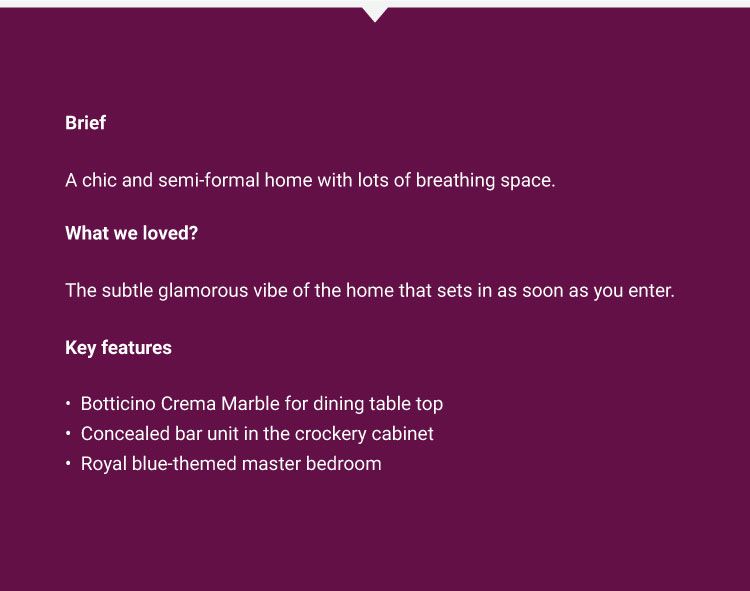 Elegant Dining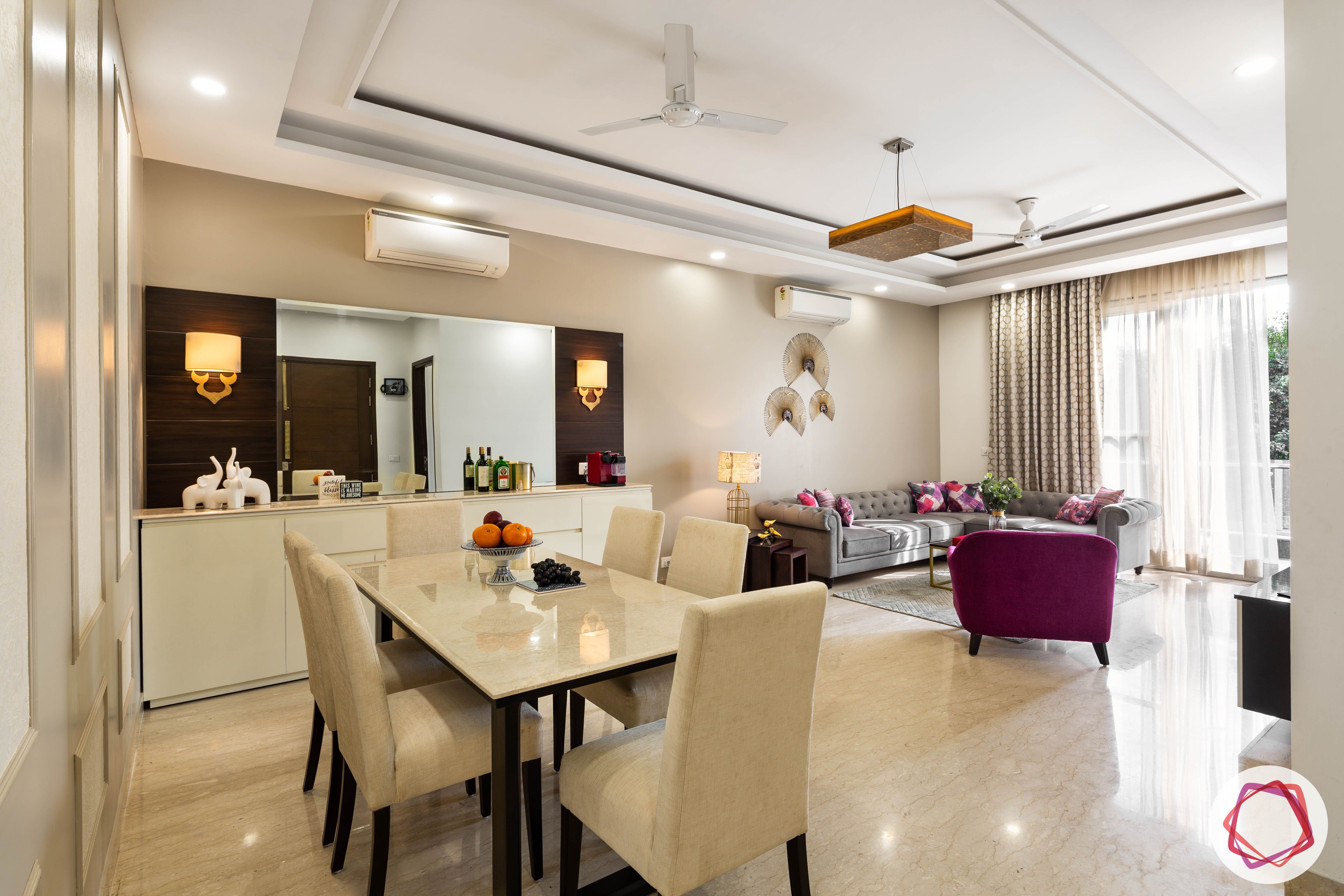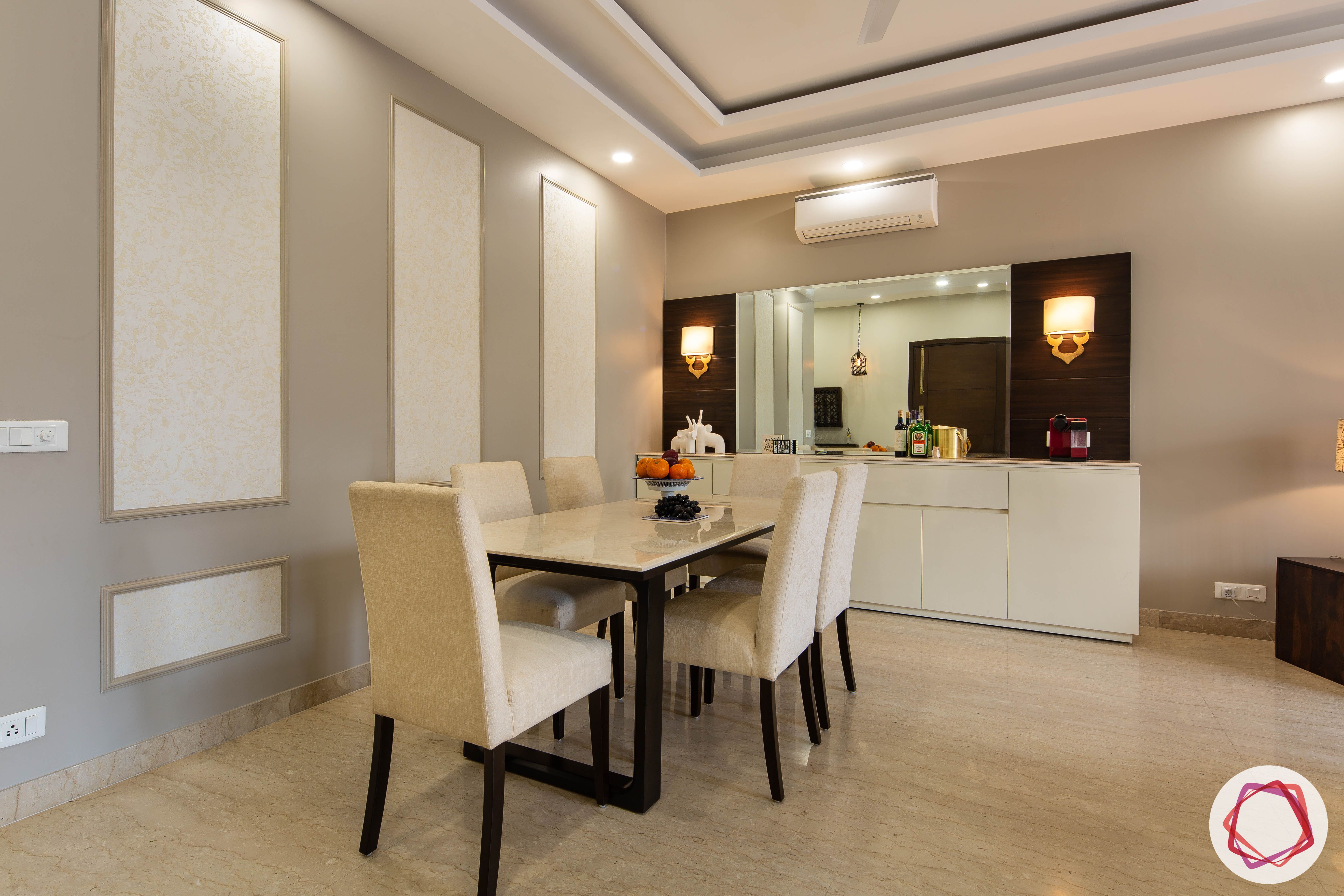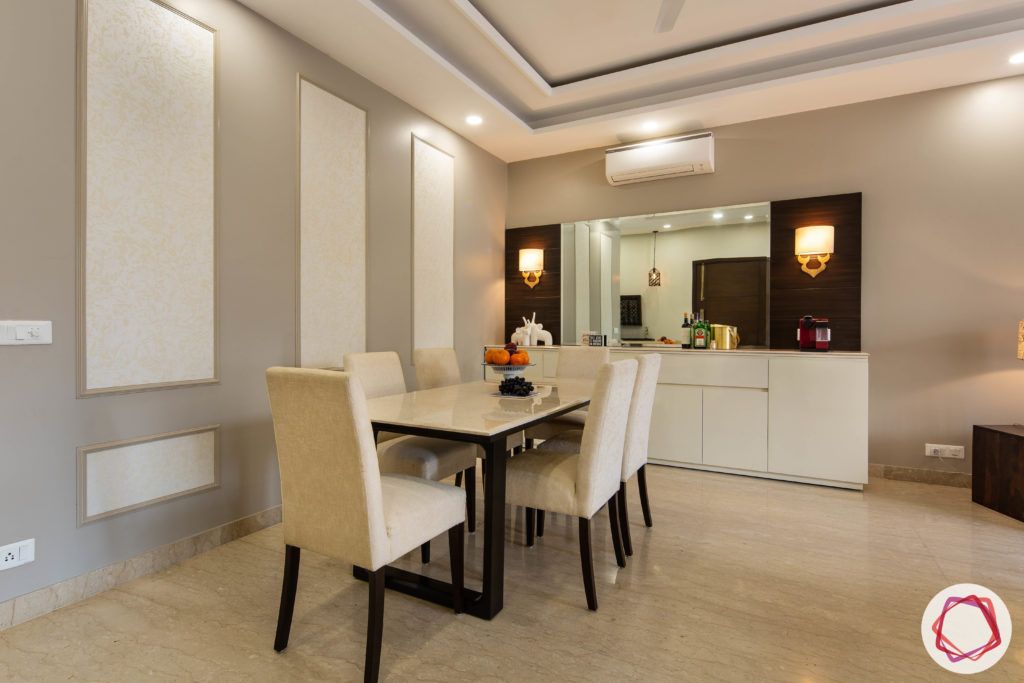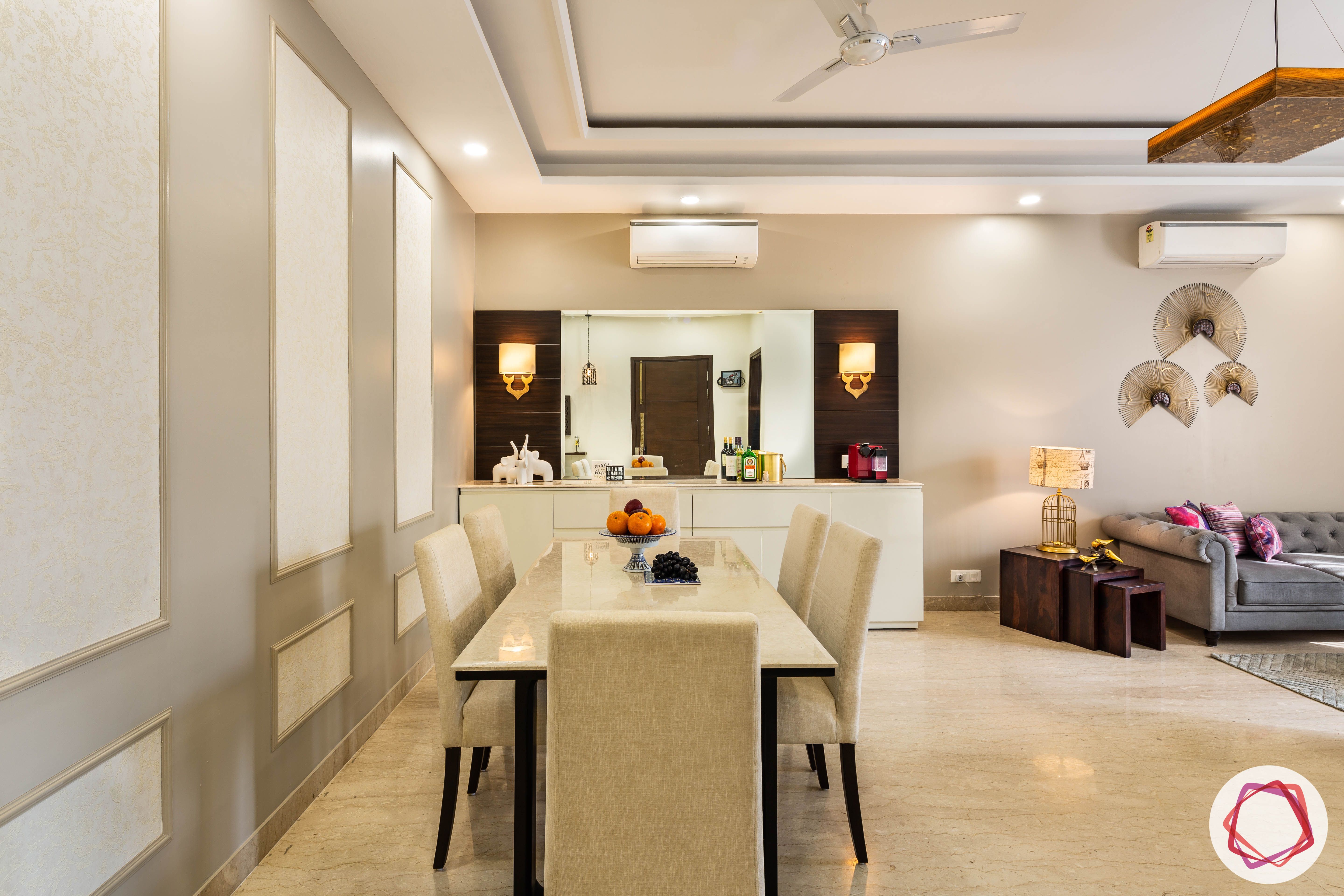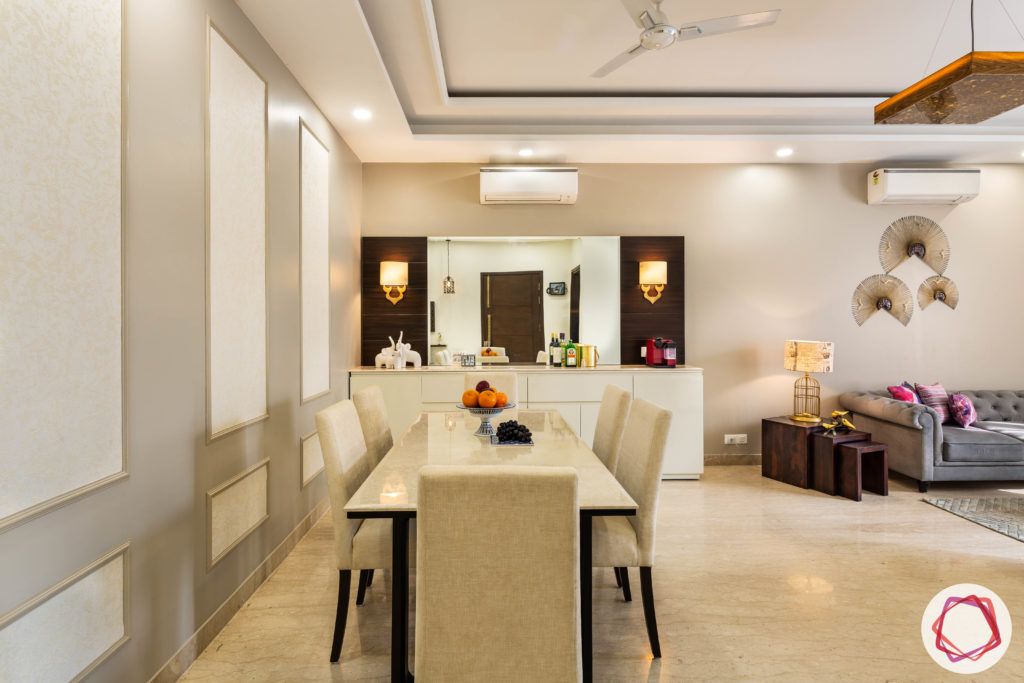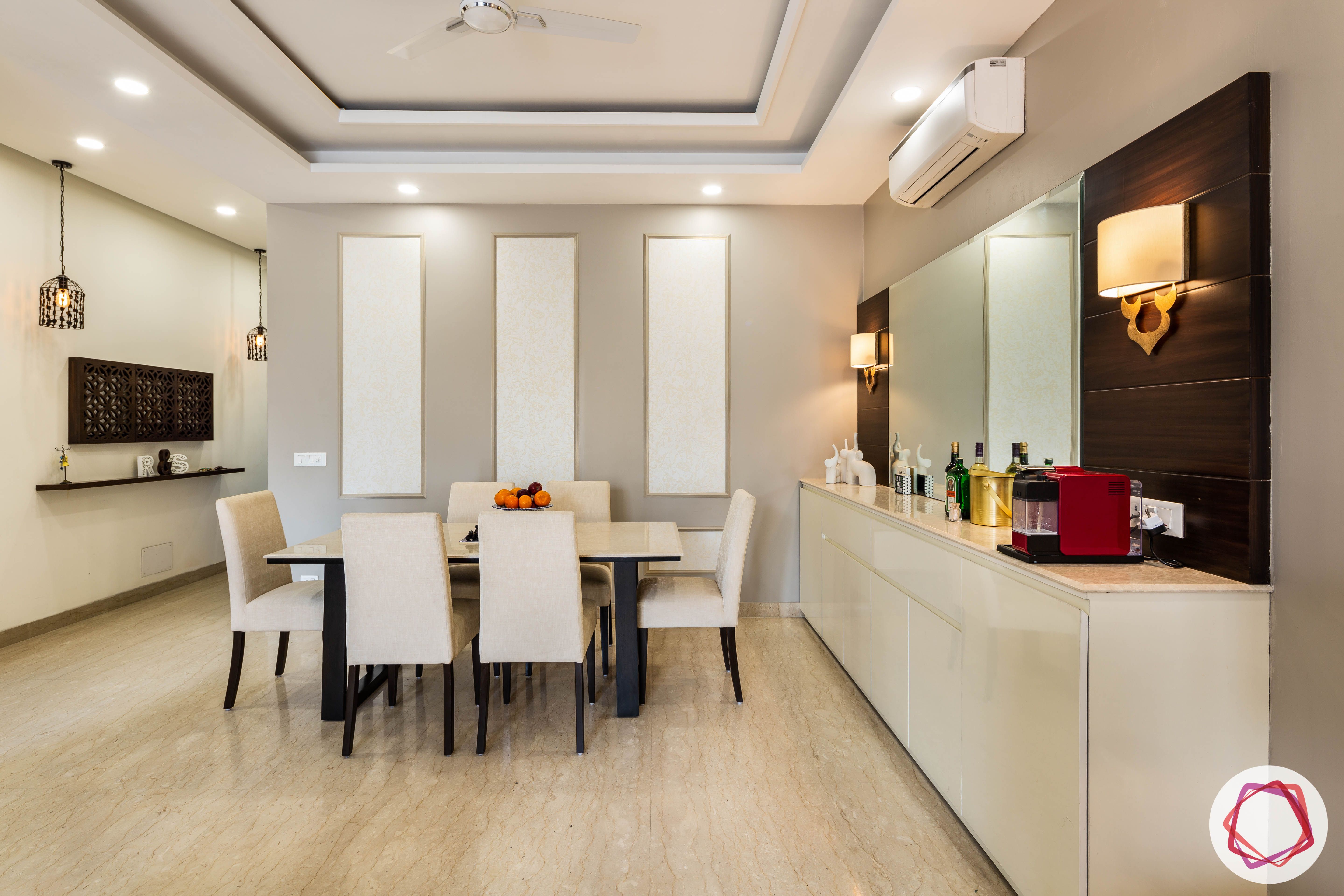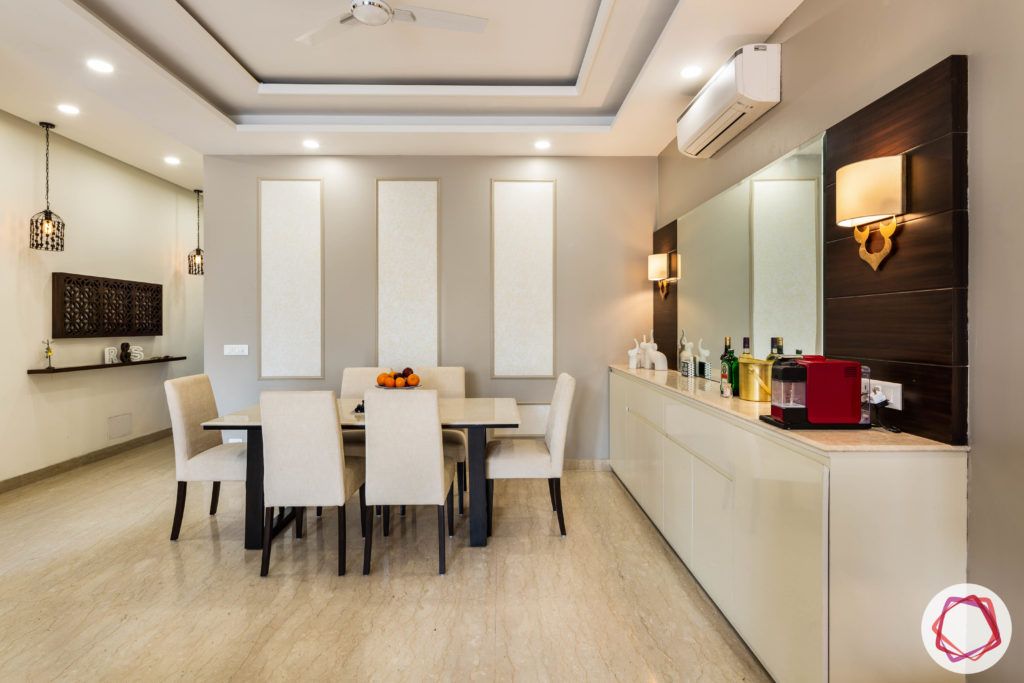 The dining room is the very definition of plush. The subtle greyish brown paint flows from the living room into this nook as well. In addition, Shruti placed white wallpapers in elegant sections framed by trims. The dining table has been done up in gorgeous Botticino Crema marble and it has been paired with suede chairs.
Besides this is a chic white laminate crockery cabinet with grooves. We love how Shruti has created a pop here as well. On either side of the cabinet, she placed two veneer panels that adds a touch of warmth to the space. In addition, the statement wall lamps too makes a dainty element.
Shweta and Rishi didn't want an open bar unit. As a result, Shruti crafted a fully-fledged bar unit in the crockery unit itself. It's complete with a wine rack and glass holders as well. Also, because the couple loved dining table top, they decided to have the same marble over the crockery cabinet.
Bask in Blues Bedroom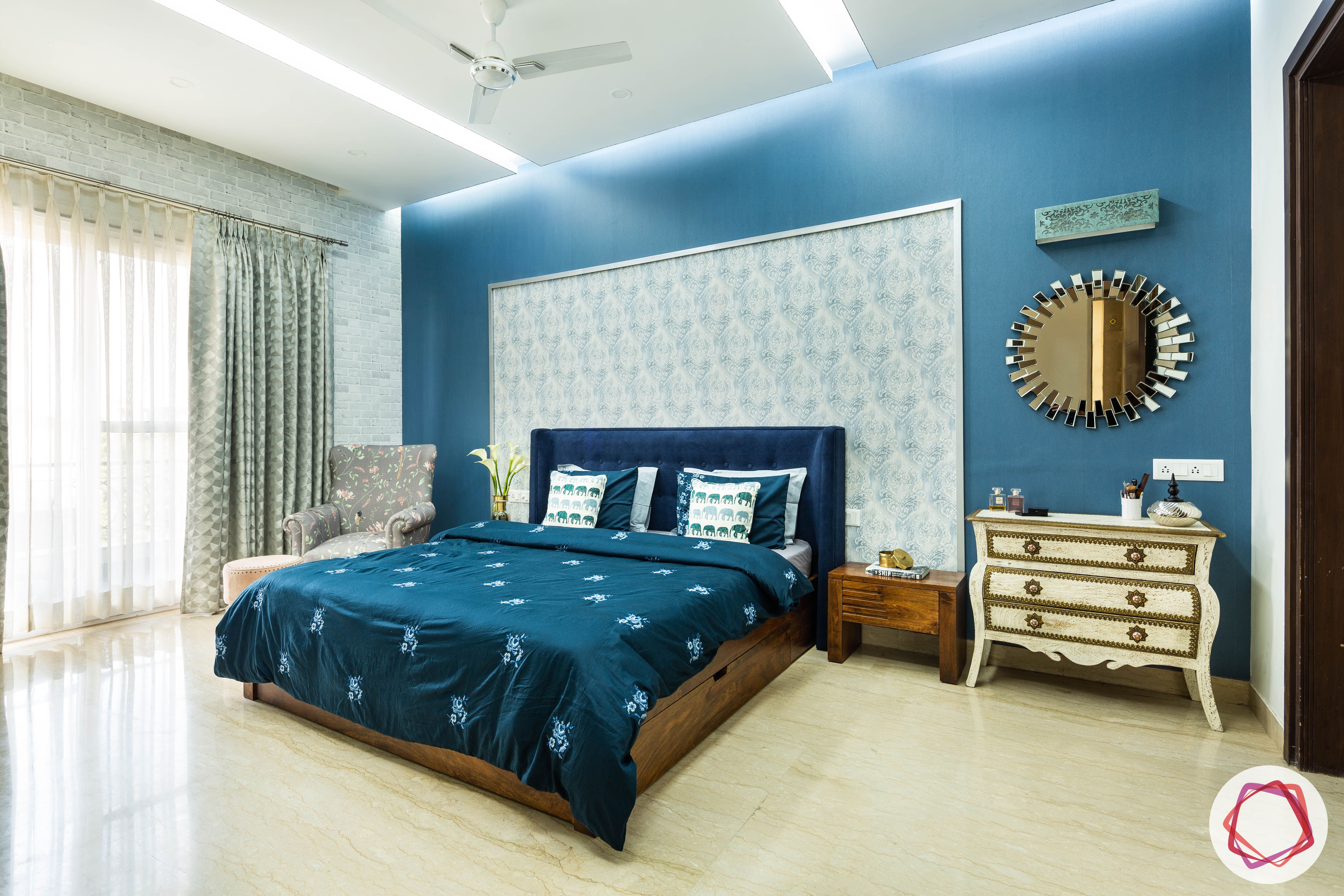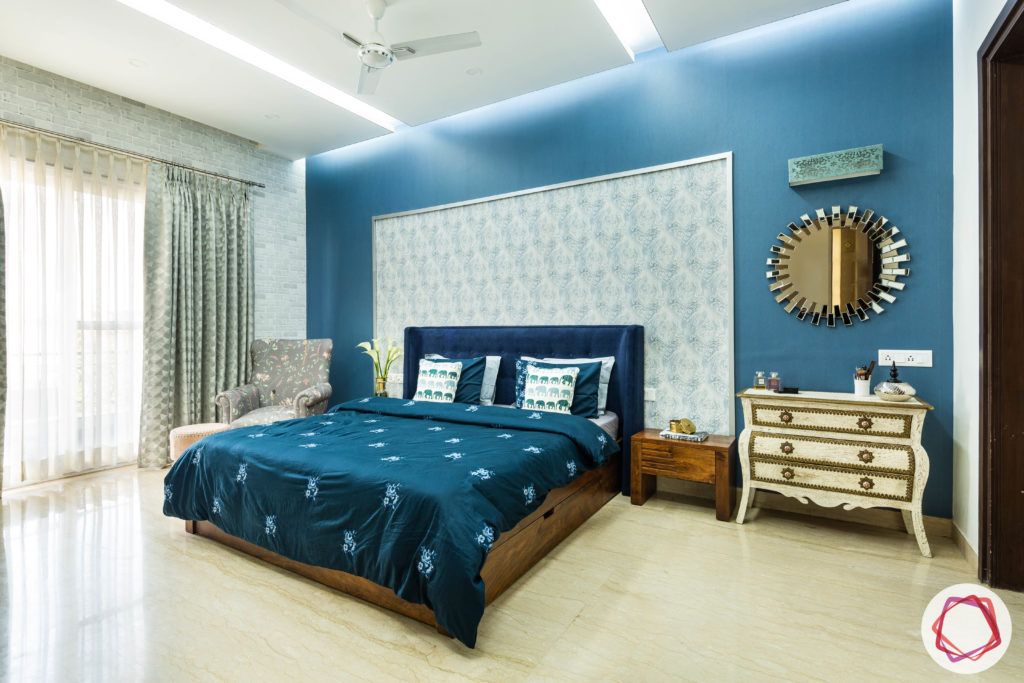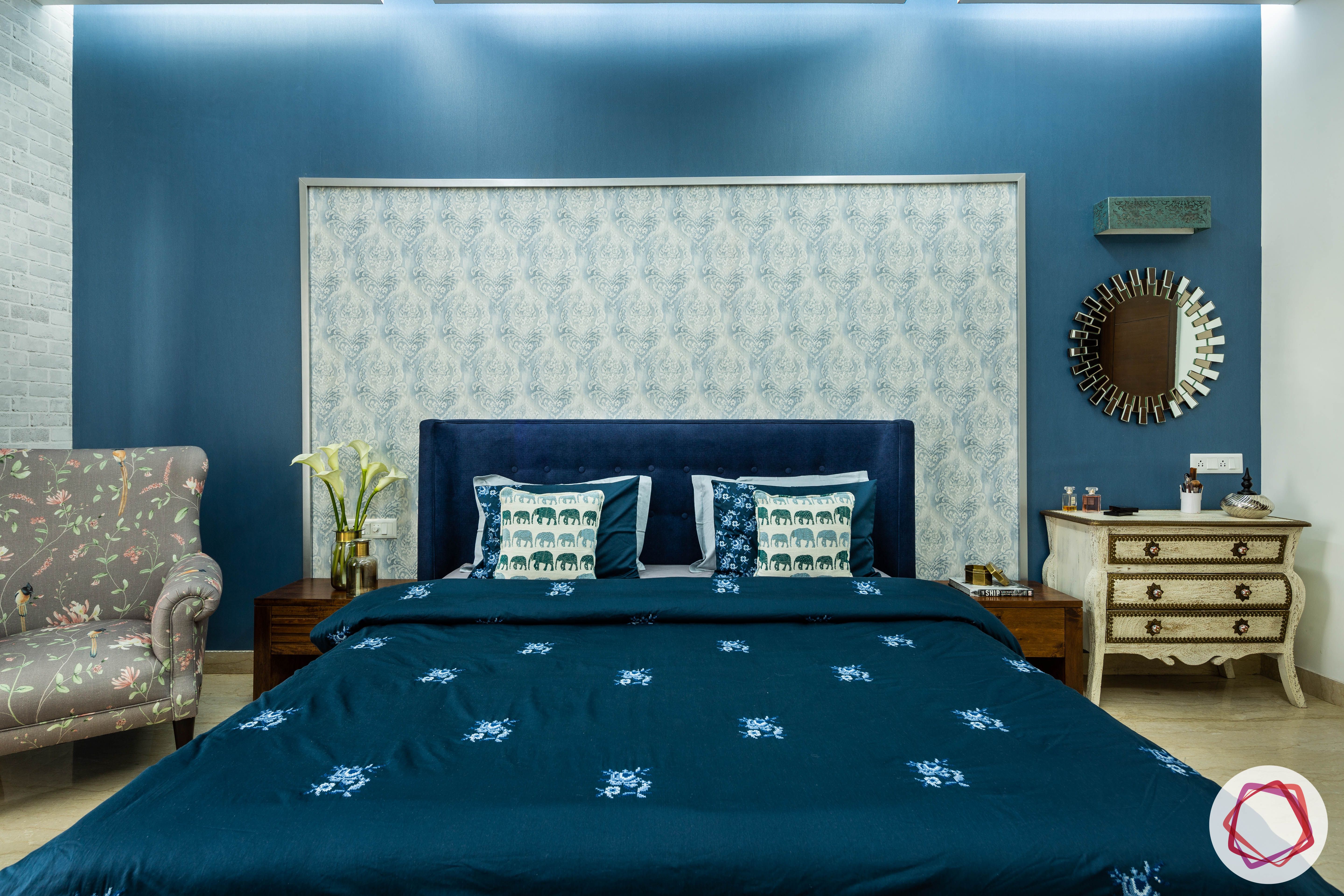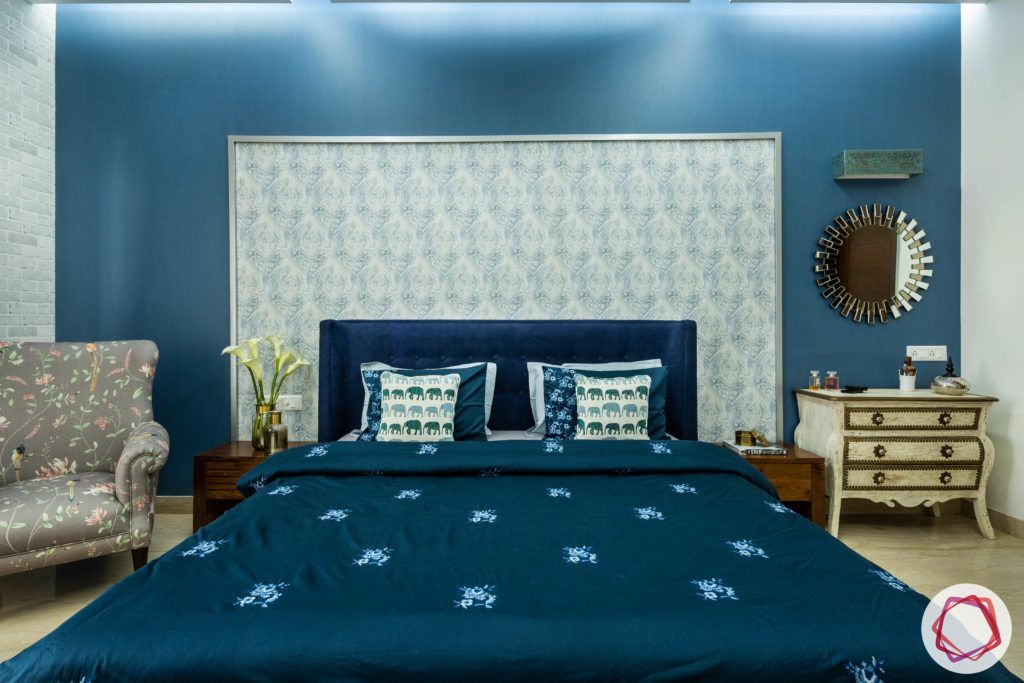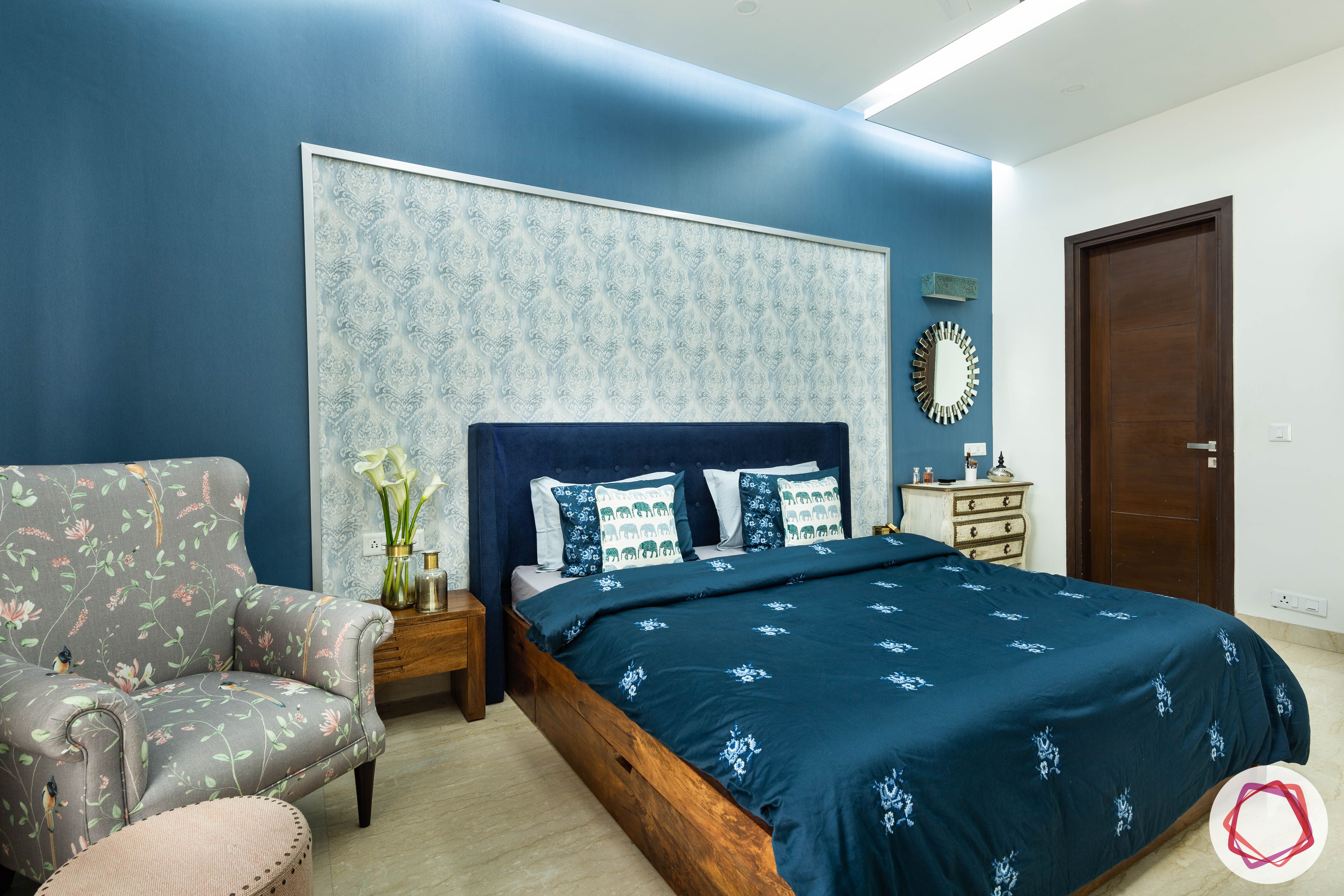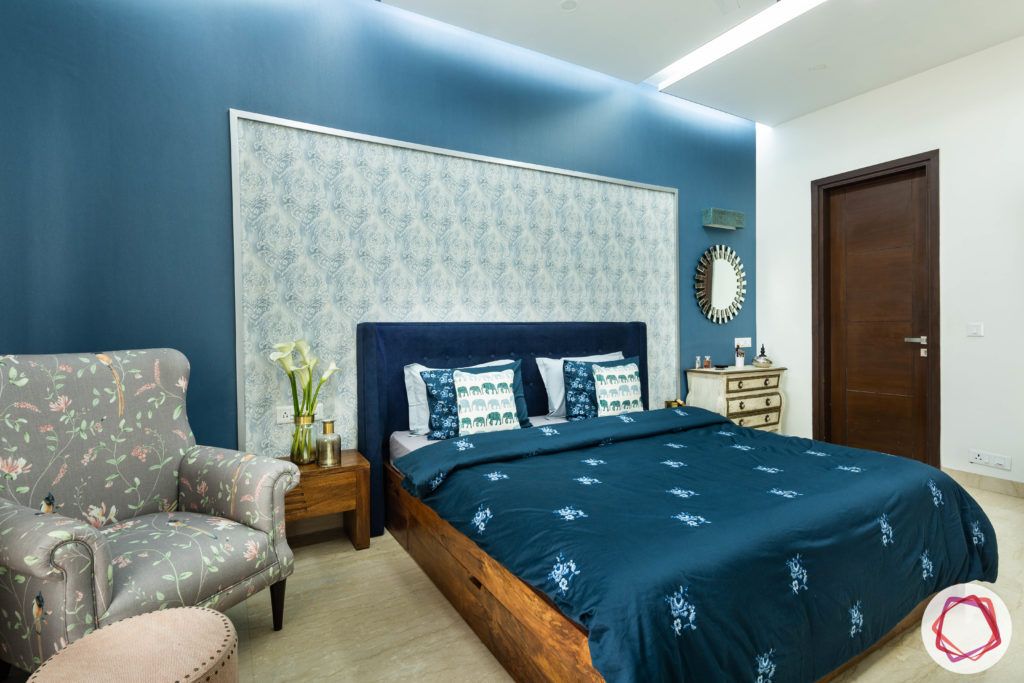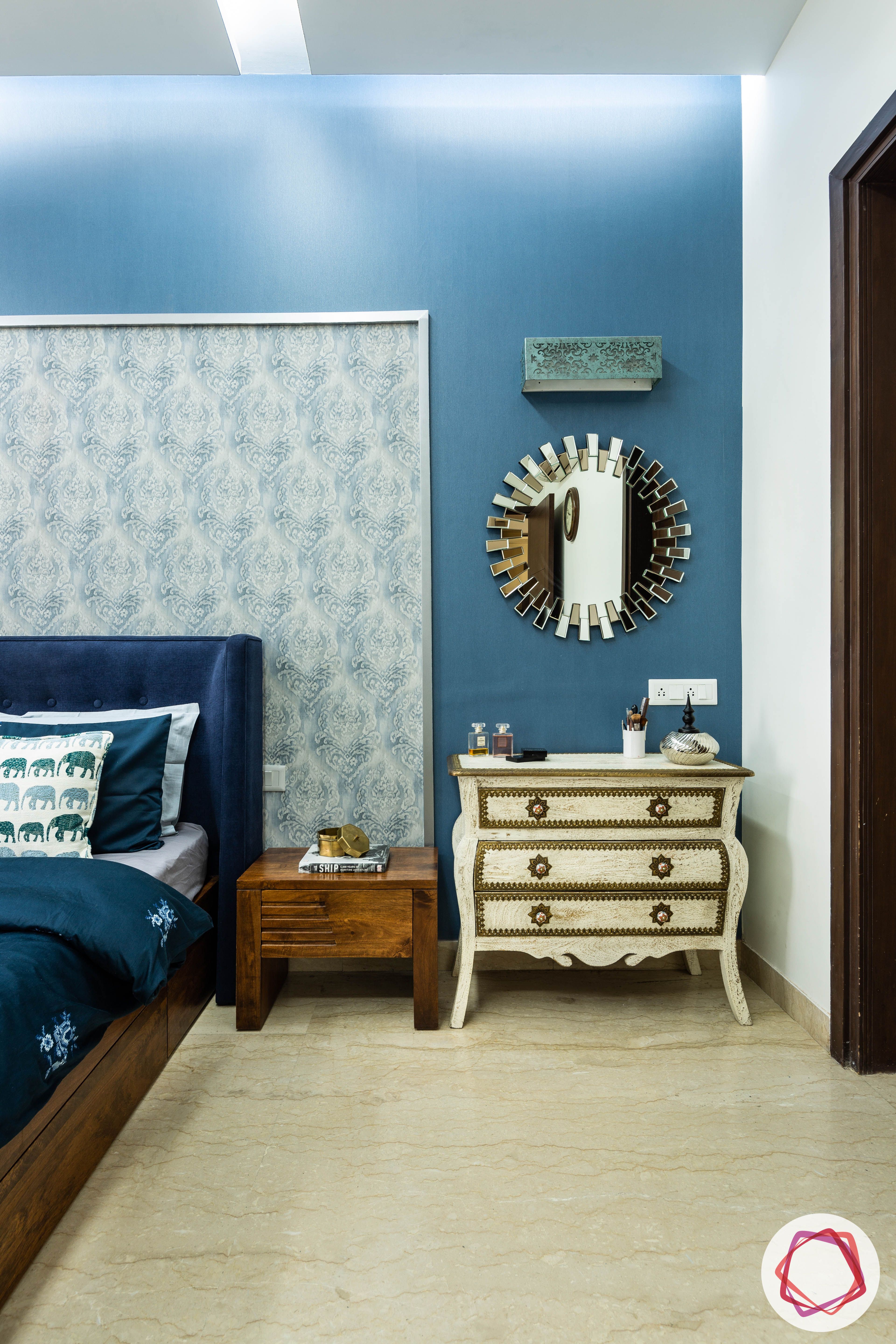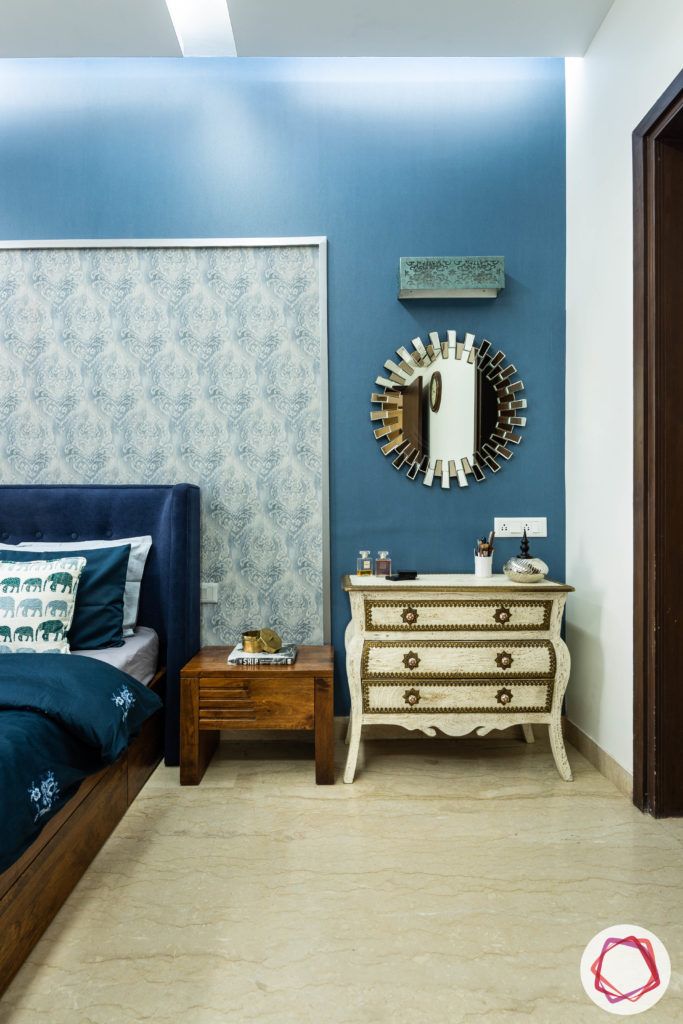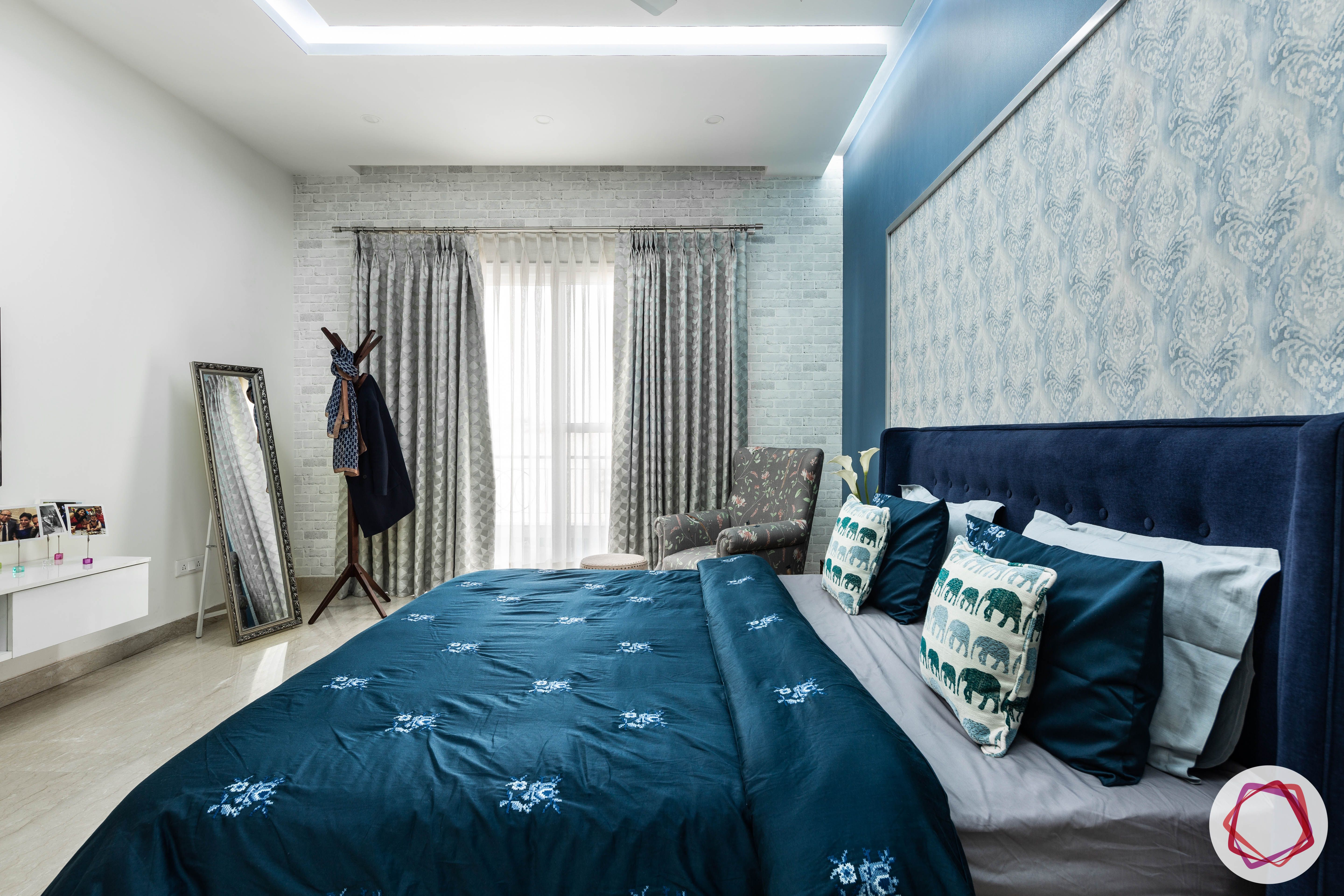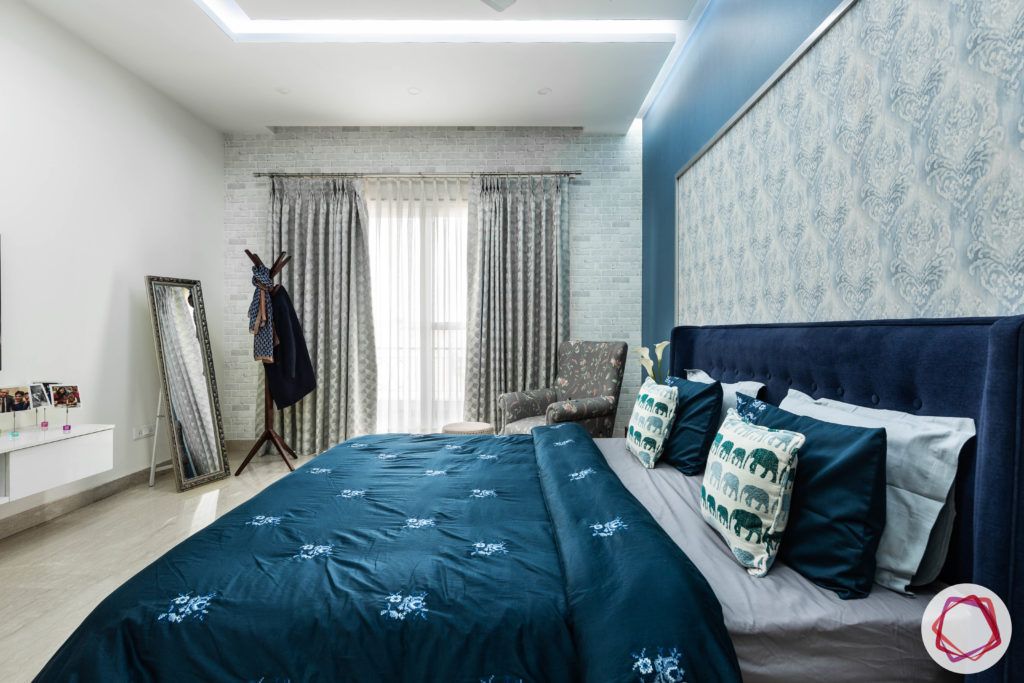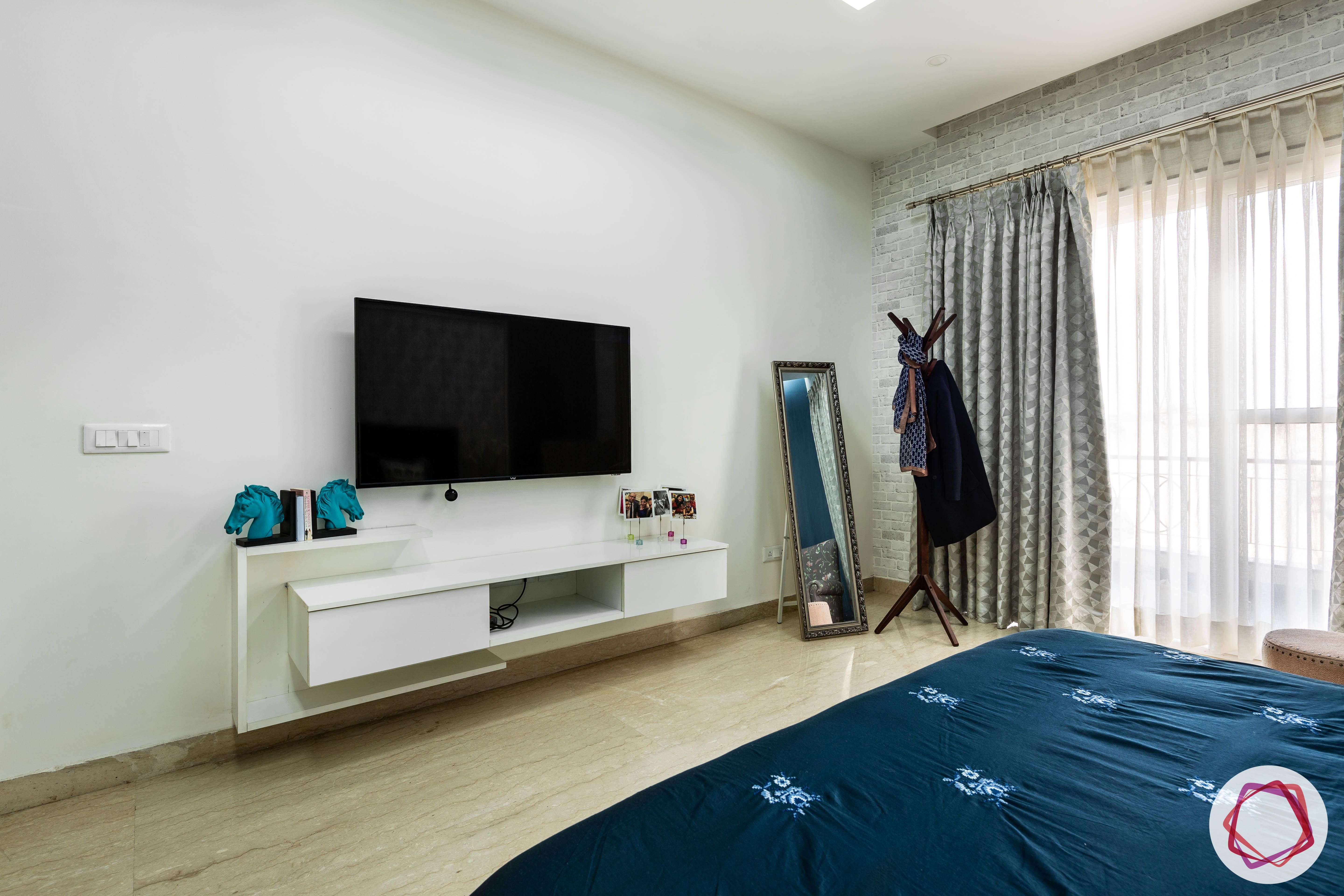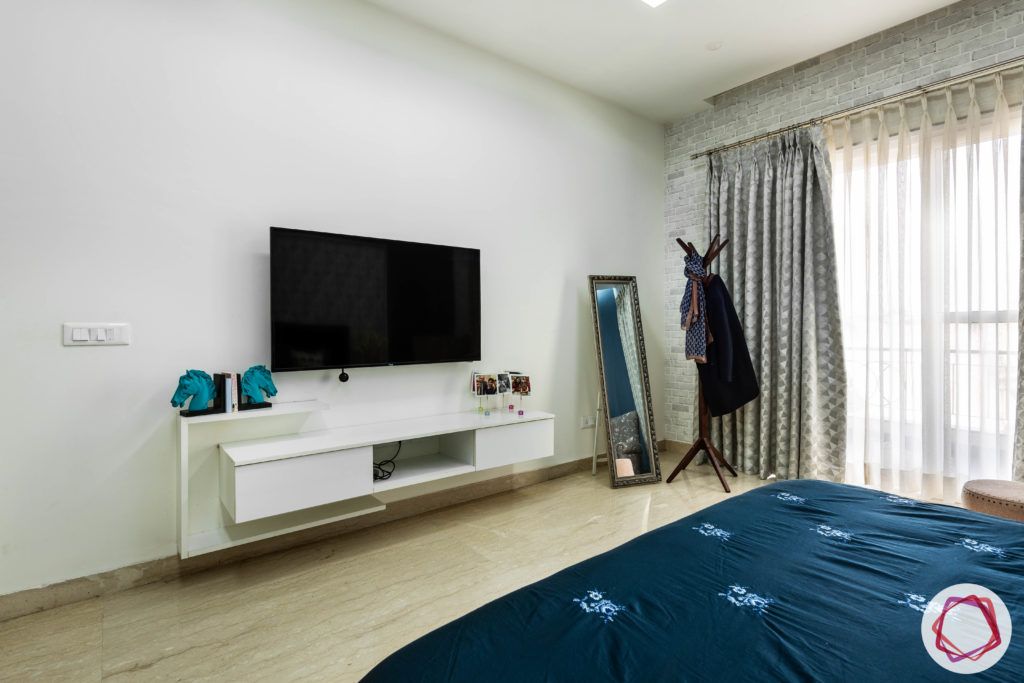 If you ask the couple their favourite designed part of the home, they would readily agree it's their bedroom. Because blue is their most preferred colour, Shruti doused the room in shades of blue. The focal point is the accent wall made up of two wallpapers. The outer being a royal blue colour and the inner in subtle patterns, solely divided by trims in silver PU finish. To complement this, Shruti put in a headboard crafted in a soothing Oxford blue fabric.
In addition, she put in wooden side tables on either side and a white distressed chest of drawers as well. Also, take a moment to notice the comfy nook beside the bed with a floral armchair and pink footstool. On the other side of the room, she added 3D brick tiles for the wall for dimension. Opposite this, stands a TV unit in white laminate.
"It was refreshing to work and design a home for a young couple. They were sure of what they wanted, so everything went smoothly."

Shruti Modi, Interior Designer, Livspace
Also, if you loved this DLF Garden Villas tour, take a look at 600 sq ft of Comfort on a Budget. You could also take a look at other Gurgaon homes we've designed.
Send in your comments and suggestions.