In the year that's gone by, we at Livspace have designed and delivered homes for people all across the country despite all the challenges set forth by the pandemic. The Livspace Magazine bears witness to all these dream homes crafted by our designers this year. No wonder choosing a few top homes is a herculean task for us! As a result, we handed over the baton to our readers and let them decide their favourite Livspace homes across cities. And here are the 9 best Livspace homes of 2020, one from every city we are located in: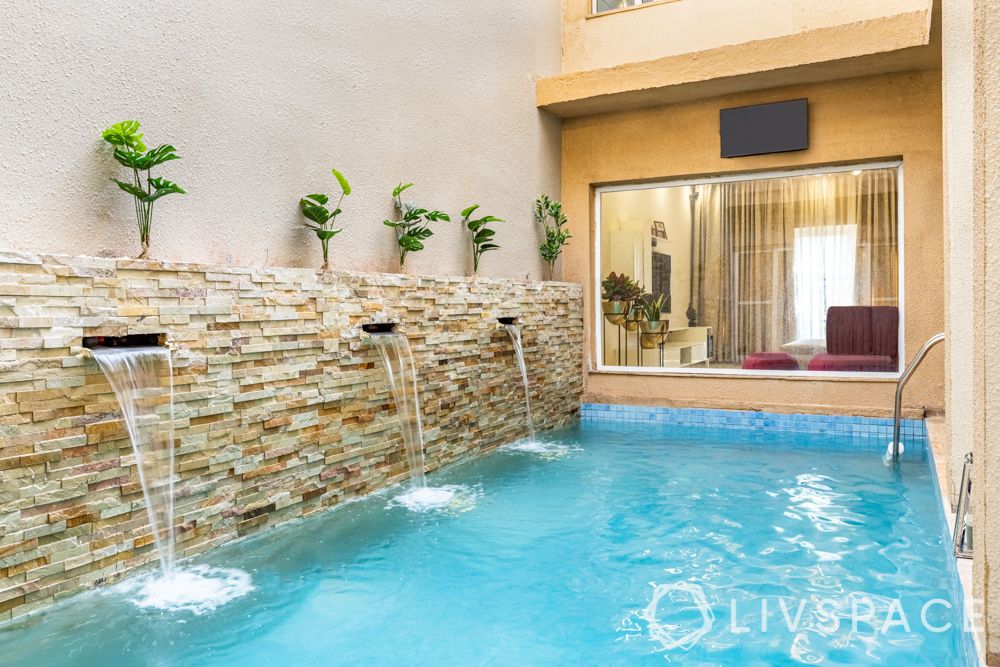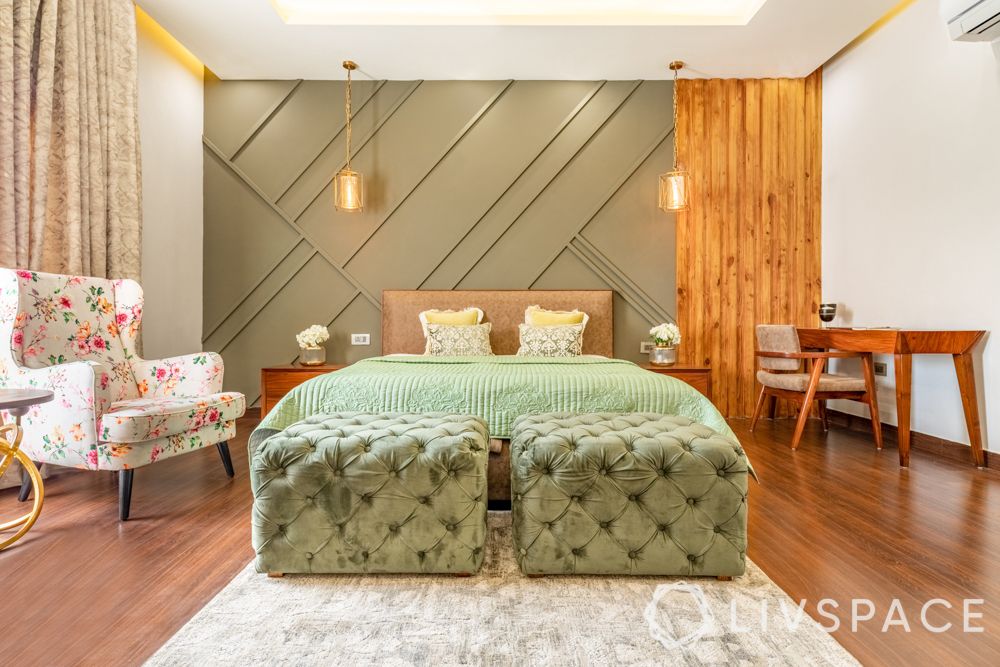 Location: Noida
Budget: ₹₹₹₹₹
A home that doubles as a luxury staycation destination – no wonder this home tops our list and is loved by Livspace Magazine readers! This 6BHK villa in Noida, home to Anand Shankar and his family, is one such project where our designer incorporated 'wow' elements to create an opulent look. From a private pool with stone cladding and fountains to spa-like bathrooms and a Corian stone bar, this home is nothing short of a luxury hotel! And the best part is that our designer used only very simple and understated design elements to create this aspirational home.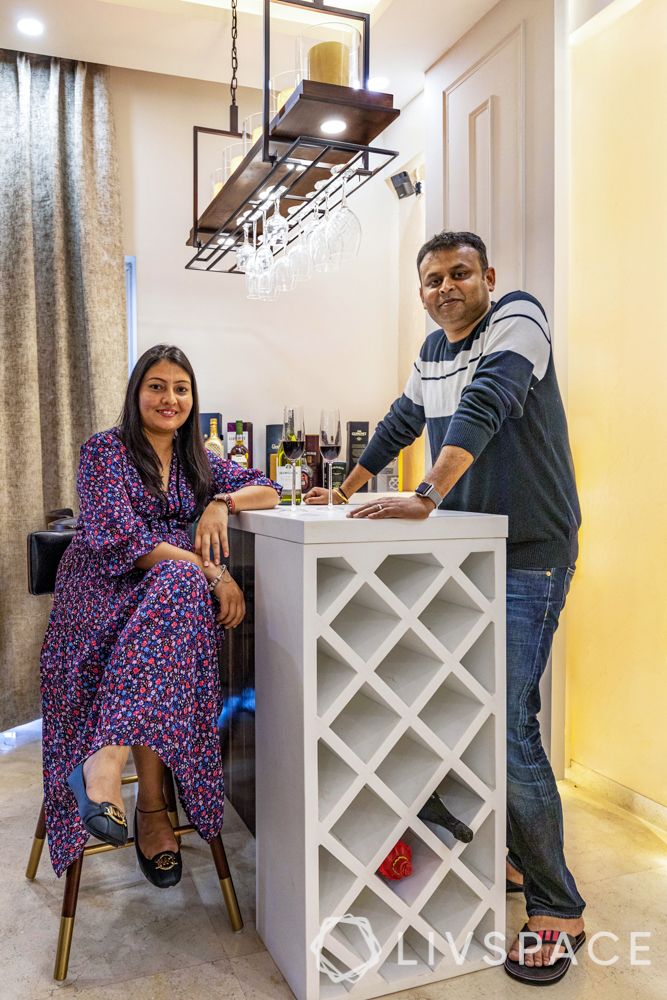 What we love: High quality finishes, custom-made designs and plush elements to create a luxurious, hotel-like look.
Check out how you can add these luxury elements to your home.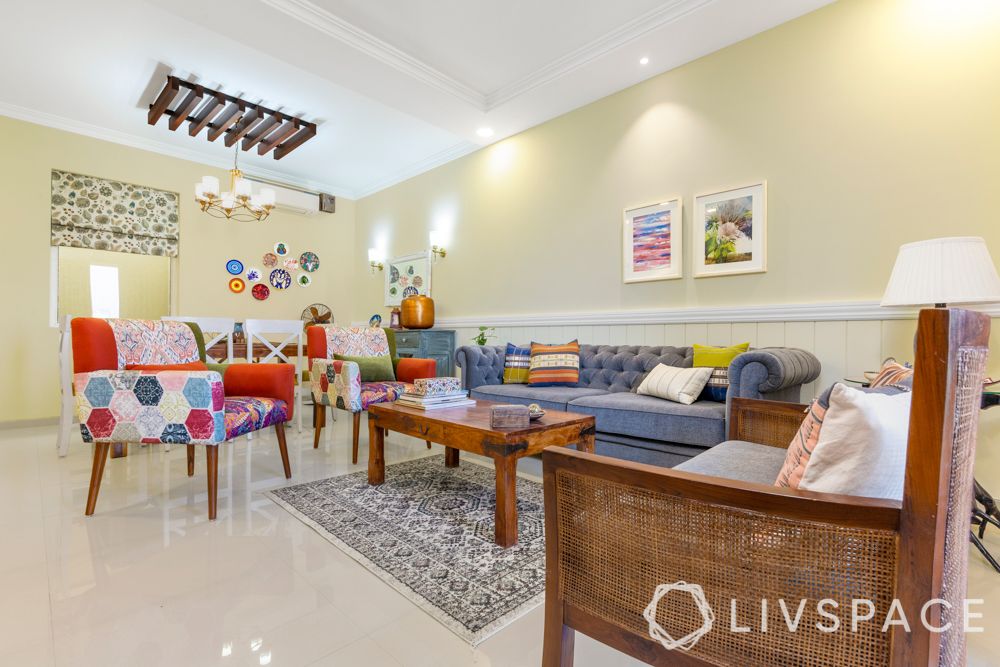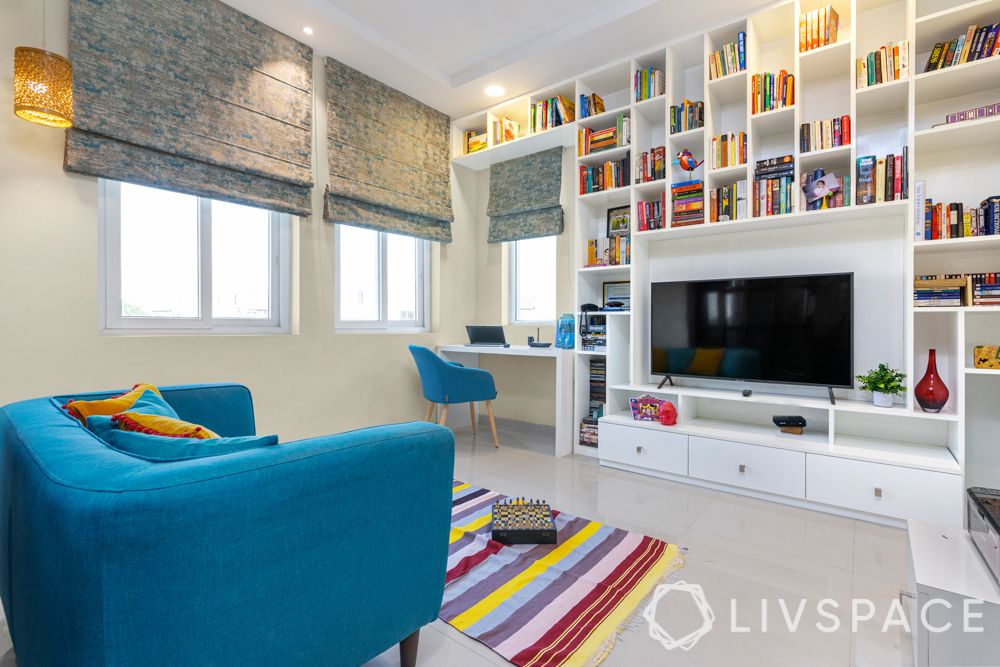 Location: Gurgaon
Budget: ₹₹₹₹₹ 
The first thought that comes to mind in the case of Gurgaon homes is 'glamorous and glitzy'. But that isn't the case for this homely and warm 3BHK in Gurgaon. Home to Poonam Choudhary, her husband Arnav and their adorable daughter Tia, this apartment is simple and clean, with pops of bright colours to brighten up each room. And the reason why we love this home so much is because it is first and foremost a warm home to a loving family. After all, where else will you find a home with such a lavish entertainment area where the entire family can sit back, relax and spend some quality time together?
What we love: This 3BHK stands out for its clean designs, eclectic decor items, storage areas and cosy nooks – creating the perfect family home.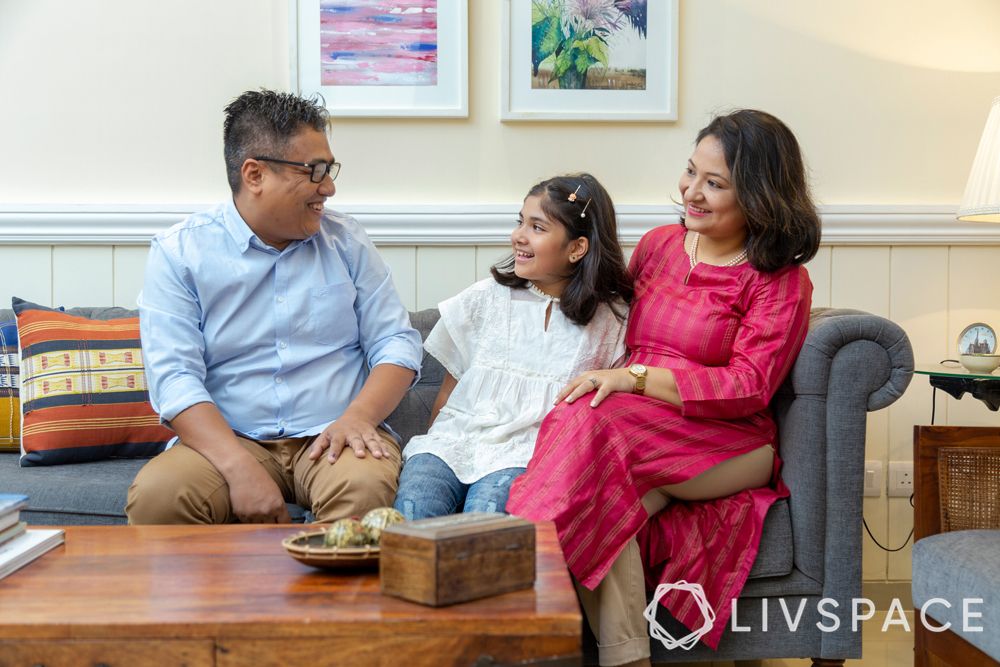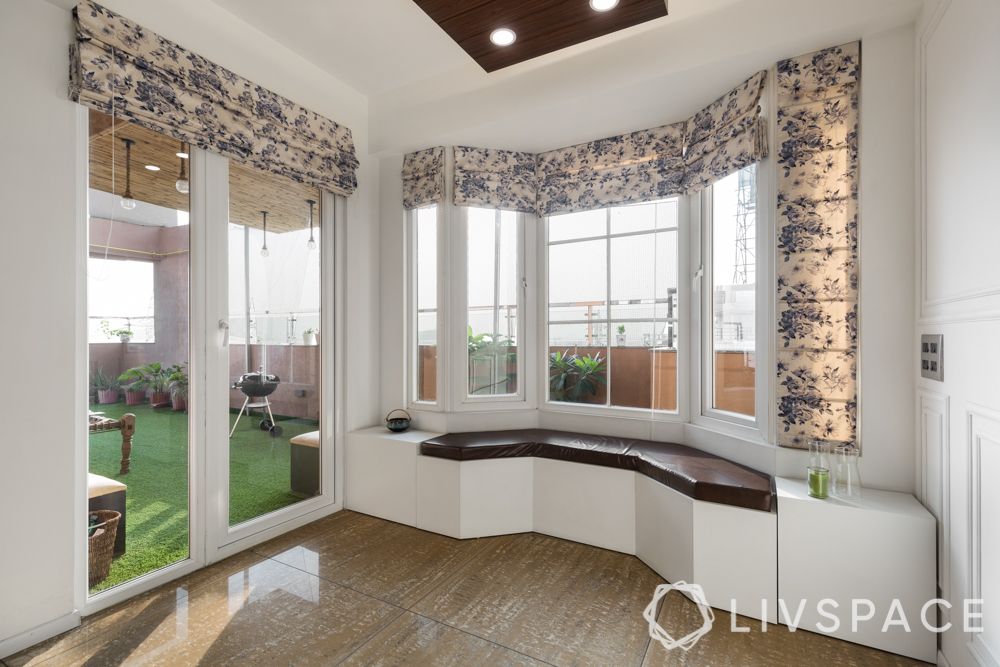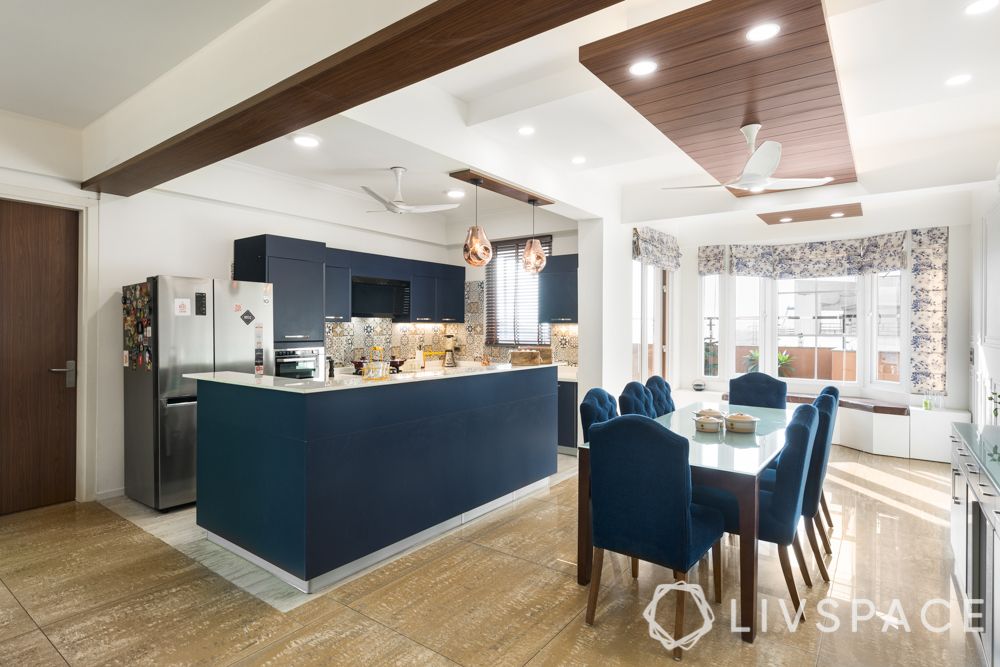 Location: Ghaziabad
Budget: ₹₹₹₹₹
A 4,500 sq. ft. condo – delivered in 11 weeks, after fulfilling all the specific requirements of the owners. Seems like an impossible task, doesn't it? But our design team was up for the task, creating a beautiful home that is a favourite amongst our Livspace Magazine readers! Kaushal and Mitali Goyal wanted a home that was clean, bright, elegant and pet-friendly. From matte finishes, a functional and open kitchen, spacious bay seating and clutter-free furniture, this Ghaziabad home has everything, all delivered at an unbelievable turnaround time!
Considering the time constraints that the Goyals had, we designed and delivered this massive 4,500 sq.ft. condo in just 11 weeks! Moreover, designer Himanshu Chowdhury managed to add customisations, making the home pet-friendly, within this short span of time.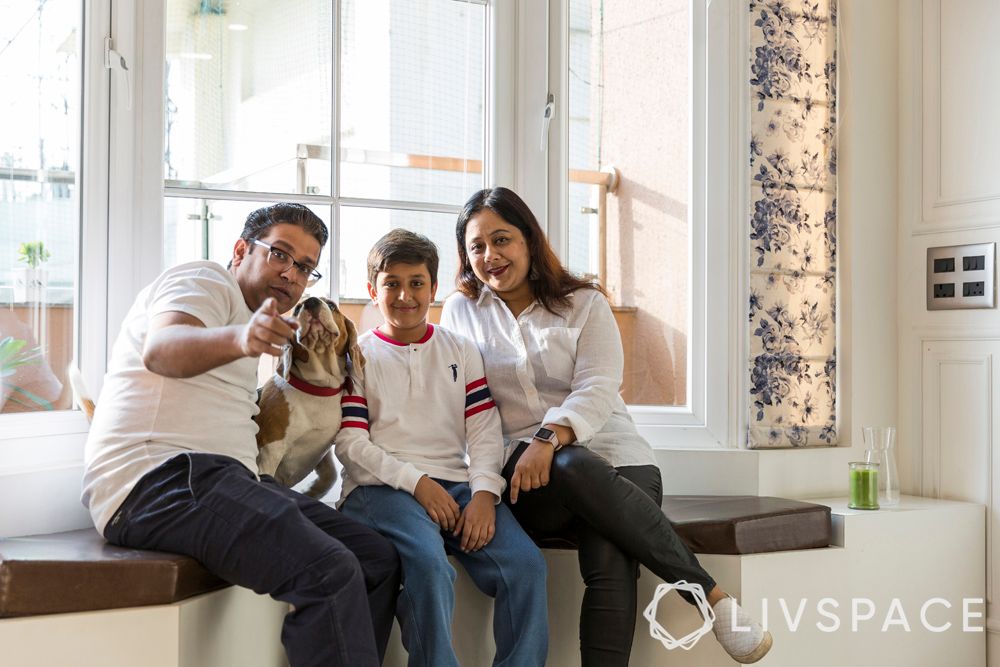 Not all homes are large and spacious. For people living in cities, we often have to make do with small homes and compact spaces. But a small space should not put a halt on your dream design! And this is exactly what Khushboo Sharma's compact home in Pune proves. A renovation project, the noteworthy thing about this home design was the multiple space-efficient design elements that our designer Shweta Bangde incorporated. The minimal partition in the living room, multi-purpose furniture and storage units – the end result was a cheery and smart home.
What we love: The use of multi-purpose and space-efficient furniture to make this compact home look spacious.
If you want to know how you can revamp your home, read on.

Location: Bengaluru
Budget: ₹₹₹₹₹
Rightly known as the smart city of India, Bengaluru is home to several professionals across industries. And therefore the homes here should also be in sync with the urban spirit of Bengaluru. Swati and Gaurav Gupta's 2BHK in SNN Raj Etternia is a contemporary wonder! Our designer Gautum Gupta used the perfect mix of plush elements and light-toned furniture to create a luxurious look. While the couple wanted a modern theme, they also wished for soft, pastel interiors. Gautum managed this by using pastel-themed furniture and wallpapers, and contemporary-style design elements like a 3-rope partition in the living room, a smart kitchen and functional storage units.
What we love: Gautum used toddler-friendly furniture like tufted sofas and storage units. While functionality is important at a home with a child, he also maintained aesthetics by opting for pastel tones.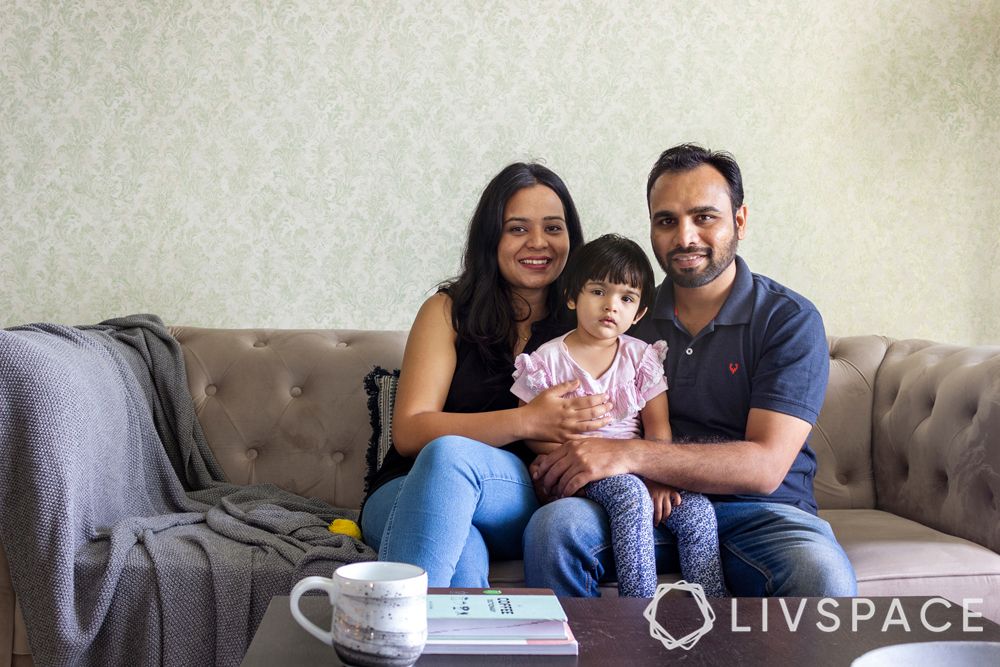 Location: Mumbai
Budget: ₹₹₹₹₹ 
Ever wondered what an artist's home would look like? So did we until we designed this urban chic Mumbai home belonging to Ashish and Shreya Joshi. The couple were very clear that they wanted a home design that was chic with artistic elements. Also, they wanted to stir clear from neutrals and whites. So, we went ahead and designed a home that is so pretty that you can't help but take a second look! With comfy seating options, a distressed jhoola, pops of turquoise and pastels and patterned floors, the Joshis' home is a favourite amongst our Livspace Magazine readers!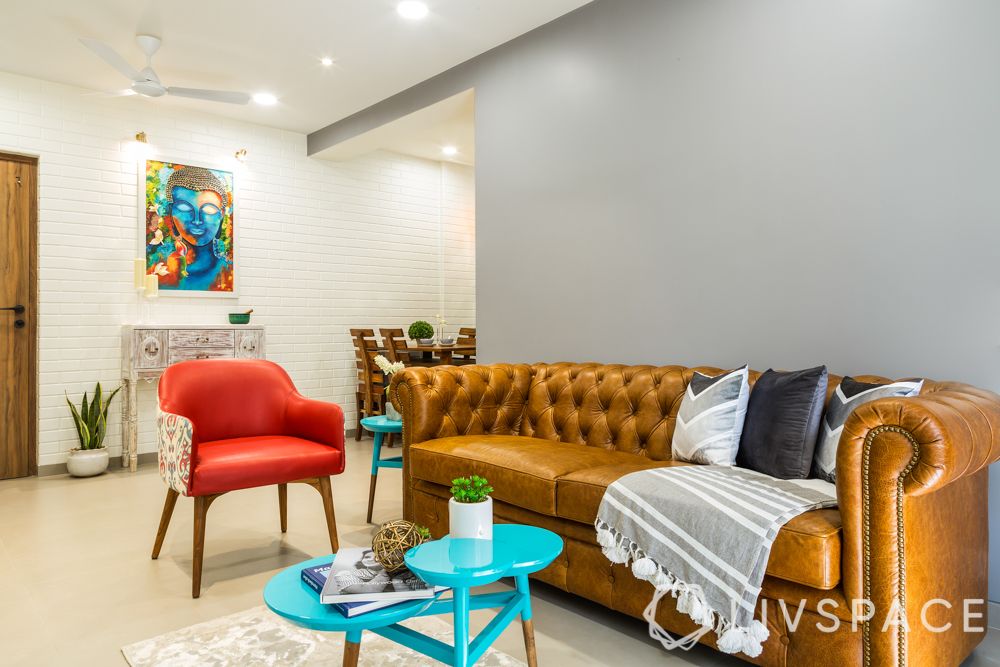 What we love: The use of bright colours and artsy designs to create an intriguing look, something that is a trend in Mumbai homes.
Location: Dwarka
Budget: ₹₹₹₹₹
When your family includes an elderly father and 3-year old twin children, stunning design takes a backseat. But Juhi and Ankit Girotra wanted a home that was luxurious, homely, bright while also being child and senior-friendly. While this might seem like a tall task, our designer Deepankshi Saharan got right down to business and created the Girotras' dream home. As a result of Deepankshi's expertise, this home has everything that you can think about! Refurbished furniture, separate dining areas for adults and children, oodles of storage and a custom travel-themed kids' room – this Dwarka home is a sight for sore eyes!
What we love: We customised every corner of this home to fit in 3-year old toddlers and a senior father. While the home is high on style, it is also smart and easy-to-maintain.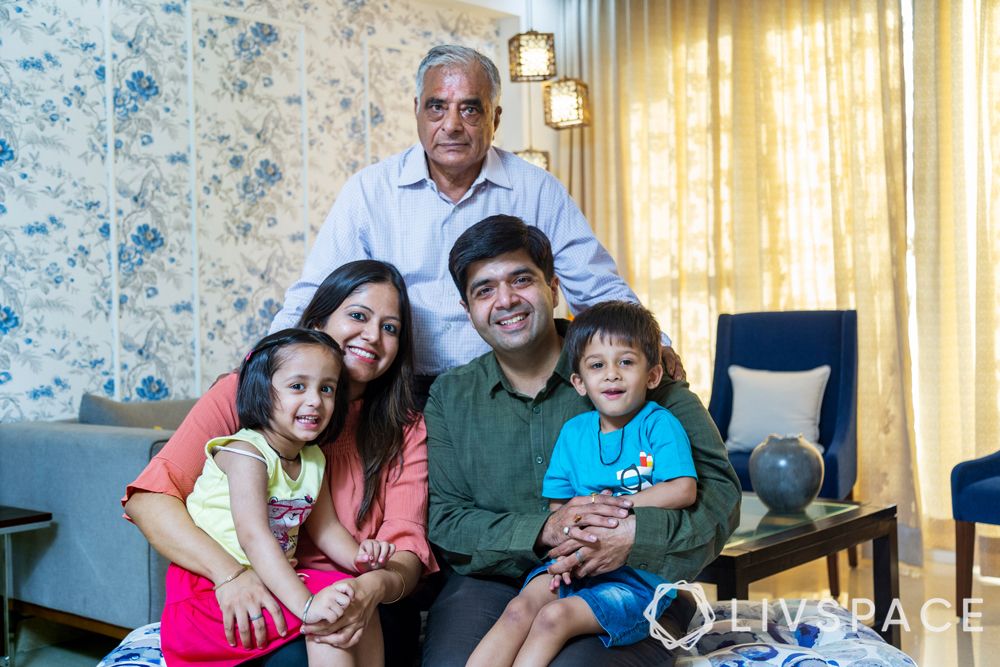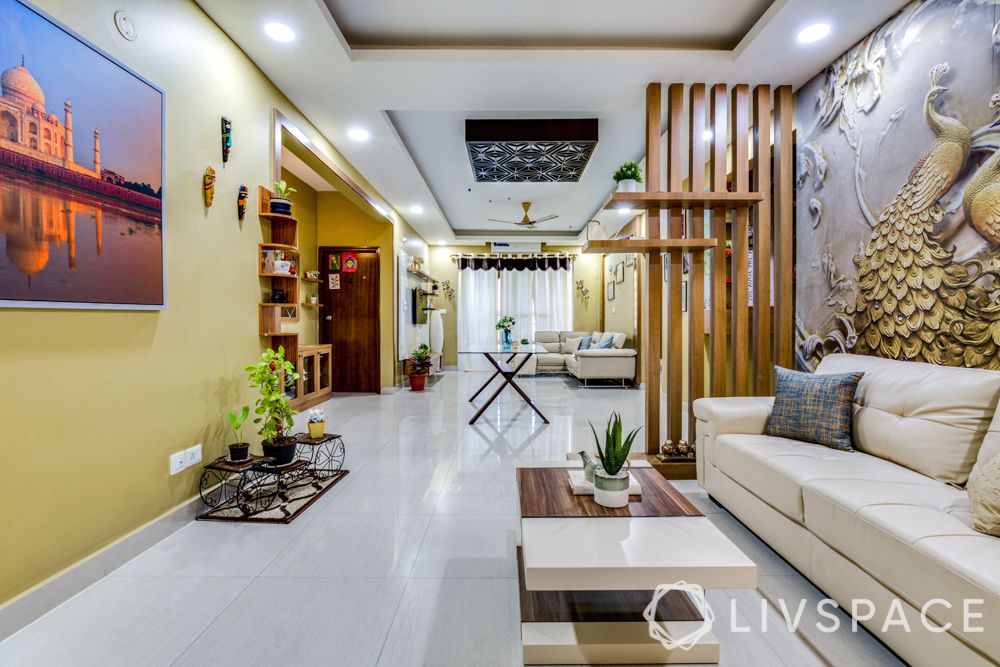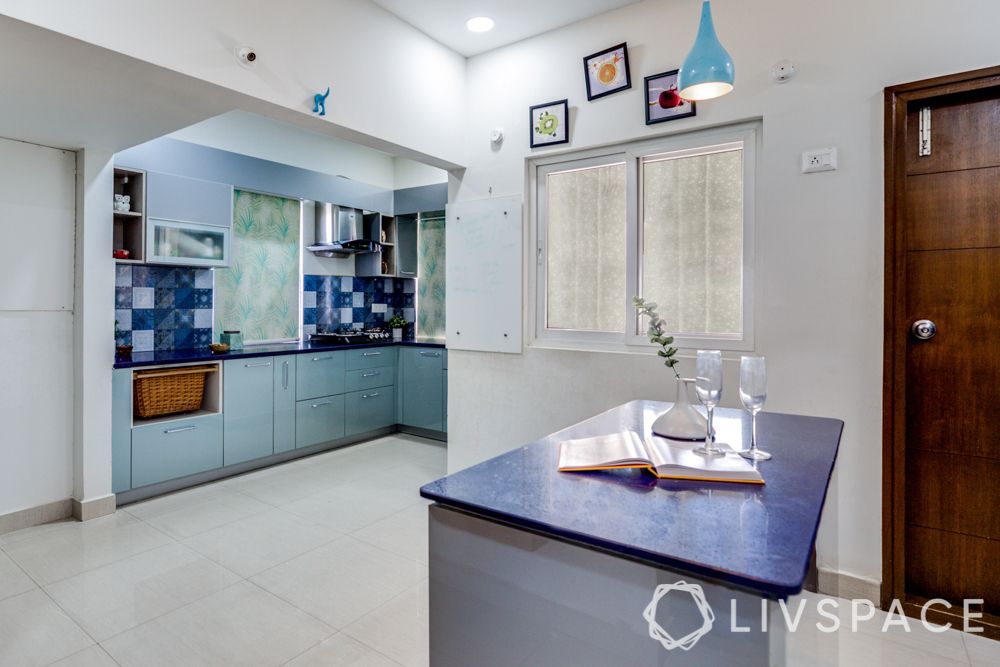 Location: Hyderabad
Budget: ₹₹₹₹₹
Who doesn't love a bright and colourful home, right? While beautiful interiors might not always go hand-in-hand with being child-friendly, our designer managed to accomplish this feat for Nilima Sharma. The highlight of this 3BHK is the way our designer used a different base colour for every room. Since Nilima wanted her home to be both stunning and functional, our designer deviced some new ideas. Like the use of a 3D peacock motif and jaali partition to add an ethnic touch to the home, while the blue granite kitchen and MDF storage units kept it child-friendly.
What we love: A large and spacious kitchen and a mix of affordable MDF storage units kept this home child-friendly.
Read more about this colourful Hyderabad home.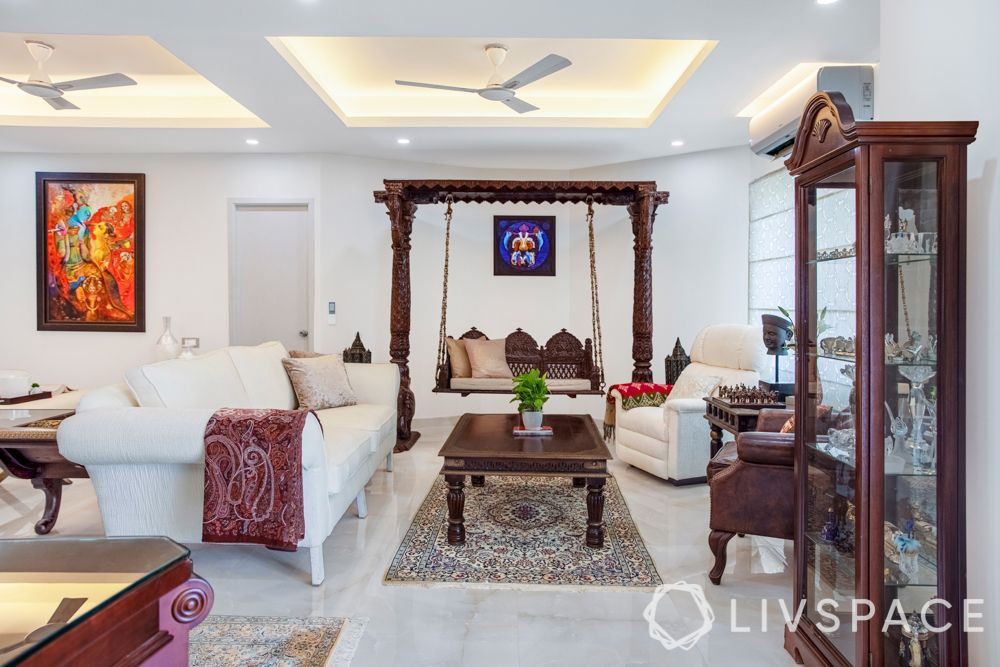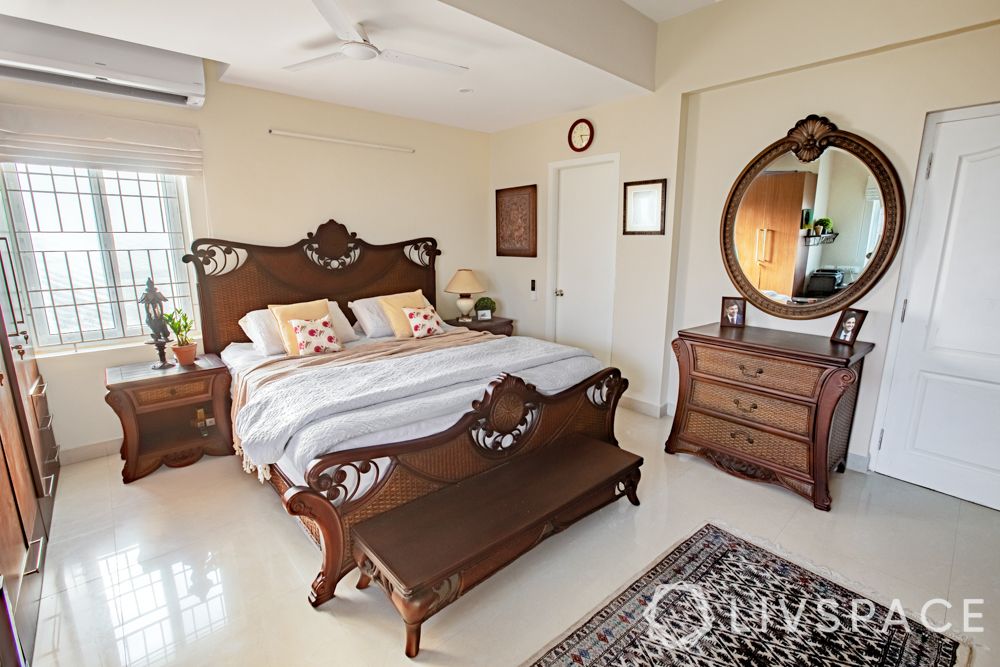 Location: Chennai
Budget: ₹₹₹₹₹ 
The highlight of our list is this 15-year old home in Chennai that we remodelled into a yesteryear charming abode. Home to Kamal Ram Mohan and his family, the aim was to create a modern home while retaining its vintage characteristics. As a result, our designer managed this by incorporating some distinctively Indian elements across the home. A traditional wooden swing in the living room, stunning Indian artefacts, a colonial dining set and a vintage wooden bed in the bedroom, this Chennai home is an ode to a timeless past.
What we love: The use of timeless vintage furniture and traditional artefacts to recapture the old-world charm of this 15-year old property.
If you loved the top #LivspaceHomes of 2020, check out the top 5 contemporary Livspace homes.
We love hearing from you! Send us your comments and suggestions at editor@livspace.com