This is one of the special 3BHK flats in Dwarka designed by Livspace.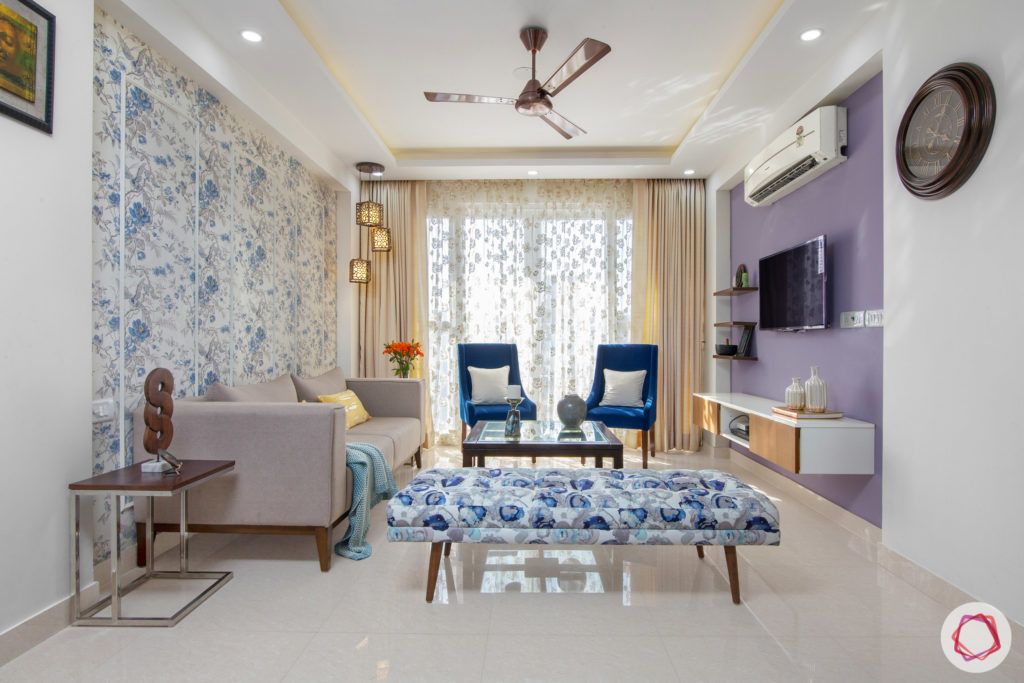 ---
Who livs here: Ankit & Juhi Girotra with their twins and his father
Location: Apoorva Apartments, Dwarka, Delhi
Size of home: 3BHK spanning 1,250 sq ft
Design team: Interior Designer Deepankshi Saharan & Design Manager Bhawna Kalra
Livspace service: Full home design
Budget: ₹₹₹₹₹
---
When Ankit and Juhi bought one of the many 3BHK flats in Dwarka, they couldn't wait to call it home. They aspired for a homely vibe in their apartment with subtle touches of luxury. They also wanted to retain some of their old furniture because of the memories attached to them. And that is where we come in! Our designer Deepankshi Saharan has designed the interiors of their Dwarka home keeping in mind the special needs of the couple's young twins and their elderly father. She has also refurbished some of their existing furniture to fit flawlessly into their new home.
Exploring this home is worth the while because there is a wow element waiting to surprise you in every corner!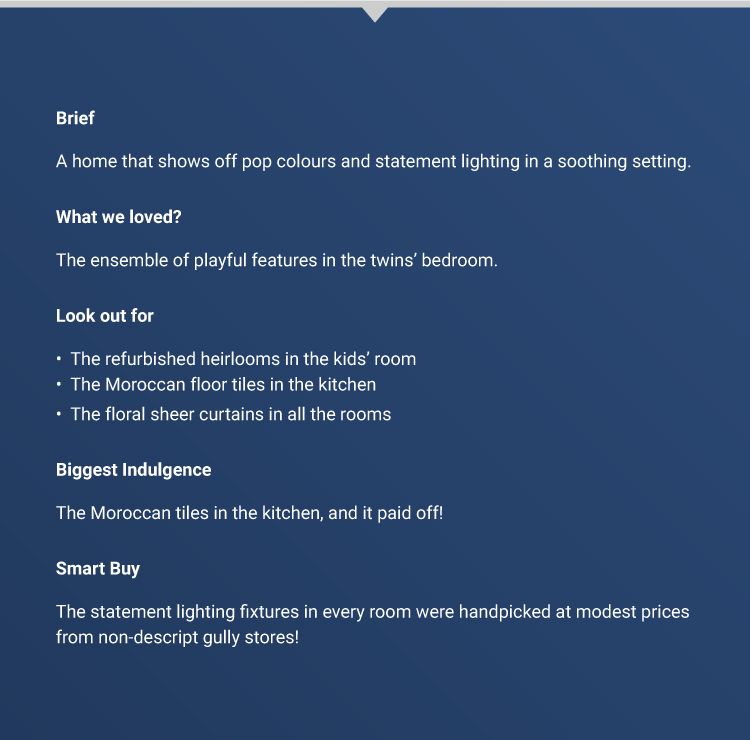 Design Ideas for 3BHK Flats in Dwarka: Fresh Florals
Juhi has a fetish for fresh floral patterns and Ankit wanted their home to have stunning lighting. Deepankshi gives us a glimpse of both starting from the foyer. The raw charm of the industrial chandelier in the entryway has our attention, as do the wall trims against the floral backdrop in the living area. All the living room furniture, barring the centre table, is from the Livspace catalogue. Further, the floating TV cabinet is a sleek and stylish addition to this setup.
A grand welcome

Soothing living room

Chic statement lights

Functional entertainment corner

Cosy seating options
Design Ideas for 3BHK Flats in Dwarka: Double Dining
Ankit and Juhi have 3-year old twins who need to be watched for the greater part of the day. Hence, Deepankshi made the smart choice to breakup the dining area into two parts. The family has a contemporary dining set that can seat four. But they also have an island breakfast counter; it is designed specially for the twins to have their meals! We love the country vibe coming from the pair of pendant lights over the island counter. We also love how the wall-to-wall window in the dining area lets in plenty of sunshine!
Graded granite counter

Graceful country lights

Airy dining space
Design Ideas for 3BHK Flats in Dwarka: Moroccan Magic in the Kitchen
What good is a home if it does not indulge your deepest desires? The Girotras wanted a plush kitchen so Deepankshi provided one. The kitchen cabinets are an elegant mix of white and slate grey laminate with a textured black granite countertop. They also have a tall cabinet for appliances. But the highlight of this kitchen is the Moroccan tile flooring in shades of indigo and yellow. Its rustic beauty more than makes up for its cost!
Moroccan marvel

Moods of monochrome

Two-toned tavern

"We are very happy with the way our designer Deepanshi refurbished some of our old furniture to fit into our new home seamlessly. Our twins love their room and we love how the Moroccan tile flooring looks in the kitchen. Functionally, our wardrobes provide ample storage for the family. So here is a big shout to the design team for helping us move into our dream home!
– Ankit & Juhi Girotra, Livspace Homeowners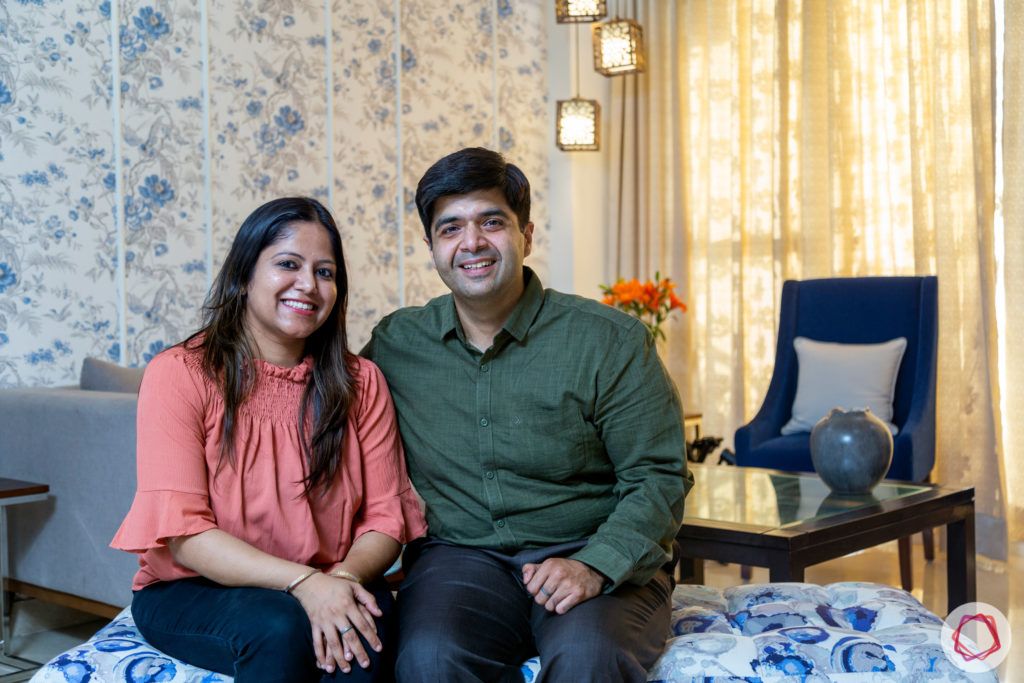 Design Ideas for 3BHK Flats in Dwarka: Pretty Pinks for the Master Bedroom
The family decided to hold on to some of their old furniture and Deepankshi gave these pieces a fresh twist with her ingenious refurbishing ideas. In the master bedroom, a bright pink headboard with horizontal lines was added to an existing bed. The wall trims and floral wallpaper behind the headboard make a pretty picture together. Don't miss the cluster of hanging lights in the corner. Looks posh, doesn't it? But this luminous piece, along with the other dazzling lights in this home, is a total steal!
Pleasing in pink

Minimal TV unit

Heady headboard
Design Ideas for 3BHK Flats in Dwarka: Tales of Travel for Twins
Seems like the Girotra twins are a pair of avid travellers in the making. The blue wallpaper in their room with images of hot air balloons and propeller planes definitely suggest so. Their room has a special place in Ankit and Juhi's hearts and they have spared no cost for it. All the furniture in this room, including the two single beds and the study unit in white laminate, is brand new.
The kids also have a wardrobe with a white laminate finish all to themselves. However, our favourite element in this room is the trunk in between the beds, which is a family heirloom. Deepankshi painted it white and installed it as a bedside table for the children!
Travel-themed wallpaper

Bubbly blues

Twin study corner

Window seating

Refurbished heirlooms
Design Ideas for 3BHK Flats in Dwarka: Course in Contrasts for the Guest Room
The eldest member of this family has a comfortable room for himself and we love the delicate shades of blue in it. The wall trims using floral wallpaper bring in an element of continuity in design. The grey panelled headboard sits atop an existing bed while the wardrobe in white laminate matches the rest. But the star of the show is the cluster of corner lights that casts a soft glow over this room.
Fiery orange frills

Fancy floral details

Gracious grey headboard
"Ankit and Juhi are priceless as clients. They were friendly and excited about decorating their new home. Their enthusiasm rubbed off on us, and the design team ensured that this lovely family got the home they deserve!"
– Deepankshi Saharan, Interior Designer, Livspace
Related Read: Neat, Clutter-free & Functional Kitchen Design in Dwarka
Send in your comments and suggestions!