This interior 3BHK for flat in Dwarka has all things beautiful.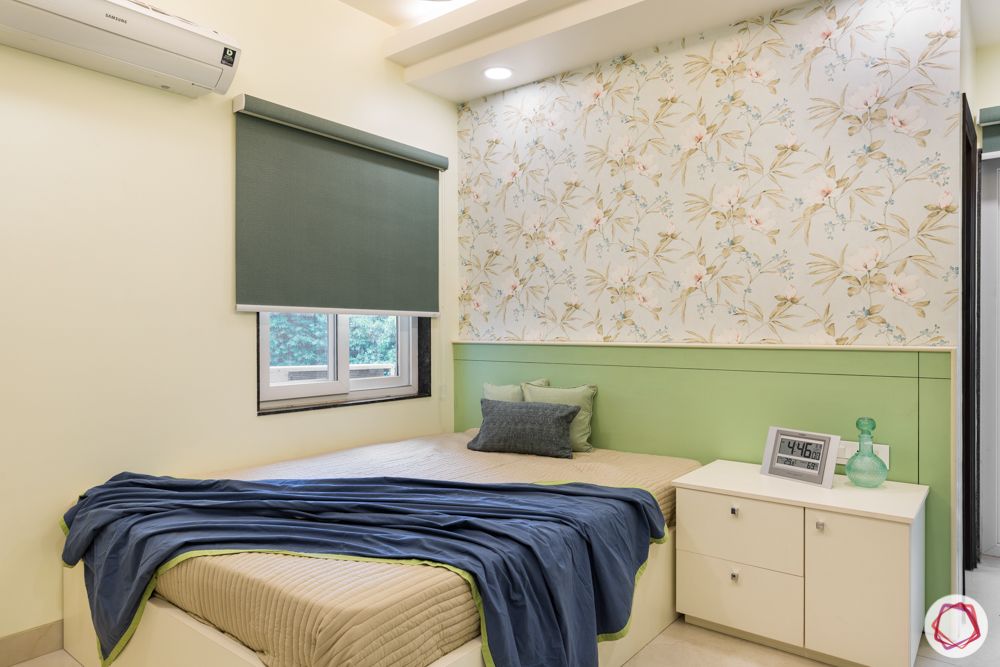 ---
Who livs here: Sachin Goyal with his wife and two children
Location: Beverly Park Apartments, Dwarka, New Delhi
Size of home: 3BHK spanning 1640 sq ft approx.
Design team: Interior designer Parul & Project manager Gaurav Mahajan
Livspace service: Full Home Design
Budget: ₹₹₹₹₹
---
Located in one of the most sought-after residential areas of Delhi, is a 15 year old house that was in need of a Livspace makeover. Residing in this quaint home is Sachin Goyal and his family. The family wanted a home that would suit their personal and professional needs while keeping true to their personality. Livspace designer, Parul Battu took up the task of accommodating all their requirements. Consequently, these changes required major civil changes in every room. Read on to find out how this family got their dream home.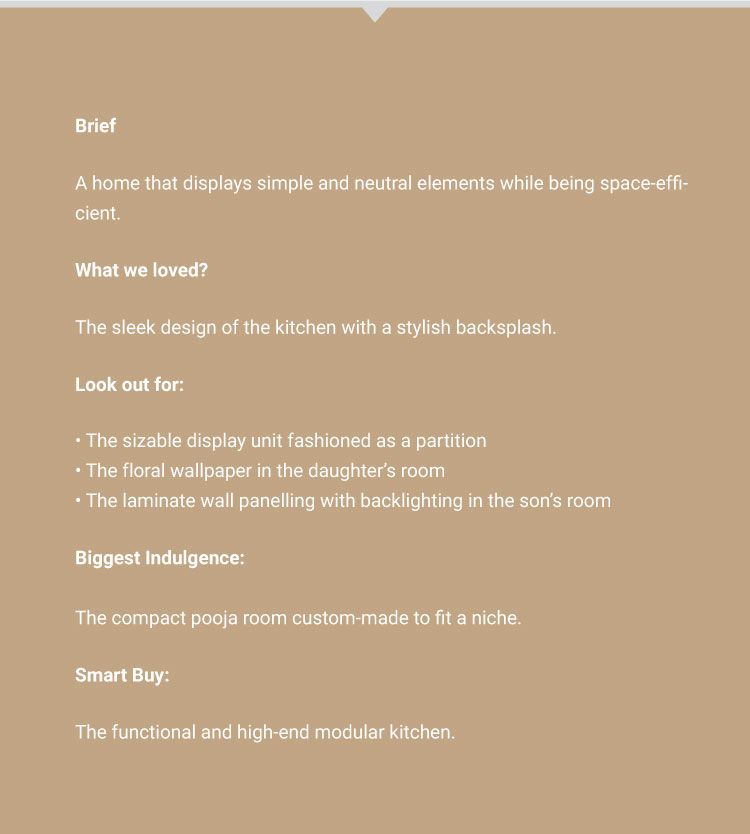 Interior 3BHK for Flat in Dwarka: Living Room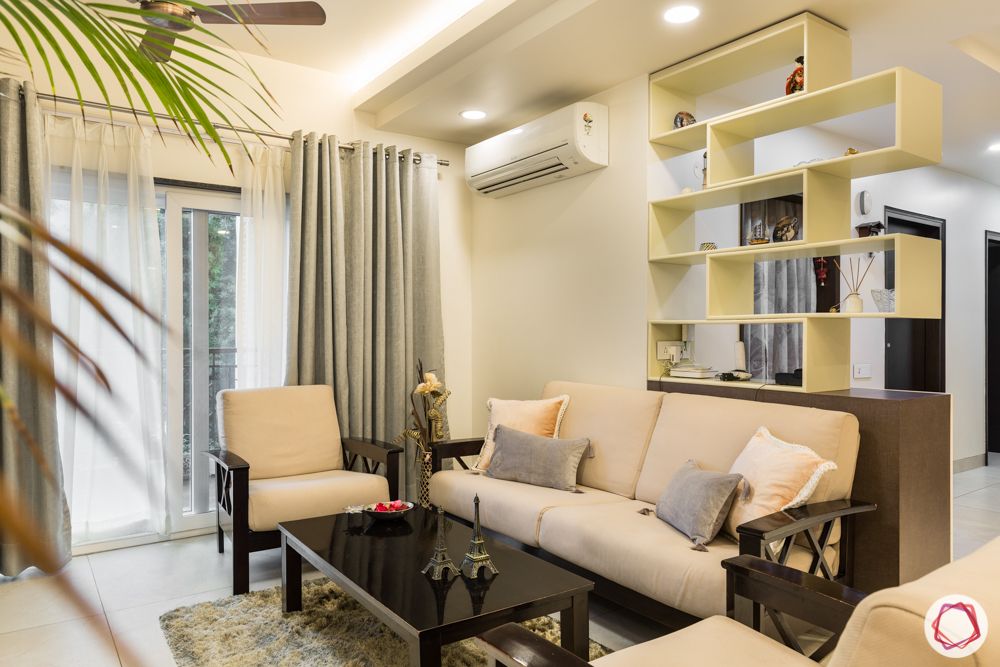 Entering the home, you are welcomed by a plush mirror panelling that reflects the brightness of the foyer's floor and ceiling. Further on, the living room is dressed in neutral elements and dark wood furniture. Parul has used light tones colours to open up the space while giving it a classy feel. Moreover, the TV unit is in laminate finish and has minimal shelves so as to keep the design minimal. However, the patterned wallpaper adds a dash of character to this simple unit.
A noteworthy element in the interior 3bhk for flat is the sizable display unit that doubles up as a partition, as it doesn't close off the living room from the rest of the house. Therefore, Parul came up with an innovative idea of transforming a compact niche into a pooja unit to make use of an empty space.
Interior 3BHK for Flat in Dwarka: Dining Room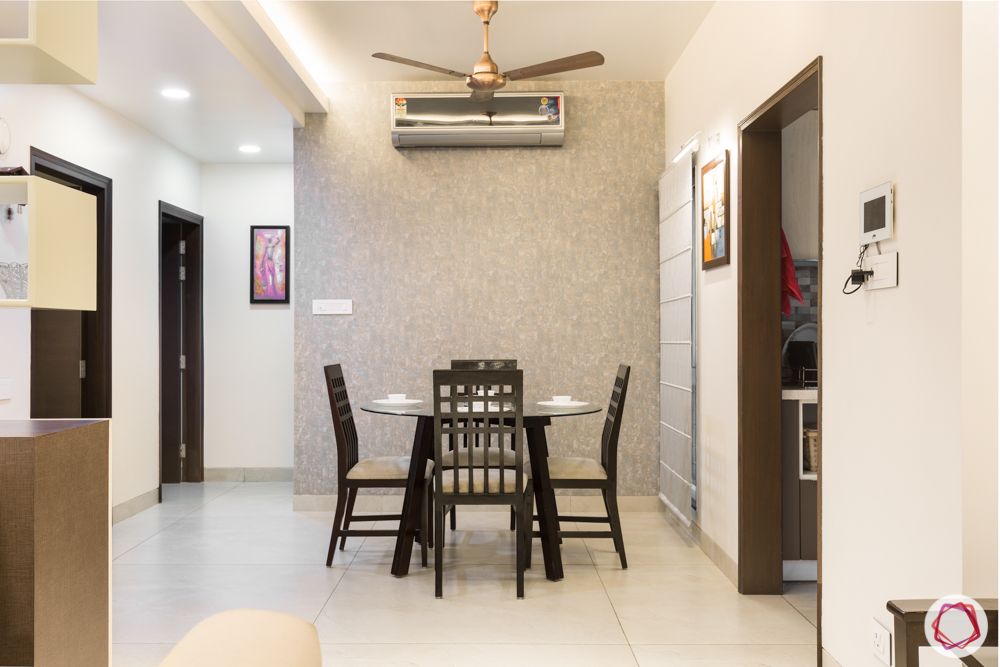 The dining room propped up in a cosy nook of the home. Core of all family interactions, the dining table is positioned in the centre of the home. Sachin believes, simplicity is an emotion. Therefore, they used their existing dining table to go with the neutral theme of the home which is set on a background of an accent wall with a pastel wallpaper.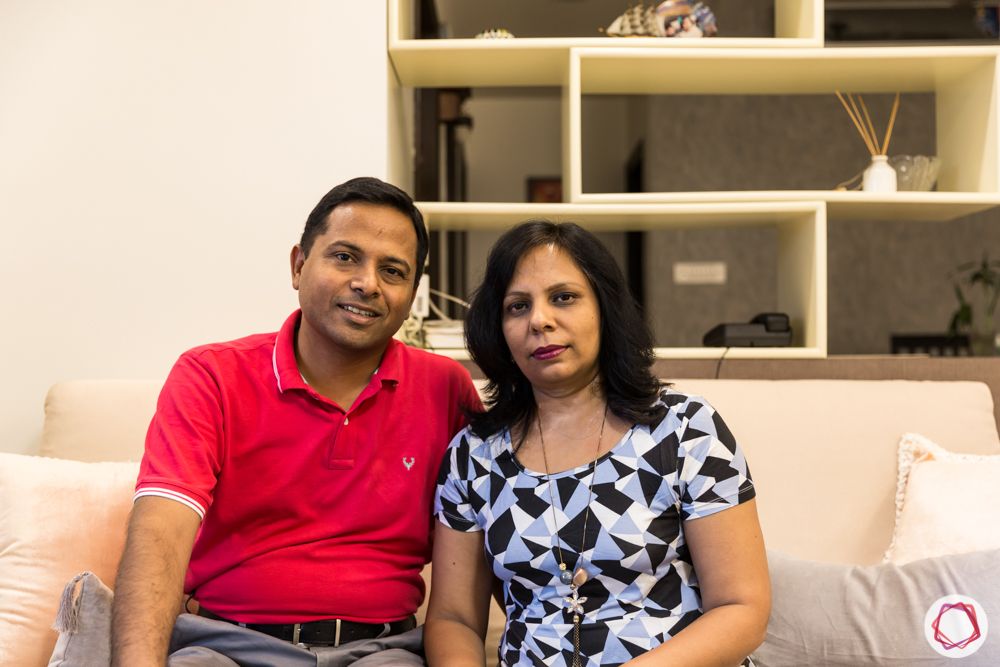 "From the very beginning, Praul proposed a design that was packed with ventilation, brightness and positive energy. Moreover, she had a detailed blueprint of the entire design and mapped out an end to end plan for all the civil construction, giving us a clear idea of the renovation process. We are thankful to Parul and the Livspace team for all their hardwork."
– Sachin Goyal & Meenakshi, Livspace Homeowners
Interior 3BHK for Flat in Dwarka: Kitchen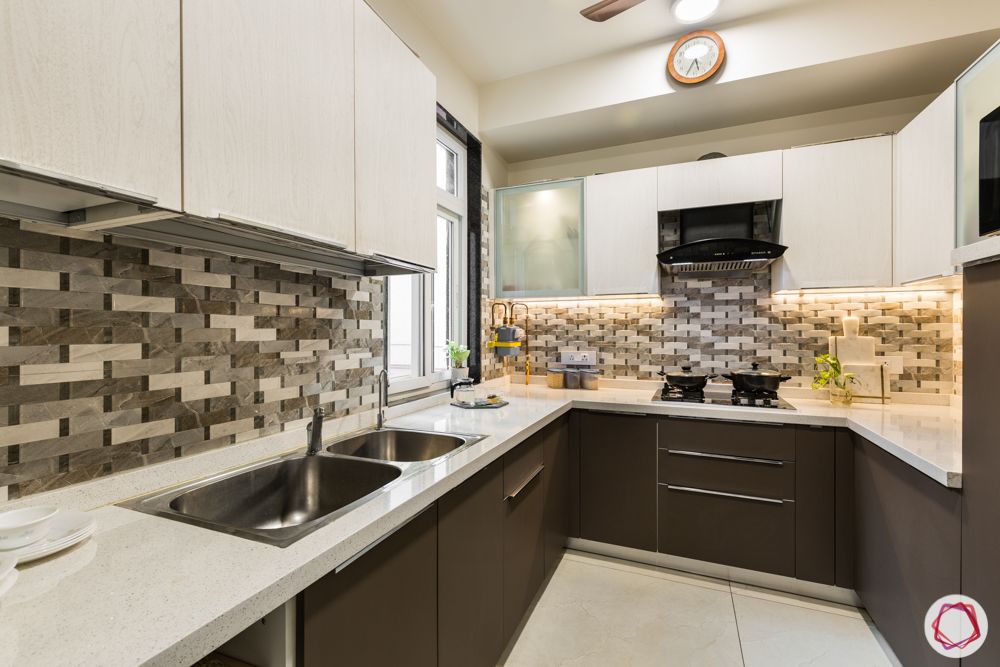 The highlight of the interior 3bhk for flat is the kitchen. With a parallel layout and high end elements, this kitchen is space efficient and convenient to use. Furthermore, it has been redone with brown and white cabinets and a matching tiled backsplash for the ultimate aesthetic look.
Interior 3BHK for Flat in Dwarka: Master Bedroom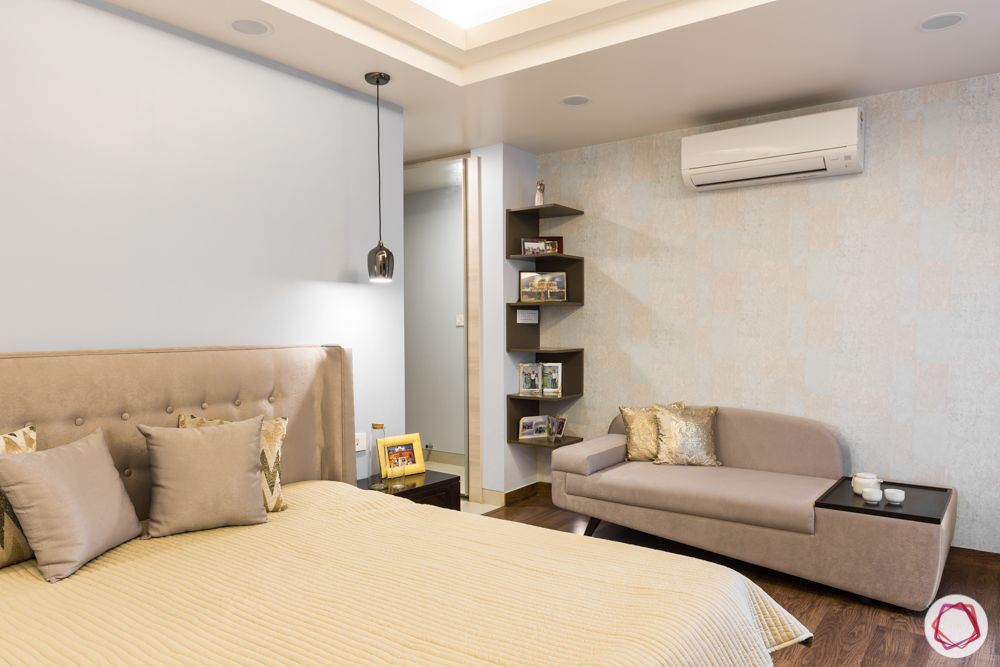 The master bedroom is dreamy and dainty. Subsequently, Sachin and his wife wanted a sky blue theme with beige toned furniture so, Parul, has combined these two elements and created the perfect bedroom design. Subsequently, light wooden laminate is used on the wardrobes and TV unit to create a seamless look. Furthermore, the bathroom, is compact with backlit mirrors and patterned tiles in cream and white.
Interior 3BHK for Flat in Dwarka: Son's Bedroom
Designed to accommodate plenty of storage as well as a study unit and TV unit, the son's bedroom has everything. Besides, Parul has innovatively positioned these essential units on one side without giving it a cluttered look. Subsequently, the room is illuminated by false ceiling lighting as well as the backlighting installed in the laminate panel. Moreover, the bathroom has one of a kind tiles that looks like wooden panelling.
Interior 3BHK for Flat in Dwarka: Daughter's Bedroom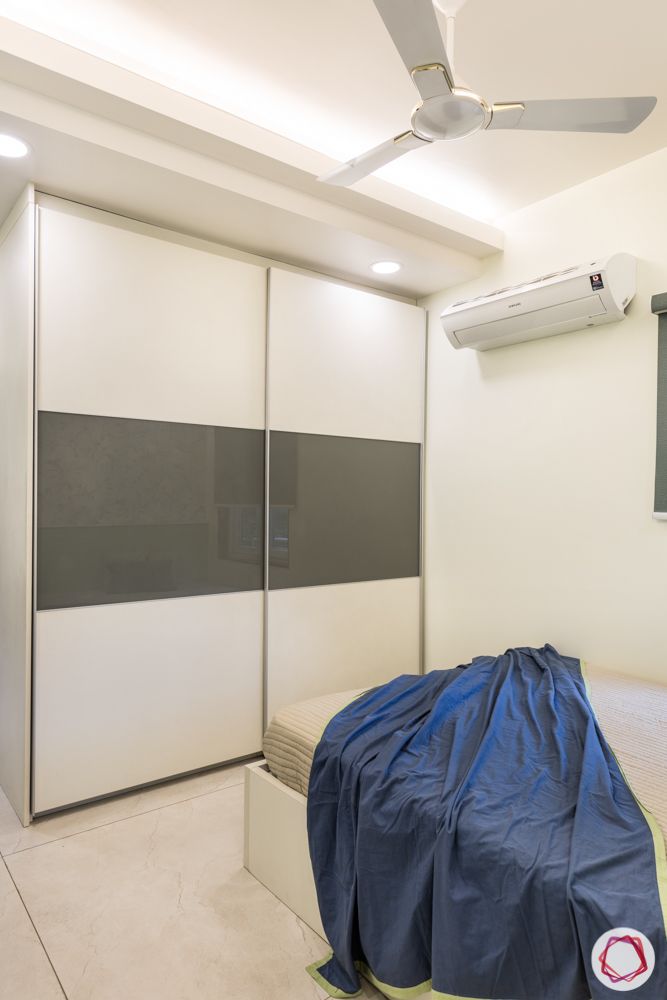 This room is every girl's dream bedroom. "Pastel green furniture and floral wallpaper turned out to be a unique and beautiful combination for the daughter's bedroom," Parul says. With minimum room for a study unit, Parul has placed the bed in the corner to make more space. Furthermore, a mirror and space saving vanity unit is installed that is an essential in every girl's room.
Interior 3BHK for Flat in Dwarka: Home Office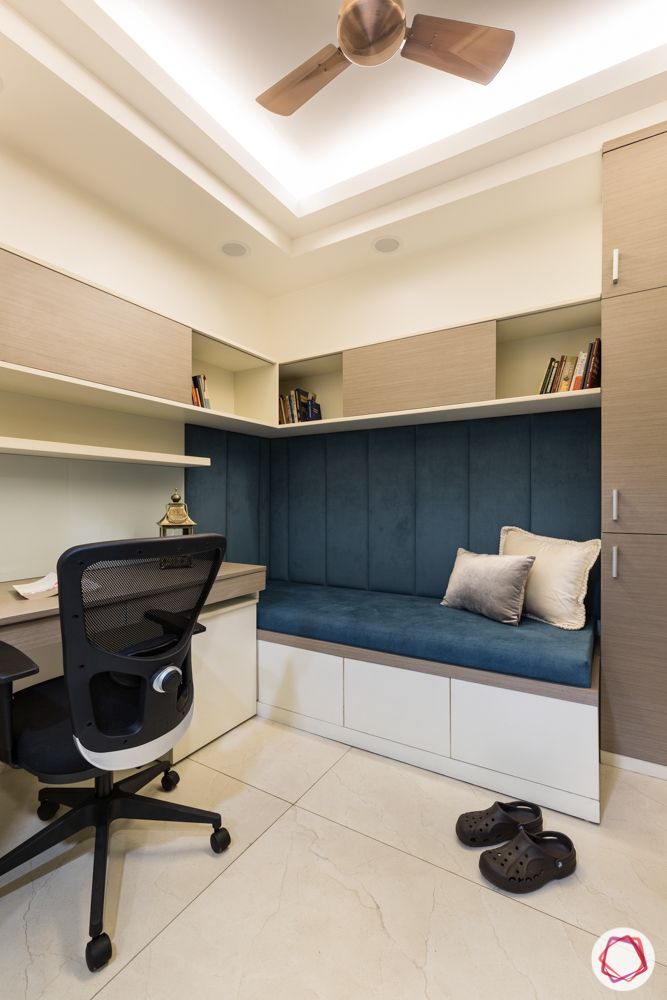 Sachin wanted a quiet space where he could work. Therefore, Parul has transformed a compact room into a home office by installing a sizable study and creating a seating area cushioned with suede.
---
"Designing a home for Sachin and his family was a fuss-free process as they liked all my ideas. Without a specific theme in mind, they gave me all the freedom and creative space to upgrade it into a new and space efficient home."
– Parul Battu, Interior Designer, Livspace
---
Want to look at another interesting design in Delhi by Parul Battu? Check this out: New Clutter-free Design for an Old Home.
Send in your comments and suggestions.