For those who particularly can't get enough of vintage interior design, this Bengaluru home is a visual treat. From custom furniture in wood to dainty wall treatments, here's a peek into a creative family's dream home.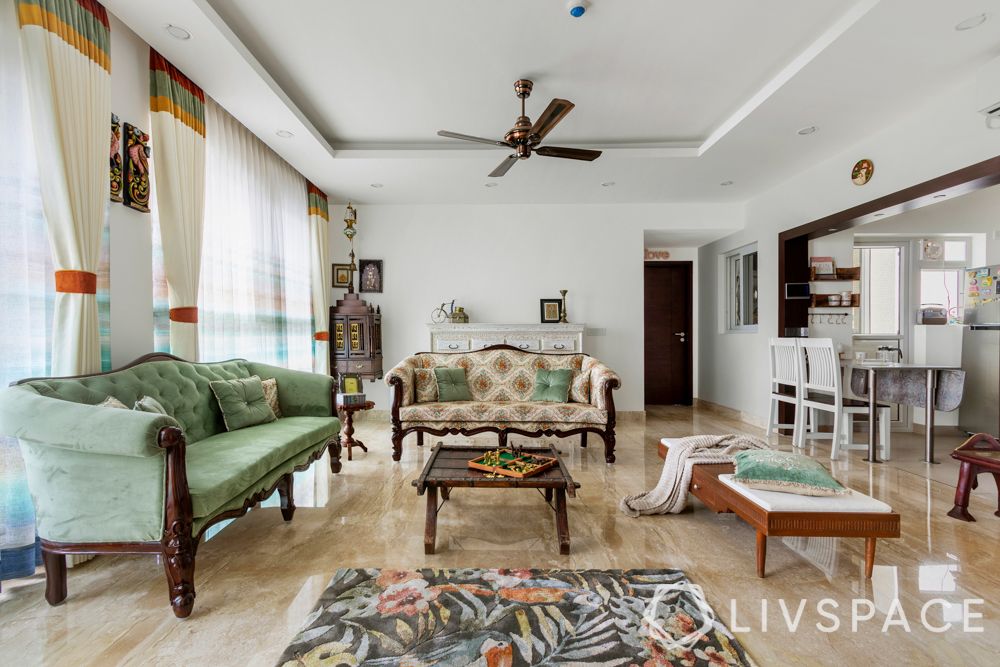 ---
Who livs here: Vidya, her husband Amit, their son and his grandfather
Location: Mahindra Windchimes, Bengaluru
Size of home: 3BHK spanning 1,800 sq ft
Design team: Interior designer Mona NV
Livspace service: Full home design
Budget: ₹₹₹₹₹

---
You can tell a lot about someone just by looking through their home. Their choice of colours, patterns and furniture are dead giveaways of their personalities. And this particular flat in Mahindra Windchimes can tell you a lot about its homeowners – Amit and Vidya. While Amit is an entrepreneur with his own recruitment company, Vidya is a makeup artist. Their creative outlooks on life rein throughout the home as well. Vidya is an ardent enthusiast of all things vintage, and so she knew how she wanted her interiors to look like.
They came to us with images of what they saved throughout the years and a meeting with our designer Mona NV soon sealed the deal. Now let's get right into the deets!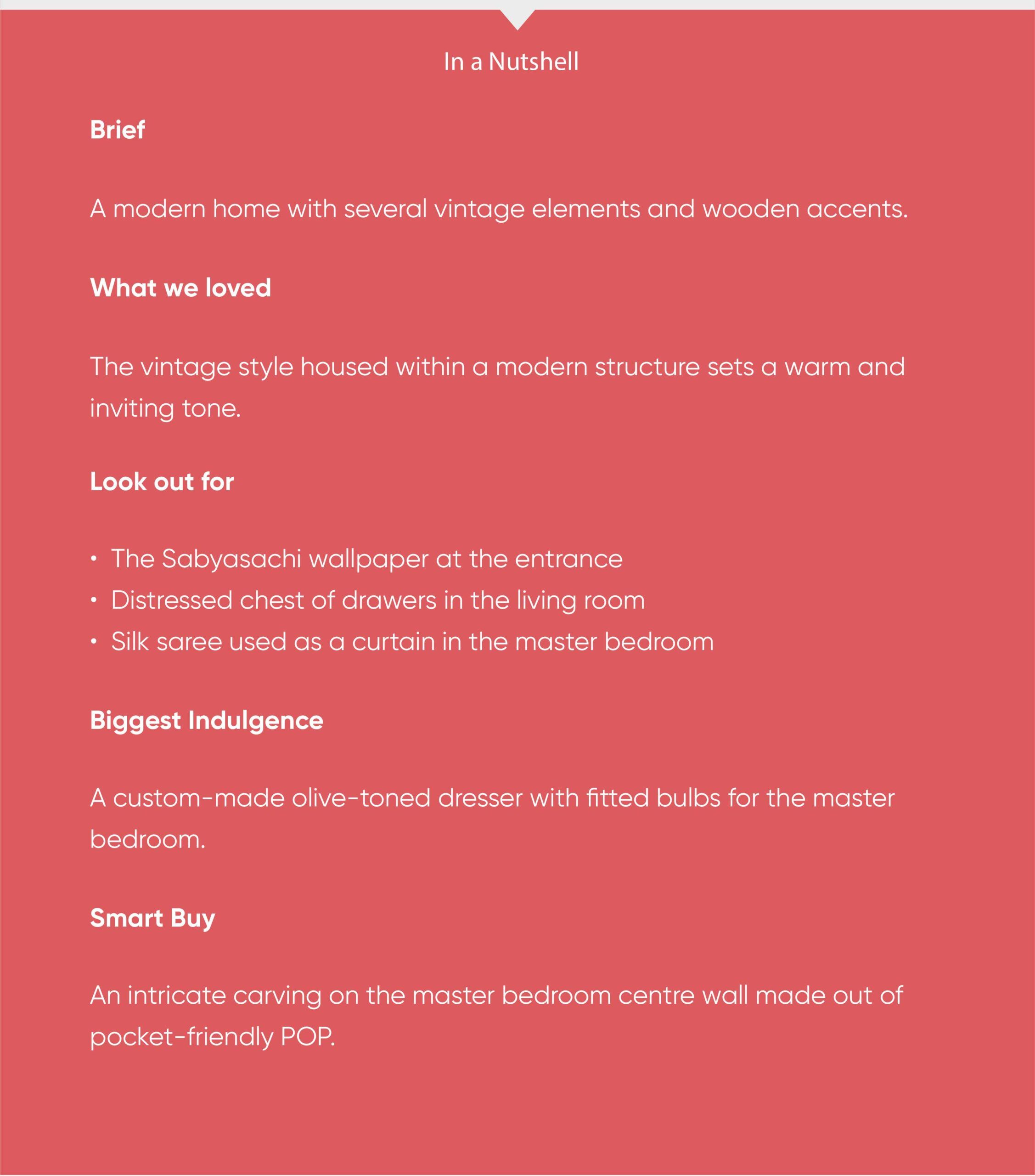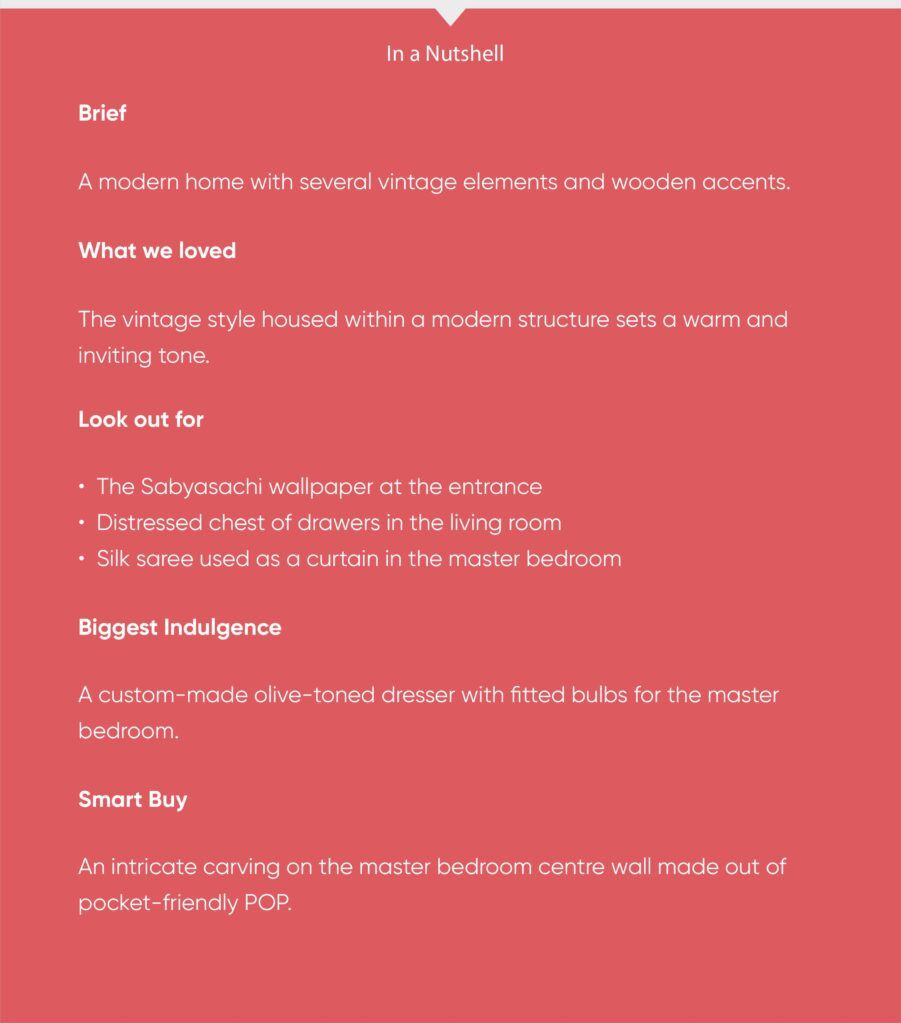 A Sabyasachi hello starts this vintage interior design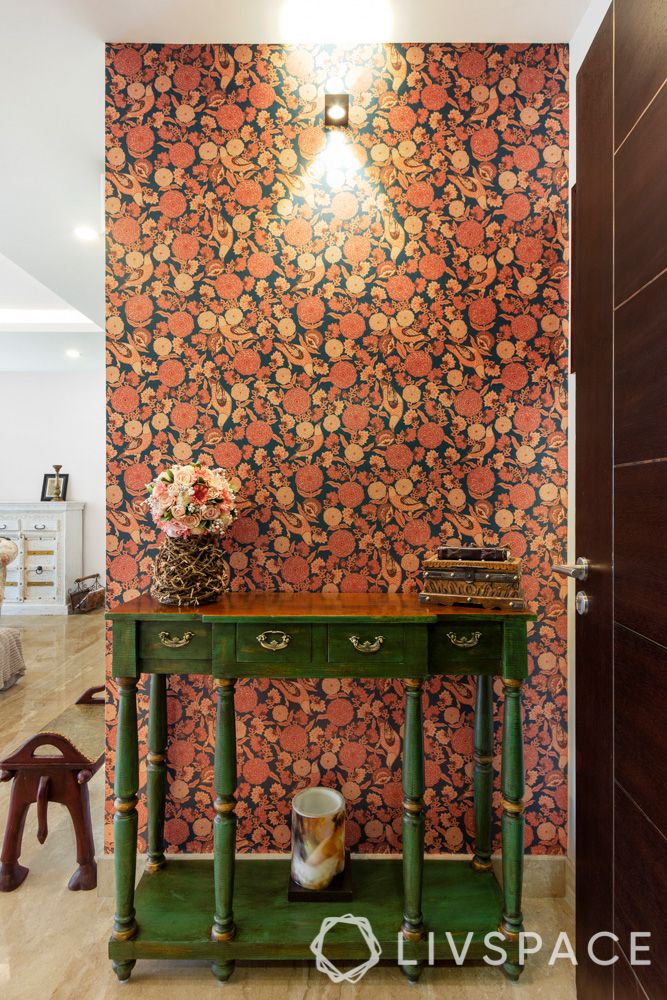 They say first impressions are everything. So Mona ensured this home's entrance knocked it out of the park. She added a Sabyasachi wallpaper to stir a bit of decor drama and propped a green console table with long legs against it. Notice how the drawers have been fitted with traditional brass handles too.
Look at the living room in all of its traditional glory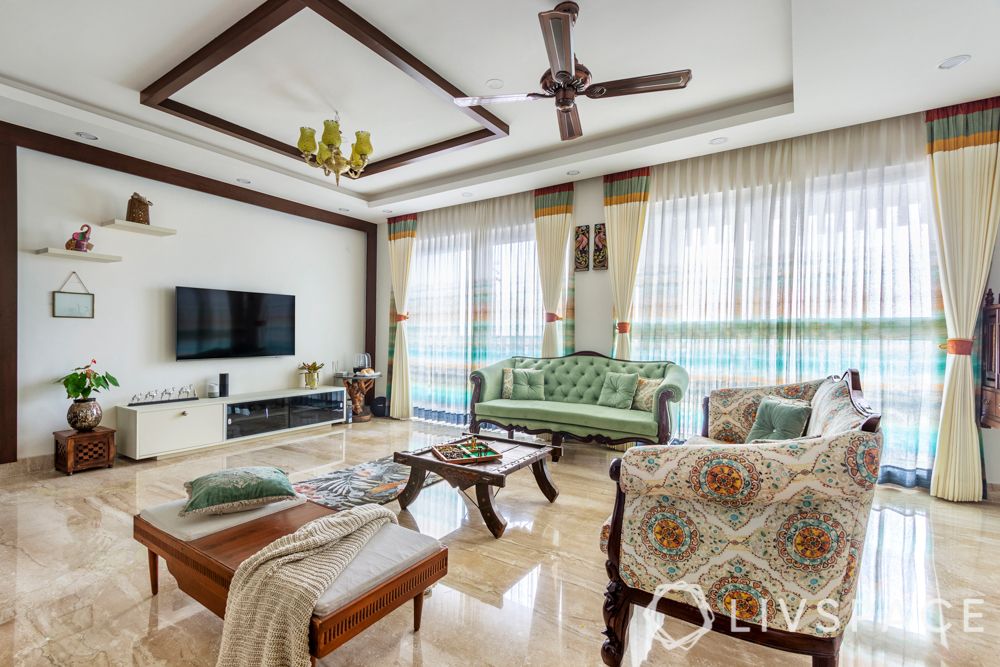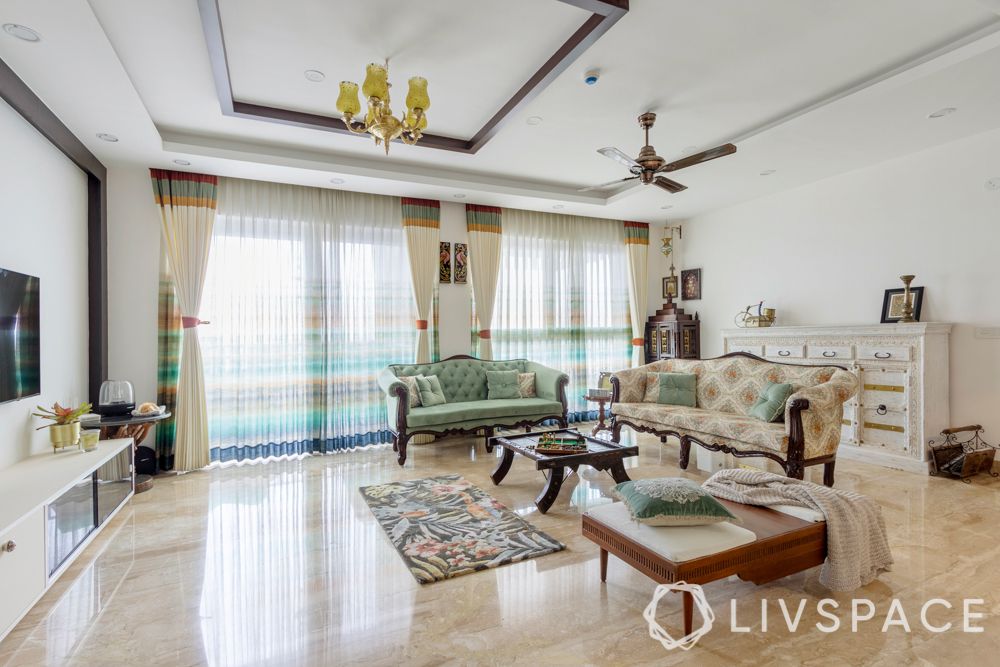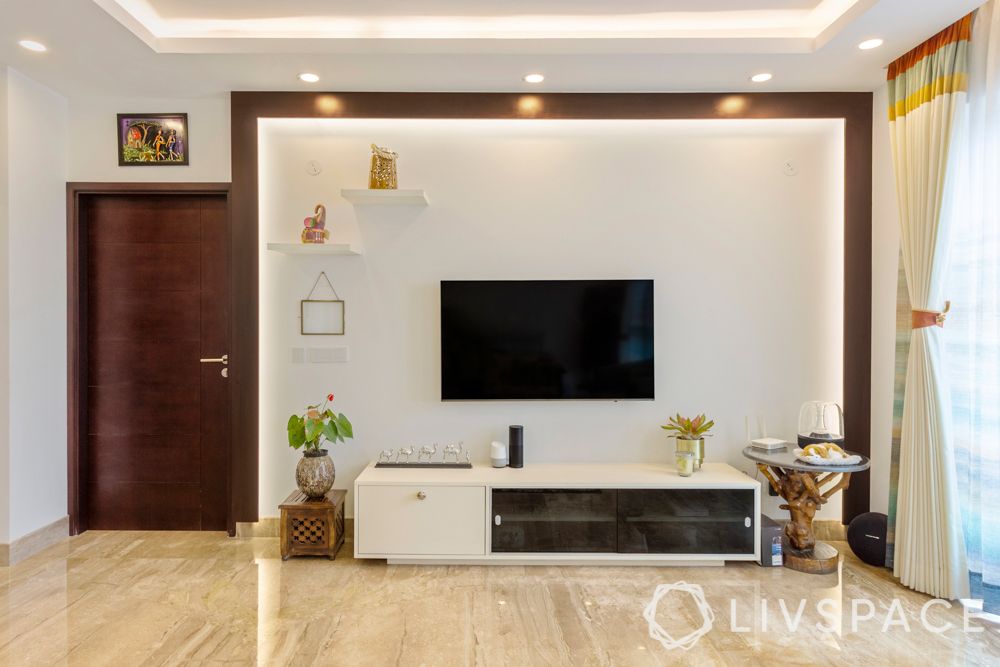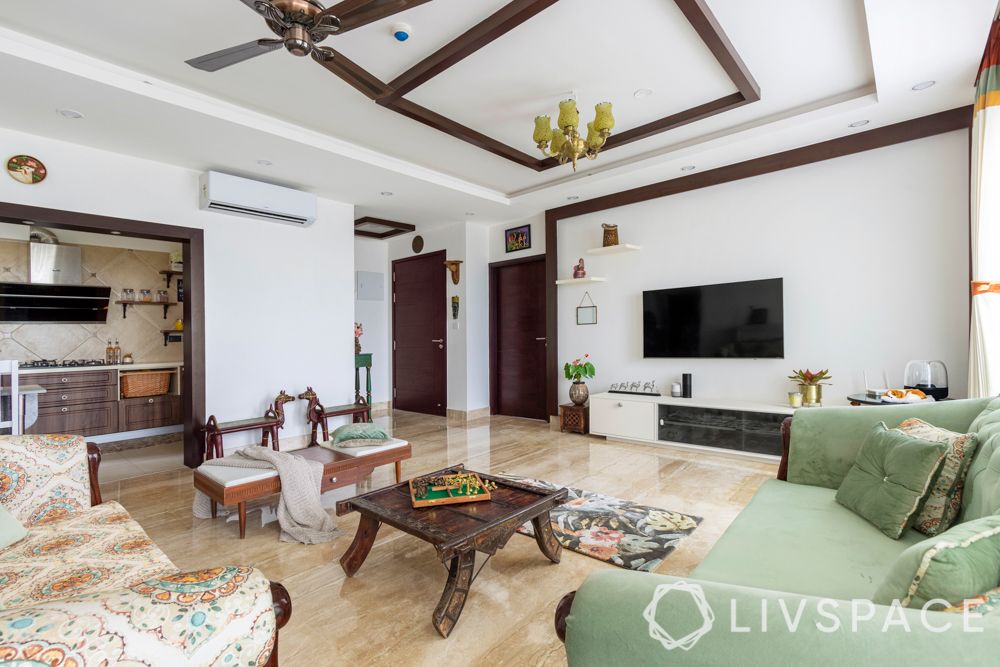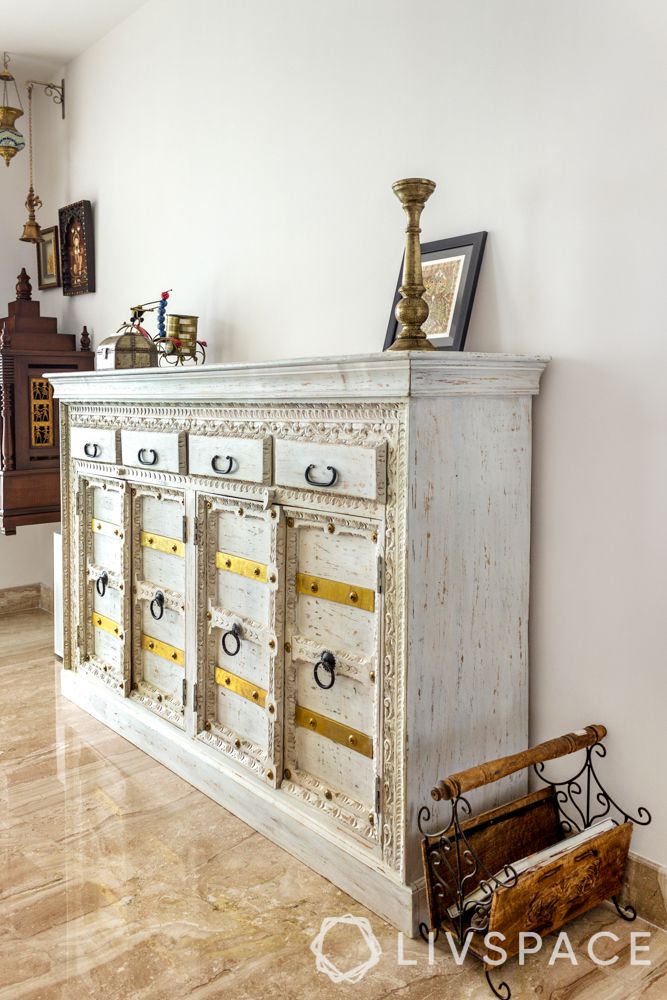 The living room is a beautiful mix of traditional and vintage elements. From the camelback sofas, one in floral and the other in a minty pastel, to the wooden rafters that grace the ceiling, there's plenty to catch your eye.. While most homeowners opt for TV panels to hide away wires, Mona cleverly concealed everything behind the wall. And for a touch of oomph, she added a wooden border around the TV wall with spotlights as well. In addition, take a moment to notice the teak-finished pooja unit in the corner and the distressed chest of drawers behind the sofa. Every single element is both a standalone marvel and work in cohesion together as well.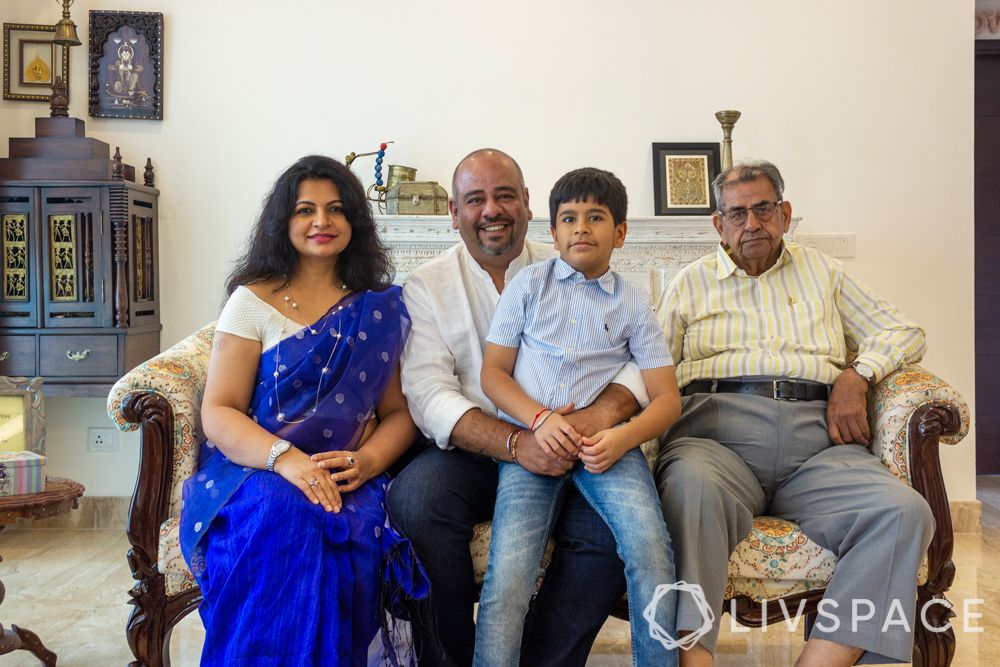 "Some of my happiest moments during this journey was watching our designer Mona's work come true to life in front of our eyes. I told her how we wanted things to look like, we showed her images we saved through the years and Mona took all our suggestions that resulted in this beautiful home."

Vidya. Livspace Homeowner

A vintage kitchen with no uppers yet with plenty of storage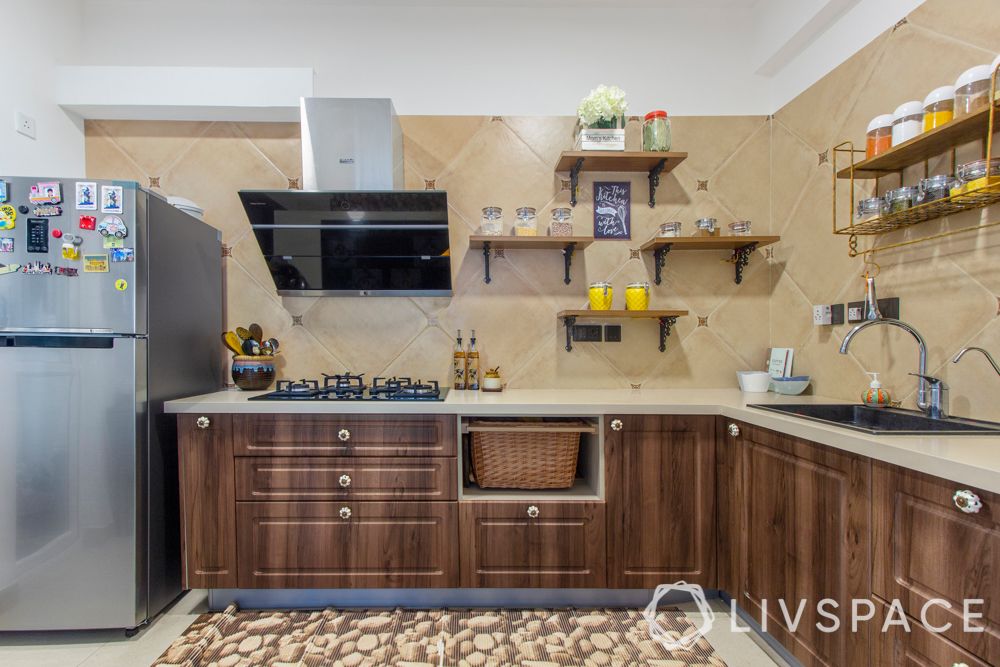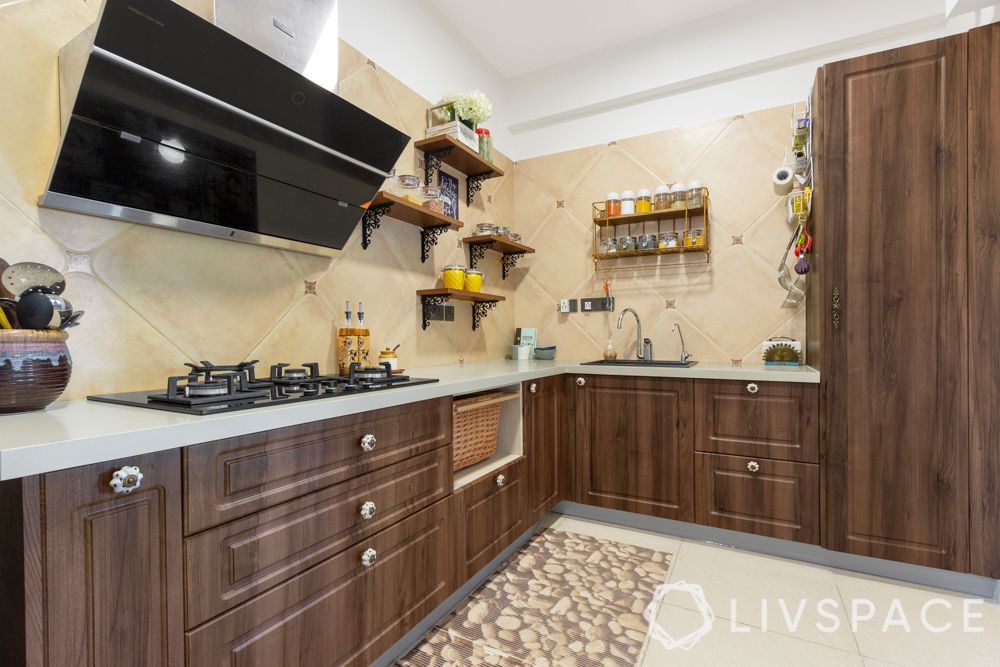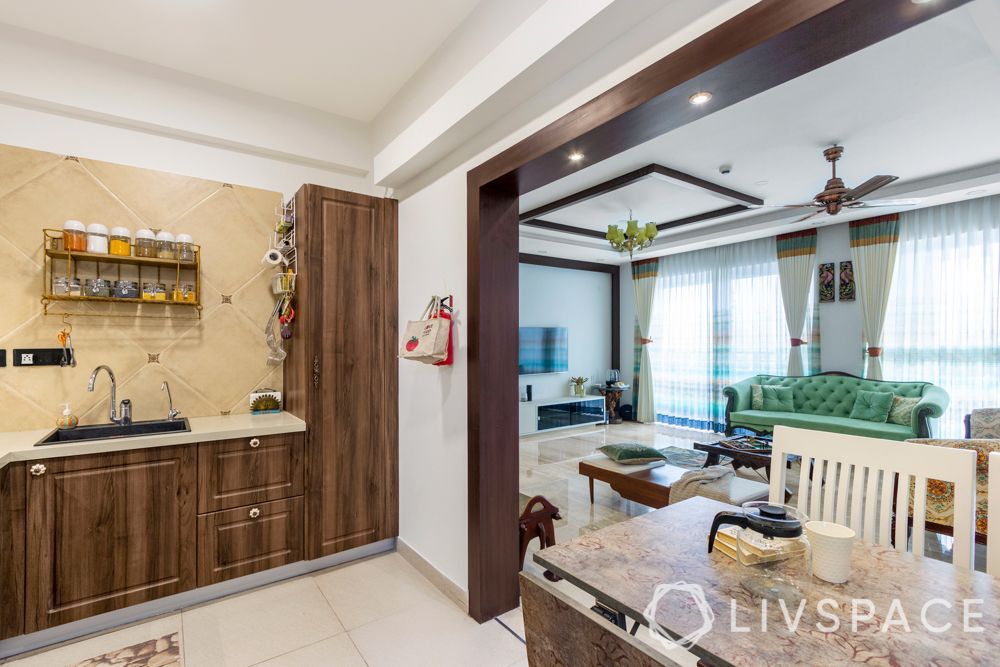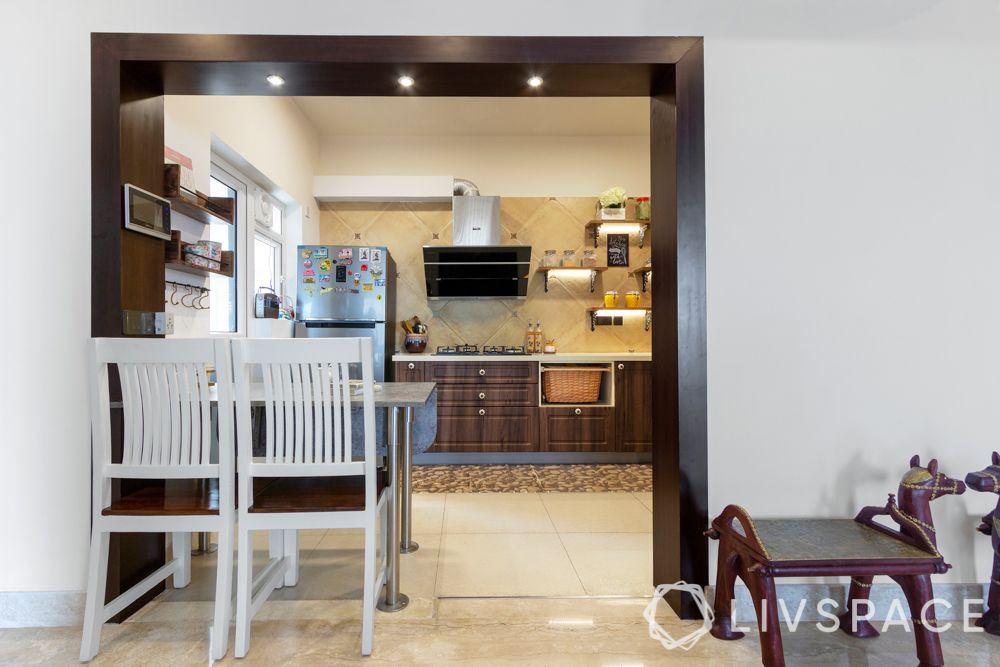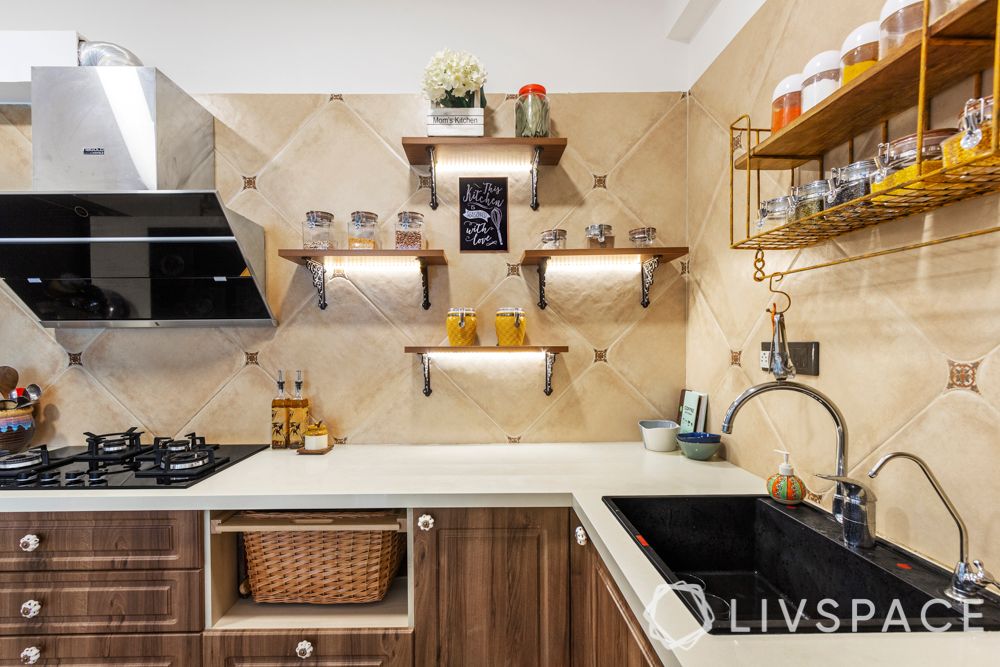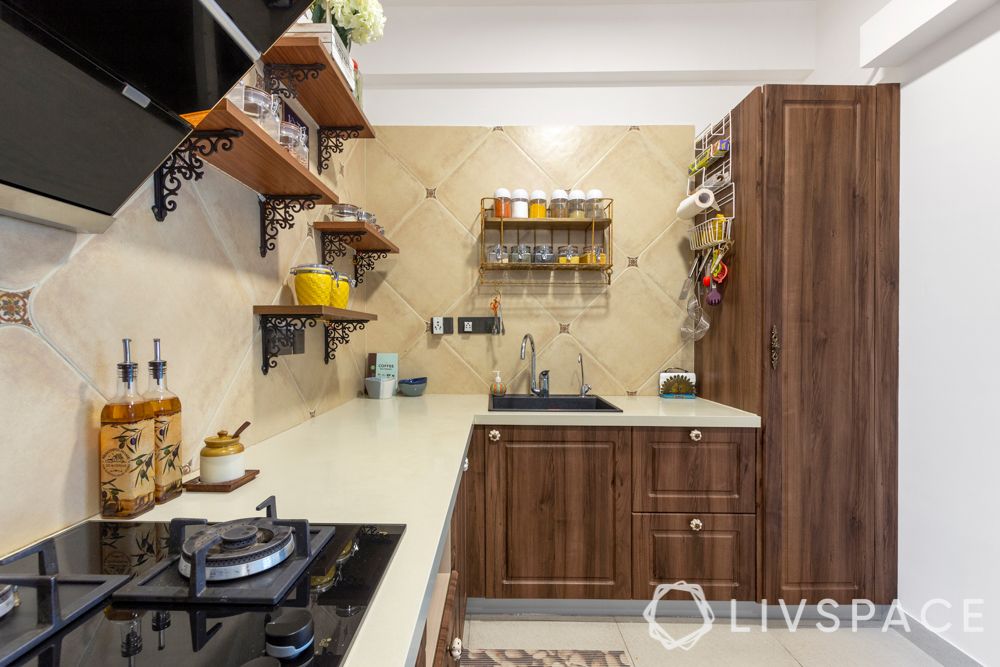 "The kitchen is the apple of my eye," Vidya explains, "While I was particular about functionality, I also wanted to cook in a pretty kitchen." As a result, Mona maximised storage at the base level and kept the walls sans cabinets. This way you have the illusion of a bigger kitchen. Moreover, Vidya now could display her fond collection of artsy containers on open shelves that are supported with accent anti-brackets.
The membrane finish kitchen also comes with a tall unit for bulk groceries and a wicker basket for dry essentials. Notice the light orange-hued wall tiles? This makes a great backdrop for the wooden-toned kitchen. "There was a lot of detailing in the kitchen. Even the wall tiles required skilled work, since we had to place them diagonally," Mona says. In addition, she also put in a kalinga stone countertop. But that's not all!
Since the family didn't want a typical dining nook, Mona added a heat resistant ply with laminate breakfast table that could be extended to make room for more seats. But in order to fit the table in, she demolished and widened the existing kitchen door. It resulted in an extremely wide open kitchen with a laminate border panel. Talk about an entrance! 
A yesteryear bedroom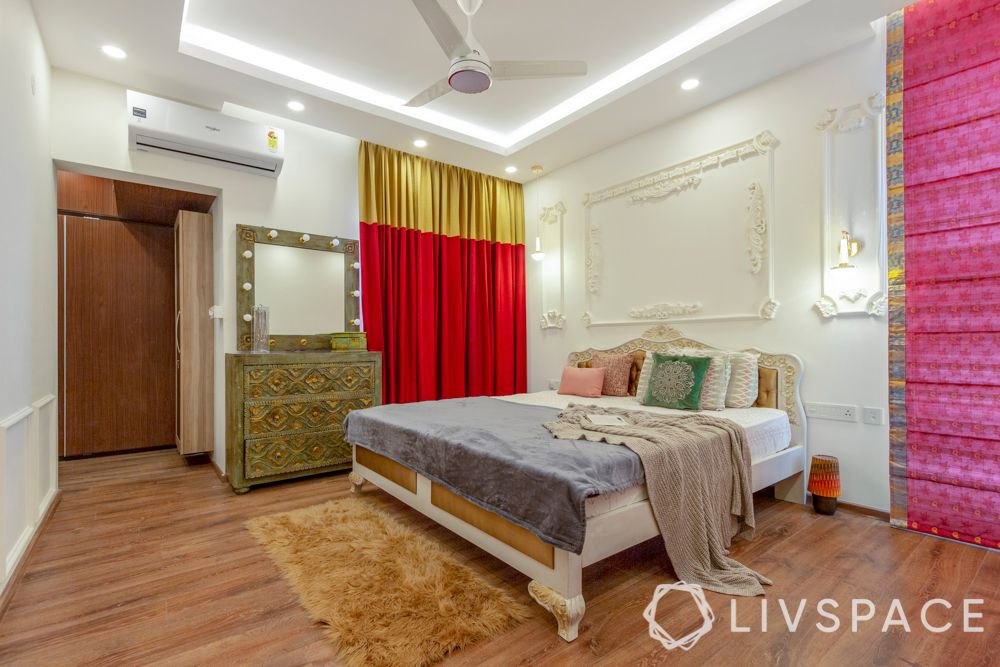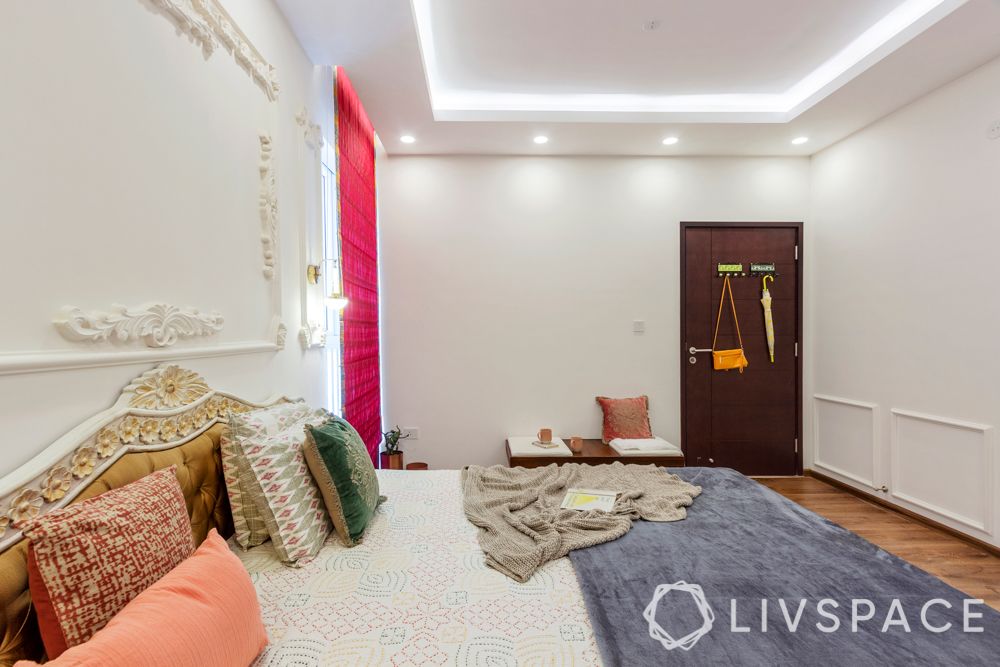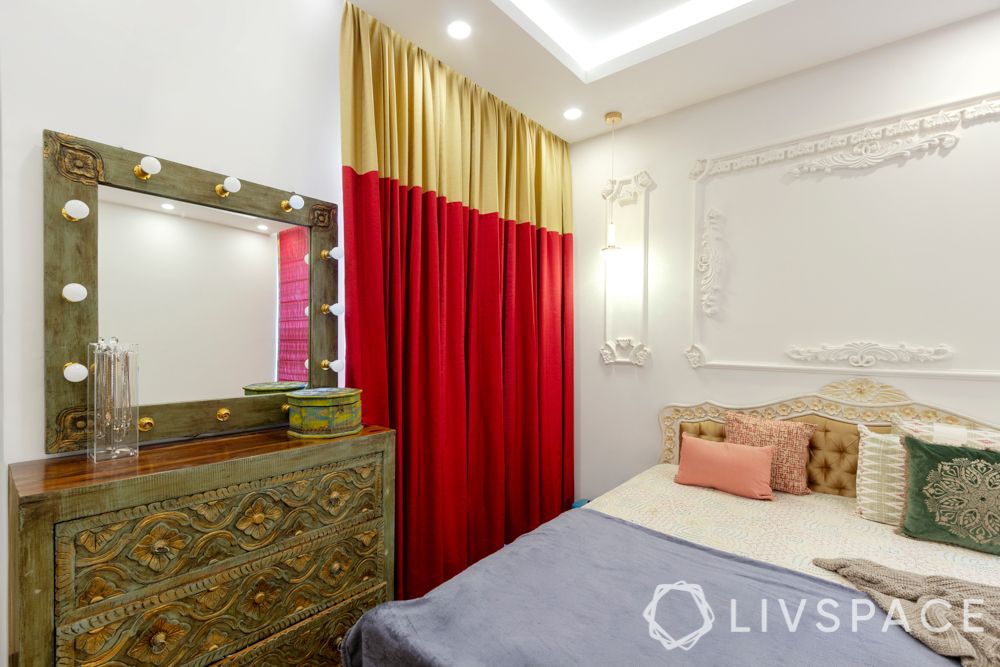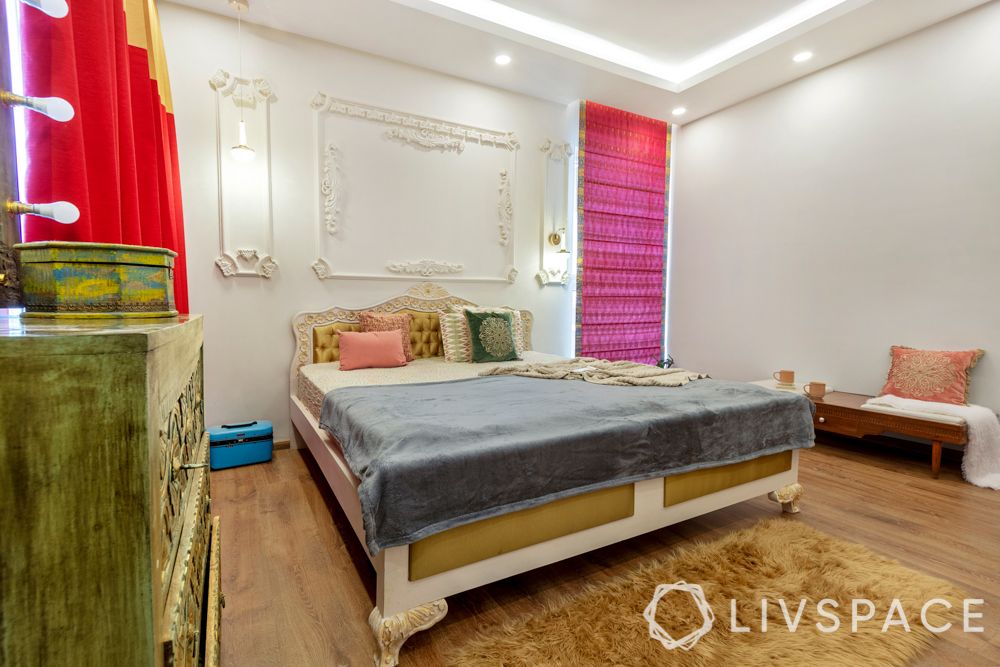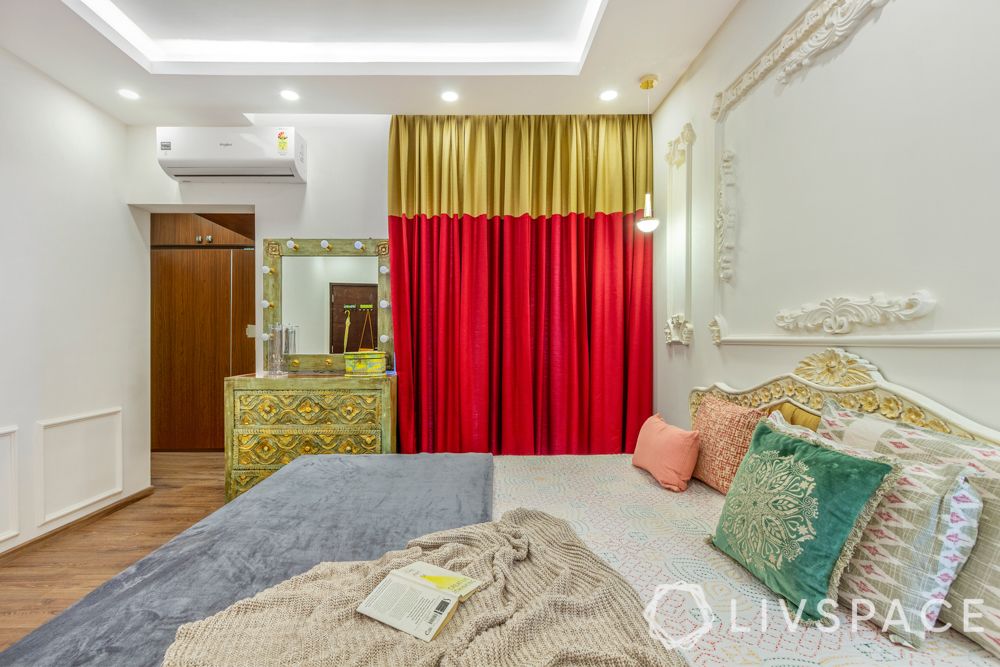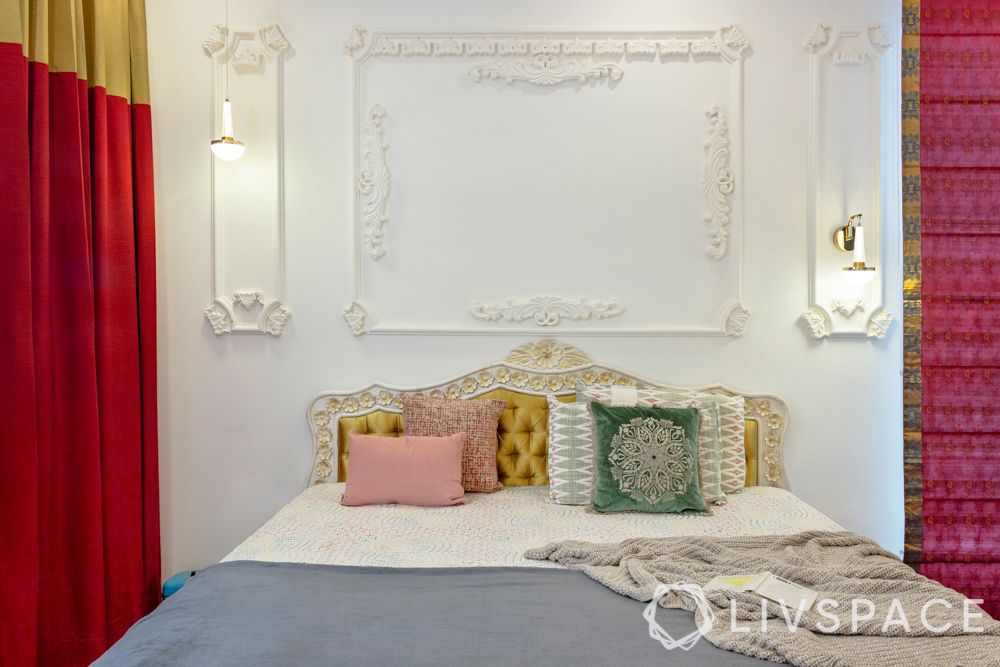 The master bedroom is a work of art. It's no wonder it's Vidya's favourite part of her home's vintage theme. From the gushing silk sari as the curtain to the olive-toned dresser with fitted bulbs, there's a lot to crush on. Take a moment to notice the intricately carved work on the wall that's crafted out of POP. "I showed a few wall designs that I liked to Mona and I can't believe how it's turned out exactly the way I wanted," Vidya reveals. In addition, Mona also put in a walk-in wardrobe with sliding doors and lofts on top. 
A hand painted world map for the son's bedroom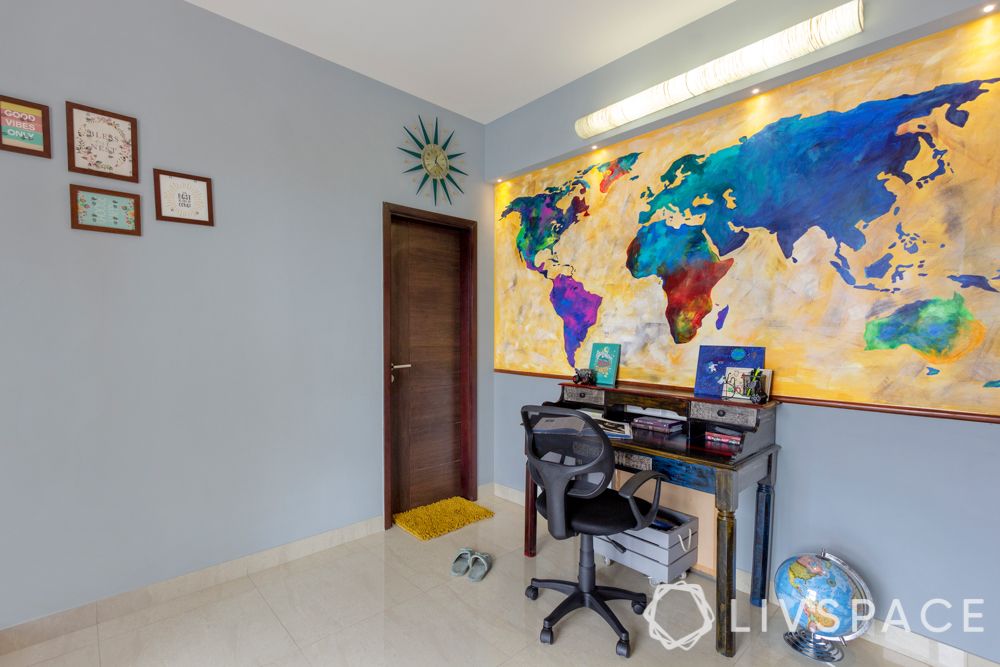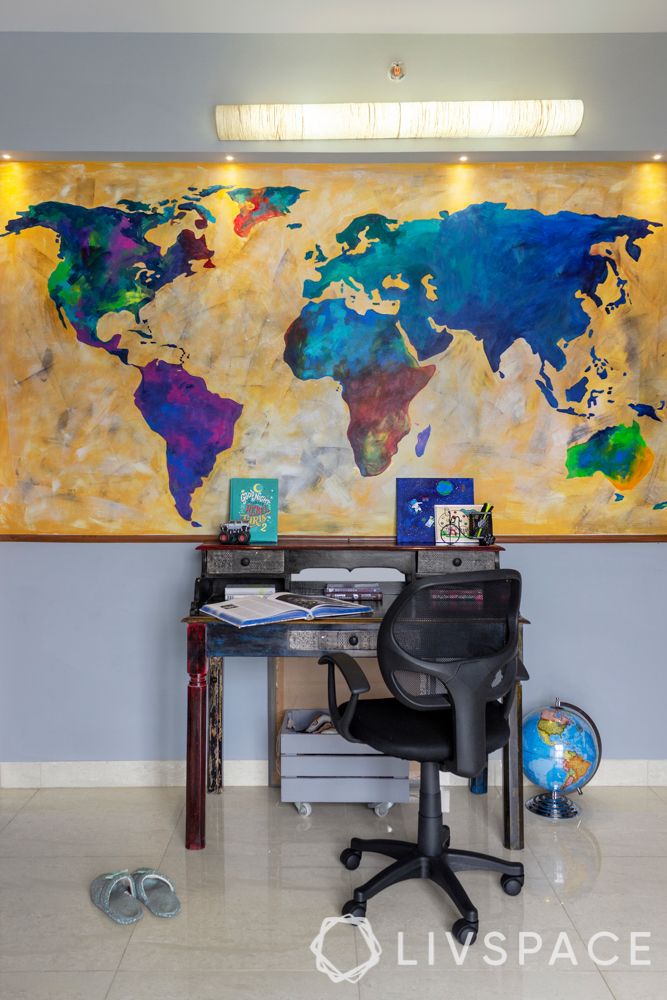 Another one of the family's favourite parts of the home is the son's bedroom. And anyone can see why! A wall to wall world map demands your attention as soon you enter. Completely hand painted by an artist, the colourful detailing beams under fitted spotlights from above. Moreover, the grey painted walls are a befitting backdrop to keep the focus on the world map.
---
"This home is extremely special to me. Creating vintage-styled elements was definitely an interesting challenge. Everything had to look good as a whole and a separate element. I'm glad the family loves the look.

Mona NV, Interior Designer, Livspace
---
Also, if you liked this vintage interior design, take a look at how This 3BHK Home has Interiors Inspired by Luxury Hotels.
Send in your comments & suggestions.