This 3BHK in Mumbai has a stylish home design!
At first glance, this stylish home design looks like a page out of a chic design magazine. You might expect an idyllic home like this one to be set in the peaceful suburbs of a city. However, this quaint Adani Western Heights home is located in Andheri West, the heart of Mumbai's hustle and bustle. But, behind its calm facade you will find a thorough weave of design surprises. Livspace designer Pooja Shah has transformed a new home into an ultra-modern adobe.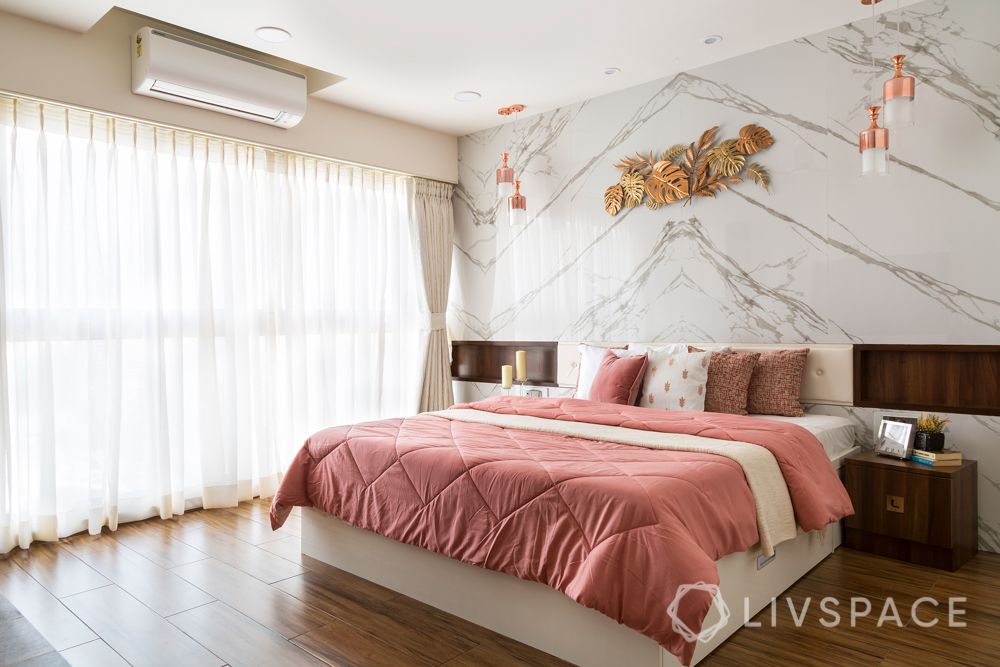 ---
Who livs here: Apurva Shah with his family
Location: Adani Wester Heights, Andheri West, Mumbai
Size of home: A 3BHK spanning 1,400 sq ft
Design team: Interior designer Pooja Shah
Livspace service: Full Home Design
Budget: ₹₹₹₹₹
---
Homeowner's Wishes
Residing in this plush velvet-themed 3BHK are Apurva Shah and his close-knit family. As the director of Glumex Pharmaceuticals, Apurva wanted a relaxing space where he and his family can unwind after a long and tiring day. He says, "Home for me defines space, safety and comfort." Apurva and his wife travel a lot and have picked up a few design cues along the way. Therefore, the striking couple have gathered their inspiration from hotels across the globe and wanted these ideas to be incorporated into their home.
Furthermore, functionality-wise, the family was looking for minimalistic furniture, ambient lighting and a few grand elements. However, their main requirement was plenty of storage without losing out on any open space in the layout. With this brief, Pooja got to designing a home that is out of the box and ideal for the family.
Living it up in Adani Western Heights Living Room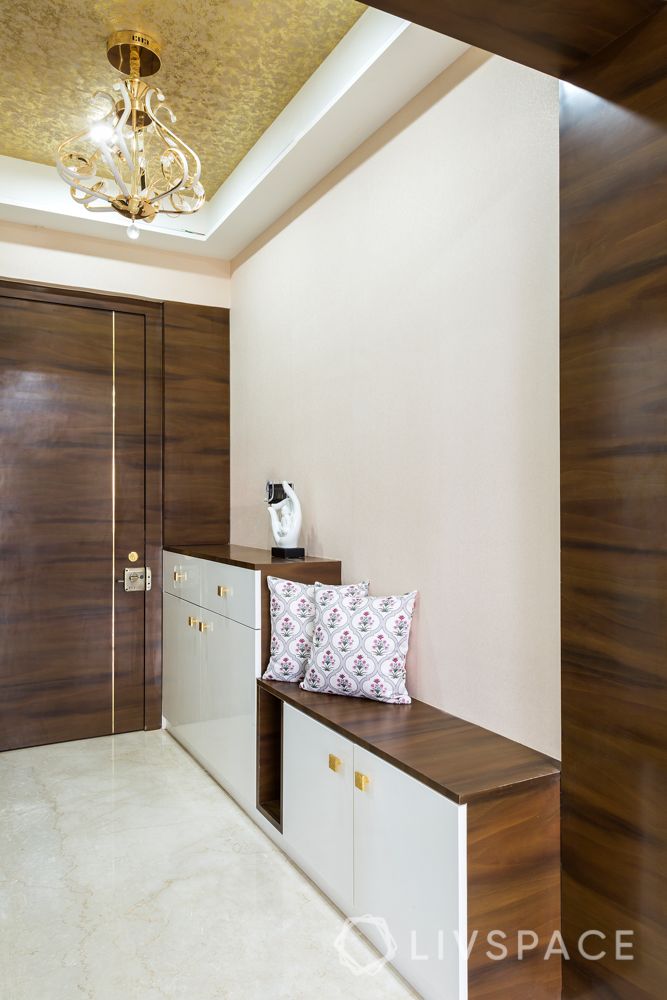 Starting from the entrance, the foyer has two cabinets to store away shoes. However, what's unique about this space is that, the ceiling has a golden textured wallpaper and a transitional chandelier. The foyer opens up into a stylish home design yet neutral-themed living room with plenty of textures scattered around.
Before you notice anything else Adani Western Heights home, your eyes are drawn to the intricate detailing on the TV unit wall. If you run your hands over this wall, you can feel each plywood cube that has been pieced together one by one. Subsequently, a floating display unit in laminate finish matches the TV unit.
Design cue:
Metallic frames in the coffee tables and armchairs add a luxurious touch in the most subtle way.
Dining Room Dressed in Plush Velvet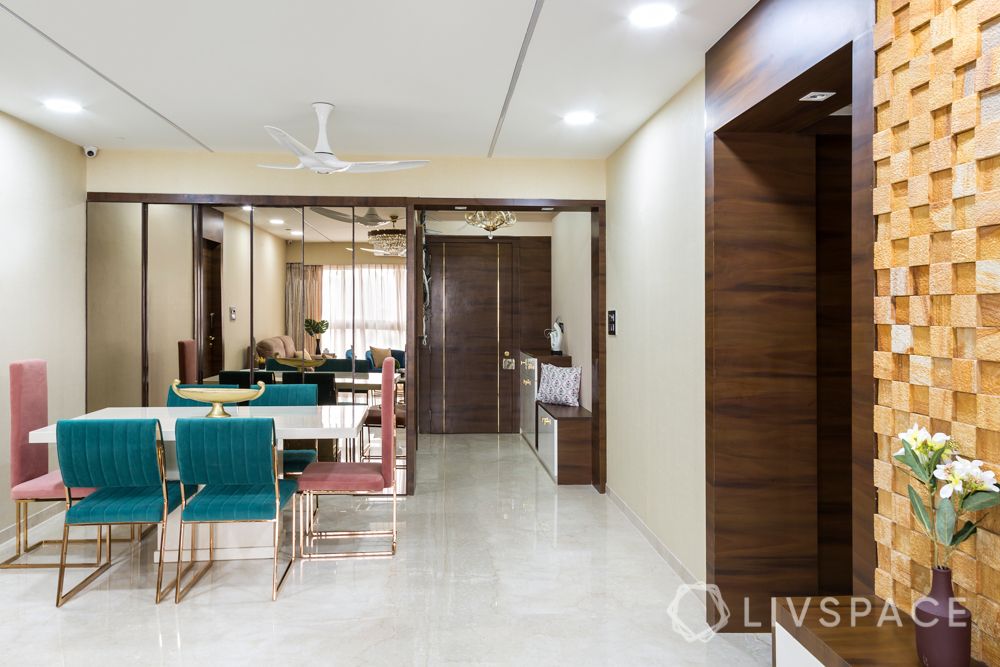 The dining room is the epitome of modern and classy interiors. The dining table consists of six velvet chairs in a unique dark cyan and light pink colour combination. Metal detailing and mirror doors give this space a sleek look.

Simple & Sophisticated Acrylic Kitchen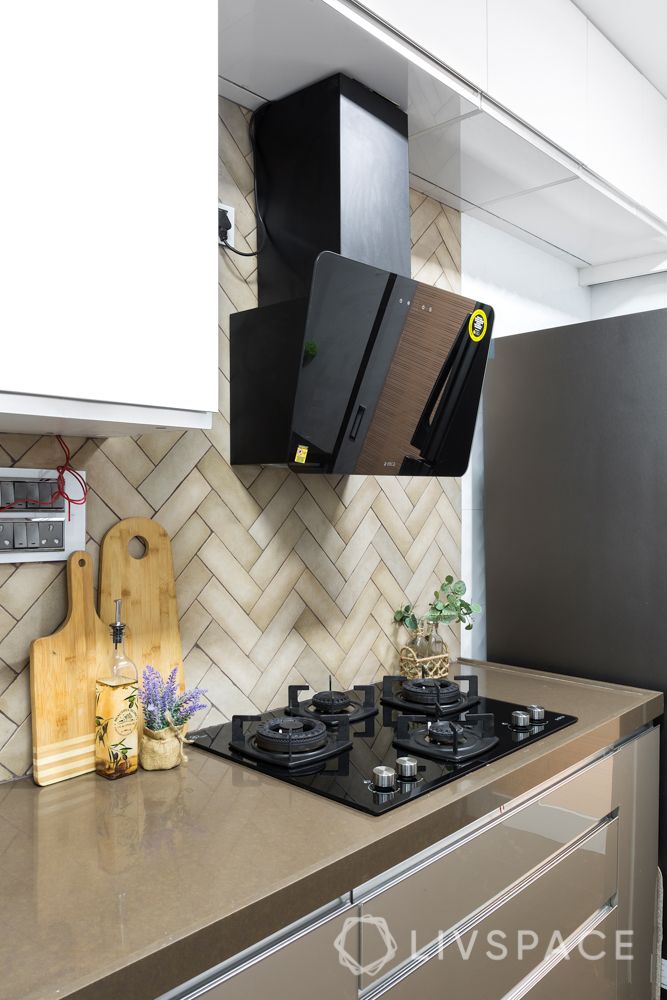 Apurva and his wife wanted the kitchen's simple design to be the reason for its sophistication. Consequently, with beige and white laminate cabinets and kalinga stone countertop, this cooking space is just perfect. Moreover, the designer has opened up the space by constructing a kitchen window that opens up into the dining room.
Marble & Wood Elements in the Master Bedroom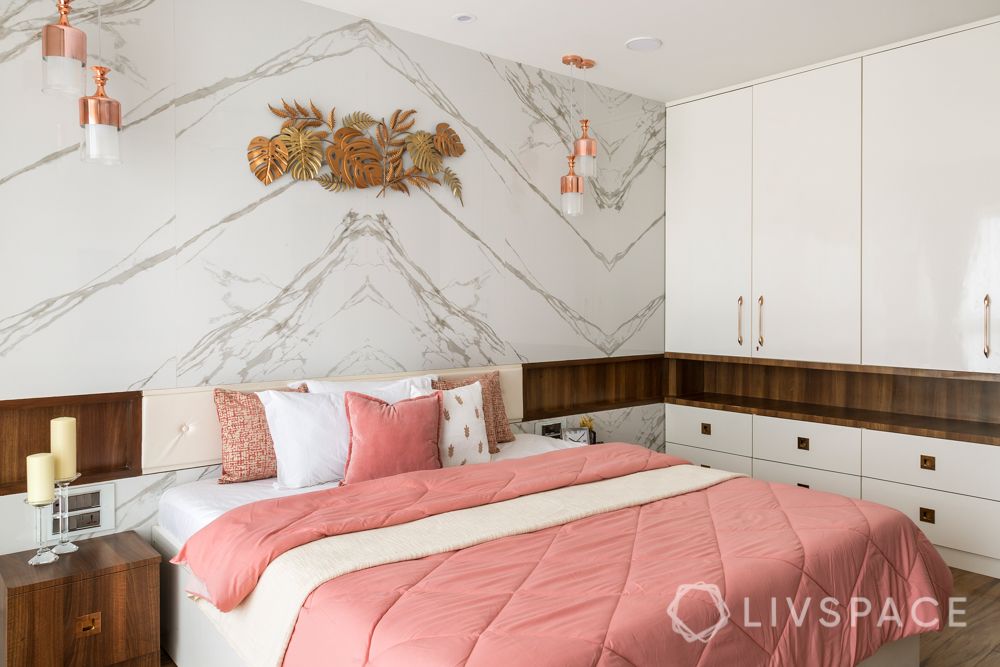 "Deciding on a theme for the master bedroom was tricky. My wife and I had completely contrasting ideas for the room. I wanted all white interiors with plenty of marble whereas she wanted warm interiors with a great deal of wooden elements", says Apurva.
We think Pooja has struck the perfect balance between these two themes. What do you think?
The master bedroom now has a feature wall made entirely of marble with a wooden cutout on it. Consequently, this room is more than its grand style. It is packed with storage and comes with laminate wardrobes, study unit cabinets and display unit.
Design cue:
The pink pendant lights were installed to add a unique blush tone to the bedroom.
All White Interiors in the Guest Bedroom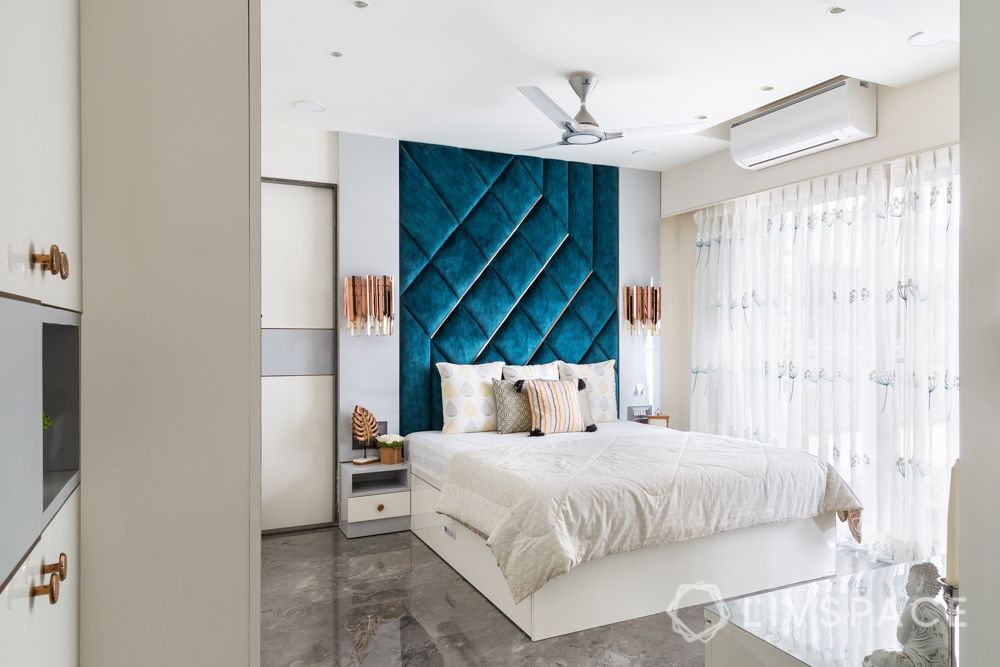 This bedroom was designed keeping Apurva's parents in mind. Consequently, they wanted a room that was bigger, brighter and more luxurious. Subsequently, the designer duo knew exactly which element could bring in this wow factor. You guessed it right! The full length velvet headboard is simply gorgeous and is the only colour the room needs.
However, this Adani Western Heights bedroom comes with a number of other practical elements. It has a lot of storage that comes with the laminate wardrobes that were installed by the team. Furthermore, his parents wanted a pooja room where they could spend a few minutes of their day in a tranquil space. Therefore, the designer created a room by constructing a partition and installing a door made of etched glass. Inside, the pooja room is an all white room with false ceiling, marble flooring and patterned wallpaper.
Design cue:
All the handles in this room were handpicked by the designer and family. This gives the design a personalised feel.
Pastel-themed Kids Bedroom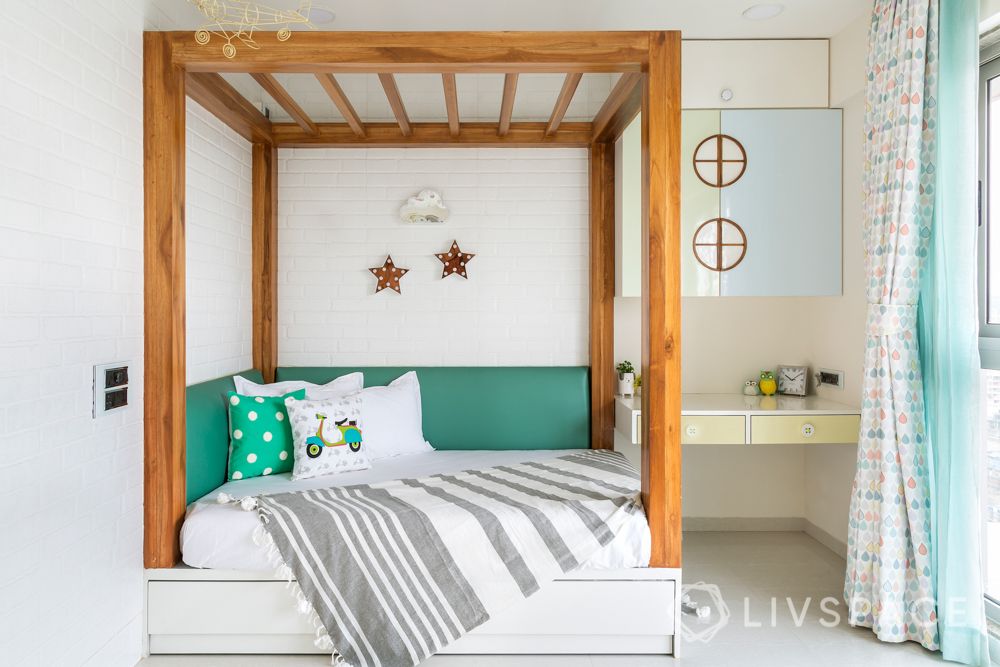 Have you ever seen a more adorable kids room? Th kids room was designed in a way that he wouldn't grow out of it anytime soon. Custom-made from floor to ceiling, this room is the niftiest of them all. Subsequently, the bed is a square four poster bed with an L-shaped headboard. However, this bed is more than its unique design. The base of the bed can be pulled out that turns it into a queen sized bed. Furthermore, the storage in this room is in the form of hinged door wardrobes and a study unit in the same theme with pastel colours and laminate finish.
Design cue
The bedroom walls are covered in white brick tiles giving the room a clean yet fun look.
With inputs from design assistant Aishwarya Choudhary.
Want to peek into another stylish home design in Mumbai? Check out Stylish & Low-maintenance at Crescent Bay.
Send in your comments & suggestions.