While aesthetics and functionality are two very crucial components of interior design, the new-age homeowners are looking for something more. You would hear people tell you "my home is quite minimal". By this, they usually mean that their home follows the minimal interior design principles. While some would choose a single design style for their entire home, others prefer different bedroom styles.
In general, there are 11 interior design styles like contemporary, minimal, Indian, Scandinavian and more. However, we have also come across newer and unique interior design styles in some homes. Deepti's Mumbai home is one such example. From Victorian Chic to New York Contemporary, each room in her home features a unique interior design style. Join us for a tour.
#1: New York Contemporary Style Bedroom Design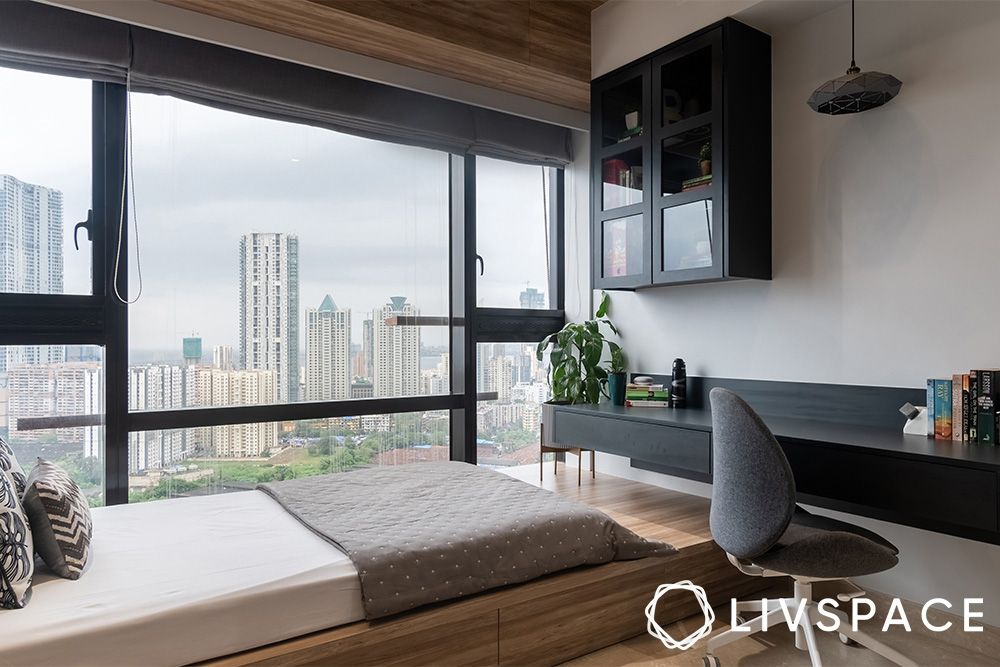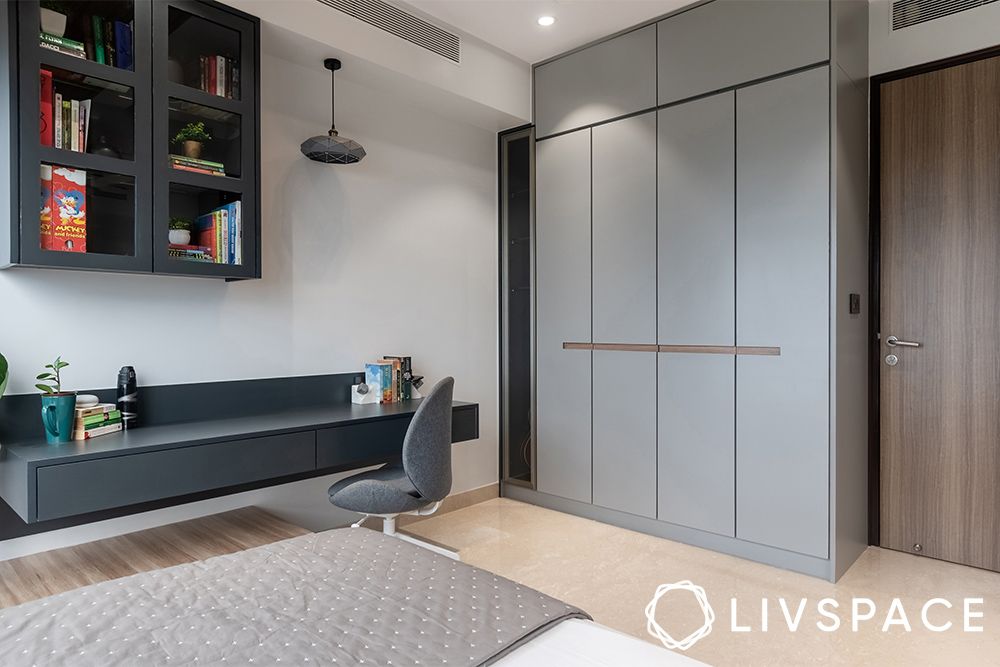 You may know what contemporary design is, but have you ever heard of the New York Contemporary design style? This style is a form of contemporary design that can be commonly seen in homes in New York city. Following are the features of this style:
Neutral walls
Contemporary artwork and decor
Slender furniture legs
Minimal window dressings
Reflective materials like glass
As we mentioned earlier, Deepti's home features different bedroom styles, including a New York Contemporary style bedroom design. The first thing that you notice when you enter this room is the large window. The black frames around it match the black study unit. While the room features bare walls, the ample use of black in the furniture creates a striking effect. Moreover, the grey, handleless wardrobe neatly ties into the bold look of this bedroom.
#2: Victorian Chic Style Bedroom Interior Design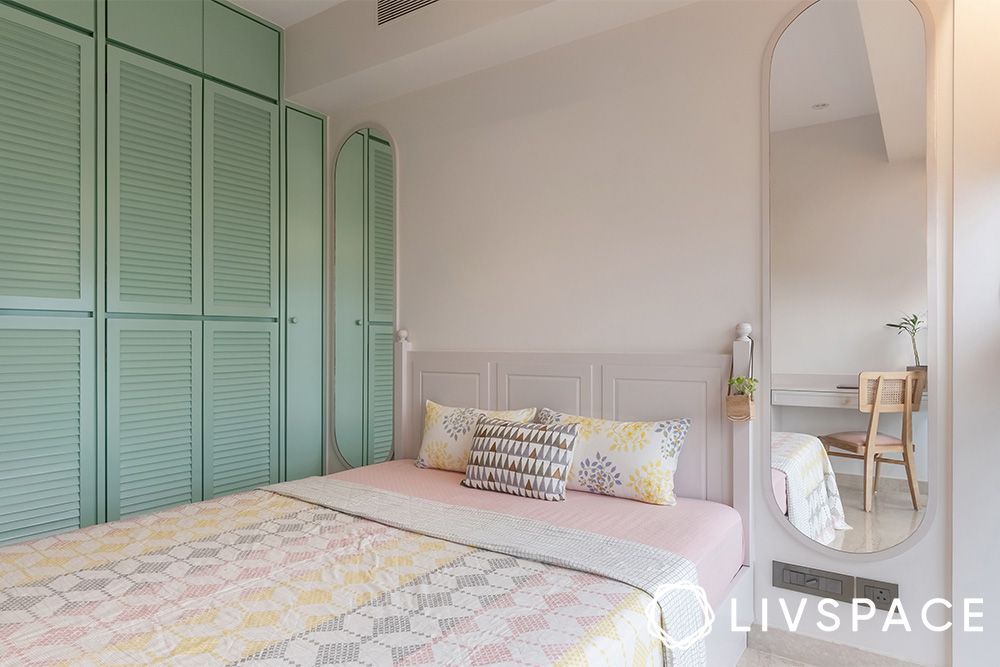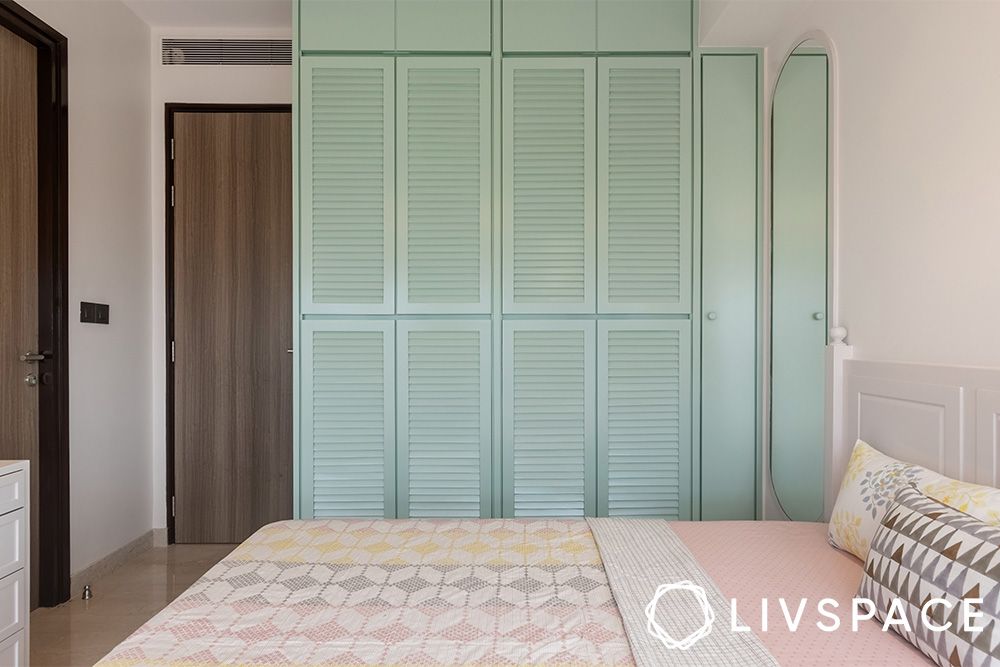 The Victorian design that is popular today is quite different from the one you would have read about in Jane Eyre. Nowadays, a more modern approach, also known as Victorian Chic, is popular among homeowners. The main features of this design style include:
Statement mirrors
Consistent colour scheme
Play with shape, colour and texture
Keep some negative space
Choose eye-catching upholstery
Among the different bedroom styles in Deepti's home is a Victorian Chic style bedroom interior design. Done up in pastel shades of peach and mint green, this room is strikingly feminine. While the curvaceous mirrors on either side of the bed are decidedly Victorian, the pastel green wardrobe comes with louvre shutters which is more Parisian in style.
#3: A Stunning Modern Traditional Living Room Design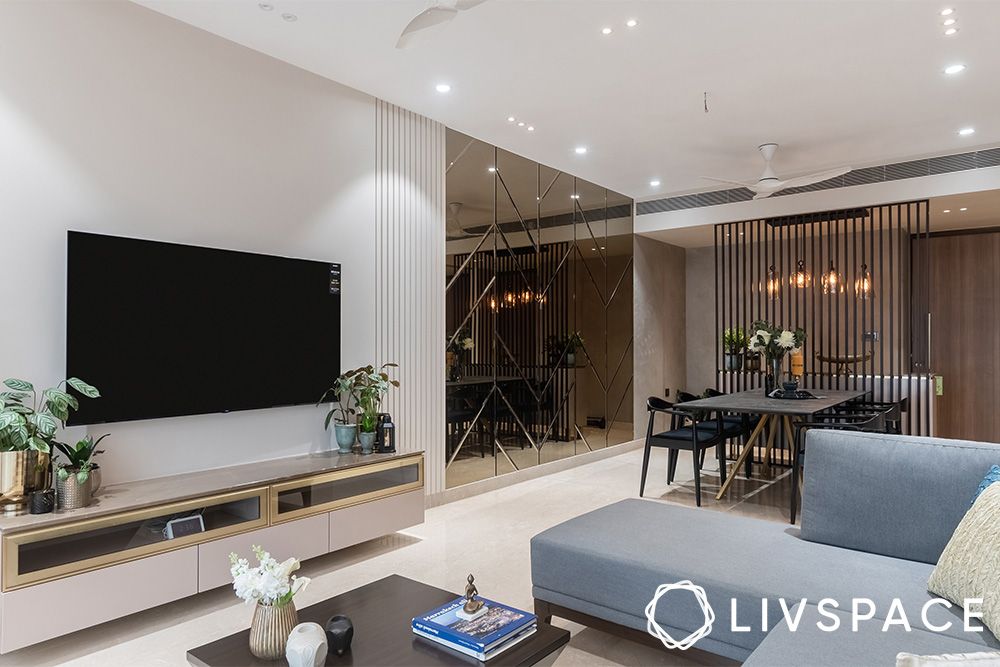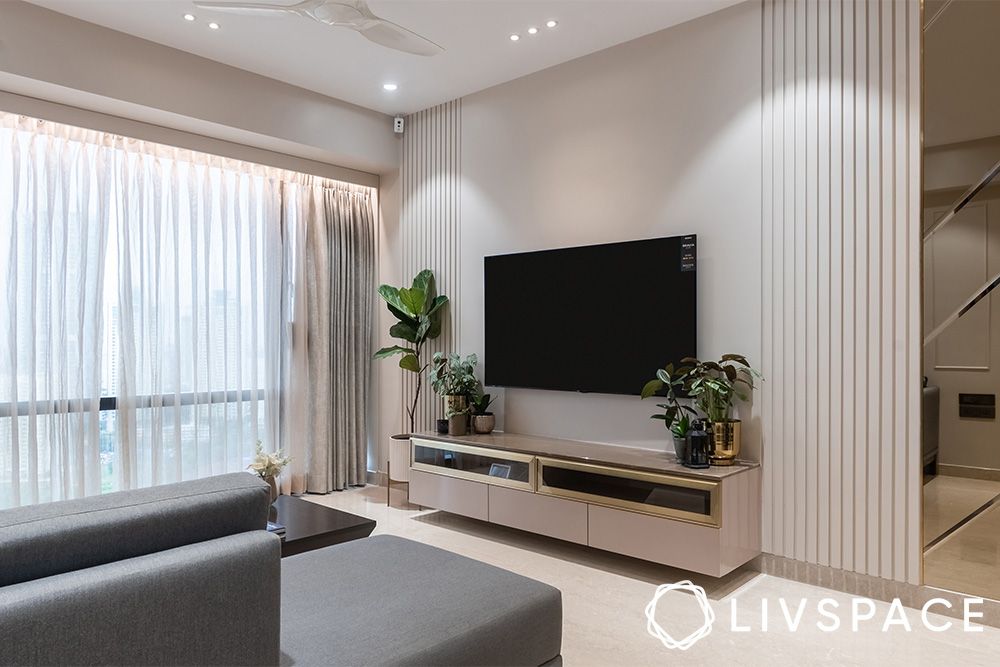 A good interior design is one that maintains design continuity throughout the space. Deepti's home features different bedroom styles, from New York Contemporary to Victorian Chic. So, in order to maintain a seamless look, our designer decided to go with a modern traditional living room. As the name suggests, a modern and traditional living room features decor elements that are a mix of contemporary and traditional.
In this living room design, you will notice that all the furniture consists of straight, sleek lines. This theme continues onto the partition, adding a modern touch to this space. On the other hand, the wall trims around the TV unit and the ornate mirror also make this room look traditional.
#4: A Contemporary Bedroom in Shades of Beige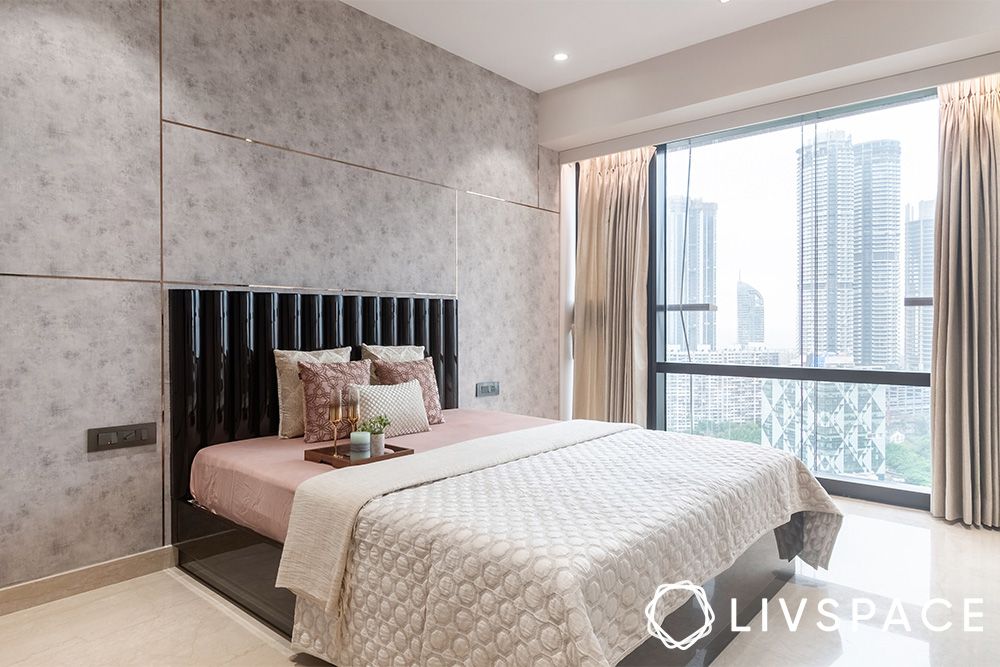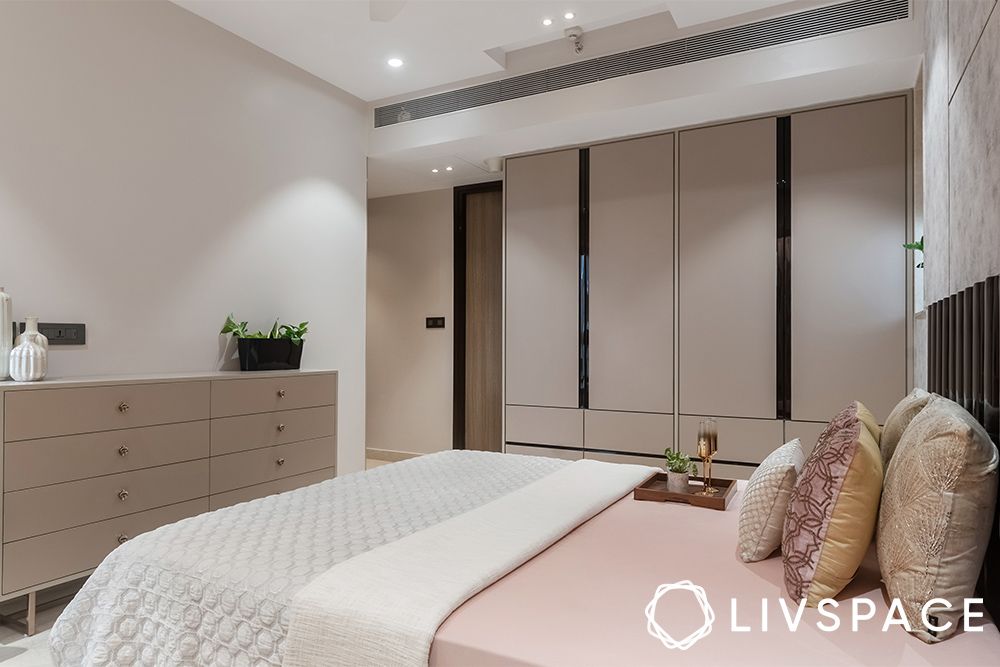 The third bedroom in Deepti's home is done up in the contemporary style, one of the most popular interior design styles among Indian homeowners. A contemporary space is one that features clean lines and a neutral colour palette, as well as anything that is "in trend". Among the different bedroom styles showcased in this Mumbai home, this bedroom is the simplest. The colour palette is a tone-on-tone scheme of beiges. The only striking element in this room is the headboard wall, which adds some texture to the space. Also, the large window with the minimal frames and the handleless wardrobes maintain design continuity between the bedrooms.
#5: A Sleek and Contemporary Style Kitchen Design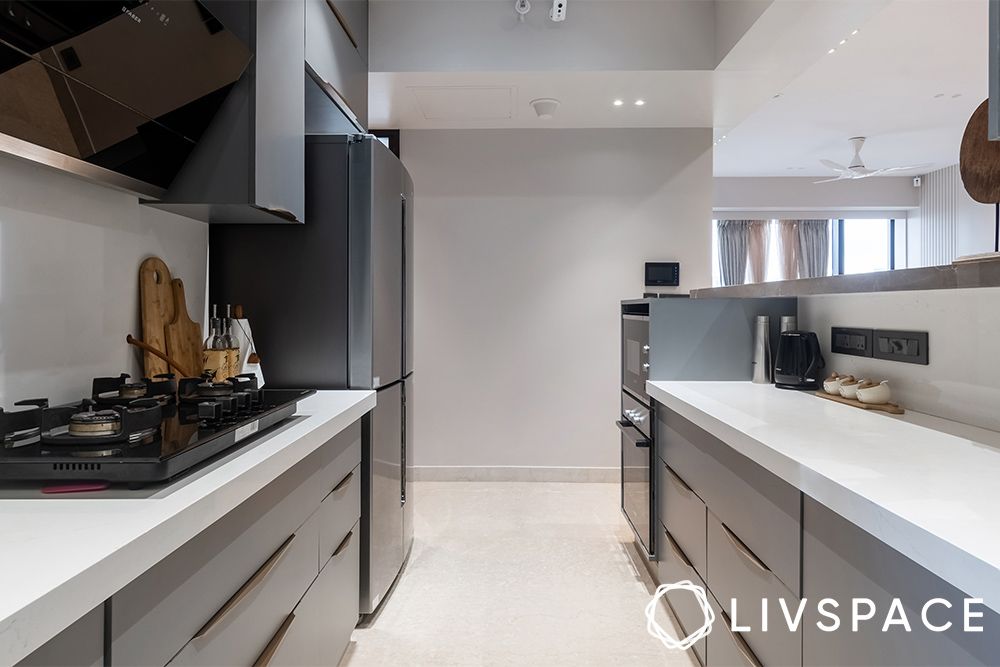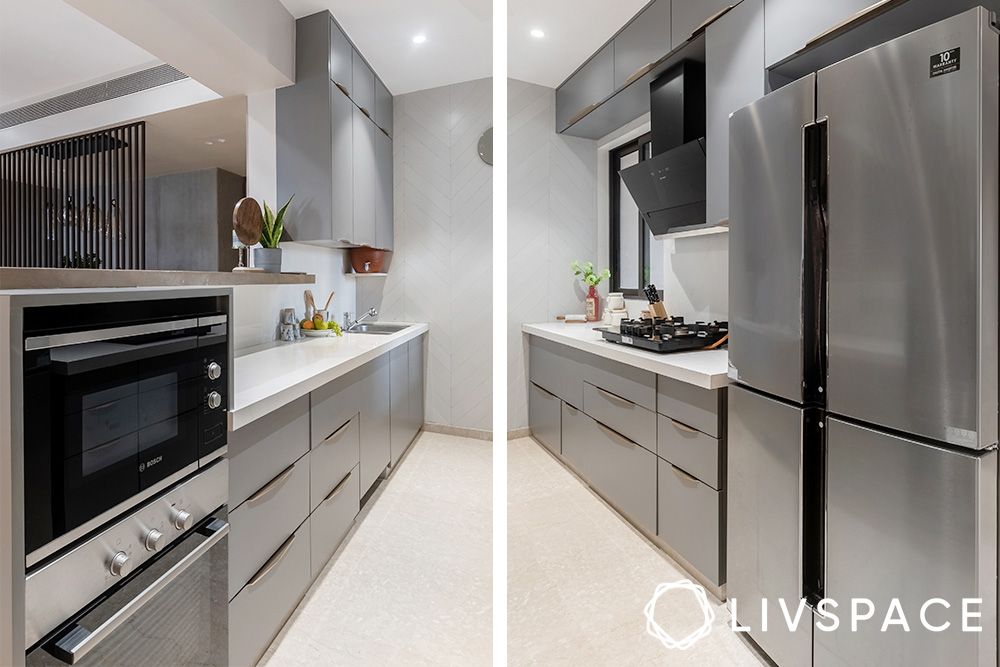 And now we come to one of the most important rooms in your home, the kitchen. If you are looking for contemporary kitchen design ideas, you must bookmark Deepti's sleek and stunning kitchen! Let's begin with the colour theme. Instead of going for the usual options like white, red and blue, Deepti chose a steel grey and black combination. Moving onto the functionality, this contemporary style kitchen design is packed with storage like handleless cabinets, an oven unit and a tall unit. Also, our designer added a service window between the kitchen and the dining room for convenience during parties.
From different bedroom styles to design continuity, Deepti's home shows you how unique interior design styles can come together seamlessly. If you liked this home, check out a 3BHK in Pune which is a lesson in design continuity.
How Can Livspace Help You?
We hope you found our ideas useful! If you want your home to be just as beautiful, then look no further. Book an online consultation with Livspace today.
Wondering how our customers feel about working with Livspace? You can check out the Livspace reviews here!
Send in your comments and suggestions at editor@livspace.com