This compact 3 BHK in Pune packs in a punch of different styles.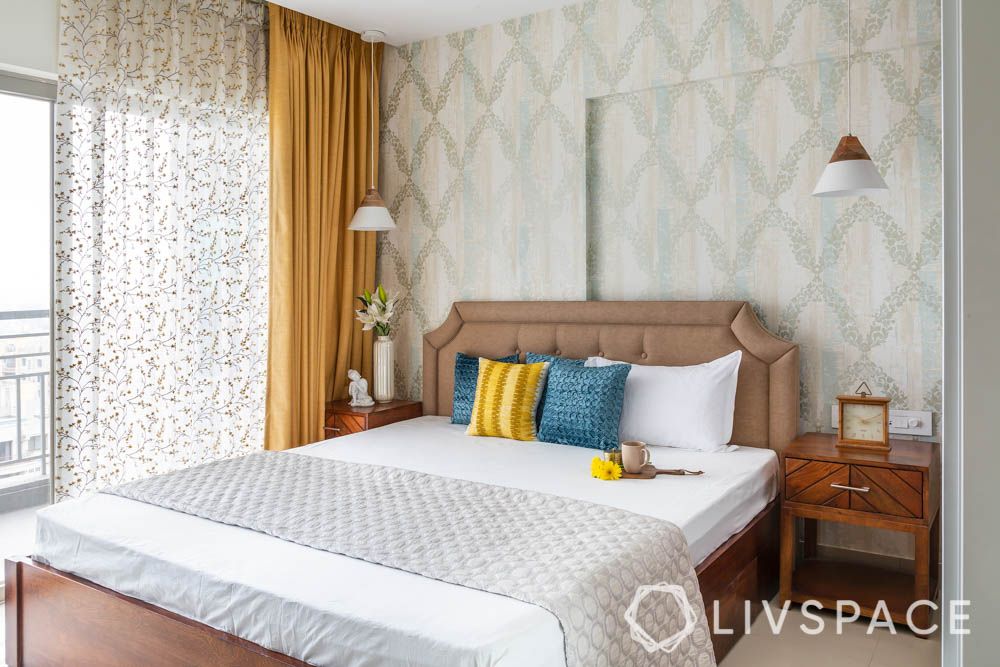 ---
Who livs here: Rajan & Shreeja Panickar with their son, daughter and mother
Location: Pune
Size of home: A 3BHK spanning 1,200 sq ft approx.
Design team: Interior Designer Apoorva Adhav & Project manager Rasika Tamhane
Livspace service: Full Home Design
Budget: ₹₹₹₹₹
---
It is easy to design a home for a single person or a couple who happen to be in aesthetic agreement. But imagine designing a home for a family of five where each member has a very distinct taste. Well, if you are reading this, you have come to the right place. Our interior designers in Pune and the rest of the country specialise in catering to a healthy mix of tastes.
Take this 3 BHK in Pune for example; Shreeja and Rajan Panickar wanted their roots to reflect in the common areas of their home. But for the bedrooms, each one stuck to their preferred style. And it is none other than our designer Apoorva Adhav who brought this home to life. So peek into and we will give you a visual tour.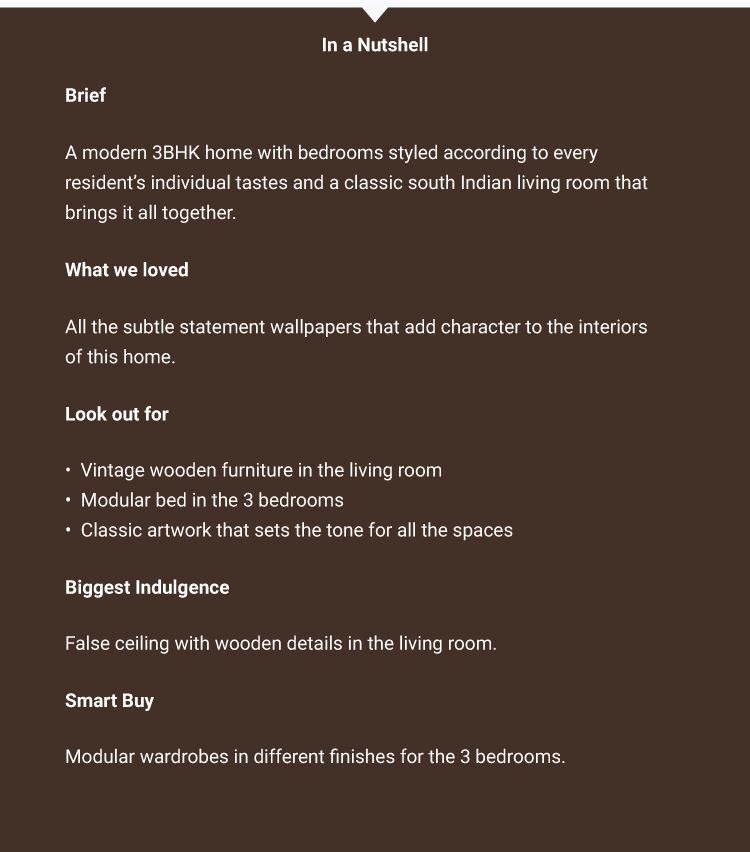 Living Room With Overtly South Indian Vibes
Shreeja and Rajan have South Indian origins and hence, wanted to retain a little bit of their native while designing their new 3 BHK in Pune. While the rest of the home is fairly modern, the living area has distinctly ethnic overtones. The solid wood sofa with carving and a wooden table to match hark back to typical Southern homes. To match it, Apoorva has provided wooden details in the ceiling. The wallpaper in this area too has traditional Indian motifs.
In terms of functionality, we love the wall-mounted ladder unit in white laminate finish that is very useful for display and storage. The TV unit too is a compact affair ensuring that the living-cum-dining room does not look too cramped.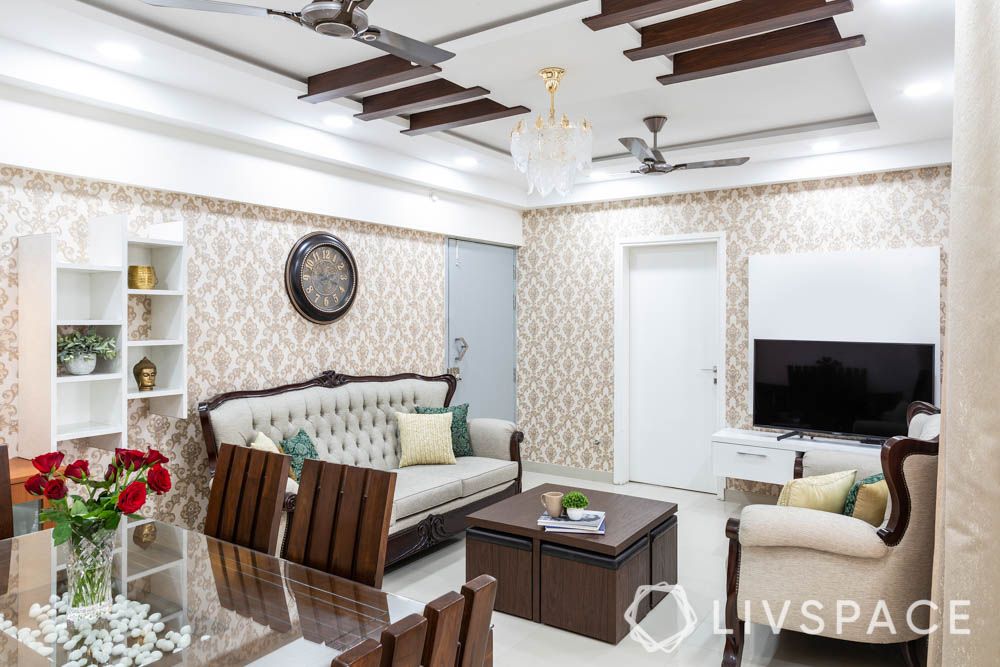 A Modern Bedroom for the Couple
From the very traditional living room, we take you straight to Shreeja's favourite room in this 3 BHK in Pune, her bedroom. The couple's bedroom is east-facing and gets plenty of morning sunshine. Hence, Shreeja asked Apoorva to style it with bright colours and a number of functional pieces of furniture. To be precise, she wanted a wardrobe, a reading corner, dresser and side tables by the bed. And our interior designers in Pune managed to fit in all this within a compact bedroom! Quite the feat, isn't it!
We are particularly enamoured by the space-saving sliding wardrobe. It has laminate finish with a strip of lacquered glass in the centre.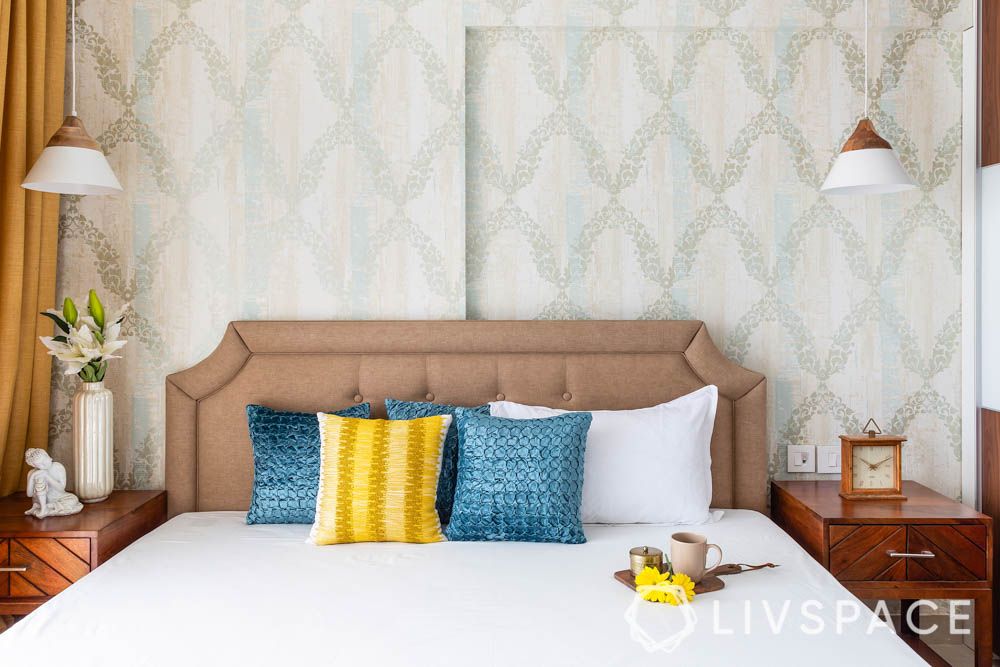 A Contemporary Bedroom for the Daughter
Shreeja wanted her 20-year old daughter's bedroom (shared with her grandmother) to be contemporary to suit the young lady's taste. So the layout of this room is very clean with minimal furniture. The bed is a Livspace catalogue piece and comes with upholstered side tables. The wardrobe in this room is also a sliding one for the sake of space-efficiency. We love the seamless membrane finish on it, and the mirror panel in the centre helps open up the space. It also doubles up as a dresser.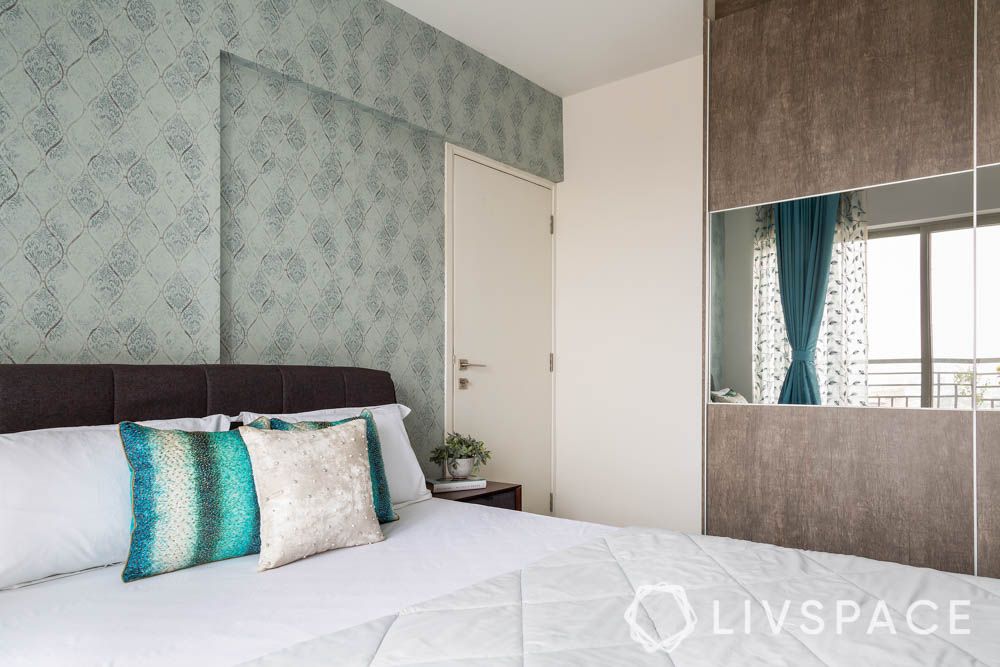 A Bohemian Bedroom for the Son
We have already mentioned that every room in this 3 BHK in Pune has its own signature style. So what should be the style preferred by a 13-year-old boy; he is, after all, not an young man yet but not a little boy either. One thing interior designers in Pune knew was this: he loves patterns, Bingo! They painted the accent wall in his room with four different colours in an interesting pattern.
While we love the bohemian vibes coming from this bedroom, it wouldn't be fair to overlook its functional side. It has a wall dedicated to an integrated unit of wardrobe and study in high-gloss laminate finish.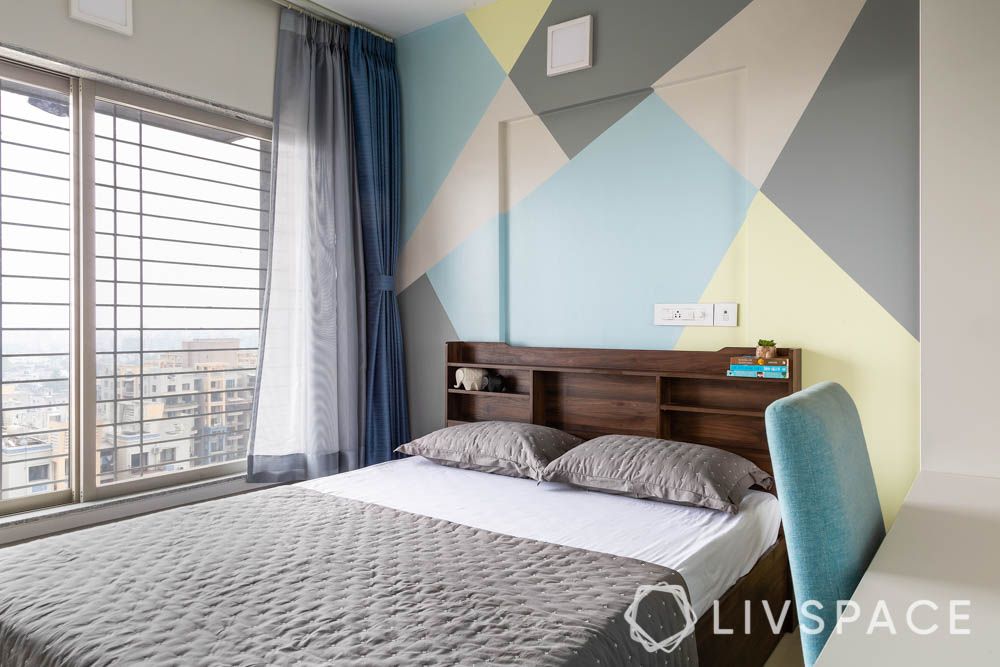 Designer Speak
"Shreeja was very quick with her decisions during the design phase, which really sped things up. Also, she was very prompt with her list of requirements, allowing us the time to plan the project with much clarity."

– Apoorva Adhav, Interior Designer, Livspace
If you enjoyed reading about this 3 BHK in Pune, also explore This Pune 3BHK is Catalogue for Cool Shelf Designs.
Send in your comments and suggestions.