A flat in Akshar Elementa that is filled with statement elements.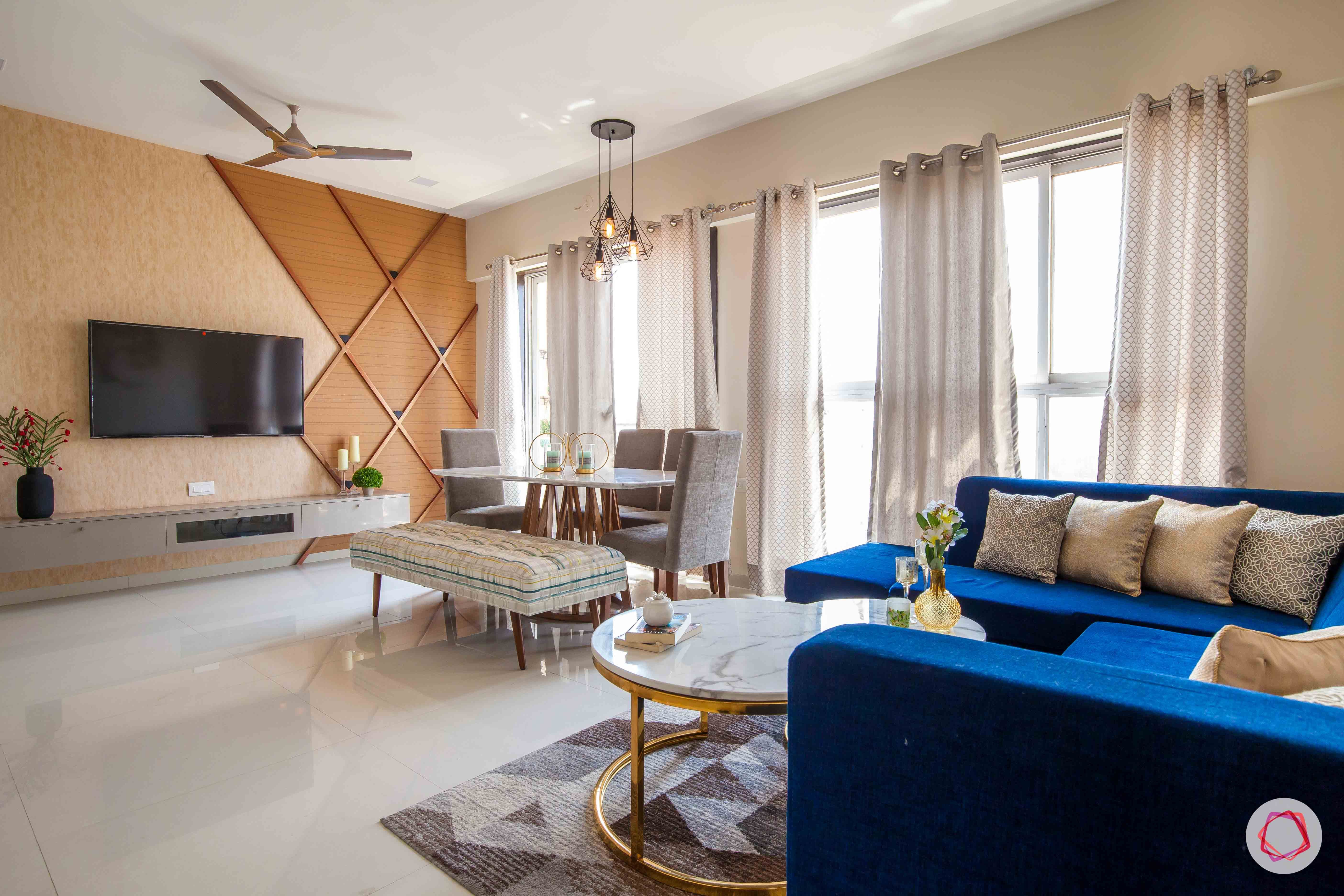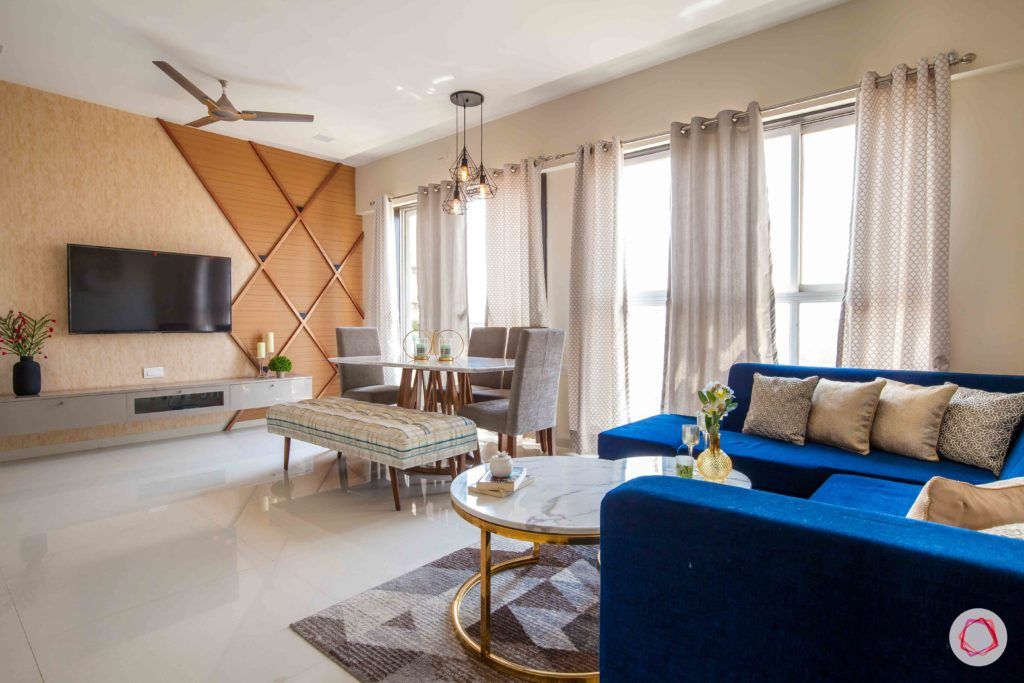 ---
Who livs here: Ankush Zanwar with his wife Pritika and his parents
Location: Akshar Elementa, Tathawade, Pune
Size of home: A 2BHK spanning 1,200 sq ft approx.
Design team: Interior Designer Chinky Budhraja and Project Manager Siddharth Satyan
Livspace service: Full home design (kitchen not included)
Budget: ₹₹₹₹₹
---
What attracts you about a city? Is it the beautiful locales or the exotic cuisines or just the vibe that it exudes? Well, Pune has the best of all worlds in our opinion. Thanks to its student population and the influx of expats who have come back to the cooler, less populated city, Pune is the perfect choice for youngsters and retired individuals alike. Relax at the Osho Ashram or explore the Karla Caves, but if you happen to live in Pune, you are going to love reading this.
Livspace decided to design homes for the beautiful people of this city and Ankush and Pritika Zanwar happened to be one of them. Located in Tathawade, Akshar Elementa is an upscale property where this family owns a stunning home. When they approached us and discussed their requirements with Livspace designer Chinky Budhraja, things were crystal clear. They wanted a design that gives them ample storage and has colours only in elements that they can change over time. Read on to find out how Livspace gave Pune its first #LivspaceHome!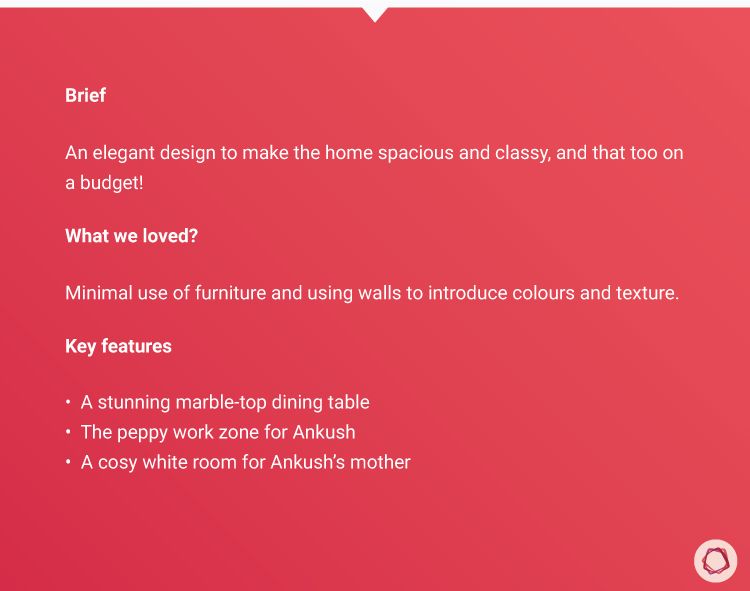 Interiors at Akshar Elementa: A Dancing Welcome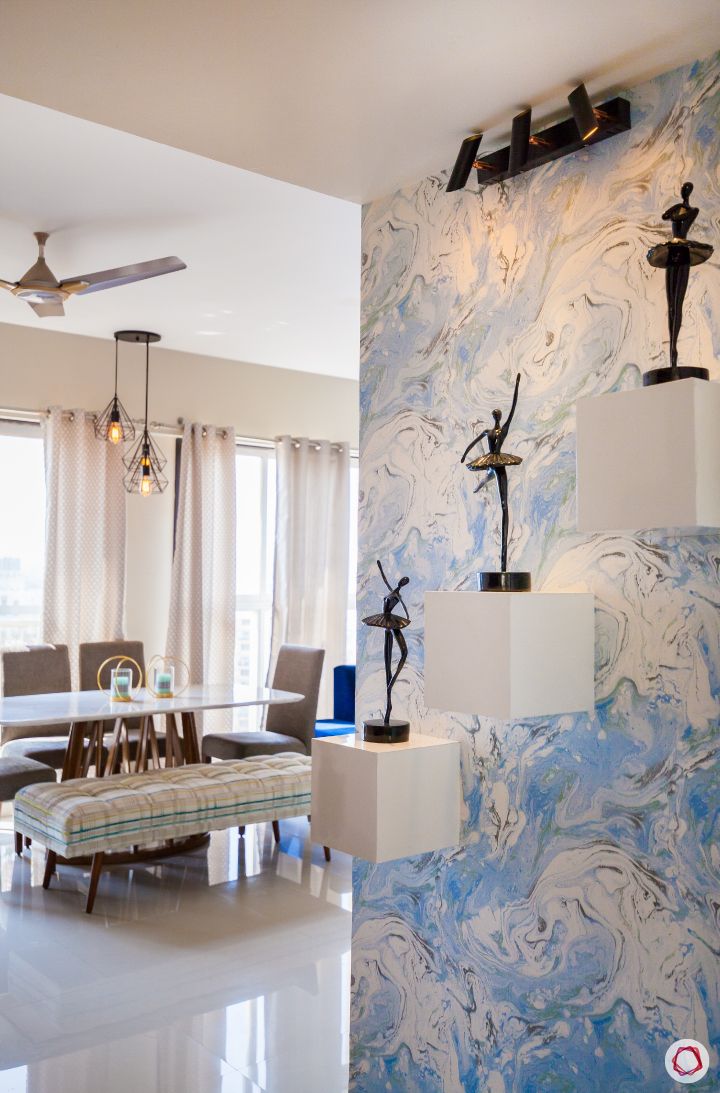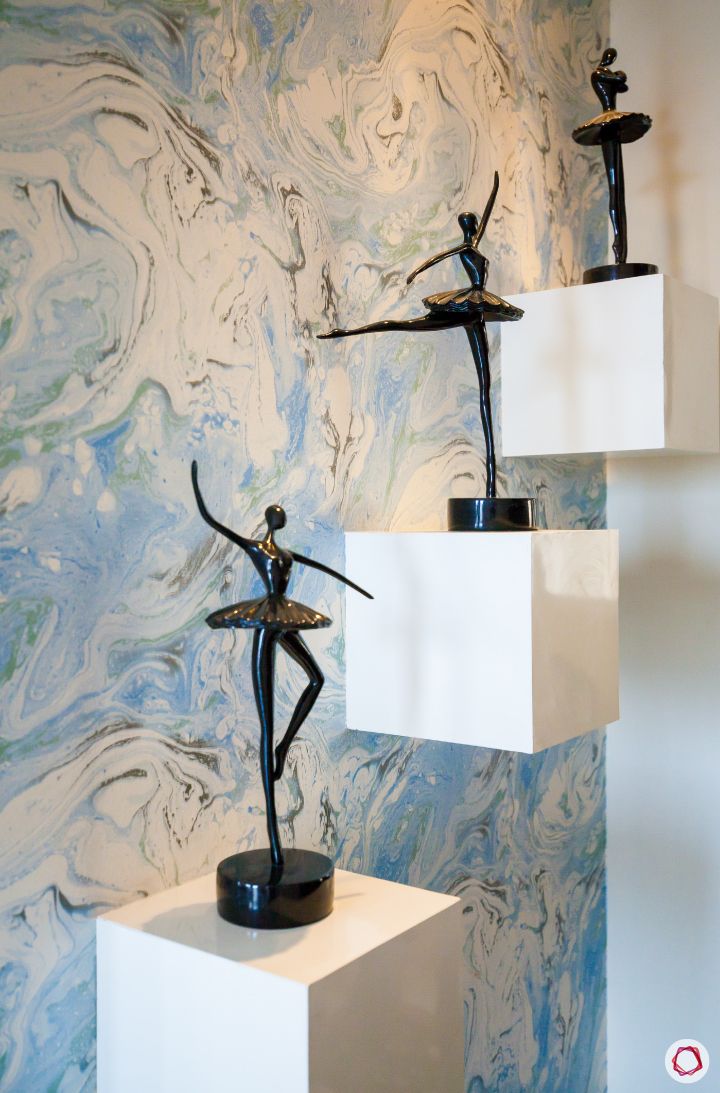 A lavish foyer is not on everyone's wishlist and the Zanwar family is one of them. They like all things simple and elegant and as you scroll, you'll see it's exactly what Chinky gave them for their apartment in Akshar Elementa. This travel-loving couple has a lot to put up on display and these white laminate wall display boxes are ideal for the same. Set against the backdrop of an abstract wallpaper, these dancing ladies are highlighted by minimal track lights.
Interiors at Akshar Elementa: Dipped in Blue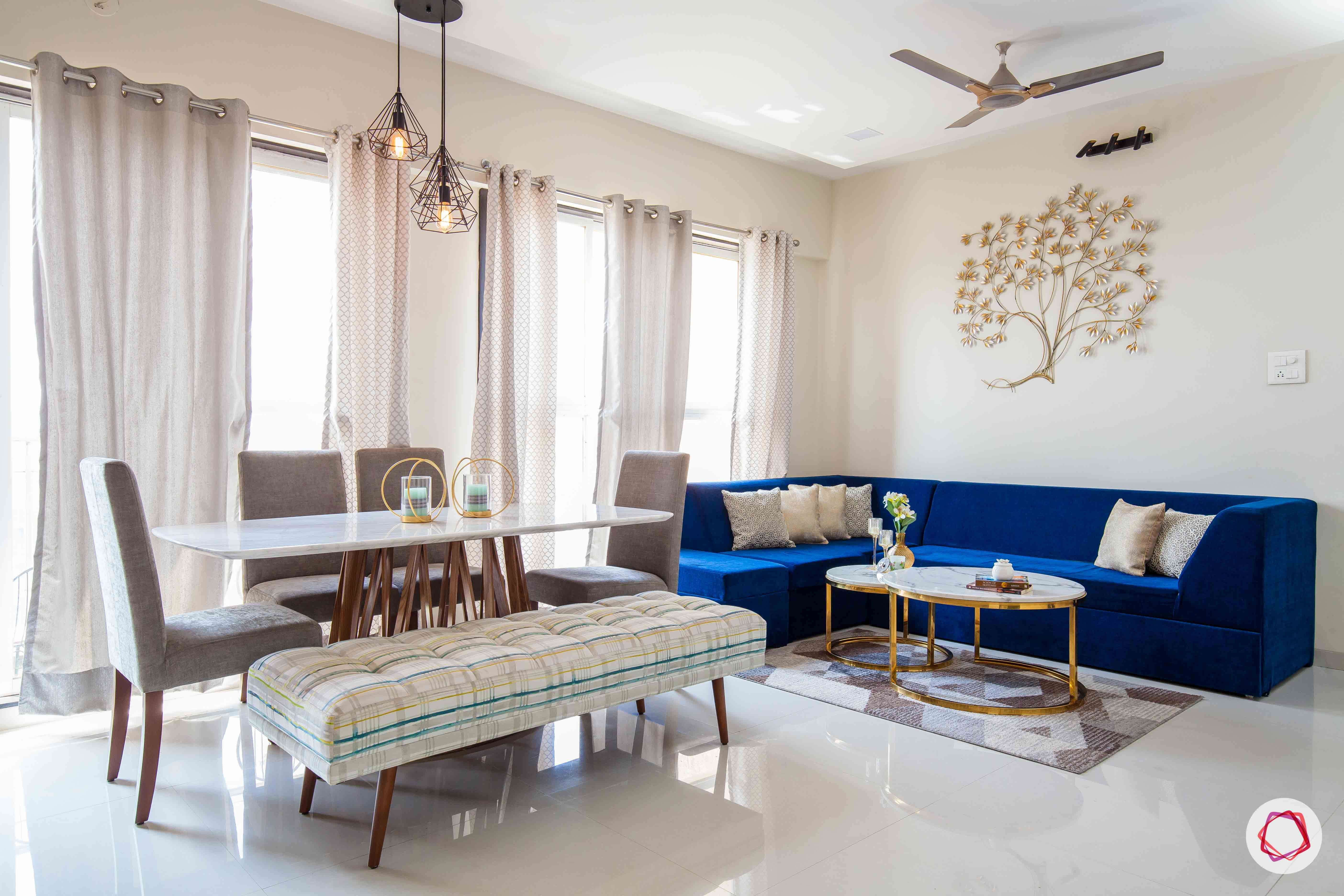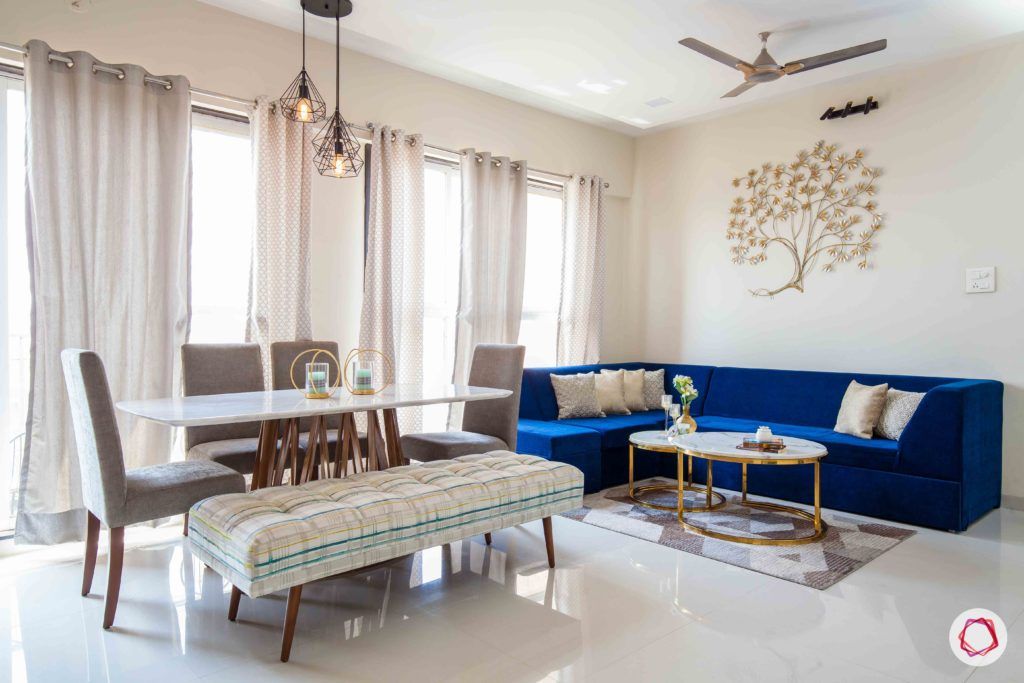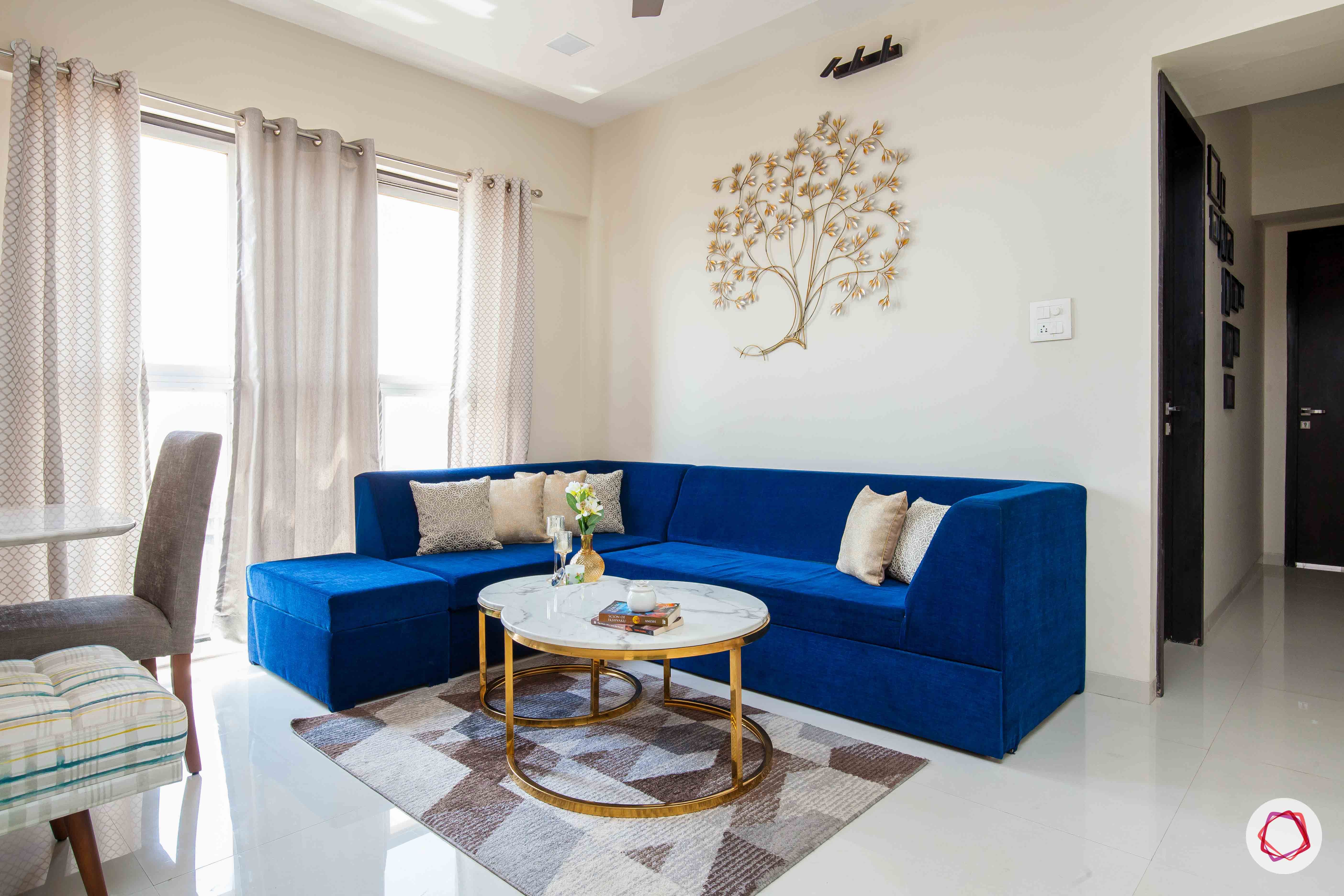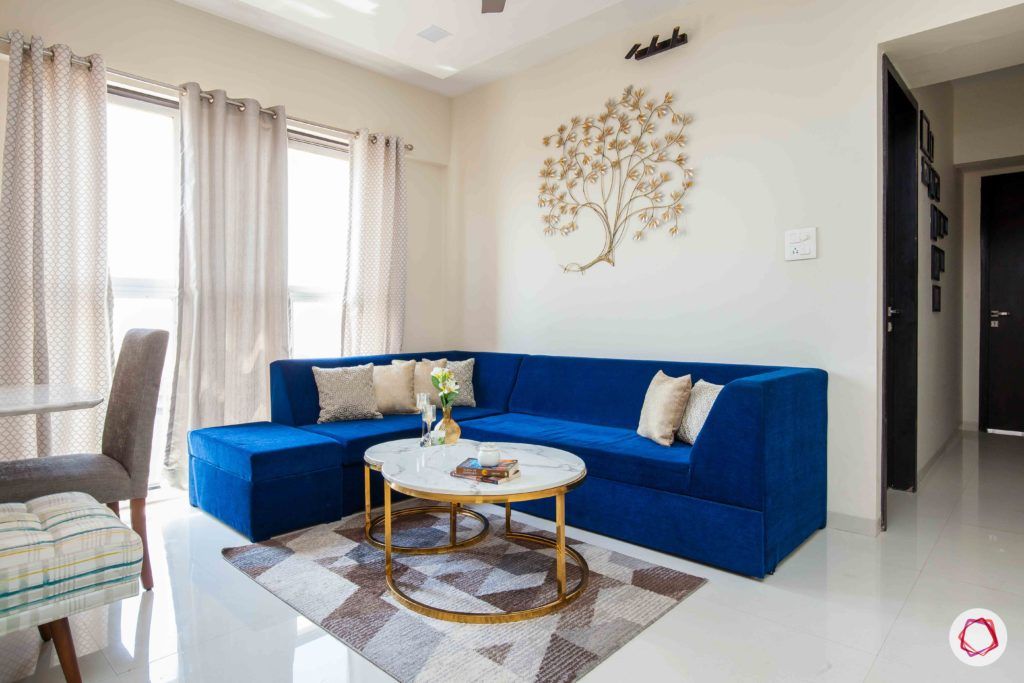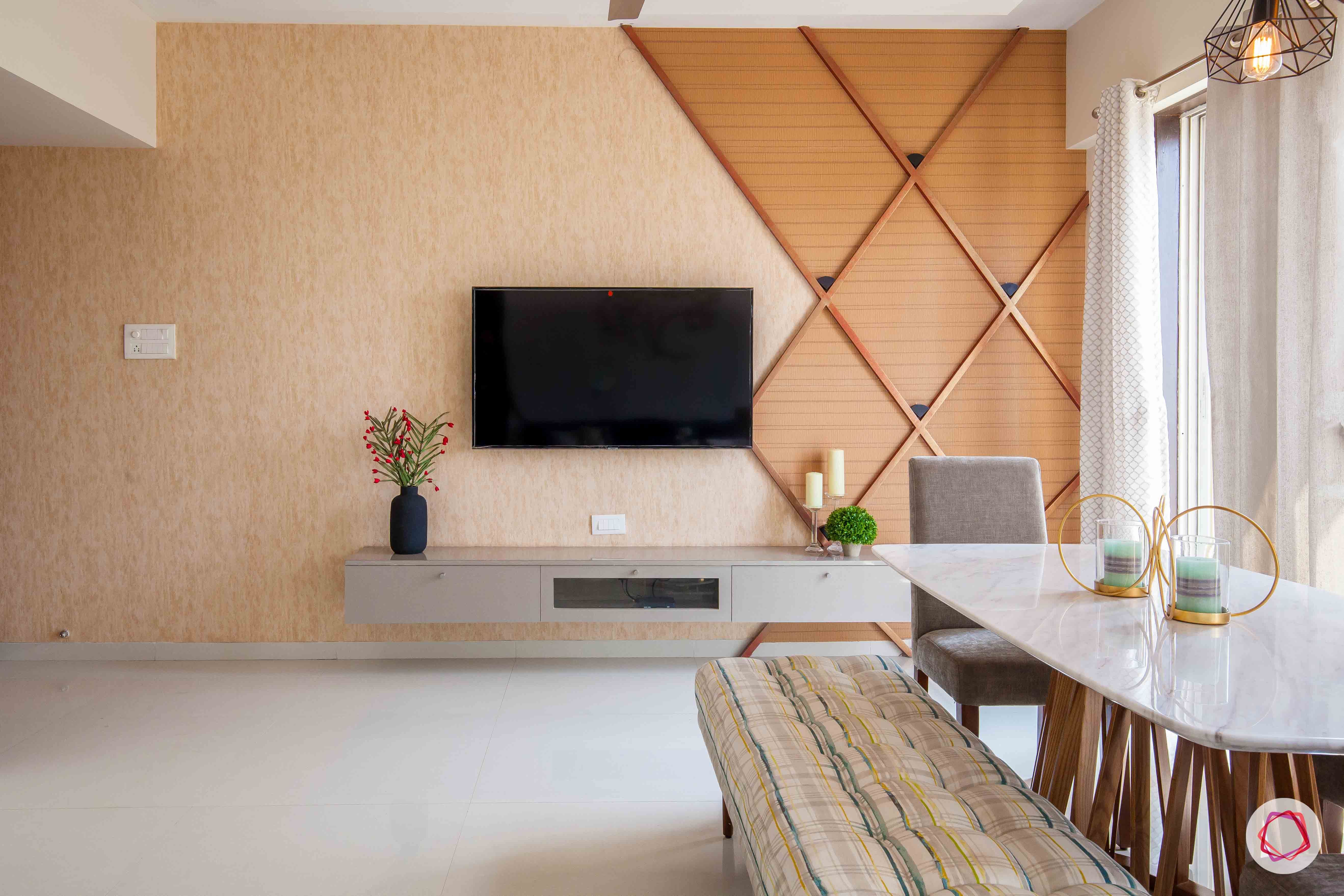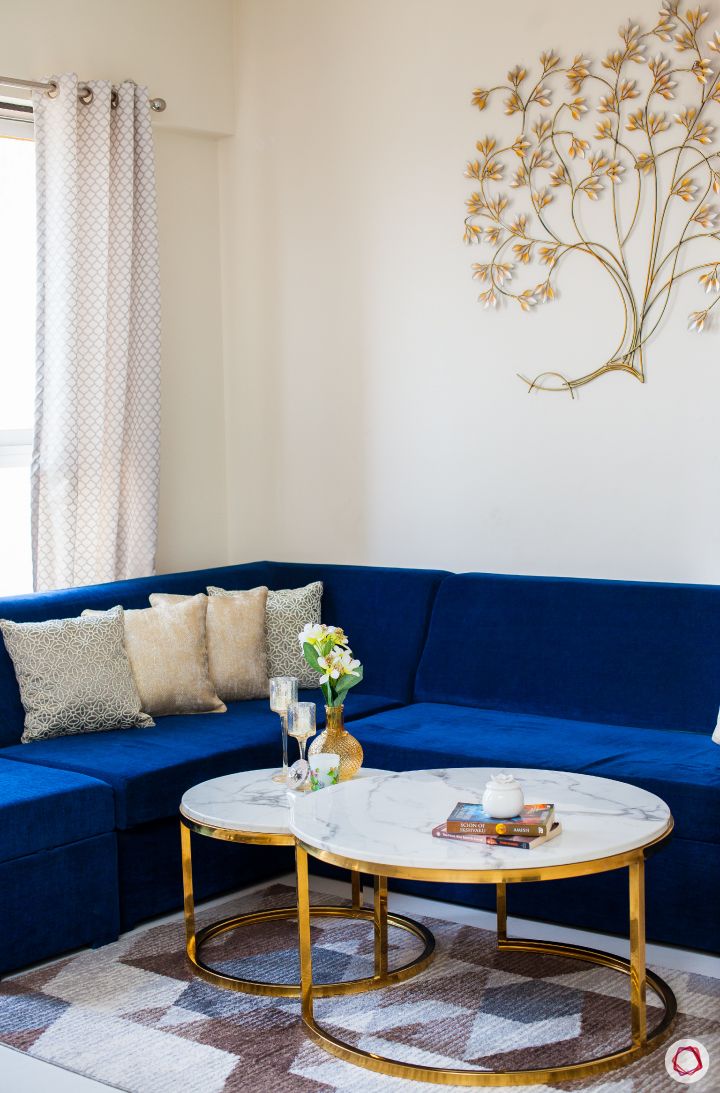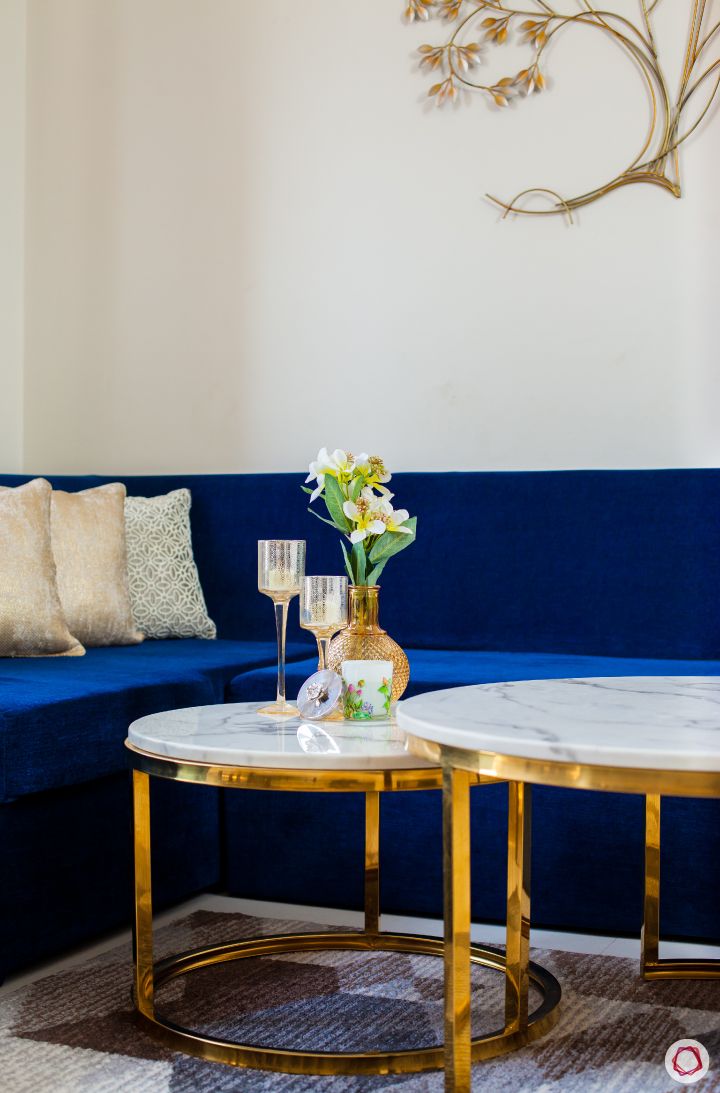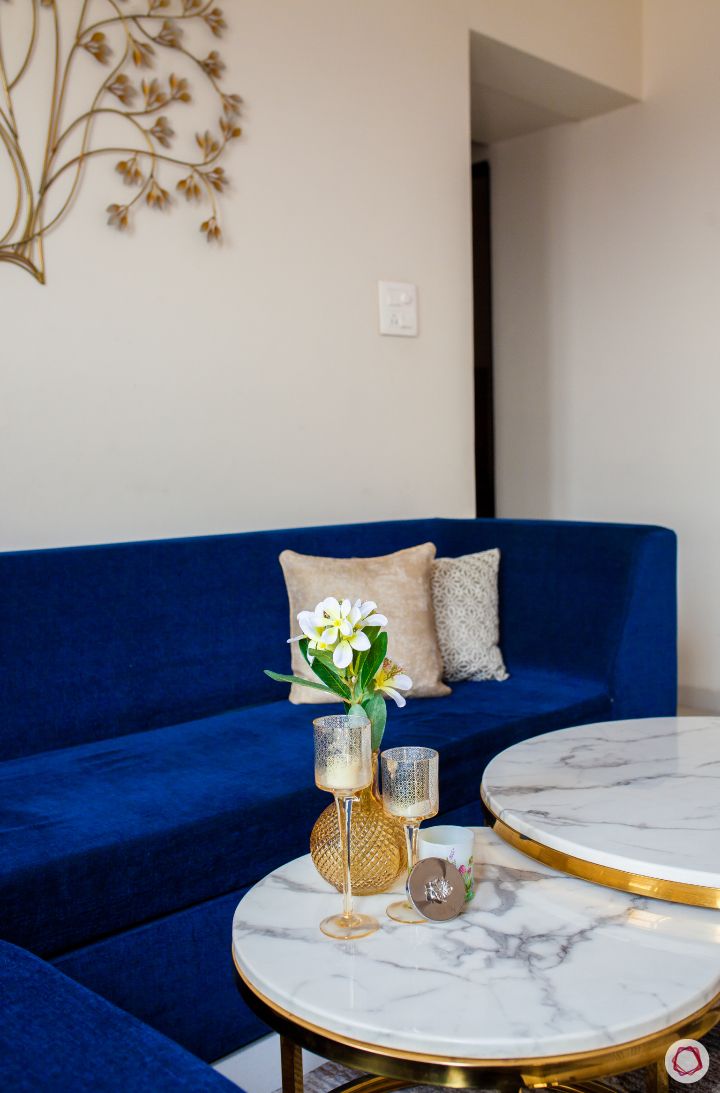 The moment you step inside this spacious Akshar Elementa home, its fresh and calm vibe instantly lifts your spirits. This living room features simple walls and clean lines with minimal furniture. All you can see is the bright blue L-shaped sofa and a marble-top centre table. Spot those subtle hints of shimmer in the frame of the centre table and wall decor.
Something that is worth mentioning here is the accent wall for the TV unit. On one side you can see a wooden finish wallpaper with wooden beading forming a pattern on it. Triangular lights illuminate the pattern on the wall brilliantly. On the other side, a simple textured wallpaper strikes a balance.

Interiors at Akshar Elementa: A Classy Statement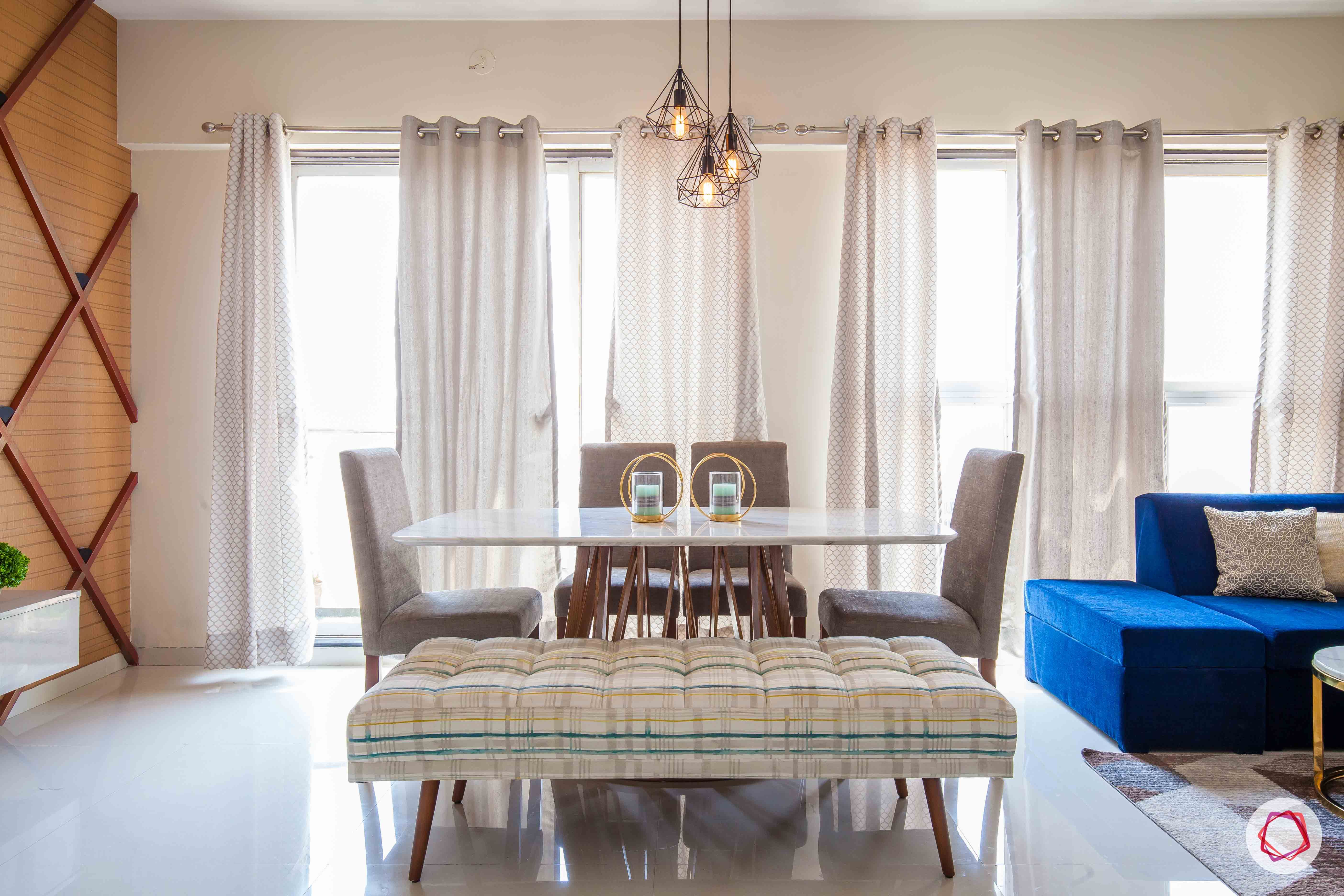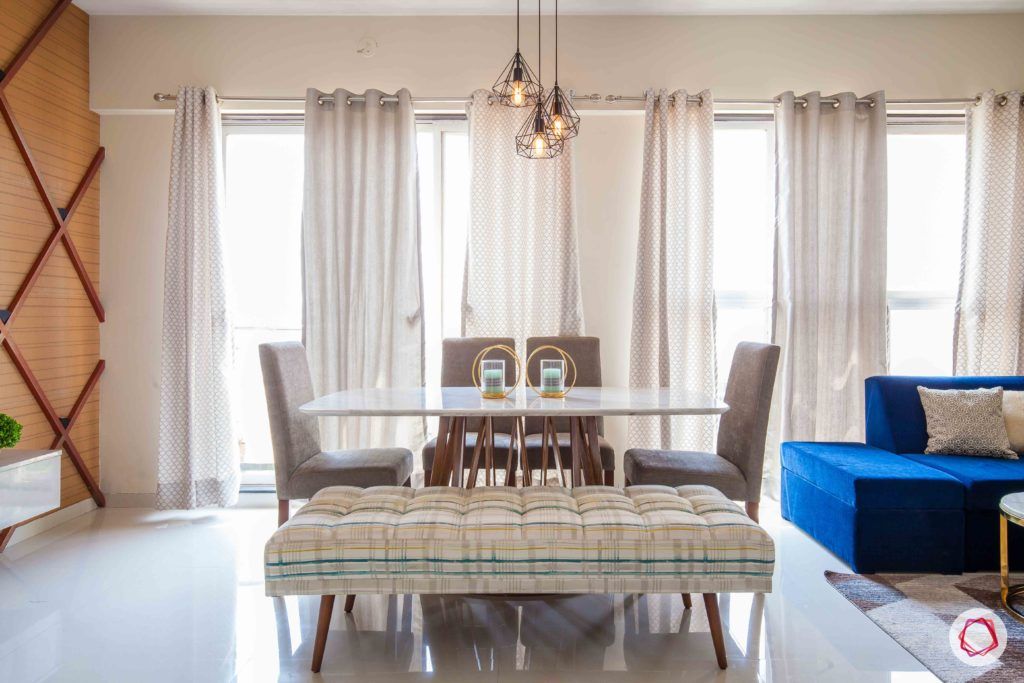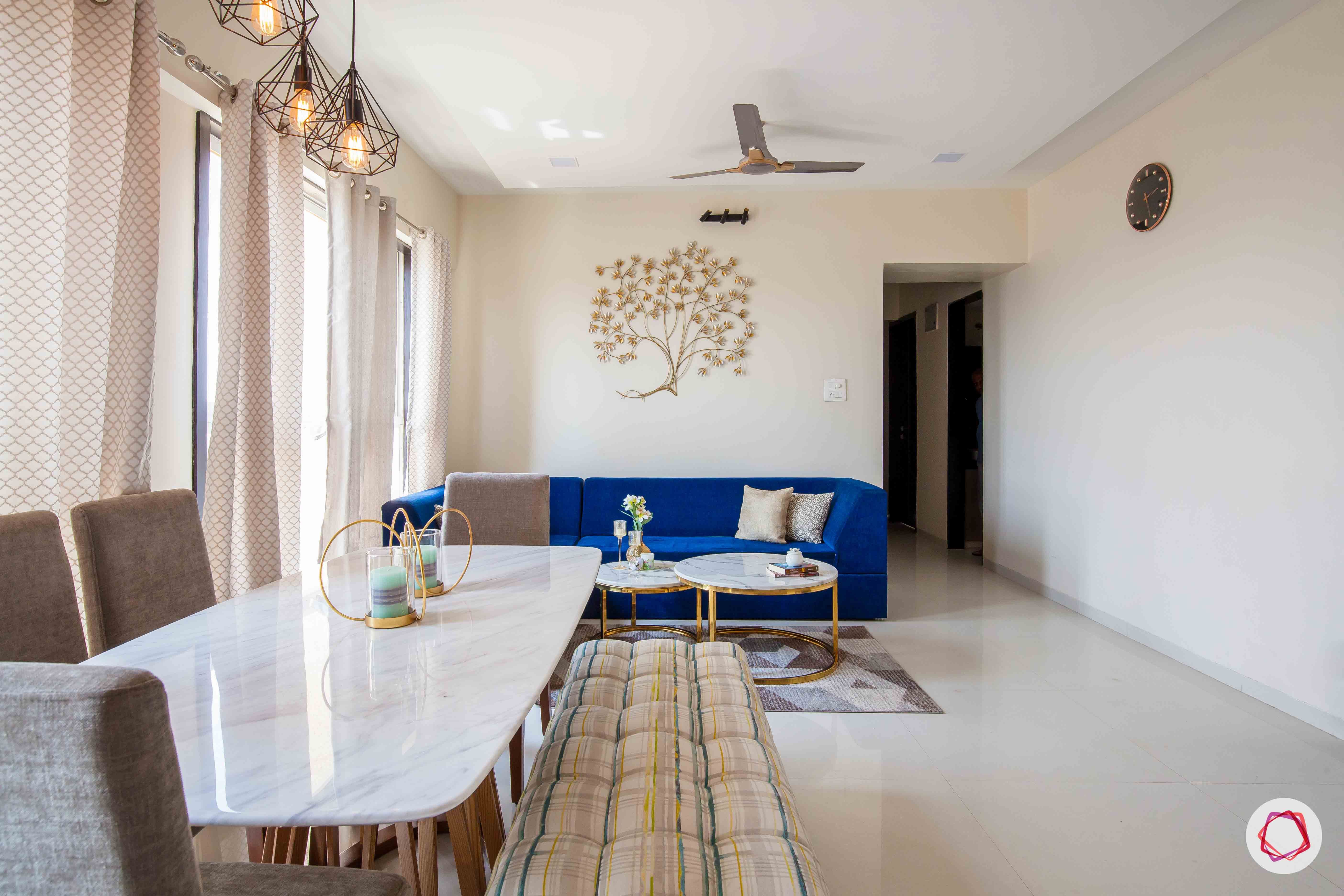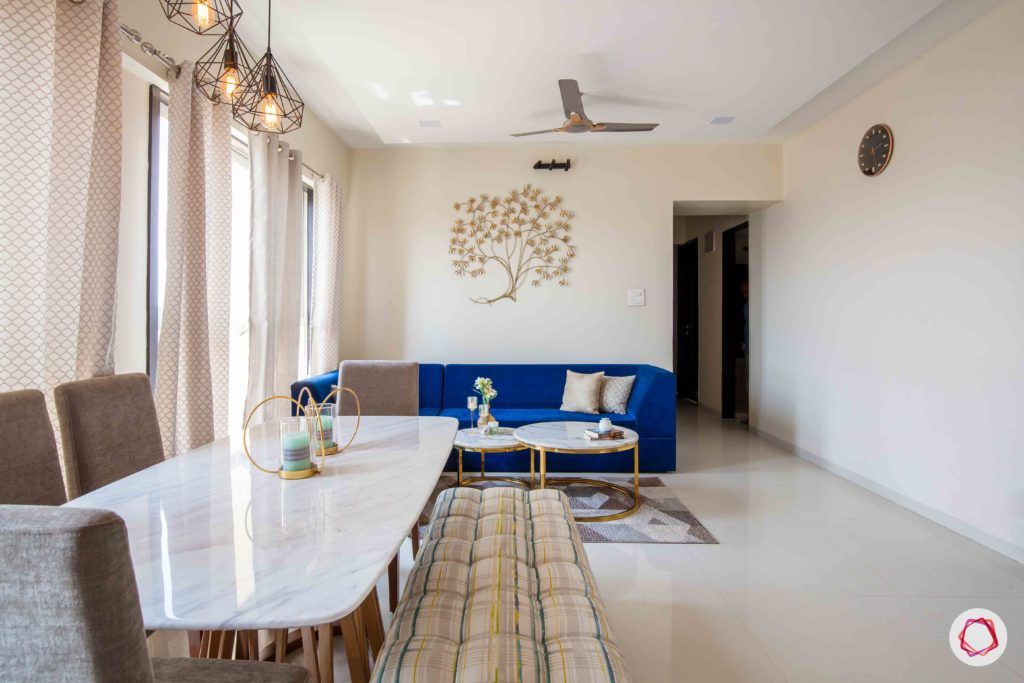 Dining rooms hold a special place in the hearts of families for the sole reason that this is the place at home where families come together at the end of the day. Keeping up with the design style that Pune loves, this dining room is classy and sleek. Ankush wanted a marble-top dining table and Chinky decided to give them chairs that suit the look of this space. Chairs upholstered in a neutral colour and a comfy bench, as an alternative seating option.
Interiors at Akshar Elementa: A Cosy Retreat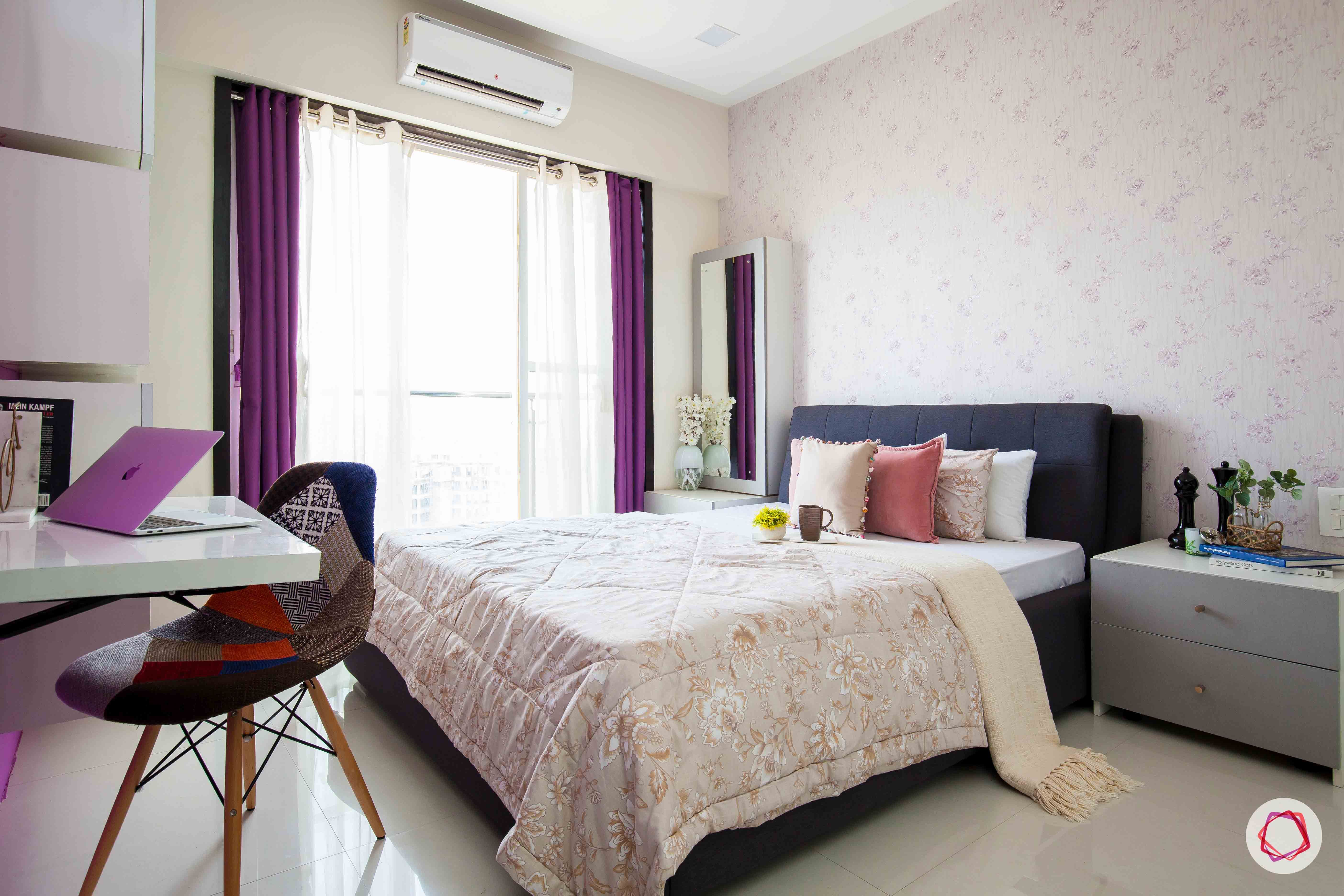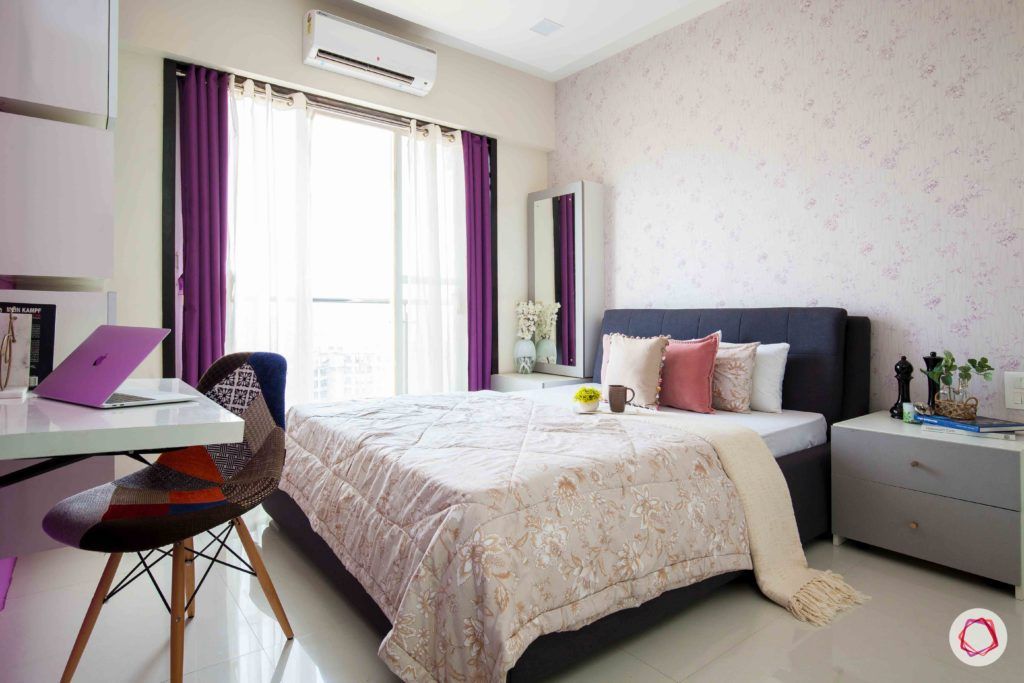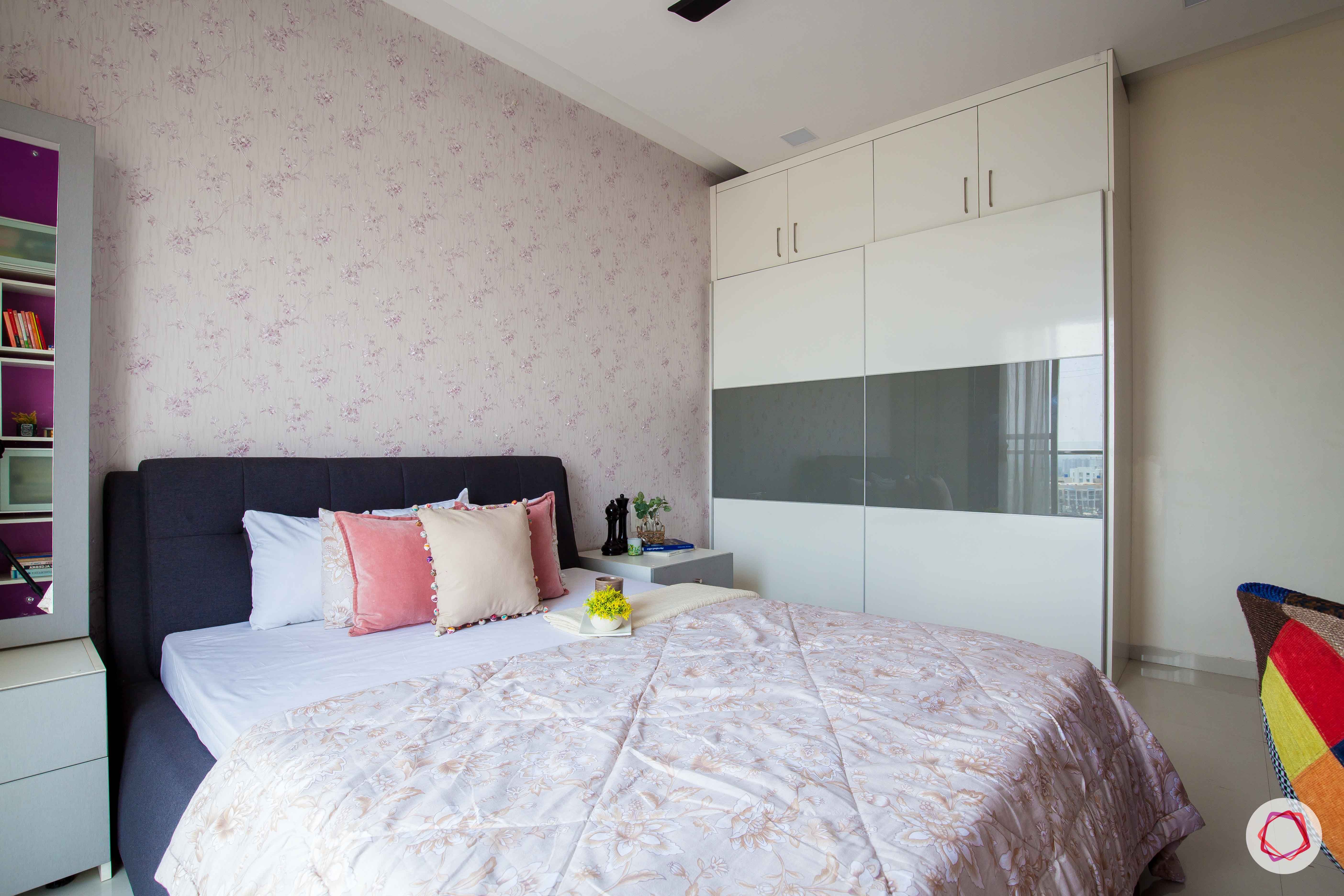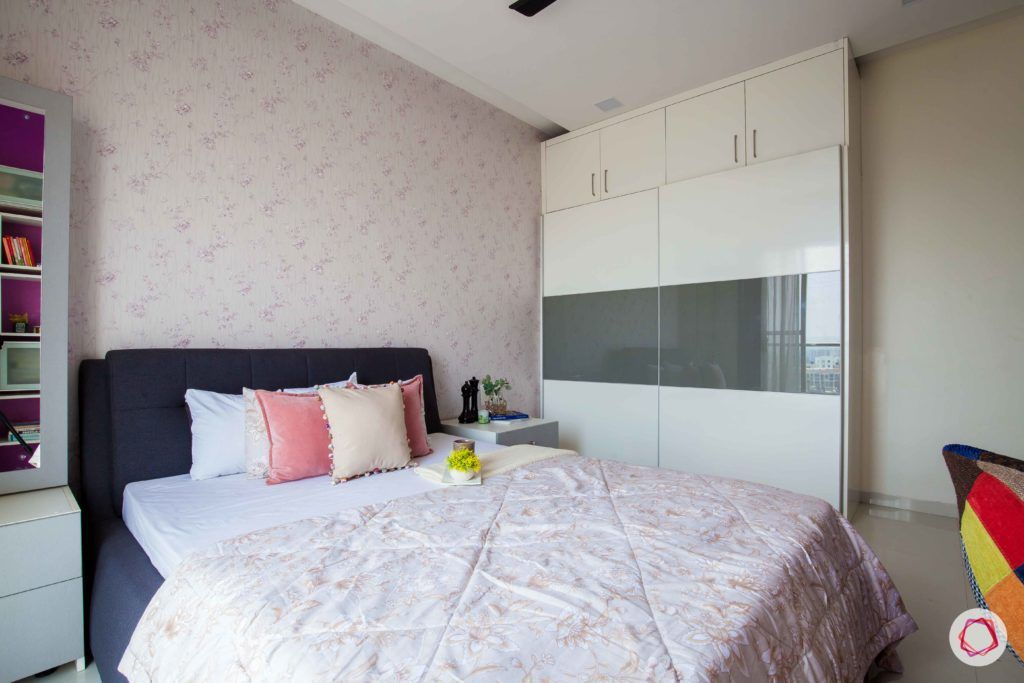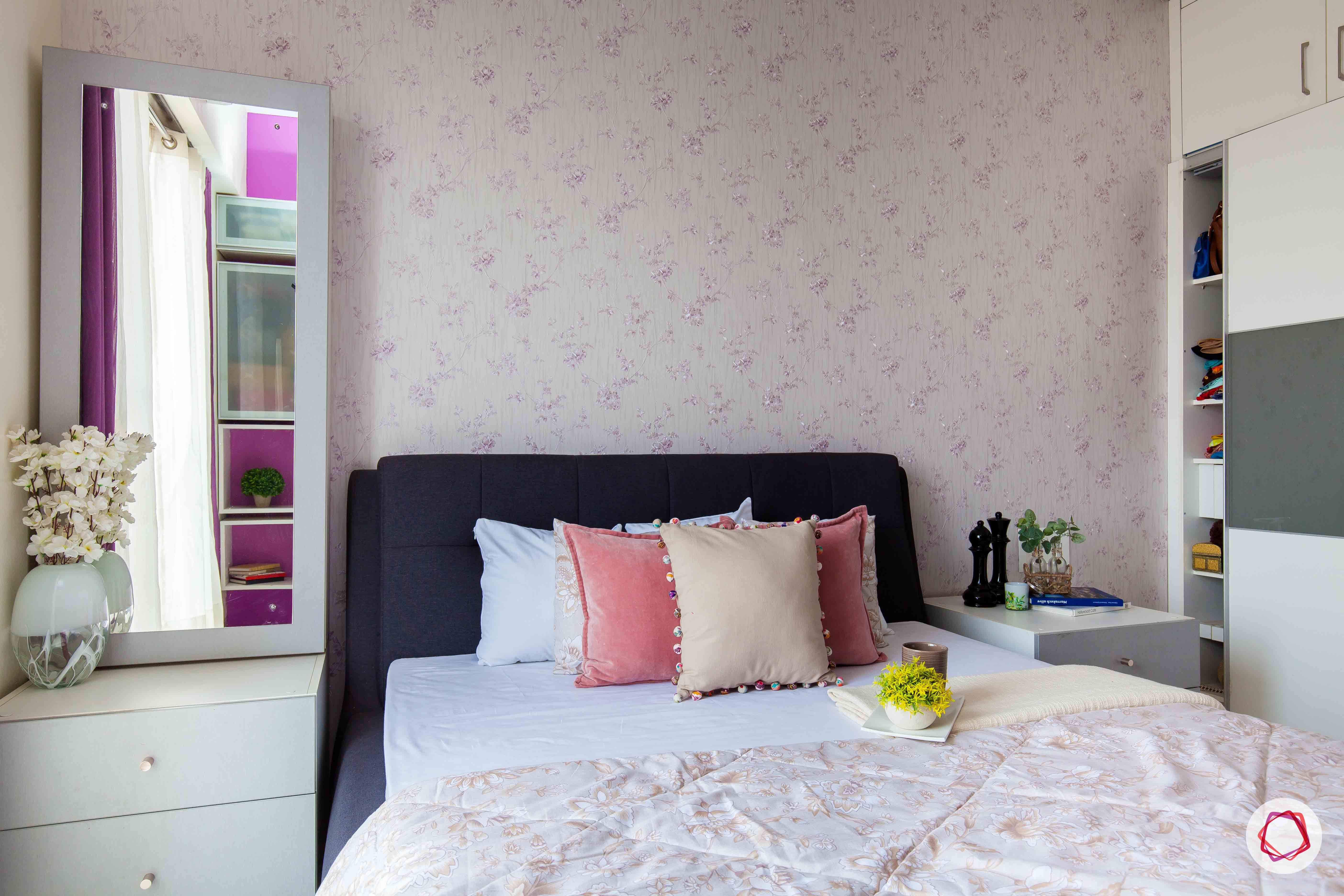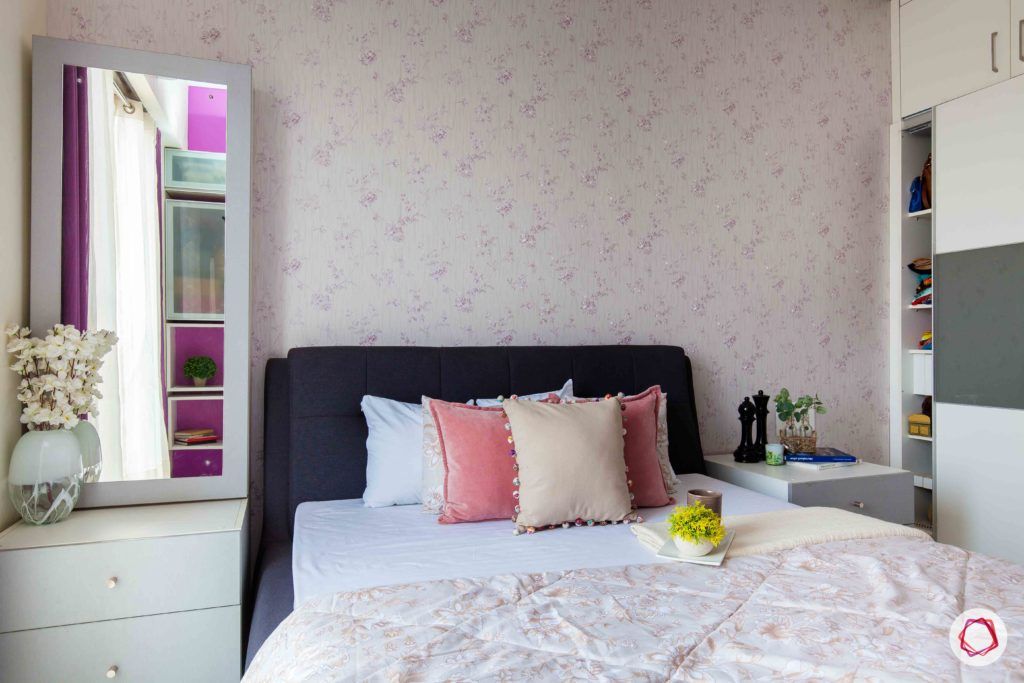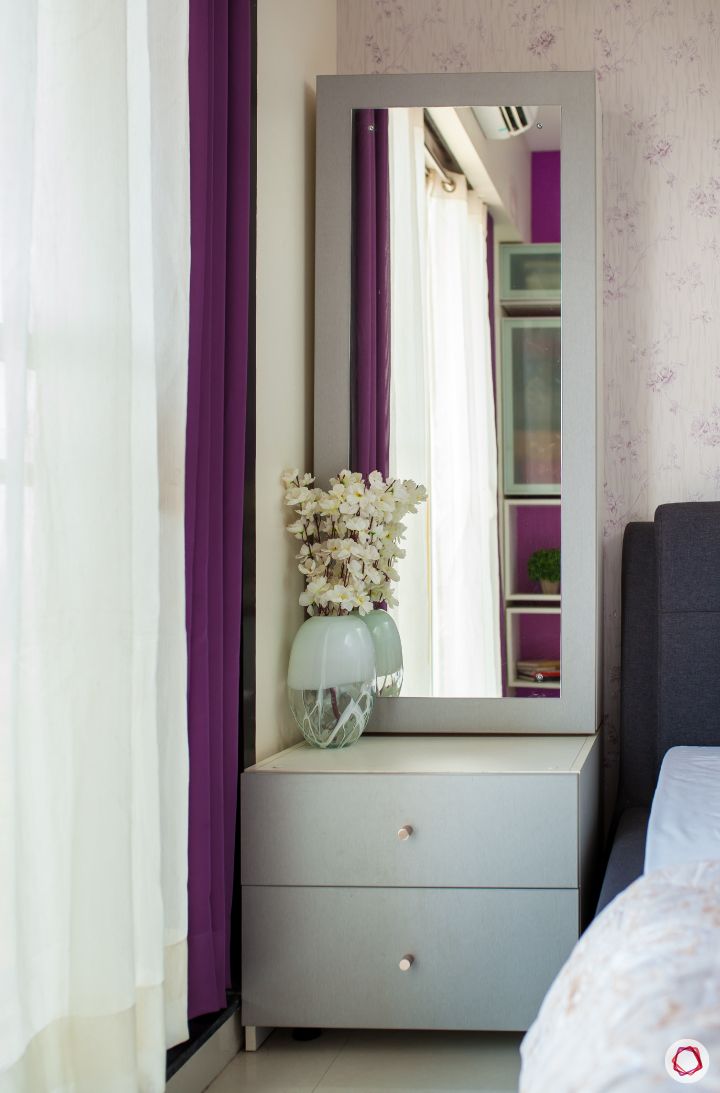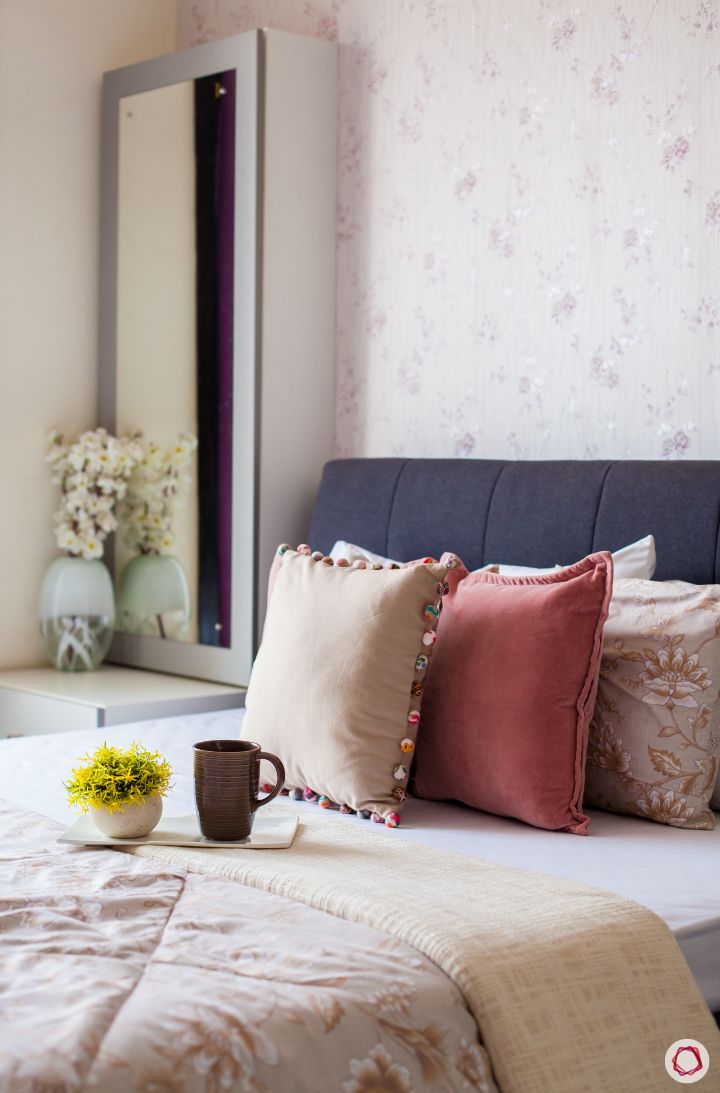 They say a bedroom should be that space at home where you feel relaxed and calm. Therefore, Chinky came up with a grey and white colour scheme for the master bedroom in this Akshar Elementa apartment. A fully upholstered bed with hydraulic storage is a smart choice if you require a lot of storage space.
On one side of the bed sits a side table with two large drawers, and on the other you can spot a tall dresser with storage. A sliding wardrobe with lofts is high on space and a grey lacquered glass panel in the centre adds to the beauty of the room.
Interiors at Akshar Elementa: A Peppy Work Zone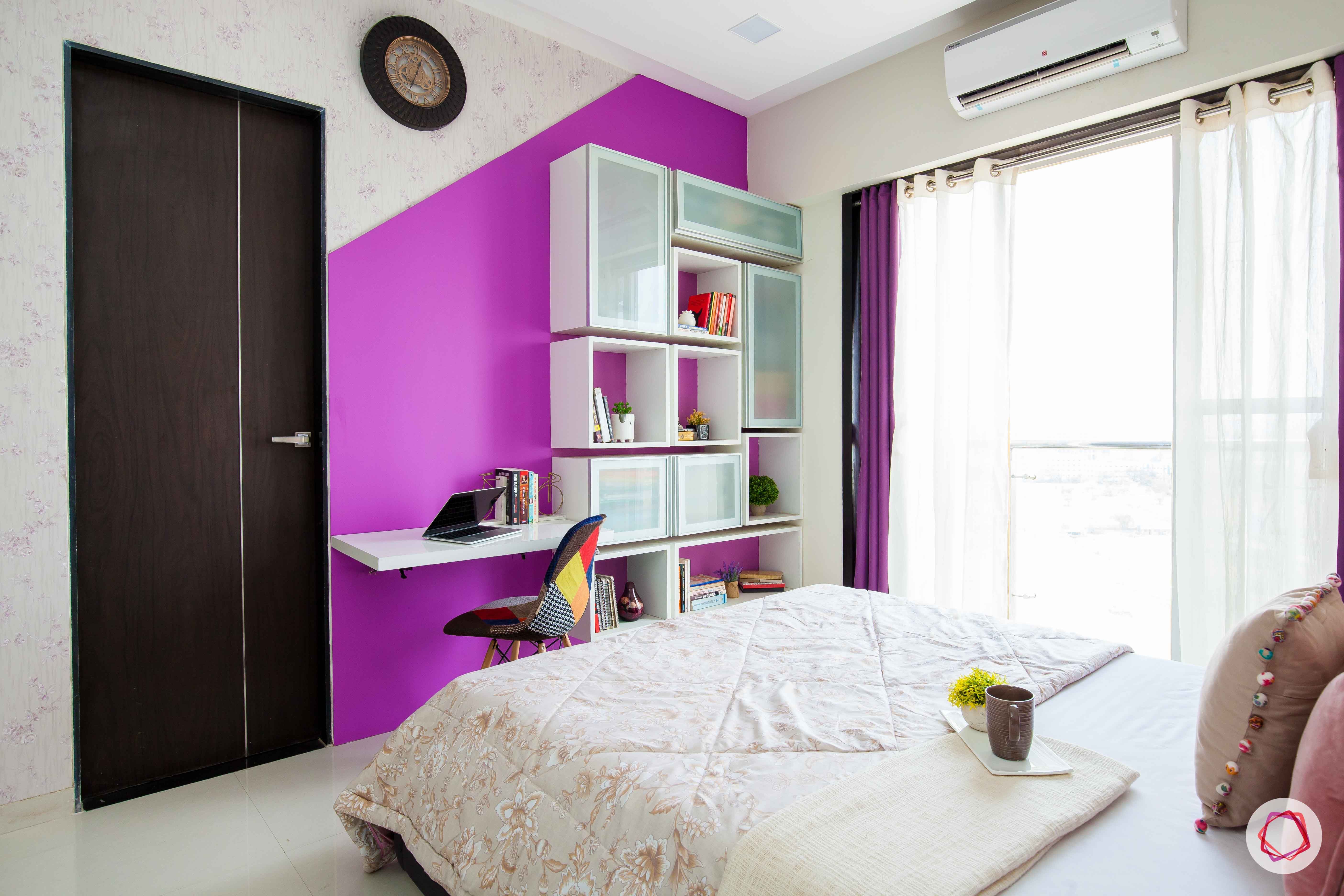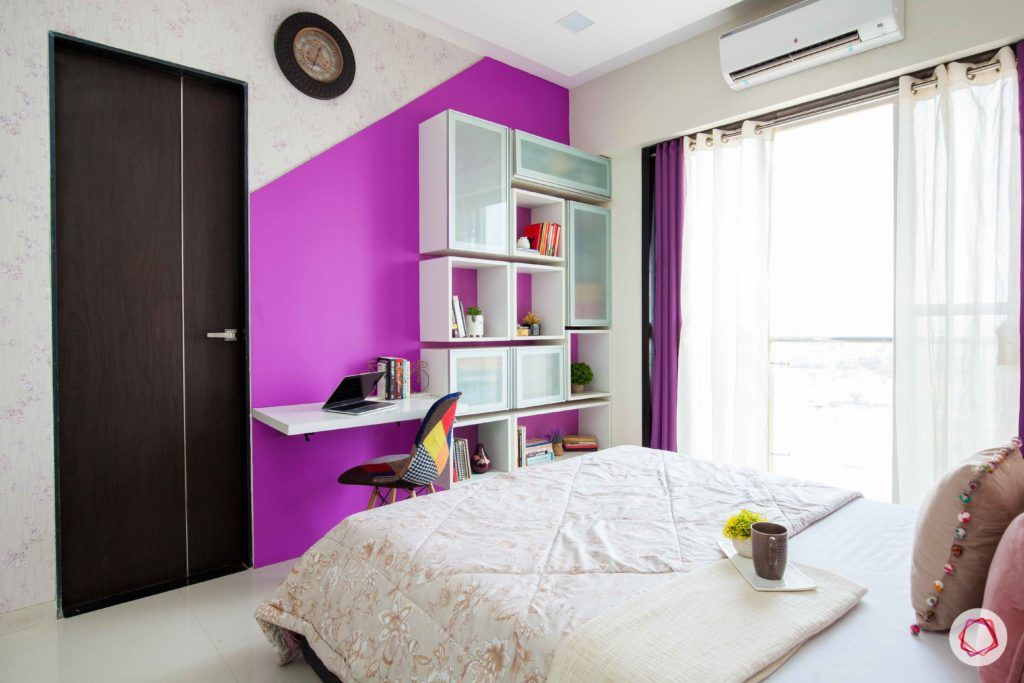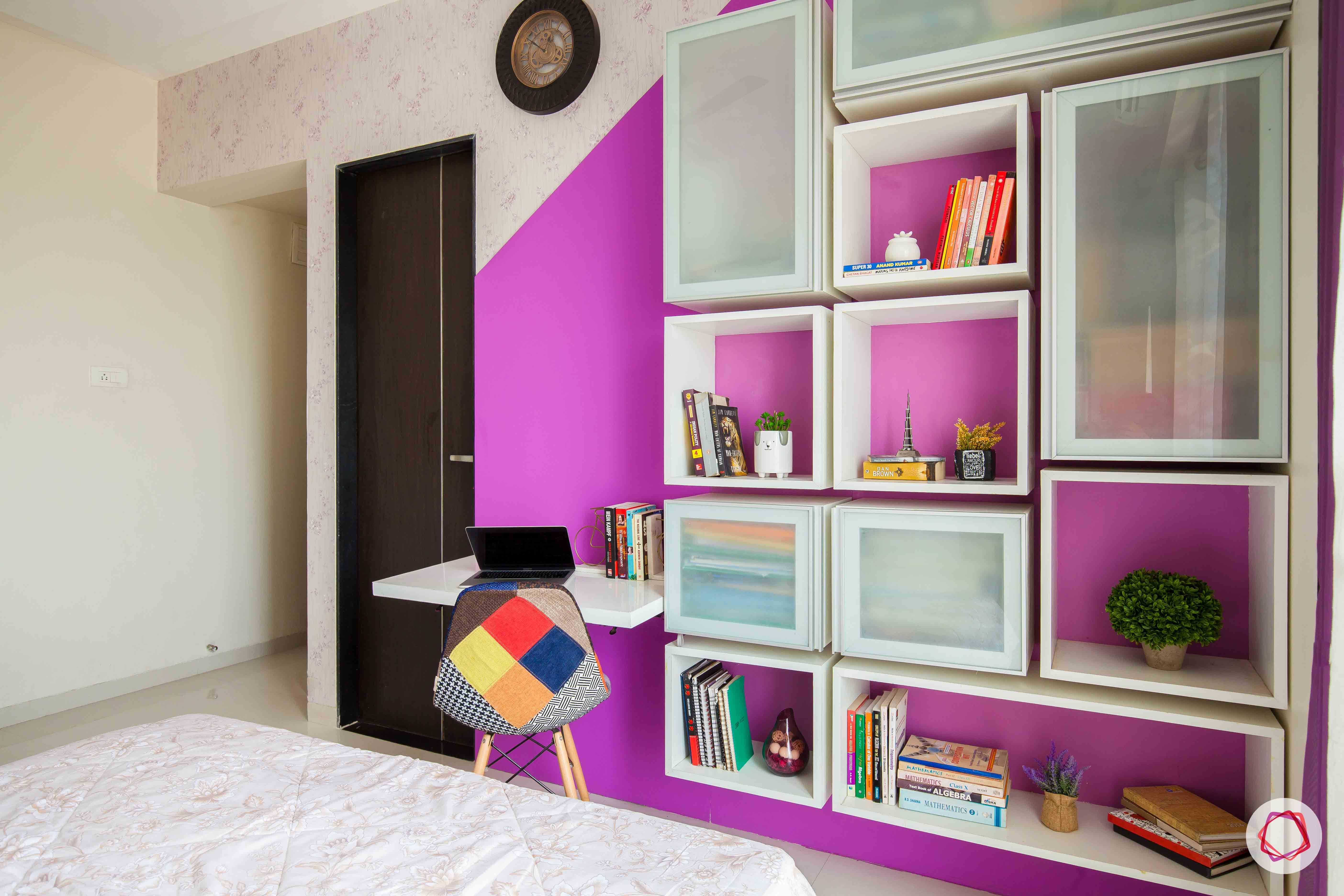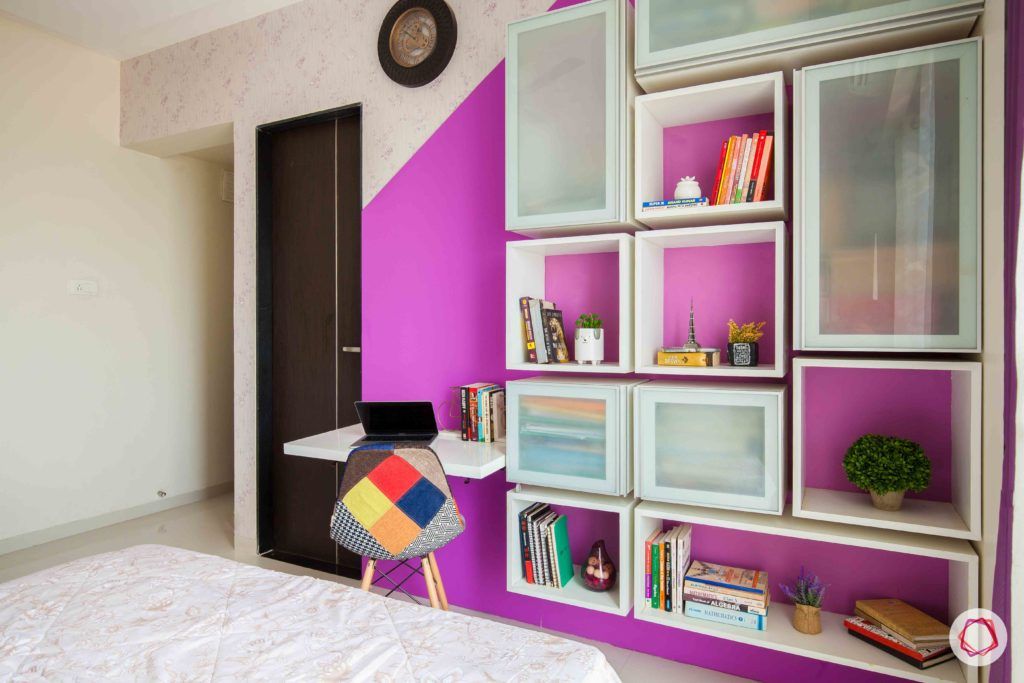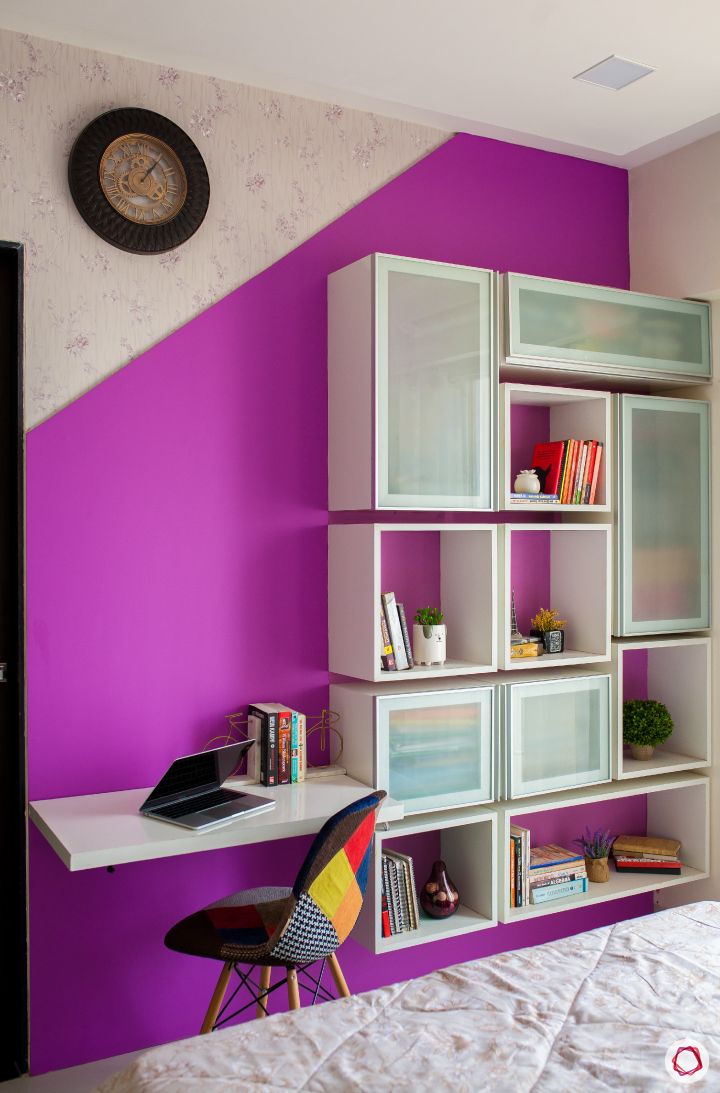 Remember the days when our nursery school walls used to be painted in vibrant colours accompanied by bright desks and chairs? There was a reason behind it. Bright colours keep your mind active and help you work better. Since Ankush is a teacher, he needs a lively ambience to work in and a peppy purple wall works just right for him. This work zone designed for him features a combination of open and closed storage and a compact ledge and chair where he can sit and work.
Interiors at Akshar Elementa: Made for Comfort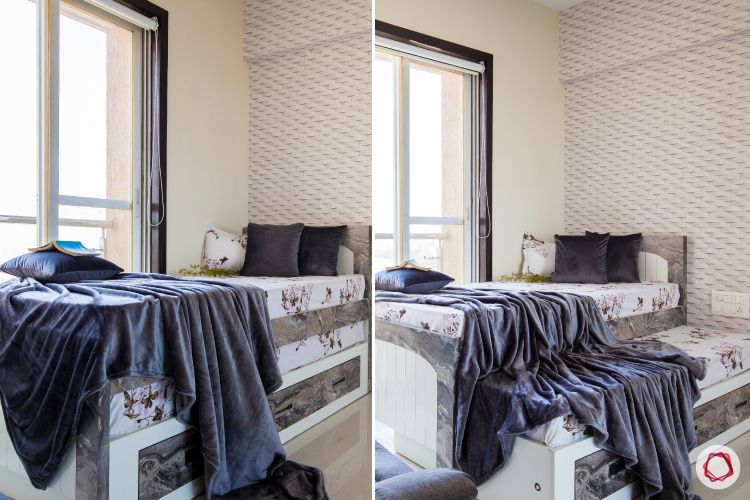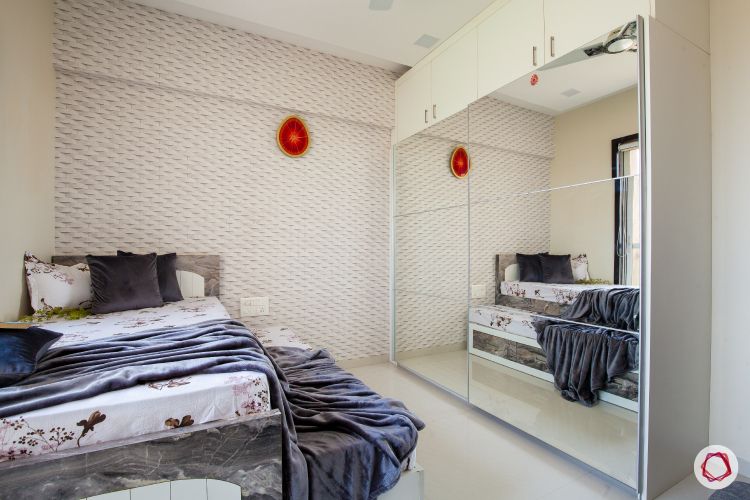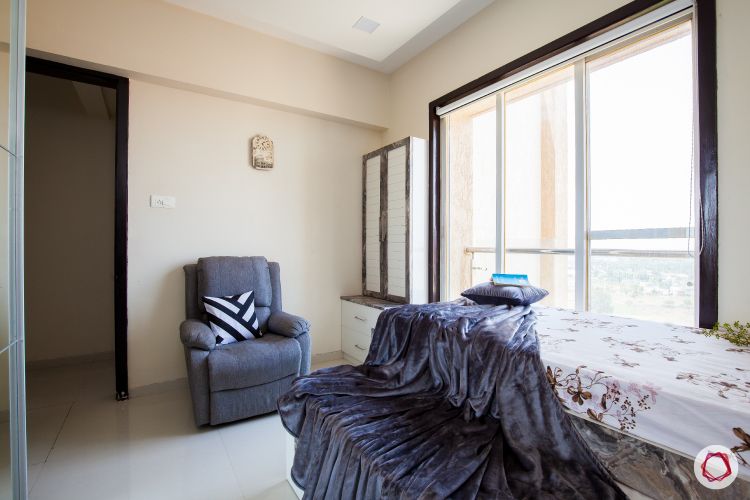 Ankush's mother is an ardent lover of all things white and she wanted her entire room to be designed using white as the dominant colour. Therefore, our designer came up with a practical solution and gave her trundle bed some character with marblesque laminate panels. A fully mirrored sliding wardrobe opens up the space while a simple brick print wallpaper makes the room interesting.
She also loves chanting and reading, so she needed a cosy spot in her room for the same. To make her feel comfortable, Chinky suggested this upholstered recliner. It sits right next to a tall cabinet with drawers where she can keep her things as she relaxes.
"Ankush and Pritika were very easy to work with since their ideas were clear and decision-making was quick. I have given them pops of colour here and there, and made sure that everything can keep changing over time, just like they wanted. This home is a true representation of how
Pune-ites like their home to look and feel. It was a great experience to design this one!"

– Chinky Budhraja, Interior Designer, Livspace
Do you want some inspiration from a Mumbai Home? Here's a lovely home that we designed: Stylishly Minimal 3BHK by Livspace.
Send in your comments and suggestions.