If we look at homes in a city-specific way, each city has its own taste in interiors that is often a product of the lifestyle in that city. In Mumbai, space constraint is the overriding factor while doing interiors. In Bangalore, there is a stress on usability because it is home to the biggest population of techies. Pune is unique in this respect; it occupies the sweet spot between the traditional Maharashtrian values and an upcoming tech city. That is why homes designed by Livspace Pune occupy a sweet place in our hearts.
We hate to play favourites but our readers have given their overwhelming love to these 5 Pune homes over time. Let's see what makes them so special.
#1: How we made this 3BHK spacious enough for a family of 5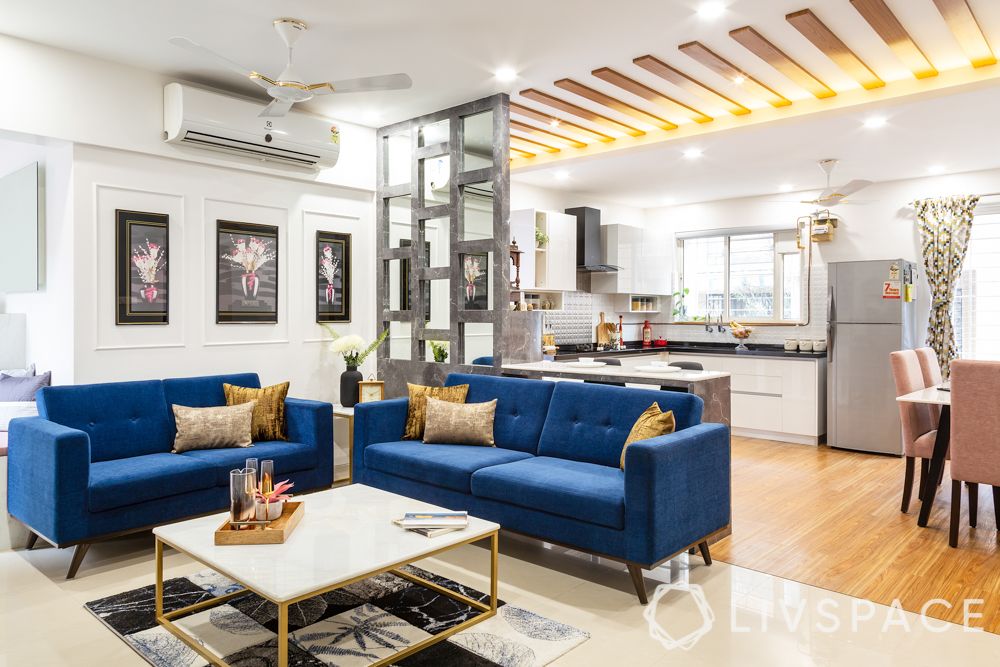 What did the homeowners want?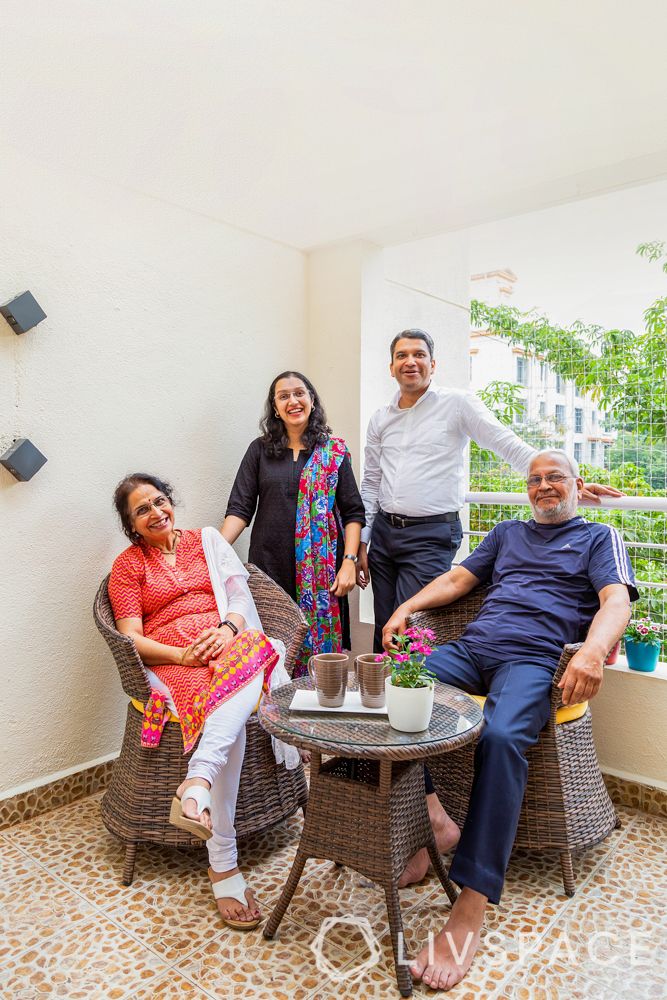 This typical Puneri family was keen on having a home that looked spacious and wanted every room to have a different vibe. They felt that their kitchen was not big enough to cook for a family of five. Livspace Pune solved that problem by opening up the kitchen and merging it with the dining area. More specifically, they wanted their only daughter's bedroom to be gender-neutral in theme. Unlike most Indian families, they choose blue instead of pink for their daughter's bedroom.
What we love…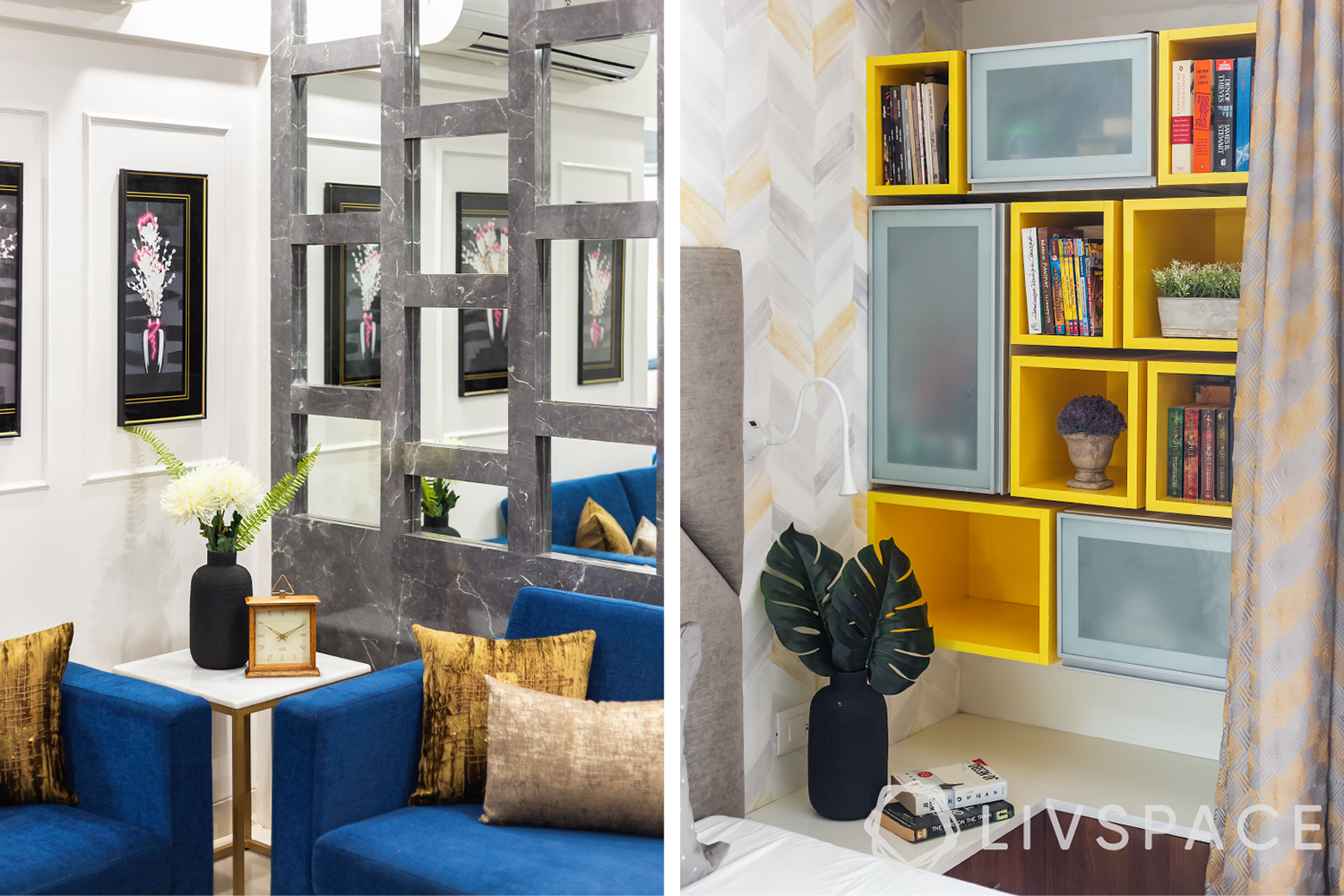 This Livspace Pune home stands out for its use of unique materials like a marble-look alike laminate for the partition in the living room. This trick ensures that the partition looks like it is made of solid stone, which is naturally more expensive than MDF and laminate. Also, we love the arrangements of the floating shelves in all the rooms that offer both texture and storage.
You can see all the images of this room 3BHK here.
#2: How we delivered end-to-end interiors under ₹10 lakhs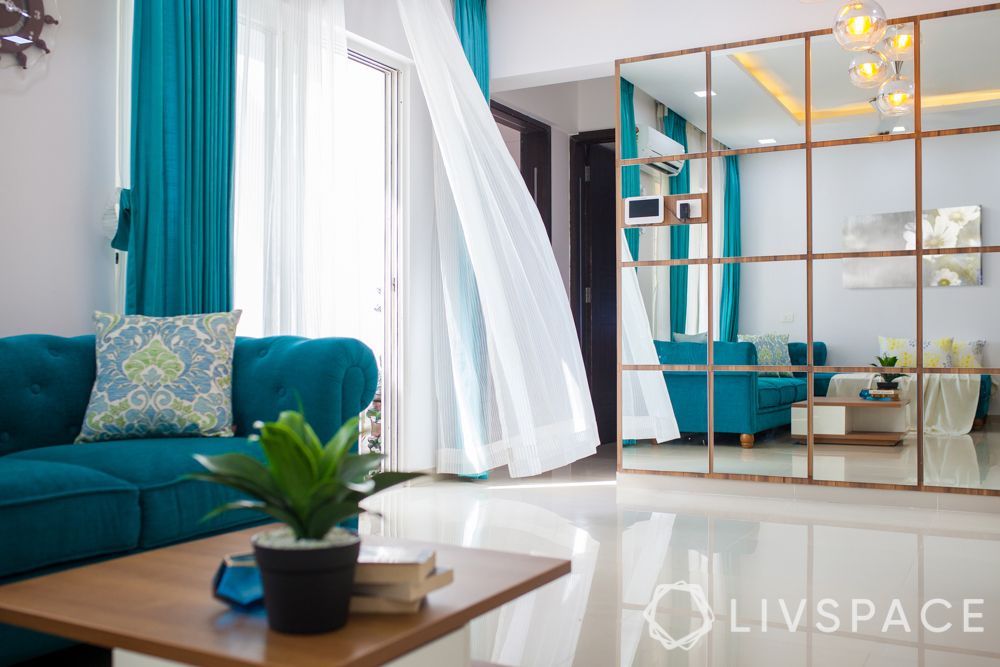 What did the homeowners want?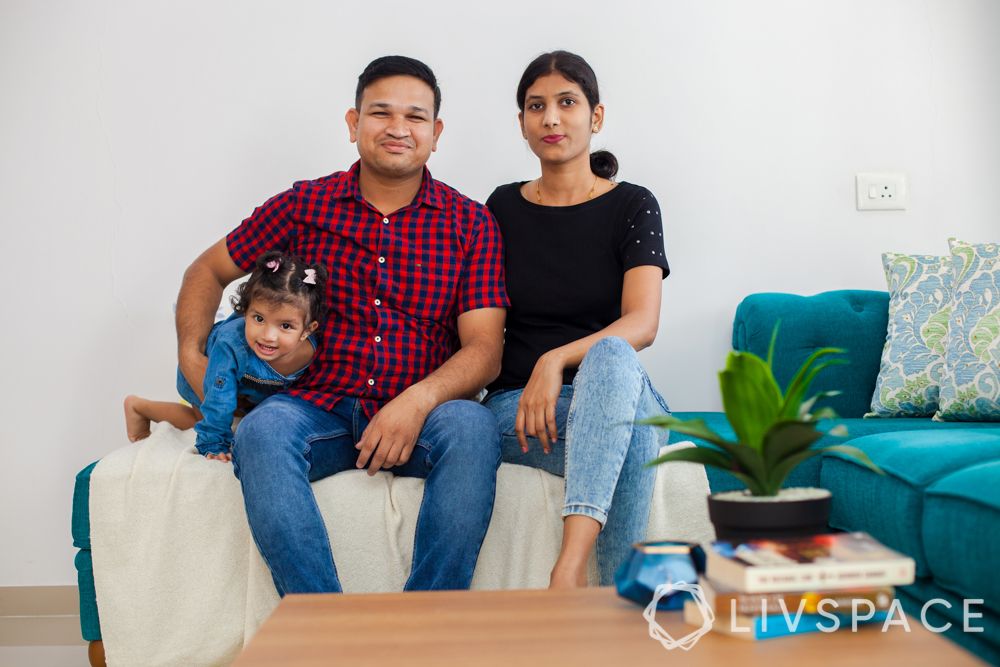 Nikhil and his wife wanted end-to-end interiors for their home without the hassles of furnishing your home. They had a budget and some specifics in mind that they shared with the design team. This gave the Livspace Pune team full creative license to bring their vision to fruition.
What we love…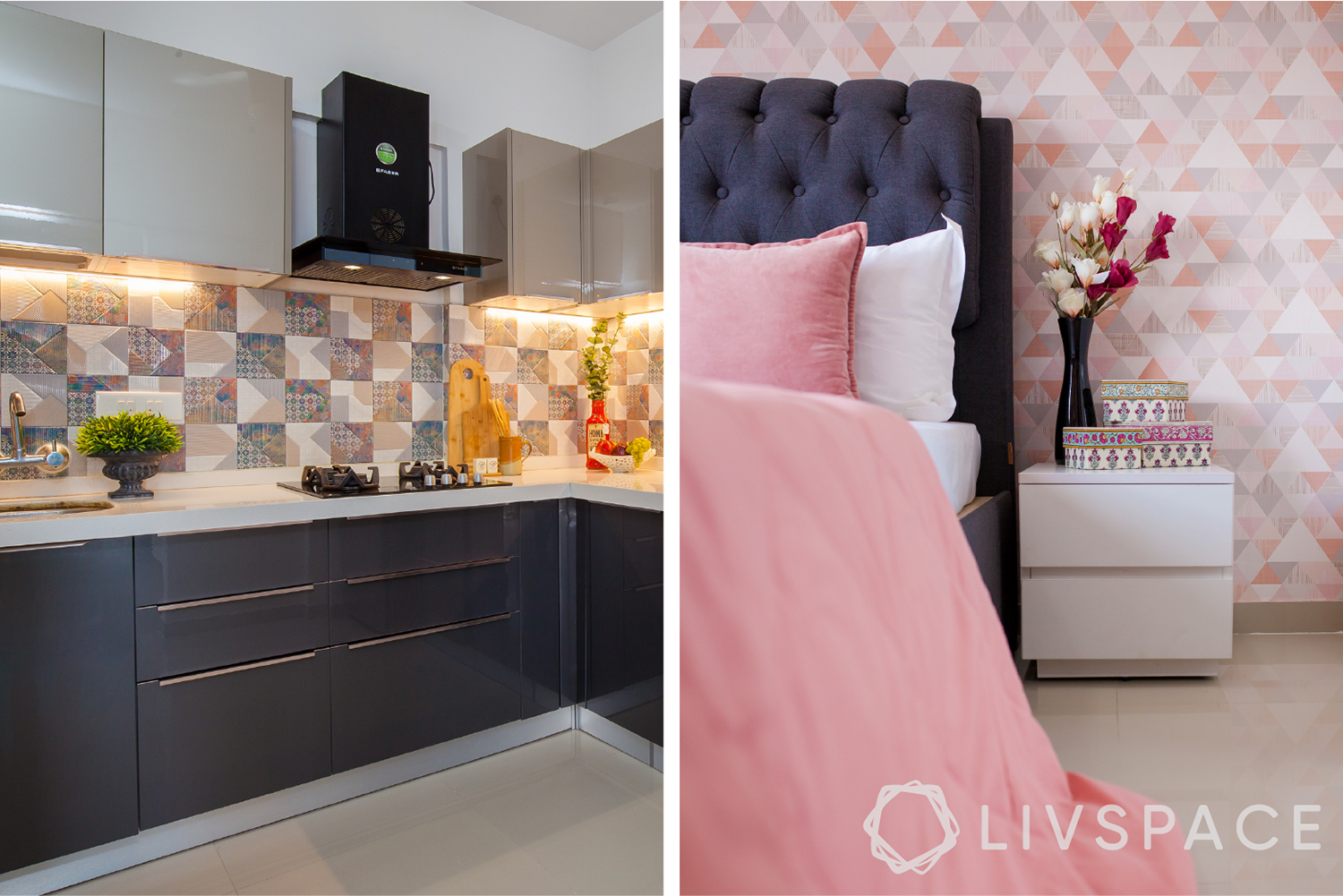 What we admire most about this home is the way the budget was allocated to the different aspects of interiors based on priority. The kitchen took up a giant share of the budget and it turned out to be a stunner! This two-toned grey kitchen has a high-gloss laminate finish and is ergonomically sound; all base cabinets are drawers to improve access. Also, there is a tall cabinet to accommodate all the groceries.
Giving the kitchen what it deserved in terms of funds meant we had to cut corners elsewhere. And we did that quite prudently by picking some affordable but pleasing wallpapers for the accent walls in the living room and the two bedrooms.
See the rest of this budget 2 BHK here.

#3: How we used only modular furniture to offer smart storage solutions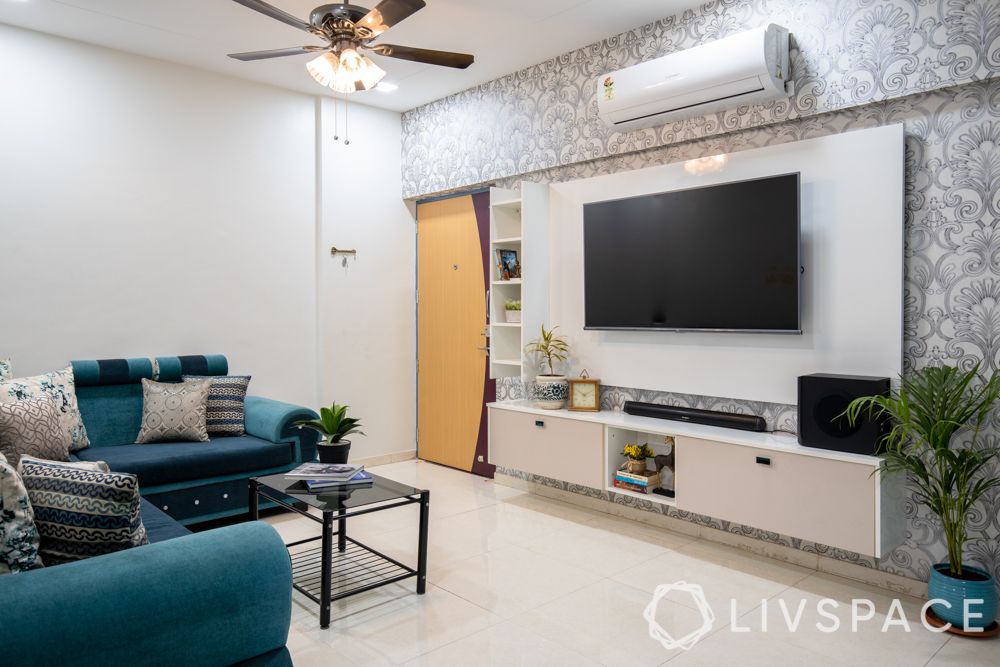 What did the homeowners want?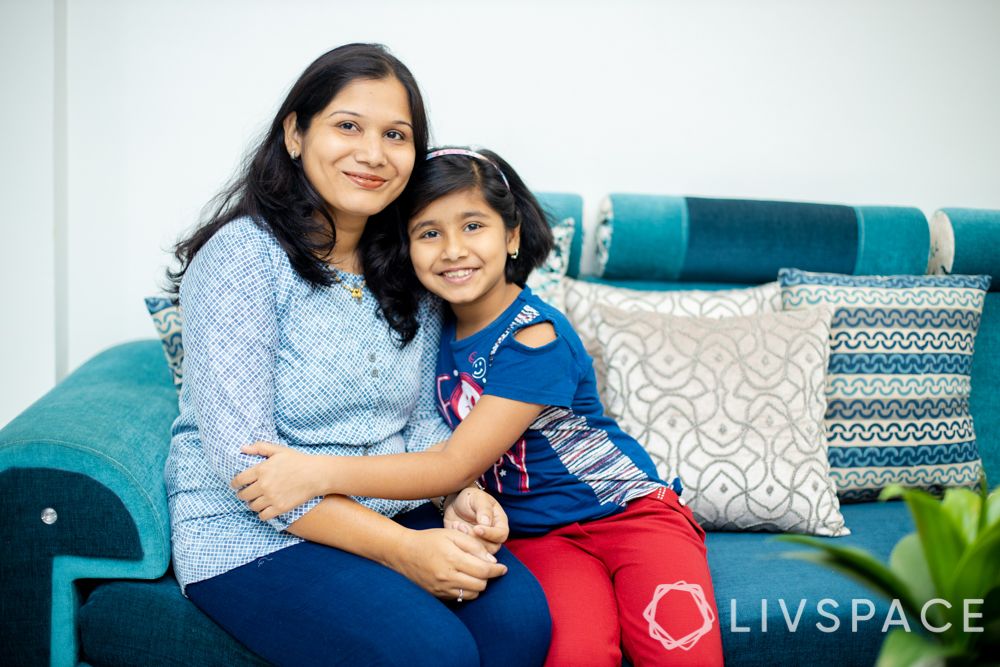 The Kulkarnis are a typical Marathi family native to Pune and they wanted what most Indian families do — a budget home with plenty of storage space. And to give them just that, our Livspace Pune team devised a plan that included smart storage and other budget-friendly features like wallpaper treatments and laminate finish.
What we love…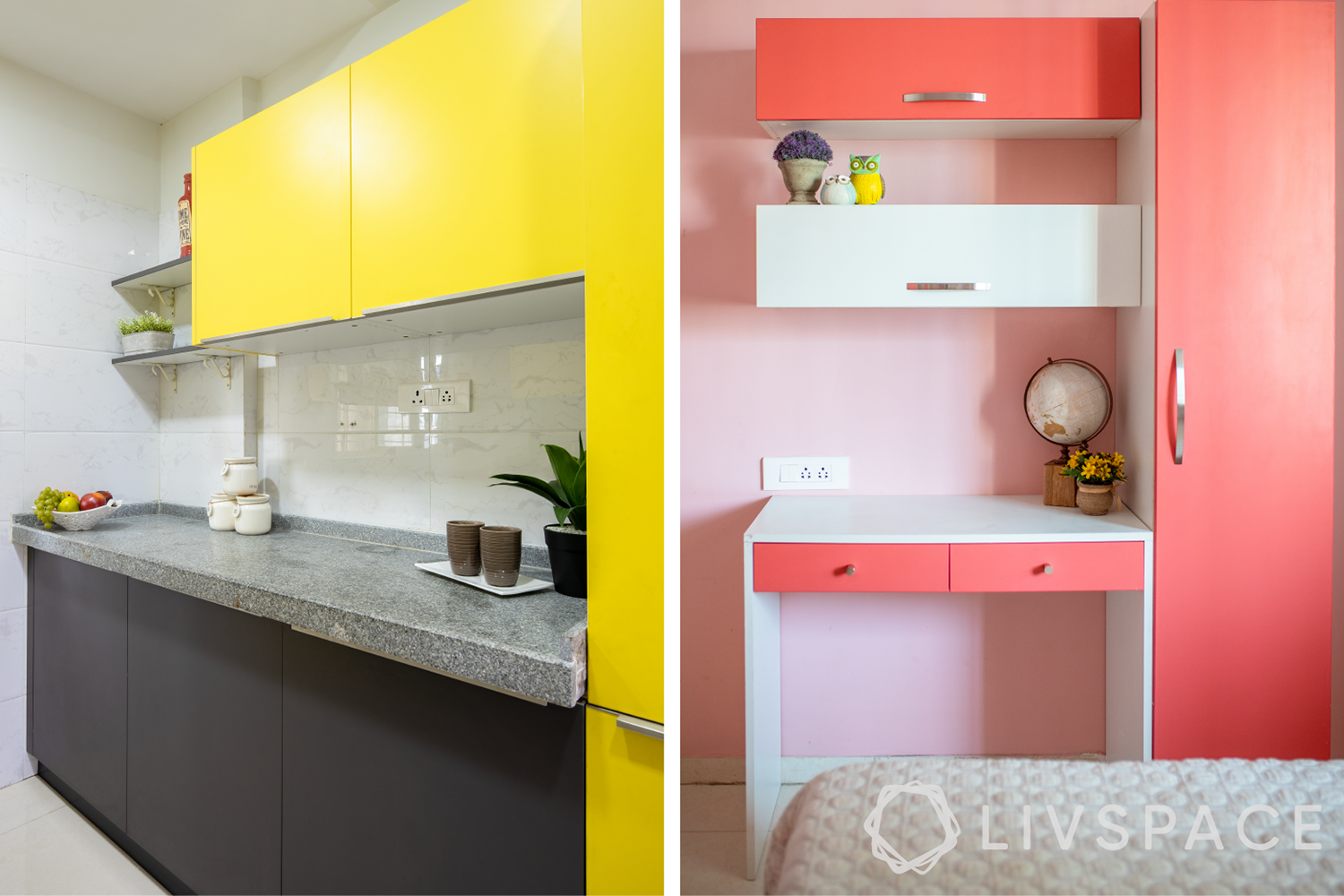 This compact 2BHK is proof that if you want your interiors to be affordable and delivered quickly, modular furniture is the way to go. In fact, there is so much you can achieve with modular units. For instance, in their daughter's bedroom, the design team has used individual modular storage units to form a desk and the study unit. And don't we just love this shade of coral laminate?!
More pictures from this budget-friendly home here.
#4: How we customised this home to fit the personality of the family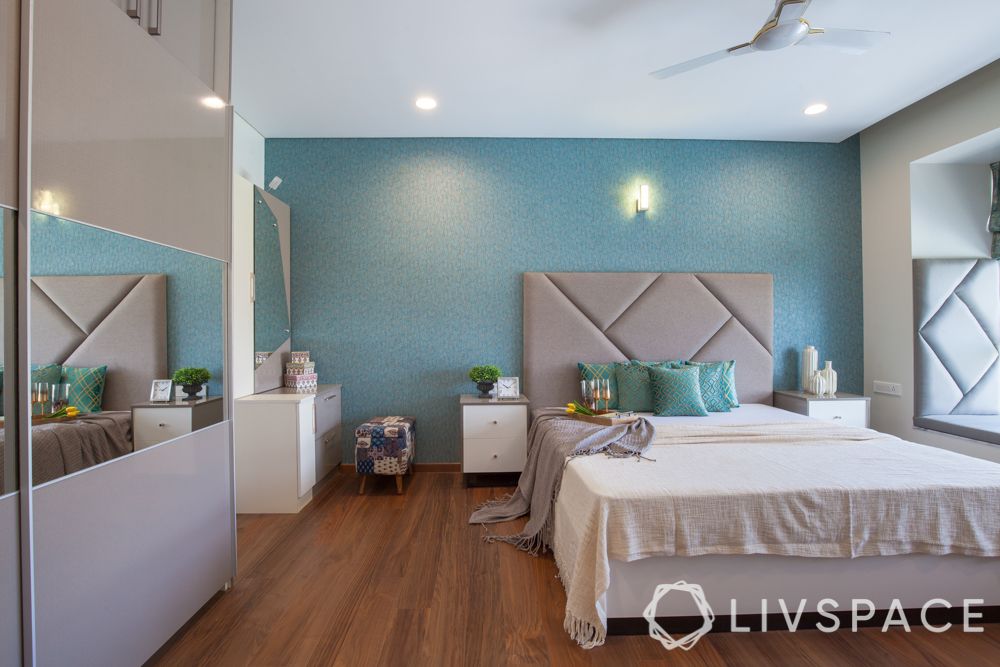 What did the homeowners want?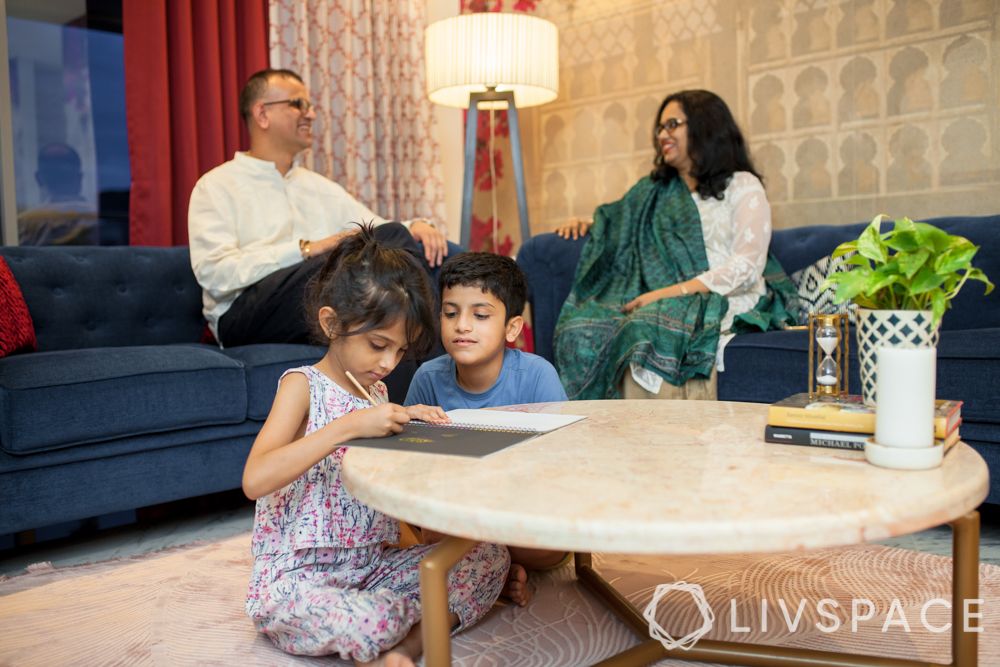 Pune is modern in its ways but traditional at heart. The Bhats left the hustle-bustle of Mumbai for a quieter home in Pune. They wanted a home that looked modern and child-friendly for their two young kids. And our Livspace Pune team was delighted to work on their spacious 4 BHK that reflected the best of the city's taste in interiors.
What we love…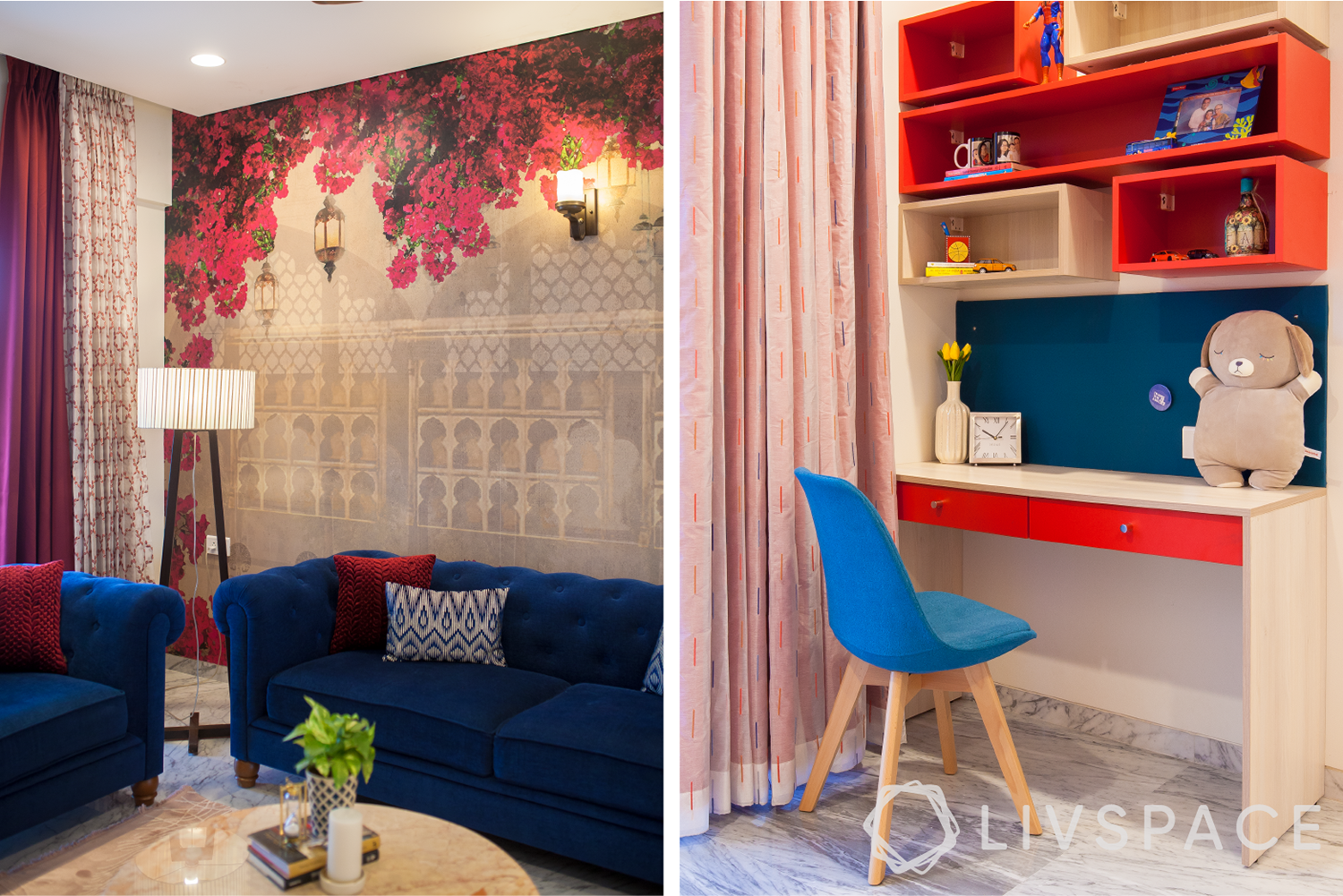 We love the pops of colour throughout this home and how they come into being. In the living room, the Krsnaa Mehta wallpaper steals the show with its pretty pink bougainvillaeas. In the kids' room, we have peppy floating shelves in solid colours that compliment the patterned wallpapers. And then, there is a full-size vector wallpaper of Mumbai's skyline in the son's bedroom so that he never misses home!
Explore the rest of this colourful 4BHK here
#5: How we renovated this 2BHK into a beaming new home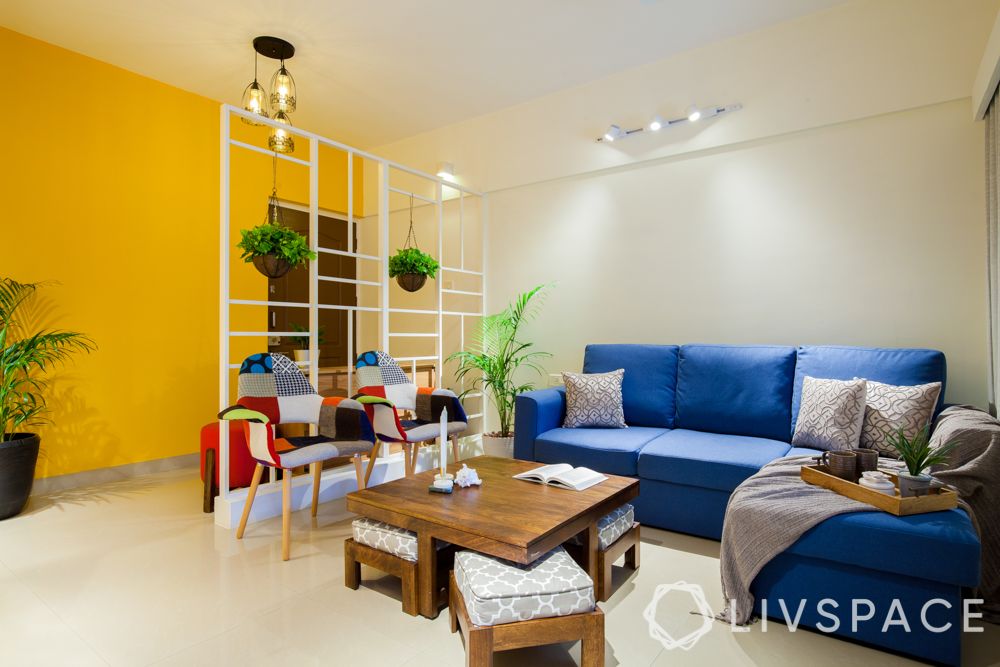 What did the homeowners want?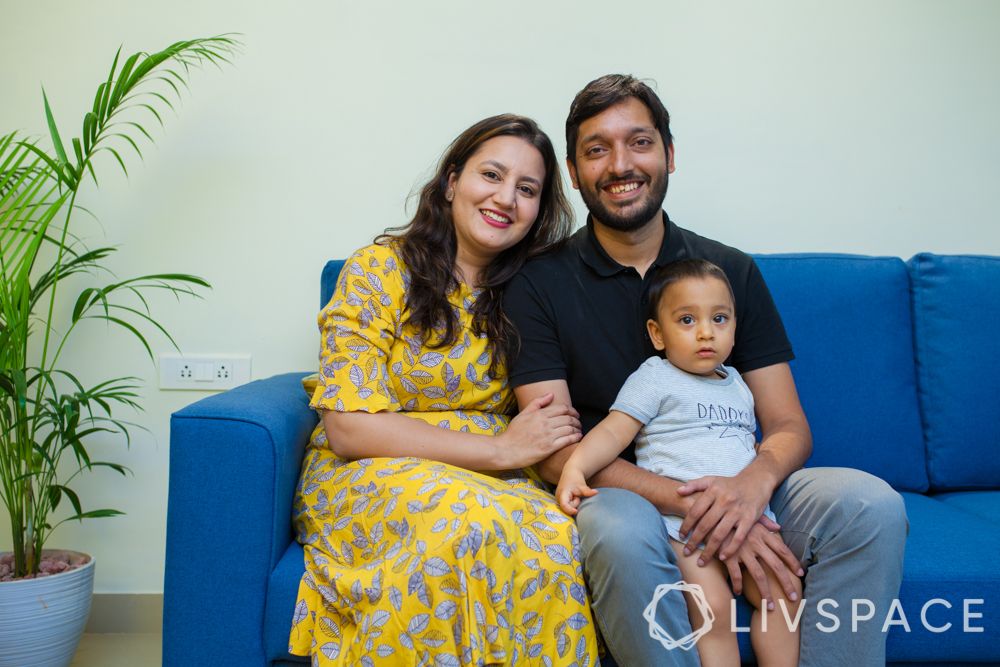 The Sharmas are not from Pune but made their first home as a family here. What they wanted most was for their home to stand out from the crowd. Hence, they did not shy away from making unconventional choices during their home's renovation. It was our Livspace Pune team's job to ensure that these experiments pay off. And boy, did they?! This 2BHK has essentials only but is one of our most loved homes for its boisterous colour scheme and novel design features.
What we love…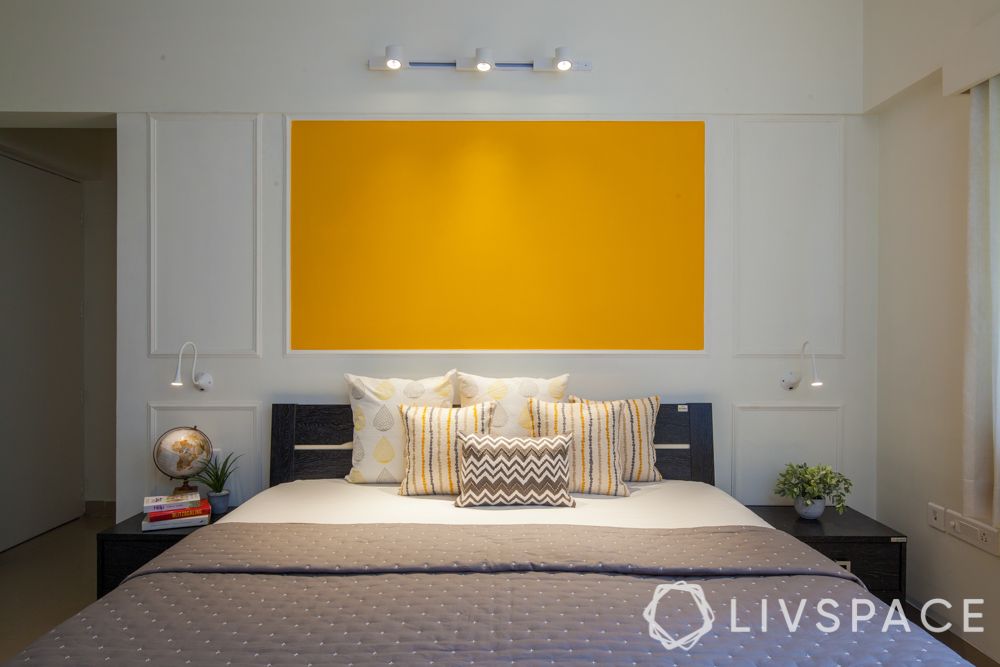 To put it quite simply, we love the oodles of mustard yellow in this home. We also love the way it strikes a contrast with the blues in the living room and the white in the bedroom. On a functional note, it's pertinent to note that the customised partition in the living room creates a foyer, too, giving structure to this space. Did you notice that the centre table has nested stools and can be used as a dining table, too?
See all the images of this renovated home here.
If you loved reading about our best homes in Pune, also take a look at our most loved homes in Hyderabad.
We love hearing from you! Write to us with your comments and suggestions at editor@livspace.com