The Ashturkar family was expecting a new member and they wanted to make their home a comfortable haven for the little one and themselves. This Pune interior design project is turning heads with its absolutely functional design all done on a budget!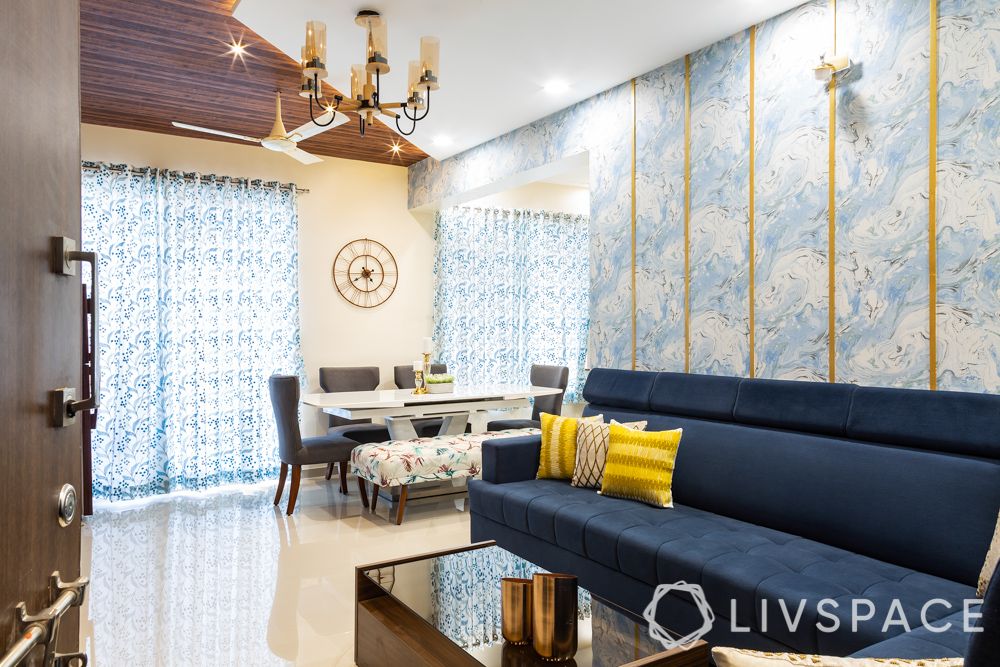 ---
Who livs here: Yogesh Ashturkar with his family
Location: Green Groves Society, Wagholi, Pune
Size of home: 3BHK spanning 1,000 sq ft
Design team: Interior designer Chinky Budhraja with Project Manager Lintu Abraham
Livspace service: Full home design
Budget: ₹₹₹₹₹
---
"We wanted a lot of storage because we hate seeing things strewn across the home," said Yogesh Ashturkar when he briefed the designer. Compact homes can be notorious at times and when a family starts growing, every individual looks for their comfort zone. Practical and functional were the big words that Chinky, their designer, had to keep in mind while churning out the designs. After all, this family wanted to fit in everything in their sweet little world. Chinky worked along with each member of the family to understand what each of them wanted for their spaces. The result is a truly practical design that does not compromise on aesthetics or style.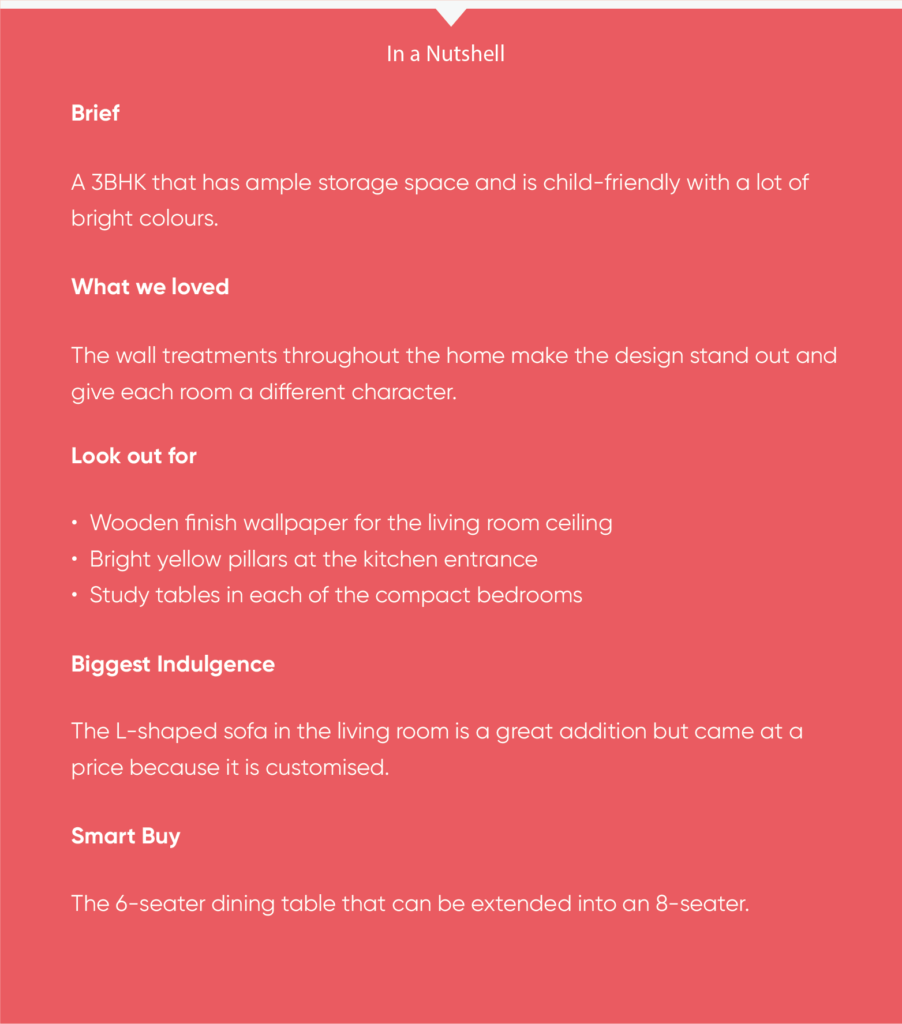 A living room with stunning features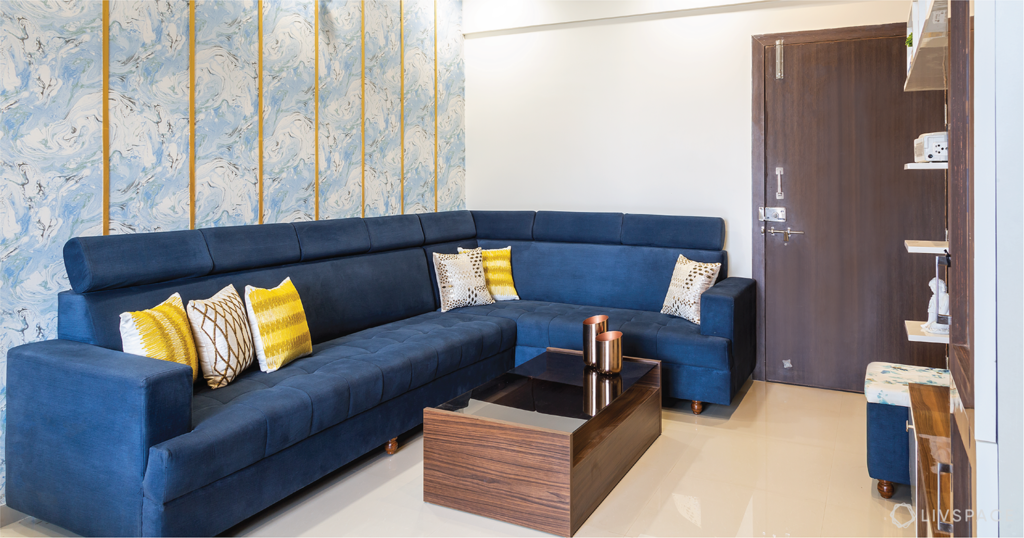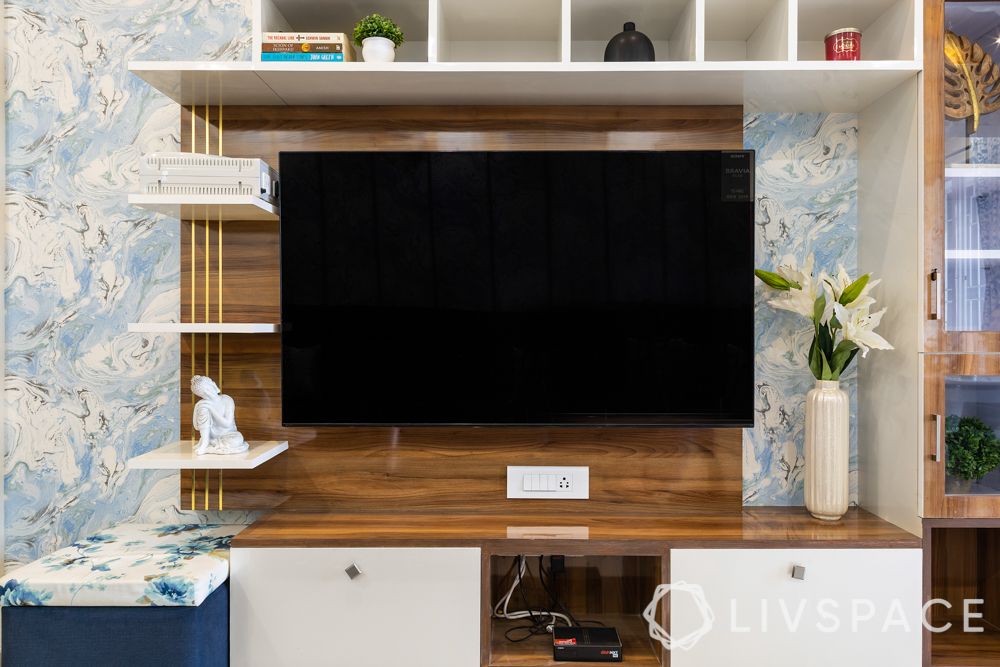 This close-knit family had one criterion—the common areas should be designed in accordance with everyone. And this is what happens when brilliant minds come together. The living room in this Pune interior design is so refreshing, just like the weather here! Look at the soothing wallpaper on opposite walls and the blue L-shaped sofa that matches perfectly. Since this is a family of five, they love spending time together in the living room, hence they wanted a sofa that would comfortably accommodate everyone.
There are two other features that we would like to highlight here. No one minds saving a few bucks and Chinky came up with a great idea for the false ceiling. The Ashturkars did not want to settle with boring ceiling design, but fancy false ceilings can sometimes be heavy on the pocket. Therefore, the patch of wood that you see up there is not actually wood. It is a wood finish wallpaper that looks exactly like wood! Also, do not miss the thoughtful TV unit design that combines storage and display in the perfect manner. So the family can put things up on display and store extra stuff inside. And everything is finished in budget-friendly laminate.
Now that's a smart idea for sure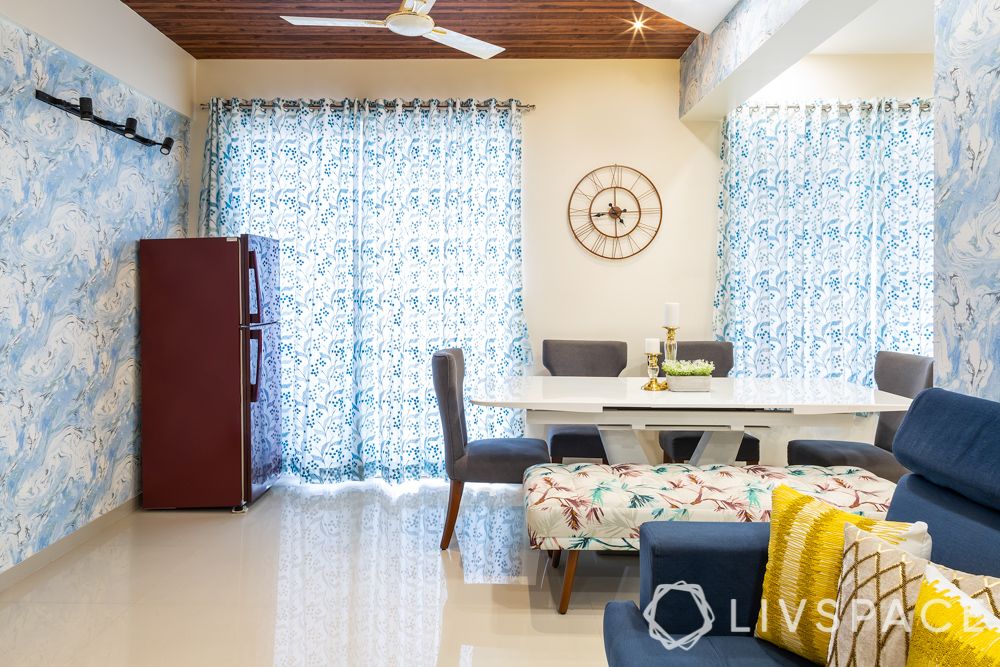 Okay, revealing the smartest feature in this Pune interior design. The dining table looks like a regular 6-seater right? Enough for a family of five, we say. But, what happens when you have guests or plan on extending the family soon? You opt for an extendable dining table instead. This piece extends into an 8-seater table when extended. A great steal for compact homes!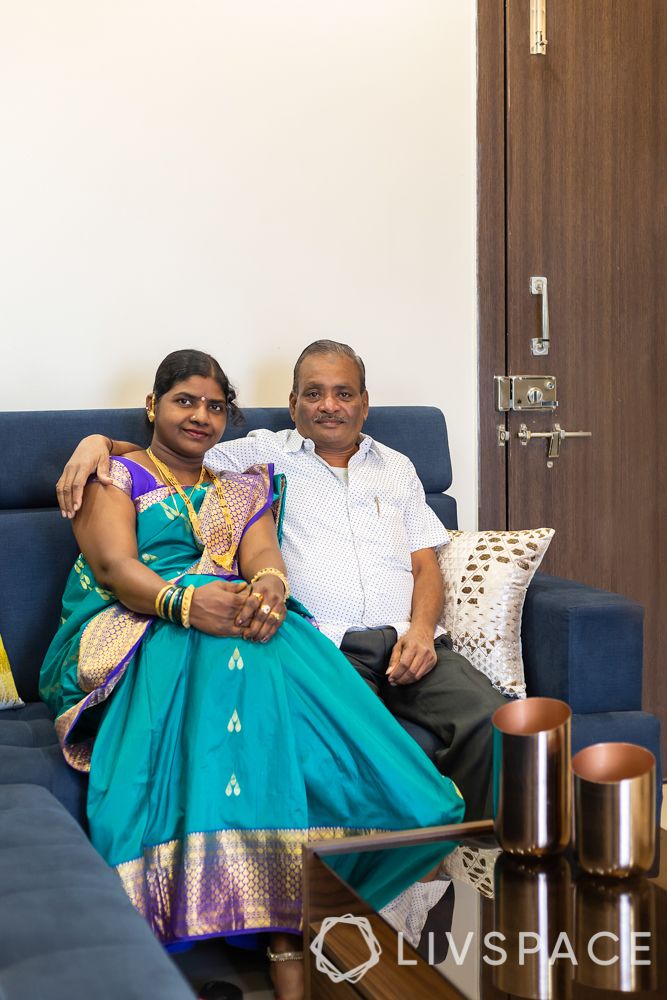 "The one thing that made us zero in on Livspace was the 10-year warranty that they provide on interiors. We were looking for end-to-end services because we have a busy schedule and we cannot spend a lot of time following up with people on a daily basis. Therefore, Livspace seemed like the perfect solution for this. Chinky has been instrumental in giving us our dream home and the moment we stepped in, we fell in love with our home. She kept each of our requirements in mind and made sure that we get everything as per our discussions. It was a great experience with Chinky and Livspace!"

– Yogesh Ashturkar, Livspace Homeowner
We broke down this entire kitchen and re-designed it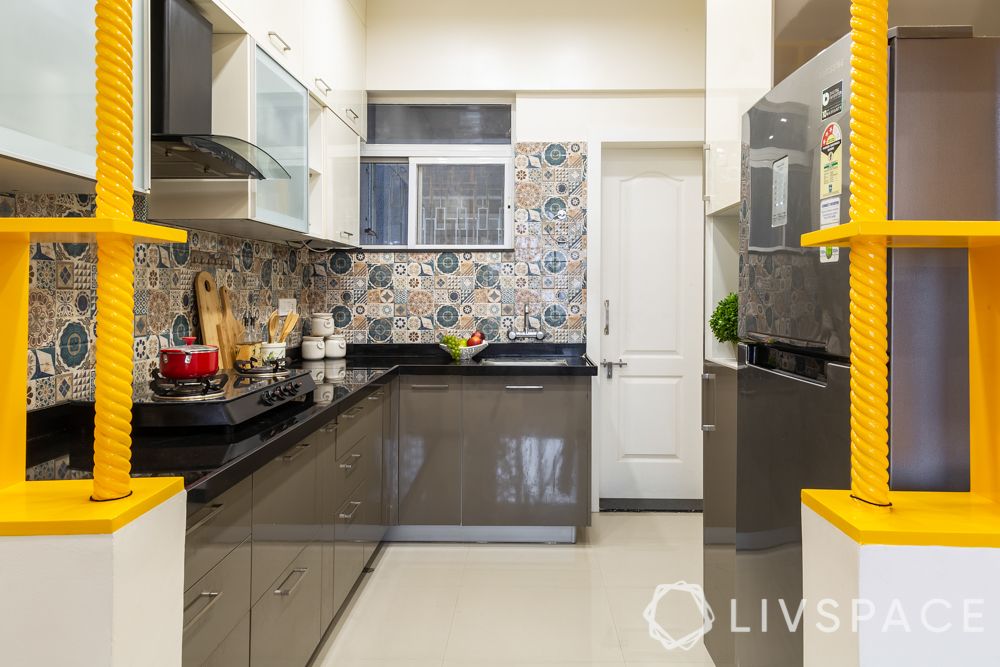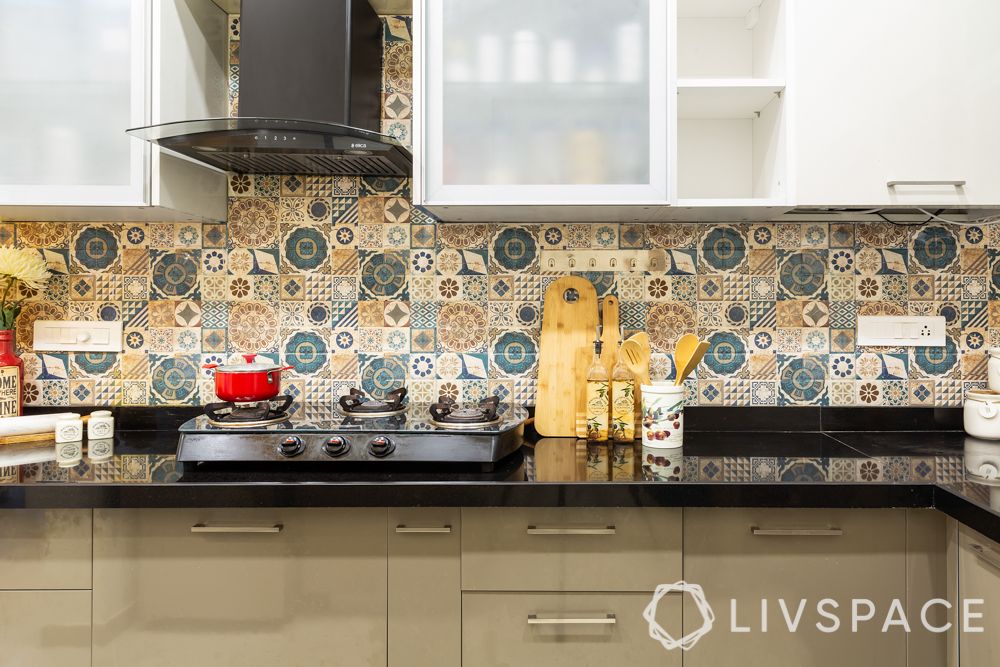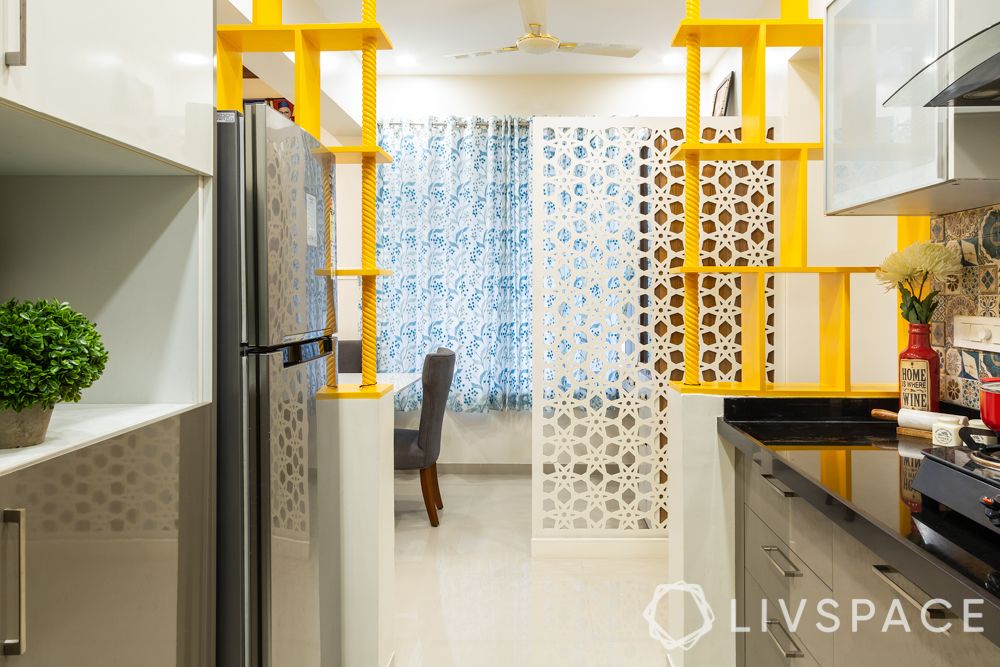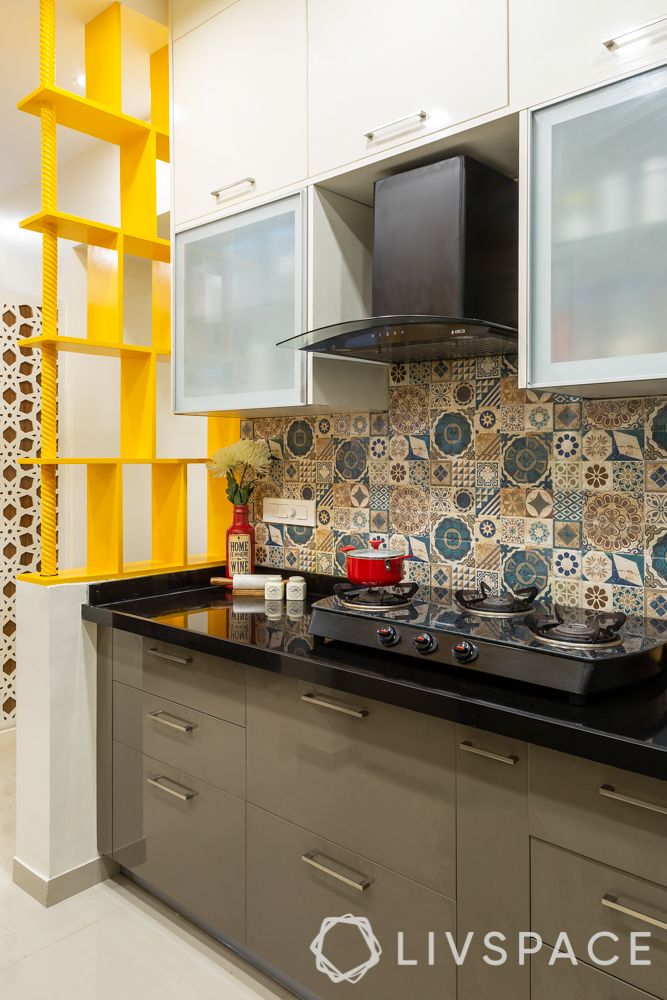 This kitchen is very compact and using dark colours might sound like a bad idea, but look at this space. The way Chinky has chosen a slightly darker shade for the base cabinets and white for the wall does not cramp up space visually at all. Also, she broke down the entire kitchen and turned it into a completely modular one, with all basic fittings. The tiles were chosen by the family to add a slight pattern to the look. This kitchen is finished in glossy laminate and sports a black granite countertop.
Another element that deserves to be highlighted here is the bright yellow pillar-like additions at the entrance. The half-wall was already present when Chinky was designing this space and she suggested they go for this open shelf-like structure in MDF that can act as a storage space as well, for handy little food items. Of course, yellow brings in just the right amount of cheer to this Pune interior design kitchen.

We are crushing on the sunshine hues here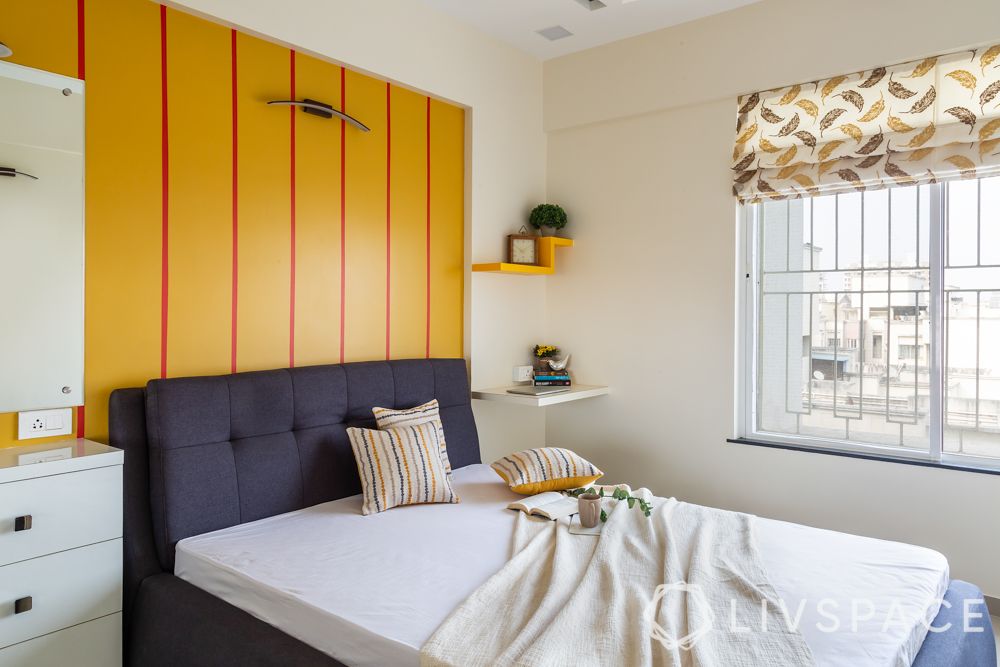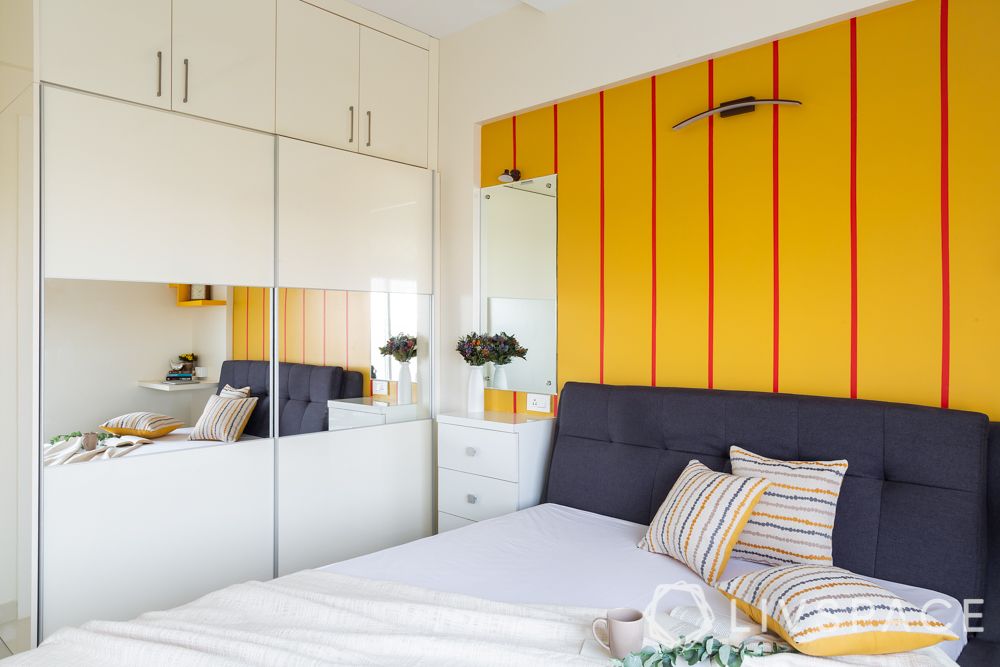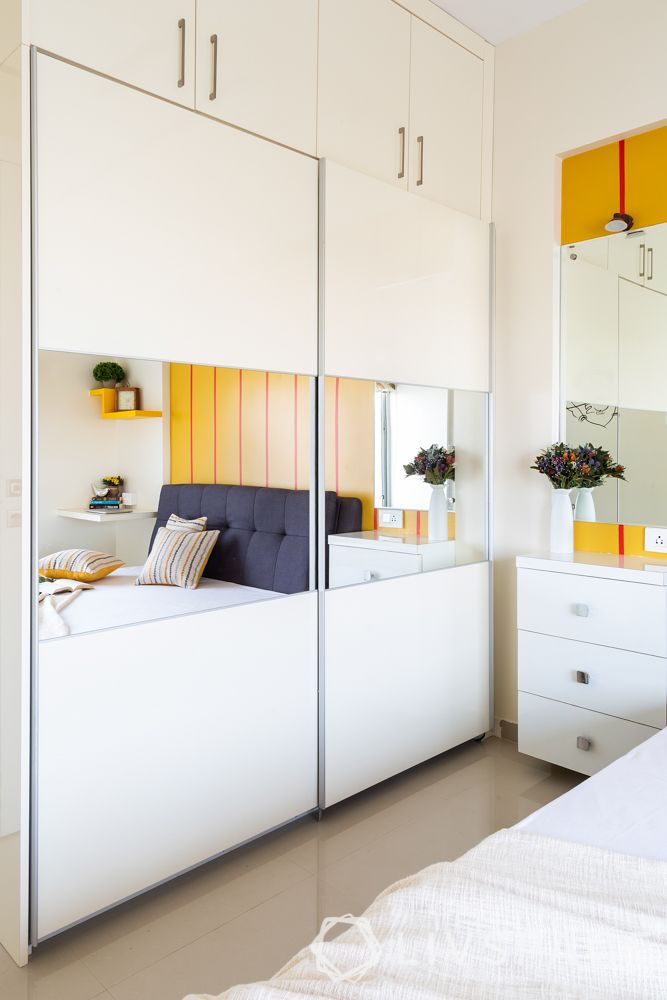 This room belongs to Yogesh's parents and his mother absolutely adores the colour of sunshine. She was sure about having a yellow wall and Chinky added orange strips to tone it down at this Pune interior design bedroom. A fully upholstered bed in dark grey looks super comfy against the wall. She has also added wall shelves and a dresser on either side of the bed. Frosty white laminate sliding wardrobes with lofts add to the functionality of this room.
A cosy bedroom for the new parents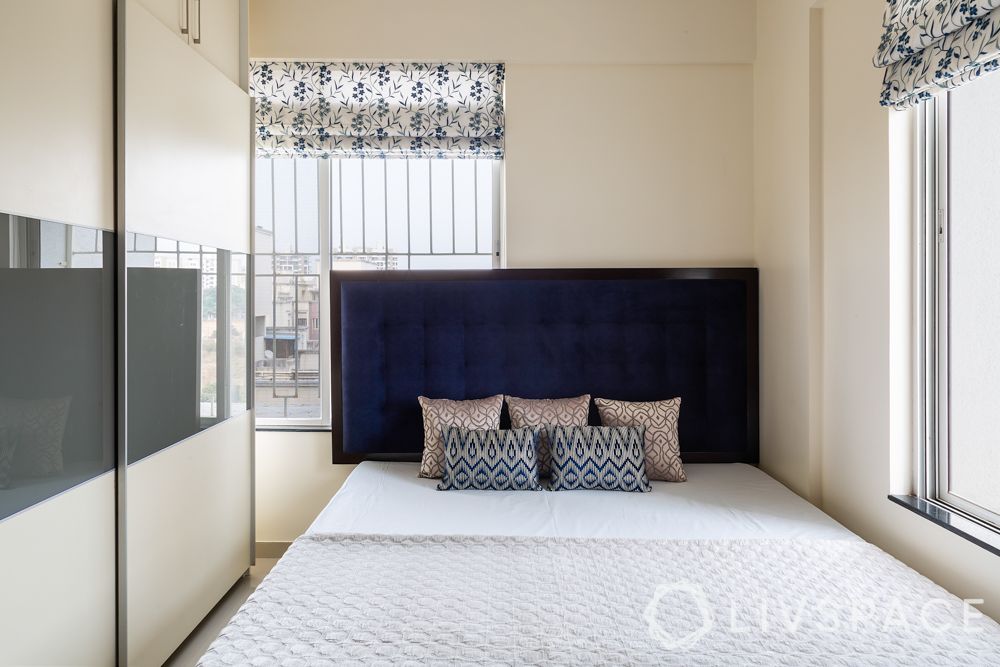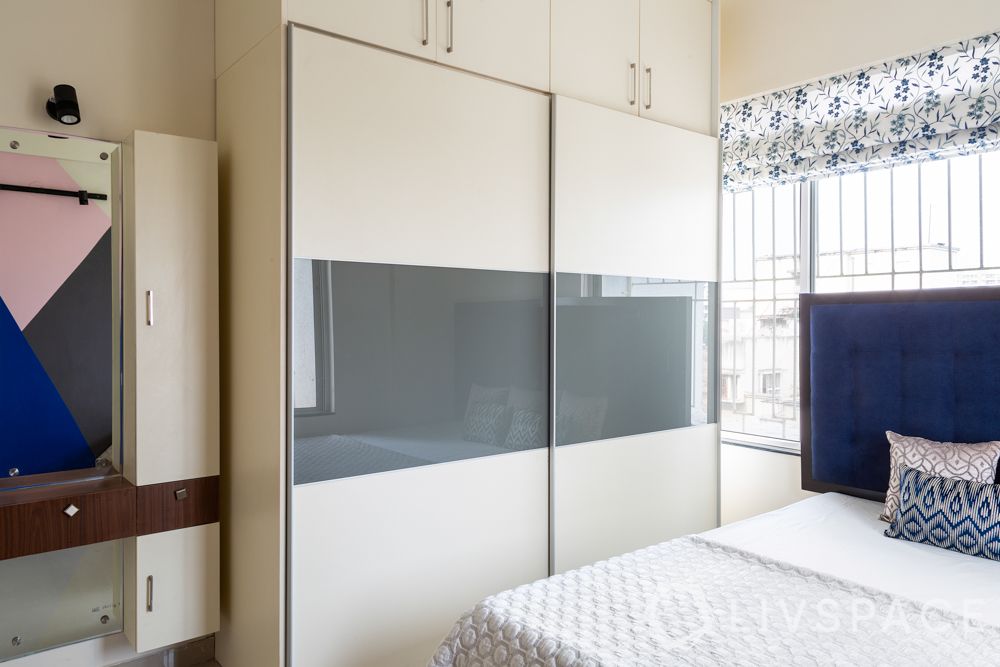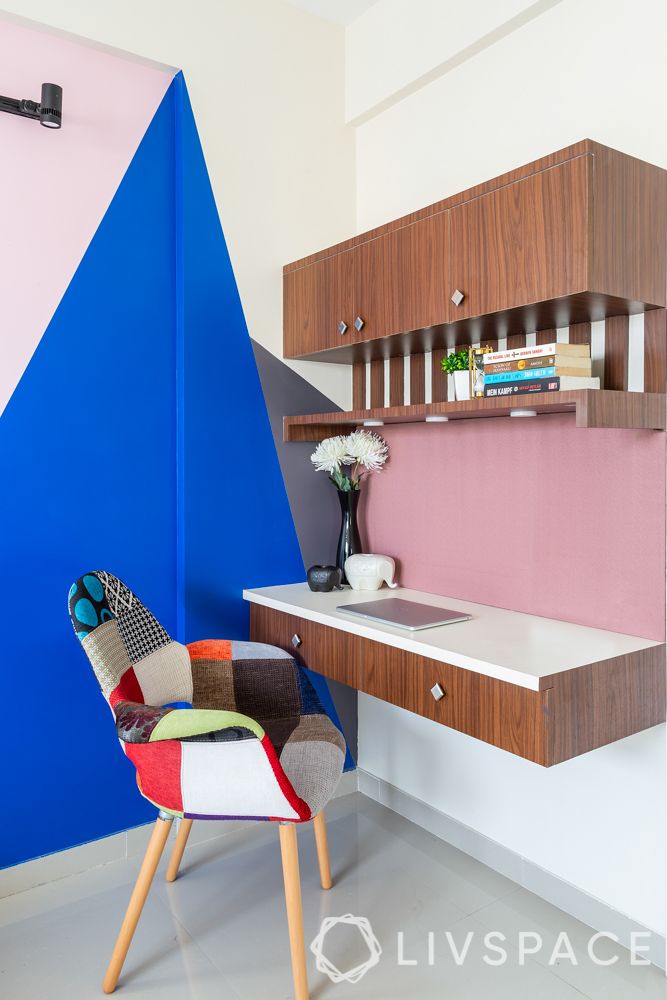 This is the room that Yogesh and his wife share along with their little one. You can imagine how much storage new parents need and if the kid is staying with them in the same room, the need just doubles. This room follows vastu guidelines and thus, the wardrobes do not have mirror panels or shutter on it. She also carved out a tiny space to place to set up a home office for the working couple.
The bedroom that was designed the fastest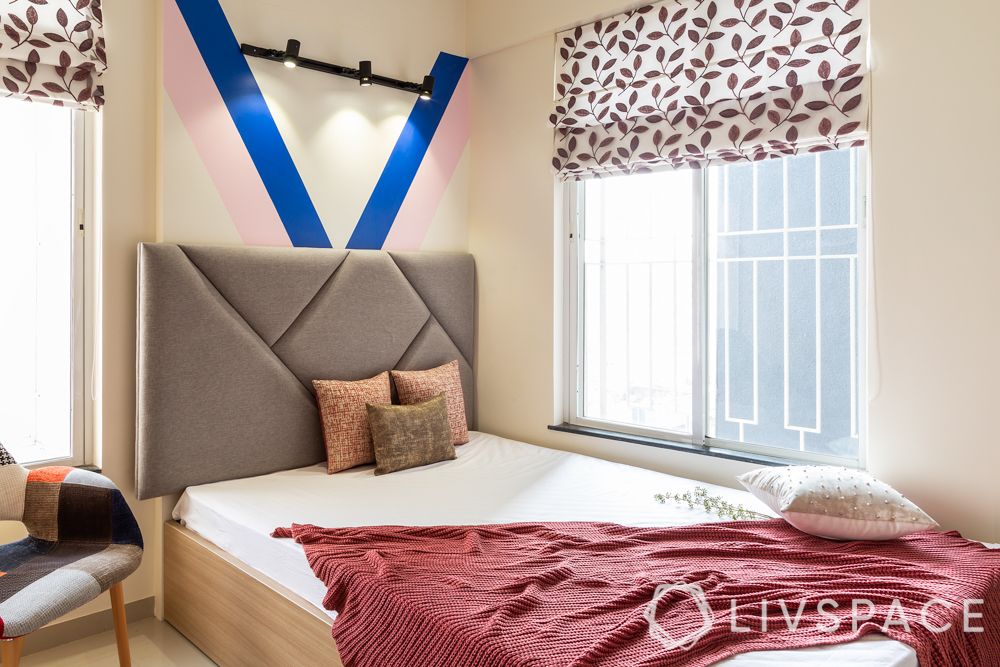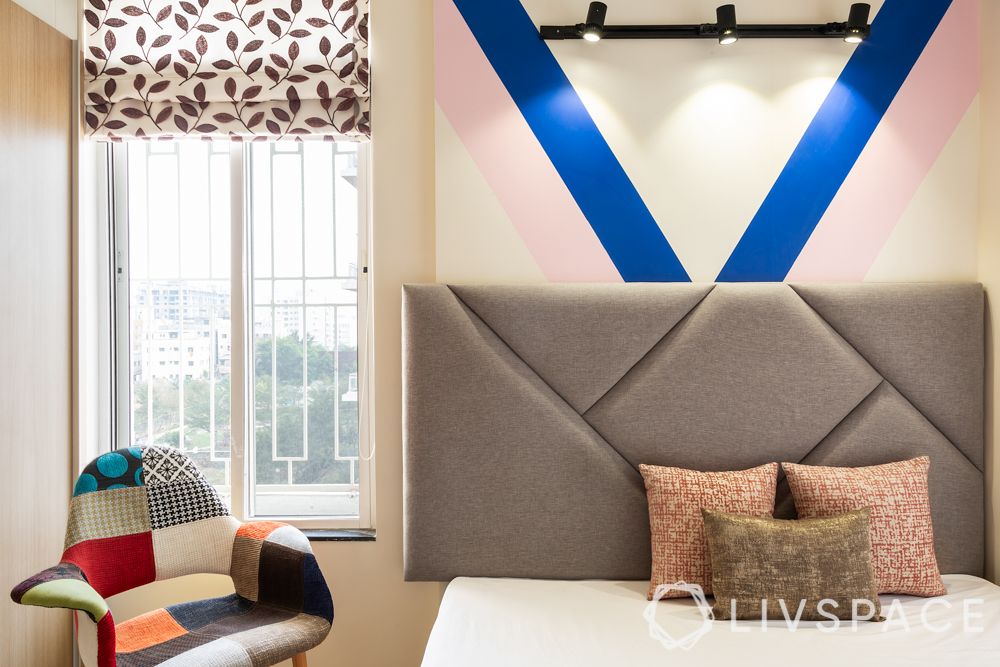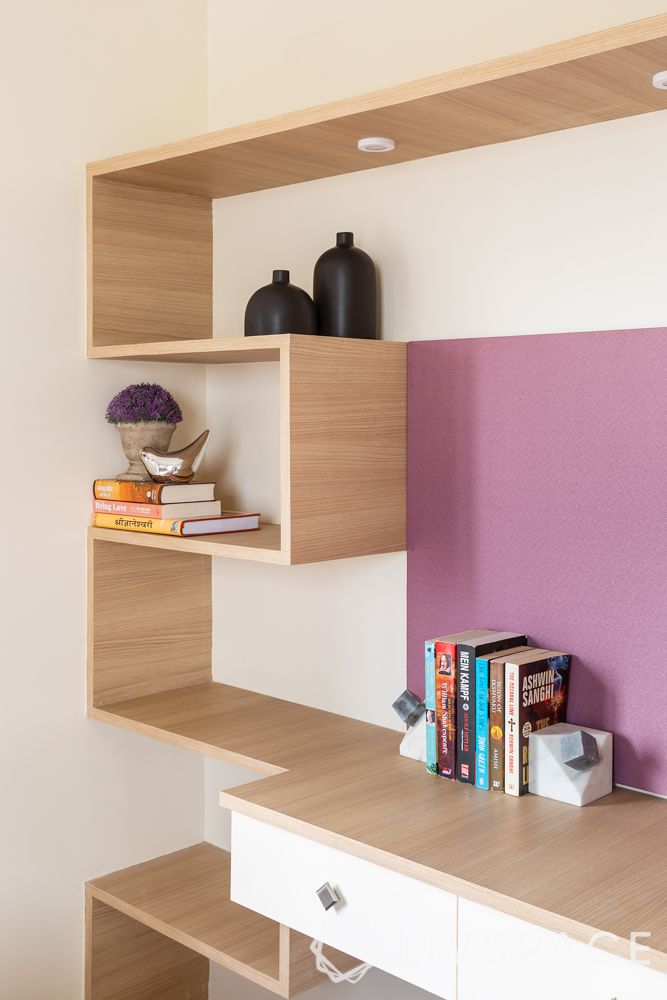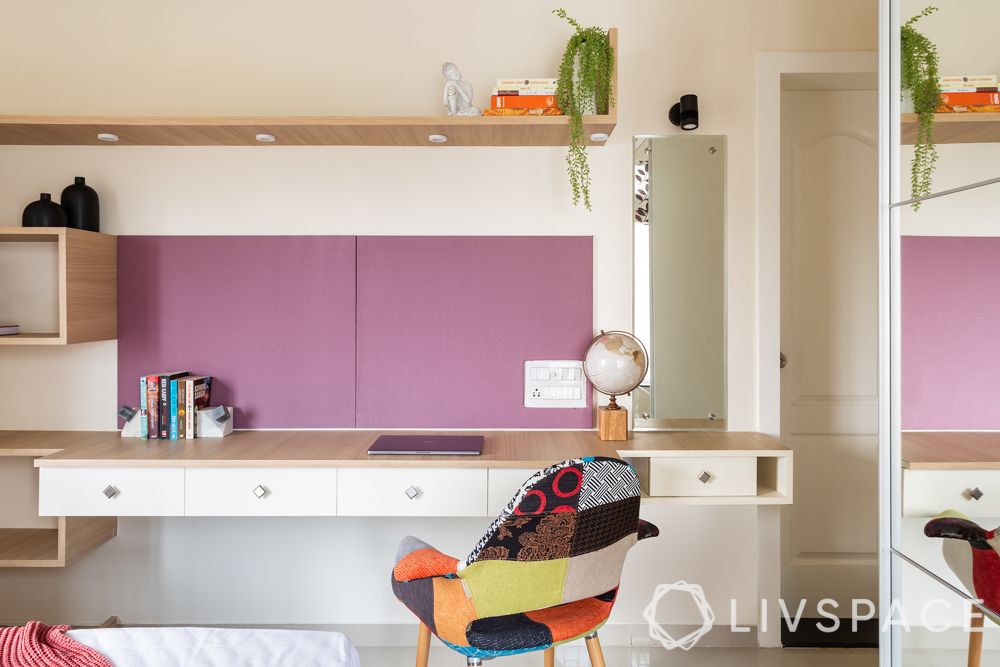 Coming to the final bedroom that belongs to Yogesh's younger brother. In conversation with us, Yogesh exclaimed that this bedroom design took the least amount of time to be finalised. Because his brother knew exactly what he wanted and everything fell into place soon. You can see a similar bed but with a different headboard for his bed and an elaborate study table-cum-dresser on the opposite wall, where Chinky has added shelves for books and other things.
"I would want to confess that I was intimidated in the beginning because I did not know if I would be able to give the kind of storage and solutions that the family was looking for, given the space constraints. But, eventually, everything fell into place and it was a rewarding experience for me in the end. It was an absolute pleasure to work with the Ashturkar family and I share a great rapport with them even now. We worked together and they believed in me and gave me complete freedom to make suggestions and decisions."

– Chinky Budhraja, Interior Designer, Livspace
Loved this home? We have another amazing home that we designed in Pune: This Pune 3BHK has the Best Collection of Shelf Designs.
Send us your comments and suggestions at editor@livspace.com.