Interior designers in Pune have designed this 3BHK for a family of five.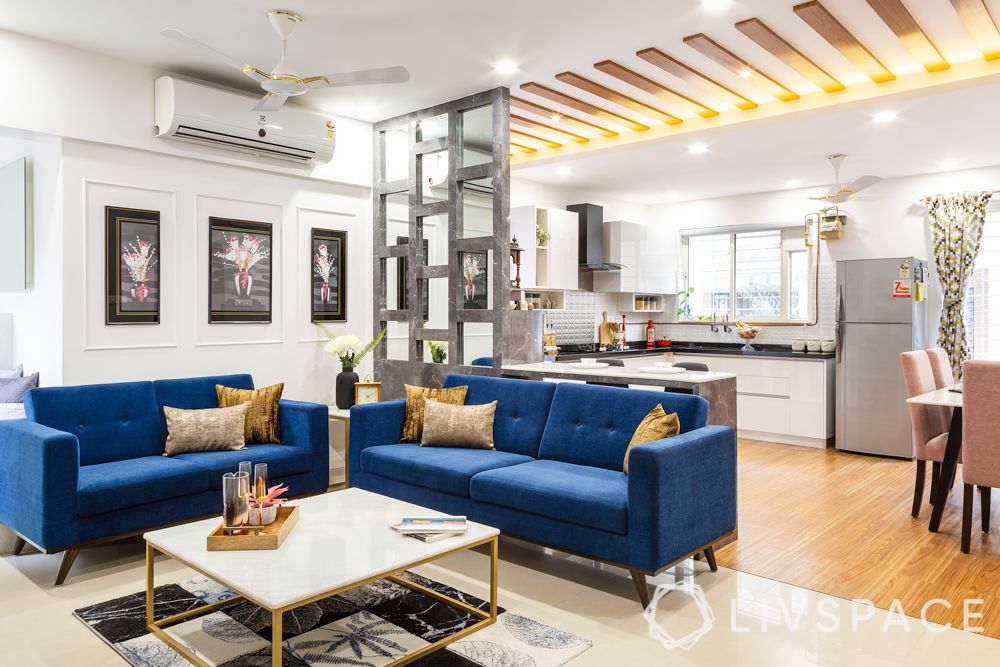 ---
Who livs here: Shailendra Barshikar with his wife, daughter & parents
Location: Pune
Size of home: A 3BHK spanning 1,500 sq ft approx.
Design team: Interior Designer Ankit Gupta and Project Manager Abhijit Mishra
Livspace service: Full home design
Budget: ₹₹₹₹₹
---
Have ever wondered what is the one point that defines your family. Just like people have different personalities, so do families. Some love to travel while others enjoy playing host. Shailendra Barshikar and his family love to read. And this is something they pointed out to Ankit Gupta, one of our interior designers in Pune, when they approached Livspace.
Their 3 BHK flat was designed keeping in mind their love for reading. So it includes plenty of reading nooks that utilise natural light to fullest extent. Let us take you through this home to illustrate how some of the best interior designers in Pune personalised this 3 BHK flat for a family of five!
The Family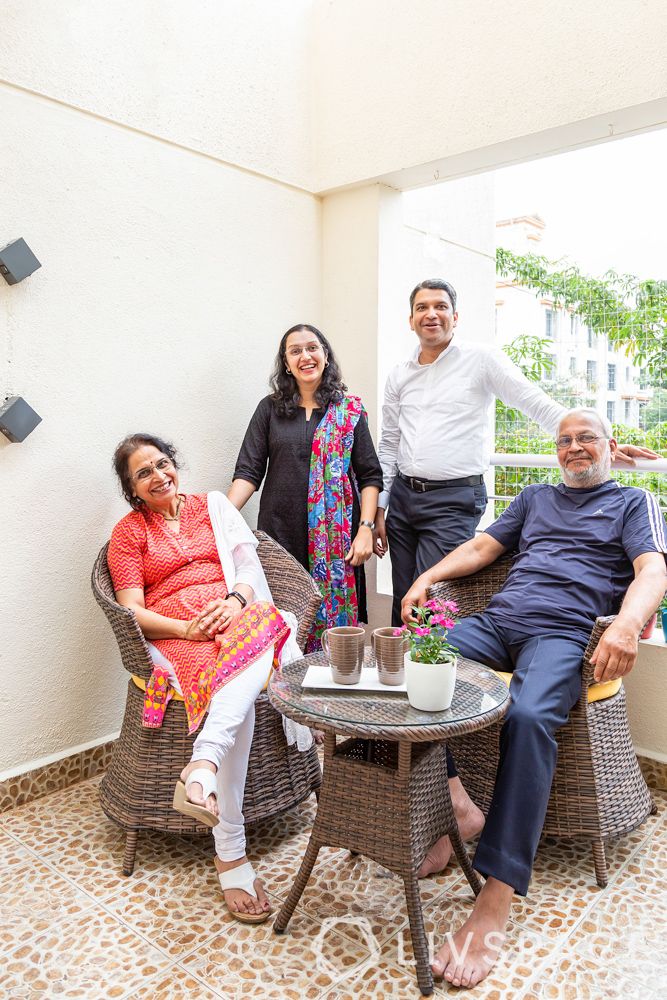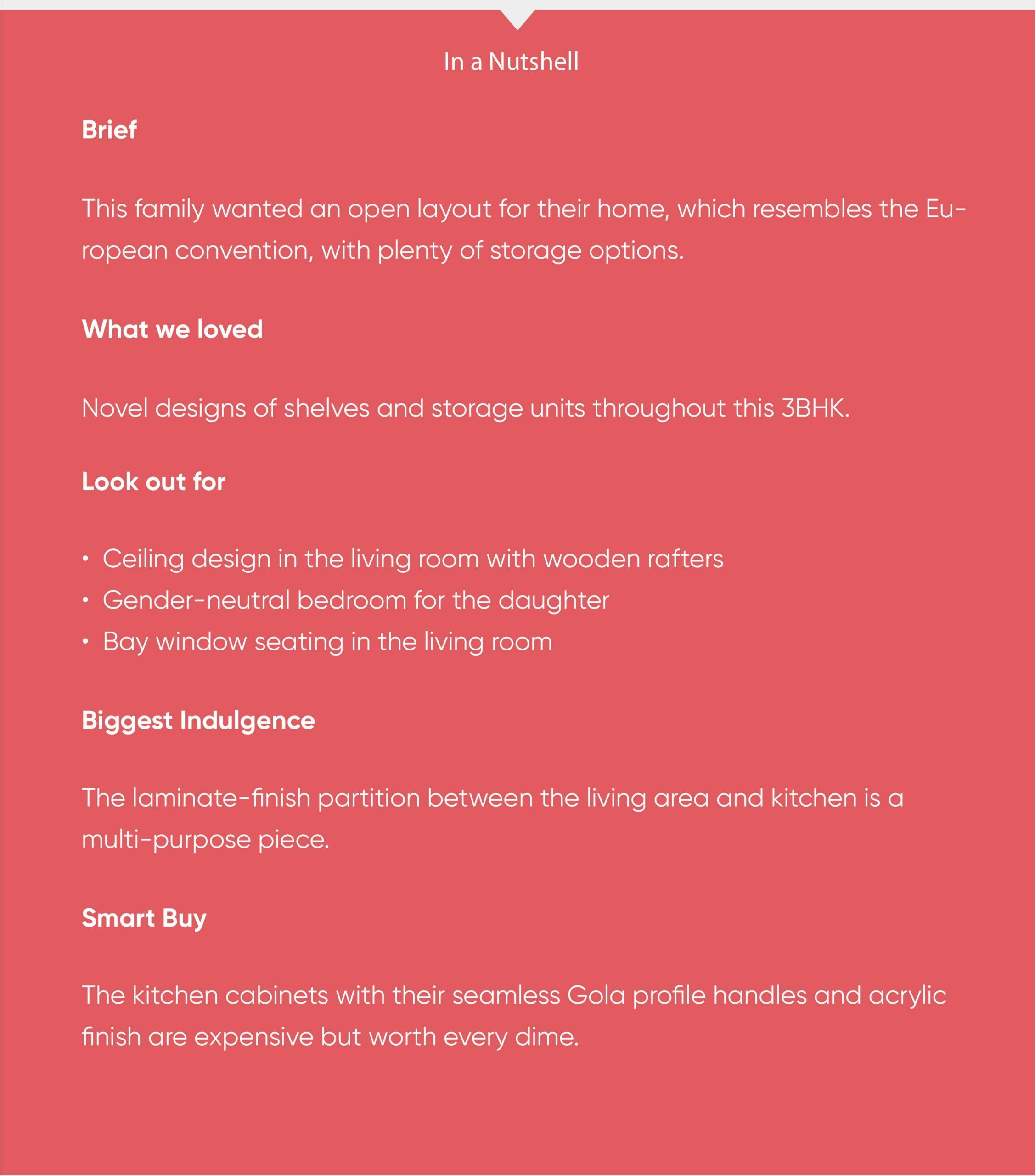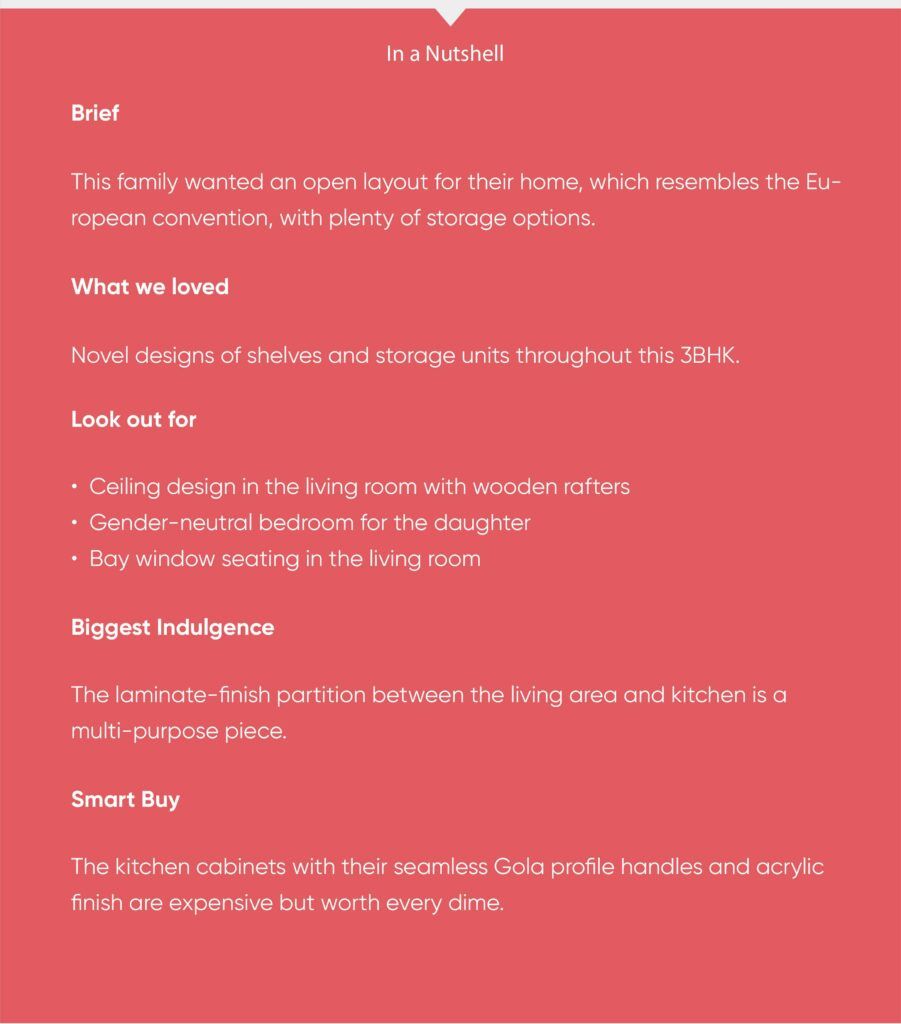 Opening up the Kitchen
The first and most complicated problem area in this home was its kitchen, which was very small for a family of five. So on Ankit's suggestion, the wall between the kitchen and living area was broken down. This opened up the space considerably and gave the kitchen a rather European vibe. Keeping with this seemingly Scandi theme, the dining chairs have nude pink upholstery. A patch of wooden flooring segregates the kitchen and dining zone from the living room.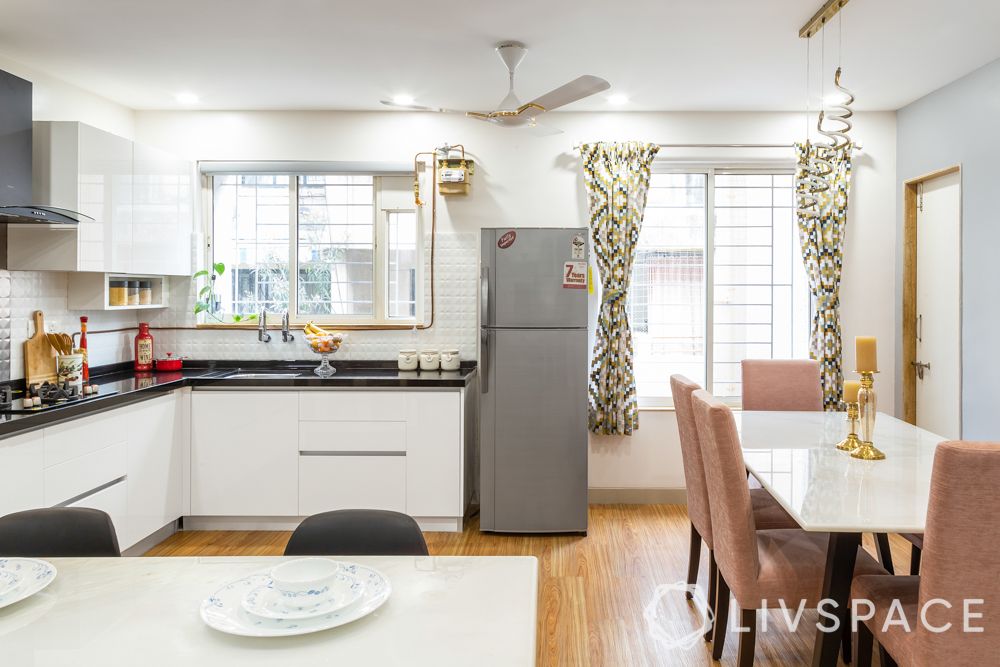 Seamless Cabinet Finishes
As the kitchen is open and very much visible from the living room, the Barshikars wanted it to be as sleek as possible. Besides, they have spared no cost to make this white kitchen flawless. Glossy acrylic finishes for the cabinets glam up this space, and Gola profile handles give it a seamless look. There is a fair mix of open and closed storage modules to ensure accessibility as well as organisation.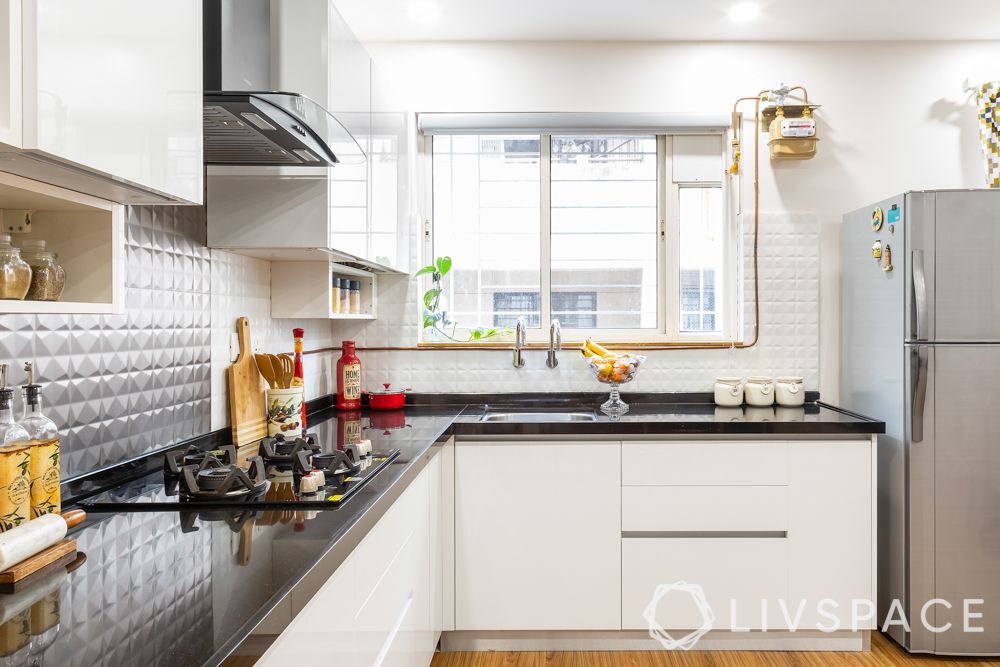 Use of Marble-esque Laminate
In terms of visual effects, the living room has a showstopper. And it is none other than a very useful partition designed by Ankit, one of the best interior designers in Pune. He wanted to provide some segregation between the living room and kitchen. But he didn't want it to be too voluminous as space was a constraint. So the partition made of plywood with stone laminate finish was the perfect solution. In fact, it gets better with the mirror panels installed on the front end. The side of this partition that faces the kitchen doubles up as a storage unit and breakfast counter. Beat that!
We also love how the same stone laminate has been used in the TV unit and bay seating ledge to maintain continuity.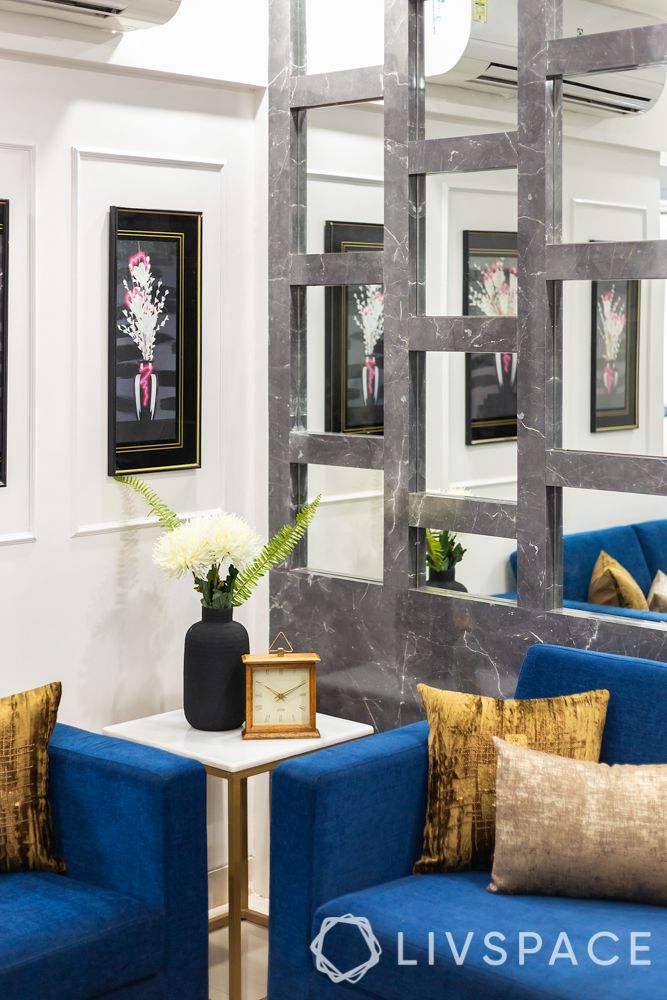 A Mix of Wall & Window Treatments
The easiest way to highlight a space is to go for statement wall treatment. However, the Barshikar family was not in favour of anything loud. They wanted to stick with neutral and subtle effects that highlight their walls without creating too much drama. Thus, Ankit, one of the best interior designers in Pune, found it prudent to stick with white walls in the living room with frame moulding. The only visual effect here was the bay window ledge that was created by widening this window.
"This is a family of bookworks, so the window seating in the living room is one of the many reading nooks in this house. In fact, every bedroom in this 3BHK has its own reading corner" said Ankit.
In the master bedroom, he has kept things minimal with a wallpaper that flaunts a distressed pattern. There is an accent wall that is painted half white and half blue in the kid's bedroom. While this effect is striking, none of the colours are overdone.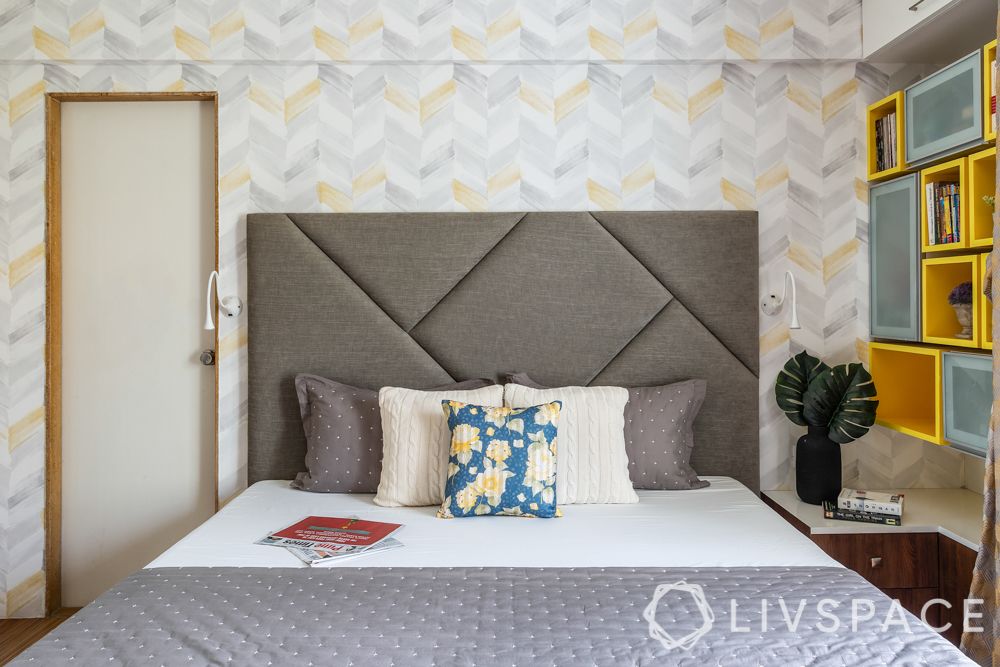 Gender-neutral Kid's Room
Did the blue colour scheme delude into assuming that the Barshikars have a son? Lets keep such cliched thoughts aside because this family made the progressive choice of opting for gender-neutral bedroom for their daughter.
"The daughter's room is my personal favourite. It is very unconventional as it's done up in blue and white. Besides, there are no obviously feminine elements in this room, so it's gender-neutral in the truest sense" said Ankit, one the best interior designers in Pune.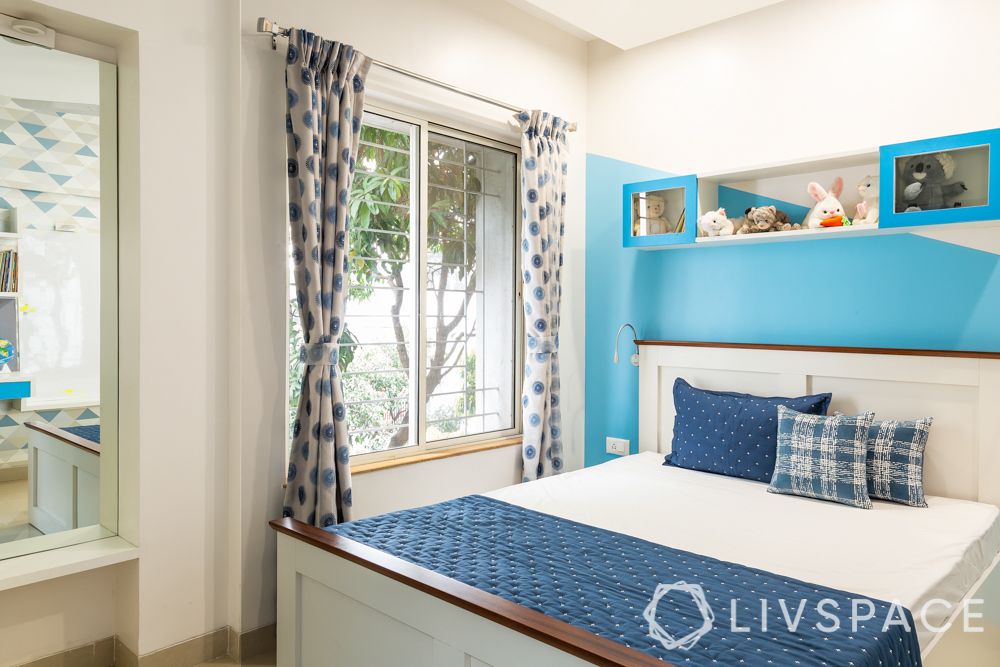 Stunning Shelf Designs
As Ankit has already told us, this is a family of bibliophiles. So they needed plenty of storage space for books. Needless to say, our designer gave them an assortment of some of the most novel shelf designs you will see. In the daughter's bedroom, we see upturned bowl-like shelves that merge with the patterned white wallpaper. In the master bedroom, we have a mix of closed units with floating cube shelves. The entire arrangement is extremely functional and stands out for the cheery yellow colour of the shelves. In the parent's bedroom room, the long step-shaped shelf borders the study desk. Not only is there plenty of storage space but scope of display too!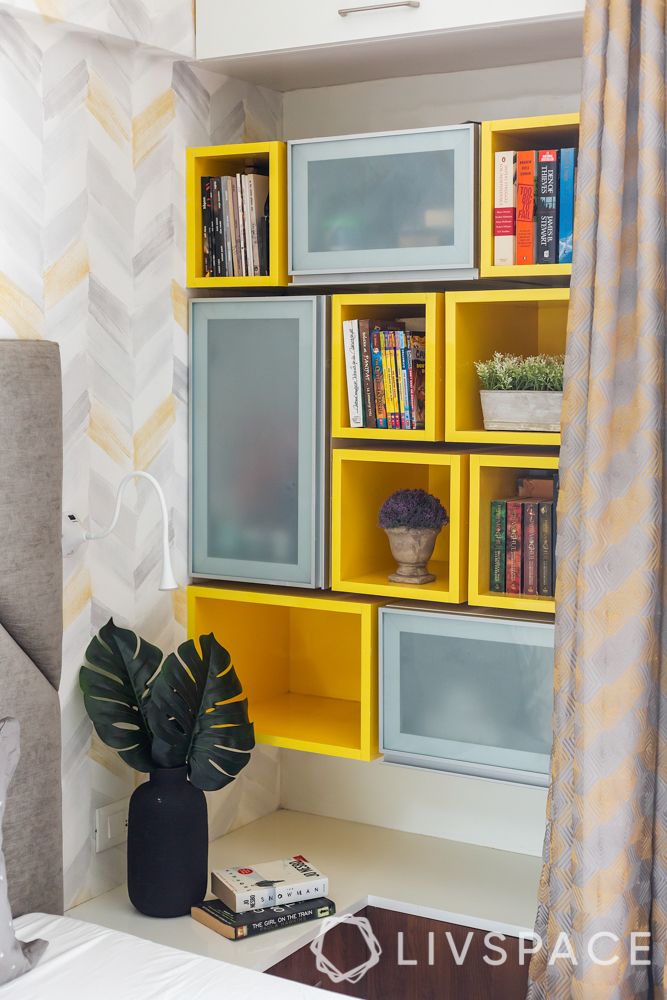 Affordable Modular Wardrobes
While the family has opted for custom units and civil iterations in several spaces in this 3BHK, for wardrobes, they stuck with modular units. They have picked wardrobes from the Livspace catalogue for all three bedrooms. All these wardrobes have laminate finishes, making this a rather smart and affordable choice.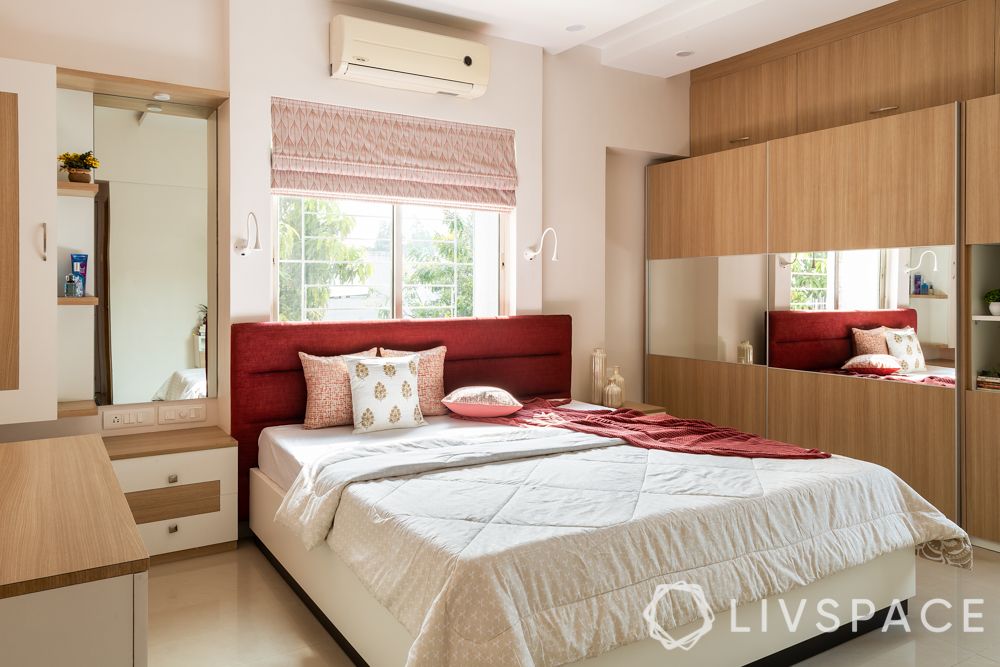 Designer Speak
"The Barshikar family is one the rarest of clients who trusted the design team explicitly. They gave us a brief idea of what they wanted and left everything else to our expertise. We see a lot of continuity of design in this house because we had a complete creative licence."

– Ankit Gupta, Interior Designer, Livspace
If you enjoyed reading about this home, also explore Clean & Clutter-free 3BHK for a Family also in Pune.
Send in your comments and suggestions.