"When I met Amol Kulkarni and his wife for the first time, I found them to be a quiressential Maharashtrian family. Hence, it was my effort that their interior for 2 BHK must reflect the same," says Prateek Saraf, who is an interior designer working with Livspace. And we can't agree more. For the Kulkarni home is indeed a lesson in simplicity and functionality of design. And some smart budgeting as well!
---
Who livs here: Amol Kulkarni with his daughter and wife
Location: Pune
Size of home: 2BHK spanning 750 sq ft
Design Team: Interior Designer Prateek Saraf and Project Manager Sushmita Das
Livspace Service: Full home design
Budget: ₹₹₹₹₹
---
So let's take a look at how this interior for 2 BHK was done under ₹9 lakh in a project that covers everything, including furniture.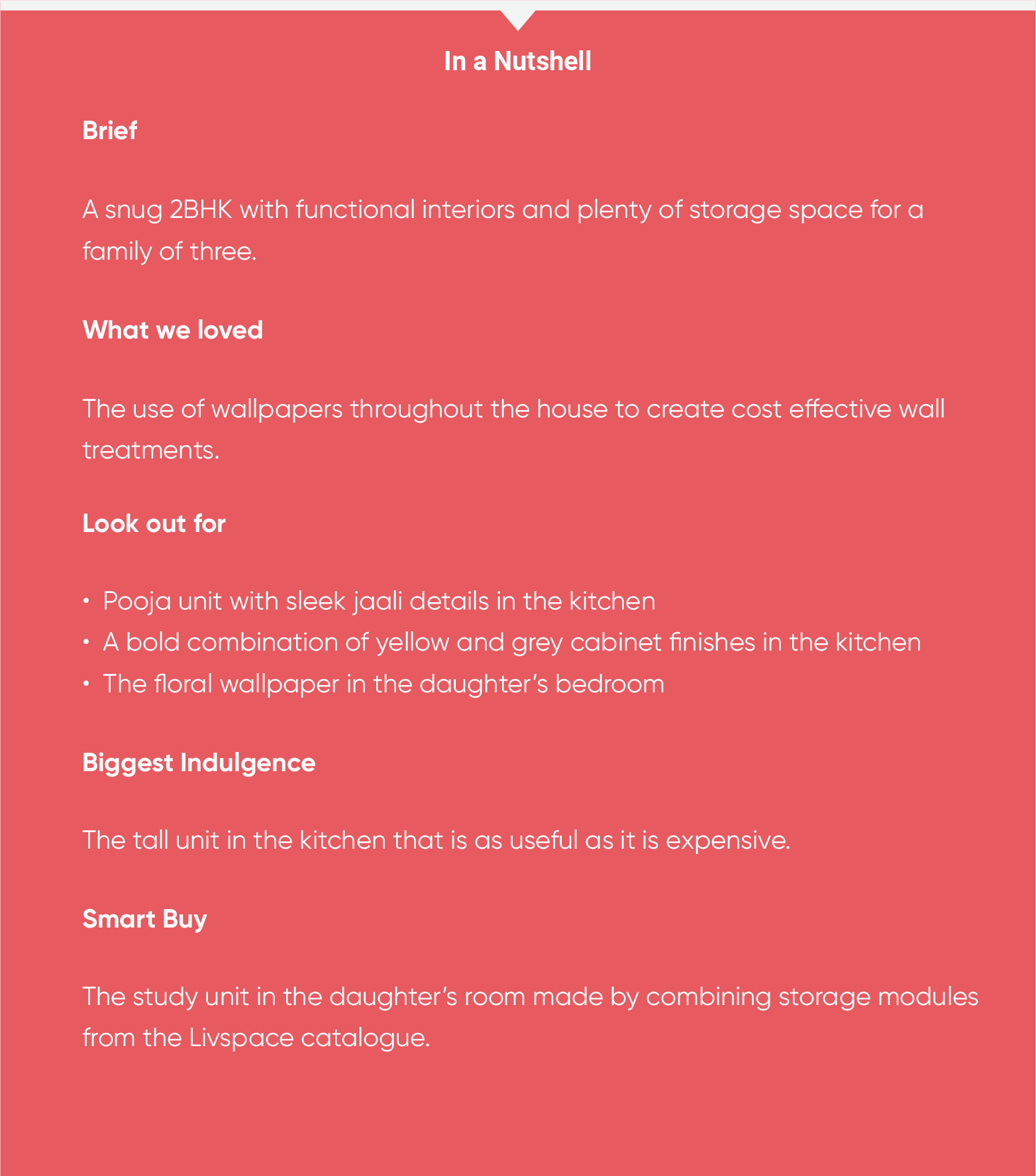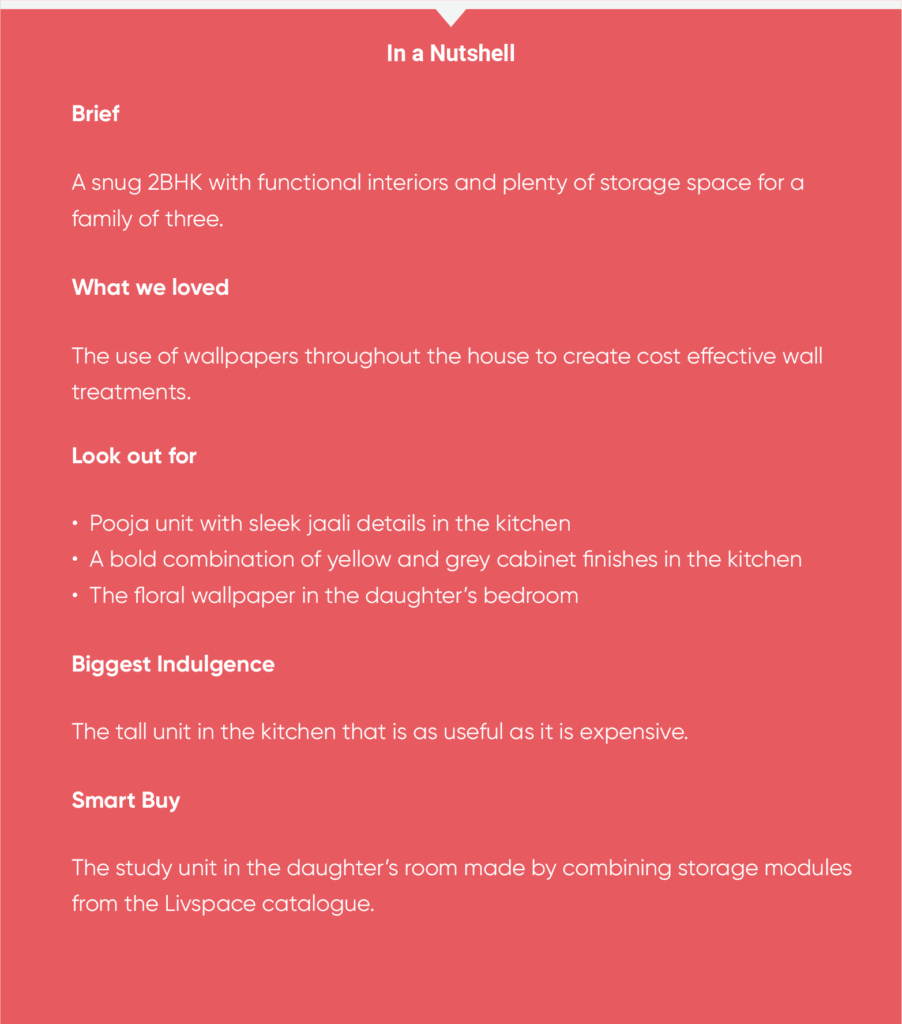 Living Room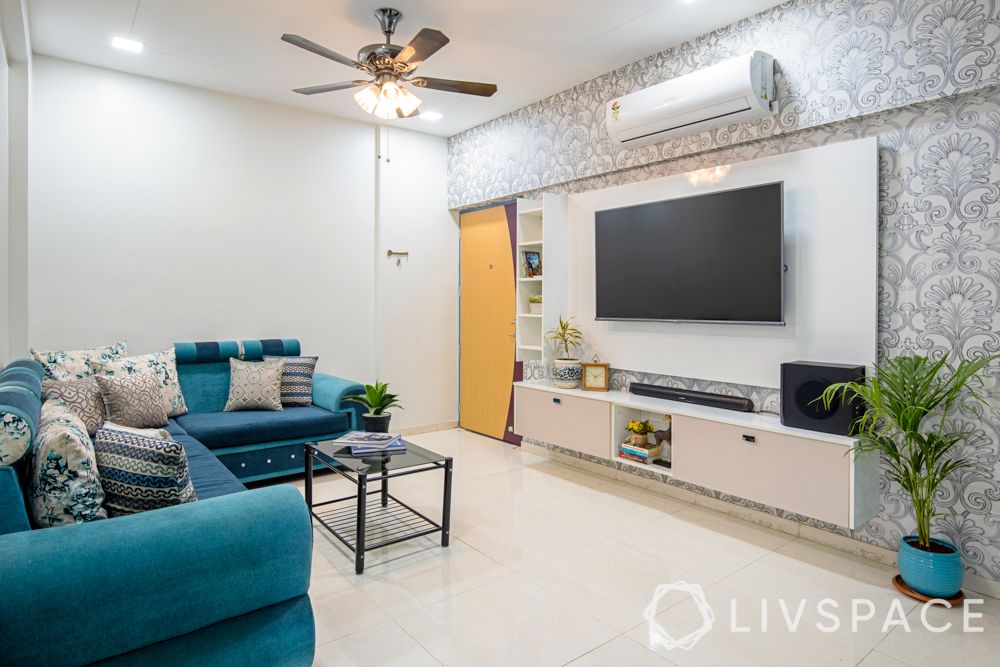 Budget Elements: Wallpaper + modular furniture
Indulgence: A simple false ceiling
Although the Kulkarnis asked Prateek to stick with a tight budget, they did not want to compromise on functionality. Hence, every space in their home is a mix of essential functional elements and budget-friendly design. For instance, in the living room, the Prateek cut down on cost by constructing the TV-cum-display unit from the Livspace catalogue. But he managed to squeeze in a simple false ceiling at the same time, adding to the overall aesthetics of the home.

Kitchen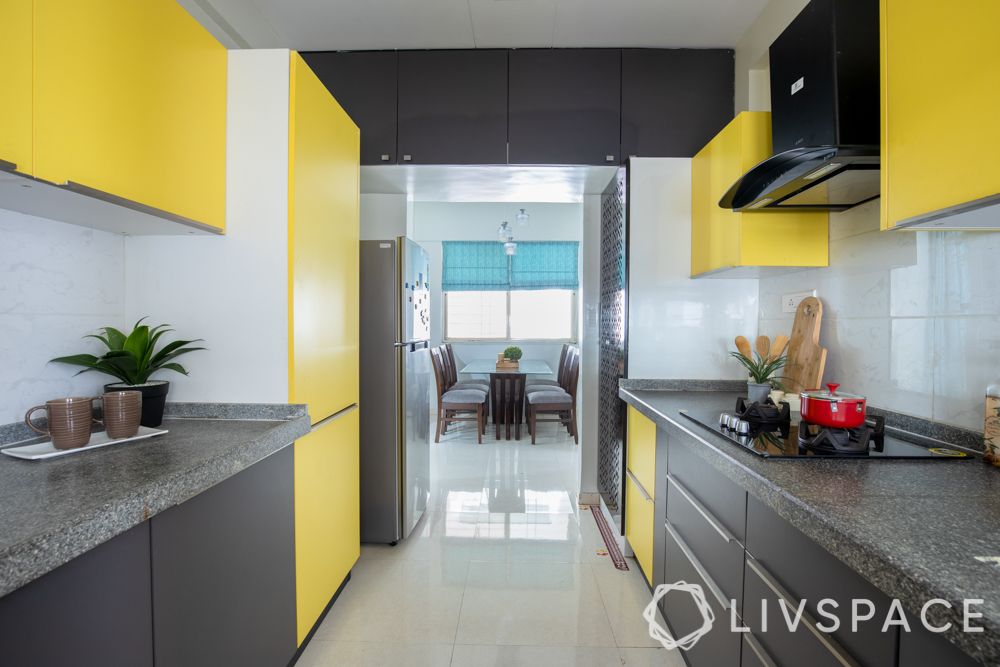 Budget Elements: Laminate finishes + granite countertop
Indulgence: A tall cabinet
Once you're done appreciating the striking contrast of the yellow and green cabinets, it's time to analyse the economy of the design. The Kulkarnis wanted their kitchen to be well stocked with storage so Prateek provided a set of lofts in addition to regular cabinets. Also, they broke down a few walls to widen the kitchen. However, the laminate finishes here are affordable as is the granite countertop. They compensate for the tall unit that was provided to accommodate groceries and snacks. They managed to cut costs as they did not opt for any internal accessories.
Master Bedroom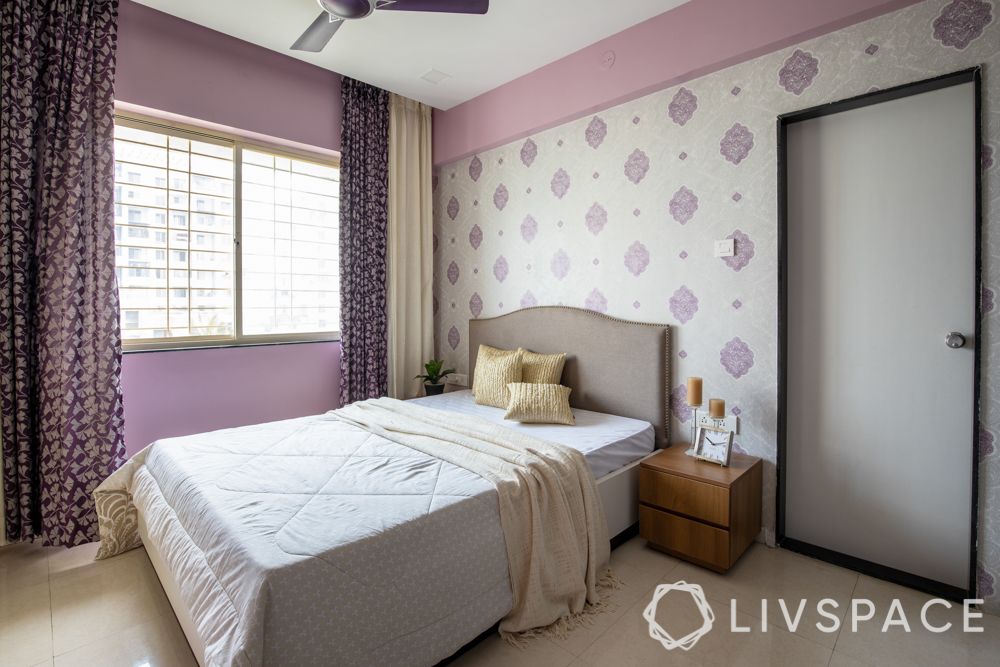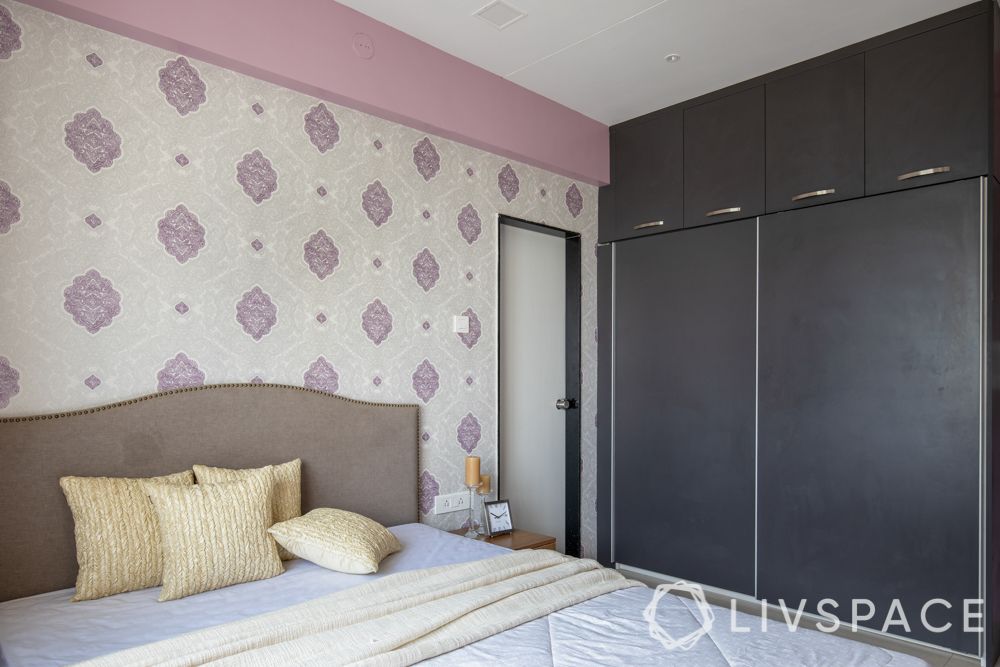 Budget Elements: Furniture from Livspace + laminate finish for the wardrobes
Indulgence: Sliding wardrobe
In the couple's bedroom, Prateek suggested a bed from the Livspace catalogue with a beige-coloured headboard and a pair of side tables. The wardrobe, also from our catalogue, has a black laminate finish. However, the doors of this wardrobe are sliding to make the room space-efficient.
Daughter's Bedroom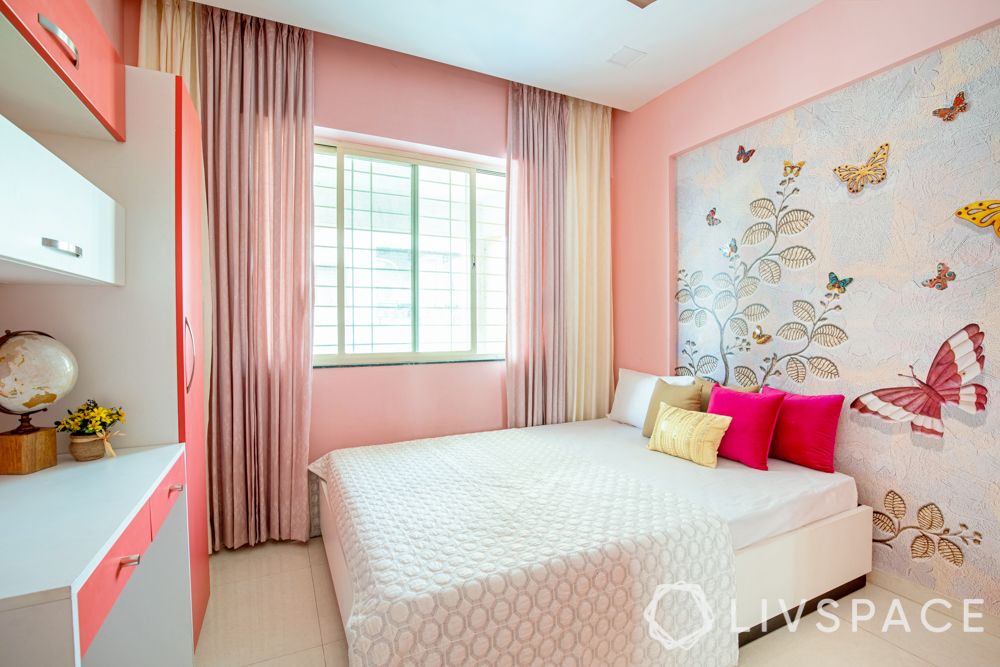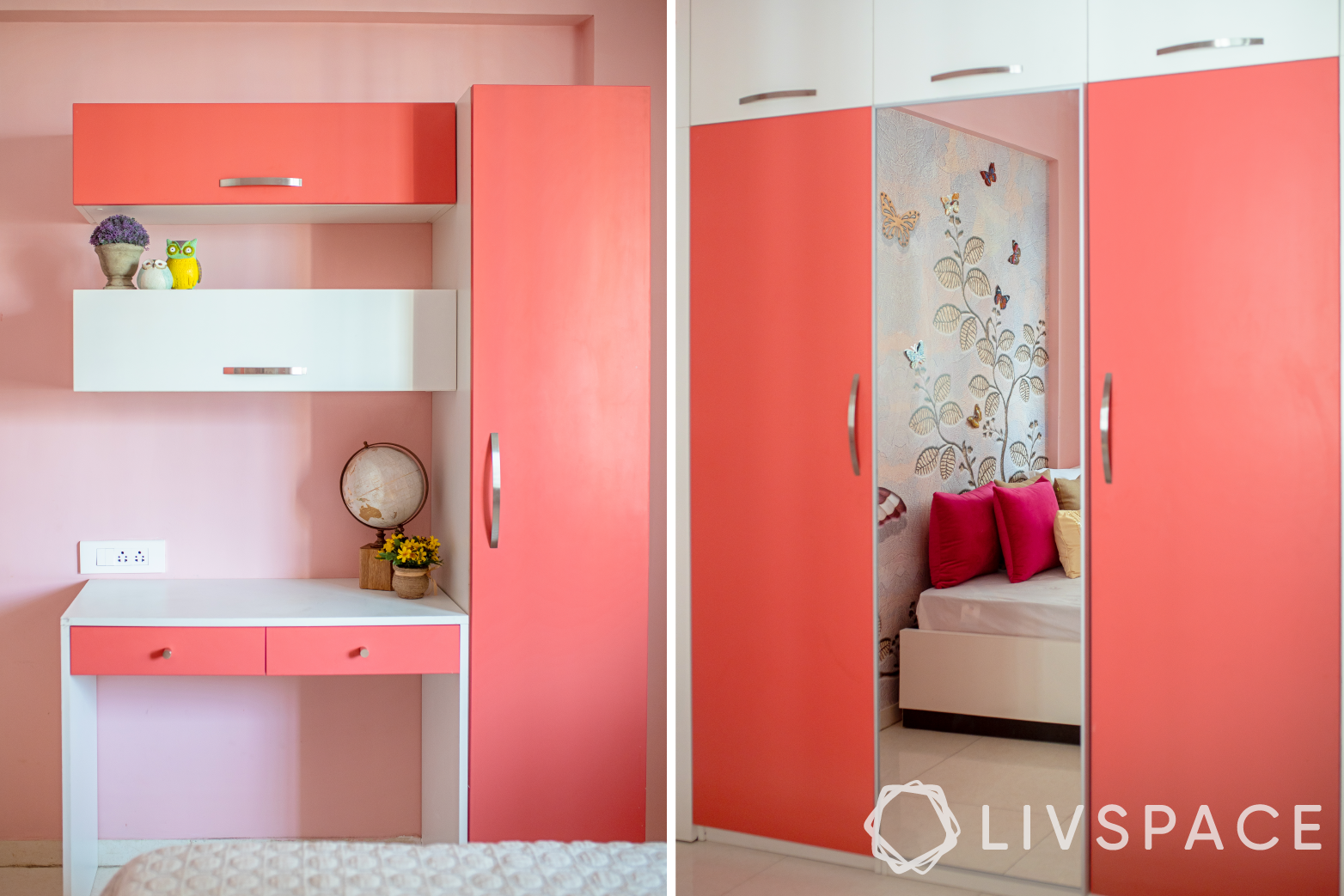 Budget Elements: Laminate finishes for wardrobe + study unit
Indulgence: Wallpaper
In the couple's daughter's bedroom, the most note-worthy feature is the study unit that is made from different storage modules picked from our catalogue. The coral colour of the laminate interspersed with white is the little girl's favourite colour. These paired with a floral wallpaper on the wall, makes this quite a sweet space to grow up in.
If you liked how the interior for 2 BHk was done for this home, also explore How We Designed a Home That Proves Bold Can be Beautiful.
Send in your comments & suggestions.