The Covid-19 pandemic has affected the financial position of many people. But your home is your soul, your haven. Then why hold back on decorating your place of happiness? After all, it is a myth that home decor is expensive! So steal some tips from these low budget house designs by Livspace!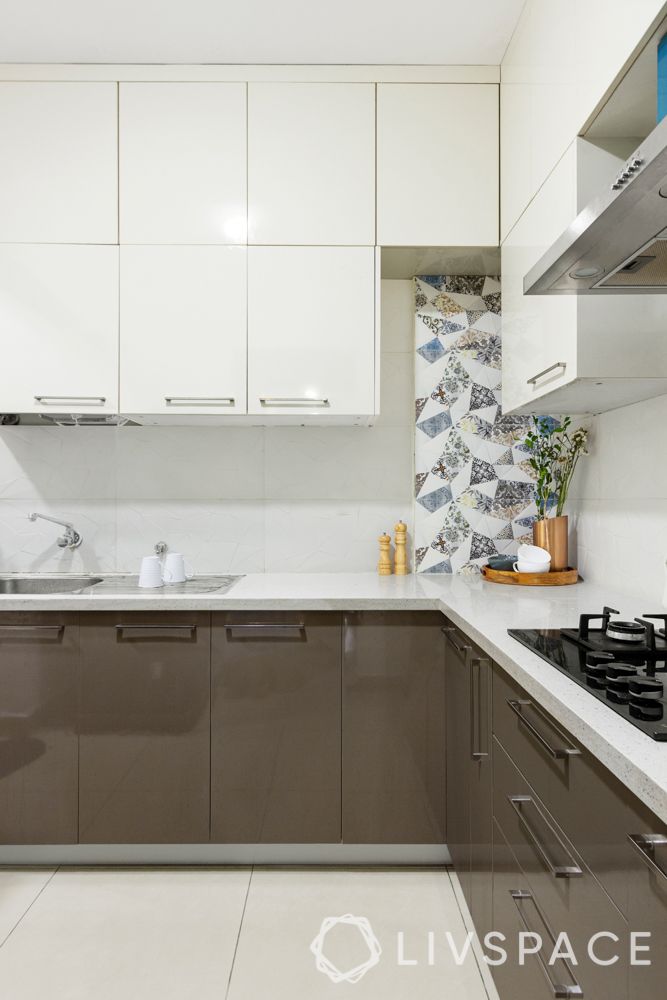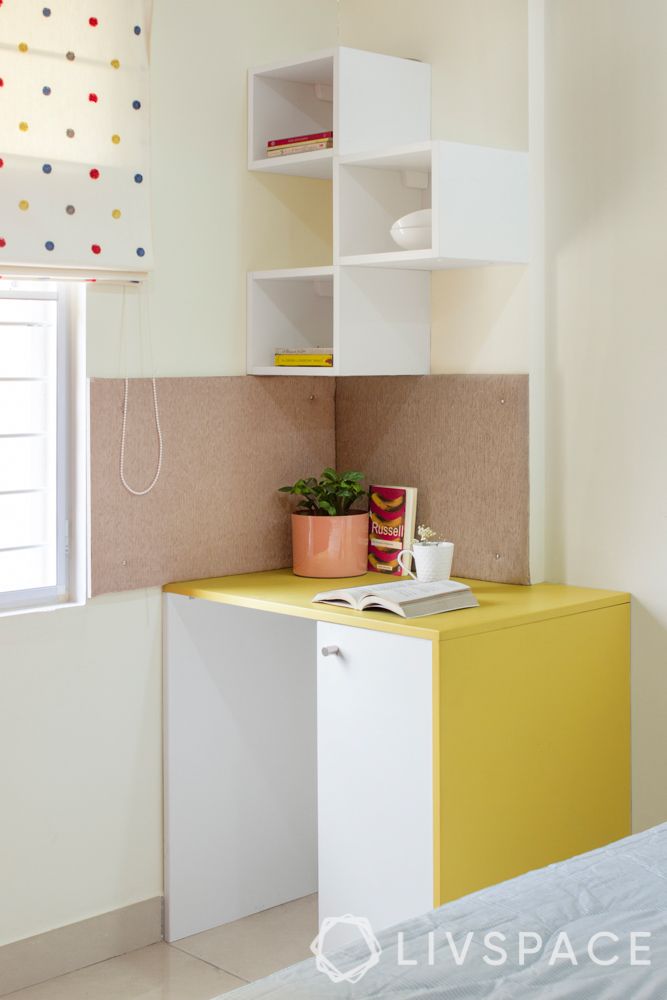 Budget: ₹₹₹₹₹
When Srinivas and Padmavati from Bengaluru approached Livspace, they had three needs for their home design – vastu-friendly, pleasant colours and a low budget. Low budget houses in Bengaluru are hard to come by but our designer, Sushritha Surya P S, made sure that the couple got their budget home! Doused in pleasant English colours, this home is a treat for the eyes!
What's "Budget" About This Home?
Laminate is one of the most cost-effective finishes that you can find. Sushritha abundantly used laminate for the kitchen cabinets, display units and the study unit to keep things budget-friendly.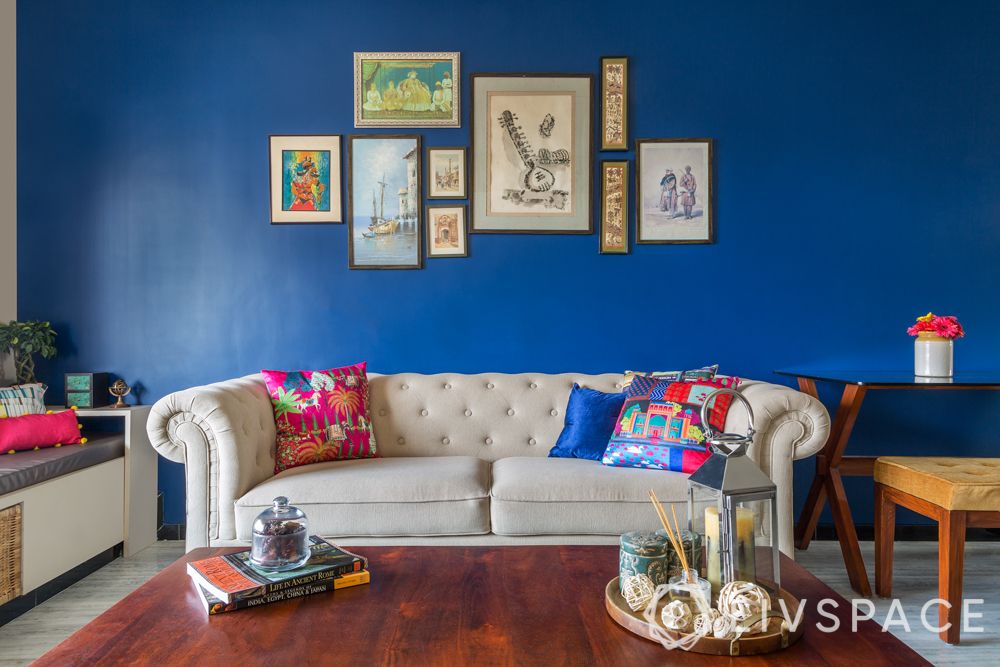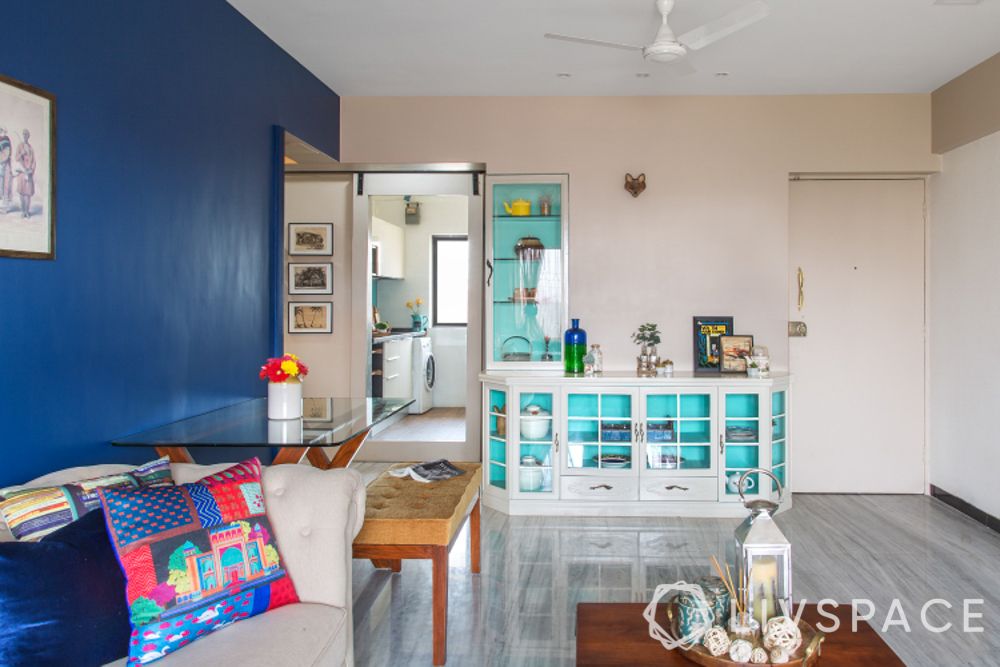 Budget: ₹₹₹₹₹
Mumbai – the city of dreams, the land of the vada pav and tiny, expensive apartments! If you are a Mumbaikar, you know that there are two major challenges to being a homeowner in Mumbai – the lack of space and the skyrocketing real estate costs. Sumedha Naik, with her happy family of five (including a furry member), wanted a home renovation that was joyful, like her family and on a budget.

What's "Budget" About This Home?
Low budget house designs can also be beautiful and the Naiks' home shows you how! The easiest way to give your interiors a stunning yet budget revamp is by using bright colours. The Naiks wanted vibrant interiors, so our designer used vivid blue as the focal point of the design. From the lively blue living room wall to the turquoise blue crockery unit, the entire look is striking and gorgeous!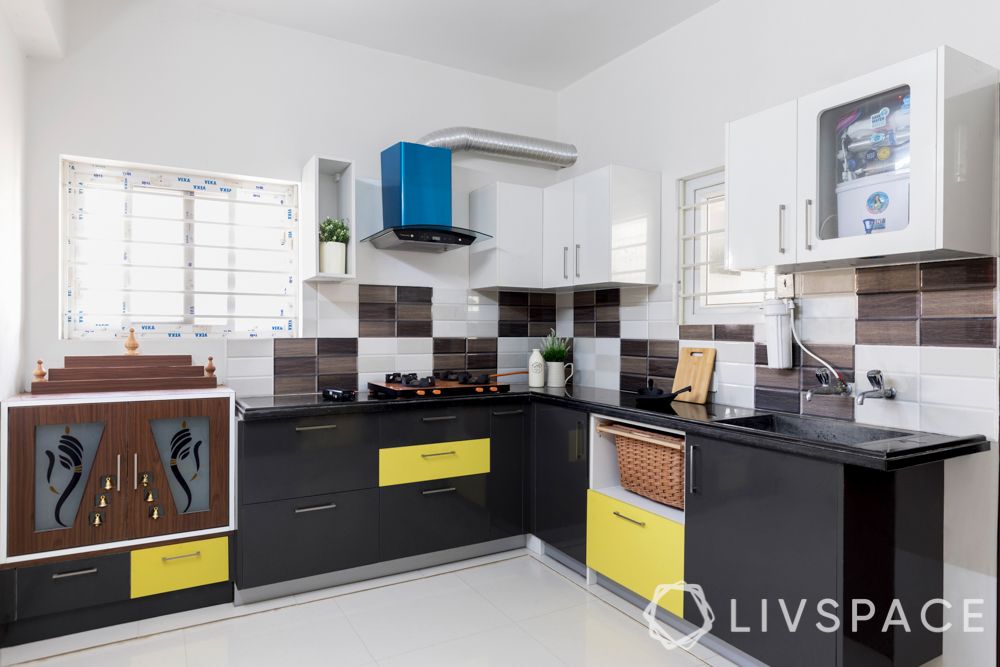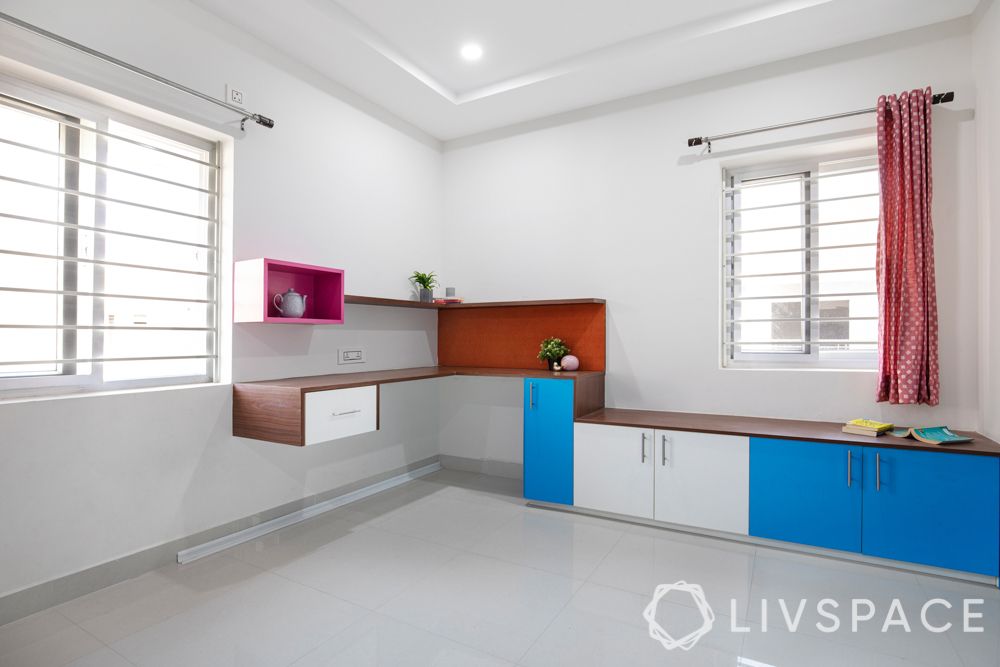 Budget: ₹₹₹₹₹
When we met Pradeep Kumar and his family, the first thing that stood out was how modest and down-to-earth they were. And just like their personalities, they wanted their house in Hyderabad to be homely, comfortable and within budget. Our designer, Ritika Gupta, proved her mettle as a designer by designing this elegant and spacious home without going overboard.
What's "Budget" About This Home?
The Livspace catalogue offers a wide variety of modular furniture that can fit any budget. But what if the client has some specific requirements that cannot be fulfilled without modular units? Use a mix of custom and modular units, just like Ritika did. By only using custom-made fittings where it was absolutely necessary and keeping everything else modular, Ritika ensured the perfect blend of beauty and budget!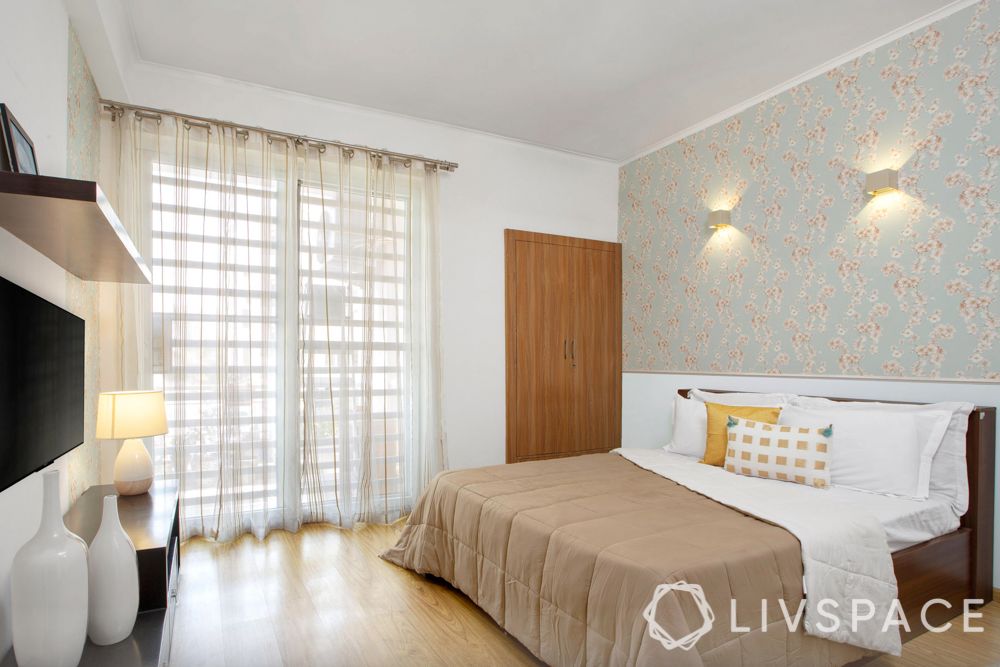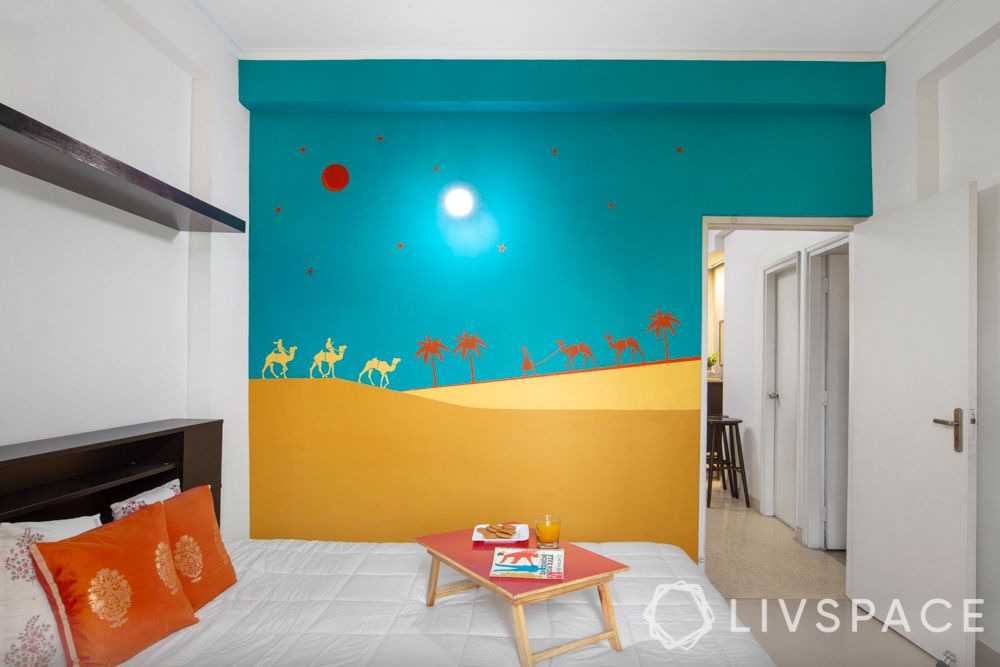 Budget: ₹₹₹₹₹
Soumyabrata Saha from Gurgaon was pretty sorted about his design requirements – he was looking for low budget house designs that were contemporary and elegant. Be it the beautiful balance of hues or the tactfully curated decor, our designer, Parush Grover, gave the Sahas a home that is as gorgeous as it is ergonomically comfortable.
What's "Budget" About This Home?
A low-cost hack to make your home look stunning is to play up the walls! The Sahas got this right by opting for wallpapers and wall art that are not only budget-friendly but also look so beautiful! From the slate blue wallpaper with floral motifs in the master bedroom to the stencilled work of an oasis in the desert in the kids' room, every wall in this home is special!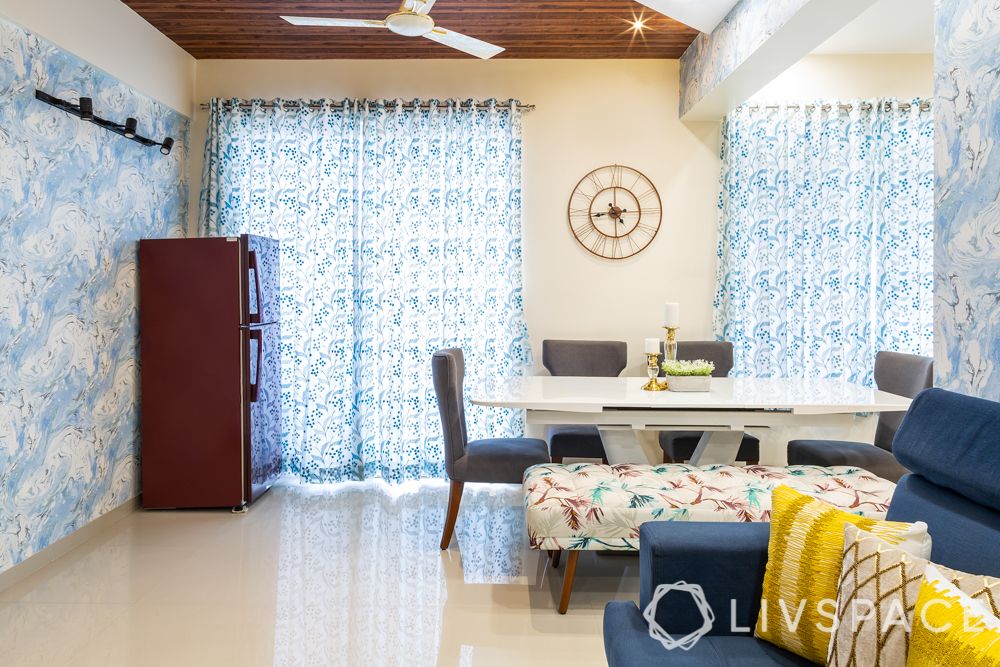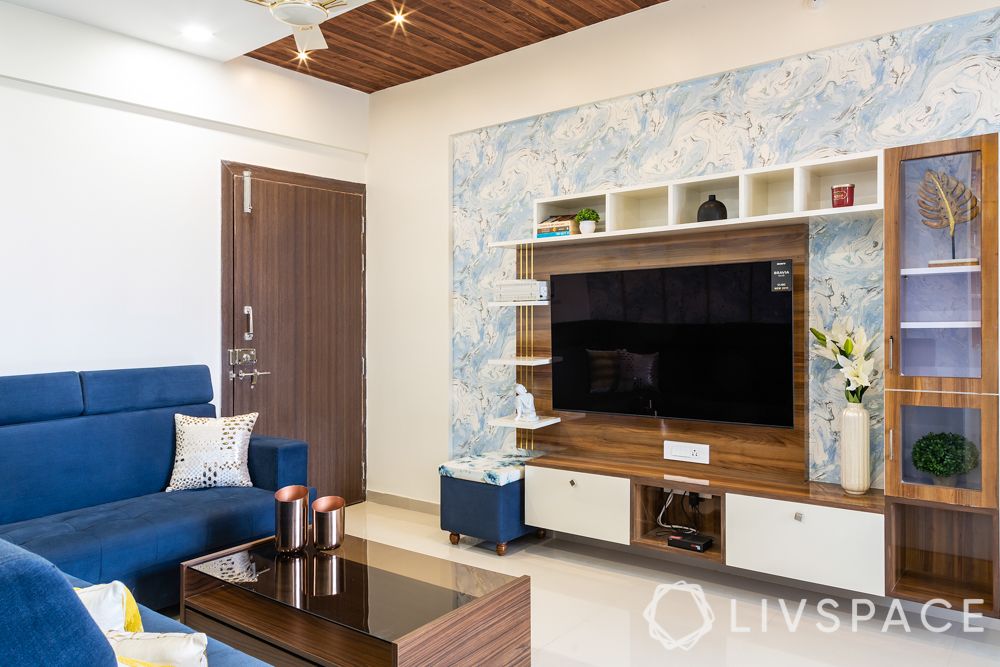 Budget: ₹₹₹₹₹
Every once in a while, we come across a home that is special in so many ways! So was the case with this Pune home belonging to Yogesh Ashturkar and his family. The Ashturkars were expecting a new member in their family and wanted their home to be as comfortable as possible for the little one. Practical, functional, child-friendly and on a budget – their designer, Chinky Budhraja, ensured that everything fit in perfectly in their beautiful home.
What's "Budget" About This Home?
When budget is the goal, multifunctional furniture is your best friend! The Ashturkars' home boasts several pieces of unique furniture that serve multiple purposes. Multifunctional furniture not only saves you from spending too much but also helps in keeping your home spacious. We love the extendable 6-seater dining table (it converts into an 8-seater!) and the stunning TV unit that combines storage and display.
Low budget house designs can be beautiful, functional and every other thing that you want them to be! Looking for more budget home designs? Check this out.
We love hearing from you! Write to us with your comments and suggestions at editor@livspace.com