This 2 BHK flat interior design at The Tree by Provident blends vastu with decor seamlessly!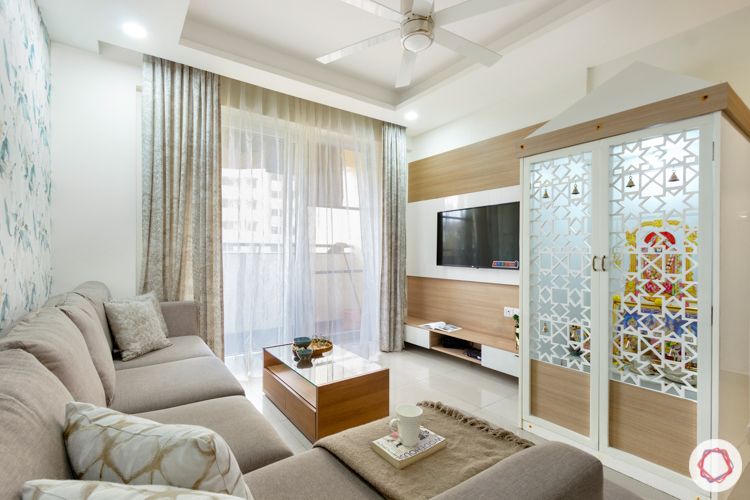 ---
Who livs here: Srinivas S with his wife Padmavati and their son
Location: The Tree by Provident, Bengaluru
Size of home: A 2BHK spanning 1,100 sq ft approx.
Design team: Interior Designer Sushritha Surya PS and Project Managers Kiran Kumar Matcha and Dilip S
Livspace service: Full home design
Budget: ₹₹₹₹₹
---
Everyone has their own plan for the interiors of their dream home, and Srinivas and Padmavati were no different. They wanted their 2 BHK flat interior design to follow the tenets of vastu to the letter. Also, they wanted it done without pinching their pockets too badly. And who should take up this challenge but Livspace? Our designer Sushritha Surya P S took it upon herself to design the interiors of this home at The Tree by Provident, and came up with this!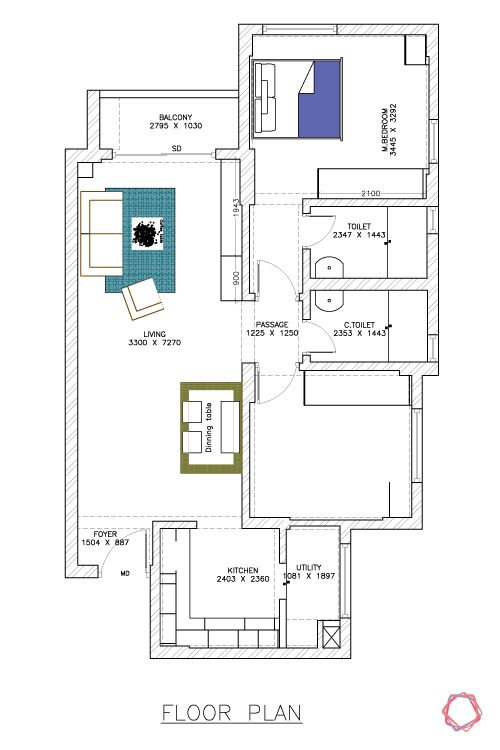 Pleasant, vastu-approved colours deck every inch of space. Sushritha tells us that it became tricky to incorporate minute details into the design at times, but she got it all. What's more, she added the details with such subtlety that they blend seamlessly into the 2 BHK flat interior design. Let's look into the home together!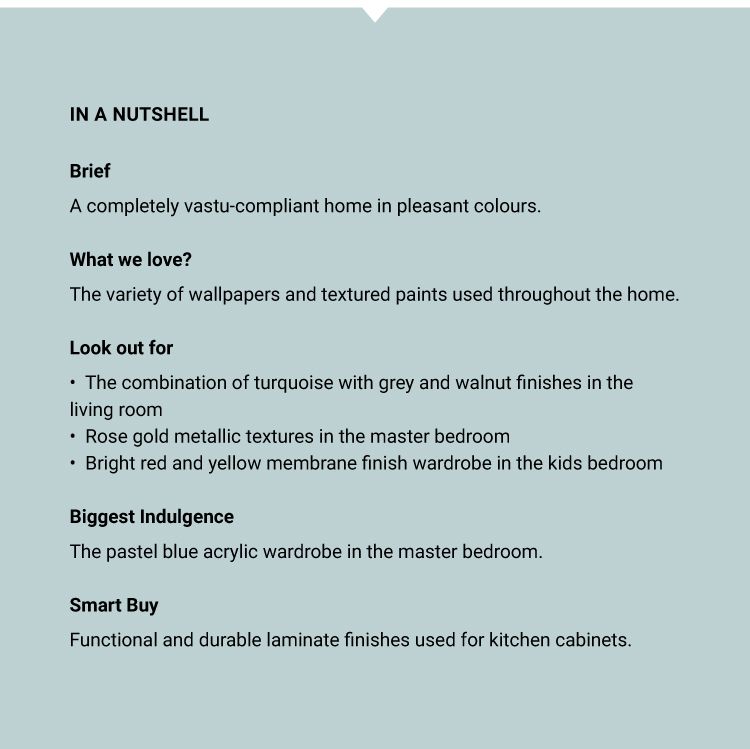 Some English Charm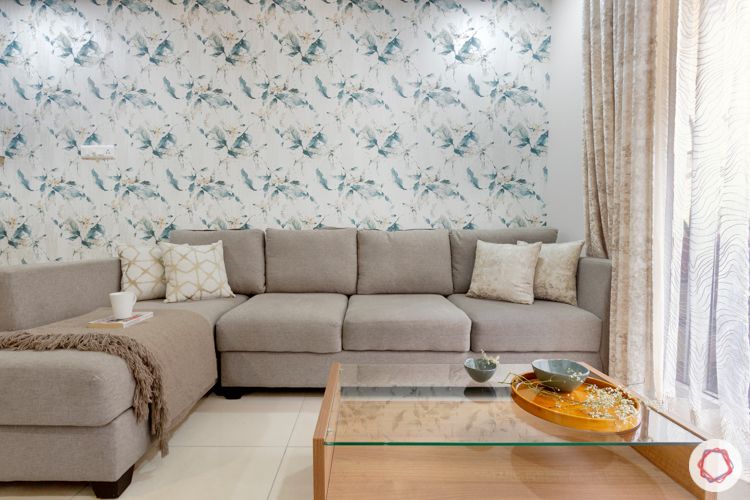 A pleasant turquoise hue takes over this living room. With the use of soft greys and majestic walnut finishes, the British colour scheme makes for a calm and soothing room. A grey upholstered sofa rests against the accent wall in this 2 BHK flat interior design. With a floral wallpaper in turquoise, grey and white, it takes you back to the English countryside.
The walnut-panelled TV unit adds to the charm of this room, while tying in with the decor perfectly. Also, Sushritha has ensured the perfect placement of the pooja unit. In accordance with vastu, the unit has a grilled door that allows the seclusion of the sacred space from regular and mundane activities. Sushritha has also incorporated stars into the grilled doors of the unit and added bells in it to augment its auspicious nature. Moreover, the unit is topped by a pyramid, another vastu-appropriate element!
Vintage Vibes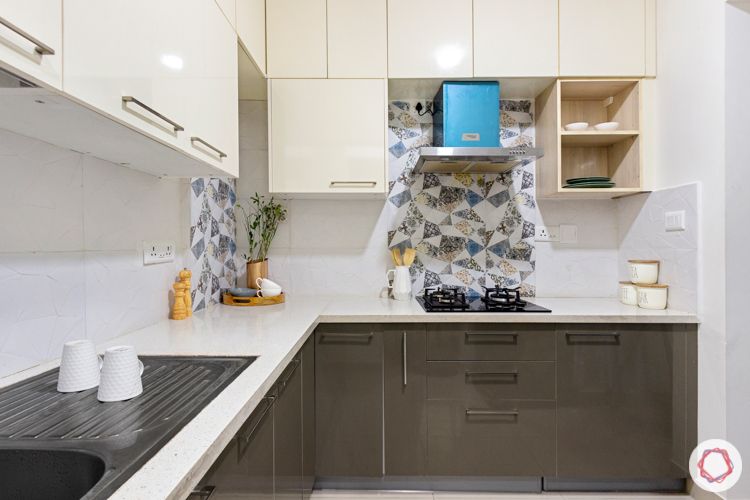 For their kitchen in The Tree by Pavilion, Srinivas and Padmavati wanted natural colours. So Sushritha wove together a design that combines vastu-appropriate design with style. Check out the kitchen in this 2 BHK flat interior design! It comes with cream-coloured wall cabinets and brown base cabinets. Laminate finishes make for a budget kitchen, while the quartz countertop ties in with the kitchen colours for that vintage charm. While the backsplash consists of white tiles, Sushritha has thoughtfully added a patterned backsplash immediately behind the hob.
Also, if you've noticed the empty corner space near the hob with the colourful backsplash to be amazed at the design, you're not alone! Since vastu dictates that this corner needed to be left empty, Sushritha decided to make it stand out as a design element. And we're amazed at how seamlessly it blends into the kitchen design!
Pastel Hues Take Over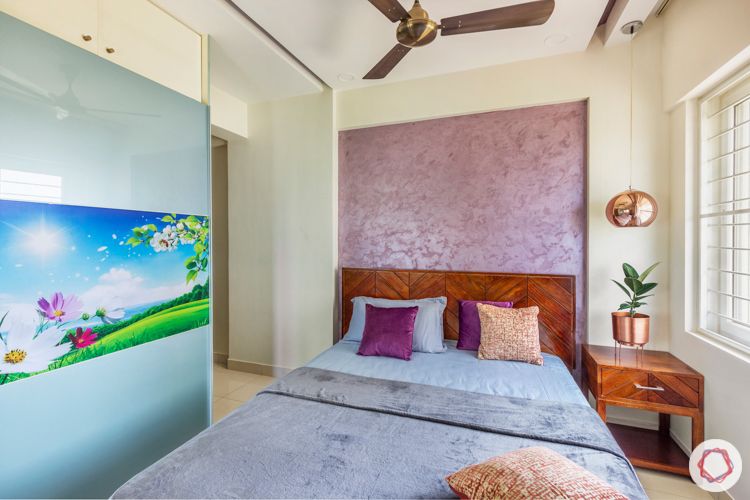 For the master bedroom, Sushritha used a peach textured paint on the accent wall. To match this, a rose gold pendant light hangs in the corner, keeping darkness at bay. Sushritha has used a solid wood bed from the Livspace catalogue for the master bedroom – you can never go wrong with wood!
To incorporate blue, a vastu-approved colour in the master bedroom, Sushritha used a glossy acrylic slider wardrobe from the Livspace catalogue. Moreover, she has cleverly tweaked the wardrobe. While it comes with a mirror panel in the center, Sushritha has covered one side of it so that it does not reflect the bed – or people sleeping on it. And in case you were wondering, this is another vastu element cleverly incorporated into the house.
Srinivas and Padmavati wanted a locker in the north-west corner of the master bedroom, as per vastu. So we have this blue locker in the corner of the room, that comes complete with mirrors. And it fits perfectly into the corner as well!
Bright & Sporty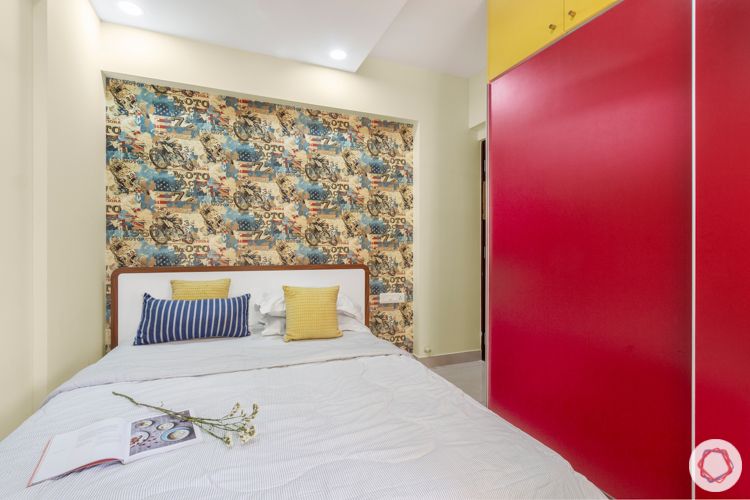 For their six year old son, the couple wanted a bright and sporty room, where he could grow up to be both active and creative. So his room sees the generous usage of red and yellow, with hints of blue. Set against an off-white background, the wallpaper has hints of blue and yellow that adds a hint of colour and cheer to the space. To augment this, Sushritha has used polka-dotted blinds on the window. Also, watch out for the membrane finish sliding wardrobe in bold reds and yellows.
Finally, how could a room for a growing child be complete without a dedicated study space? Worry not, Sushritha has made provisions for this too. At the vastu-approved corner, Sushritha designed a snug study unit in yellow and white. It comes with sleek display units above it for storage and showing off accessories. There's also a window by the side, so that there's plenty of natural light!
"Srinivas and Padmavati wanted their house to adhere completely to the tenets of vastu – from the colours used to the placement of furniture. At the same time, I wanted these elements to fit in seamlessly and look like a part of the design. So we agreed upon this design, and I'm happy they liked it!"
– Sushritha Surya P S
If you enjoyed reading about this home, also check out A Simple 3BHK at Mahindra Windchimes.
Send in your comments and suggestions.