Interior design requirements vary – from space optimisation to glam decor. But if you ask us one thing that most homeowners like you ask for, we would say adherence to vastu principles. Following Vastu Shastra can ensure that your space is a hub of positive energies. And that's what Preetish Bhargav wanted – a peaceful and vastu-friendly 3BHK interior design in Subramanyapura Bengaluru, completed under ₹15 lacs. In addition, since he has toddlers, he wanted his home to have ample space to accommodate growing kids. And would you believe that we designed this gorgeous home in just 45 days!
---
Who Livs here: Preetish Bhargav with his family
Location: Jayanagar Housing Society Layout, Subramanyapura, Bengaluru
Size of home: A 3BHK spanning 1,000 sq. ft. approx.
Design team: Interior Designer Syed Saleem and Project Manager Nagaraj K
Livspace service: Kitchen, wardrobe and storage along with some custom work
Budget: ₹₹
---
IN A NUTSHELL


Brief
To design a vastu-friendly home that's perfect for growing children

What We Loved
The wardrobe in a trending blue colour that comes with maximum storage, display shelves and long handles

Look Out for
— The master bedroom with the vivid blue wardrobe
— The partition in the living room that serves as a display as well
— The kitchen with maximum storage
— The elegant foyer unit

Biggest Indulgence
The kitchen

Smart Buy
The wardrobe in the master bedroom that comes with storage and display


From vastu to space optimisation hacks, here's everything that you can learn from Preetish's 3BHK home interior design in Subramanyapura Bengaluru.
#1: The Star of This 3BHK Interior Design in Subramanyapura Bengaluru – the Master Bedroom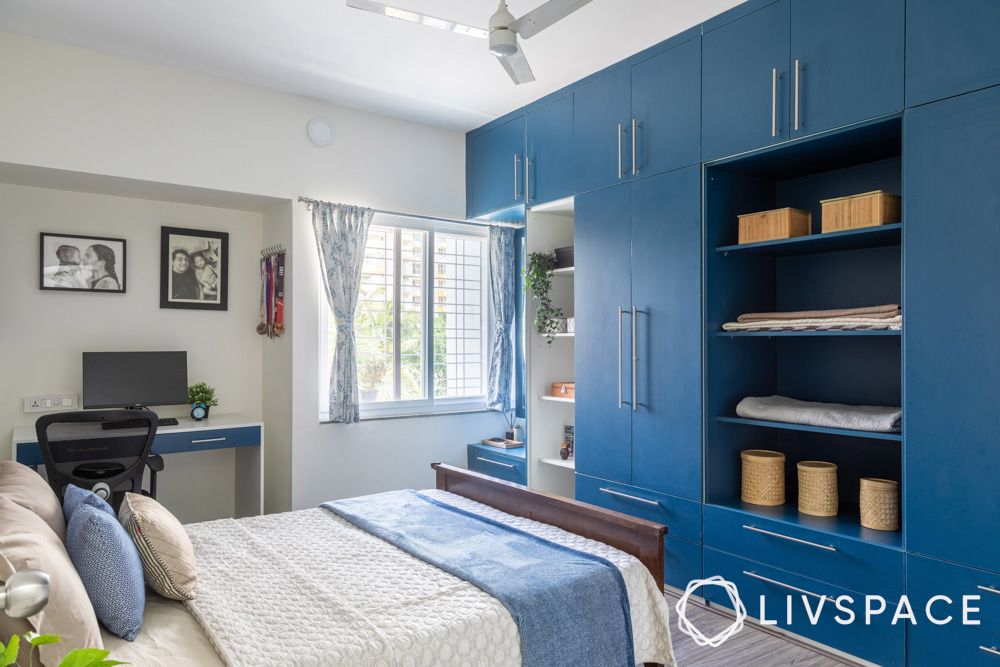 So first, let's talk about the vastu element in this room. Our designer, Syed Saleem tells us that the bed is placed in such a manner so that it faces the vastu-approved direction. But we're sure, more than the vastu of this space, you are curious about that gorgeous customised wardrobe.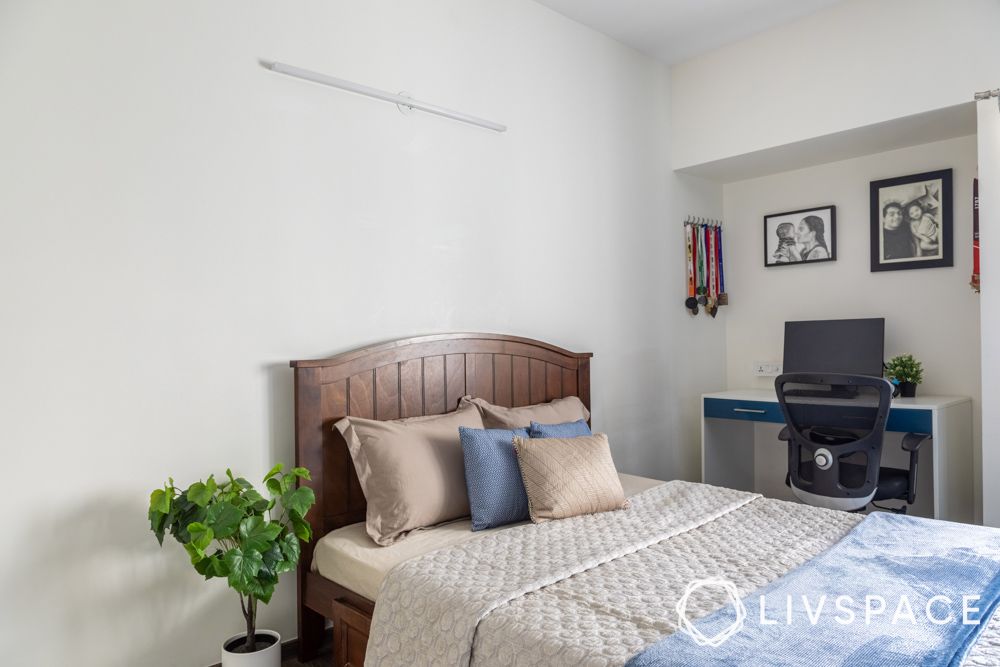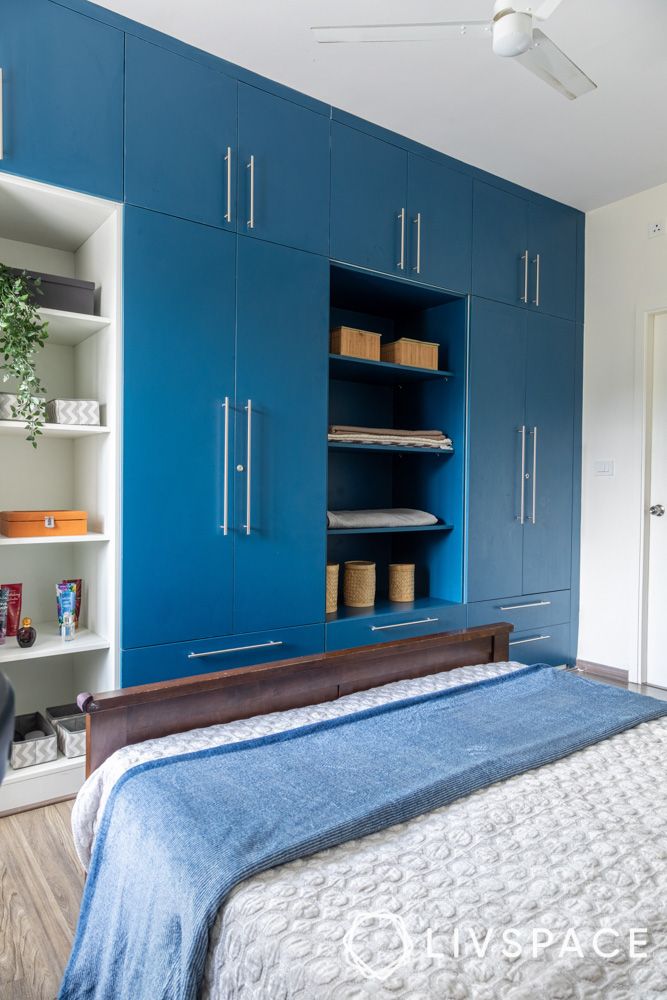 Syed, our designer's favourite part of this 3BHK interior design in Subramanyapura Bengaluru is the trendy colour the family selected for this wardrobe. Since the family had young kids, they wanted maximum storage. Hence, the wall-to-wall wardrobe unit with drawers and lofts you see. Also, Syed added display shelves where the family could show off their mementoes.
Another notable aspect of this 3BHK home interior design in Subramanyapura Bengaluru is the study unit that's in a niche. Since the homeowner is from the IT industry, with work-from-home requirements, he wanted study units in all the bedrooms, which we happily accommodated.
#2: A Kids' Room That Will Grow With the Little Ones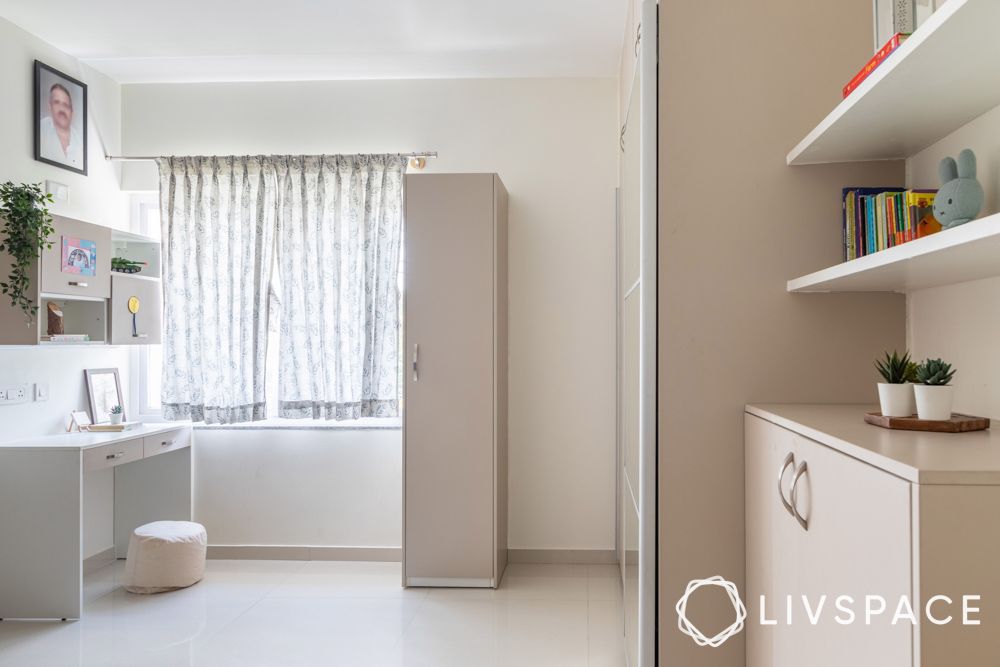 When you think of a kid's bedroom design, what are the colours that come to your mind? Pink, blue, red, yellow, orange and other bright colours, right? Beige is definitely a very uncommon colour for kids bedrooms. However, there is a reason why Preetish chose such a colour for his children's room in this 3BHK apartment interior design in Subramanyapura Bengaluru.
He wanted a colour that would not become obsolete in a few years, when his kids are older and no longer like bright colours. A beige room allowed him the flexibility to add colours in the form of furnishings and remove them when required. Intelligent, don't you think so?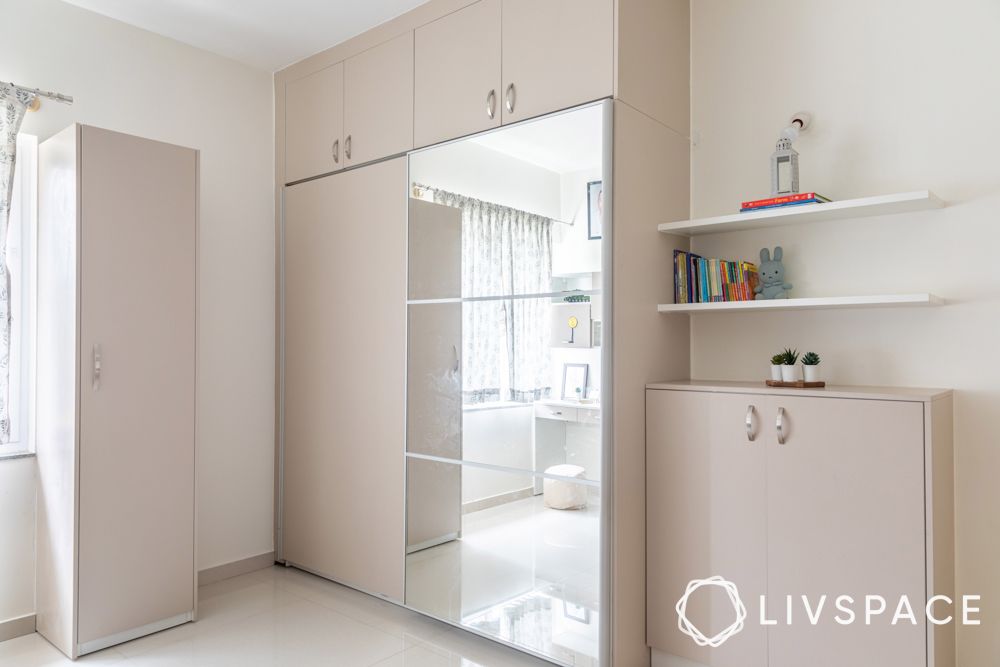 Another notable aspect about this 3BHK kids' room decor in Subramanyapura Bengaluru is the spacious design. Kids need space where they can move around and play. Keeping this in mind, Syed kept the furniture in this room absolutely minimal. To accommodate for the need for extra storage, he added a wardrobe, a tall unit and a storage unit. Also, the mirrored wardrobe makes the room look more spacious.
Finally, coming to the vastu aspect of this space, it's the choice of colour. Peaceful shades like white and beige are perfect for your kid's room, as per Vastu Shastra.
#3: The Luxe Element in This 3BHK Interior Design in Subramanyapura Bengaluru – the Kitchen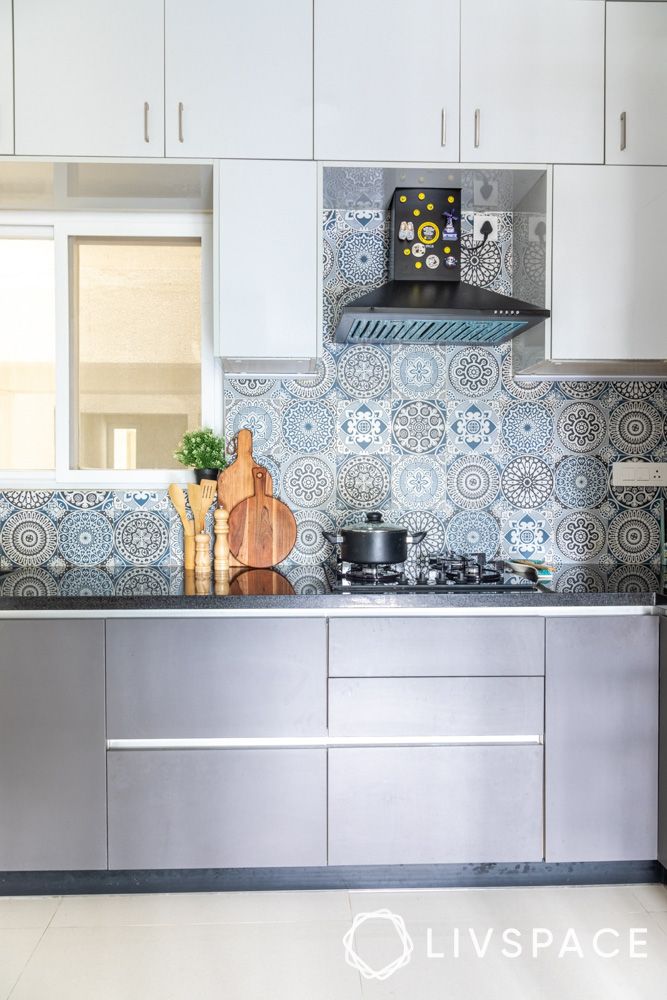 The kitchen, being the hearth of your home, should always align with vastu rules. Knowing this, Preetish asked for a vastu-friendly kitchen in his 3BHK interior design in Subramanyapura Bengaluru.
To accommodate this, Syed, our designer, made some civil changes to pull the kitchen inside the available space, and also added a pooja unit attached to the kitchen space, making it vastu-approved. While the kitchen cabinetry is laminate, the number of storage modules that were added to this space pushed up the cost.
#4: A Gorgeous Partition That Provides a Simple Solution to a Big Problem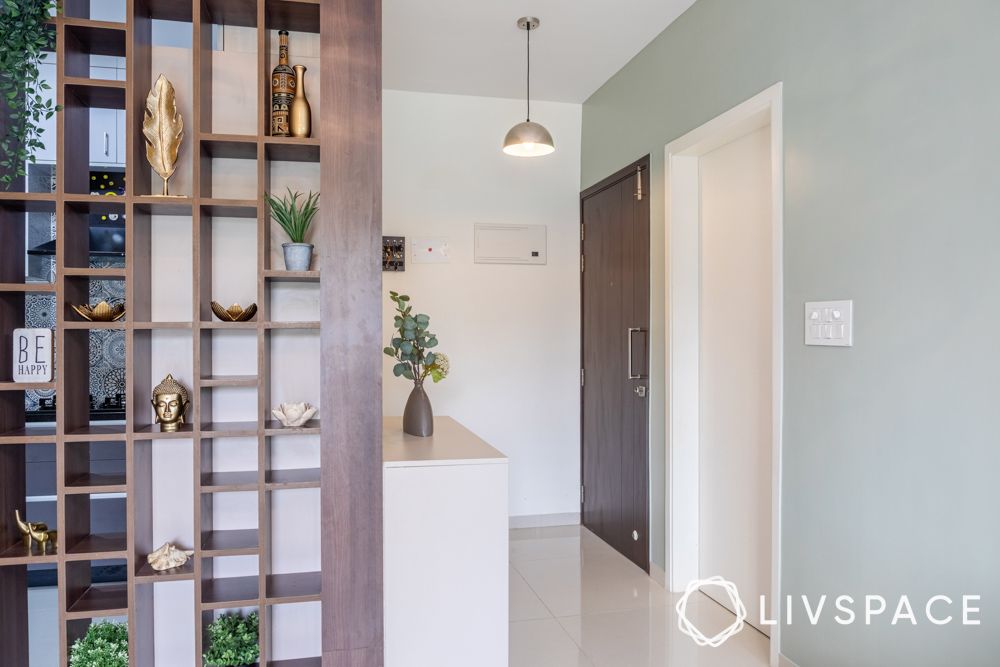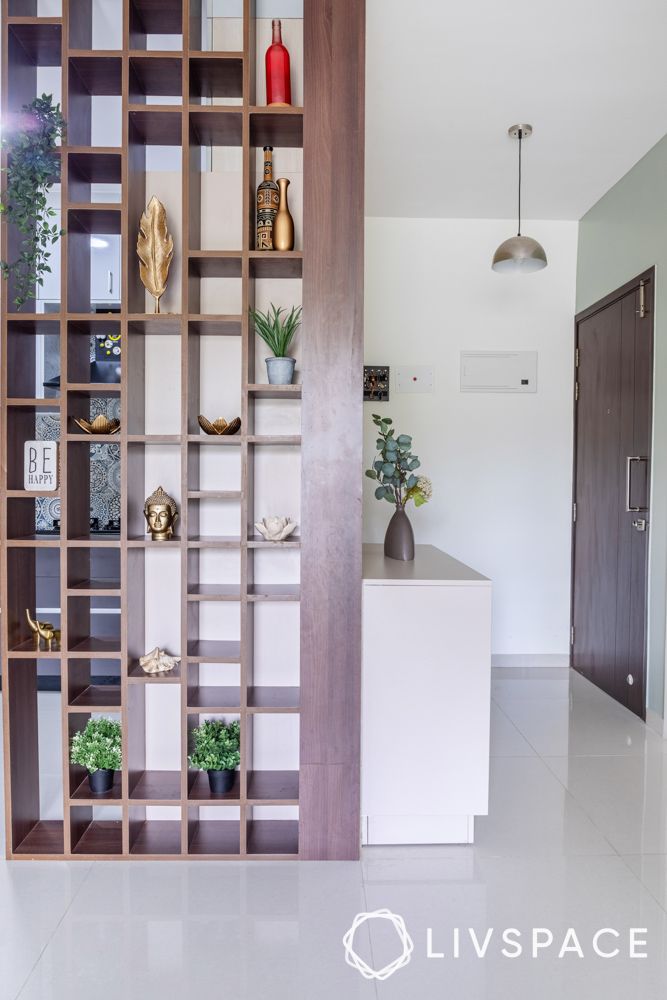 Previously, we had mentioned how the kitchen and pooja unit in this 3BHK home interior design in Subramanyapura Bengaluru were designed to exist next to one another as per vastu principles. However, the result was a protruding panel beside the kitchen, which looked quite unattractive aesthetically. To solve this problem, Livspace designer, Syed, created this stunning partition in wood-like laminate. Now, not only is the panel hidden, the family can use this partition to display their decor.
#5: And Finally, the Foyer and the Living Room
The foyer in this 3BHK apartment interior design in Subramanyapura Bengaluru is also a vastu-friendly space, like the rest of the home. The use of beige and a mirror makes the space look bigger, as well as vastu-approved.
In addition, Syed added a shoe cabinet, which gives the family ample space to store their shoes and bags. He also added seating for convenience.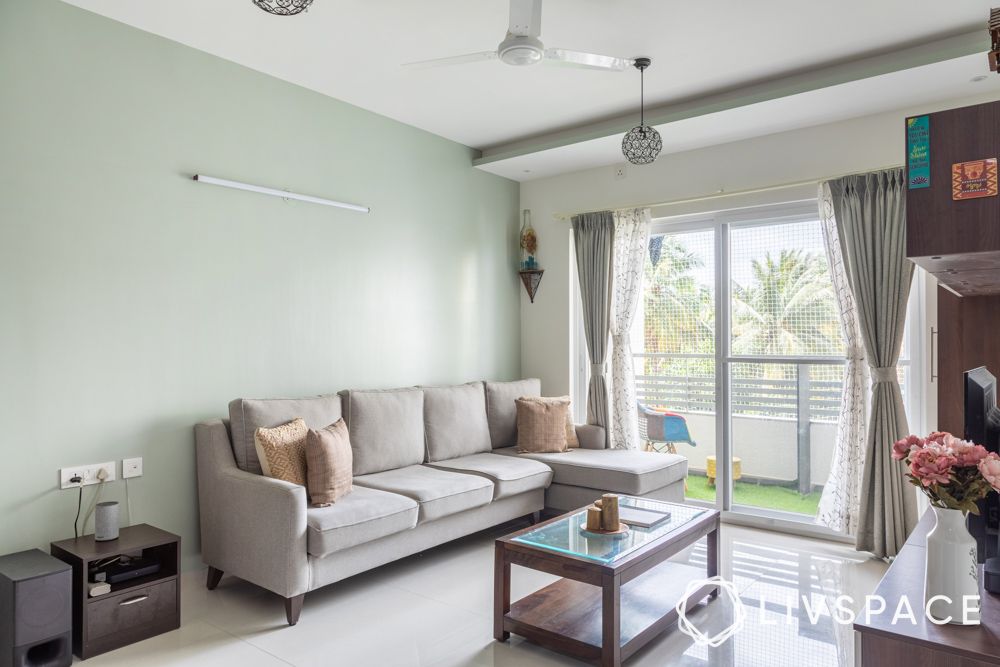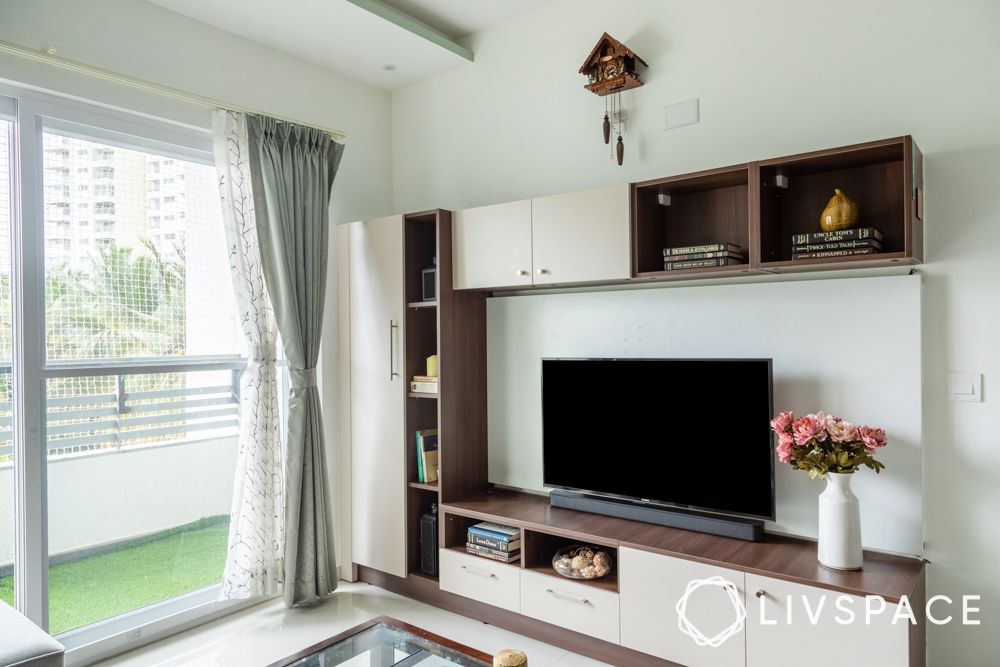 The living room is an open, bright and airy space. The TV unit is the showstopper of this room. Made of laminate, this modular TV unit comes with both open and closed storage.
If you liked this 3BHK interior design in Subramanyapura Bengaluru, check out this home designed under ₹8 lakhs.
How Can Livspace Help You?
We hope you found our ideas useful! If you want your home to be just as beautiful, then look no further. Book an online consultation with Livspace today.
Wondering how our customers feel about working with Livspace? You can check out the Livspace reviews here!
Have any thoughts or suggestions you'd like to share with us? We're all ears! Drop us a line at editor@livspace.com.
Disclaimer: All contents of the story are specific to the time of publication. Mentions of costs, budget, materials, finishes, and products from the Livspace catalogue can vary with reference to current rates. Talk to our designer for more details on pricing and availability.