This Purva Highlands flat basks under gorgeous colours.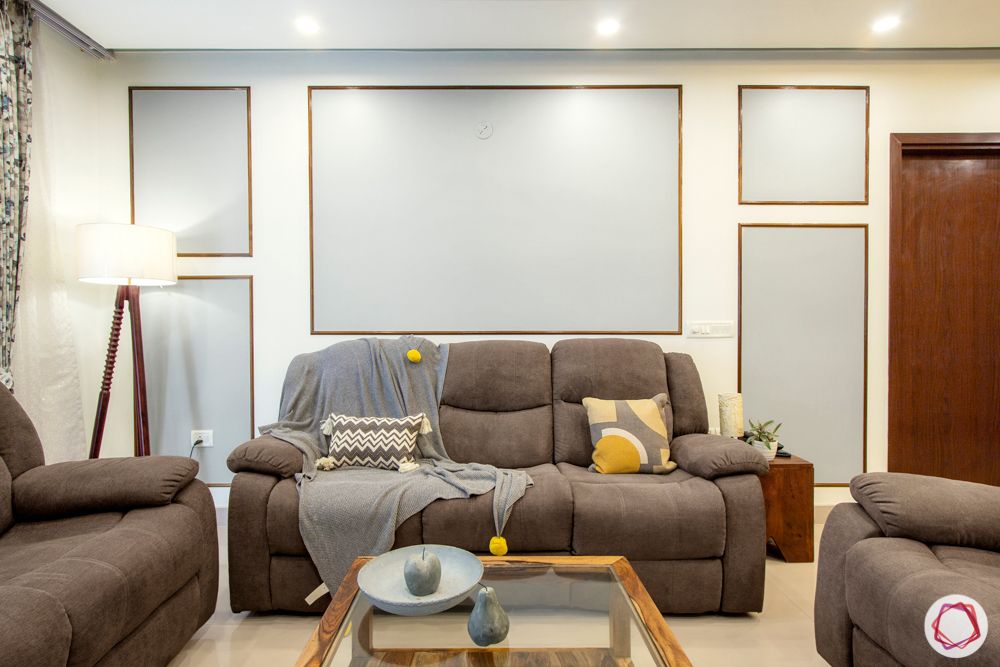 ---
Who livs here: Richa and her younger brother Ritwik
Location: Purva Highlands, Bengaluru
Size of home: 3BHK spanning 1,800 sq ft
Design team: Interior designer Aarshi Jariwala and Project Manager Ashwin KC
Livspace service: Full home design
Budget: ₹₹₹₹₹
---
Imagine a home full of your favourite things. Colours that make you happy, spaces for you to unwind, and even a dedicated nook for your beloved pet. Dream homes are made of these. When Richa and Ritwik's parents approached us, they told us they were looking for the perfect interiors for their flat in Purva Highlands, Bengaluru. Something fun, colourful and high on storage – completely tailored for their children's taste. The exciting part? The family also wanted a room for their adorable dog.
Our designer Aarshi Jariwala jumped at the chance of turning this 3BHK into a home the family would love to return to at the end of the day. Whether it's warmth or something energetic you are craving, there's a nook for it in this home. Here's the tour!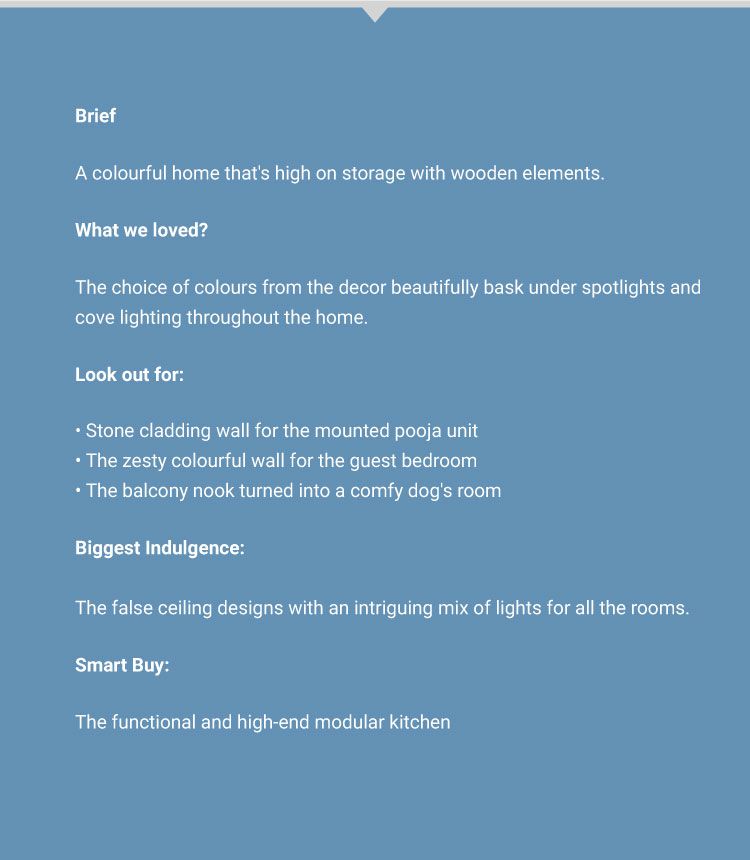 Functional Entrance at Purva Highlands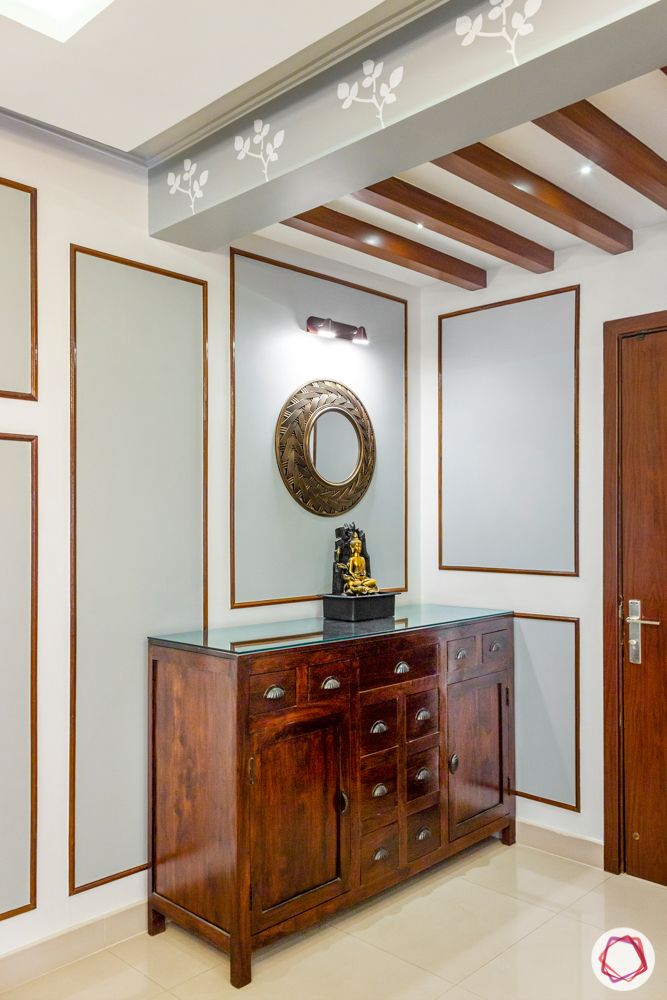 The first thing that greets you at the door would be the gorgeously painted walls. Featuring wooden trims and an elegant grey paint, we love how it makes a great first impression. A console table in a rich wooden hue with a glass top adds a touch of inviting warmth. It complements the wooden rafters from the ceiling as well.
Comfy Living Room at Purva Highlands
Glitzy setting

Wall trims

Wallpaper behind TV

Dressed up ceiling
The living room is a grand affair in comfort. The dressed up walls from the foyer flow into the living room as well to give it a sense of continuity. Sink-in sofas and a wooden-toned coffee table make up the space. For the TV unit, Aarshi put in a textured wallpaper and mounted shelves to stash essentials. The membrane finish of the unit keeps things low on maintenance too. Take a moment to look at the intricate false ceiling dressed with pretty lights.

Elegant Dining at Purva Highlands
Wall-mounted crockery unit

Floral painted walls
The dining nook is a beautiful space. Flaunting grey painted walls with a floral pattern to bring in a little softness. In addition, Aarshi mounted a sleek crockery cabinet with shelves beside it to keep the focus on the wall.
Vastu-approved Pooja Space at Purva Highlands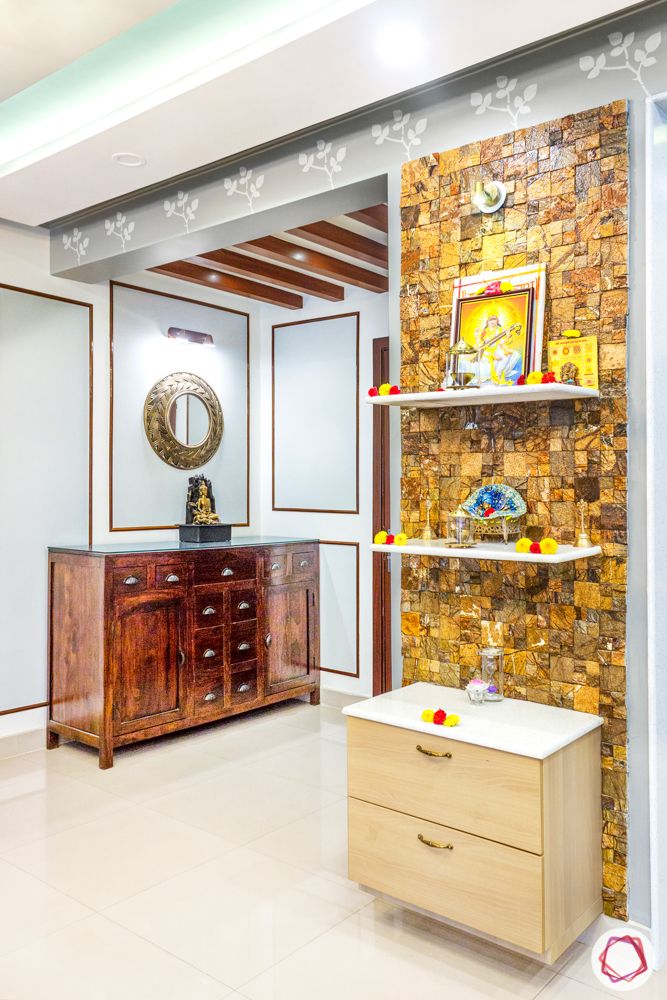 A pooja unit has been placed next to the entrance, which is vastu recommended. This also gives the prayer space an open look. The wall has been done up with stone cladding and mounted with shelves for pictures and a storage cabinet as well.
High on Storage Kitchen at Purva Highlands
L-shaped layout

Glass shutters

Mid unit
The kitchen wears an elegant neutral look. While the overhead cabinets are in glossy white laminate, the bottom units are in ash grey. We especially love the pop of pattern for the wall tiles. Since storage was the family's priority, Aarshi ensured there was enough storage for the siblings. The kitchen has been fitted with trolleys, ample drawers for quick access and spice pull-outs. In addition, she also put in a low-maintenance mid unit as well.
Bright & Blushing Bedroom at Purva Highlands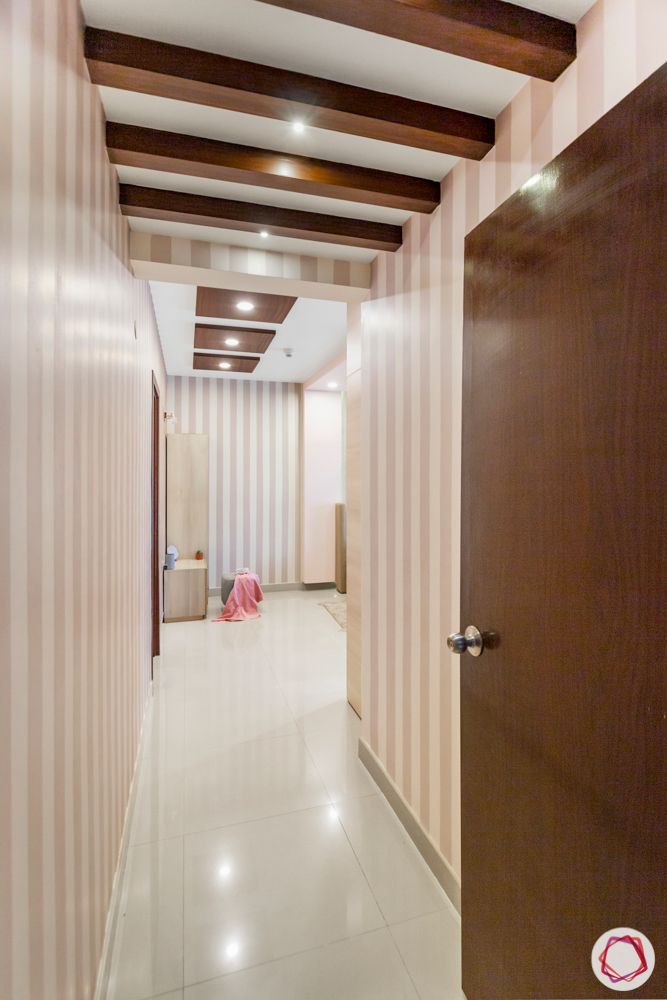 Soft hues

Bright interiors

Cushioned headboard

Extended false ceiling

Cosy study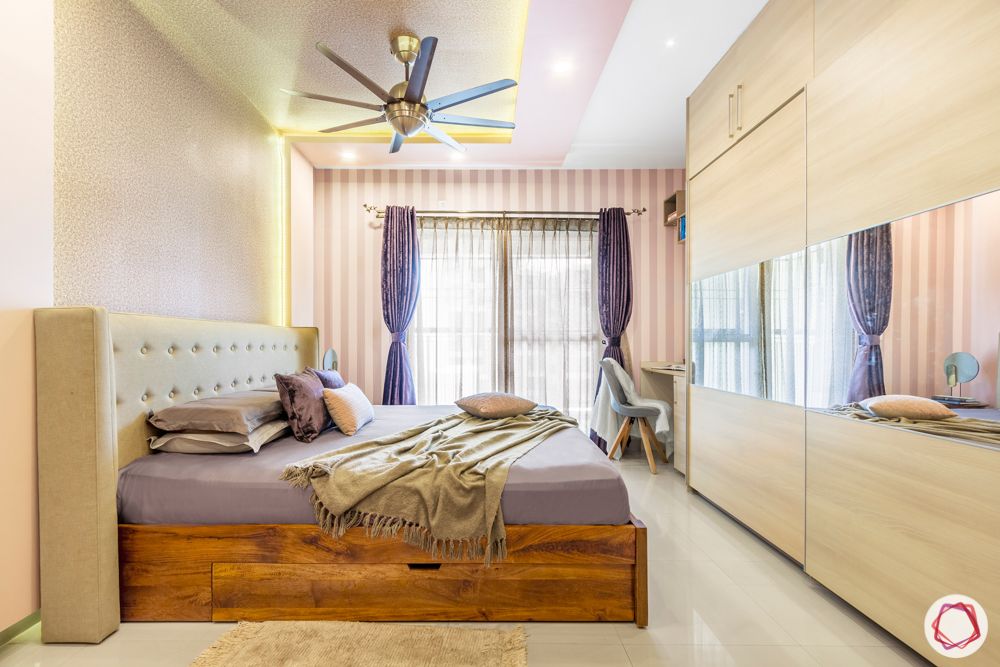 Richa's bedroom is a statement in chic style. The room starts with a narrow passage flaunting beautiful wooden rafters and spotlights leading the way. We love the pinkish-hued painted walls with strips that help to add dimension. We also can't get enough of the false ceiling that extends to both sides of the bed. The POP ceiling is fitted with cove lights and spotlights.
On the other side, a large wardrobe in a light wooden hue stands with mirror panels through the middle and lofts on top. In addition, a matching study table with mounted open shelves offer a cosy personal nook.
Beautifully Crafted Bedroom at Purva Highlands
A wooden statement

Sober study nook

Brick wallpaper

Wardrobe with lofts
Clean and quirky defines Ritwik's bedroom. Aarshi wanted a sober look for his room with a pop of accent. As a result, the bedroom wears a minimal look with only essential interiors. A study table and wardrobe in a light sand laminate are tucked into the corners of the room. For a touch of warmth, a plush wooden false ceiling has also been added. And for a pocket-friendly touch of industrial vibe, she put in a light brick wallpaper for the centre wall. In addition, we love the bike accent piece on the wall for a peep into Ritwik's personality.
Zesty Guest Bedroom at Purva Highlands
Intriguing colours

Makeshift table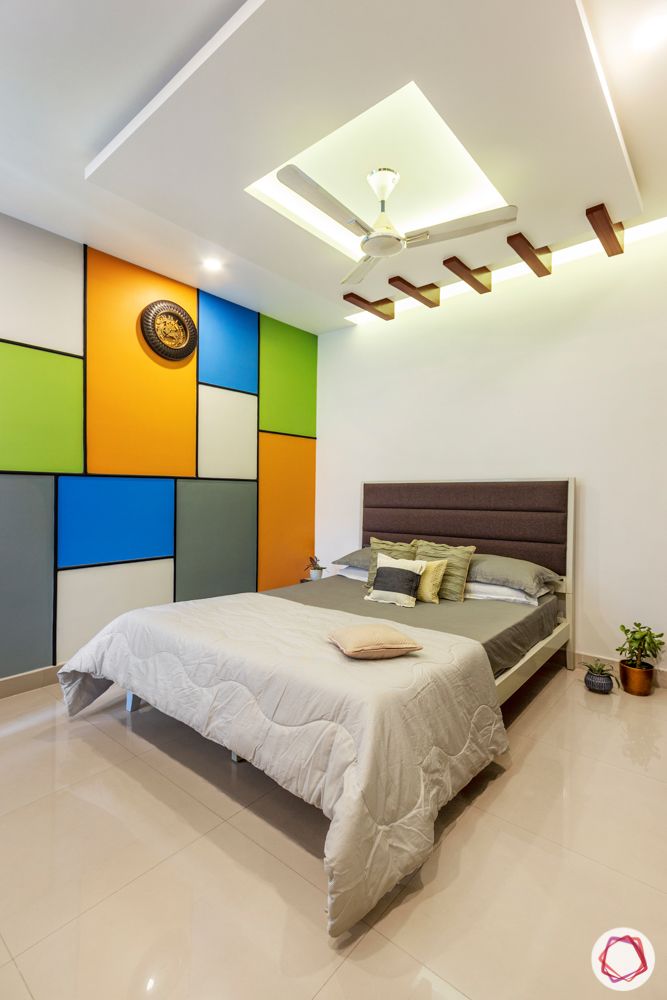 Just like the other rooms, the guest bedroom has something special to offer as well. A zesty colourful wall dominates the otherwise neutral room. And if you look carefully, you would notice it is actually painted and fitted with black trims.
A hinged wardrobe in dark grey laminate has been crafted with open shelves for a pop of display. For the sake of continuity, the headboard is in the same colour as the wardrobe. To wrap up the look, a box false ceiling with cove lights and wooden rafters bring in a touch of elegance as well.
Happy Dog's Room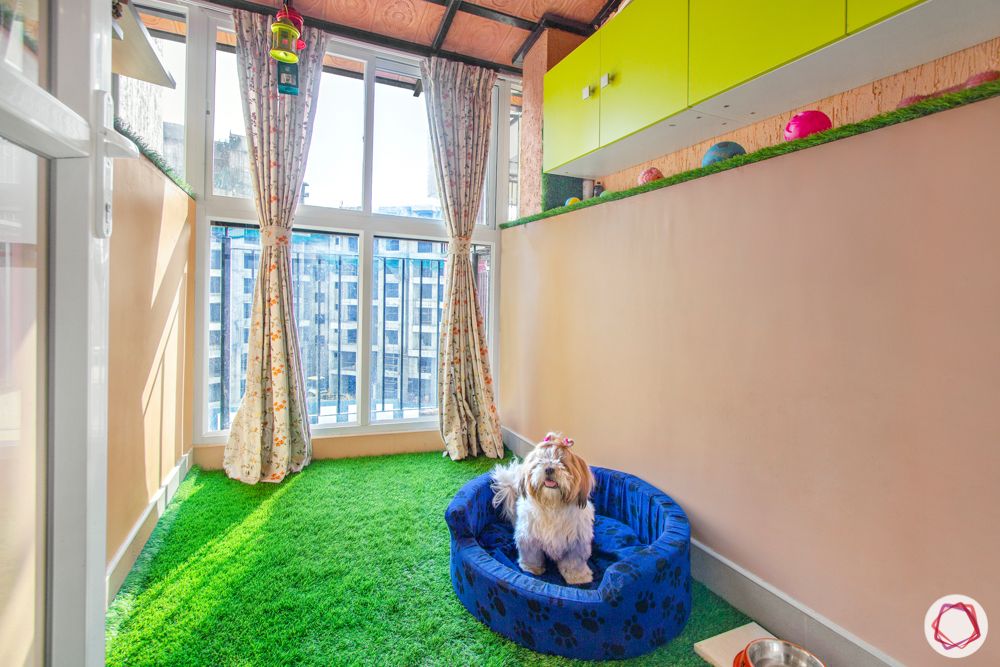 The sibling duo has a special room for the furry member of the house as well. While it stood as a balcony once, Aarshi transformed it into a functional space for the family's pet dog. For starters, Aarshi added overhead cabinets in bright yellow for essential supplies, followed by a half wall panel. Notice how it's topped it with artificial turf just like the floor? This is so that the dog can play around with comfort. We can certainly tell the doggo loves her new room!
---
"It was a wonderful experience designing Richa and Ritwik's home. The family was open to trying out new ideas and completely trusted my choices. The colours, the wooden touches, and all the wall treatments came together beautifully."

Aarshi Jariwala, Interior Designer, Livspace
---
Also, if you liked reading this, take a look at A Simple 3BHK at Mahindra Windchimes
Send in your comments & suggestions.