Bringing a traditional look to a home is incomplete without a touch of wood. In a time where material innovation is at its best, the cosy, warm and pleasing features of this desi favourite remain unparalleled. This is what makes a wooden design evergreen and priceless. Even as we have been using this for over centuries, we keep finding new ways to use it- or go back to old ones, because of its sheer elegance. And that's also what we loved most about this Bengaluru home with 2,500 Sq Ft of Fine Custom Wood Work.
With going to and fro between elegant colors and warm browns, it proves the point that one can never go wrong with this element. This becomes especially important when it comes to turning a house into a home.
Wooden detailing on the ceiling never fails to impress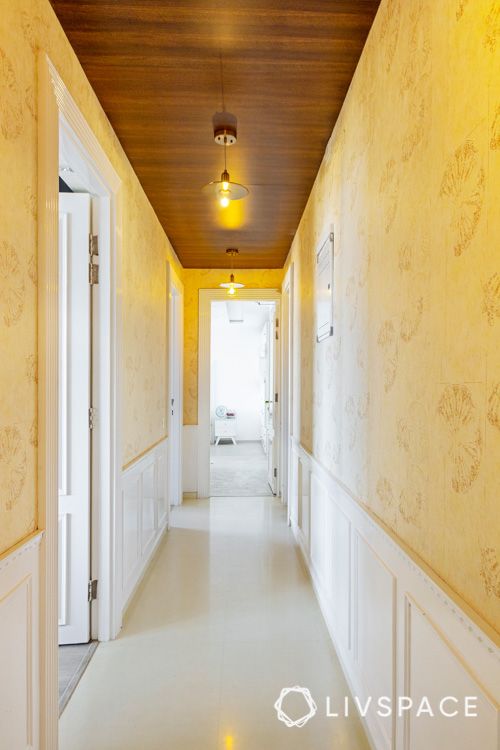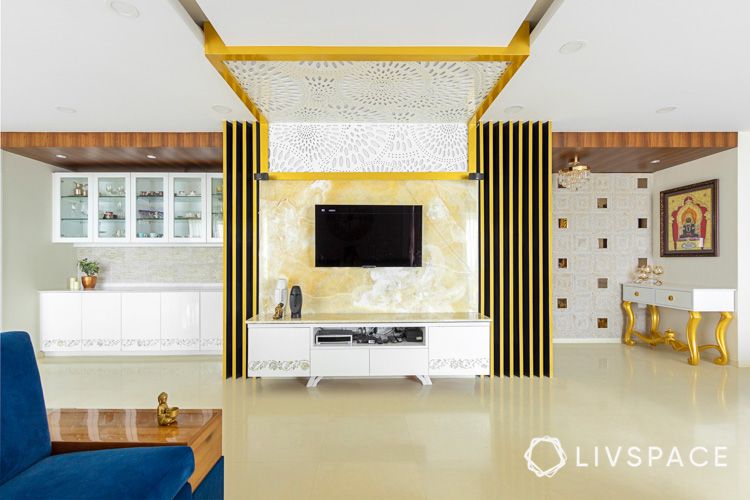 Wooden panelling on the ceiling can add a dash of drama to any given space. Take your cue from this Bengaluru home, which got this stunning addition on its entryway ceiling. The living room too flaunts the traditionally favourite element. With onyx stones and intricate detailing on one side of the TV unit and a crockery unit on the other, what could balance the look better than a traditional false ceiling? It also complements the desi TV unit. We think it's simply stunning, don't you?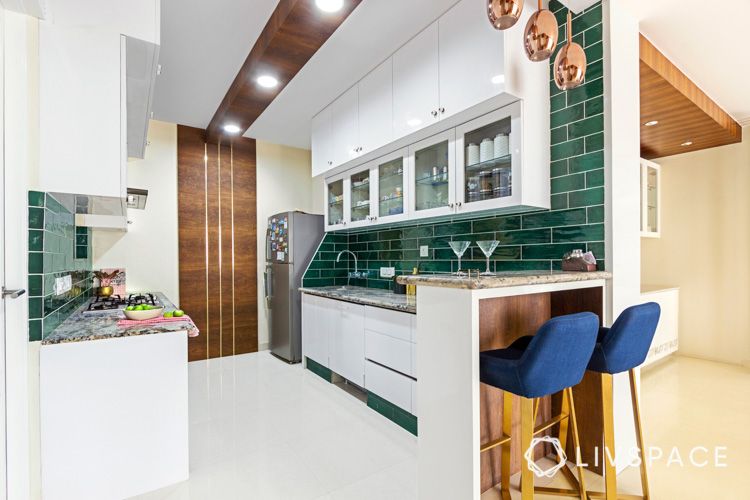 While the panelled ceiling in the passageway, together with pendant lights and pastel yellow and white walls gives off rustic vibes, you might be thinking that it's the only way to use wooden panelling. But that's not quite the case! The homeowners wanted their kitchen to look completely unique. So the designer suggested a single strip of panelling on the otherwise white kitchen ceiling. Moreover, by continuing it down the back wall to the floor, the designer ensured that the space had its regal vibes, just like the homeowners wanted!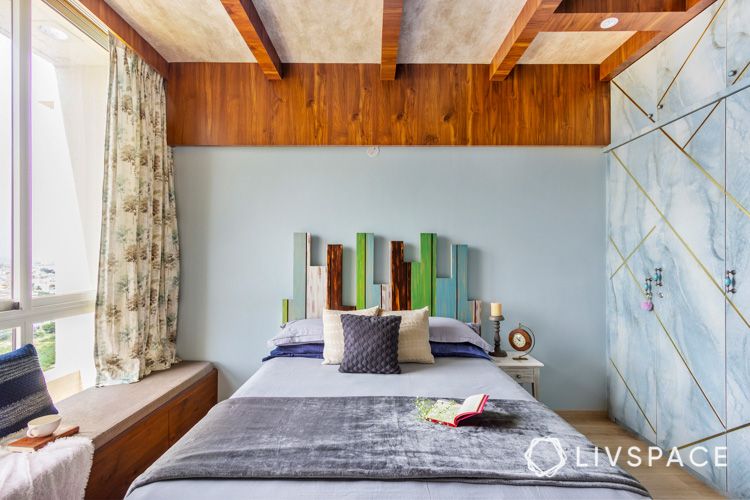 If you were thinking timber is best used in making a space feel regal, we've got something to show you otherwise! A calm, serene and rustic look is what the homeowners wanted for this bedroom, so that's what the designer gave them! Our designer suggested lumber rafters on the ceiling to be custom-made to the room's exact dimensions. With this false ceiling design, this bedroom becomes an oasis of tranquility.

Stunning beds with carved wooden design make this house stand apart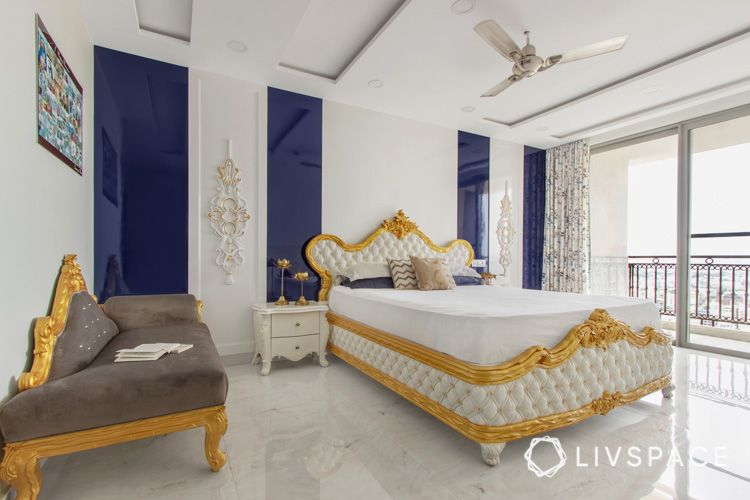 Quite a few of us are awed by royalty – their palaces, their clothes and their lifestyle. And while we speculate on it so often, many of us take the extra step to try and recreate it. And that's exactly what these homeowners wanted to do. So with the right craftsmen, the designer recreated a royal bedroom for them! Check out this gorgeous carved wooden bed! The icing on the cake is the choice of colours – white and gold – that makes this bedroom look even more traditional.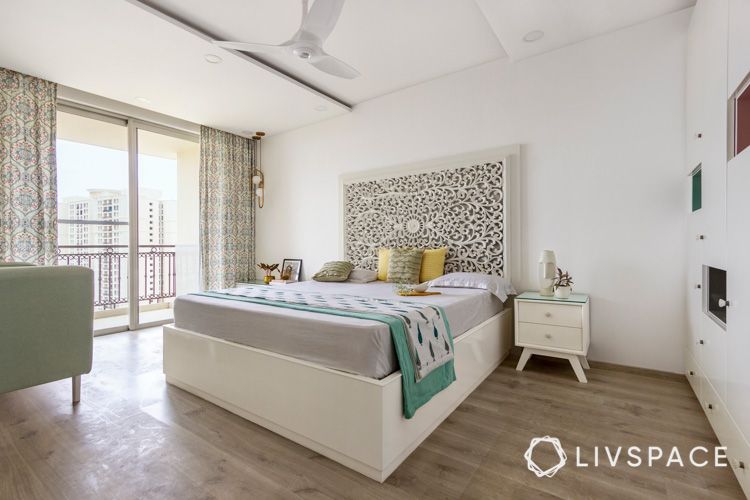 If you're looking for something more understated yet elegant, consider this wooden design in the Bengaluru home. A delicately carved headboard draws our attention in this room. Tailor-made to suit the refined taste of the owner of this bedroom, this headboard is a clear reflection of her personality. So if you're looking for an artistic way of showing off your desi roots, such elements are the way to go!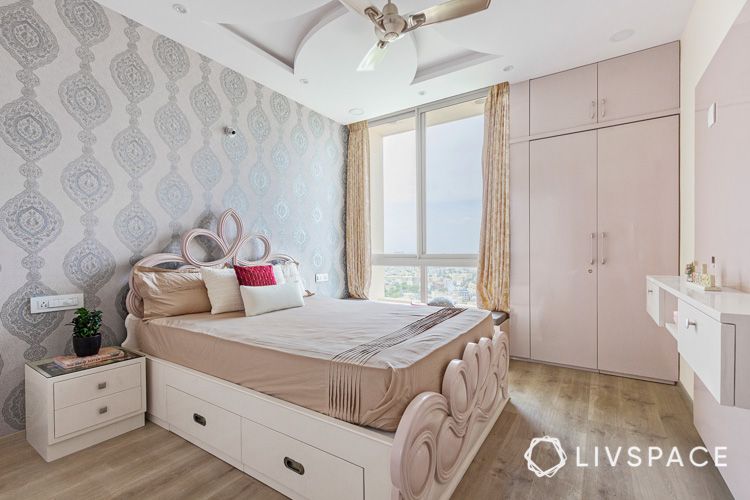 If you're looking for an example of muted elegance, you've come to the right place! Since this bedroom was dedicated to the matriarch of the family, the designer decided to give her something classy and understated. But it had to have an aura of elegance and importance! And that's how this beige-painted bed that's at once somber yet stylish was personalised!
The wooden design also amps up the look of the storage
If you have timber rafters in a bedroom, it's the perfect place to add a matching corner unit! That's also exactly what the designer thought in this bedroom. So we got this corner unit that fits like the missing piece from a jigsaw puzzle, and makes this room complete!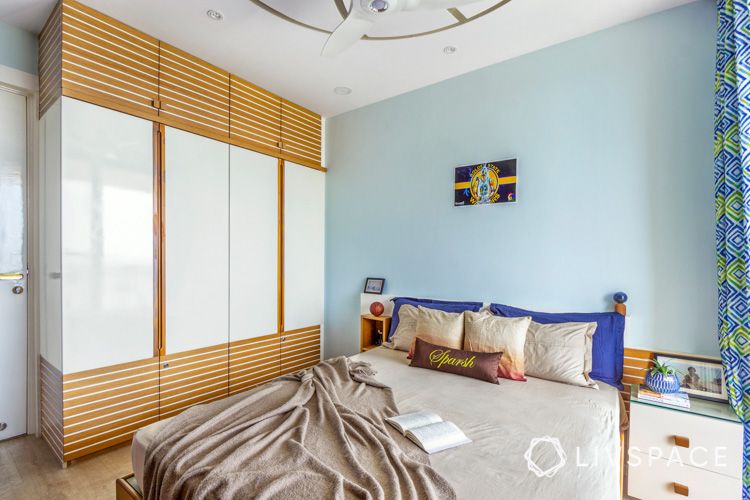 If you're a lover of simple spaces for rest and recuperation, and want a fuss-free room, check out this wardrobe! Are you thinking of your simple wardrobe at this point? Since these homeowners had the same concern, our designer suggested a desi makeover! She simply added a customised wooden lattice to it. Who thought that pairing the two could make such a hige difference to a simple wardrobe?
It also gives the accessories a timeless touch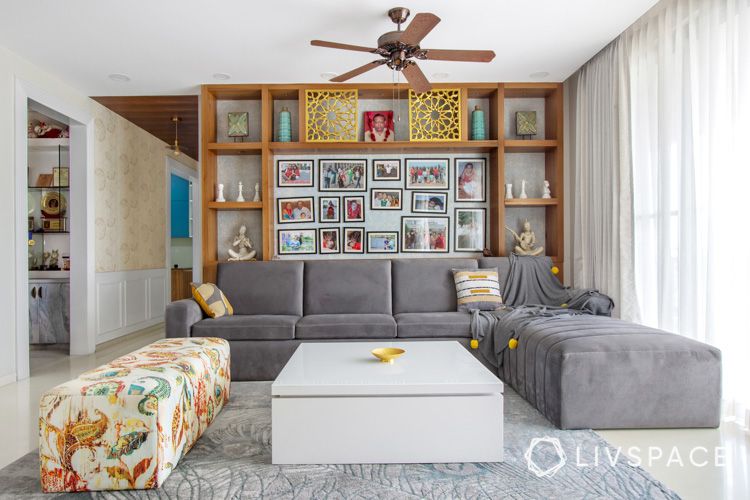 Family photos are an easy way to add some personality to any home. However, you can surely give your gallery wall a desi touch with a carved wooden design. Since the homeowners wanted to show off their family photos as well as a collection of vases, the designer suggested a custom unit that would tie them both together. Check out the gallery wall-cum-display shelf in this Bangalore home for inspiration. This traditional favourite and just a touch of gold brings out the best of Indian decor!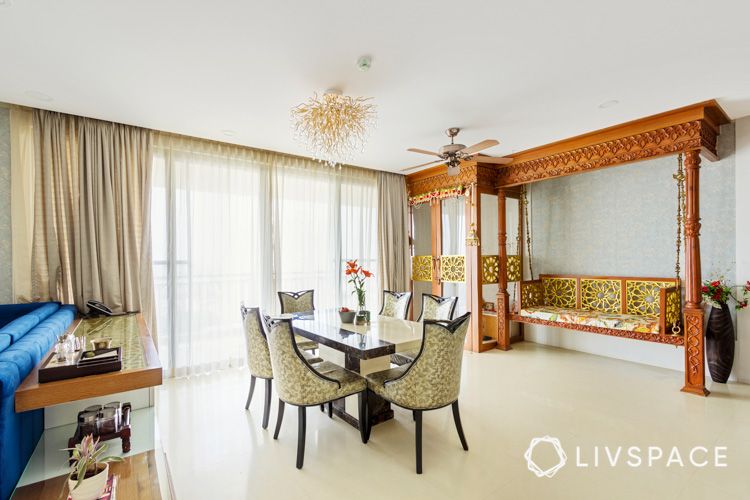 When you want an awe-inspiring pooja unit to fit right into a corner of your living room, an off-the-shelf piece might not fit the bill. These homeowners didn't like anything to. Since they favoured carved wooden designs throughout the home, the designer suggested a similar element here.
And that's how this custom pooja unit that fits right into the corner of the extended living room came to be. This traditional unit comes with carved borders and glass doors. We love how dainty the pairing looks. Also, don't miss out on how effortlessly it has been extended to form a swing, another element the homeowners wanted!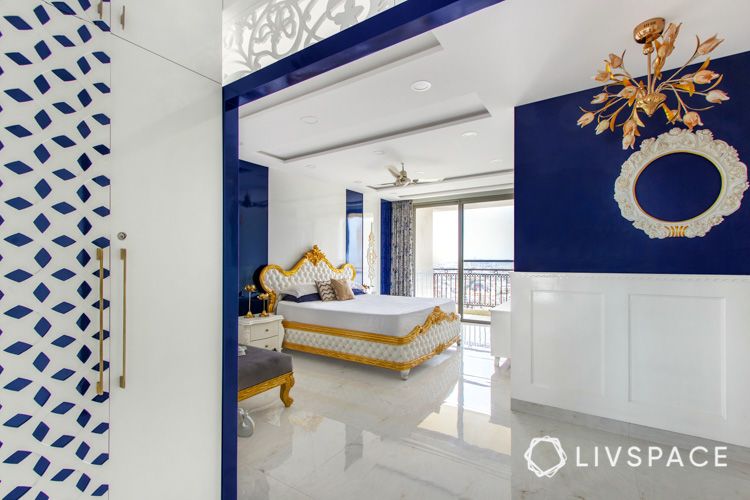 Finally, just outside the master bedroom with a gorgeous carved wooden bed, we have a carved circular frame on the wall. If you're thinking that it would be the perfect space for a mirror, you're on the right track! Our designer had initially planned to have a mirror in this custom-made frame that complements the gorgeously carved bed. While our homeowners were onboard with this plan, the delicate carving made them reconsider. We have to admit, it makes a stunning showpiece!
Also, if you enjoyed reading about this home, take a look at these 6 Lessons We Learned on Saving Space from This Mumbai Home.
Send in your comments and suggestions.