Scenario: You've been house-hunting for quite some time now and your broker took you to an apartment that you fell in love with. But there's only one problem – it's low on space. Now, how do you tackle that. Do not worry, your new compact house can have everything you wanted and much more than that.
This 1BHK in Mumbai measures 280 sq ft and is home to a family of three. Believe us, at first even we could not believe it. But when we got speaking to the designer and the homeowners, too many secrets surfaced. You will be amazed at the brilliant ideas that this home flaunts, when it comes to efficiency and space. Read on and find out the smart design solutions that this home has.
First things first: Space-saving furniture is a given in a compact house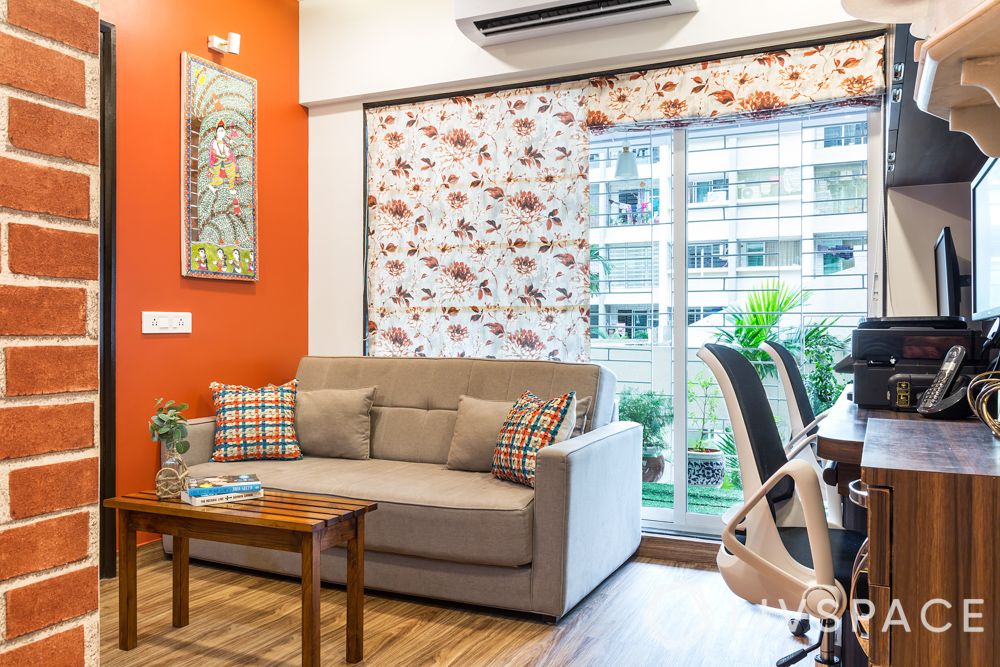 As obvious as it may sound, we cannot emphasise more on the importance of multi-functional pieces of furniture. Especially if you have a compact house. We are sure if you're looking for space-saving ideas for small homes, a sofa-cum-bed will work perfectly. This family wanted some extra sleeping space in their 1BHK, for guests/friends. The designer suggested this beige sofa-cum-bed that we thought fits here perfectly. Sleek by day and comfy by night!
Do not use up space unnecessarily for side tables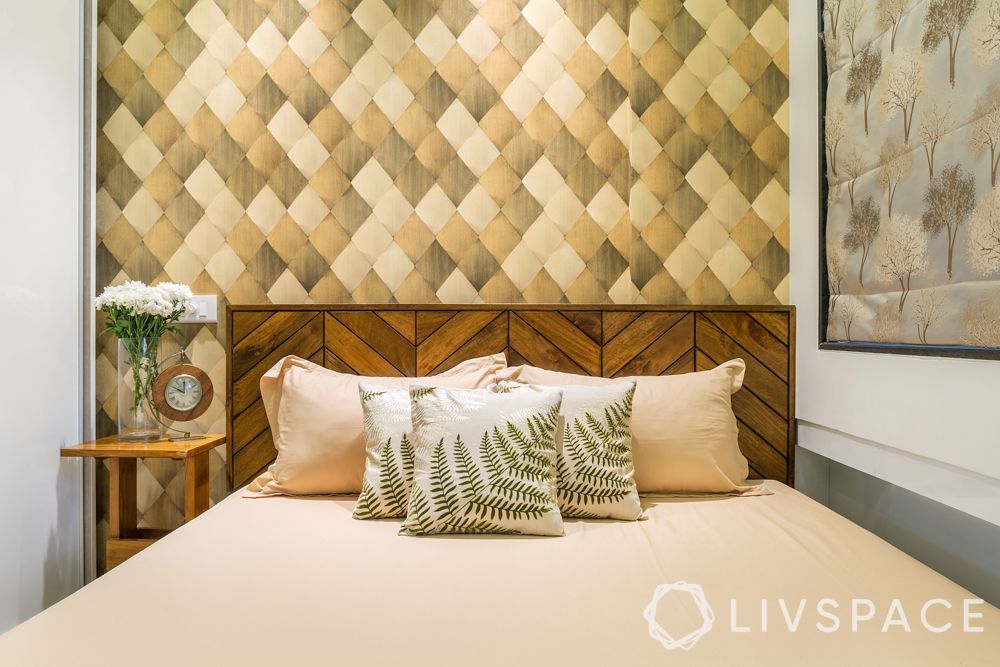 Let's face it, small bedrooms are a pain to design. To make the space appear bigger and hence more comfy is of prime importance for a designer designing such rooms. This family loves geometric patterns and thus the designer decided to add a visually appealing wallpaper to create an accent wall. Now, where do you find the place for bedside tables here? Do you think they are indispensable? Well, they are not! To make sure that the bed fits in nicely, the designer suggested this tiny table which is ideal only for essentials.
Incorporate a home office in place of a TV unit, if you must
A dire necessity in homes today, incorporating a cosy working space for your work from home days can be challenging in a compact house. But, our designers have a solution to every problem. So here, she added a desk and study table in laminate finish. This arrangement can be made in place of a TV unit if you are not really a couch potato. It's quite spacious and can accommodate upto 3 people at a time. A great way to get work done even when you do not have a dedicated study room.

How about a collapsible door for the kitchen so you can entertain guests with maximum privacy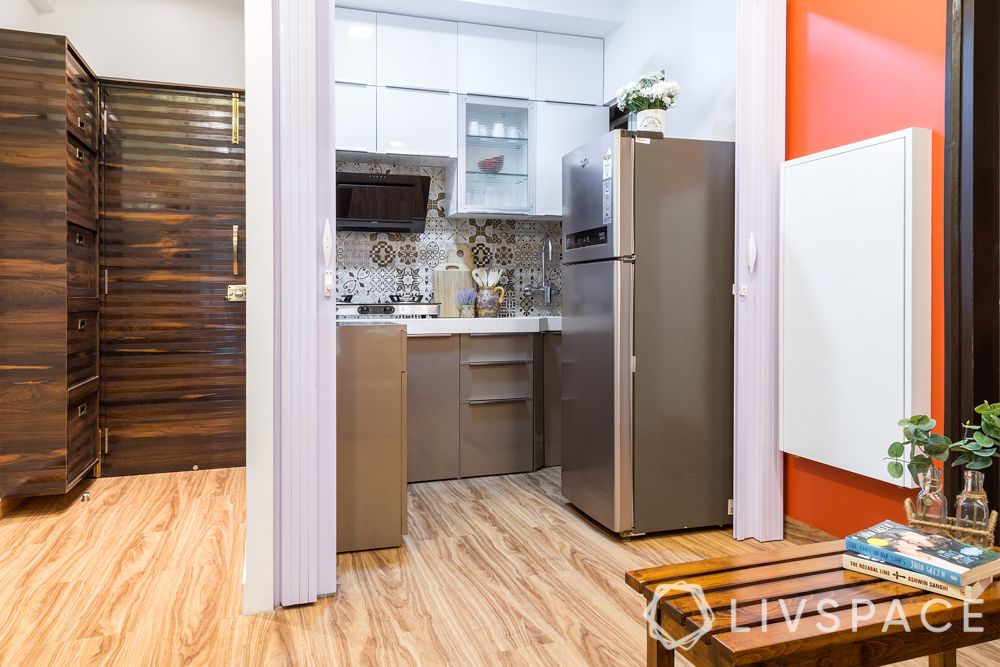 We would like to call this a design marvel. When you have an open kitchen and have guests over or people from work visiting you, do you feel it's awkward for your kitchen to be completely visible? You are right. For this family, a sort of cover-up for their kitchen was essential. Therefore, the designer came up with this brilliant idea of adding a collapsible door. It can be closed when you need privacy and kept open at other times. Isn't it an amazing hack? People with open layouts and space constraints can benefit immensely from this!
We absolutely love this idea of having a foldable dining table in a compact house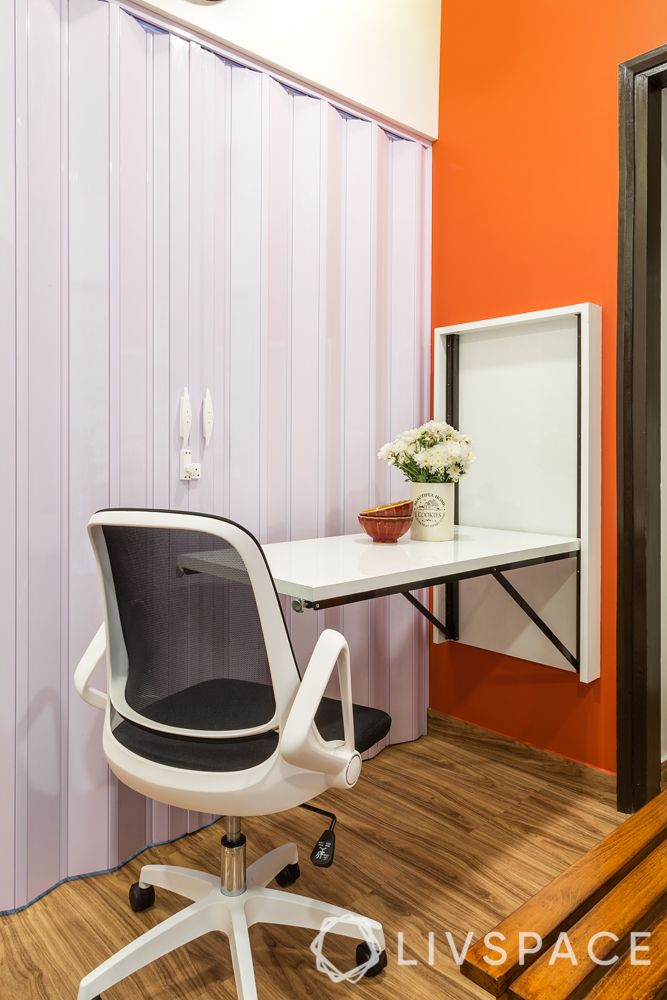 Not a big fan of formal dining table set ups? Or just low on space? Well if it's the latter, we have an excellent design idea for you. Your compact house can have a folding table that is mounted on the wall. How much more space-saving can furniture become? Since this family seldom requires a dining table, they opted for this alternative which helps them use up wall space, which is otherwise dead space. The revolving chairs from the home office substitute dining chairs here!
Install a floating TV unit in your room instead of the living room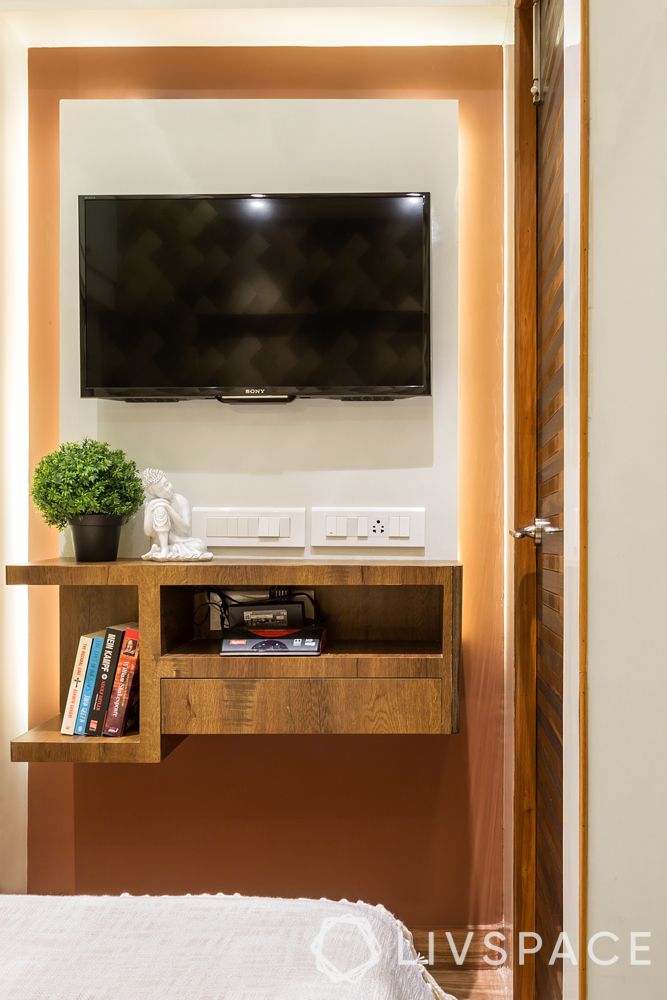 Since the living room TV unit wall was used up to create a home office, the couple got a TV unit installed in their bedroom. Our designer gave them this wall mounted unit that is super compact and has shelves and a drawer. One can store all their television-related essentials in there. We appreciate how every inch of this space was utilised, intelligently.
We hope you learnt a lot of things from these space-saving ideas. For more, go here: Smart & Space-Saving Ways to Boost Kitchen Storage.
Please go here to see how the rest of this home looks: 280 Sqft Apartment Gets an Exceptional Makeover.
Send in your comments and suggestions.