Today, homeowners are paying more attention to the most bare expanse in a home — the ceiling. From statement ceilings to traditional ones, interior ceiling design trends in 2021 are anything but boring!
A ceiling design can go beyond holding just lighting fixtures. With modern designs and finishes it's possible to add a little more oomph to your design with a few innovative decor elements. Moreover, you might just be delightfully surprised to see a hint of maximalism or even vintage aesthetics that exists in your home to make a grand comeback in 2021.
Here are 10 ways to make sure your year is already looking up with ceilings that are looking better.
Making a comeback in 2021
#1: Mirror Ceiling Design for Added Grandeur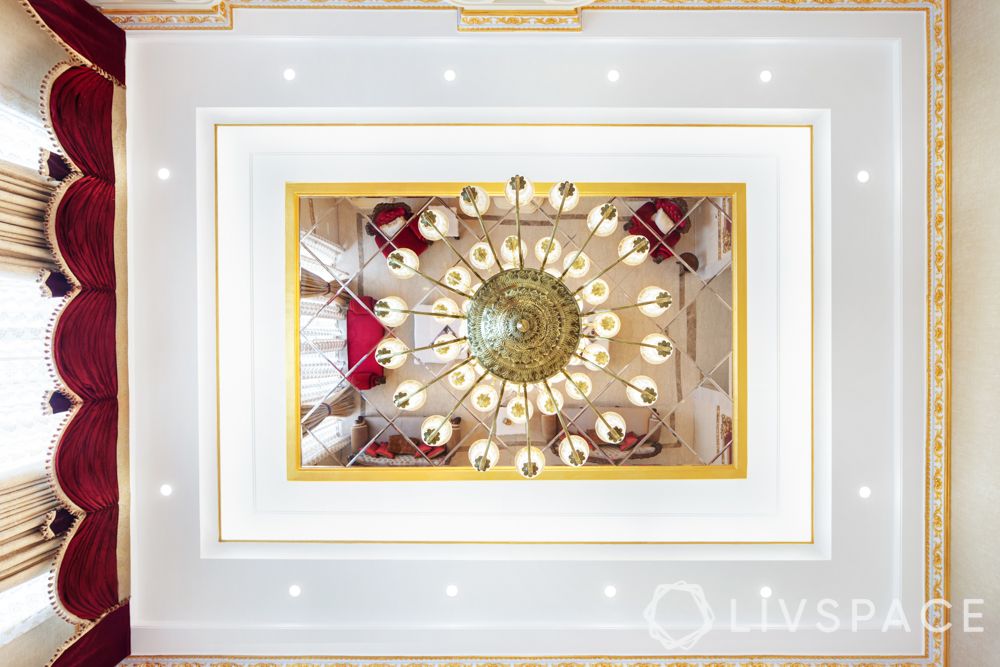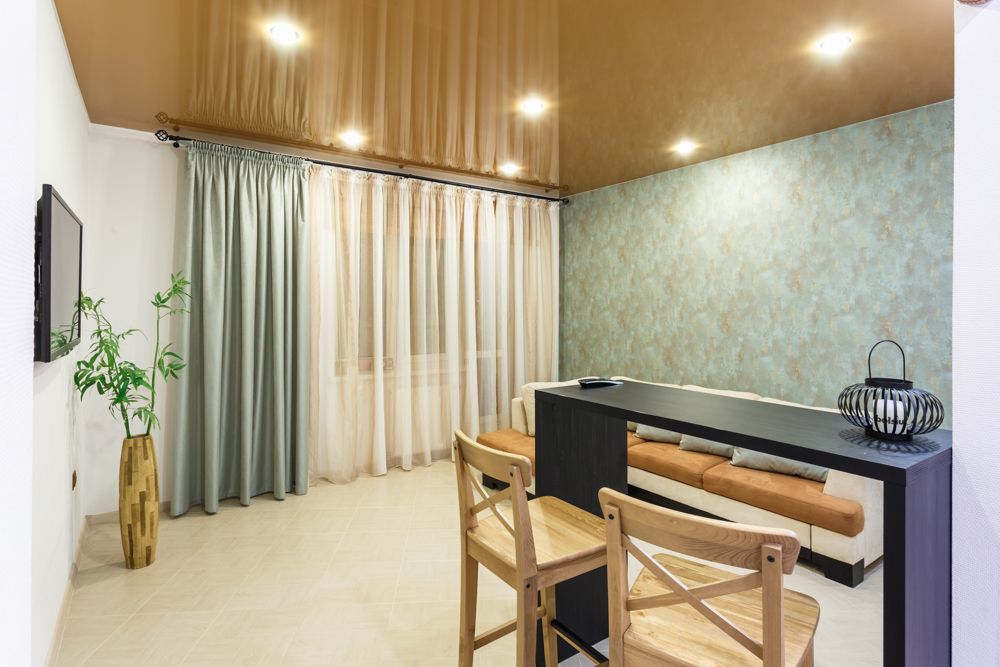 Mirrors are an eye-catching element that are one of the main ceiling design trends of 2021, especially in ceilings. Here's why. Mirrors have the ability to make any space glamourous, and they also open up spaces and reflect light. Installing mirrors to your ceiling design has to be done by a professional. If installed incorrectly, they can fall and cause injuries or become a fire hazard in sunny weather. Keep in mind that these mirrors are specifically made for the ceiling. They should be lightweight and hung, glued or screwed on securely.
Take it up a notch: A chandelier or pendant light hanging from a mirrored ceiling makes it all the more elegant.
#2: Carved Ceiling for a Vintage Feel
Carved ceilings have been a popular and artistic ceiling design option for centuries. These wooden and POP designs are making a return in 2021. These intricate designs originated from churches and temples around the world and have now made their way into home interiors. The process of carving requires hours of artistic manual labour, making it one of the most expensive options on this list.
Take it up a notch: Install clean and contemporary lighting fixtures for the perfect blend of modern and medieval interiors.

#3: Timeless Moldings for Frills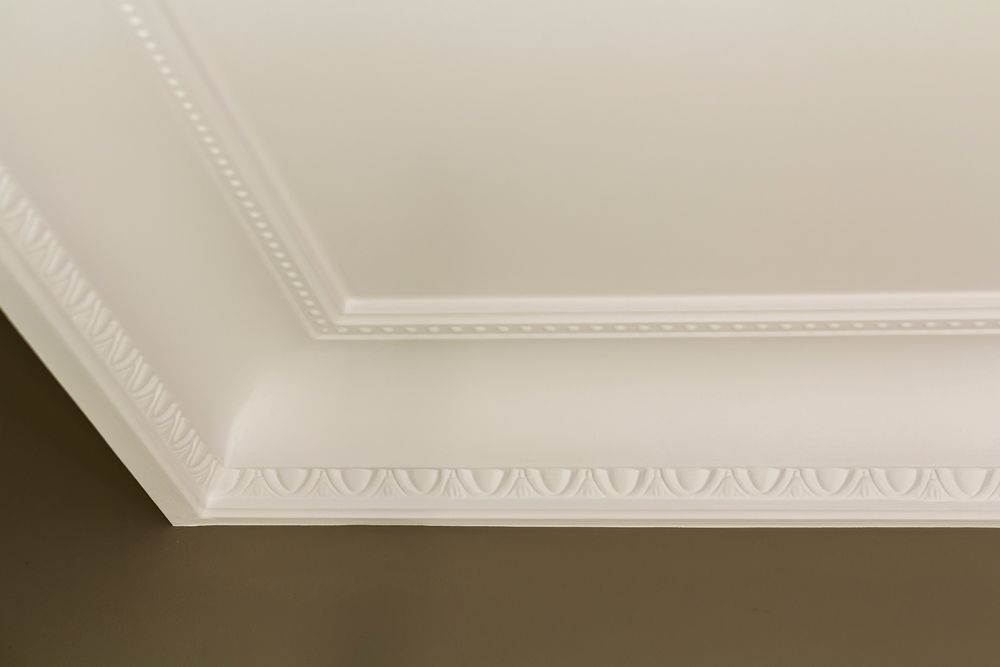 If carved ceilings are too much of a show stopper for the rest of your interiors, take a look at wall trims or moldings. These are used to create an aesthetic transition between walls and ceilings. They come in a number of designs like cove, dentil, pearl, crown etc.
Take it up a notch: Choose contrasting colours for the wall and ceiling for a pop in the design.
#4: Adding Warmth With Wooden Ceilings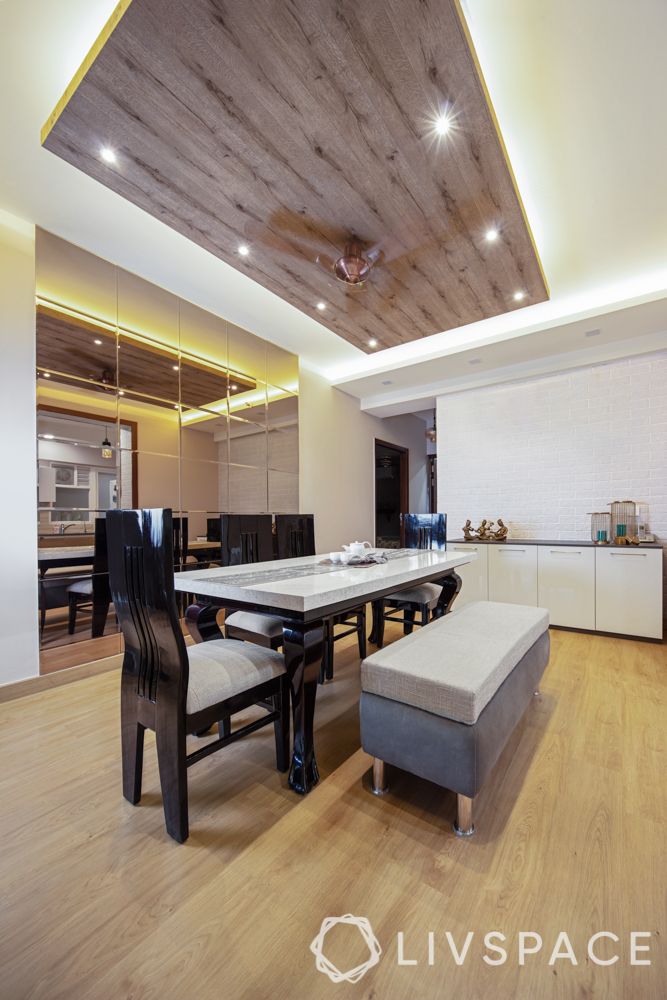 One of the most consistent ceiling design trends through the years is the wooden ceiling. Wooden elements add just the right amount of warmth and natural texture to a room. You can opt for a full wooden ceiling or use it to strategically yet subtly demarcate a space in a large space just like this dining room.
Take it up a notch: Highlight the wooden design with reverse cove lighting and give it a halo effect.
#5: Customisable Drywall Ceilings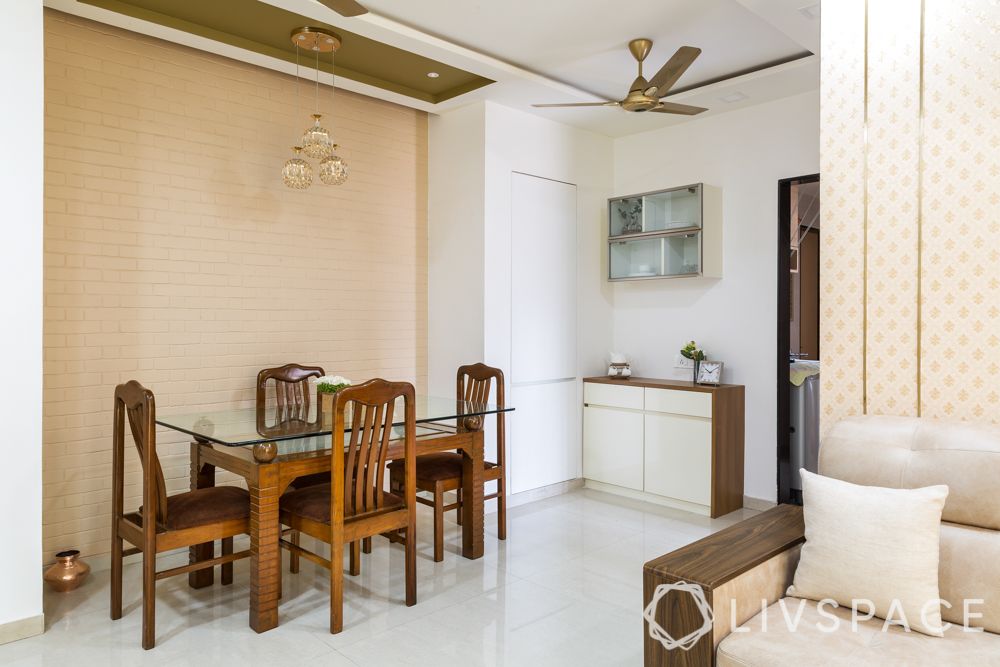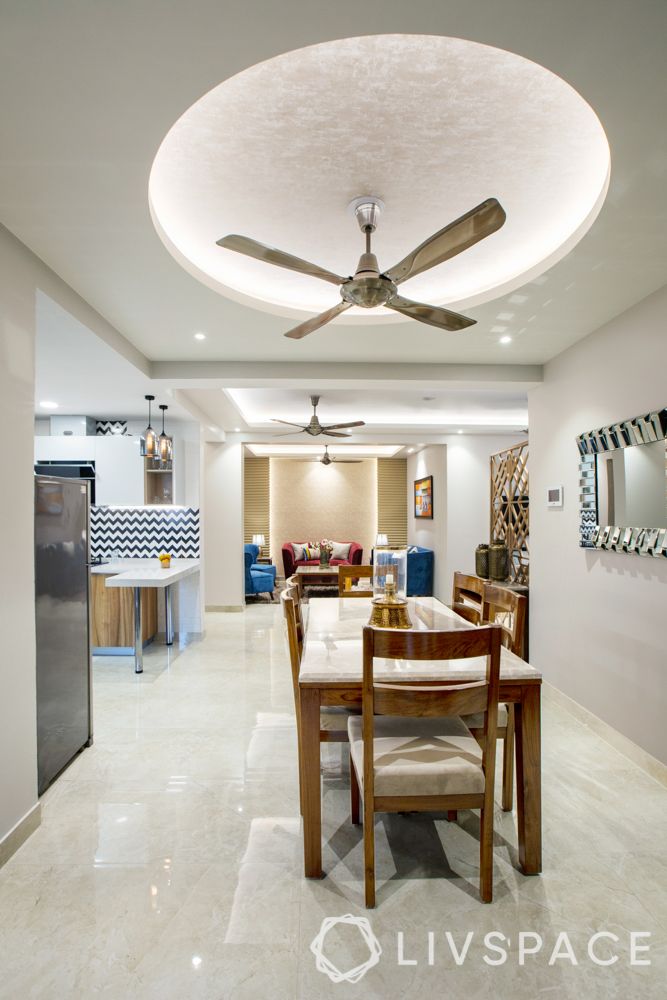 Gypsum or drywall is all the fad in the ceiling design world. Think of any unique ceiling design and your designer can bring it to reality with drywall. Drywall or gypsum is layered and designed to create almost any pattern or shape, making this the most versatile option for your home.
Take it up a notch: Paint it any colour or get unique shapes carved into your drywall sheet.
#6: Unique Ceiling Design With Wallpaper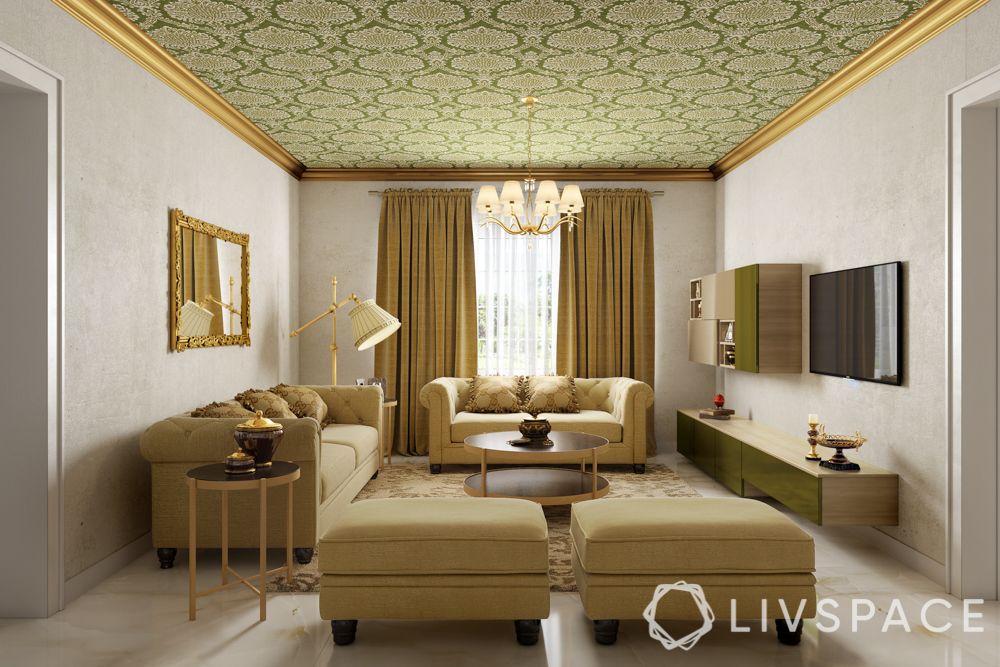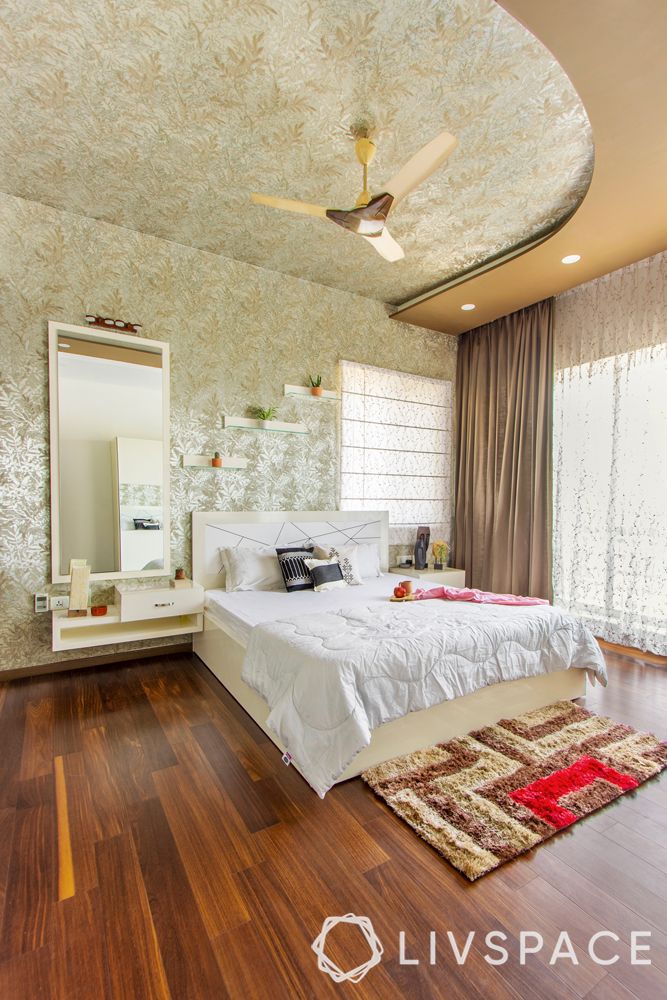 If you're looking for a trend that's out of the box, this one's for you! With a sea of wallpaper colours, patterns and designs available, don't limit your creativity to just the walls. Wallpapers that extend from wall to ceiling can help you create a continuous flow of design. They can also highlight the ceiling from the rest of the room if you pick a contrasting design.
Take it up a notch: Select patterned wallpaper with hints of gold for a room that calls for a bold look.
#7: Keep it Cool With Bamboo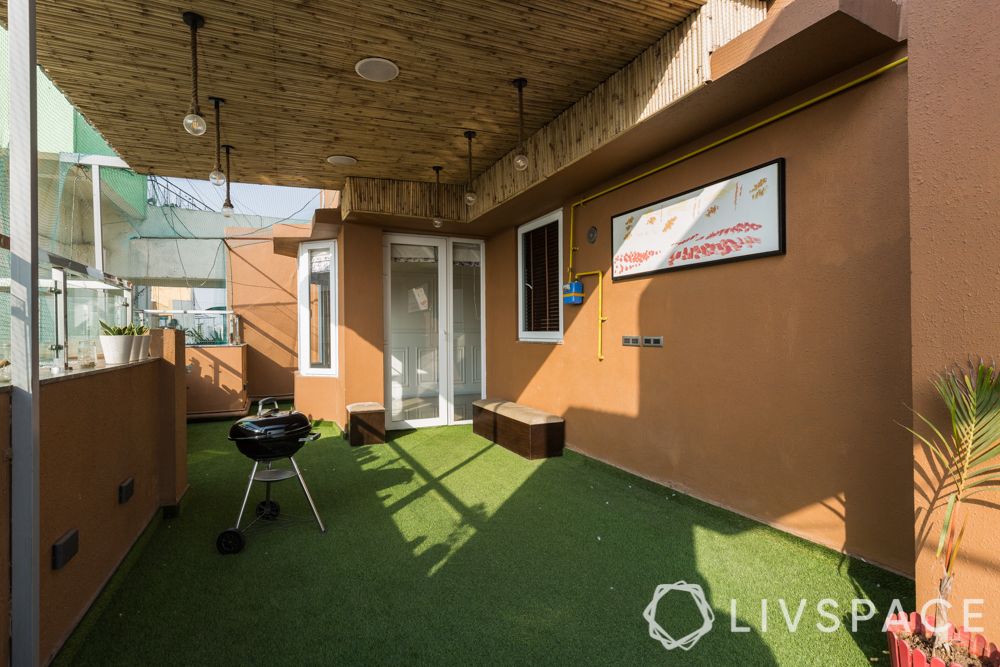 Not every ceiling design can be practical, aesthetic and made of sustainable materials, but this one is. This light and strong material is easy to install and is considered as durable as tropical hardwood. Furthermore, it is far less prone to swelling and warping, making it the perfect option for sunny, humid weather.
Take it up a notch: Bamboo features a beautiful grain that is natural and easy to stain to warm or cool colours. So, you can get dark and light stains that resemble wood and go with the rest of your interiors.
#8: There's Simplicity in White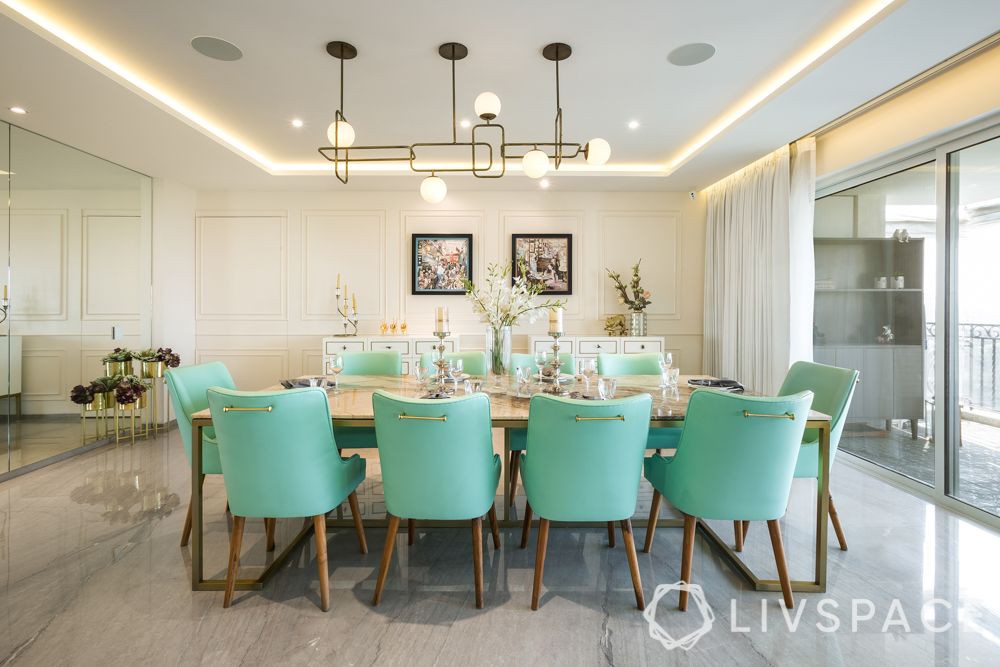 Here's one traditional trend that we don't see dying out any time soon. It's the classic white ceiling. White and shades of white are your safest option since it can make the room feel higher and larger. White paint helps to camouflage lumps, dents and irregularities in the construction better than bold coloured paints.
Take it up a notch: Pair your fifth wall with a white false ceiling design to instantly open up the space.
#9: Easy-to-maintain Tile Ceilings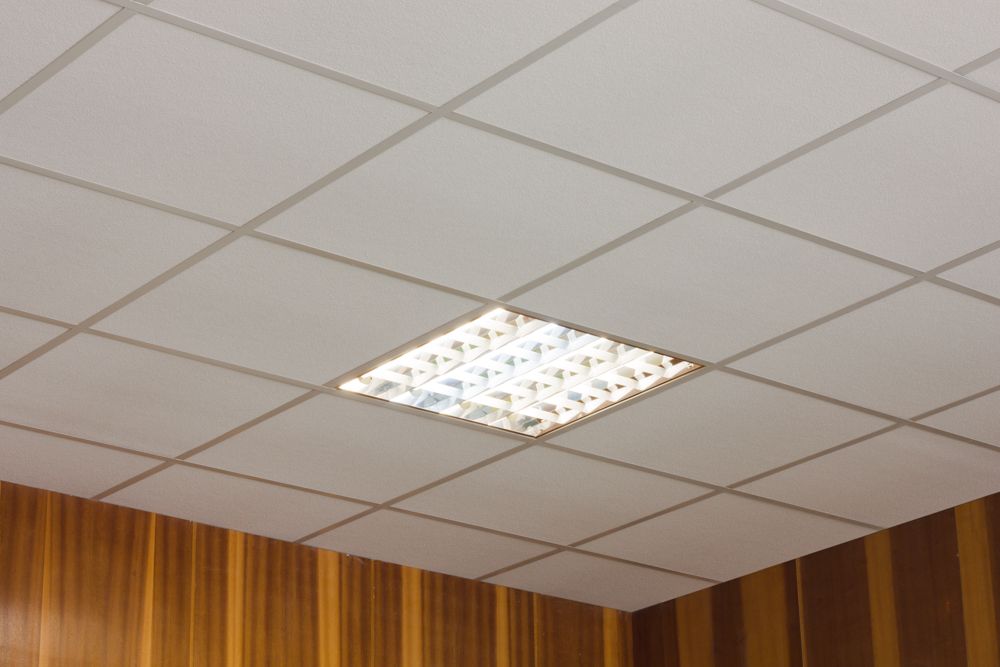 Imagine a room that is easy to maintain and makes a statement. Get all that and more with ceiling tiles. Opt for ceramic tiles that are made for ceilings or fiberglass panels placed in aluminum grids depending on your requirement. Generally, ceramic tiles are great for pooja rooms, kitchens, balconies, etc. Rooms that are exposed to smoke and dust require low maintenance materials so that it can be wiped down easily. Fiberglass panels are perfect for soundproofing space like the entertainment room or the study.
Take it up a notch: Choose from a wide variety of tiles and pair it with jaali or woodwork for a divine pooja room design.
#10: Laminate for a Trendy Look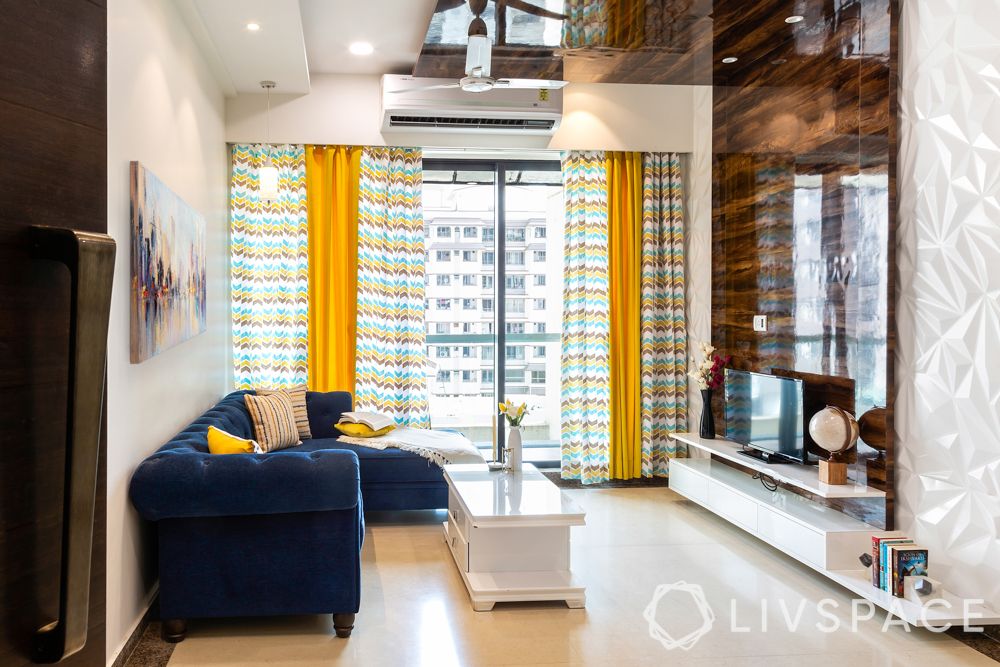 Laminate has been a popular flooring and finishing option for years, which is why laminate ceilings have been gaining popularity too. Besides being cost-effective, this rich choice of texture can easily become the focal point of any home with its versatility and panel patterns.
Take it up a notch: Opt for a wall to ceiling design in a rich mahogany wood colour for the ultimate den design.
These were the ceiling design trends for 2021. If you are looking for more ceiling design inspiration, check out our guide on POP ceilings.
Check out false ceiling designs:
Write to us with your comments and suggestions at editor@livspace.com