We love how this villa interior design focuses on personal and unwinding nooks.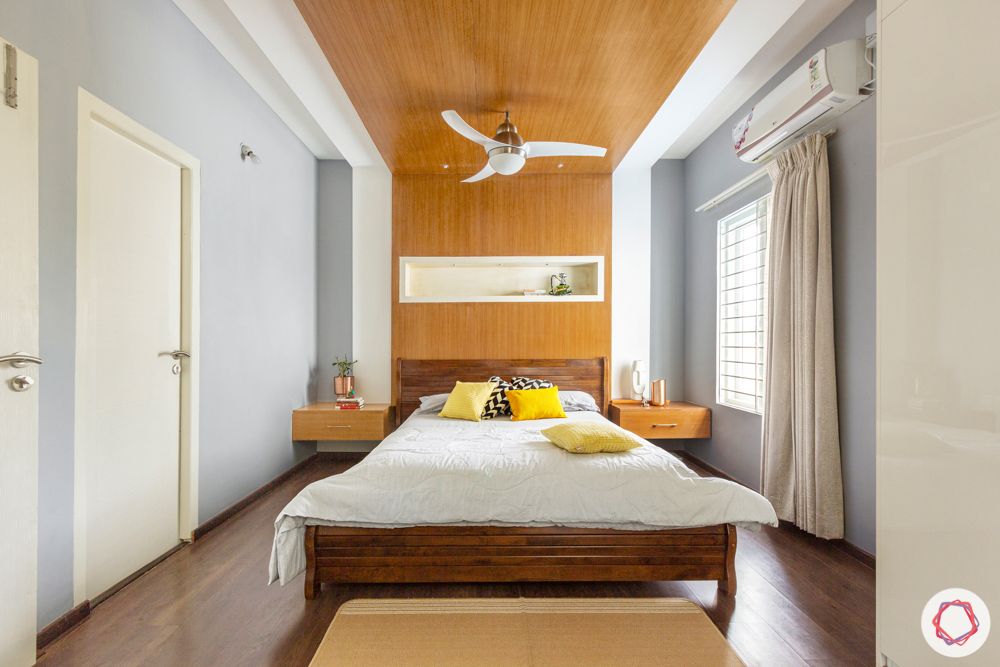 ---
Who livs here: Raghu, his wife and their twin babies
Location: Blue Jay Nine Forum, Bengaluru

Size of home: 3BHK spanning 2,095 sq ft

Design team: Interior designer Chetana Shivakumar

Livspace service: Full home design
Budget: ₹₹₹₹₹
---
How should a home feel to you? To Raghu and his wife, it's all about comfort in style. And it's no wonder their sprawling villa in Bengaluru is proof of that. But first, a little recap. Ever since the young couple purchased this stunning property in Basapura they knew they wanted interesting interiors. "We wanted someone to give us a full home design and basically hand over a completed home by the end of it," explains Raghu, who is a Senior Manager in VMware. After falling in love with what he saw in his colleague's home that was designed by Livspace, the young couple decided to give us a call. Chetana Shivakumar, our designer, was soon put to the task of delivering a dream home.
Their requirement? Something with plenty of storage. Comfort, style and of course, a designer's touch. Here are certain parts of the home that we can't help crushing on!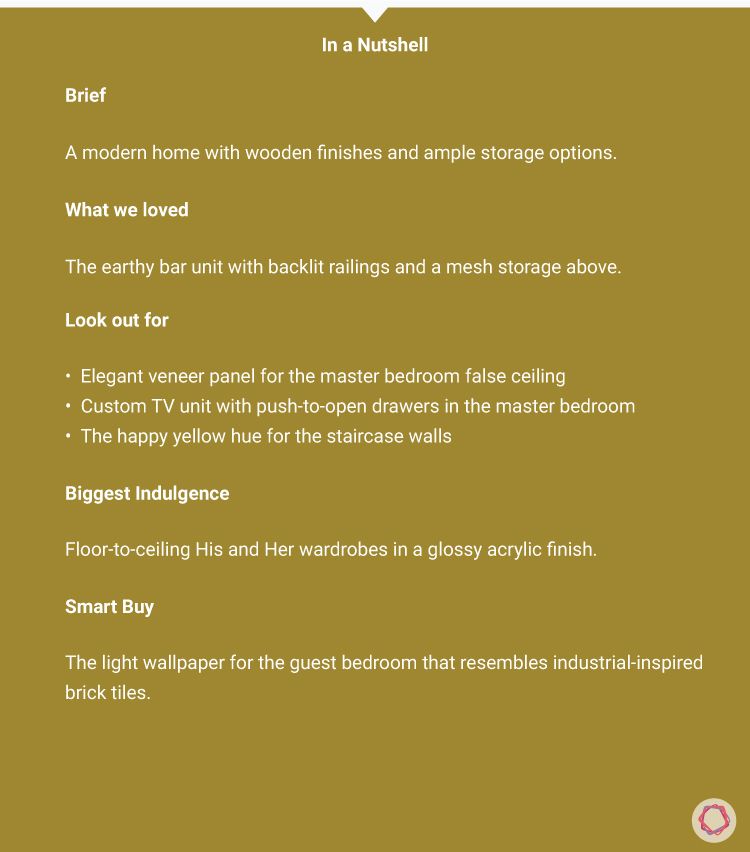 Villa Interior Design: A master bedroom crafted for two personal zones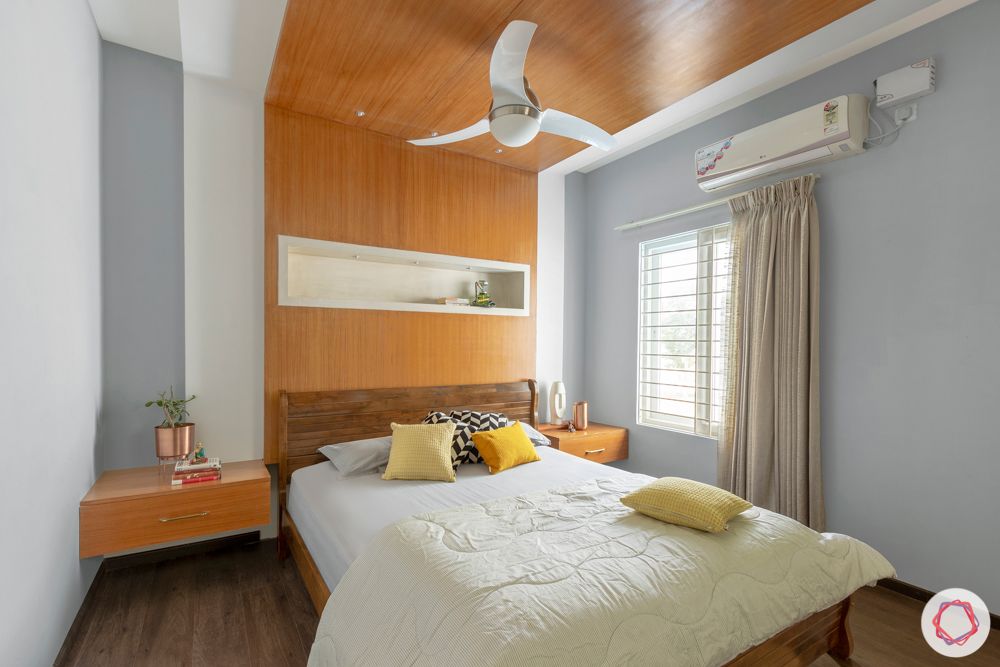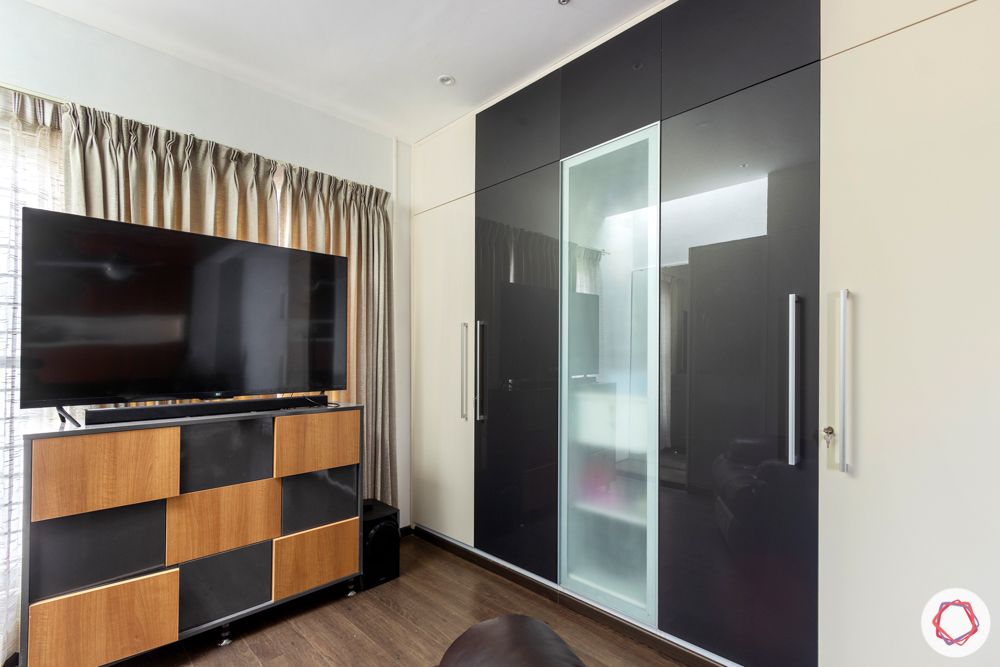 A bedroom should be the place you feel your relaxed best. And for Raghu that meant watching his favourite shows from a comfy armchair while his wife loves to cuddle up in bed with a book. "The bedroom has been designed keeping in mind the couple's unwinding routine. As a result, I created two personal zones, one for reading with a wall niche for books above the bed and the other a TV zone with a comfy recliner in front of the TV unit," Chetana explains.
---
Designer Tip
To give an illusion of two separate zones, Chetana added a false ceiling out of veneer in one side and the other in POP. Both features have been fitted with cove lighting as well to elevate the ambience.
---
In addition, the veneer false ceiling extends to the wall above the bed to give the room a touch of oomph. Besides this, the towering acrylic wardrobes are sure to catch your attention as well. The His and Her wardrobes that face each other also feature a pop of frosted glass and push-to-open lofts. We love how a full-size mirror has been tucked into the corner under a sky-light. Even the TV unit deserves a second glance, standing in two unique finishes with push-to-open drawers.

Villa Interior Design: A guest bedroom that's high on storage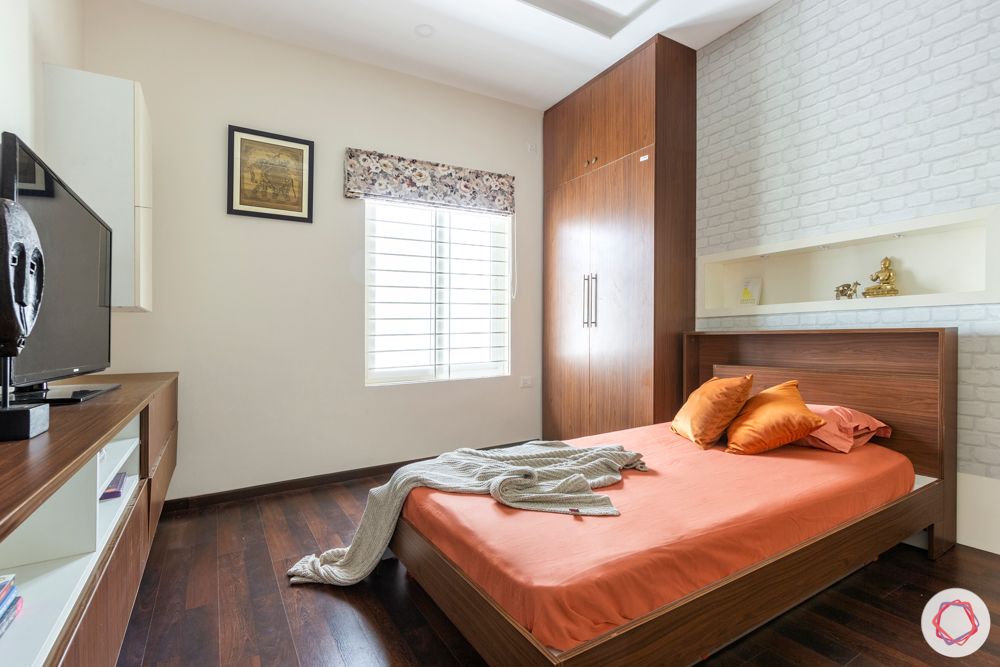 The first thing that catches your eye in the guest bedroom would be how beautiful the wooden wardrobes are. Basking in an abundance of sunlight, a sliding wardrobe in Canadian walnut laminate with an ivory finish lacquered glass in the middle offers plenty of storage. On the other side, a swing wardrobe in the same laminate finish complements the set up.
Notice the bed? This custom-made unit has been specially crafted to fit perfectly within the space. In addition, we love how a brick-patterned wallpaper acts as a subtle backdrop. Just like the master bedroom, this room too has a wall niche to stash books for a good night's reading time.
---
"The entire experience has been great. Chetana, our designer, did a fabulous job designing our home and getting things done, all the way being friendly and understanding of our requirements."

Raghu, Livspace Homeowner
---
Villa Interior Design: A vastu-compliant staircase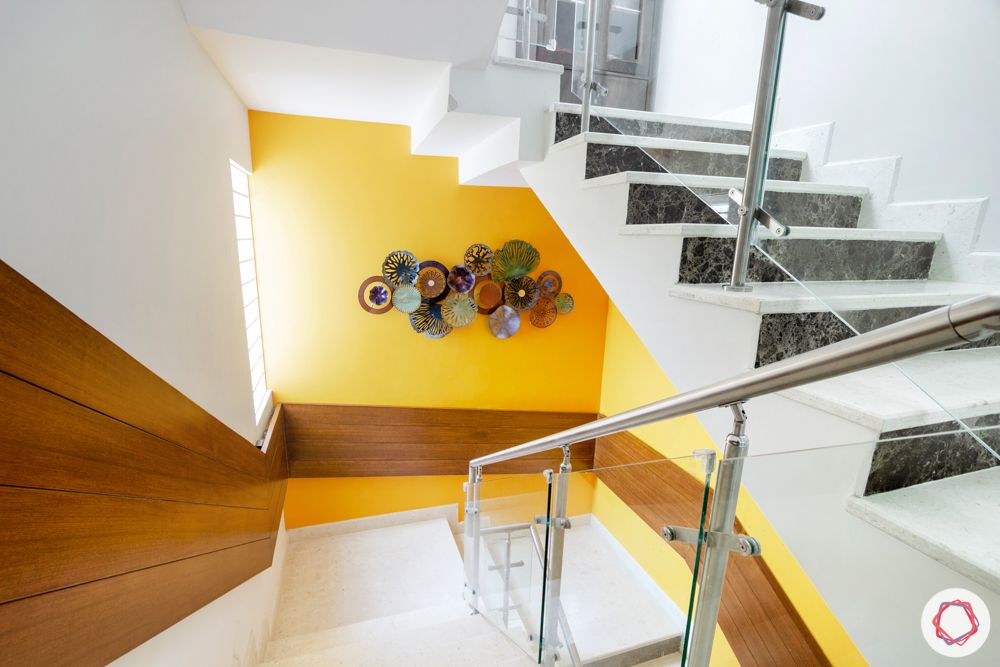 The staircase in this villa is also pretty as a picture. Since vastu recommends yellow for prosperity, the staircase wall is in a bright yellow hue. The sunrise hue for the wall will eventually flaunt family photos. But the decor drama doesn't stop there. For the sake of continuity, Chetana added a plywood and teak veneer cladding along the walls. Moreover, it's been fitted with cove lighting at the top and bottom to create a stunning effect as you climb the stairs.
Villa Interior Design: An earthy bar unit on the terrace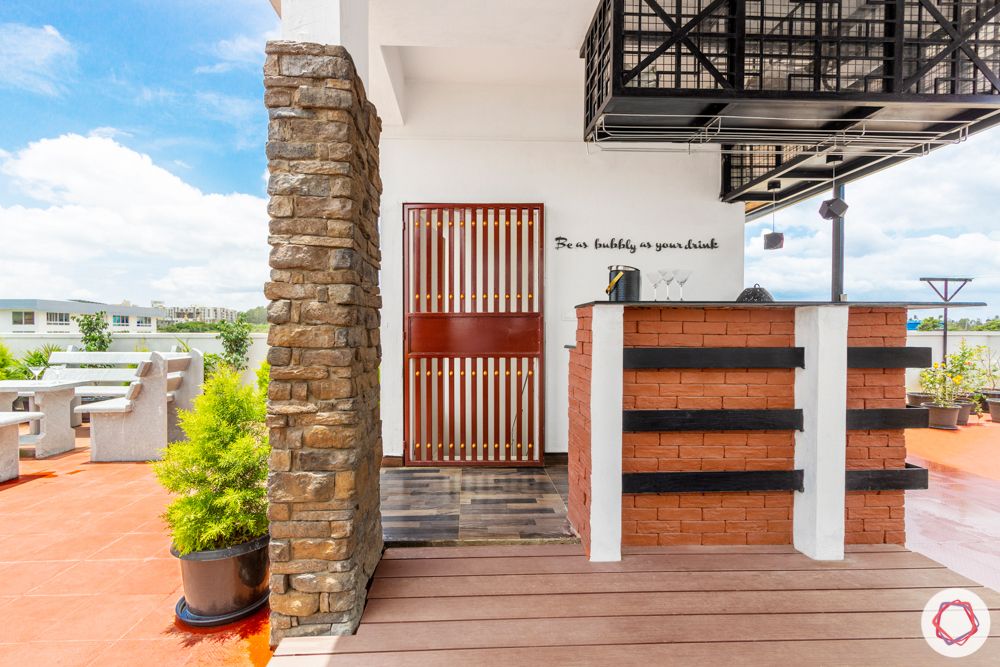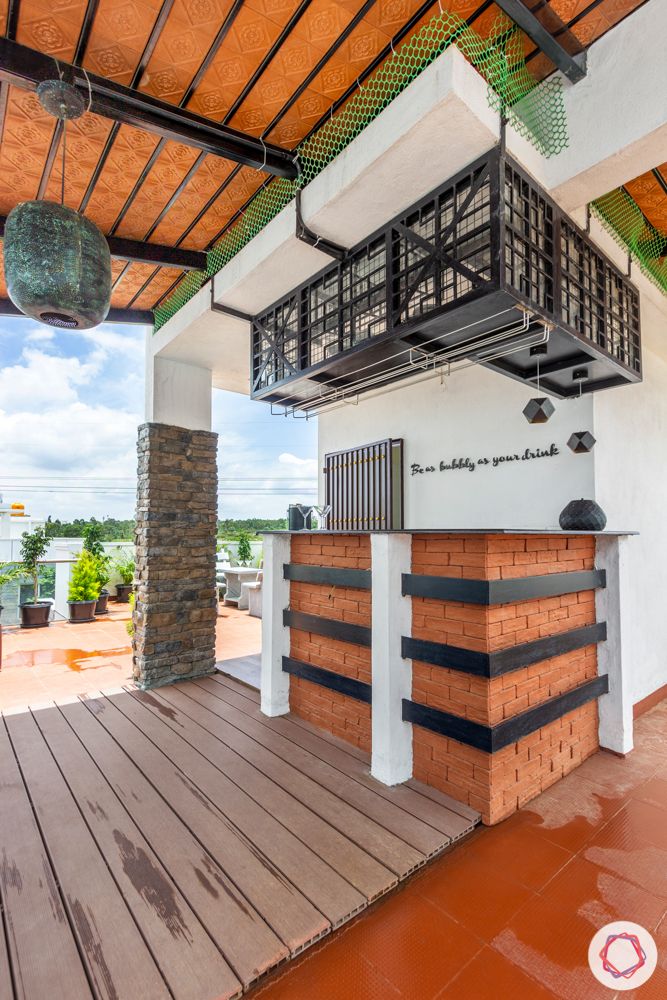 One of the main highlights of their home would be the gorgeously crafted bar unit that's on the terrace. The bar unit done up in stunning brickwork and black metal railing instantly draws your curiosity, especially with a mesh-like metal open storage option above to stash wine bottles.
We also love how the nook would dazzle up in the night, thanks to the backlit feature on the metal strips and the mesh storage option. Take a moment to also notice the words out of metal cutout on the wall to further shake things up. Everything perfectly complements the existing wooden walkway and red oxide flooring.
---
Our Designer Speaks

"Designing this villa was like a dream come true. All the finishes, textures, and personal nooks for Raghu and his wife definitely makes the home look out of the ordinary. I'm glad they love it!"

Chetana Shivakumar, Interior Designer, Livspace
---
Also, if you liked this home, take a look at A Gurgaon 3BHK That's Comfy & Minimal
Send in your comments & suggestions.